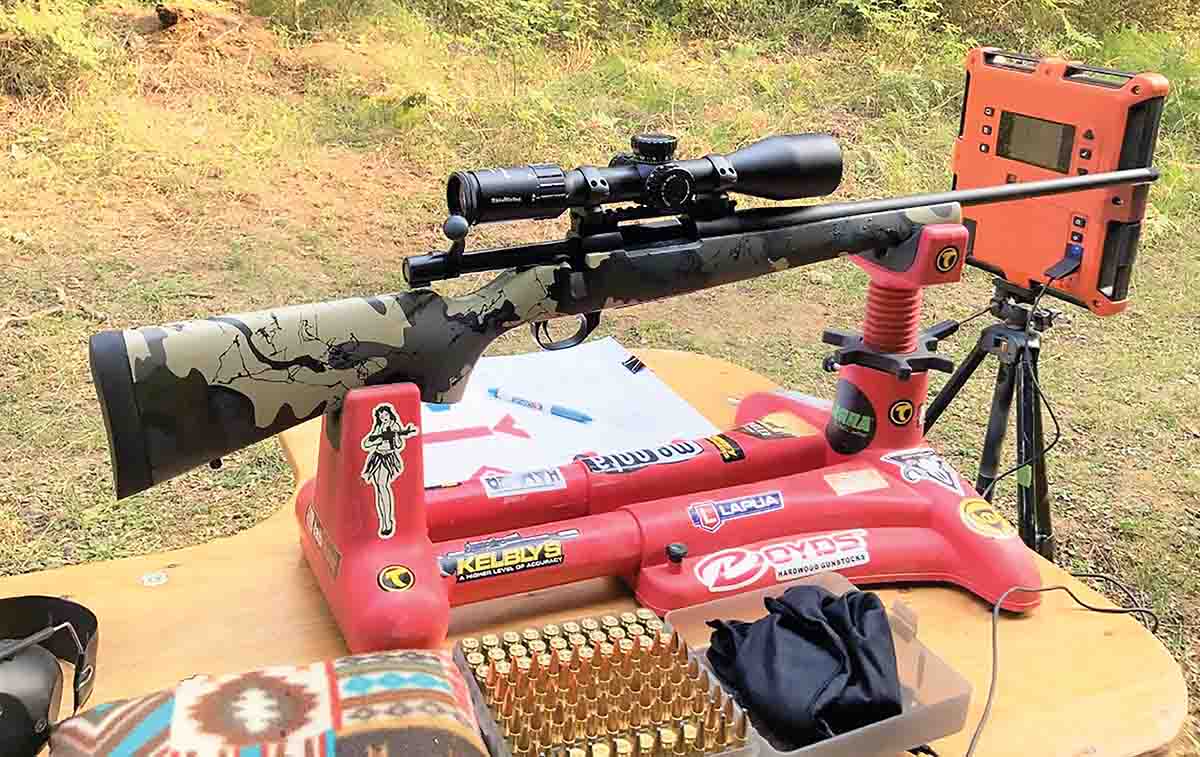 The 7mm-08 Remington, introduced in 1980, is nothing more than the .308 Winchester necked down to .284 caliber. But the cartridge is so much more, a former wildcat that made its mark in metallic silhouette shooting as a mild-mannered, short-action 7mm round, but also a round that improves on the performance of the parent cartridge by introducing ballistically superior projectiles that drop less, drift less and retain more downrange energy.
The .308 Winchester's continued popularity remains baffling to me, even given its heritage. I find it particularly perplexing that seemingly every short-action rifle made today is offered in .308 Winchester, and often only .308 Winchester (and 6.5 Creedmoor, of course), including some long-range numbers that would undoubtedly be better served by more "ballistically-talented" cartridges.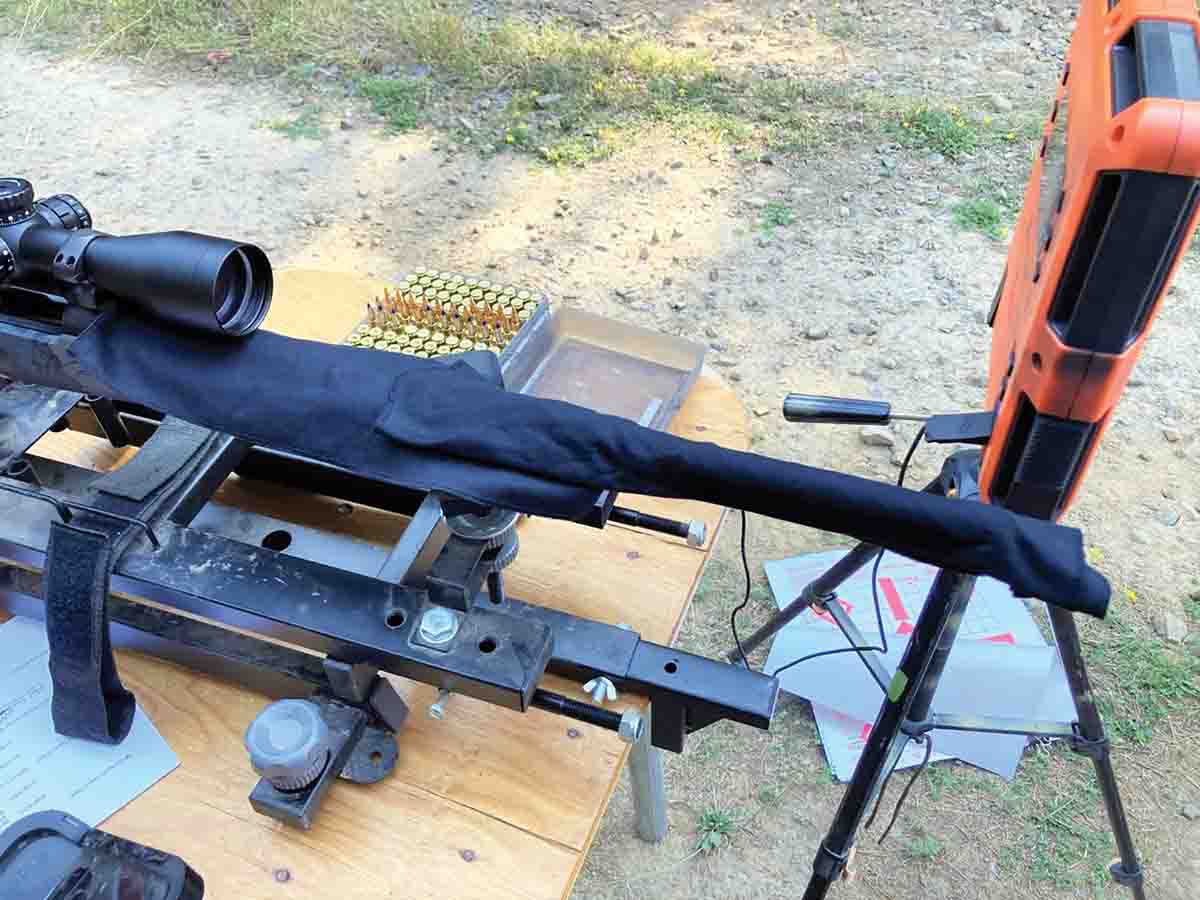 The 7mm-08 Remington, with its modern 61,000 psi pressure limit, easily outperforms the larger, and much older 7x57mm Mauser (51,000 psi maximum pressure). With 140-grain bullets loaded in both, the 7mm-08 easily outclasses the 6.5 Creedmoor. Now take a 7mm-08 Remington and .308 Winchester, each loaded with essentially identical weight bullets (.308 165-grain and 7mm 162-grain Hornady SSTs) launched at an identical 2,600 feet per second (fps) velocities and with 100-yard zeros. The .308 drops 16.1, 36.1 and 66 inches at 300, 400 and 500 yards, and drifts 7.9, 14.5 and 23.7 inches at the same distances when subjected to a 10-mph crosswind. The 7mm-08 drops 15.4, 33.9 and 61.4 inches and drifts 6.3, 11.5 and 18.5 inches under the same conditions and at the same ranges. The 7mm-08 also delivers about 172 foot-pounds (ft. lbs) of additional energy at 500 yards (only slightly more at 100 yards). This is due to a .447 verses .550 G1 ballistic coefficient (BC), .308 to 7mm bullets, respectively. These margins stand up pretty well even when comparing 7mm 175- and .308 200-grain bullets of the same make – despite the 7mm-08 Remington regularly being billed as an ideal kid's/woman's cartridge. It
is
an ideal cartridge, performing well outside the capabilities its mild-recoiling nature would suggest, but this need not repel grown men seeking a big-game cartridge.
The test rifle was a new Howa 1500 short action dropped into the new Kuiu H-S Precision stock and holding a NikkoStirling 4-16x 50mm Diamond LR scope. The scope includes a 30mm tube, side parallax, exposed .25-MOA elevation and windage turrets and the company's version of a Mil-Dot reticle, which can be illuminated to various brightness settings. This is a second focal plane (SFP) scope. This Howa's 22-inch, sporter-weight barrel (.61 inch behind a thread protector) was threaded to hold a brake or suppressor and was definitely designed for hunting, not varmint or target shooting. The H-S Precision stock is a Kevlar/fiberglass/carbon hybrid finished in Kuiu VIAS 2.0 camo and has a thick H-S Precision recoil pad. Length of pull was 13.5 inches (an inch short for me). The magazine includes a hinged drop plate activated by a trigger-guard tab. The rifle, including a Picatinny rail, rings and scope, weighed 9.63 pounds, and the two-stage trigger broke at 2.94 pounds out of the box. Howa 1500 actions are well made and offer smooth cycling. Howa guarantees sub-MOA groups with premium factory ammunition, a testament to the good work conducted at the Miroku, Japan, manufacturing facility.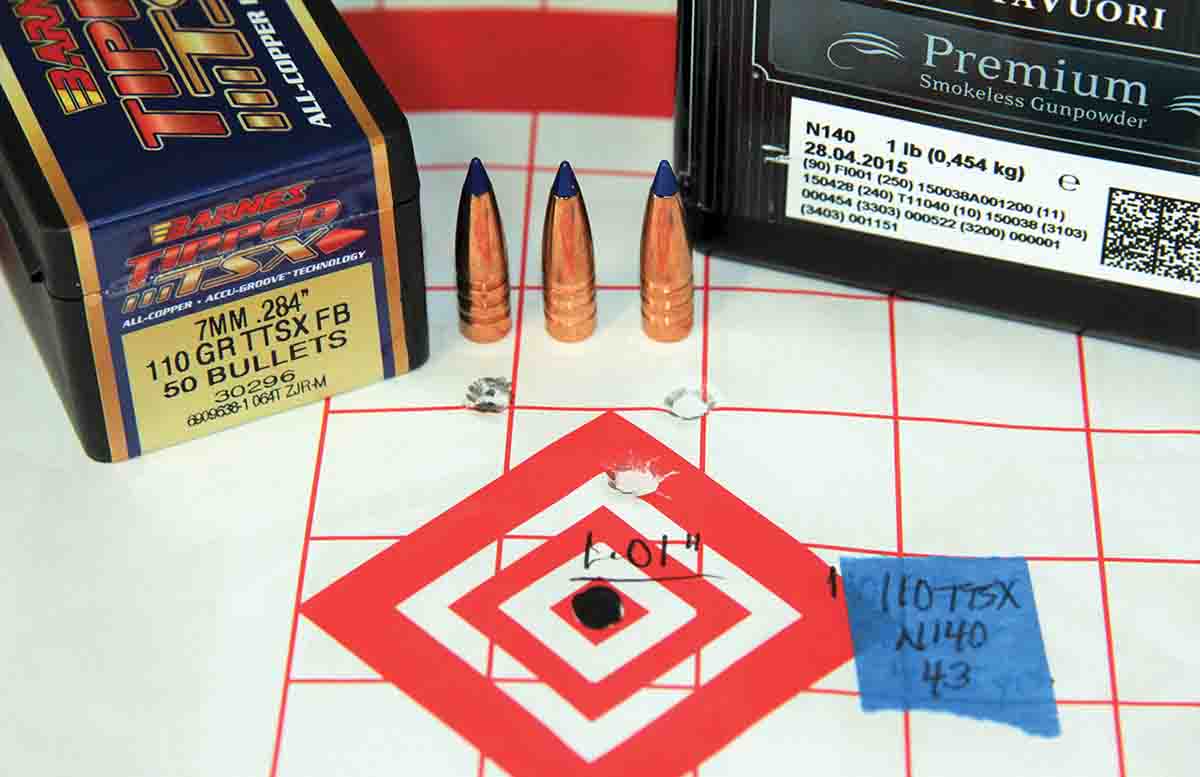 My goal was to introduce compatible powders only recently released or lesser known to some American handloaders, paired with bullets suitable for everything from coyotes to bull elk. New Hornady brass and CCI BR-2 Large Rifle Benchrest primers were used throughout. Loads were assembled using Hornady Custom Grade full-length dies and Area 419's exceptional ZERO Reloading Press.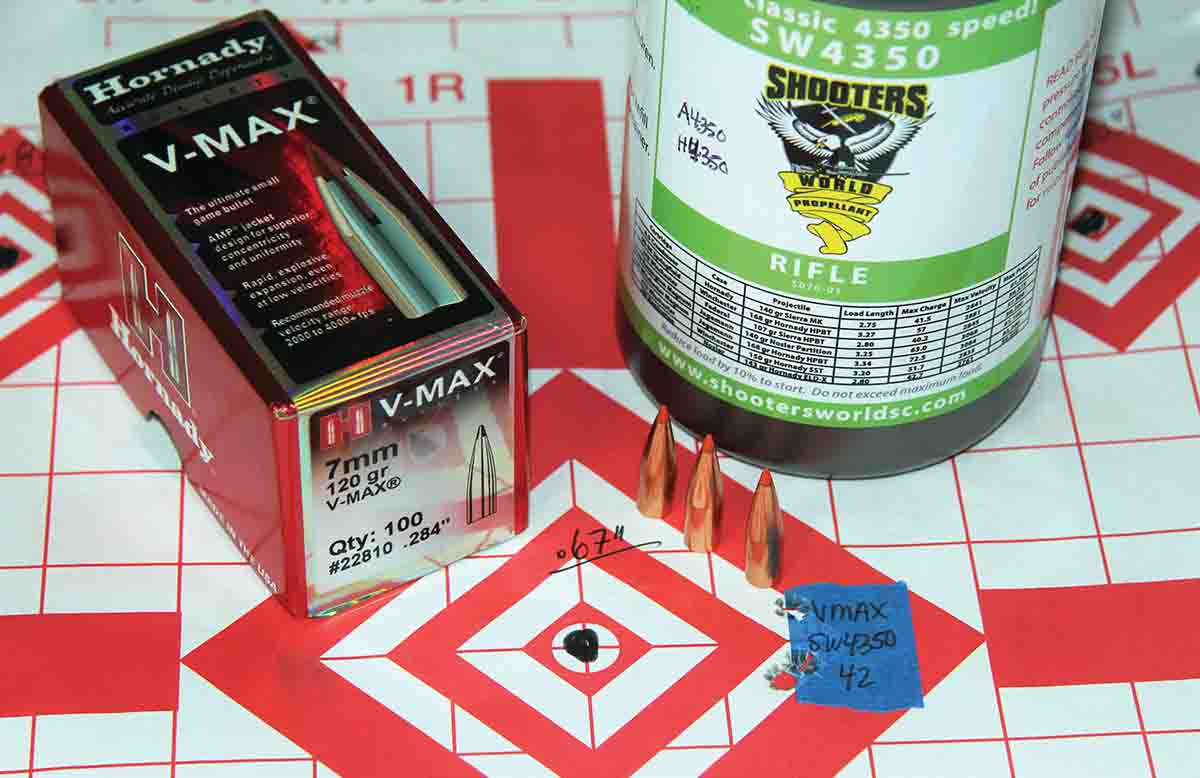 On the light bullet end, I started with Barnes' 110-grain TTSX FB bullets, a flatbase, poly-tipped, monolithic copper option providing top velocities from this cartridge without worry of bullet failure. A .319 G1 ballistic coefficient (BC) holds up well on deer or hogs to 300 yards, and would make a great choice for recoil-sensitive shooters. Overall, this bullet provided a 1.15-inch group average. The Hornady 120-grain V-MAX was the single varmint bullet tested. The highly-frangible bullet combined with a .365 G1 BC makes it a great option for rifle owners wanting to enjoy some casual varmint shooting or predator calling. Groups averaged 1.08 inches, and were heavily influenced by two dismal groups; this bullet produced the highest number of sub-MOA groups of the test.
In the middleweight class, Speer's 130-grain BTSP – including a .384 G1 BC – makes an ideal deer or hog bullet that should hold up well at longer ranges. The Speer averaged 1.36-inch groups with all loads tested. Speer's flatbase, softnosed 145-grain Grand Slam (.353 G1 BC) is a proven controlled-expansion design in an ideal velocity-to-weight ratio for the 7mm-08 Remington. It includes internal flutes for consistent expansion and a tapered jacket for deep penetration and excellent weight retention. Its 1.24-inch group average is more than big-game ready.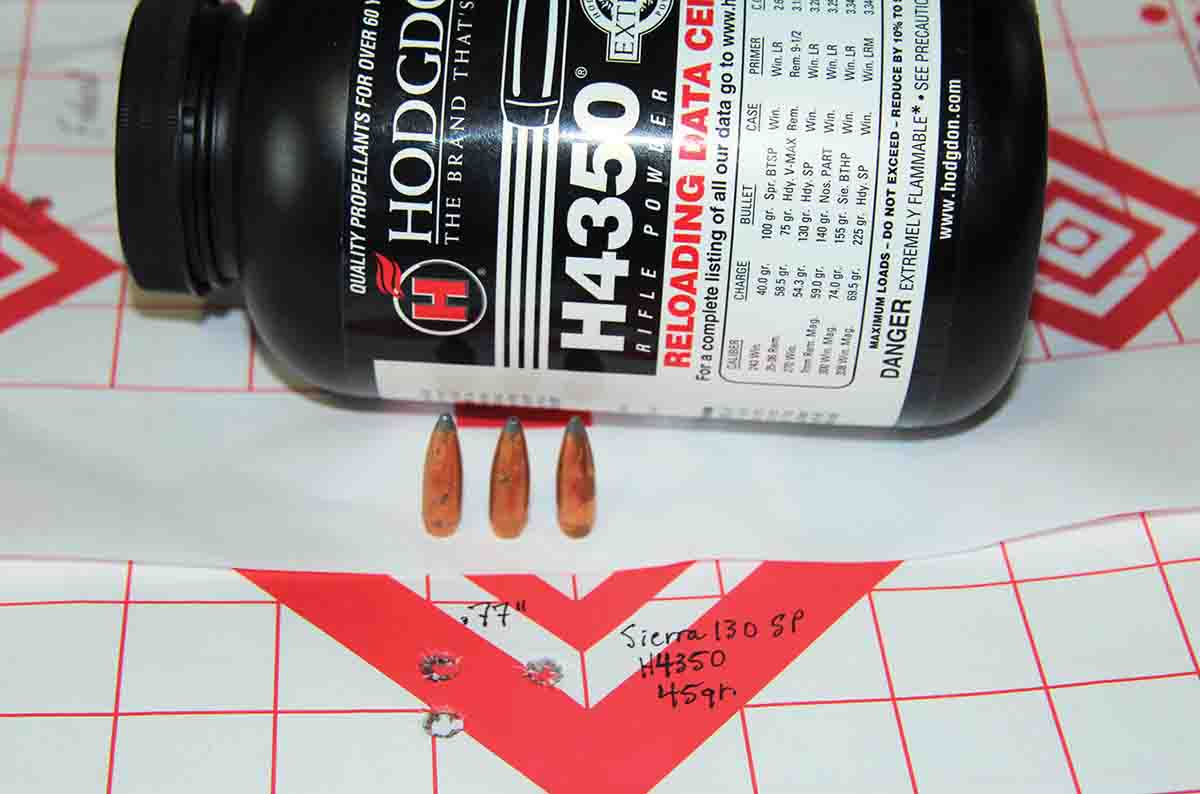 Moving to heavier bullets, Berger's 150-grain Classic Hunter would make an excellent long-range Coues' whitetail, mountain muley or pronghorn option. An exceptional .505 G1 BC promises flat trajectories and minimized wind drift combined with devastating terminal performance, though the 1.39-inch overall group average was a little disappointing. Federal Premium's 155-grain Terminal Ascent represents an all-around western ideal. The phenomenal .586 G1 BC created by its sleek boat-tail profile and polymer tip ensure minimized drop and wind drift in demanding conditions, while a bonded core, tapered jacket and solid copper base provide peace of mind on larger big game. This bullet posted a 1.27-inch overall group average.
Unable to secure any 175-grain bullets before press time, Nosler's classic 160-grain Partition served as the heavyweight in this test. I'd confidently shoot bull elk or moose with this bullet, even from the mild-mannered 7mm-08 Remington. The dual-core construction is designed to shed its tip and inflict major damage, while the Partition "cross beam" checks expansion to ensure deep penetration. Its .475 G1 BC would hold up well should range stretch, though the 1.68-inch overall group average would limit range somewhat from this particular rifle.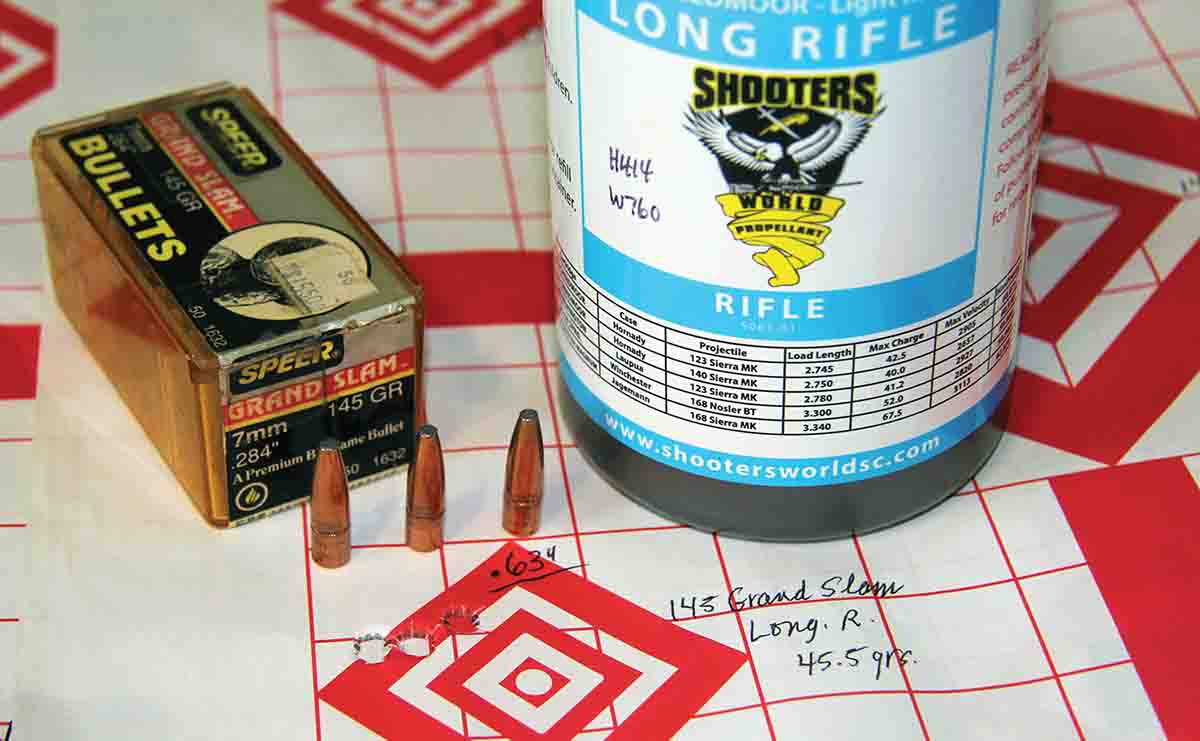 Testing started with the 110- grain Barnes and Accurate 4064. The Accurate version is a bit slower burning than classic IMR-4064 (they are not interchangeable), while also seemingly a bit more temperature stable. In the velocity department, this powder was exceptional, producing bullet speeds of 2,859 to 3,010 fps from the 22-inch barrel. Its best showing with the Barnes was a 1.08-inch group at 2,859 fps using 43.5 grains of powder.
Winchester's StaBALL 6.5 also debuted with the Barnes, and then appeared again with the 150-grain Berger and 160-grain Nosler. This temperature-stable, copper-erasing Ball powder became an instant favorite by proving both versatile and relinquishing excellent accuracy from several cartridges/rifles. This powder provided top velocities in all bullet weights, topping out at 3,013 fps with the 100-grain bullet, 2,792 with the 150 and 2,568 with the 160-grain bullet. It provided its best accuracy with a maximum load of 52.5 grains with the 110-grain bullet hitting 3,013 fps and grouping into 1.05 inches. With the heavier bullets, it produced some of the worst all-around groups, but also a few perfectly adequate for big-game work.
Vihtavuori's N140, made in Sweden, also used for the Barnes, and again with the 155 Federal Premium bullet, is another powder that regularly provides excellent accuracy from several of my rifles. Accuracy wise, it produced the best group with the 110-grain bullet (1.01 inches) combined with decent velocity (2,969 fps) with a maximum load of 44.5 grains. It's best showing with the 155-grain Federal was 1.06 inches at a somewhat pokey 2,351 fps, so it is likely a bit fast burning for the heavier bullets.
Alliant Power Pro 2000-MR made its only appearance with the 120-grain V-MAX. It produced two sub-MOA groups with 47.5 grains at 2,908 fps and 48.5 grains at 2,981 fps, then fell apart as charges approached maximum. It also produced the fastest velocities with all powders chosen for the 120-grain bullet.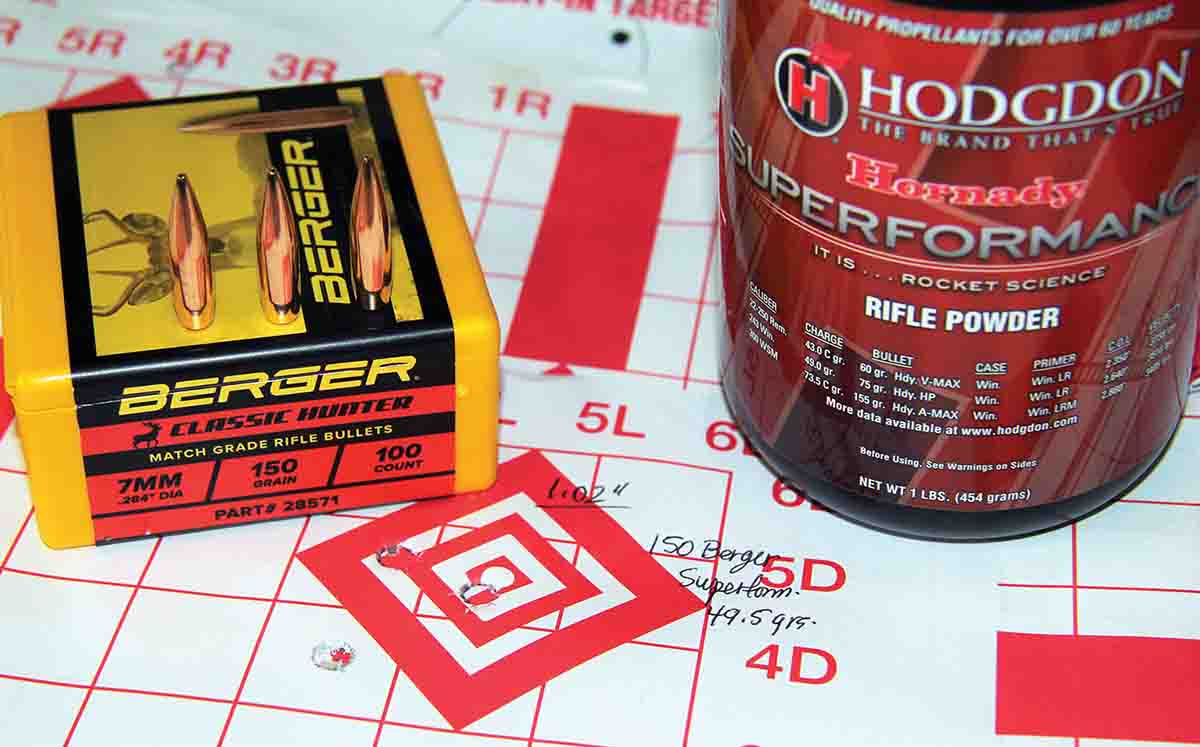 Shooters World 4350 was paired with the V-MAX and with the Federal bullet. It's similar to IMR-4350, Hodgdon H-4350 and Accurate 4350, but a bit hotter burning, thus not interchangeable. For example, in comparison to the 44-grain max load of SW-4350 used for the 120-grain load here, IMR-4350's max load is 49 grains, A-4350 46.5 grains and H-4350 50 grains. This powder produced the tightest 120-grain V-MAX group (.67 inch), with the other two groups quite respectable. What it gave in accuracy it lacked in velocity, topping out at only 2,410 fps.
Hodgdon's copper-erasing formula and highly temperature stable CFE 223 powder is versatile, and it paired well with the 120-grain bullet. It gave velocity close to Alliant's Power Pro 2000-MR, grouping tightest with a maximum load of 47 grains. That load printed .87 inch at 2,994 fps.
Alliant's Swedish-made Reloder 16 first appeared with the 130-grain Speer, and again with the 160-grain Nosler. Initial experiences with this powder have involved my 6mm Creedmoor, from which it consistently produces one-hole groups, so it's a powder I now expect good things from. TZ Technology provides exceptional temperature stability. With the Speer, it managed only a 1.23-inch group with 44.5 grains of powder at 2,634 fps, and 1.40 inches at 2,483 fps with the Partition. In short, Reloder 16 didn't hold up as well with the 7mm-08 Remington as in past experiences.
Hodgdon's Extreme Series H-4350, made in Australia, received a requisite appearance with the 130-grain Speer, because it's just impossible to leave it out when loading any cartridge of this weight class. Results proved notable enough that I regretted not including it elsewhere. It produced the Speer's best group (.77 inch) combined with worthwhile velocity (2,631 fps). It obviously deserves further exploration in this cartridge.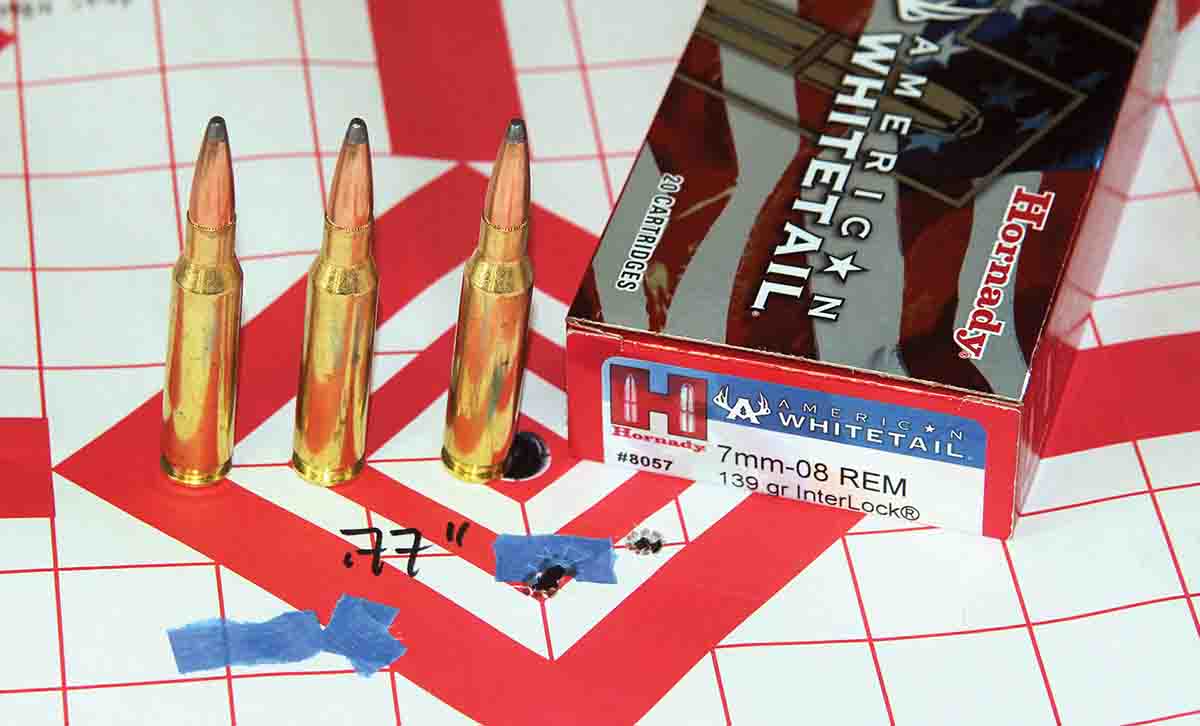 Vihtavuori's high-performance Swedish N540 finished off the 130-grain Speer and was included with the 150-grain Berger. This powder consistently wows, producing top velocities combined with top-drawer accuracy in many of my favorite cartridges. With the Speer it produced a 1.17-inch group at 2,732 fps using 41.5 grains of powder. Heavier charges opened groups quickly. It might have proven a touch fast burning for the heavier, 150-grain Berger, it's top velocity not matching other selected powder's start loads, though accuracy was good, the best printing 1.03 inches at 2,520 fps with a maximum load of 39 grains.
I loaded the Grand Slam with a duo of IMR Enduron powders, curious to see if faster-burning IMR-4166 or slower IMR-4451 would prevail. I view IMR-4166 as a viable IMR-4064 substitute, IMR-4451 as an IMR-4350 replacement – though they certainly are not interchangeable in any way – while also providing cleaner-burning and with copper-erasing properties and more temperature-stable choices. IMR-4166 started well with a .85-inch group at 2,523 using 39 grains of powder and then fell apart quickly. IMR-4451 proved the superior choice for the 7mm-08, giving a touch more velocity and more consistent grouping. The best was .71 inch at a faster 2,672 fps with 47 grains of powder.
Shooters World Long Rifle finished the 145-grain Speer loads and provides similar – but not interchangeable – characteristics to Hodgdon H-414/Winchester 760, but seems much cleaner burning and temperature stable. Long Rifle produced the tightest group of the entire test and with a speedy maximum load. Forty-five-and-a-half grains pushed the 145-grain bullet to 2,697 fps and printed a .63-inch cluster – an obvious big-game contender.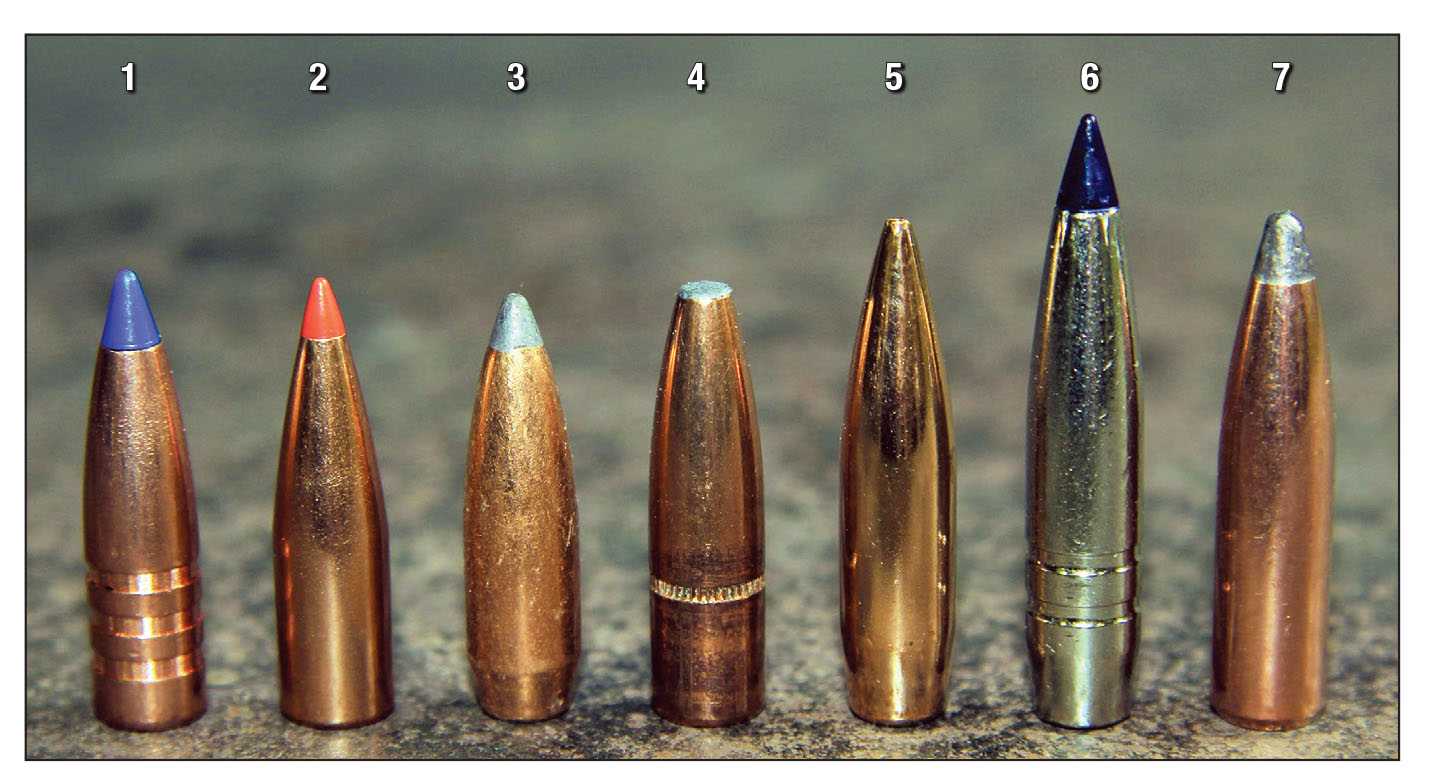 Hodgdon American-made Superformance was given a chance with the 150-grain Berger, as it can usually be counted on to dial-up performance. It certainly did that, pushing the 150-grain bullet to 2,801 fps, though the best group resulted from one less grain of powder and a velocity loss of just 46 fps. That group measured 1.02 inches.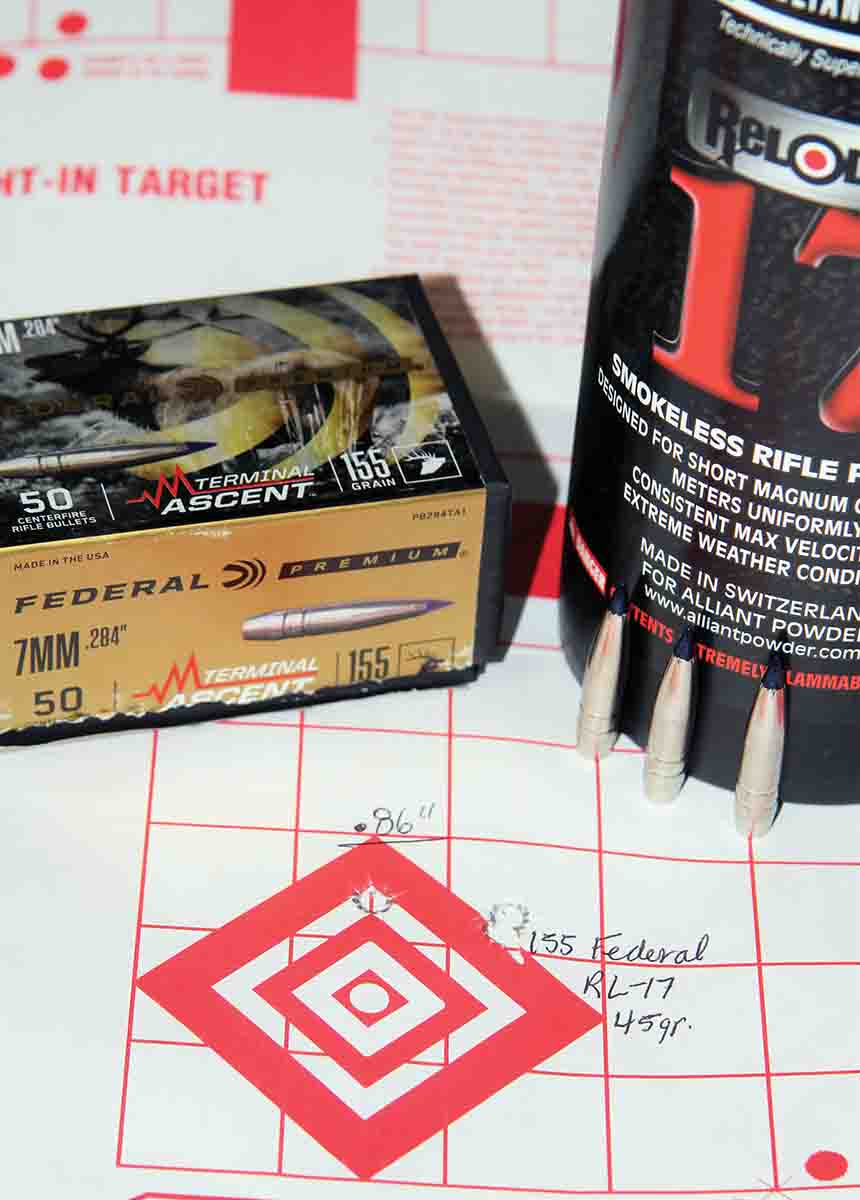 Alliant Reloder 17 promised top velocities with the 155-grain Federal bullet, so it couldn't be ignored. It delivered on that promise while also producing this bullet's tightest group (.86 inch) at 2,712 fps with 45 grains of powder. A 1.13-inch group resulted from the 47-grain maximum load at 2,843 fps.
Finally, Shooters World Precision Rifle fueled the 160-grain Partition, a wholly viable Hodgdon Varget substitute (though not interchangeable). It produced that bullet's smallest group, 1.35 inches at 2,561 fps using a maximum load of 41 grains.
For the best combination of accuracy and velocity in the 7mm-08 Remington, my top picks are Winchester StaBALL 6.5, Hodgdon CFE 223 and Alliant Power Pro 2000-MR for lighter bullets; IMR-4451, Shooters World Long Rifle and Alliant Reloder 17 for mid-weight bullets; and Shooters World Precision Rifle for the heavyweight bullets. Both 4350s, the Shooters World and Hodgdon versions, should not be ignored, and I suspect Accurate and IMR's formulas would work as well.