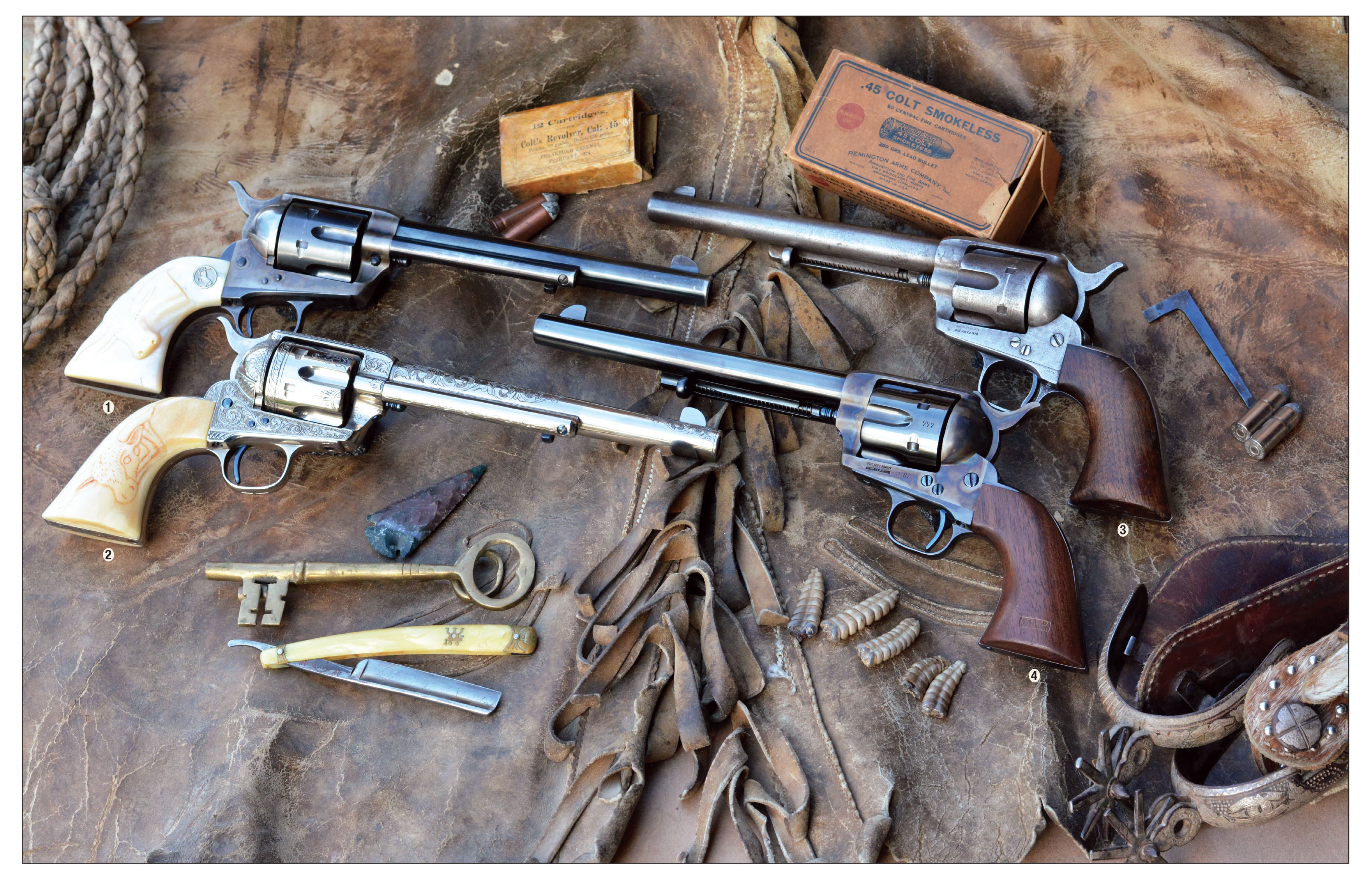 It's doubtful that the engineers working on Colt's new metallic cartridge sixgun including William Mason and Charles Richards had any idea how popular, respected, or appreciated that gun would become, or maybe they did! It is very unlikely that they ever considered that 150 years later, it would still be in production, remain in high demand, become widely copied and easily hold the title of being the most collected sixgun in the world.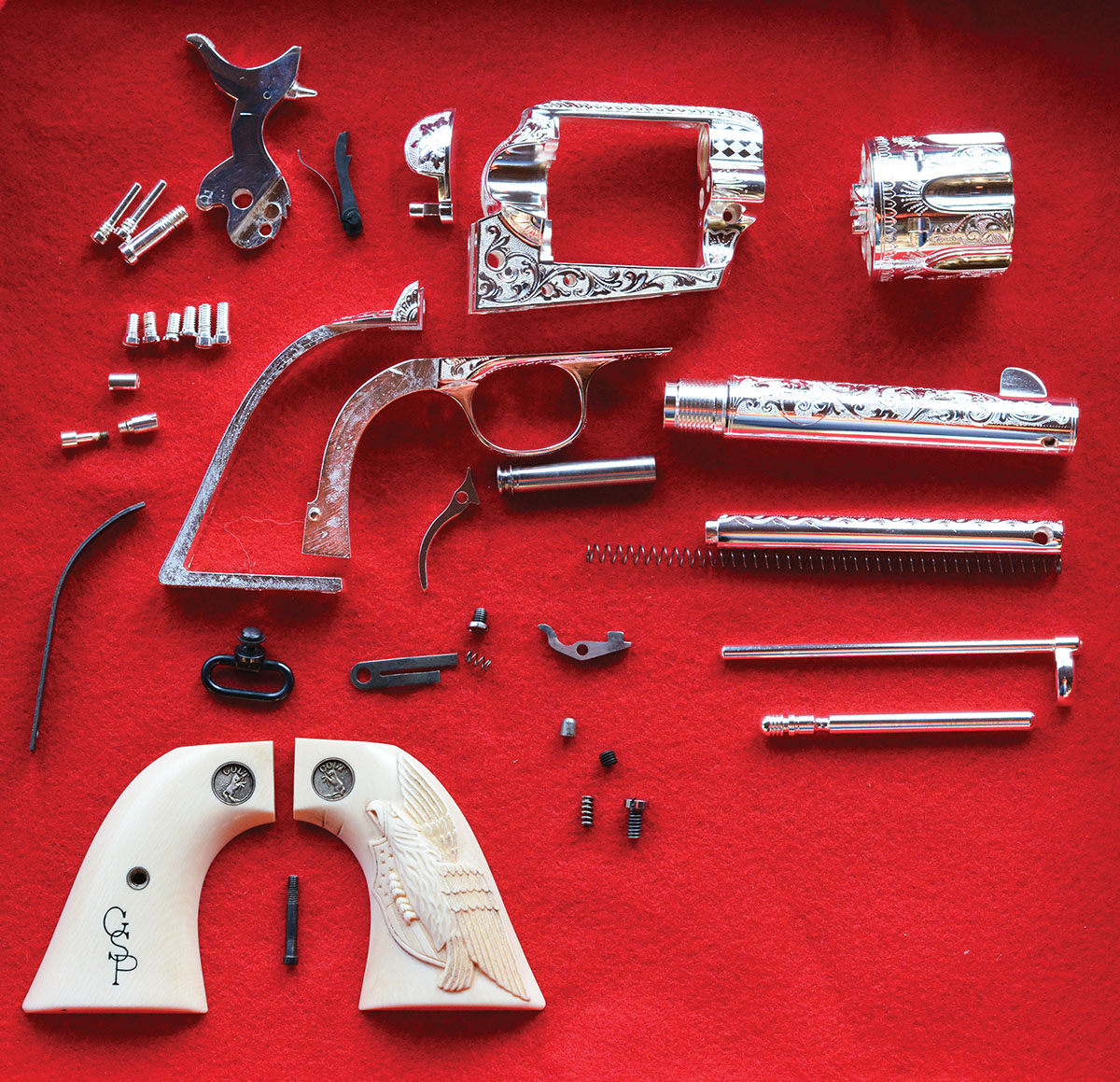 The origins of what would become known as the Colt Single Action Army, SAA, Peacemaker, Model P, Model 1873 and a host of affectionate nicknames, began in 1871 (although the basic lockwork was much older). Colt submitted guns to the U.S. Cavalry in late 1872 for testing and evaluation that were chambered for 45 Colt with both the gun and cartridge being formally adopted in 1873 at the cost of $13 each with a screwdriver included. With extremely high demand, Colt immediately marketed guns for the civilian market. We could say "the rest is history," but the remarkable record of this most famous of all Colt sixguns was just beginning and it is still making history!
The list of famous men and women who have used, trusted, respected and admired the SAA is so extensive that mentioning only a portion would fill all of these pages. Suffice it to say that in the U.S. alone there have been countless military men, lawmen, outlaws, exhibition and trick shooters, action shooters, world-class target shooters, farmers and cowboys, collectors, cartridge wildcatters, experimenters, U.S. presidents and last and least, movie actors, who have all used this sixgun for countless purposes!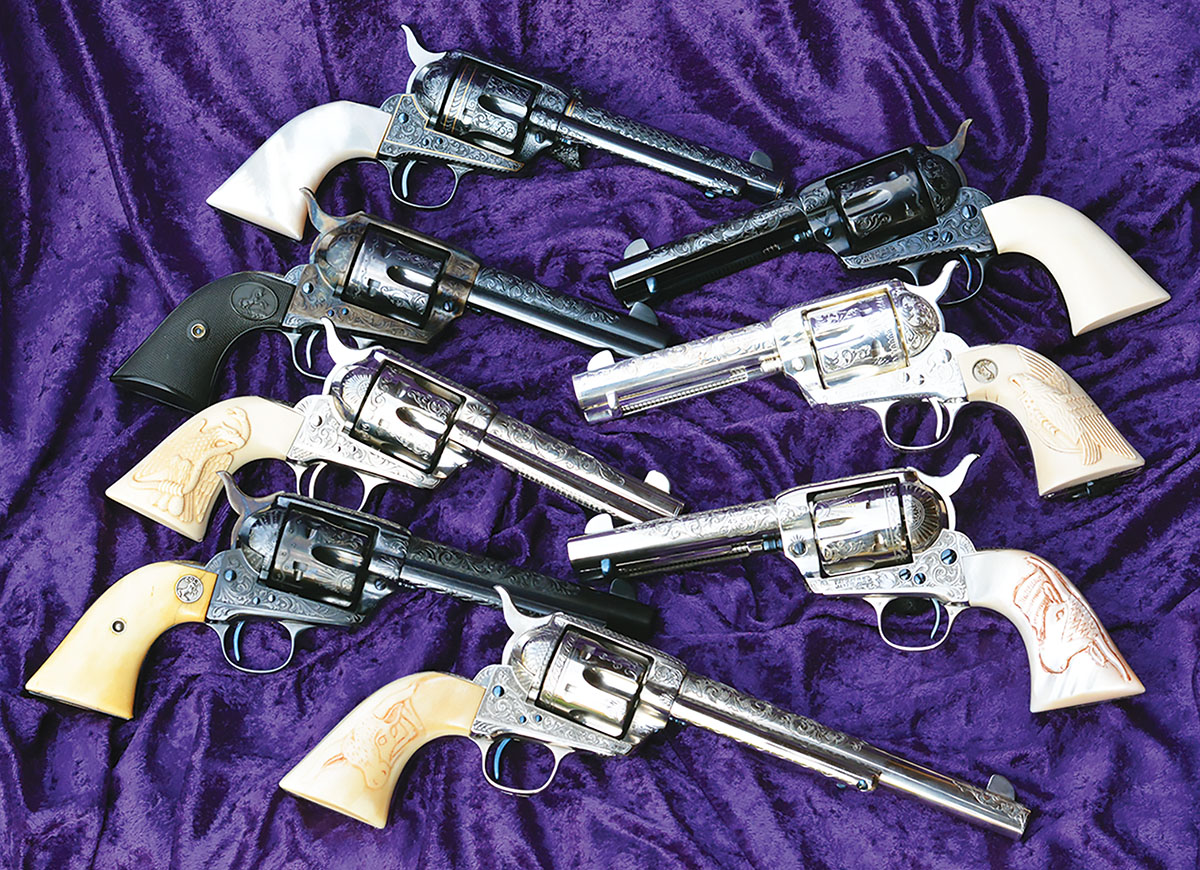 While this article is not about me, it seems prudent to briefly share some of my personal experience with the Colt SAA that might help support some of the nearly casual statements made today regarding this outstanding sixgun. I grew up on remote western U.S. family-owned cattle ranches. Guns were important and I had a strong fascination with them long before starting grade school. My family was among the earliest western settlers and my grandfather Joe Pearce wore Arizona Ranger badge No. 13 – the same badge that Ranger Carlos Tafolla wore when he was killed in a shootout with the Bill Smith gang. My peers were ranchers, cowboys, hired hands – often with either unknown or very interesting backgrounds – as well as many other unforgettable characters. Many of these men still used the aging SAA and held them in very high esteem. My parents taught me to be a good listener, so as a young boy, I often sat on the rock fireplace and listened to the stories of wild cattle, broncs, hunting, rough men and guns. I don't recall exactly how old I was when I first fired a SAA 45, but it was around second grade and I was hooked! But Dad made me wait a few more years before I could purchase my own Colt.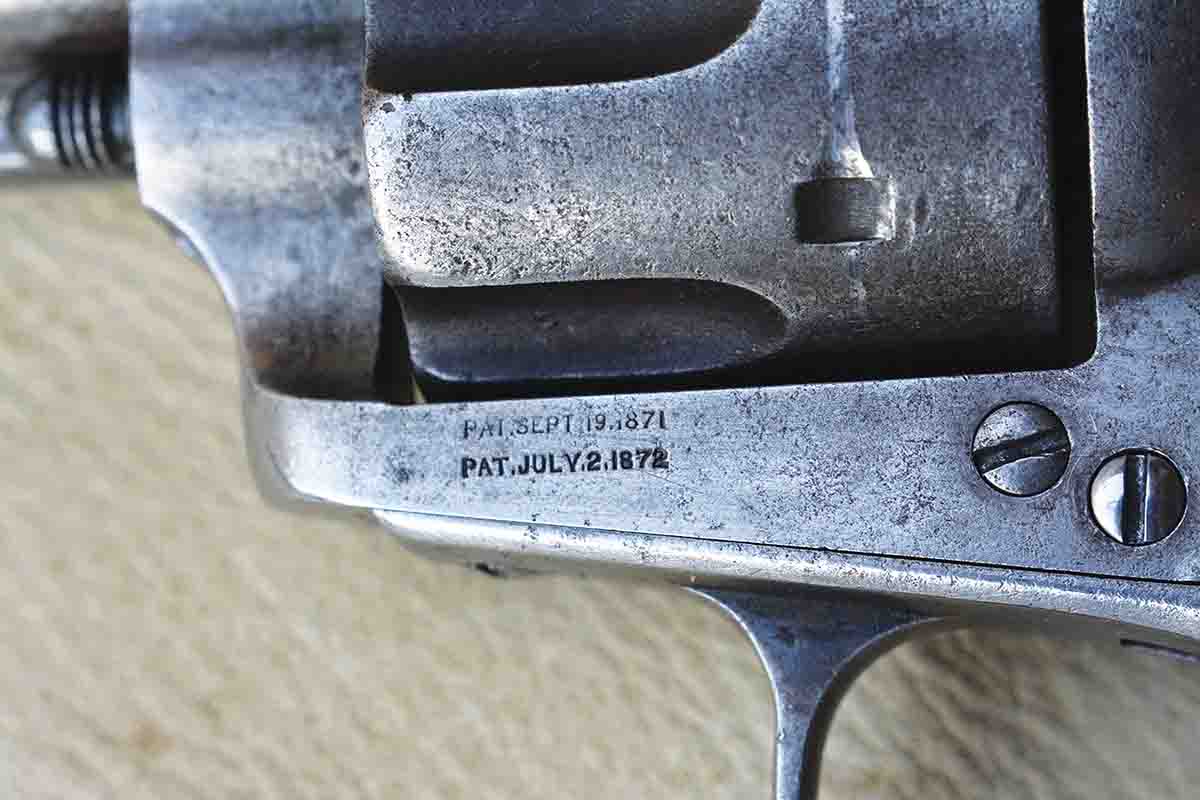 When that time finally came, I was young, worked hard on the ranch, and that old custom pre-World War II sixgun accompanied me almost everywhere, as it was much handier than a rifle while riding, roping cattle or building fences. I shot it daily, cast bullets and handloaded ammunition during the evening hours and became fairly handy with it. It was very accurate and taught me much about shooting a sixgun accurately, the fast draw and aerial shooting. It accounted for countless pests from packrats to porcupines, badgers to beavers, rockchucks to rattlesnakes and it saved my hide more than once from two-legged "coyote types," but also, it proved a credible gun and caliber for taking big game including mule deer, antelope, black bear and elk. In the years since, I owned and shot several hundred different Colt SAA in almost all the calibers that it was offered and have taken well over 100 head of big game with one. I really don't know how many rounds I have fired through the SAA's, but it has definitely been north of a half million. I have completely rebuilt and restored horribly beat-up, abused, altered or unprofessionally refinished guns (but never alter original guns even those in poor condition). I have tested the metallurgy of guns from different eras and conducted scientific destruction tests. Even today, I shoot the SAA virtually daily while riding, working cattle or just to keep my skills tuned up!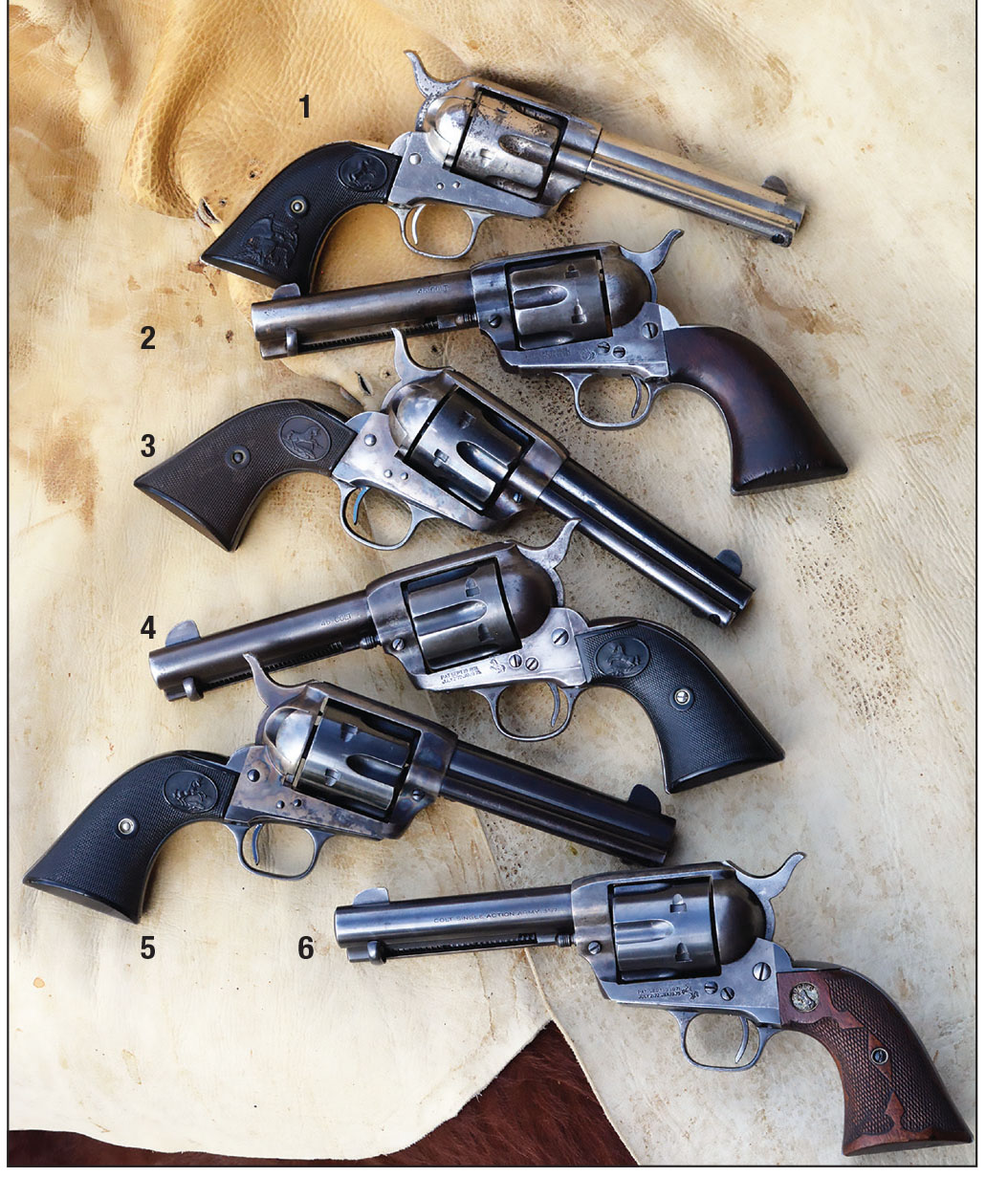 With all of the above experience, I have developed a deep respect for the virtues of this grand old sixgun. They can shoot as accurately and often better than any modern sixgun, especially when care is taken to make certain that the chambers and throats are cut to proper dimensions, the forcing cone is correct, chambers are aligned perfectly with the axis of the bore, the bore is in excellent condition, is properly timed and tuned, the trigger pull and aftertravel are correct and is used in conjunction with the right load. A good gun is capable of sub 1- to 1½-inch groups at 50 yards and some guns are known to produce 1-inch groups at 100 yards, naturally with upgraded sights, scope, etc., but installing the latter is nearly a sin! With that said, the SAA requires finesse and notable skill to shoot to its full potential, but those thoughts will need to be discussed another day.
However, accuracy is not everything. The SAA boasts of a very simple and rugged design and lockwork that will take abuse and is easily repaired if needed. The western frontier was a rough place and many period guns took a harsh beating through use, abuse, dirt, rust and the elements, and they were used with corrosive black-powder ammunition, but they just kept on working. The base pin extends through the frame and cylinder for great strength while the lockwork is extremely simple. I have been bucked off of cow horses in the rocks and other livestock-related wrecks wherein my sixgun took hard knocks, but they just keep on working.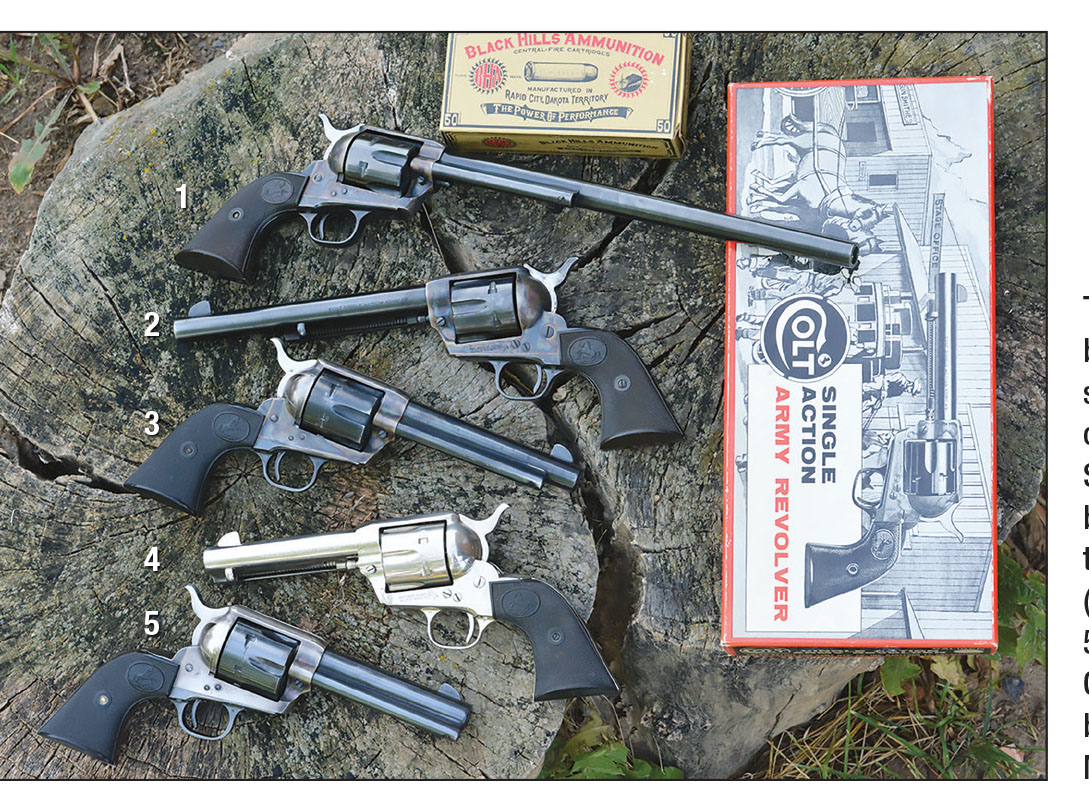 In a modern world concerned with unjust lawsuits, many new single-action sixguns feature various safety mechanisms that permit the safe carry of six rounds, however, all savvy sixgunners know that the SAA should only be carried with five cartridges with the hammer down on the empty chamber, which is a 100 percent safe carry method. Another beautiful aspect of this design is that the firing pin is mounted in the hammer and when the hammer falls, it gives a direct, full-power blow to the primer and results in absolutely reliable ignition (as long as the firing pin protrusion is within specifications), which cannot be said of many so-called modern transfer bar designs, especially when the action is tuned with light mainspring.
For the first 75 years of production, the SAA had very heavy springs that tended to work and stress action parts (including the bolt, trigger and hand) much more than necessary and due to their stiff nature, occasionally broke. Early mainsprings were necessarily very heavy to reliably ignite the inside priming of early ammunition, but Colt continued with these heavy "buckboard-style" springs for most of the pre-war production. Although springs are easily replaced with just a screwdriver, the modern spring steel has been hugely improved since 1873. I have many guns fitted with modern springs from Wolff Gunsprings, Tolland and other suppliers that have fired easily in excess of 25,000 rounds and have never had a single breakage or failure. It is noteworthy that England found considerable favor with the SAA, which were used in the field, on the target ranges and even in battles during World War II. I have one report wherein they recorded firing 60,000 rounds without a single failure. I have enough confidence in my tuned-up Colts that I have carried them for extended periods into Idaho, Montana, Wyoming and Alaska wildernesses wherein a generous grizzly population is present.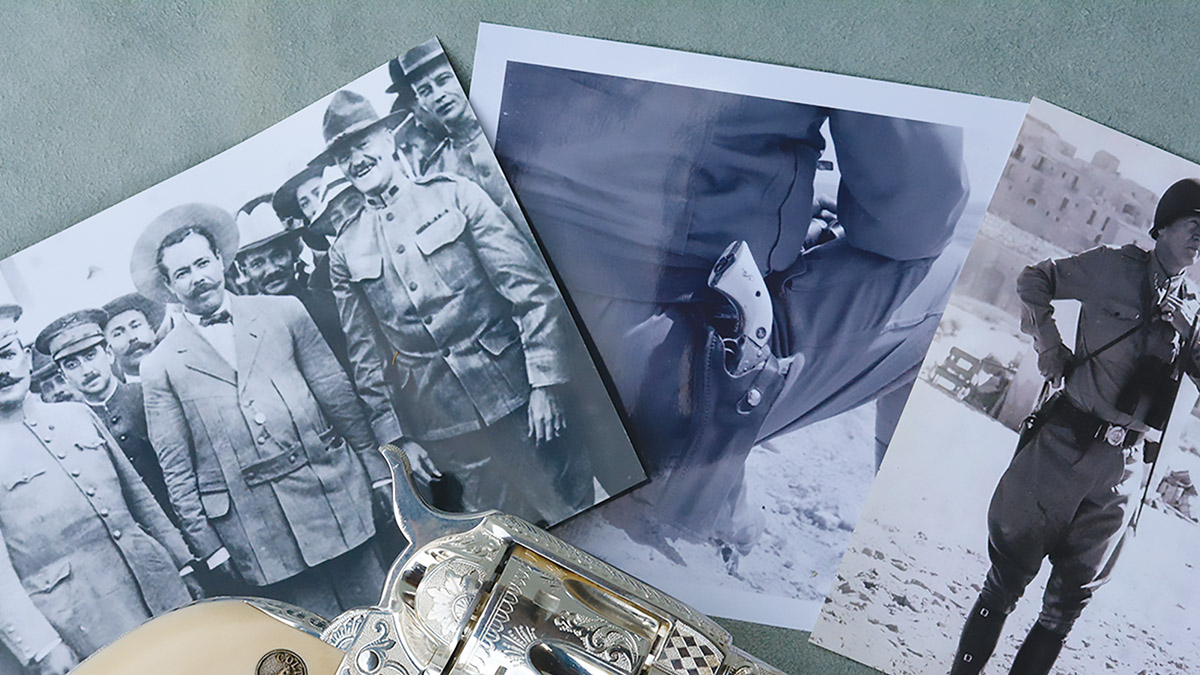 The SAA was designed after culminating the experience of lawmen, frontiersmen, scouts, soldiers and others that used sixguns in battle or carried one daily. As a result, the SAA was much lighter than previous big-bore, cap-n-ball sixguns such as the Walker, Dragoons, etc., but was still powerful and very effective against man or beast. It was light enough that it was not a burden to wear all day, but still offered enough weight to moderate recoil and shoot accurately. It is the perfect blend of weight, power and balance. In 45 Colt, with a 7½-inch barrel, it weighed 38.2 ounces, while the popular 4¾-inch barrel tipped the scale at around 36.3 ounces. (Note; those weights are from period guns, but as smokeless powders appeared, Colt increased the top strap thickness, while late production guns were mostly void of beveling on the cylinder and ejector housing and weight eventually increased slightly. Stock materials will also change weights.)
The SAA design and overall dimensions are sleek and unusually efficient. In other words, there is no excess steel or dead weight, rather every aspect of the frame is carefully (and artistically) sculptured to offer remarkable strength and longevity. For several reasons, it lends itself perfectly to belt holster carry. For instance, the service sights do not snag, or wear sores on the inside of the arm as many guns with adjustable sights will when carried in a strong side hip holster. Unlike sixguns that have large and heavy steel grip frames and tend to be butt heavy, the SAA's balance is perfect in the hand and holster, with the muzzle naturally hanging downward. In measuring the gun from top to bottom, it offers a slim profile, resulting in a sixgun that is unobtrusive on the hip. But for more casual situations, it is often slipped into the waistband and it is generally the fastest gun from the holster extent, with skilled shooters capable of drawing and making a hit with live ammunition at 21 feet in less than a half-second, while world-class shooters can reduce that time to around a quarter-second with reaction time included, but competitors using blanks are even faster. Frankly, a skilled shooter can very capably use the SAA in a defensive situation.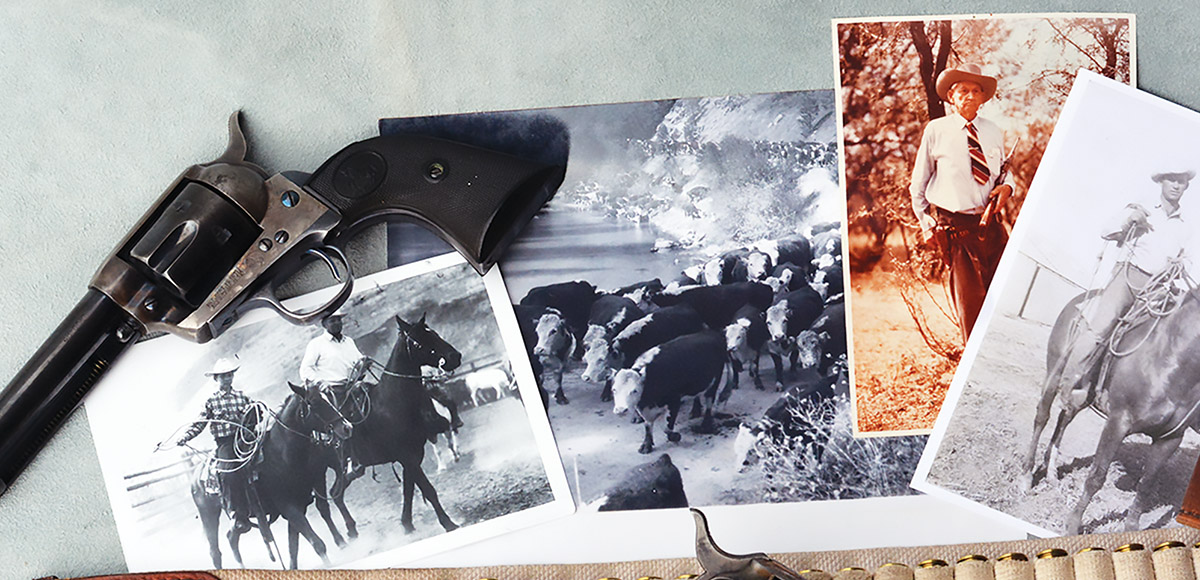 The SAA is the most handsome of all sixguns and it lends itself to custom work including fancy stocks, engraving and other embellishments, while pre-World War II guns with factory engraving and special order options often bring huge premiums, even north of a million dollars! Regardless, even non-embellished guns are pleasing to the eye. Guns with original finish featuring a stunning illuminating carbona blue finish, with case colored hammer and frame, fire blue screws, which is truly striking and is a great example of how guns used to be made wherein every part was hand-fit, polished and made with the utmost attention to quality and detail. But even gray old guns with no finish, proof of hard use and a record of outstanding service are also very interesting and pleasing to the eye. At one time, I owned an artillery SAA that was known to have been carried by Teddy Roosevelt and his Rough Riders in the Battle of San Juan Hill. The gun showed honest use but still offered a respectable finish for a frontier-era gun and featured a perfect bore, and yes, I shot it and it gave incredible accuracy. When visitors would come to my house, they found this sixgun especially interesting, along with many others that wore "notches" and had a known history of being used in gunfights.
As an overview, there are three basic eras of SAA production that include pre-World War II guns manufactured from 1873 through 1940 that are commonly referred to as 1st generation production. The post-World War II, or 2nd generation produced from 1955 through 1975 and 3rd generation guns that have been manufactured from 1976 to date.
For many reasons, 1st generation guns are the most fascinating and command by far the highest prices. In addition to playing a vital role in settling the western frontier and other important tasks, they are generally considered to be of the highest quality, with the pinnacle usually considered to be roughly from 1890 through 1910, however, by any standard all pre-war guns are of high quality. From 1873 through 1882/1883, guns were primarily made of iron and then transitioned to mild steel. During the later 1890s, steels were notably improved to accommodate smokeless powder loads, however, it was not until 1900, beginning with serial number 192,000, that Colt began to warranty its guns for smokeless powder and finally in 1904, the VP (verified proof) mark was placed on the trigger guard bow. By 1905, or serial number 261,000, Colt began heat-treating cylinders and by 1935, with the advent of the 357 Magnum, they switched to modern, high-strength "machine gun" steel. The above information is offered to help shooters use the correct ammunition with period guns.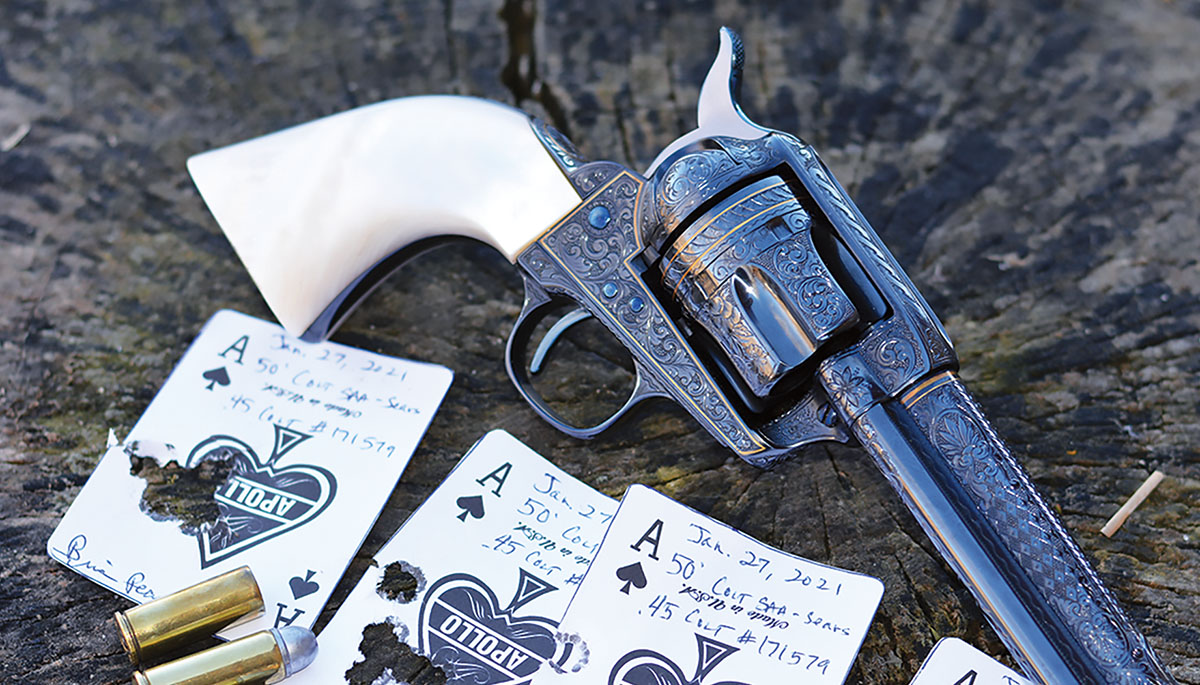 During the pre-war era, customers could order any reasonable option including special sights, action work, special finishes, custom engraving, stocks made from walnut, mother of pearl, ivory with fantastic carvings, while barrels could be ordered in custom lengths from 2½ to 16 inches. However, 4¾-, 5½- and 7½-inch lengths were standard. In addition to the standard SAA, variants include the so-called Buntline, rare Flat-Top Target, Bisley, Bisley Flat-Top and Sheriffs Model and it was offered in more than 30 calibers. During this era, Colt was a true custom shop offering extremely high-quality guns.
For many reasons, sales began to wane during the 1920s, mostly from the development of swing-out cylinder double-action guns from both Colt and Smith & Wesson, but when the Great Depression hit in 1929, sales of all guns declined severely. During the 1930s sales were comparatively small and the grand old sixgun was discontinued in 1940 to make room for tooling to manufacture wartime guns. After the war, beginning in 1947, there were approximately 338 guns assembled from leftover pre-war parts, which are known as "pre-war/post-war" guns, which are rare and desirable. Until those guns were completed, Colt had not considered reproducing the SAA, but when they discovered that demand was still very high, they retooled and trained a new generation of craftsmen and 2nd generation production commenced in 1955 with 38 Special and 45 Colt calibers, but the 357 Magnum and 44 Special were soon added (as well as 44-40 commemoratives and a few experimental guns were chambered in 41 and 44 Magnums). A very desirable 2nd generation variant includes the New Frontier SAA that first appeared in 1961 and featured a flattop frame with adjustable rear sight, high luster blue, etc. While 2nd generation guns were generally of good quality and nicely finished, they were short of pre-war quality. Nonetheless, they are very good guns and remain in high demand by shooters and collectors.
By 1975, the tooling was again showing its age, so Colt retooled and commenced with the 3rd generation production in 1976. There were some design and production changes that are noteworthy and include investment casting of major parts, a new cylinder ratchet along with corresponding hand. The full-length cylinder bushing was replaced with a short bushing, making it more difficult to remove cylinder end-shake. The barrel threads were changed from 1:20 to 1:24. Eventually, the cylinder bushing was changed (which some refer to as fourth-generation guns, but that is not technically correct). During its 47 years in production, 3rd generation guns have had significant variance in quality, yet they remain in high demand, have a strong following and are allocated.
Although there have been many excellent cartridges chambered in the SAA, by far the most popular is the 45 Colt, which deserves special mention herein. It was originally developed jointly by Colt and the Union Metallic Cartridge Company, with early loads from Frankford Arsenal consisting of a copper case, inside priming (Benet primed) loaded with a 250-grain roundnose flatpoint bullet and 30 grains of black powder for around 850 feet per second (fps), but additional powder charge weights were added over the next few years for civilian use.
Exactly when the first commercial load containing 40 grains of powder with 250-grain bullet was first offered is unclear, but it was probably developed at the Colt factory, with UMC listing it in its 1880 catalog. Regardless, I have tested these loads and they easily went over 1,000 fps. This was the load that helped the 45 Colt develop such an outstanding reputation on man and game.
When smokeless powders first appeared, the velocity of 250- and 255-grain bullets was reduced to 870 fps, but are listed today at 860 fps. Despite being reduced, this is still an effective load that I have used to take black bear. In addition to boasting of moderate recoil, it offers low pressure that eliminates so many problems that can occur with higher pressure cartridges. Cases extract easily, primers do not flow causing reliability issues, case life is long and the big caliber delivers notable shock on game.
There are dozens and dozens of references that claim the groove diameter is .454 inch for pre-war guns, while post-war guns have a groove diameter of .451 to .452 inch, which is horse feathers! In essence, this has been repeated so many times that no one seems to question it, except me. I have slugged barrels of hundreds of pre-war guns and with only two exceptions, they virtually always measure .450 to .4515 inch, while the bore measures .444 to .445 inch. Military specifications are clear that the groove diameter was to be .450 inch. In referencing Colt's technical specifications dated June 1924, 45 Colt revolvers are listed with a groove diameter of .451 minimum and .452 maximum, while the bore diameter runs .444 to .445 min/max. These are the same specifications used for all post-war guns.
What has changed, and is important for handloaders to know, is throat dimensions. From 1873 through approximately 1910-1912, throats measured .449 to .452, with these specifications being ideal for top accuracy. Colt became concerned with the nature of smokeless powders wherein the pressure impulse time is very quick. In other words, peak pressures occur before the bullet exits the case. To help reduce chamber pressure, throats were changed to .4555 inch (Colt specifications), which continued with 2nd generation production, but 3rd generation guns generally run at least .456 to .458 inch. For best accuracy, cast bullets should be sized to correspond with throat sizes. For reference, Remington and Winchester factory loads measure around .456 inch and feature hollowbase bullets.
I am out of space and have barely "scratched the surface" in discussing this grand old sixgun. I wish I could be around for its 200th anniversary!