The object of this handloading project is simple and direct: To put the blade front sight of a Mauser G33/40 on an 8-inch steel plate out to 100 yards and actually hit the thing. This may not sound like a very lofty goal, but when a rifle is shooting 15 inches high at a hundred, with the sights set as low as they'll go, and using something approximating the military ammunition for which it was allegedly regulated 80 years ago, something is seriously out of whack. Also, since I want to shoot the rifle – it's a delight – on a variety of practical-rifle courses, it's up to me to find a solution.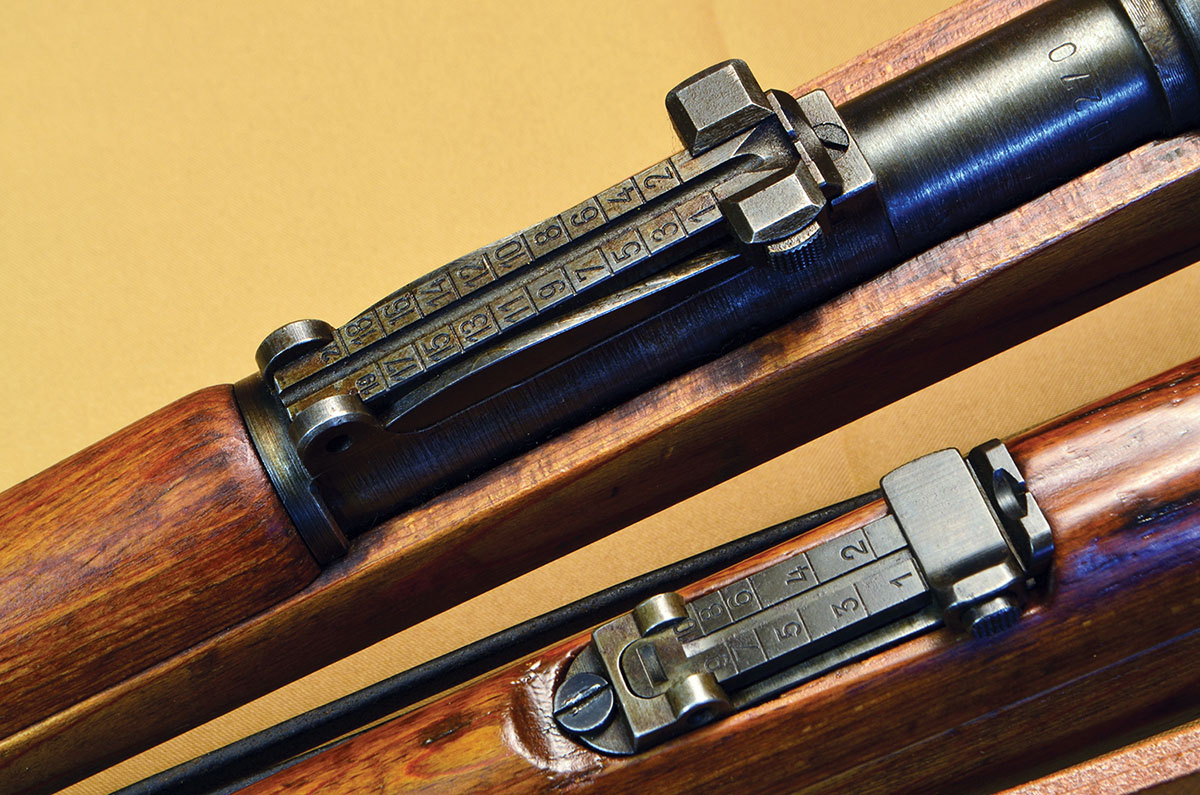 The G33/40 was the German Army's short-barreled mountain rifle, derived from a Czech variant on the Mauser 98 called the Vz33, and produced at the Czech arms factory in Brno. In the 1930s, rifles produced at Brno were famous for their quality, and one of Germany's motives for seizing part of Czechoslovakia in 1938 was to get its hands on its weapons factories, notably Brno and the artillery plant at Skoda.
The Vz33 was a Mauser 98 with certain modifications and was the Czech army's main service weapon. It also served as the basis for some specialty rifles of different barrel lengths. In 1940, the Wehrmacht adopted one of these as the basis for a light, short-barreled rifle for use by mountain troops. It was designated the G33/40 – 'G' for Gewehr, or 'rifle' and '33' for the Czech connection, along with '40' for the year of adoption.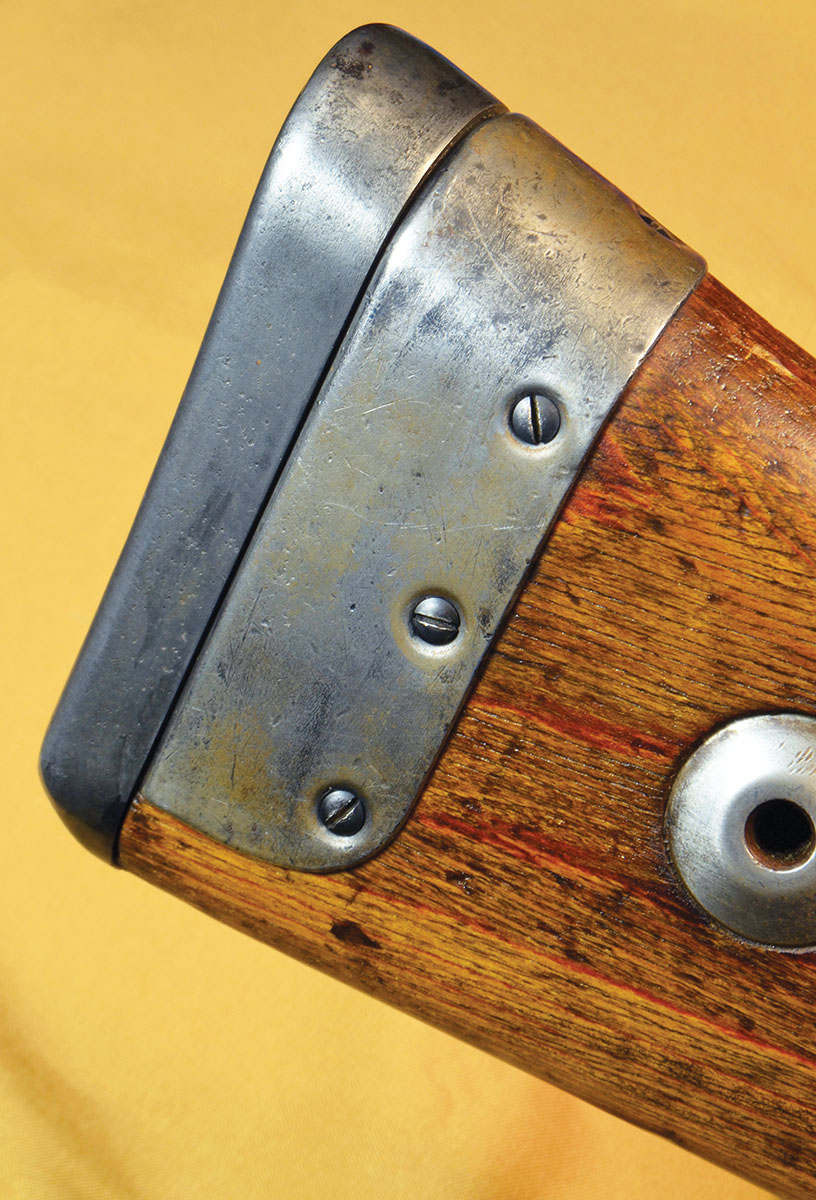 The G33/40 had a 19.6-inch barrel, and the small-ring (1.3 inches versus 1.415) action was lightened in various ways, such as hollowing the bolt knob, milling shallow slots in the action wall, and removing metal anywhere else it was not strictly required for strength. Comparing it to a standard K98, it is easy to see how almost all the metal parts have been skeletonized or scaled down, saving an ounce here, half an ounce there. Even the rear sight is about two-thirds the length of the standard one, and has graduations up to 1,000 meters instead of 2,000.
It was reputed to weigh, unloaded, 7.6 pounds. Mine, unloaded but with a sling, weighs 8.3 pounds, compared to 9.25 pounds for a K98.
The G33/40's virtues as a lightweight military rifle, combined with the superb quality, made it desirable both to military collectors and to gunsmiths wanting to use its action as the basis for a light, mountain-hunting rifle.
It has been estimated that about 120,000 G33/40s were produced from 1940 to 1942, and only a fraction of those survive today in their original condition. Between the attrition of warfare, destruction of surplus stocks, and cannibalization by gunsmiths, the G33/40, especially one in fine condition, has become a rarity and prices have soared. Today, one in collectible condition will command $3,500 to $4,000.
In 1965, as a 16-year-old in love with rifles and hunting, I was offered the chance to buy a G33/40 in what looked to my eye, then, as virtually new condition. I'd already agreed to the purchase of a sporterized Enfield P-17, but when I went to pick it up, I was given the option of the G33/40, which my friend Dick, the seller and a serious gun collector, said was, overall, a better rifle. Alas, in the interim I had researched the P-17 and fallen in love with the 30-06, so I passed it up. The price was $30 for either one. That seems like nothing, now, but to a teenager in 1965, it was a serious investment.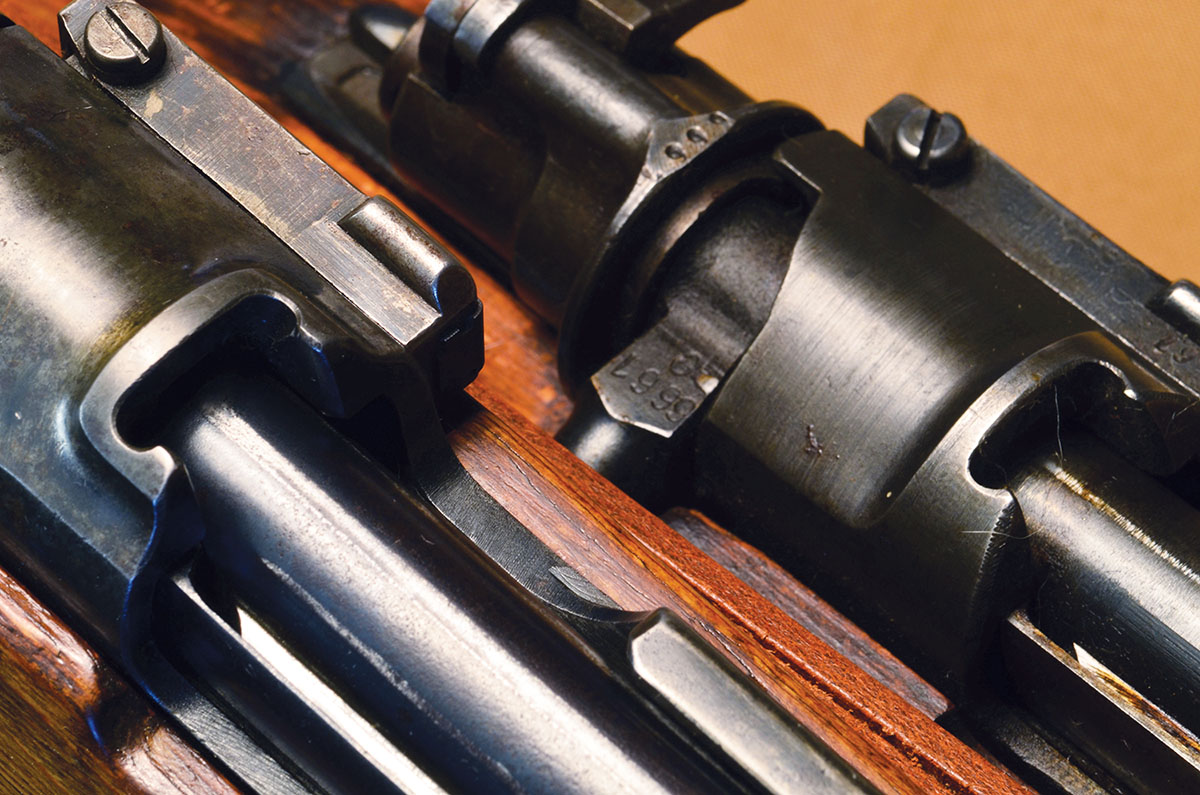 I can still picture that G33/40 in Dick's living room, and in the years since, I have kicked myself. However, I take solace in the fact that if I had bought it, I would certainly no longer have it, since six years later I sold everything that would bring a nickel to finance my first trip to Africa.
That brief introduction, however, kindled a desire for a G33/40 that lasted 60 years, and when one came along a few years ago, I grabbed it. As the photographs show, it is in about as fine a shape as one could hope in a rifle of its age and background, and yes, I paid the collector value for it. Short of a miracle or a deranged seller, you're not going to find one for less.
Naturally, the minute I laid hands on it, I took it to the range and there I found that, inexplicably, it put all its bullets at least a foot high at 100 yards, with the rear sight set all the way down at 100 meters, its lowest setting. The only solution in terms of sights would be to replace the blade front sight with a higher one, which I refuse to do.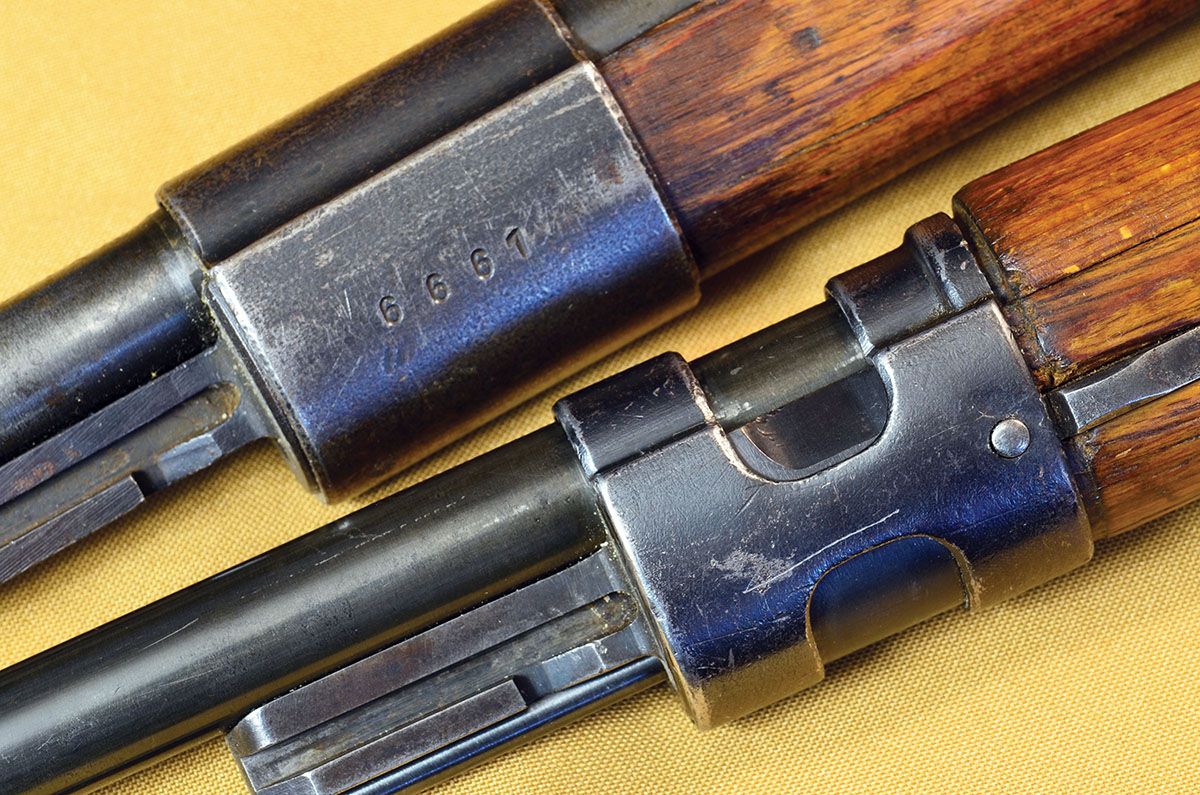 I am not a gun collector per se, but I certainly don't want the rifle to be reduced in value by replacing the original sight, even if I could find one that would do the trick. Plus, 15 inches at 100 yards is a lot. More than money, though, from the point of view of posterity, I think it is wrong to alter a valuable historical artifact, which this certainly is.
However, I still wanted to shoot the rifle. That is, after all, what it was made to do, and I wanted to see what it could and could not do.
The ammunition I used was handloads that had worked well in other 8x57 JS rifles, including a civilian Mannlicher. Bullet weights ranged from 150 to 200 grains, with velocities from 2,350 feet per second (fps) to 2,750. Although they all grouped fairly well (4- to 5-inch, five-shot groups at 100 yards), they all printed 12 to 15 inches above the point of aim. This was using the original military sight, which is a simple 'V' with a barleycorn (inverted 'V') front sight, at its lowest setting of 100 meters.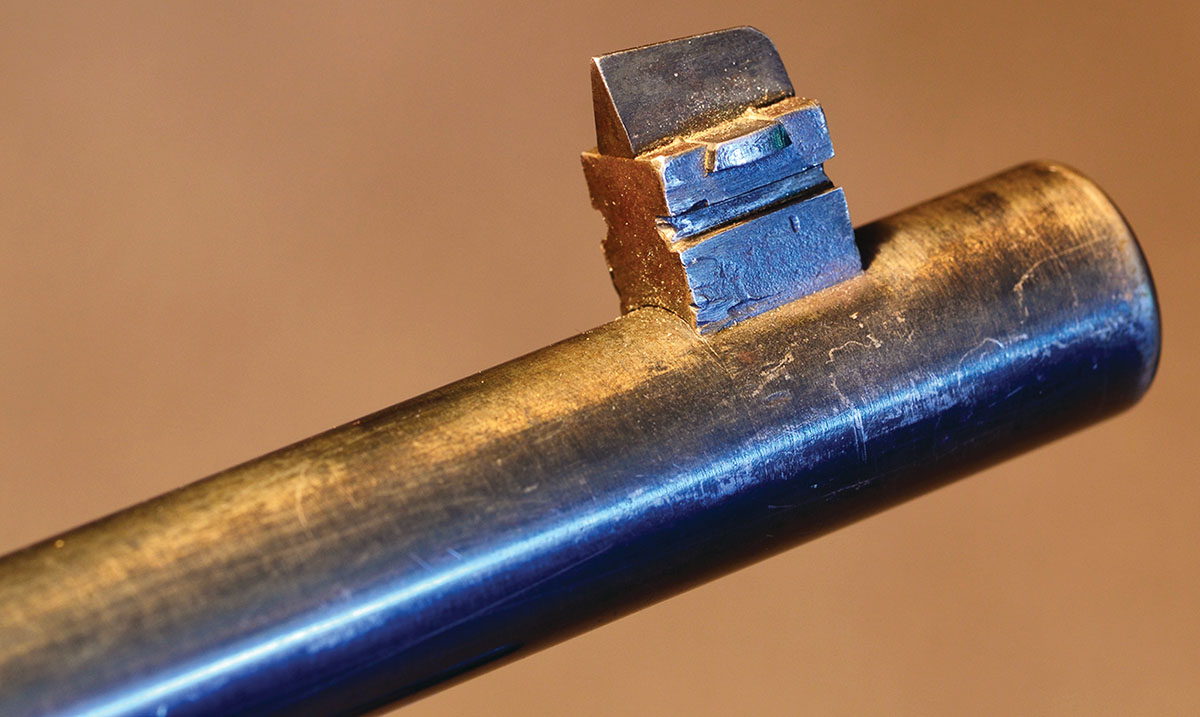 In his book, Shooting World War II Small Arms (Wolfe Publishing, 2014), Mike Venturino wrote that he had experienced the same thing in his G33/40, and elsewhere, offered the opinion that the battle sights of most World War II rifles were regulated for 300 yards. This might (!) explain the high groups, but not when the sight itself is set for 100 meters. Anyway, the rear sight on the G33/40 is not technically a "battle sight," which is a rough-and-ready, usually aperture, sight, such as found on the P-17 or Lee-Enfield No. 4 Mk. I and complements the more precise ladder sight. A battle sight is either fixed or has minimal adjustments.
It would seem very odd to me that a battle sight would be set for a long range anyway, since most enemy encounters where you would need it would be within 100 yards.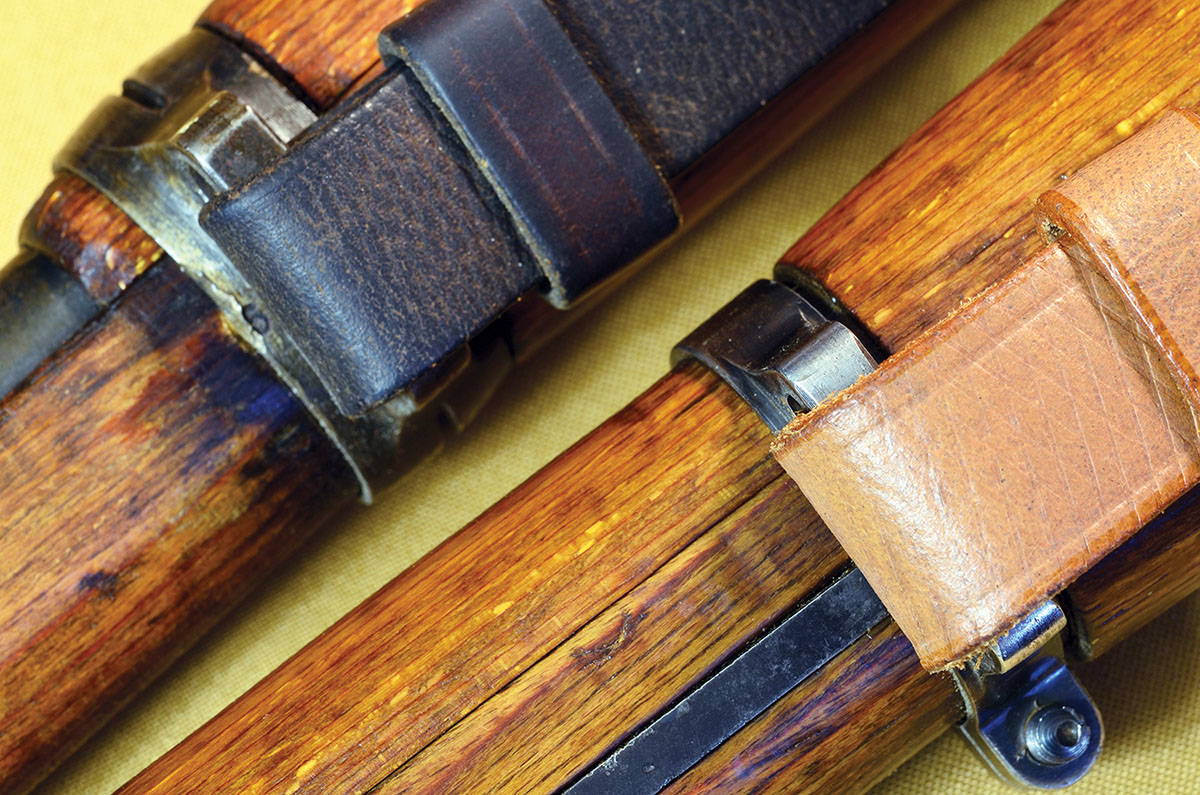 Riflemen who are accustomed to the modern age, with ultra-precise bullets, phenomenal optical sighting equipment, and groups measured in fractions of an inch, will probably wonder at a rifle with a stellar reputation like the G33/40 delivering such miserable results. To those of us who grew up with such as the above- mentioned P-17, however, this is all in a day's work of trying to outwit a rifle that is clearly recalcitrant, if not openly hostile.
The obvious first problem is determining exactly what ammunition the rifle was originally regulated for and that is an impossible task. The only thing most of the sources agree on is that there was a wide range of ammunition used by the Wehrmacht, none of which is available today through standard channels, and even if it were, you would probably not shoot it.
Since I am certainly not going to alter any feature of the all-original G33/40, this leaves a process of trial and error, hoping to find a load that works.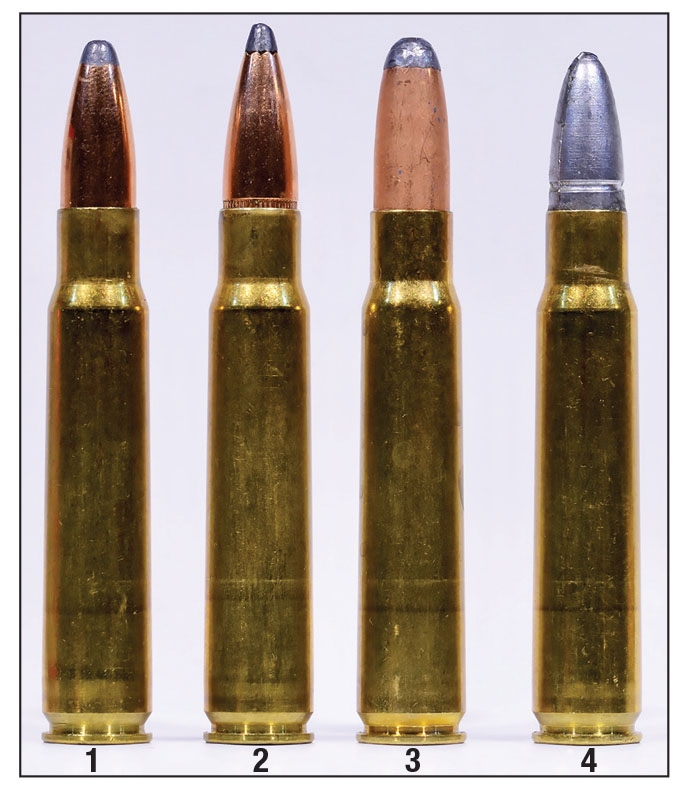 The first combinations I tried were at or near maximum, so there was only one way to go: Reduce velocity, with less powder along with using bullets of different weights, and see what happens.
The bullets I had available that might work were a Speer 170 grain, Hornady 195-grain spitzer, Hawk 200-grain roundnose and a cast 210-grain bullet. Ostensibly, the original military load for this rifle was around 196 grains.
My reasoning was that recoil from a faster bullet would cause greater muzzle jump and a higher point of impact. Therefore, reducing the recoil by lowering the velocity, and/or the bullet weight, could counteract that. Lower velocity would also result in greater bullet drop over 100 yards. Would that suffice? Only one way to find out.
I put together four loads, using four different bullets from four different makers, and four different powders. Powders were chosen on the basis of burn rate, going with faster ones because of the rifle's short barrel. The combinations were minimum starting loads.
Because of the 8x57 JS's checkered history, beginning with one bullet diameter (.318 inch) then switching to another (.323 inch), then widen number of countries that used it, and an endless assortment of rifles chambered for it, ranging in quality from superb to (probably) perilous, the compilers of loading manuals tend to be ultra-careful in their recommendations. Not surprisingly, one finds a wide range of loads.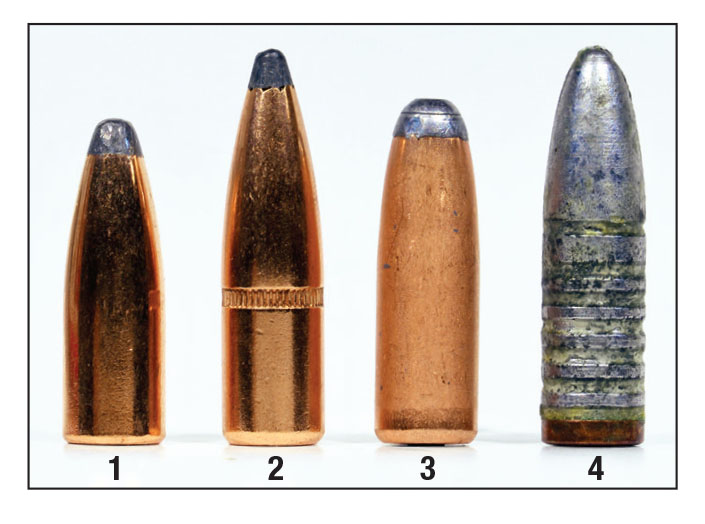 For example, with the Speer 170-grain, I used Winchester 748 powder. With this bullet, one manual (
Lyman 47th Reloading Handbook
) gives a starting load of 40.4 grains and a maximum of 46, while Hodgdon's load data website recommends a starting load of 46 and a maximum of 54. Quite a range! I went with 40.4, and it worked just fine. In fact, it turned out to be the best overall for my purposes. Alas, I don't have a sufficient supply of those bullets to do much, but at least now I have the right load.
The Hornady 195-grain was the closest I could come in bullet weight and configuration to the original German military load with which the G33/40 was presumably regulated, but both it and the Hawk 200-grain load scattered bullets. Attempts to work up and stabilize them at slightly higher velocities went nowhere.
The cast bullet load was, in a nutshell, a waste of time, powder and lead.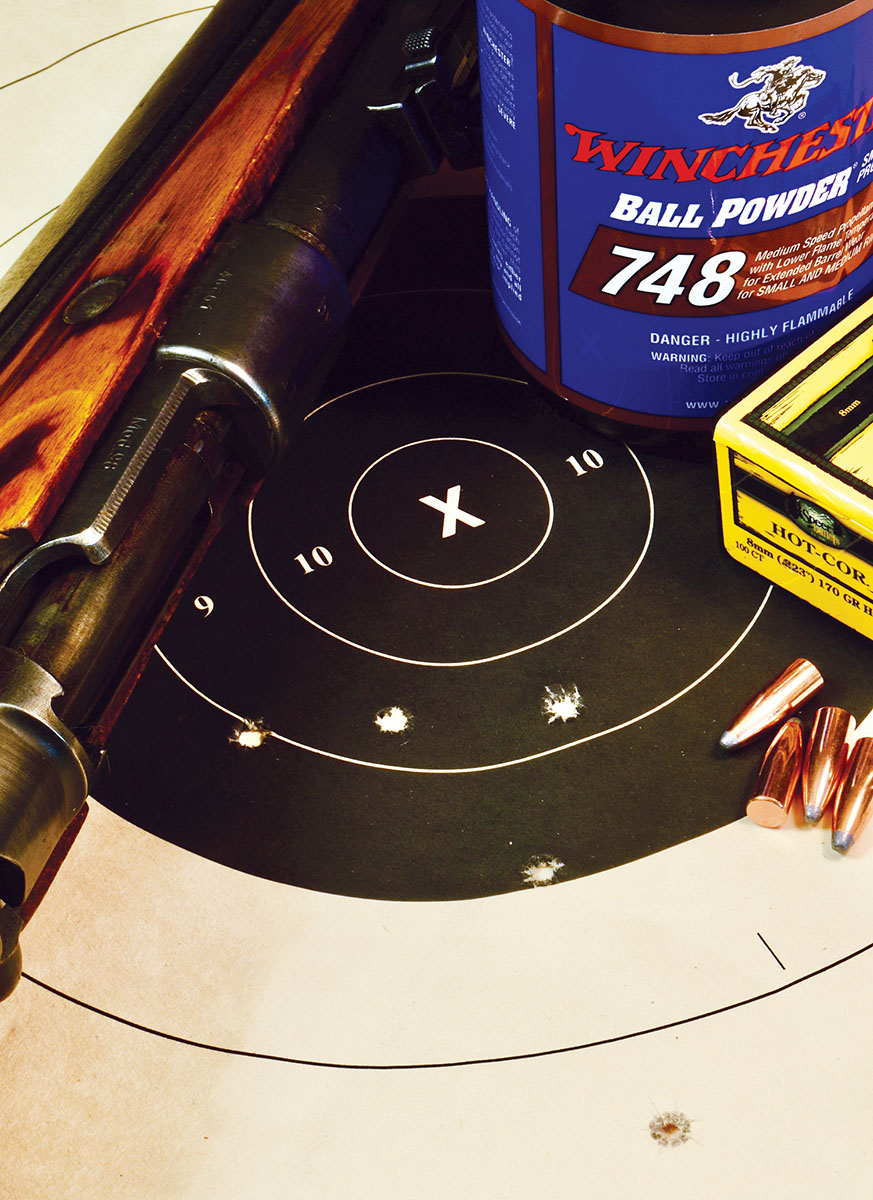 Given the situation, I think finding one workable load out of four is not a bad result. As it stands, it's a mild load in terms of bullet weight and velocity, although the recoil is not as gentle as you would expect. Several sources state that the one complaint German soldiers had about the G33/40 was its stiff kick, and with full-strength military loads, I can see that would be a problem.
As you can see, the Speer 170-grain bullet has neither a crimping groove nor a cannelure, so I could not crimp the bullets. Loading rounds into the magazine three at a time, I found that after two shots, the bullet of the third round had jammed completely back into the case. This problem would only get worse if I increased the powder charge. I could get a tool and press a cannelure into the bullets, but even for me, that might be going a bit far. Instead, I will try to locate some bullets of the same weight with a cannelure and try those.
Unfortunately, after the shortages of recent years, manufacturers have not rushed to replenish their stocks of 8mm (.323 inch) bullets, and as I write this, pickings are slim.
But, as I said at the beginning, the objective was simple and direct, and I now have one load that will work, and hit that 8-inch plate out to 100 yards. Most of the time, anyway.