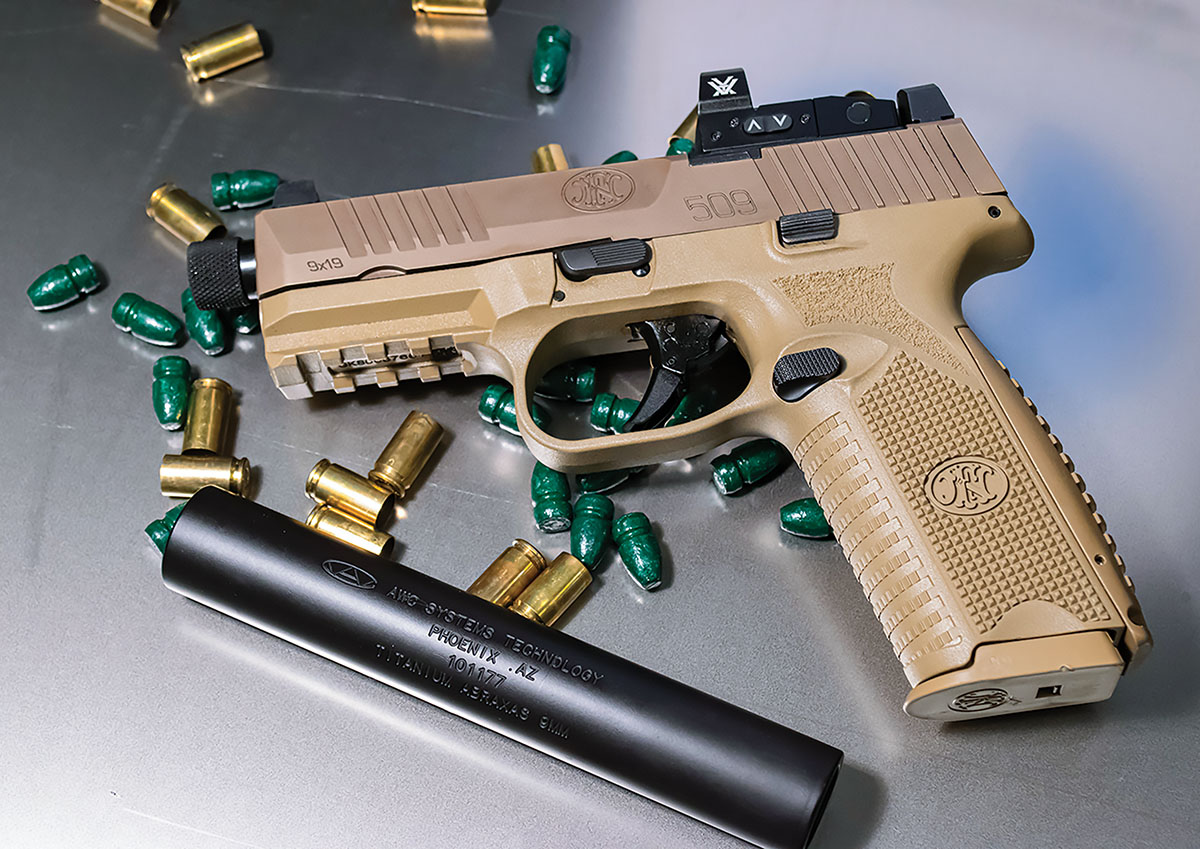 It has been about two years since we posted our video on the FN 509 Tactical on our YouTube Channel, Handloader TV. It was thought that it would be a very popular video, especially considering that 9mm die sales are among the some of the most sold dies for handgun cartridges. However, that was not the case, and to this day it has not been a very popular video for us. Which is rather sad considering the performance of the handgun. Since that video and the introduction of the firearm, there have been a lot of things that have happened. More time has been spent behind the gun, it has visited the Gunsite Academy on numerous occasions and seen many thousands more rounds. At the time of this writing, the rough round count is at about 4,000 rounds between several shooters.
Overall, the performance of this firearm has been very good with many great features right out of the box. The more rounds and different loads I run through the pistol, the more I appreciate these features. In particular, the inclusion of two different captured recoil springs, one for standard loads and the other for subsonic and light loads. This is especially helpful when shooting suppressed. The typical suppressor I use for 9mm does not use a muzzle booster or Nielsen device. This can inhibit the reliability of the firearm particularly if using lighter loads. It also goes to show that much thought and development went into this handgun. FN advertises that the 509 is the product of more than one million rounds of testing. After spending lots of time behind the 509 I don't doubt that.
I can certainly appreciate all the features such as threaded barrels, suppressor height night sights and being optics-ready with adapter plates right out of the box. It doesn't mean much of anything if the gun doesn't hold a group or doesn't function with 100 percent reliability. Time has proven that this pistol has proven to be reliable and accurate. The FN 509 MRD-LE has even been accepted as the new duty gun for the Los Angeles Police Department (LAPD) after being the subject of much testing and evaluation. This makes sense considering this handgun was born from the 2011 U.S. military trials.
Despite all this praise, there are also some considerations to make and some valid complaints. These should be addressed, with the first being price, FN is not known for making cheap or budget firearms, however, I think the performance and reliability back up this price. With that said, though it certainly won't fit everyone's budget for a reliable handgun in 9mm Luger, the competition in that category is fierce, to say the least. Also, the ambidextrous safety is a common internet complaint, with good form and a proper grip on the handgun this has yet to be a problem in our testing. The final thing to note is the trigger, which breaks at 6 pounds 10 ounces, with a lot of creep with the take up feeling a bit "mushy" for lack of better wording. The main reason for this is the design of the trigger mechanism, essentially pulling the trigger completes the cocking of the striker. In comparing the trigger to other striker-fired guns there is noticeable movement of the firearm while dry-firing using the Mantis X10 Elite Shooting Performance System. This system can track and graph out the movement of the gun while shooting or during dry practice. While this makes for an extremely safe mechanism, it is not the best option for those looking for a very smooth and crisp trigger pull.
Currently waiting to be installed is an Apex Tactical aftermarket trigger for this FN 509, which should eliminate the biggest complaint when it comes to this particular gun, more time will tell. Overall though, the features this handgun boasts of out of the box are impressive to say the least. Many of these things have proven to be practical and handy for effective use for concealed carry, plinking and field use.
The FN 509 has paved the way for a whole line of guns based off this original design and there are many different models currently available from those geared for compact concealed carry work to full-size competition-style guns. Even new models such as the FN 545 chambered in 45 Auto and 510 chambered in 10mm Auto. Even an FN 502 model has been released chambered for 22 LR, which is a great way to plink and practice without breaking the bank or spending hours handloading. My 502 and 509 also fit in the same holster from T-Rex Arms and feature nearly identical controls. Having two nearly identical guns can be a great way to train and practice on the cheap.
Now, how does this gun relate to handloading? Besides being extremely pleasant to shoot and carry, the FN 509 Tactical makes a great platform for testing out loads, especially if you are using a suppressor. The addition of an additional spring for use with a suppressor is a very nice feature. This gun has become a staple for testing 9mm subsonic loads with a suppressor. There have been many times where an excellent accurate load was worked up and it did not generate enough force to reliably operate the slide. Therefore, removing it from being a viable option in many firearms and having to settle for the less accurate load to function the firearm. The FN 509 using an AWC Abraxas suppressor (without a booster) using the correct spring is able to function flawlessly. This opens up a wide array of options when it comes to handloading.
This allows me to shoot cast bullets at mild pressure levels offering minimal recoil and still be whisper quiet with the suppressor. This is one of my favorite loads in this particular handgun, It is a great way to introduce young ones or new shooters to firearms as well and it eliminates a lot of recoil and noise. This makes the overall experience more pleasant and enjoyable for all involved, the smiles after shooting these loads are priceless.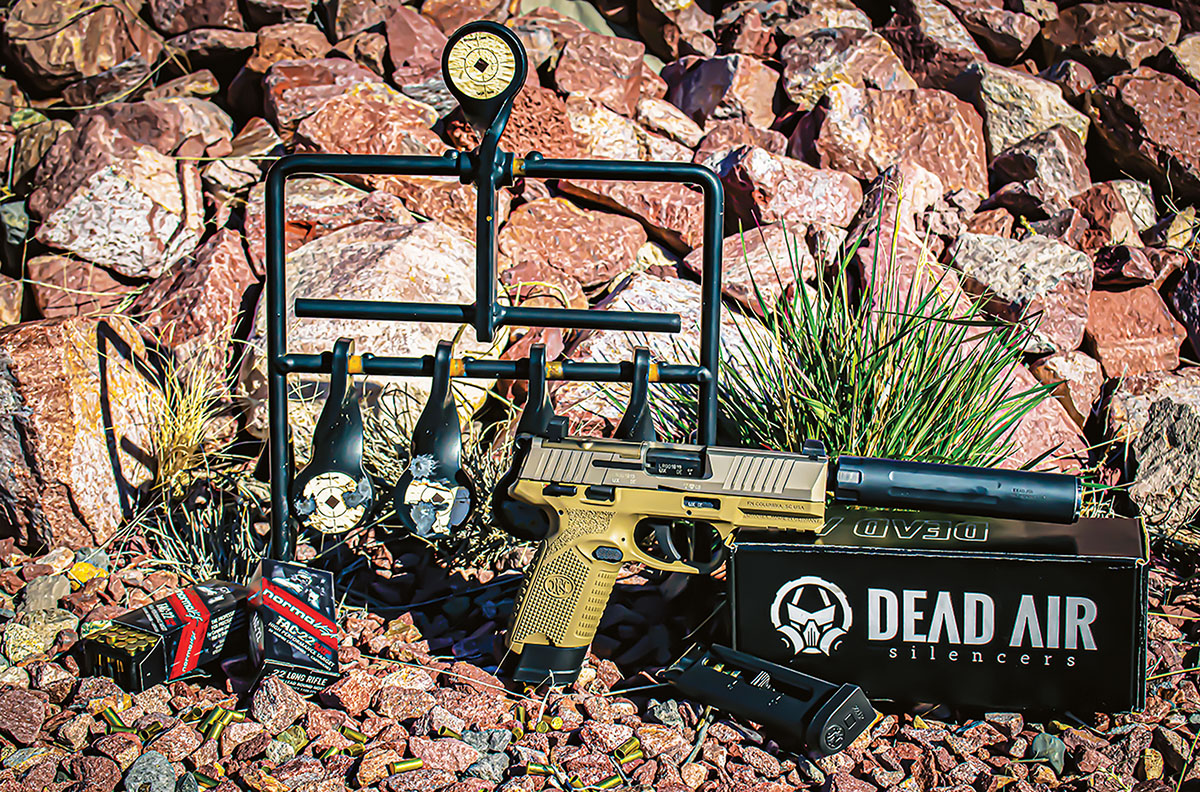 When using cast bullets with a suppressor, testing has shown that powder-coating bullets is an effective solution to reducing smoke from bullet lubes. In the accompanying table are loads listed with powder-coated bullets that used a green powder coat from Eastwood Company. To apply the powder coat, the dry tumble method was used in a polypropylene container. The performance of these loads has been very good and accuracy has been more than acceptable for plinking loads.
In scanning over the table, it should be noted that this particular handgun is picky when it comes to finding an accurate load. Generally speaking, extreme spreads and standard deviations were quite good. Despite this, the best loads grouped in at just over 1 inch and while working up loads, some produced groups larger than 3 inches. While many of these loads have performed well in other guns, the FN 509 seemed to be a little more temperamental while working up a load. This made working up handloads for this handgun a worthwhile endeavor. Squeezing every bit of accuracy I could by selecting a good load. Some of these large groups could be attributed to the heavy trigger, it certainly did not help with accuracy. However, with a good load, the handgun seems more than accurate for what it is intended.
Overall, this handgun has been a great performer and has been a joy to shoot and carry in the field. When it comes to concealed carry, the 17-round magazines with optional 24-round magazines, make carrying plenty of ammunition easy and efficient, and with winter closing in, concealing a full-size gun with larger magazines is not a problem. Whether you are plinking on the range or using the FN 509 for duty use, it is up to the task.
For more information on these loads or the FN 509, check out the video on our YouTube channel – Handloader TV.