This winter was one of Idaho's worst in history, with deep snow and temperatures that plummeted below zero for extended periods. As this is written, days are getting longer, most of the snow is gone, and spring fever, which seems especially bad this year due to the long, harsh winter, is setting in. As soon as current Handloader deadlines are met, my son Porter and I will be saddling the horses and riding the mountain as "medicine" to cure our spring fever, to relax and enjoy the horses and natural beauty of the grasslands. We also check cattle, shoot sixguns and hunt up a little adventure when possible.
Last year we took a couple of green-broke colts that only had a few rides each and "lined them out" in the big country as part of their training. Unlike what the movies portray, they must be ridden extensively to become seasoned, which can take years. Taking a rifle along at this stage is out of the question, unless you want to get bucked off. However, as always, we each wore sixguns and would feel naked without them.
On the first spring ride, we crested a grassy ridge that was rather breezy, and as we walked our tired horses along the top of the ridgeline, visiting casually, I looked up, and at about 200 yards a large, brown wolf estimated to weigh more than 200 pounds broke out of the sagebrush. I stepped off my mount and drew a USFA single-action .45 Colt with a 43⁄4-inch barrel from my hip and tried to get the sights lined up before the wolf went over the top. It was just too fast, so I quickly remounted. We loped to the last place we had seen it and again spotted it at around 800 or 900 yards. In full stride, it was covering country fast and would have to be hunted another day.
We noticed a neighbor's cow that was on the wrong side of the fence, so we drove her a mile or so home. We also saw a coyote working a young calf near a watering hole. My son pulled his Smith & Wesson Model 28 .357 Magnum stoked with handloads that consisted of 158-grain cast bullets from RCBS mould 38-158-SWC (with gas check) pushed around 1,250 fps using 10.5 grains of Accurate No. 7 powder and ignited with CCI 500 primers. This load is accurate and produces minimal muzzle report, which makes it an excellent choice in the field for those occasions when only earplugs are used. Porter stepped off his horse and took a shot at around 250 yards. The bullet struck just under the coyote's belly, missing by an inch or two. The coyote whirled and ran, and Porter took another shot, which struck right at its heels, but that was enough to convince the coyote to leave the country.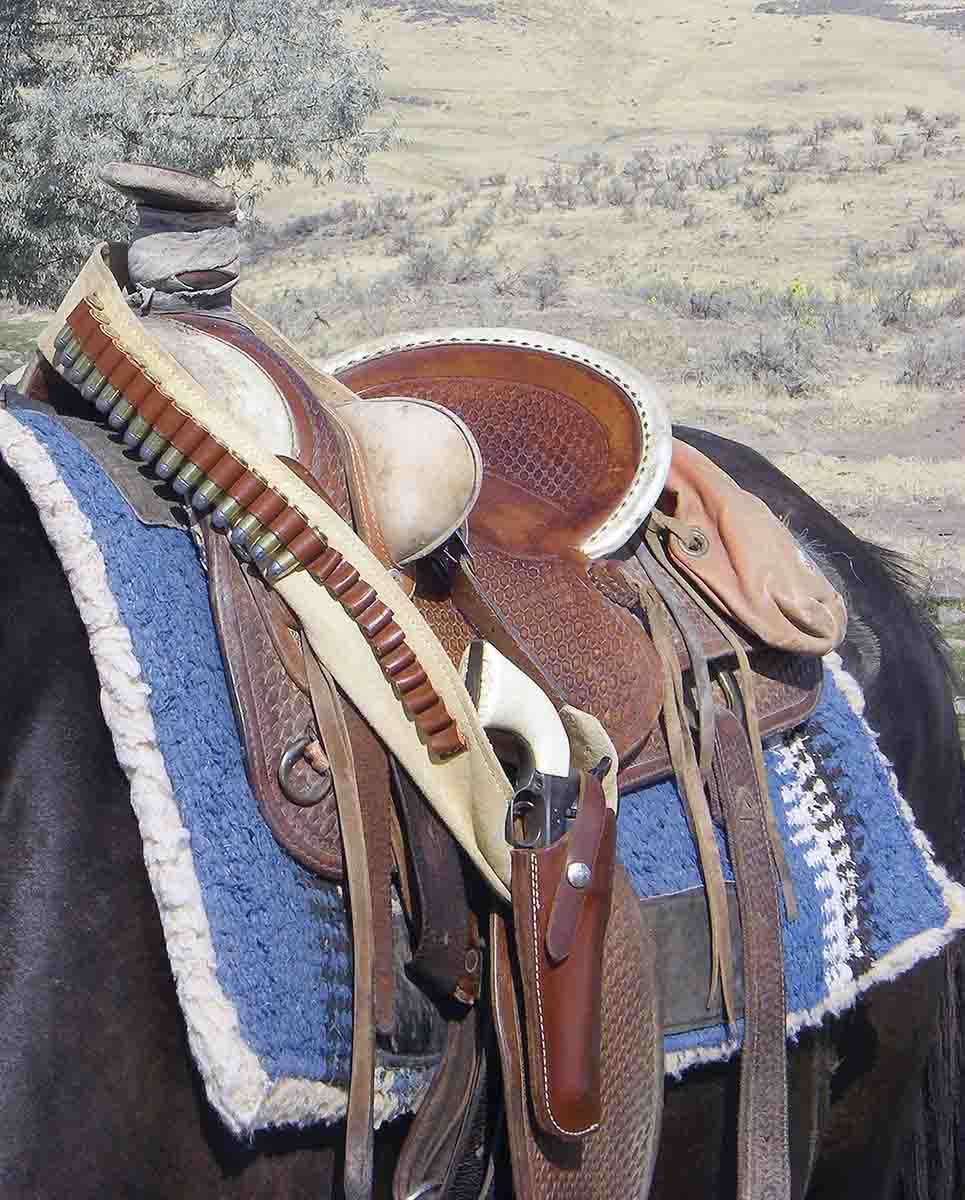 Next we rode down to a creek, loosened the saddle cinches and let the horses drink and enjoy a well-deserved rest. We ate a late afternoon lunch and listened to the stream hurrying along and other sounds of spring, enjoying the sweet smell of new grass and blooming flowers, all of which was truly relaxing.
As the afternoon shadows began to lengthen, the pesky ground squirrels became especially active, so I retrieved a favorite Ruger Single-Six .22 from my saddle's cantle bag and spent the next hour or so thinning them out with high-speed, hollowpoint ammunition. This particular gun, an old model with a 61⁄2-inch barrel and adjustable sights, is by far the most accurate Single-Six I have ever fired. Any squirrel inside 50 yards is in real trouble, but many were taken at 75 and even 100 yards. It had been a most enjoyable day on the mountain.
After arriving home and anticipating our next ride, as much as I appreciate the many virtues of the .45 Colt, I decided to take a different sixgun with greater velocity to flatten trajectory and help make hits on coyotes and wolves easier at longer ranges. The revolver could not be too heavy but carry easily on the hip while riding green-broke horses. It needed to be accurate and feature good target sights for precision long-range work, and it had to offer enough power to reliably put down a 200-pound wolf.
I considered several great sixguns and all practical calibers ranging from .327 Federal to .44 Remington Magnum, settling on a Colt New Frontier SAA .357 Magnum manufactured in 1962. It features a 71⁄2-inch barrel and is of notably higher quality than later production second generation and all third generation guns. Each chamber aligns perfectly with the bore, the cylinder locks solidly, has virtually no end-shake and features a tight barrel/cylinder gap. I had honed the action and trigger pull to break crisply and especially lightly.
There were several reasons for this revolver and caliber choice, but in short, single actions generally balance and are easier to carry on a horse than most double-action sixguns. Unlike a gun carried in a vehicle, the 71⁄2-inch barrel carries naturally on a horse. The .357 Magnum is versatile, as it offers a flat trajectory and enough power to take big game, produces moderate recoil, is easy to shoot accurately, and there's a large selection of bullets that can be handloaded to accomplish many tasks.
The handloads developed for this revolver utilize the 160-grain cast bullet from RCBS mould 38-158-SWC (with gas check) pushed 1,450 fps using 15.0 grains of Alliant 2400 powder and the nonmagnum CCI 500 primer (or Federal 100, depending on availability). Several times five-shot groups have cut a small, ragged hole at 25 yards that can be covered with a dime, and I believe this Colt is capable of near sub-MOA accuracy if a scope were installed – which will never happen. On the downside, this load and caliber have substantial muzzle report, so earplugs are carried and slipped in just before shooting.
On our next ride, Porter and I each took a coyote with our sixguns; his was at around 65 yards and mine at something over 130 yards with the New Frontier. Porter also stumbled onto a belligerent, hole-digging badger that he nailed with his Ruger New Vaquero .45 Colt loaded with the Oregon Trail 250-grain RNFP bullet pushed 860 fps using 7.1 grains of Accurate No. 2 powder.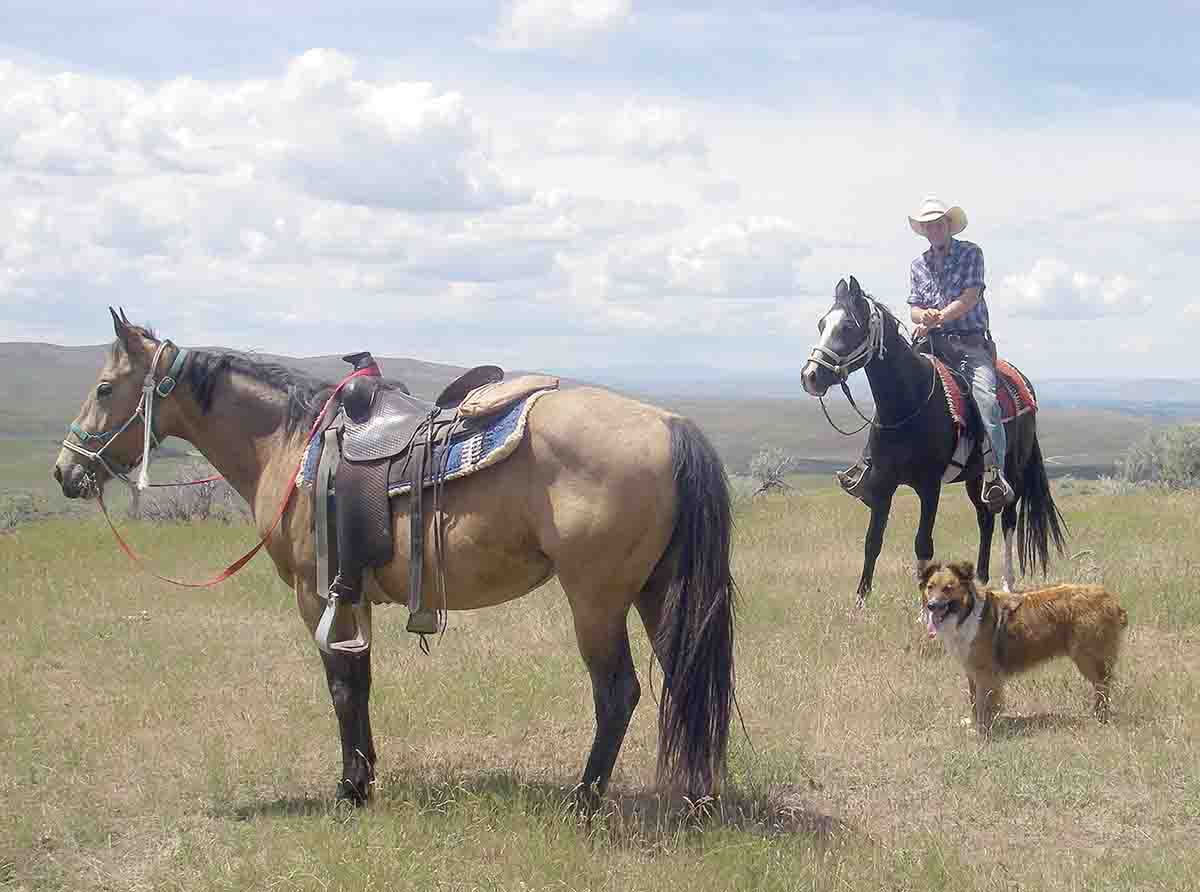 Throughout the year we saw that darn wolf several times, but neither of us could ever get a shot. Then in the fall, as we were moving cattle off the mountain to the lower country in preparation for winter, the wolves had moved in and were running in packs killing cattle and elk, which we both heard and saw. We even returned with rifles and calls but could never get much more than a brief glimpse of them. We planned to hunt them during the winter months, but when the snow and freezing rain hit like a freight train, along with subzero temperatures, the mountain country became completely inaccessible. Now spring is here, and I can't wait to saddle the horses, strap on a sixgun and ride the mountains. Perhaps this year we will get a wolf or two, but at the very least, we will have a great time.