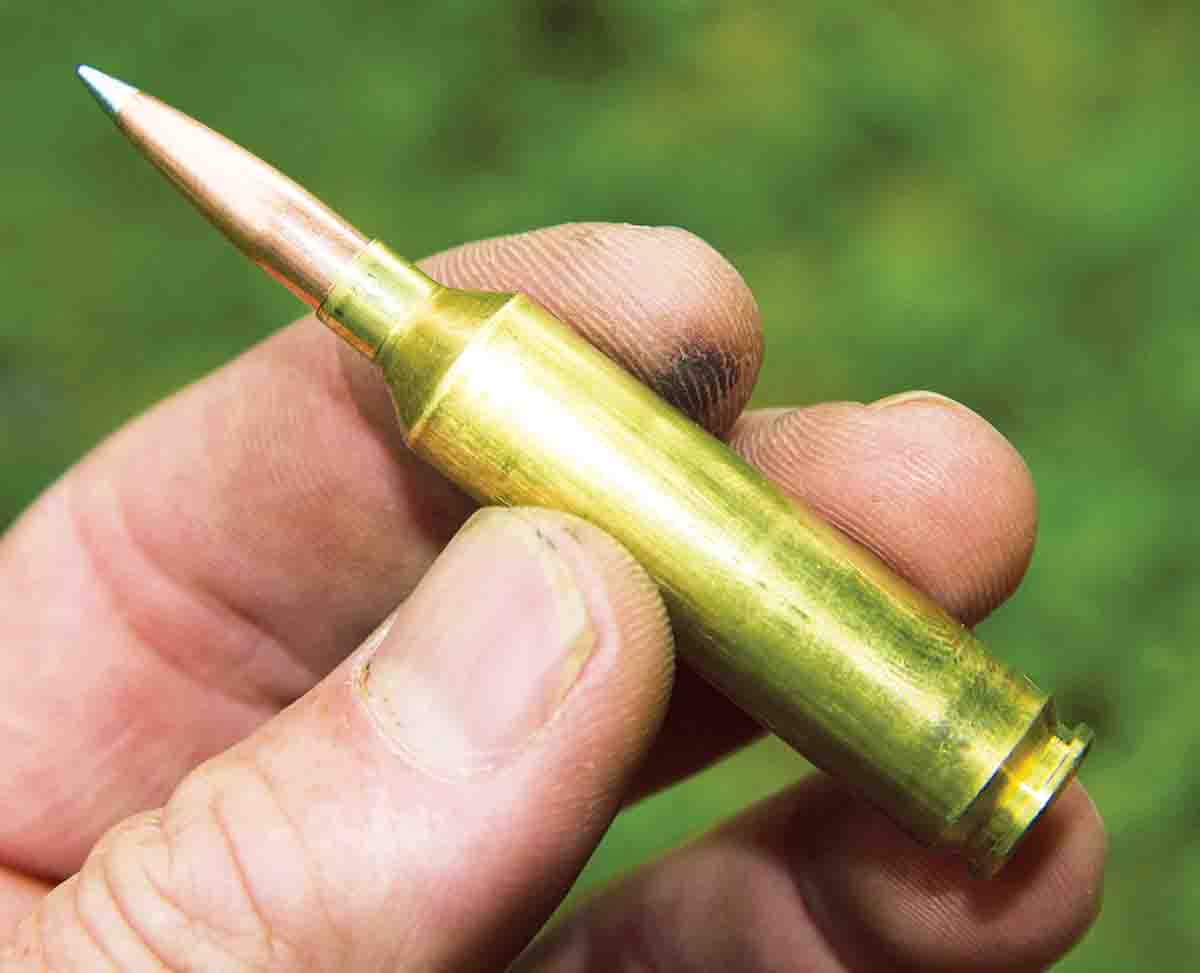 A wildcatting favorite, .22-284 is the .284 Winchester case taken to extremes. On paper, the .284 Winchester, released in 1963, should've been a groundbreaking cartridge that enjoyed huge success. The round uses a short, fat case (like the Winchester Short Magnums) with a steep, 35-degree shoulder angle (like every cartridge introduced during the past five years) and a rebated rim (like the .22 Nosler) designed to accommodate .30-06 Springfield bolt heads. It was obviously well ahead of its time and allowed greater ballistic potential than previously available in short-action rifles. The 7mm bore diameter supplied excellent ballistic coefficients.
The cartridge also serves as a cautionary tale of what can happen when designers, advertising departments and corporate entities fail to fully coordinate on a project. The .284 Winchester was first introduced in Model 88 lever-action and Model 100 semiauto rifles. These models required an overall loaded length of less than 3 inches. That information alone tells you all you need to know about the .284 Winchester's impending doom. Even chambering a solid, short-action bolt rifle to wring maximum potential from the round required seating bullets to no more than 2.80 to 2.90 inches, essentially limiting the round to 120-grain bullets at 3,000 feet per second (fps) and 150-grain bullets at 2,800 fps. Heavier bullets simply intruded too deeply into the powder space. This problem is greatly alleviated in custom bolt rifles with slightly longer magazine space and more generous freebore (like what was done with the 6.5-284 Norma), unleashing the .284 Winchester's full potential.

That's neither here nor there. The .284 Winchester has become nearly extinct, despite falling only 100 to 150 fps short of 7mm Remington Magnum ballistics. Yet, the .284 Winchester would make its mark, if not as a regular choice of modern big-game hunters, certainly as a wildcatting parent case. I've seen the .284 Winchester made into everything from a 6mm-284 Winchester to the increasingly popular 6.5mm-284 Norma, and oddballs holding .25-, .27-, .30- and .35-caliber bullets.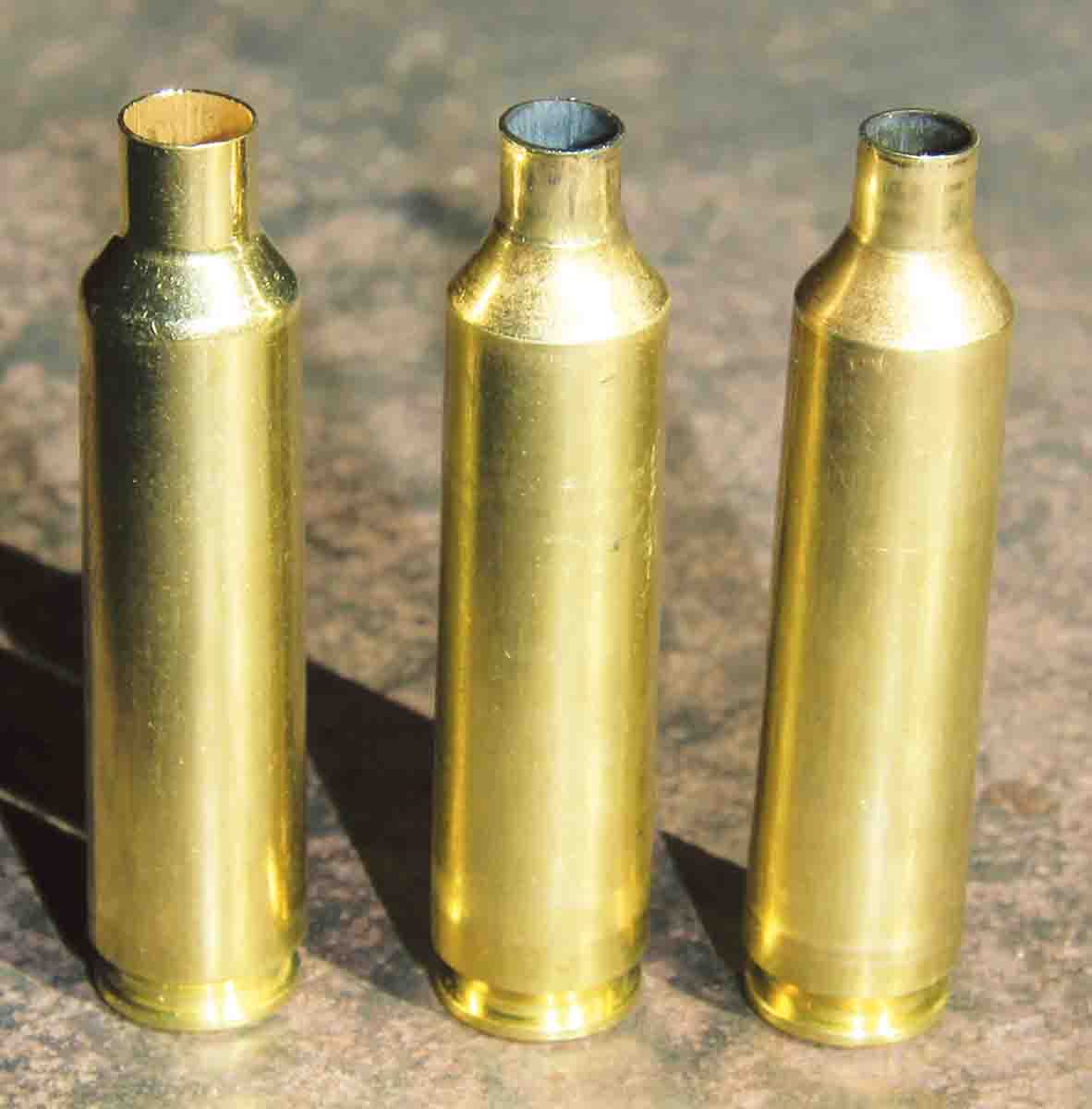 Here, we are loading the .22-284 Winchester, which might seem a bit much, if it weren't for the test rifle's 1:7 rifling twist. The fast rifling twist allows the use of sleek, 75- to 90-grain bullets, though there is no way around the fact this cartridge is grossly "overbore," to use a common, if imprecise term.
The test rifle, a custom job, deserves more introduction, but all I can really say about it, is that it's built around a Gewehr Model '98 Mauser action, including side stripper-clip thumb indent, and fitted with a 26-inch stainless steel barrel with only "22-284" markings. The barrel measures .82 inch at the muzzle with little taper. The rifle was bedded in a well-figured piece of walnut with a Schnabel forend, 24-lpi hand checkering, a raised cheekpiece and a classic "orange-ish" Decelerator recoil pad. The Timney replacement trigger breaks at a crispy 1.04 pounds. A Firefield Tactical 8-32x 50mm turret scope was mounted in Leupold STD rings and two-piece STD bases. As assembled, the rifle weighs 10.8 pounds. The rifle fit well, and recoil pushed straight back without noticeable muzzle jump.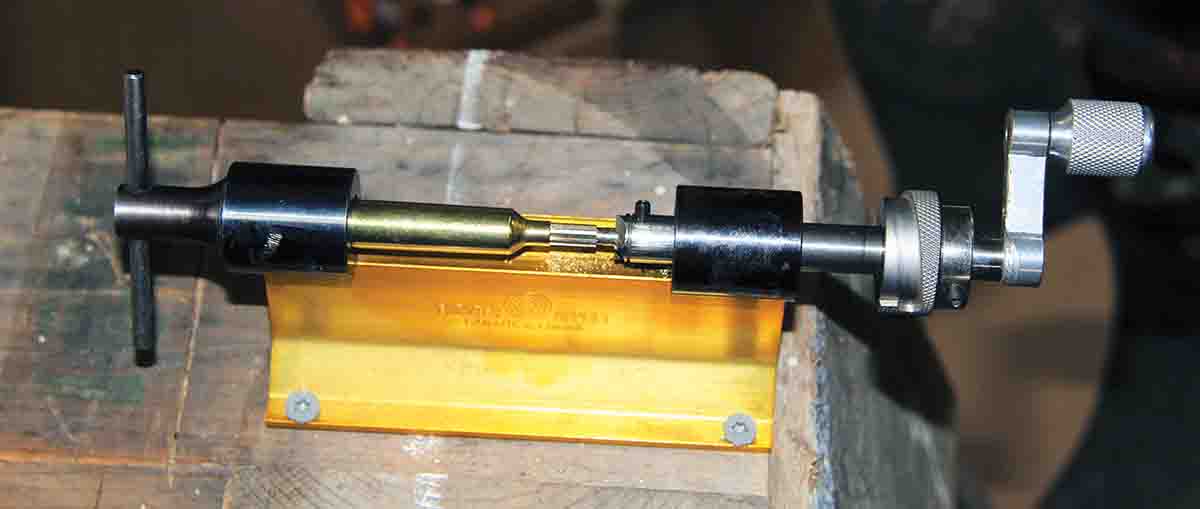 So, I had a rifle. I had Redding Custom full length .22-284 sizing dies. I had some 6.5-284 Norma brass laying around. I had a Forster Appelt neck-turning/reaming tool to bring necks into proper specifications, and a Lyman Universal Case Trimmer to create proper case length. But it soon became apparent that things would be a bit more involved than shoving brass into dies, finishing the necks and trimming for length. Attempting such resulted in four crushed cases in a row, despite various degrees of lubrication. Quality Cartridge out of Hollywood, Maryland, offers .22-284 brass, but it only had 15 in stock, which owner Pete Cordona was happy to send me. They were used with the Hornady 75-grain ELD Match loads. RCC Brass out of Amarillo, Texas, makes .22-284 brass, but would not be producing a run for another few months. So I did what I always do when faced with such dilemmas; I consulted Robin Sharpless at Redding Reloading, who has likely forgotten more about handloading than I've ever accumulated.
As it turns out, unsurprisingly, Redding has just the tool for the job – the 83720 Form & Trim Custom die for the .22-284 Winchester. One pass through this die (no neck filing necessary), followed by the full-length Redding dies (which did lengthen the necks) produced perfectly-formed cases ready for trimming and chamfering. Necks required turning, taking necks from .015- to .013-inch thick and sending them through the full-length die once more before rounds would chamber without undue force. Quality Cartridge cases held 61.3 grains of water filled to the brim, and the reformed Lapua brass held 63.5 grains.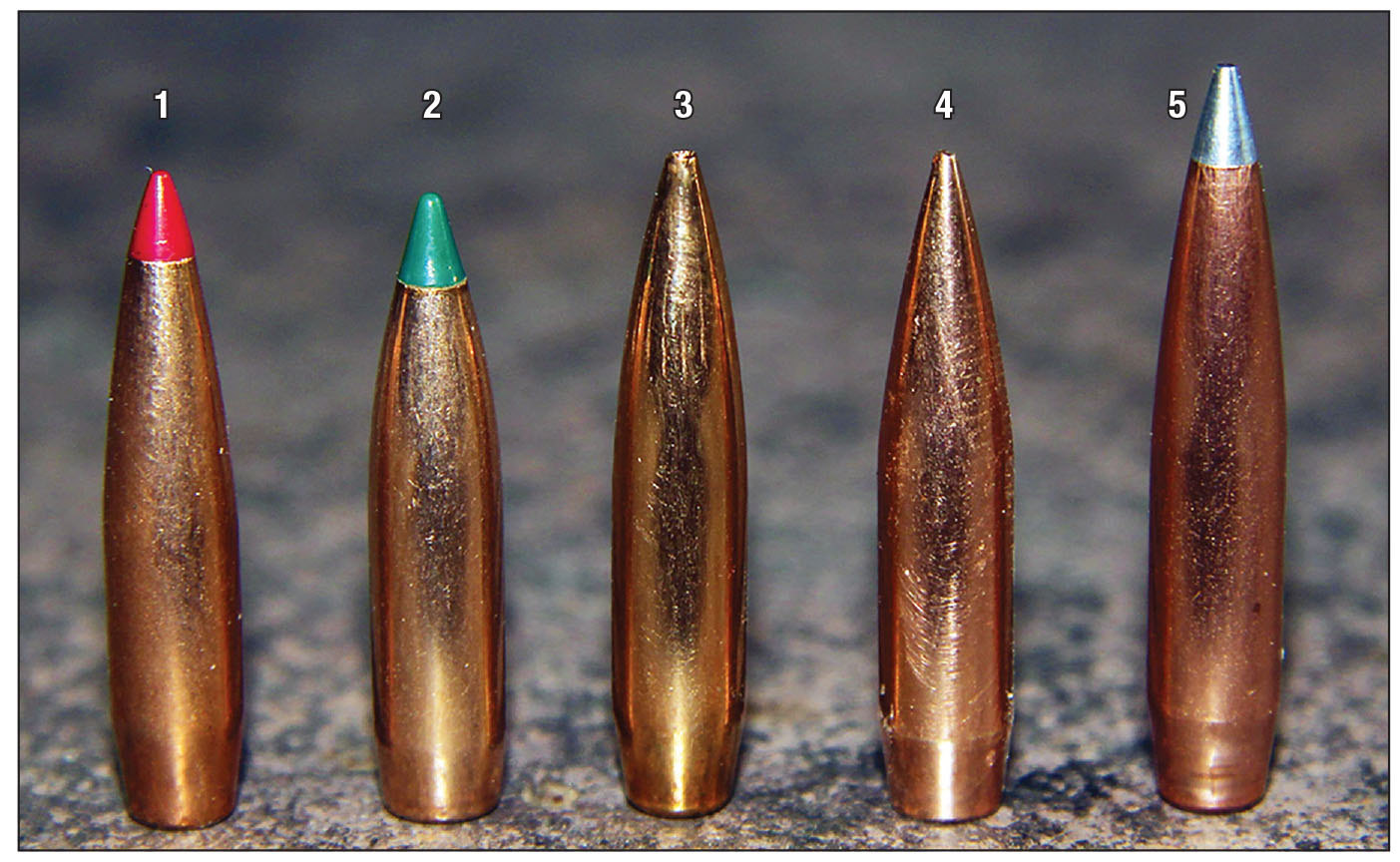 Maybe 15 reformed Hornady cases came with the rifle, which proved a bit shorter than both the handful of Quality Cartridge .22-284 Winchester brass and the cases formed from Lapua 6.5-284 Norma brass. So 2.147 inches became my trim-to length; if for no other reason than to create symmetry. That is one thing I've learned from loading obsolete and wildcat cartridges – especially if you hate case prep as much as I do – when your fingers begin cramping and the blisters begin to form, I begin wondering if it's worth all the added effort. Though, it does provide many handloading lessons…
As I began to sort out the brass situation, load data was sought, which proved as rare as fulfilled political promises. There were the usual internet chat-forum sources, with loads ranging from suspect to downright spooky. There were a few published sources, but all included very short lists of compatible powders, with heavy-bullet data including only Alliant Reloder 25 (for which I would have to do some horse trading to secure in these difficult times) and Hodgon's H-1000. So based on information for those powders, I began extrapolating loads from readily available 6mm-284 Winchester data with same-weight bullets, proceeding with the assumption that pressure would mount substantially while pushing all that expanding gas through such a small bore.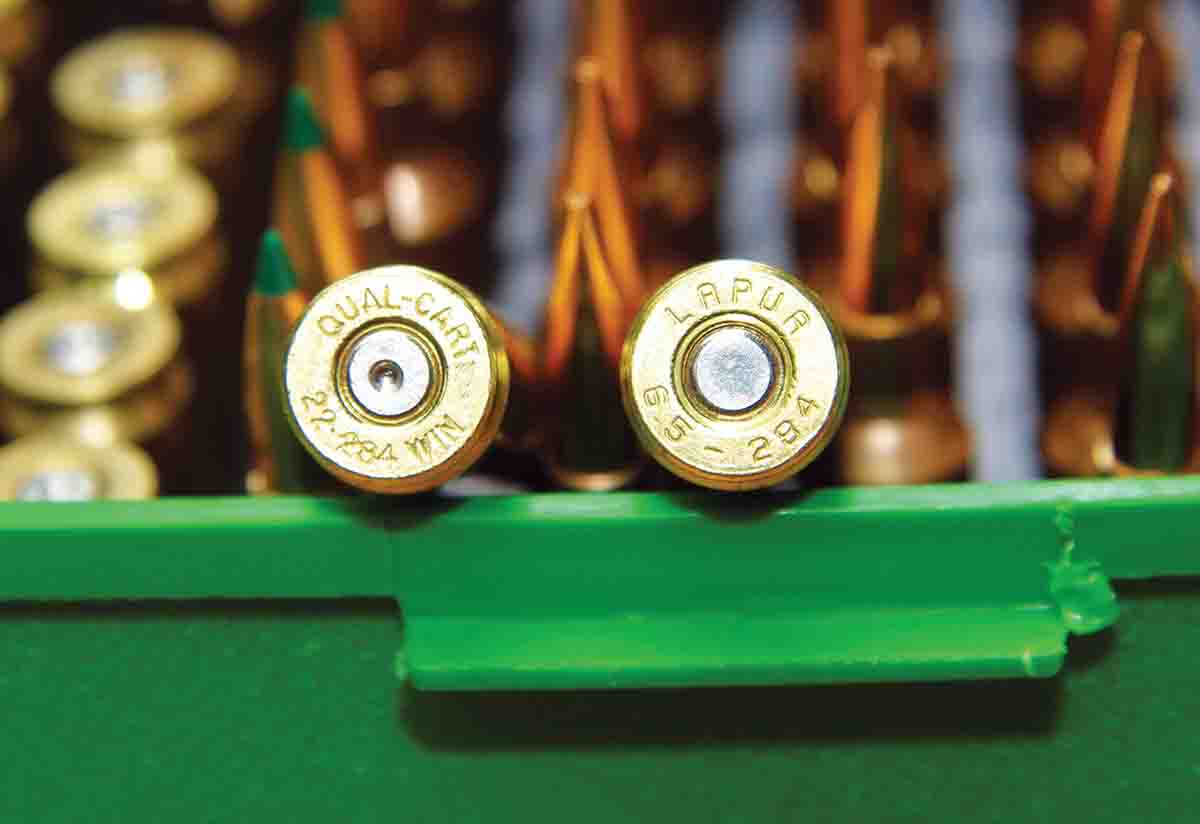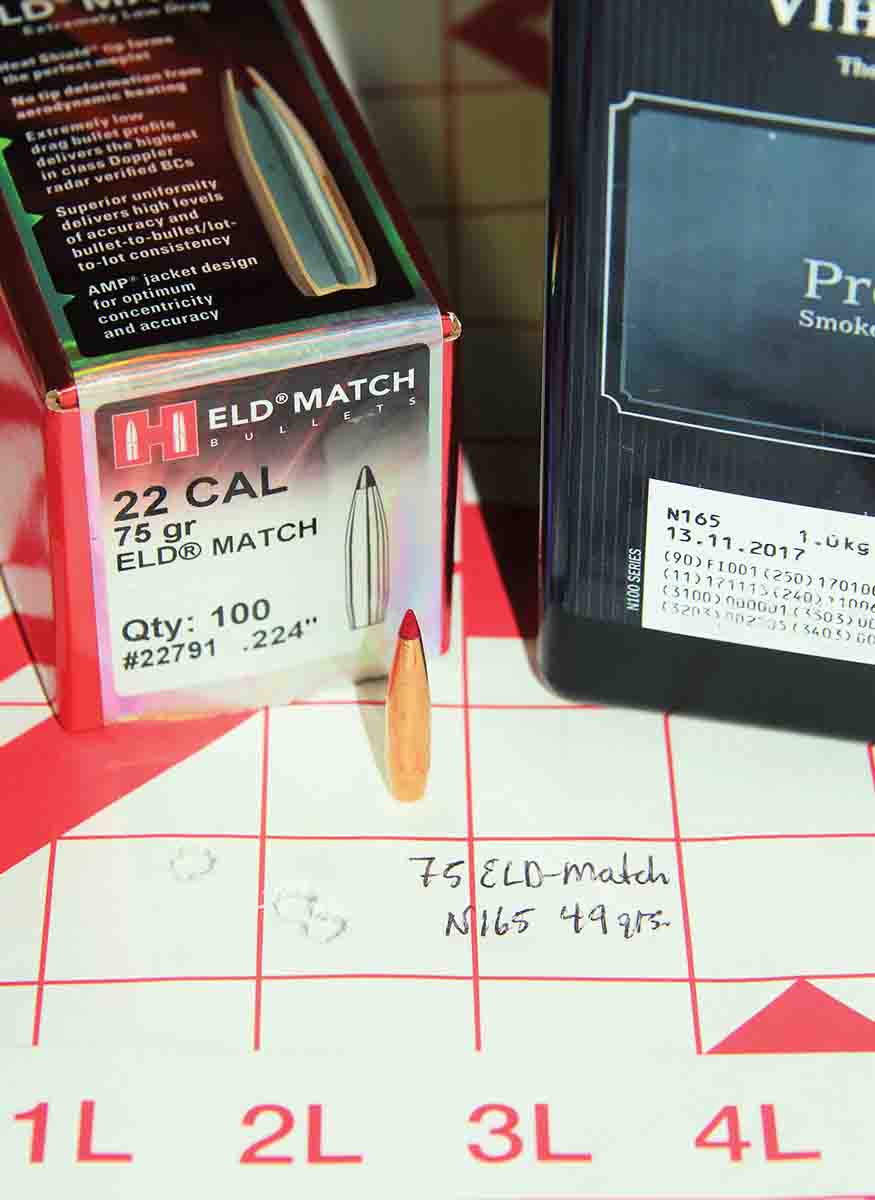 This proved true, as many load combinations were adjusted midstream after lesser loads began showing excessive pressure signs. The .22-284 also runs hot, very hot. Water-soaked towels were applied to the barrel after every shot string to hasten cooling, and three-shot groups were used for testing because of this – and due to the difficulty in securing replacement bullets, primers and powder these days.
The 1:7 rifling twist seemed a trifle too much for the two lightest bullets involved, as well as the Hornady 90-grain A-Tip with at least one powder. All bullets grouped well with a cold barrel, but let that barrel get hot and these bullets were likely to come apart. This reality slowed the shooting pace considerably – what should have been a long day at the range turned into three days, including more thumb twiddling as the barrel cooled than actual shooting.
The general trend with such overbore cartridges are slower- burning powders providing maximum velocities. Powders selected (and on hand) included IMR-7828ssc, Vihtavuori N165, Hodgdon H-1000, H-4831sc and Retumbo, Alliant Reloder 19, 22 and 25, and Ramshot Magnum and Accurate Magpro. Bullets were chosen from stock on hand for my .22 Creedmoor, and Federal Large Rifle primers supplied the spark.
Hornady's 75-grain ELD Match includes accuracy-enhancing AMP jackets and red Heat Shield Tips that resist deformation at longer ranges. The polymer tip and extended boat-tail supply a G1 ballistic coefficient (BC) of .467. I've successfully killed both burrowing rodents and modest-sized wild hogs with this bullet from my .22 Creedmoor. Quality Cartridge brass was used for these loads. All loads combined produced a 1.21-inch group average using IMR-7828ssc, Vihtavuori N165 and Hodgdon H-1000. Overall this bullet did not pair well with this rifle and its 1:7 twist. The worst groups resulted from IMR-7828ssc, Vihtavuori N165 and Hodgdon H-1000 doing a bit better, but not providing any groups to get excited about. The best groups – .77 and .93 inch – included 49 grains of VV-N165 at 3,442 fps and 51 grains of H-1000 at 3,478 fps.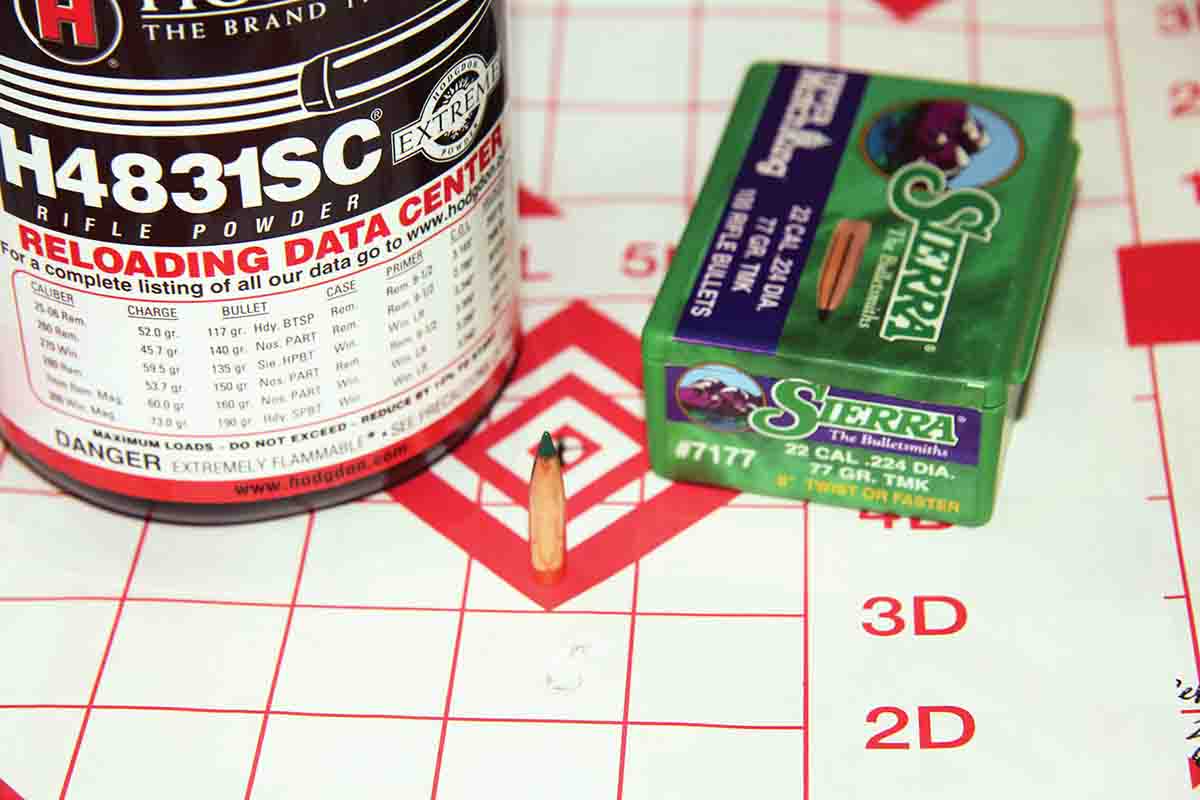 The 77-grain Sierra Tipped MatchKing is another ultra-sleek target bullet providing a .420 G1 BC via a green polymer tip and sleek boat-tail design. The Tipped version of this design can be depended on to expand on small varmints. Alliant Reloder 19, Ramshot Magnum and Hodgdon H-4831sc produced a .80-inch group average with this bullet. No Alliant Reloder 19 loads broke an inch, the best grouped right at an inch with 48.5 grains of powder at 3,450 fps. Ramshot Magnum did much better with all loads grouping less than an inch. The best was a .58-inch cluster using 51 grains of powder at 3,305 fps. The superstar with this bullet proved to be Hodgdon's H-4831sc, with all groups beating .75 MOA, the best including .27- and .48-inch groups with 49 and 50 grains of powder at 3,391 and 3,457 fps, respectively.
Berger's 82-grain VLD Target is a .22-caliber bullet with a .444 G1 BC and is ideal for minimizing drop or cheating wind at extended ranges. Berger target bullets make excellent varmint bullets, typically expanding violently on impact. This bullet was paired with Alliant Reloder 22 and 25, and Hodgdon H-1000, resulting in an overall average group size of .75 inch. Reloder 25 provided a .73-inch group with 50 grains of powder at 3,277 fps, the other two loads at or breaking an inch. Reloder 22 started off with a 1.14-inch group, and then posted .63- and .67-inch groups at 3,404 and 3,504 fps (the latter resulting in tight bolt lift). The accuracy winner with this bullet was H-1000, with 48 grains of powder resulting in a .52-inch group at 3,262, and 49 grains assembling a .36-inch group at 3,317 fps.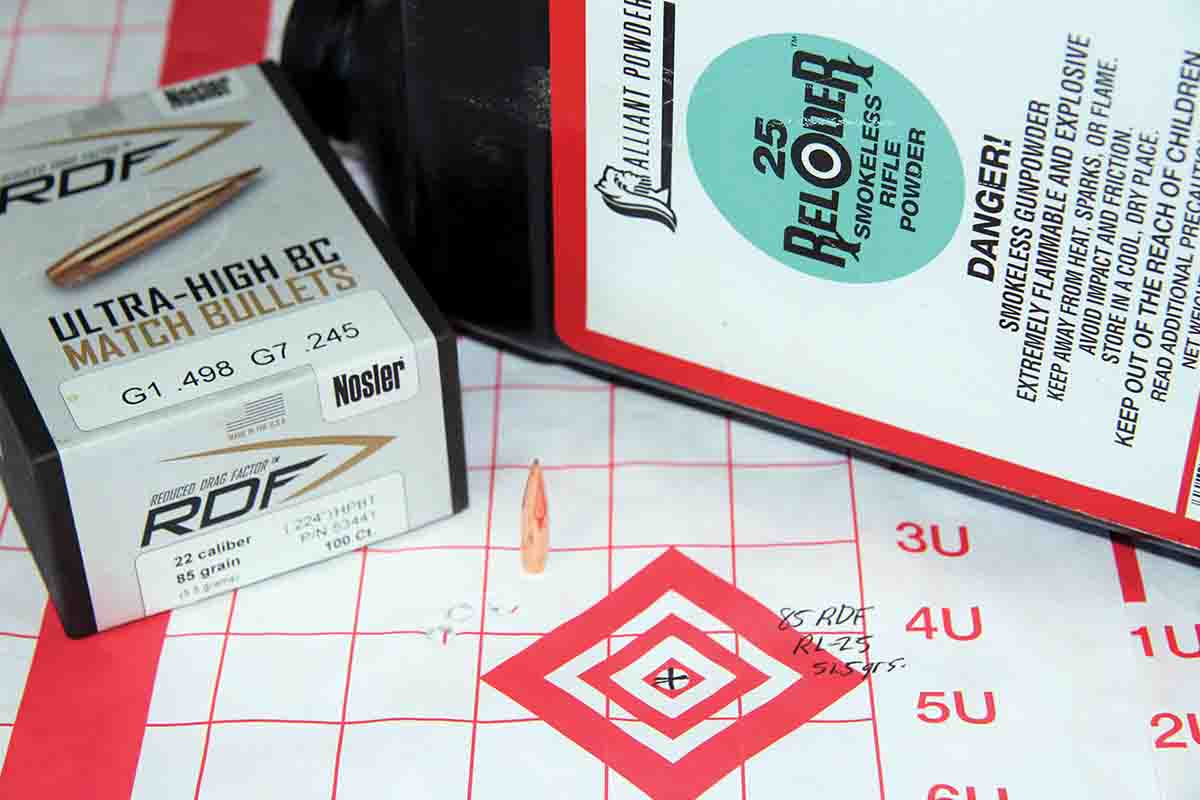 The 85-grain Nosler RDF (Reduced Drag Factor) bullet sports one of the smallest meplats and most streamlined boat-tails in the business, giving this version a phenomenal .489 G1 BC normally reserved for heavier 6mm bullets. All loads shot with this powder averaged .98 inch when fueled by Hodgdon Retumbo, Ramshot Magnum and Alliant Reloder 25. Retumbo didn't break an inch until it hit the maximum load of 54 grains at 3,485 fps, but resulted in a tight bolt lift in my rifle. All Magnum loads printed less than an inch, with the best accuracy, .73 inch, resulting from 52.5 grains at 3,384 fps. Reloder 25 proved the right stuff, with all groups printing less than an inch, with the best assembling a .57-inch group at 3,358 fps.
The 90-grain A-Tip is Hornady's most advanced bullet to date, including a milled-aluminum tip, refined AMP jacket and minimal handling during manufacturing. With a G1 BC of .585, it promises to perform on par with many 6.5mm bullets. If the results experienced with 156-grain A-Tips from a 6.5-284 Norma are any indication, these bullets will expand on small varmints. Hodgdon Retumbo, H-4831sc and Accurate Magpro were paired with this bullet, with varying results. H-4831sc was the clear winner, with all groups clustering into less than an inch. The best was a .61-inch group at 3,146 fps using 45 grains of powder. Magpro failed to impress, with all groups averaging about 1.50 inches. Retumbo did not like this bullet, with 51 grains producing just a 1.64-inch group.
In conclusion, I'd not recommend IMR-7828ssc or Retumbo for this cartridge. Vihtavuori N165, Alliant Reloder 22 and perhaps Accurate Magpro likely deserve further exploration, juggling powder charges further and/or bullet combinations. Obvious standouts included Hodgdon H-1000 and especially H-4831sc, Alliant Reloder 25 and Ramshot Magnum. With these four powders a handloader would be set up well for loading the .22-284 and heavy bullets.
In the big picture, I'd call the .22-284 Winchester too much of a good thing. As a varmint cartridge, it serves limited purposes. For high-volume shooting, even at extreme ranges, its robust recoil and rapid barrel warming (branding-iron hot with as few as five shots) make it a poor candidate. If, on the other hand, you are into slower-paced varmint shooting – reaching across an expansive farm field to wary eastern woodchucks, or spanning windy western canyons to zap distant rockchucks – this might be your ideal. With a sturdy 85- to 90-grain bullet, it could make a good deer or pronghorn cartridge. It is a pain in the rear to load (less so with the use of this data), frustratingly finicky and promises short barrel life. But there are hunters who crave speed, and the .22-284 Winchester serves that up in spades.