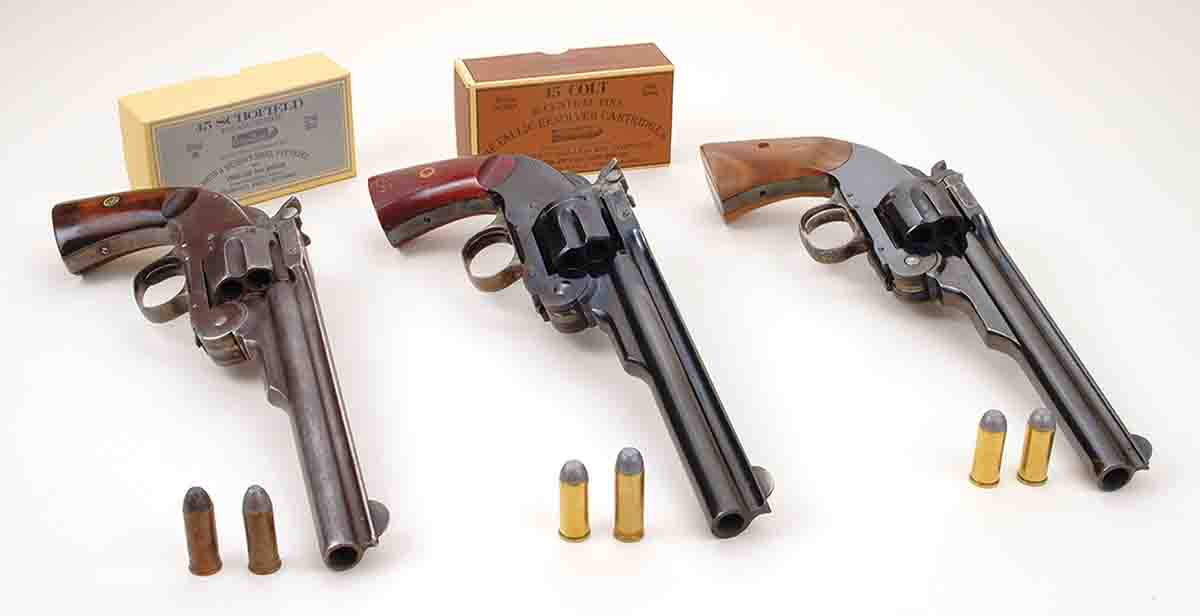 A revolver cartridge that seems to cause more confusion than any other is Smith & Wesson's (S&W) .45. Perhaps the cause has been the numerous names also given it along the way, such as .45 S&W "Schofield," .45 S&W Government and simply .45 Government. All those names describe the same cartridge with a nominal 1.10-inch case length and rim diameter of approximately .520 to .523 inch. (Measurements were taken from vintage military and civilian factory loads.)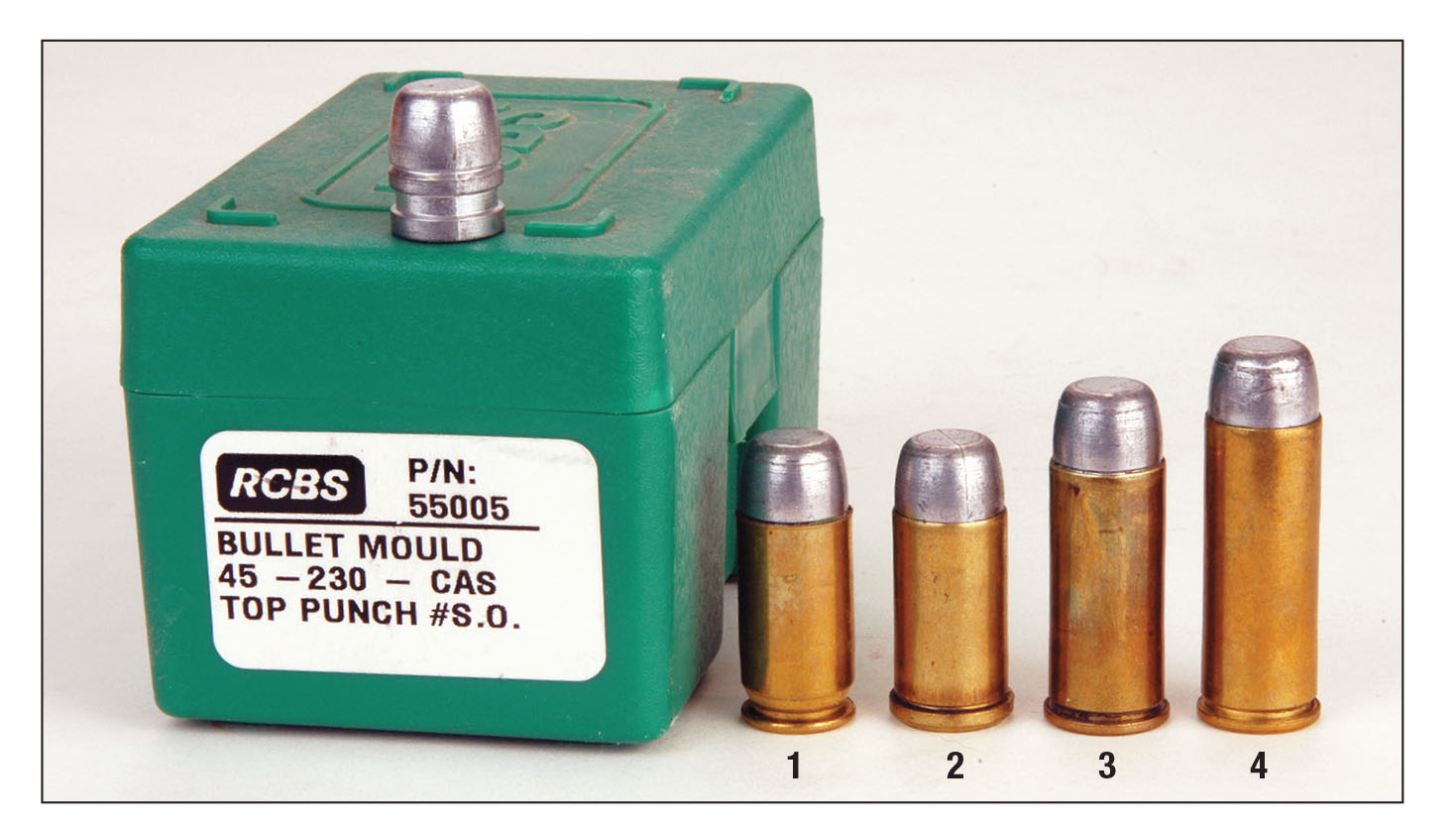 Here's a related bit of confusion: Starting in 1875, Smith & Wesson chambered a variation of its No. 3, top-break, single-action revolver especially for the .45 S&W. Because it used some patents given to Major George Schofield of the U.S. Army, this revolver came to be known as the S&W Schofield. It was adopted to a limited extent by the U.S. Army that same year. All Smith & Wesson No. 3 "Schofields" were chambered for the .45 S&W. However, not all Smith & Wesson No. 3 revolvers were "Schofields." Only that single variation deserves the name.
The army had adopted Colt's Single Action Army .45 two years earlier. It was chambered for a .45 round with 1.285-inch case length and rim diameter of about .502 to .506 inch. (Measurements taken from vintage military and civilian factory loads.) So in its infinite wisdom, the U.S. Army then had two .45 revolvers designed for two different .45 cartridges. The reason S&W came out with its own .45 was because Colt's .45 was too long to fit in S&W cylinders. Furthermore, S&W No. 3 revolvers ejected cartridges simultaneously by means of a star extractor. Rims of .45 Colt cartridges were not wide enough so that the star extractors could extract and eject them reliably. Extractors would slip over tiny .45 Colt rims, letting rounds fall back into chambers, which tied up the entire works until removed. Hence, S&W increased rim diameter by .020 inch on its .45 version.
Naturally, the "short" S&W .45s would fit in "long" .45 Colt chambers, but not vice versa. Inevitably, some army units received S&W No. 3 .45 "Schofield" revolvers but got "long" .45 Colt ammunition for them. It was a typical government boondoggle. Therefore, around 1876, the decision was made to only furnish "short" .45 S&W ammunition for all revolvers. The only 1876 Plains Indian Wars battlefield where I know for sure archaeology has been done is the Little Bighorn Battlefield in Montana. Fired "long" .45 Colt cases have been recovered from at least 28 different Colt SAA .45s, as proven by forensics examination.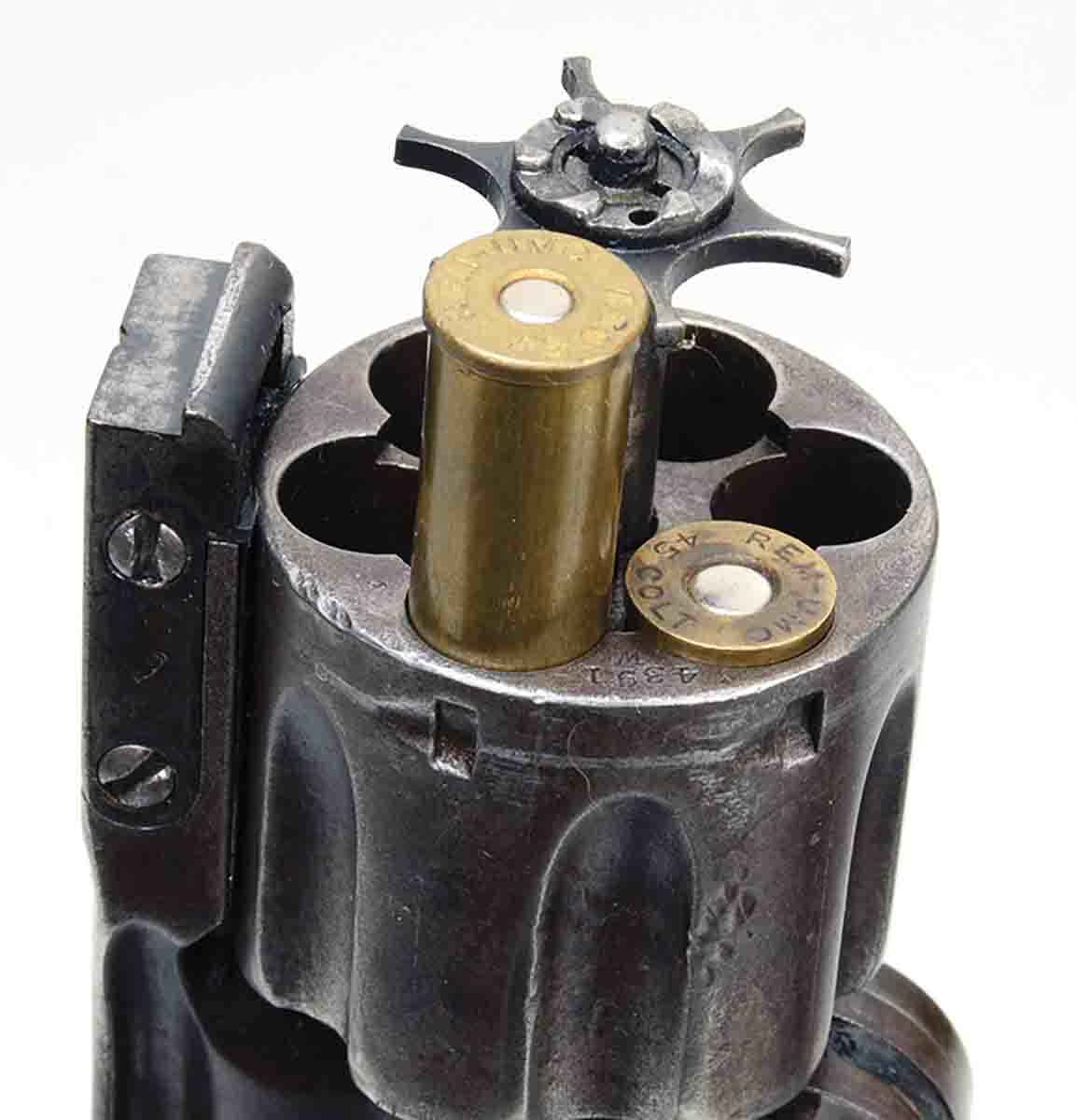 In the past I've written that only Smith & Wesson revolvers were chambered for .45 S&W. That is not quite factual. In 1876, Remington submitted its new revolver, later named the Model 1875, to the U.S. Army for testing. It was chambered for Remington's own .44 cartridge. That sample was returned to Remington, saying the army would only consider testing a revolver chambering its .45 Government round. Remington lengthened and widened the .44 Model 1875 cylinder dimensions and sent the army ordnance department another test revolver. It got high marks from both officers testing it, but ordnance officials must have figured they had two .45 revolvers already and didn't need another. Remington received no contracts from the U.S. government. However, the Mexican government did take notice and ordered 1,000 Model 1875s chambered for .45 Government. An 1880 advertisement billed the Model 1875 as REMINGTON IMPROVED ARMY OR FRONTIER REVOLVER chambered for .44 Remington, .44 Winchester Centerfire or .45 Government. The price was $12.50 with blue finish or $13.50 when nickel-plated.
Contrary to popular misconception, when the U.S. government's Frankford Arsenal manufactured early "long" .45s for the army, the black-powder charge was 30 grains, not the 40-grain charge so often touted. Bullet weight was 250 grains and not 255 grains. When "short" .45 S&W replaced "long".45 Colt in government inventory, it was loaded with 28 grains of black powder with 230-grain bullets. Velocity was rated at 725 fps. Facts differed in commercial ammunition. By Winchester's 1899 catalog, 255-grain bullets were used in .45 Colt with 38 grains of black powder. S&W .45s were then loaded with 250-grain bullets and 30 grains of powder.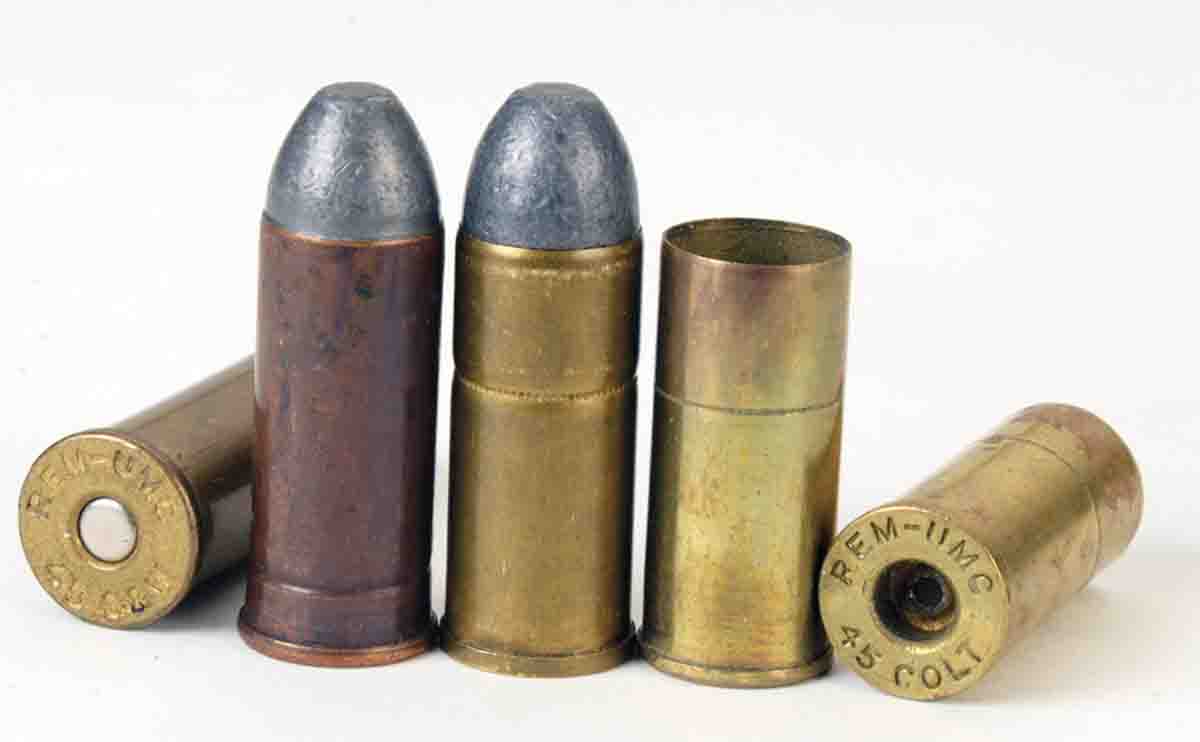 Over the years, I've owned and fired two original S&W .45 "Schofields," one of the short run made by S&W in the year 2000 and several of the Italian replicas. Only black powder was used in the 1870s vintage "Schofields," and mighty few of them, for I feared damaging ancient and very valuable revolvers. When first tackling the new S&W .45 "Schofield," black-powder loads were tried first. The cylinder locked up after the second shot. Smokeless powders worked just fine. The Italian replicas were all chambered for .45 Colt, although mostly I used .45 S&W in them. The same is true of the U.S. Firearms "Custer Battlefield" .45. For some reason, most times I've fired .45 S&W loads in it. That twenty-first-century S&W No. 3 "Schofield" is one of the very few handguns I regret selling. Like its nineteenth-century predecessors, it was a finely made revolver.
Starline .45 S&W brass comes with a rim diameter of approximately .521 inch. At that, the cases worked perfectly in my old-time "Schofields" and also in all my modern .45 Colt single-action revolvers. I've heard reports that their wider rims have "interfered" in .45 Colt cylinders, but that has never been the case for me. When beginning to load .45 S&W in the early 1990s, proper dies were special order and expensive. Regular .45 Colt dies would suffice for full-length sizing and case mouth belling. Bullet seating was possible, but the die body met the shellholder before a crimp could be applied. Instead, I crimped with an old .45 ACP die. However, when RCBS began offering its special "Cowboy" lineup of dies for vintage cartridges, the company was smart and made the .45 set for both "Schofield and Colt." It must be noted however, that shellholders are different for .45 S&W and .45 Colt. RCBS's are No. 35 and No. 20 and Lyman's are No. 14B and No. 11 in the same order.
The .45 S&W died as factory ammunition circa 1939 but was resurrected late in the 1990s by Black Hills Ammunition. That factory loads it with 180-grain and 230-grain RN/FP bullets. Just as I appreciate the ability to shoot mild .38 Special loads on occasion in .357 Magnum revolvers or .44 Specials in .44 Magnum revolvers, I also like using short .45 S&Ws in my several .45 Colt single actions.