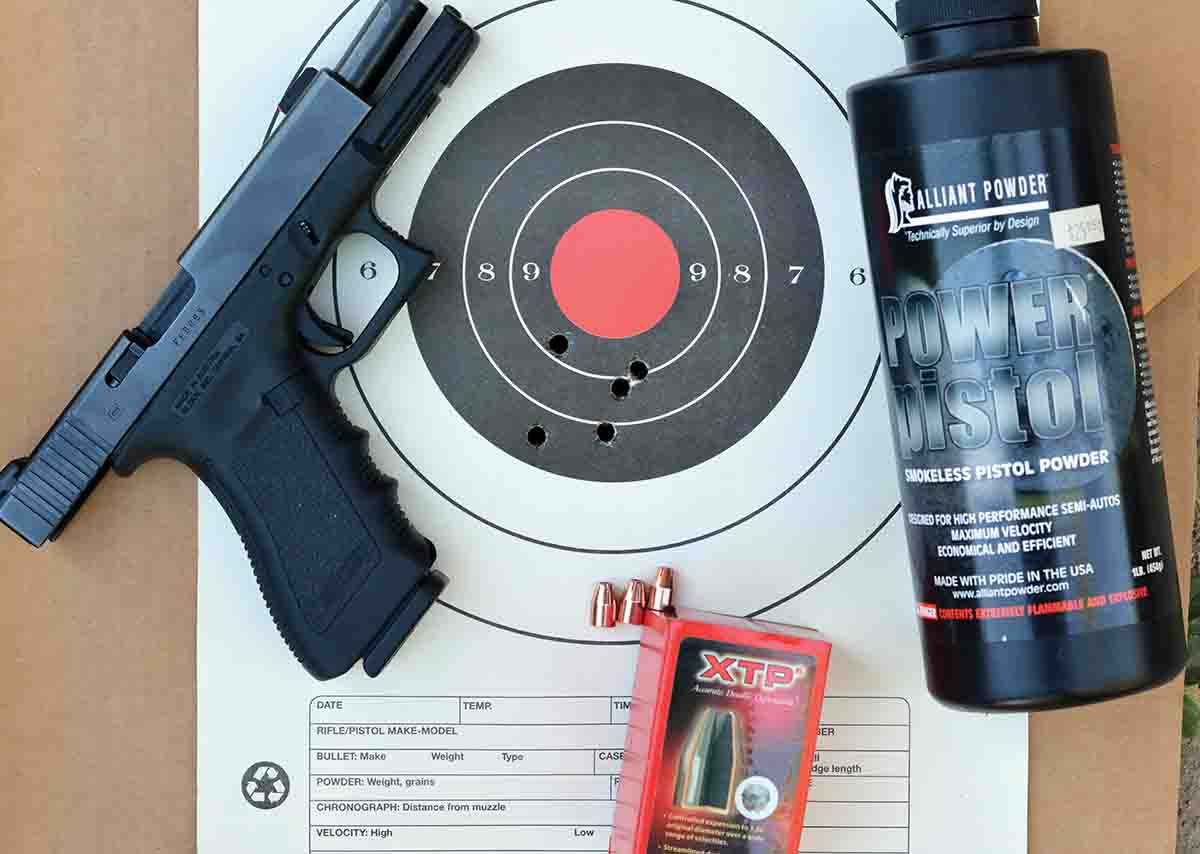 The .357 Sig was developed in 1994 by Federal Cartridge and SIG Sauer and is based on the .40 S&W case necked down to accept .355-inch bullets. Its development was the direct result of requests from a U.S. government law enforcement agency that wanted a cartridge designed specifically for auto-loading pistols that would duplicate .357 Magnum revolver ballistics when loaded with 125-grain jacketed bullets.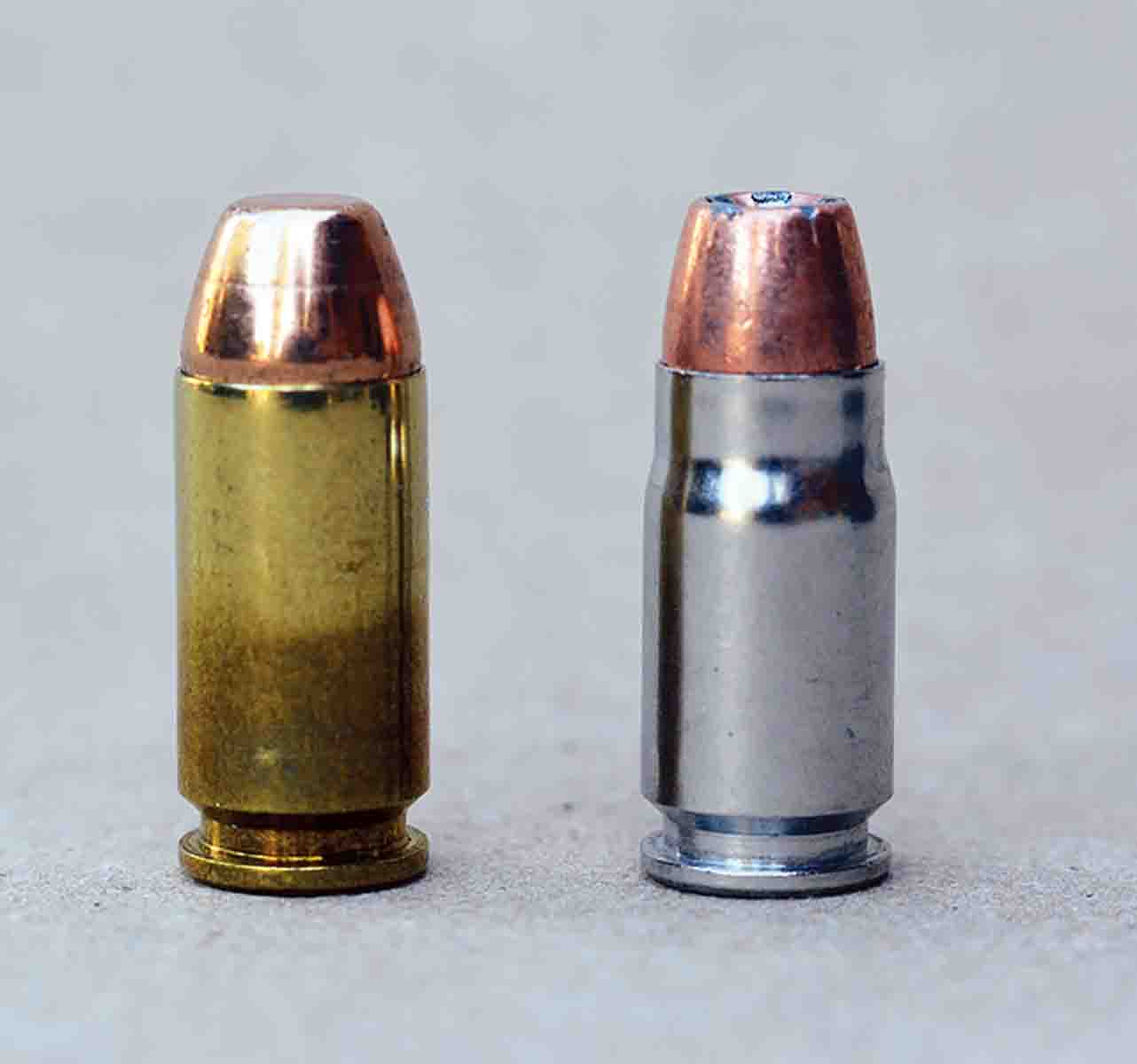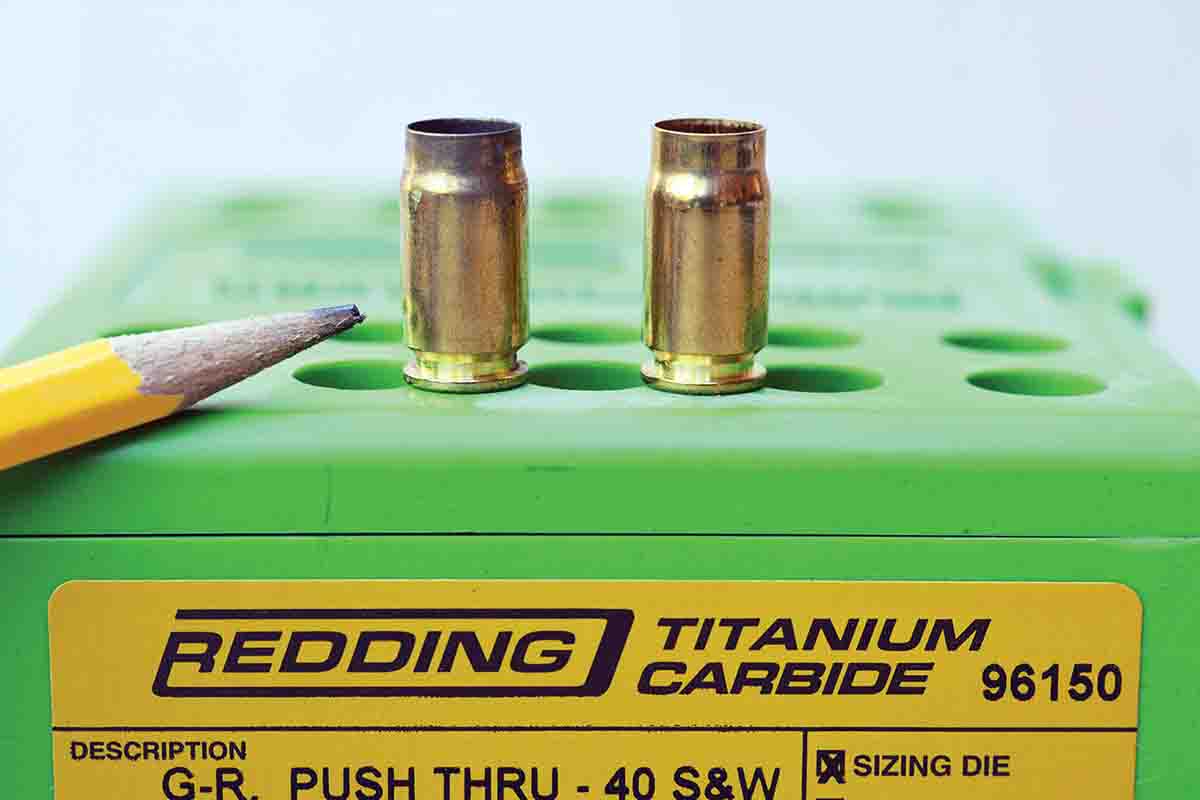 While that criteria can spark an intense debate as to the .357 Magnum's ballistic superiority, the .357 Sig is capable of pushing a 125-grain bullet to at least 1,350 feet per second (and even faster), which is the exact ballistics requested by the law enforcement agency. It is a load that has earned an excellent reputation for its intended purposes while producing modest recoil. While most of its popularity has been within law enforcement circles that have no need to handload for it, the .357 Sig has gained some popularity among civilians, many of which handload for it. However, due to its bottleneck configuration and other design features, there are some nuances that have caused some difficulties for those that want to produce perfectly reliable ammunition, which will be addressed.
To prevent name confusion, the U.S. based Sporting Arms and Ammunition Manufacturers' Institute (SAAMI) designates the above cartridge as .357 Sig. However, the European-based C.I.P. (their equivalency to SAAMI) references it as .357 SIG. The latter lists piezoelectric maximum pressure at 44,240 psi, while SAAMI limits maximum average pressure to 40,000 psi. The accompanying handload data is held to this 40,000-psi maximum.
A few reasons why the .357 Sig has gained popularity includes its availability in a large number of pistol models, many of which are based on standard and semi-compact 9mm and .40 S&W frames/pistols. Its bottleneck design serves to facilitate reliable feeding. In addition to generating less recoil when compared to full power .40 S&W loads, it offers a substantial velocity gain. When compared to the 9mm Luger, the .357 Sig can push bullets of the same weight from 230 to over 300 fps faster, which results in greater shock when using expanding bullets and a notably flatter trajectory at extended distances.
In spite of the .357 Sig being based on the .40 S&W case, it has a maximum case length of .865 inch, or some .015 inch longer than the .40. As such (and for other reasons), it is not really feasible to neck .40 cases down to create Sig cases. Several manufacturers offer factory ammunition and brass; however, new cases are readily available factory direct from Starline Brass (800-280-6660 or starlinebrass.com). They are robust and were selected to develop the accompanying Pet Loads data.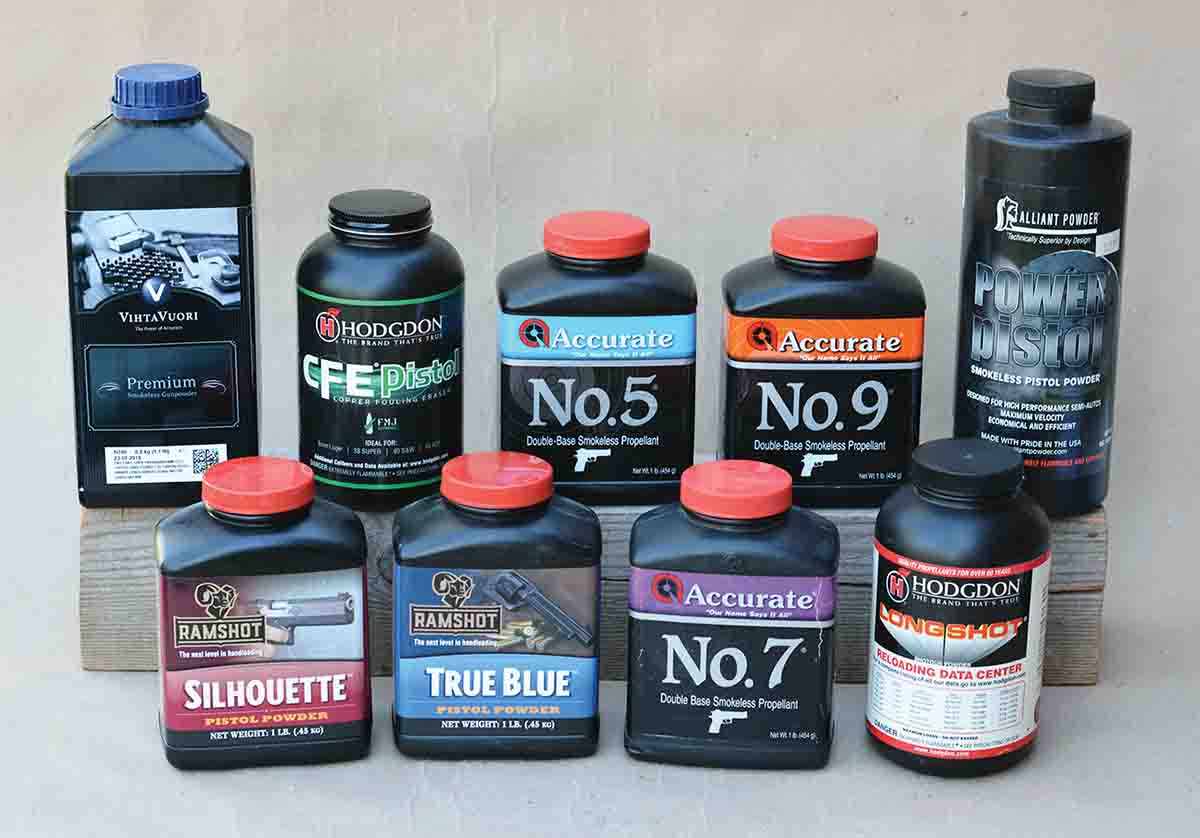 Being a bottleneck cartridge, .357 Sig dies come standard as a two-die set, just like bottleneck rifle cartridges. The first time cases are either loaded – either reloaded or new cases – it is recommended to chamfer the inside of the case mouth after they are full-length sized, which will help bullets seat properly. However, seating bullets can still cause damage to the case. As such, keeping bullets perfectly straight in the case mouth as they are being seated is very difficult, unless using a boat-tail designed bullet.
When bullets tilt slightly while being seated, they will cause damage to the case, which effectively ruins the cartridge. For these reasons, I prefer to size cases, then run them into a neck expanding die just slightly to expand the case mouth. A universal-style expander is suggested, one that is void of an expander ball. The neck is very short and case mouth expansion should be very minimal to allow the case to retain proper tension with the bullet. The case should only be expanded just enough to allow the bullets to just enter the case mouth slightly. This allows bullets to be placed on top of the case and "held" and kept them straight as they enter the seat/crimp die. This extra step helps to prevent damage or deformation to the case during the seating operation.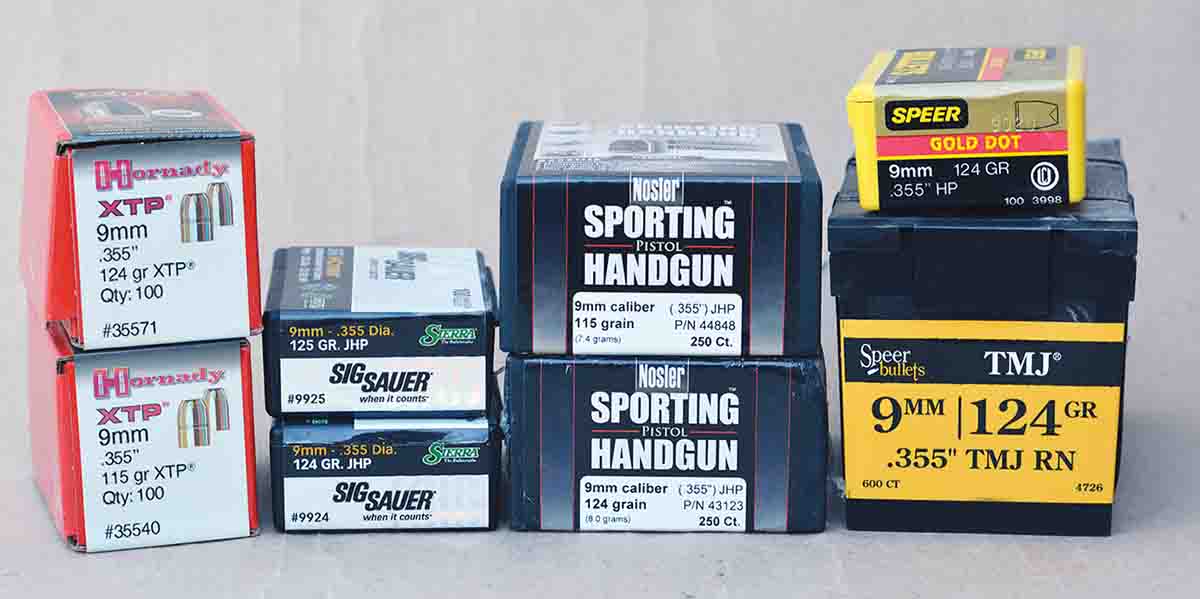 It should be noted that many pistols chambered in .357 Sig feature what is commonly known (incorrectly) as an unsupported chamber. This results in fired cases that have a bulge just forward of the head that is the result of the pistol unlocking while pressures are still high enough to cause the case to bulge. Even when the steel sizing die is adjusted to contact the shellholder, due to the .125-inch measurement from the bottom of the shellholder to the top, the bulge will not be removed. This can cause chambering problems with reloaded cartridges. A good solution is to tumble and clean cases, and then run them through Redding Reloading G-Rx Push Thru Base Sizing Die with a carbide ring for the .40 S&W. This will remove the bulge and bring the case back to correct specifications. Cases should then be full-length sized and loaded in a normal fashion. Naturally, due to its bottleneck design, sizing dies are steel, so cases must be lubed prior to being sized, with the lube normally being removed before proceeding.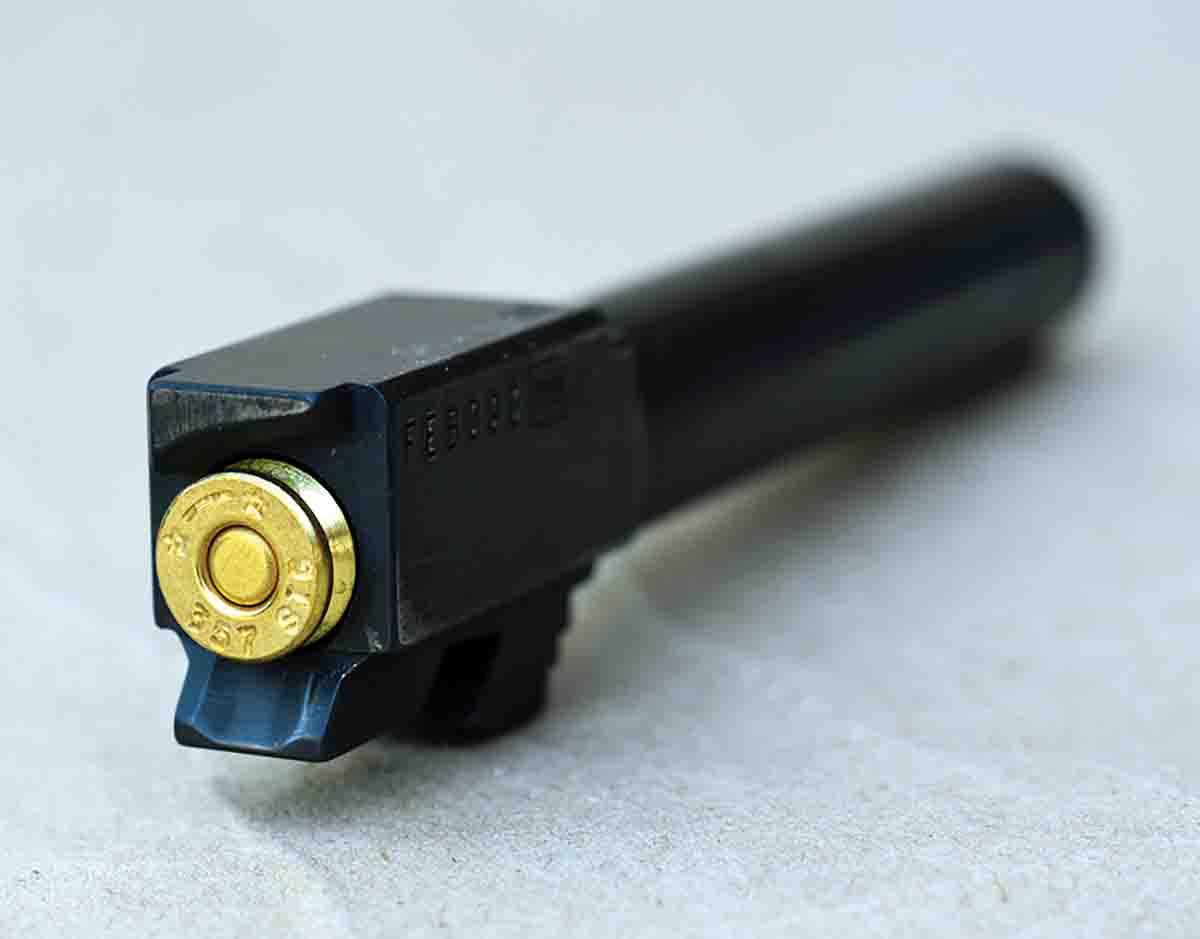 During development of the .357 Sig, it was loaded with .357-inch bullets. However, it was finalized with .355-inch bullets, or more commonly referred to as 9mm bullets. Never use .357-inch bullets to handload the .357 Sig, or feeding and chambering problems and high pressures will occur! It should be noted that not all 9mm bullets are suitable for handloading the .357 Sig. For example, FMJ bullets with the NATO-specified long nose profile feature a short shank, and when loaded to correct overall cartridge lengths offer very little case neck tension. As a result, they can be deep seated during the feeding/cycling of the action, which can cause feeding problems and can result in dangerously high pressures.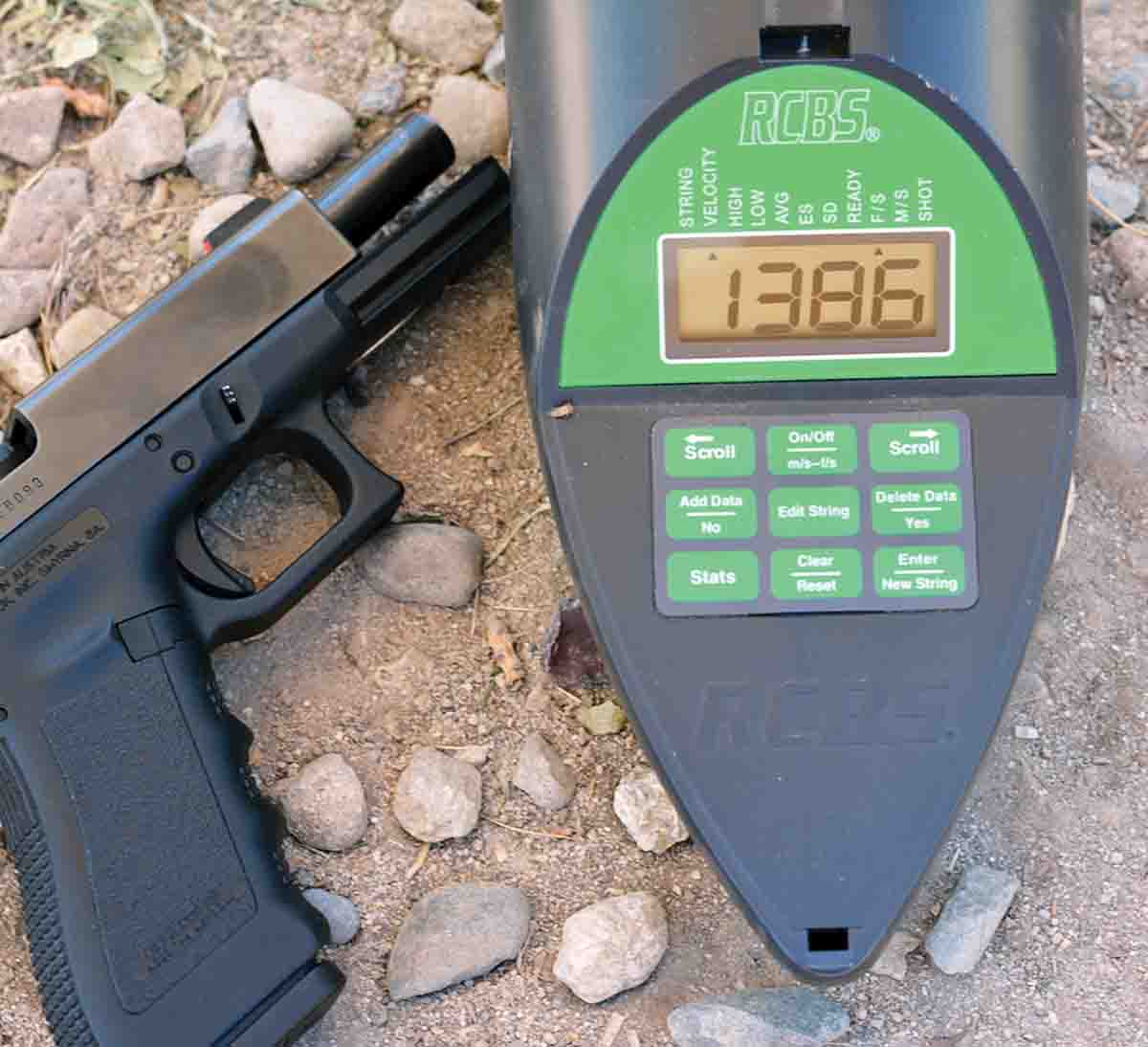 The accompanying data was developed using bullets that will work in the short neck of the .357 Sig. For these reasons, bullet substitutions are generally not recommended, except with bullets that feature a long enough shank to work properly in the short neck of the .357 Sig.
Several years ago, I responded to a reader's question regarding technical difficulties that he was having with his .357 Sig handloads. I indicated that headspace was not on the shoulder, but rather the case mouth – similar to other auto-loading pistol cartridges such as the 9mm Luger, .45 ACP, etc. After my comments were published, many letters poured in from Sig handloaders questioning the above statement. However, all credible sources support my comments including SAAMI, C.I.P., Federal Cartridge, Schweizererische Industrie Gesellshaft (SIG), Sierra, Speer, Lyman, etc. Plus, based on industry cartridge drawings and specified chamber dimensions, the .357 Sig cannot possibly headspace on the shoulder, but must headspace on the case mouth. With this thought in mind, cases should always be full-length sized and after bullets are seated to the correct overall cartridge length, a taper crimp applied.
Incidentally, the test ammunition loaded to develop the accompanying data was crimped with an outside case mouth diameter of .376 to .377 inch, measured using blade calipers. For comparison, checking the crimps on factory loads from Speer, Federal and Hornady, each had a measurement of .376 to .3775 inch. Bullets were first seated to the correct overall cartridge length, then as a separate step a taper crimp was applied.
Cases tend to grow in length quickly with the .357 Sig, so their overall lengths should be checked with each reloading. Naturally, cases that are the most uniform in length will crimp uniformly. If cases are not precisely the same length, the Lee Factory Crimp die can aid in achieving a uniform crimp.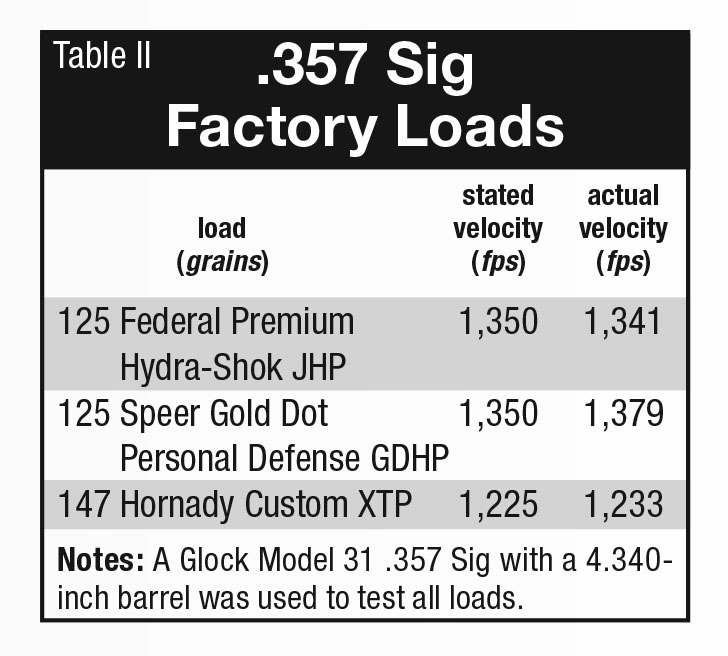 A great tool that every .357 Sig handloader should consider obtaining is the Shooters Box Case and Cartridge Gauge with a three-step face design that serves to establish minimum and maximum case length and will help adjust dies to achieve SAAMI specifications. It will serve to help tune handloaded cartridges to assure they will always chamber and are within industry specifications.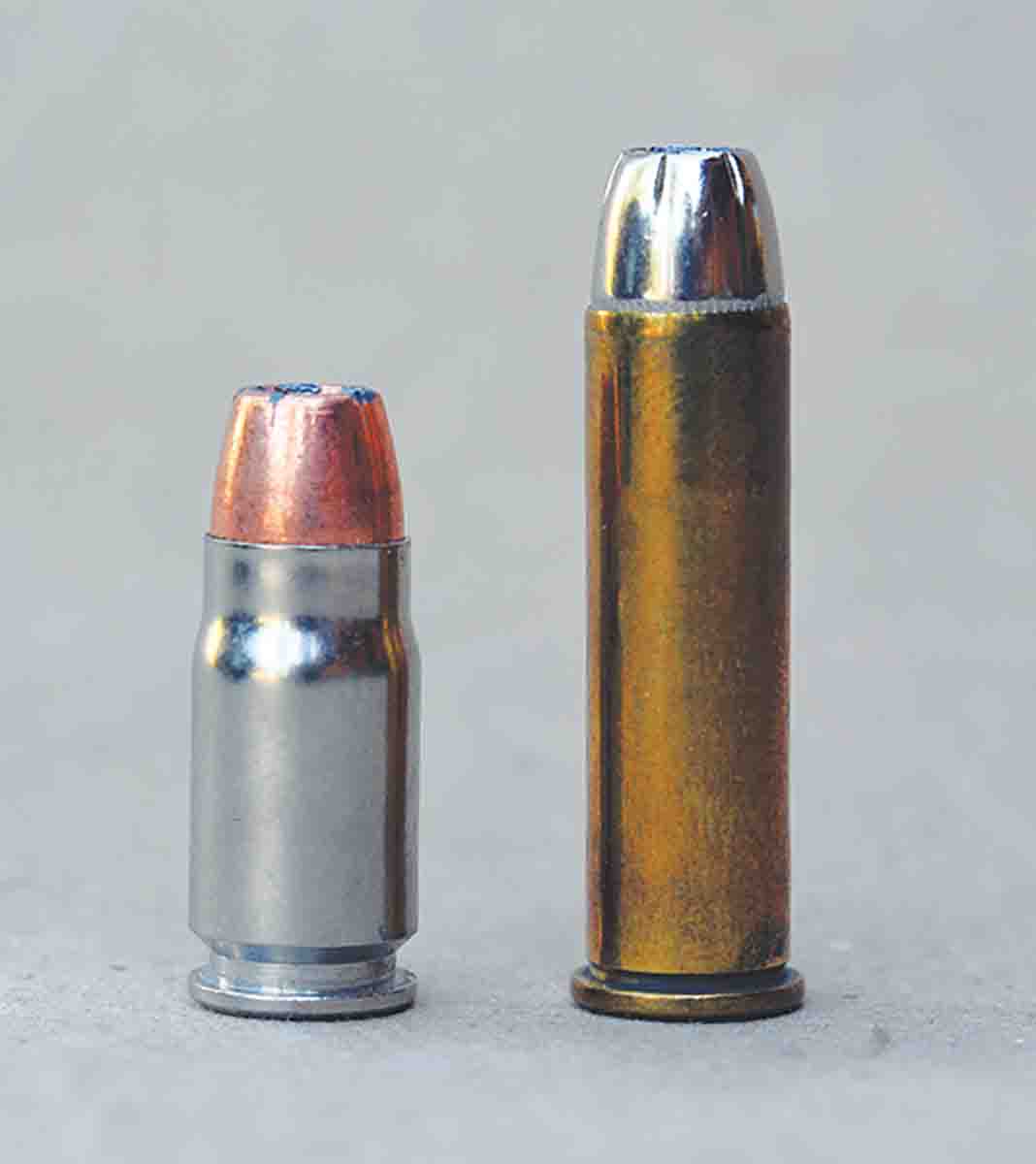 A Glock 31 was selected to develop .357 Sig handload data. Like most Glock pistols, it has proven reliable while offering acceptable accuracy for its intended purposes. It features a 4.340-inch barrel and 15-round magazine capacity, and has never failed to fire, feed and cycle with industry specification ammunition.
In referencing the velocities of factory loads from the test gun, it produced speeds that were in close proximity to their listed figures. For example, the Speer Gold Dot Personal Protection 125-grain GDHP load is listed at 1,350 fps, but actually chronographed at 1,379 fps. As can be seen in the accompanying table, other factory loads performed similarly to their stated velocities. Suitable powders will more or less duplicate factory load velocities while staying within pressure limits; however, select data reached 1,400-plus fps with 124/125-grain bullets.
Select load data was fired in additional pistols, including a Sig P229 and others. It should be noted that overall cartridge length is critical to produce reliable handloads. Maximum overall cartridge length is 1.140 inches; however, some guns were reliable with cartridges that measured 1.150 inches. Nonetheless, maintaining an overall cartridge length that is within industry standards for maximum reliability is important. The only two bullets used that were loaded to a shorter overall length were the Speer 90- and 115-grain Gold Dot HP bullets that were seated to 1.135 inches.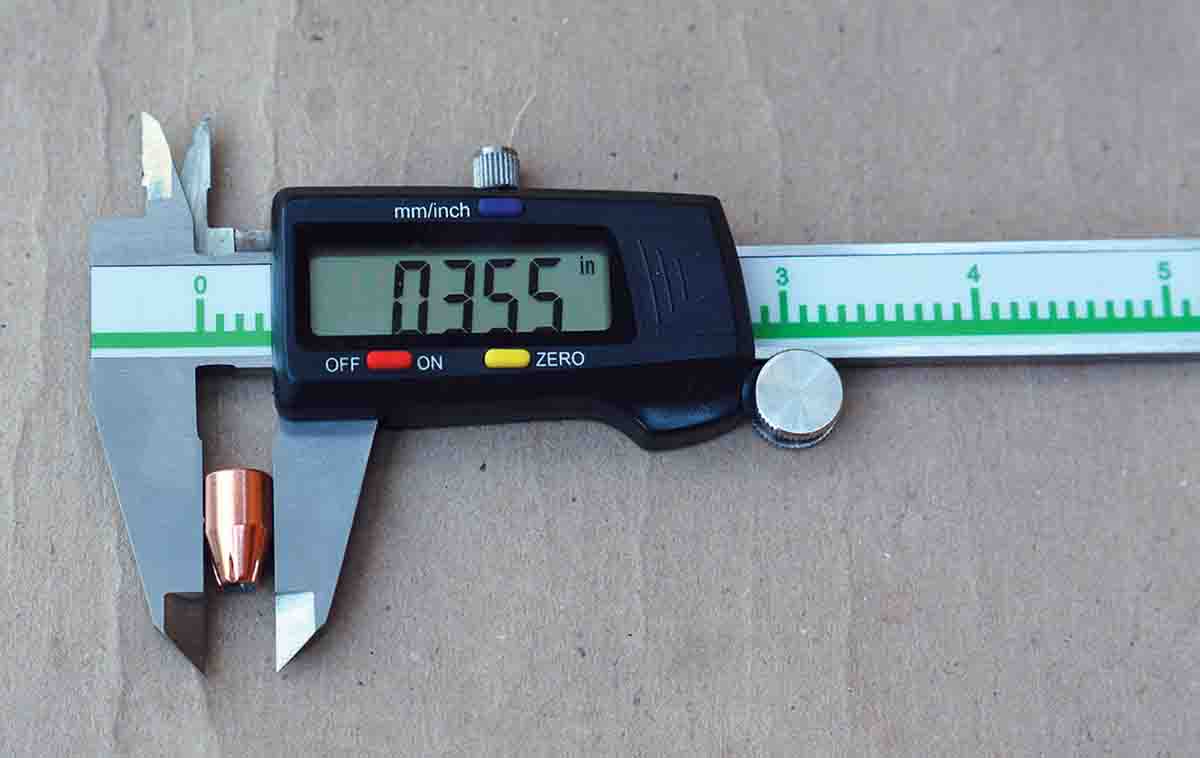 There are many powders that offer top-notch performance in the .357 Sig. They are capable of duplicating or exceeding factory load velocities (with the same bullet weights), are clean burning and produce low extreme spreads. With 90-grain bullet weights, Accurate No. 2, Alliant Power Pistol, Ramshot Silhouette and Vihtavuori 3N37 are top choices. For 115-grain bullet weights, Ramshot True Blue, Silhouette, Winchester 244, Vihtavuori N350, Power Pistol and Accurate No. 7 are excellent choices.
For 124- and 125-grain bullet weights, Power Pistol, Silhouette, Winchester 244, True Blue and Accurate No. 5 will offer the desired performance. For 147-grain bullet weights, Accurate No. 7, No. 9, Power Pistol and Winchester 244 should be considered. It should be noted that Accurate No. 9 powder pushed the 147-grain Hornady XTP to an impressive 1,319 fps and was the most accurate load used with that particular bullet. When care was taken to execute the important details of handloads, extreme spreads were often 5 to 20 fps for a five-shot string.
CCI 500 Small Pistol standard primers were used to develop the accompanying load data. They offered reliable ignition with all powders and are suitable for the 40,000-psi pressure that the Sig generates. The Winchester Small Pistol (standard) primer and Federal 100 primers may be substituted; however, in tests not included here, the Winchester primer will produce slightly lower velocities, while the Federal will produce slightly higher velocities. Regardless, primers should be seated .003 to .005 inch below flush, with the anvil properly touching the bottom of the primer pocket.
All loads in the accompanying table fed, fired and ejected with 100 percent reliability in the Glock 31. While the .357 Sig may have a few nuances that require special attention to successfully handload, it is possible to assemble loads that are perfectly reliable and duplicate or exceed factory load performance.