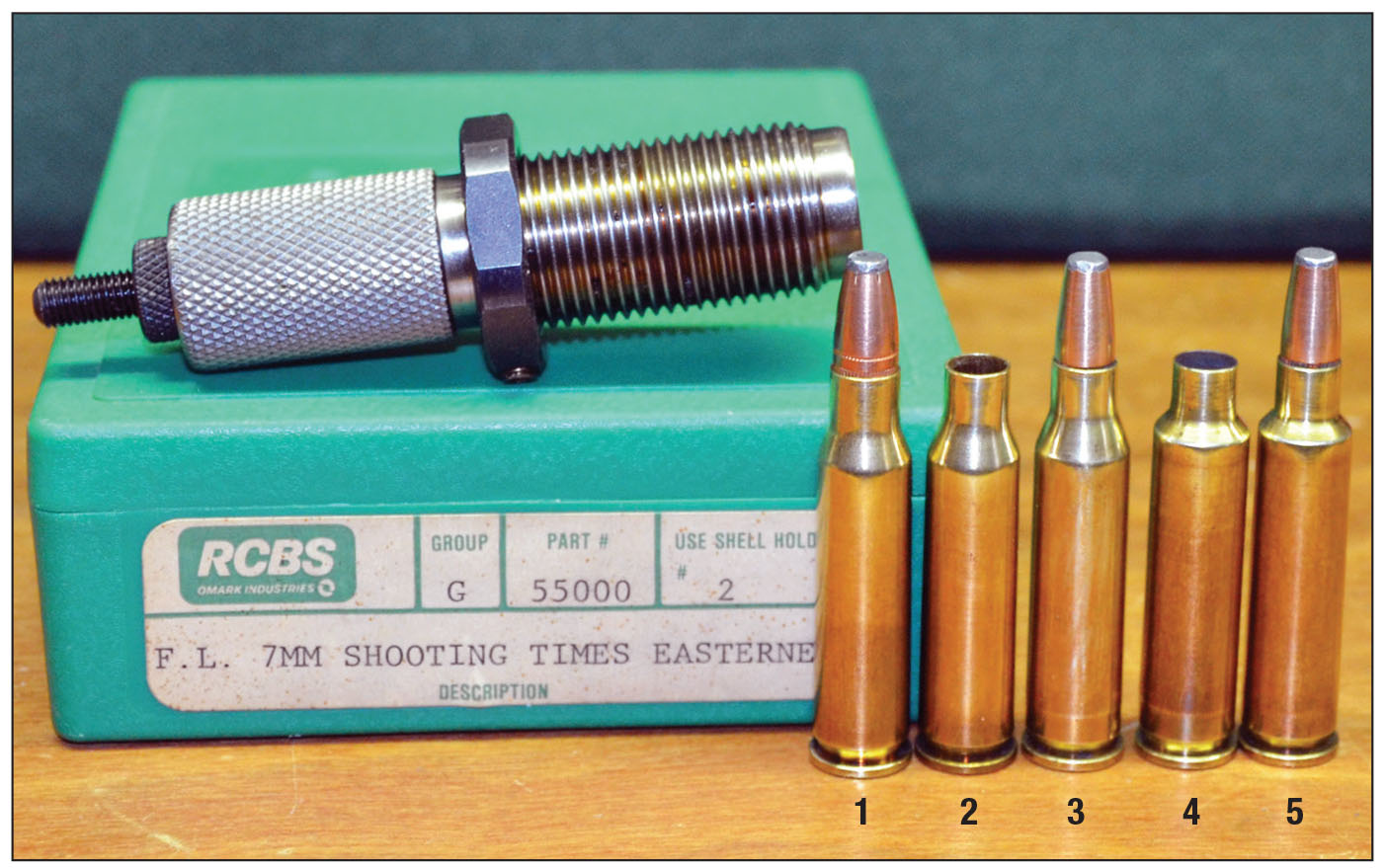 The 7mm Shooting Times Easterner (7mm STE) was introduced in 1989 and it is formed from .307 Winchester brass. For those who do not know, the .307 Winchester is basically a rimmed version of the .308 Winchester and it was introduced in a Winchester Model 94 rifle with the rear of its receiver walls adjacent to the locking bolt thickened for reinforcement. The .356 Winchester on the same case was also introduced at the same time, and as you might guess, it is a rimmed version of the .358 Winchester. Since the two were developed for use in a tube-magazine rifle, Winchester ammunition was loaded with flatnose bullets. I still have a pair of Model 94s chambered for those cartridges.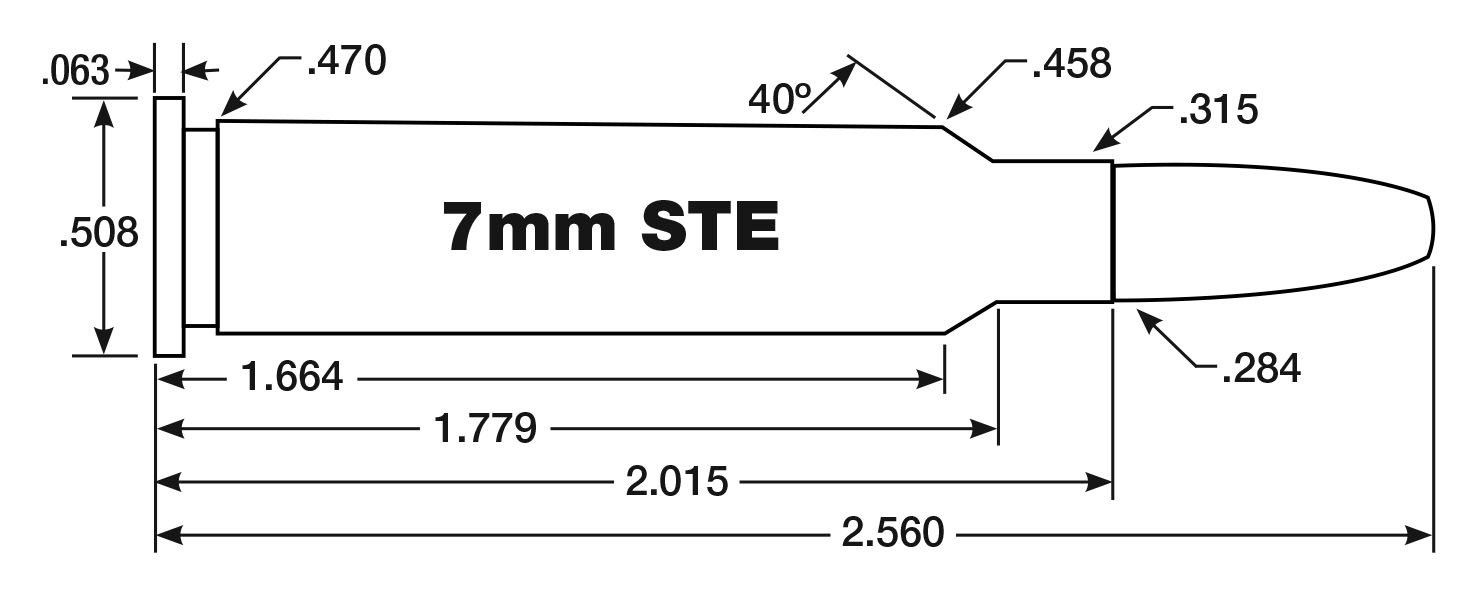 In early 1988, I sent a Marlin 336 in .356 Winchester to barrelmaker Harry McGowen for rebarreling to the .307 Winchester case necked down for .284-inch bullets. My specifications included a 22-inch barrel with a 1:10 twist. Because the rifle would be used exclusively with a scope, I asked that the barrel not be dovetailed or drilled and tapped for open sights. The barrel Harry installed measures .920 inch at the receiver and tapers to a muzzle diameter of .640 inch. Bore quality is excellent and the rifling twist rate is 1:10. The rifle ended up weighing 7 pounds. Immediately upon its return from Harry, I used George Miller's two-piece Conetrol mount to attach a Bausch & Lomb Balvar 1.5-6x scope, and after surviving many hard knocks and some pretty awful weather through the years, the scope is as good today as it was back then. The scope and mount increased the weight of the rifle to 8 pounds, 3 ounces and it proved to be quite accurate.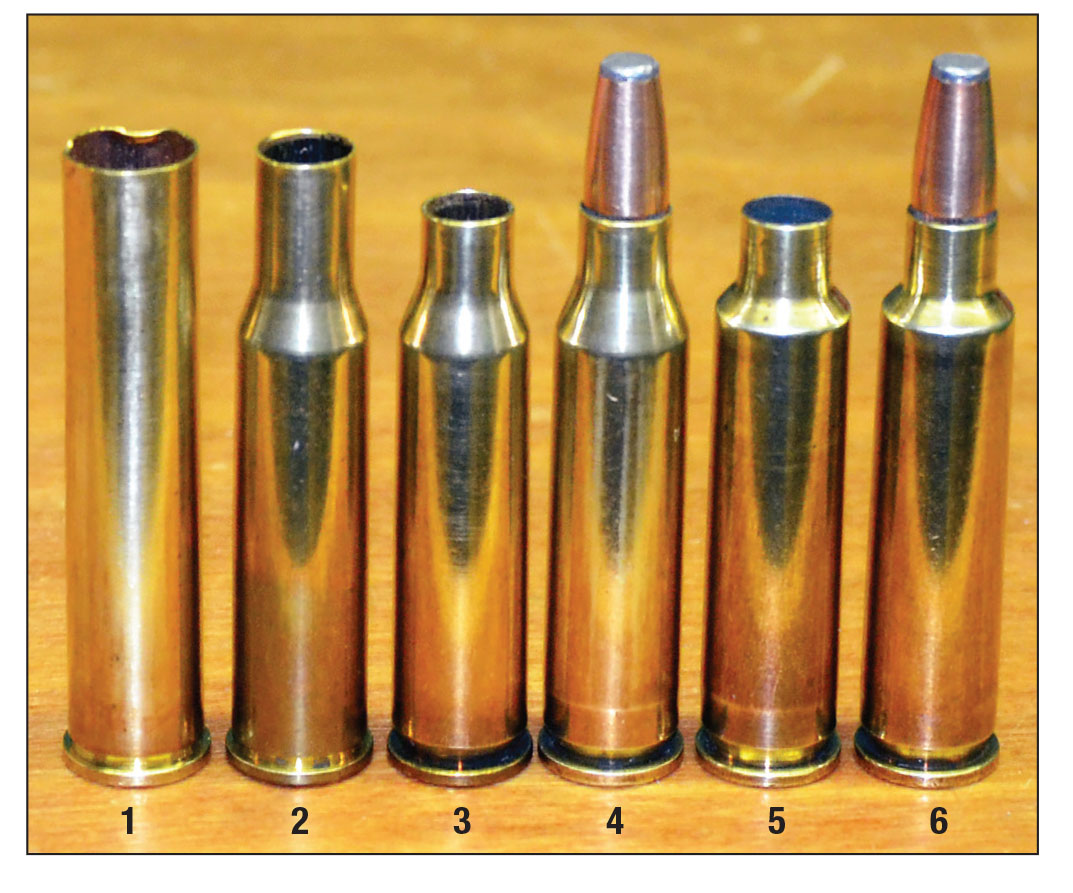 On my first go-round with the 7mm STE, the case was formed by simply necking down the .307 Winchester case with no other change. My plan was to load it to the same chamber pressure as the .307 Winchester, and when experiencing sticky case extraction prior to reaching that level, I recalled an experiment performed by P.O. Ackley. He illustrated how a reduction in case taper reduces thrust against the breech bolt of a rifle because the case has more of a tendency to grip the wall of the chamber during firing. This assumes the absence of oil or other lubricant on the chamber wall or on the cartridge case.
After rechambering a Winchester 94 in .30-30 to an improved version with minimum body taper and a sharper shoulder angle, Ackley removed the locking bolt from the rifle, leaving only the weights of the breech bolt and finger lever for resisting rearward force during firing. With the exception of primer extrusion, several rounds were fired without incident. This and other pressure experiments are described by Ackley in Volumes I and II of his Handbook for Shooters & Reloaders (1962).
Using a Clymer reamer for the 7mm-308 Improved already on hand, I rechambered the McGowen barrel and reached my velocity goals with no sticky case extraction. The case has .012 inch of body taper and a 40-degree shoulder angle. Not long after sending several fired cases to RCBS, I was in business with a custom die set. Flatnose bullets measuring .284 inch in diameter were available in 120 grains from Nosler and 139 grains from Hornady. A few years later, Speer introduced a 130-grain bullet with the same nose profile. Loads for the 7mm STE were published in the 26th edition of the Hodgdon Data Manual (1992).

Reloder 19, IMR-4350, H-414, W-760 and H-4350 have the correct burn rates for top velocities with all bullet weights. H-4895 works equally well with those weighing 120 grains. Forty grains of H-4350 behind bullets ranging in weight from 120 to 139 grains proved to be a good choice for fireforming cases. Loads in formed cases are more accurate, but not enough to matter within the effective range of the cartridge. Of course, velocity from the formed case is slightly higher due to a bit more powder burned. The Nosler bullet has accounted for most of the game taken with the rifle through the years, but due to a higher ballistic coefficient, the Hornady FTX of the same weight shoots a bit flatter and hits considerably harder. When exiting the muzzle at 2,900 feet per second and zeroed 3 inches high at 100 yards, it is 2 inches high at 200 yards and 5 inches below point of aim at 300. Residual energy at 300 yards is 1,150 foot-pounds.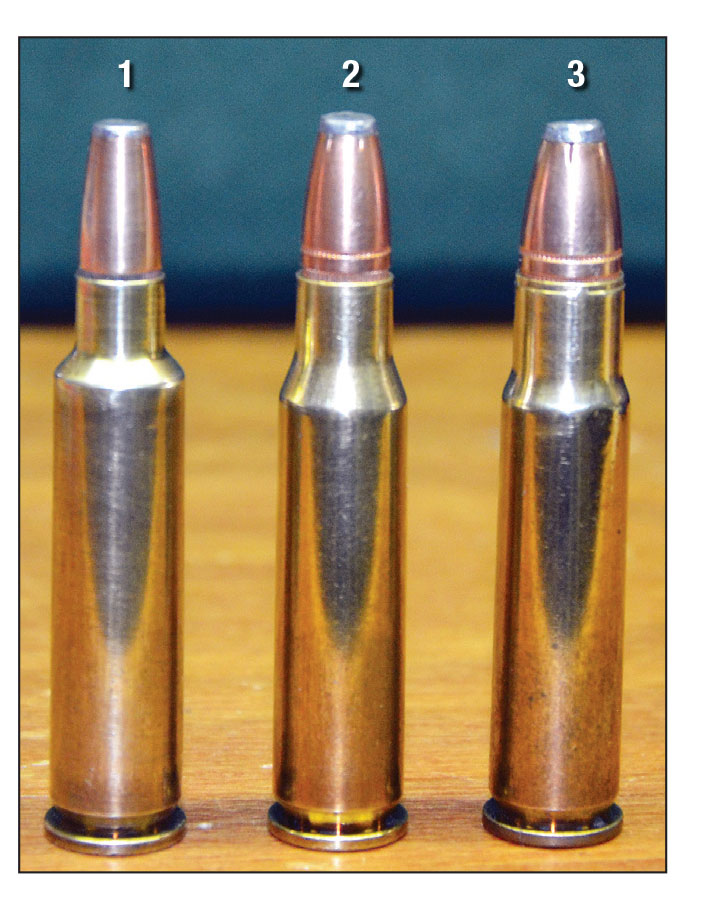 Eastern whitetails were on my mind while developing the 7mm STE, but as fate would have it, the very first game taken with it was a Wyoming mule deer standing 260 yards across a sagebrush-covered hillside. After receiving a Nosler 120-grain bullet close behind the shoulder and through the lungs, the buck stumbled along for about 30 yards and dropped. Phyllis and I used to spend two weeks each year in the home of longtime family friends who had a ranch in Wyoming. In addition to hunting deer and pronghorn on their property, we always made it a point to assist with chores. We grew quite fond of the state and its people and came very close to permanently relocating.
The feisty little cartridge has been on other successful hunts. During a telephone conversation with an outfitter who would be guiding me in Alaska, he mentioned that an area quite some distance from where we would be hunting brown bear had a good population of trophy-sized black bears. So in addition to a custom Remington Model 700 in .358 Shooting Times Alaskan, I took along the Marlin in 7mm STE and ammunition loaded with the Hornady 139-grain bullet. With my brown bear tag filled, we had three days to concentrate on black bear and I lucked into a very good one there as well. While the boar had its mind on eating tender sedge growing along the beach, I managed to sneak just inside 200 yards. The bear dropped where it stood and while a second shot was probably unnecessary, it got one just in case.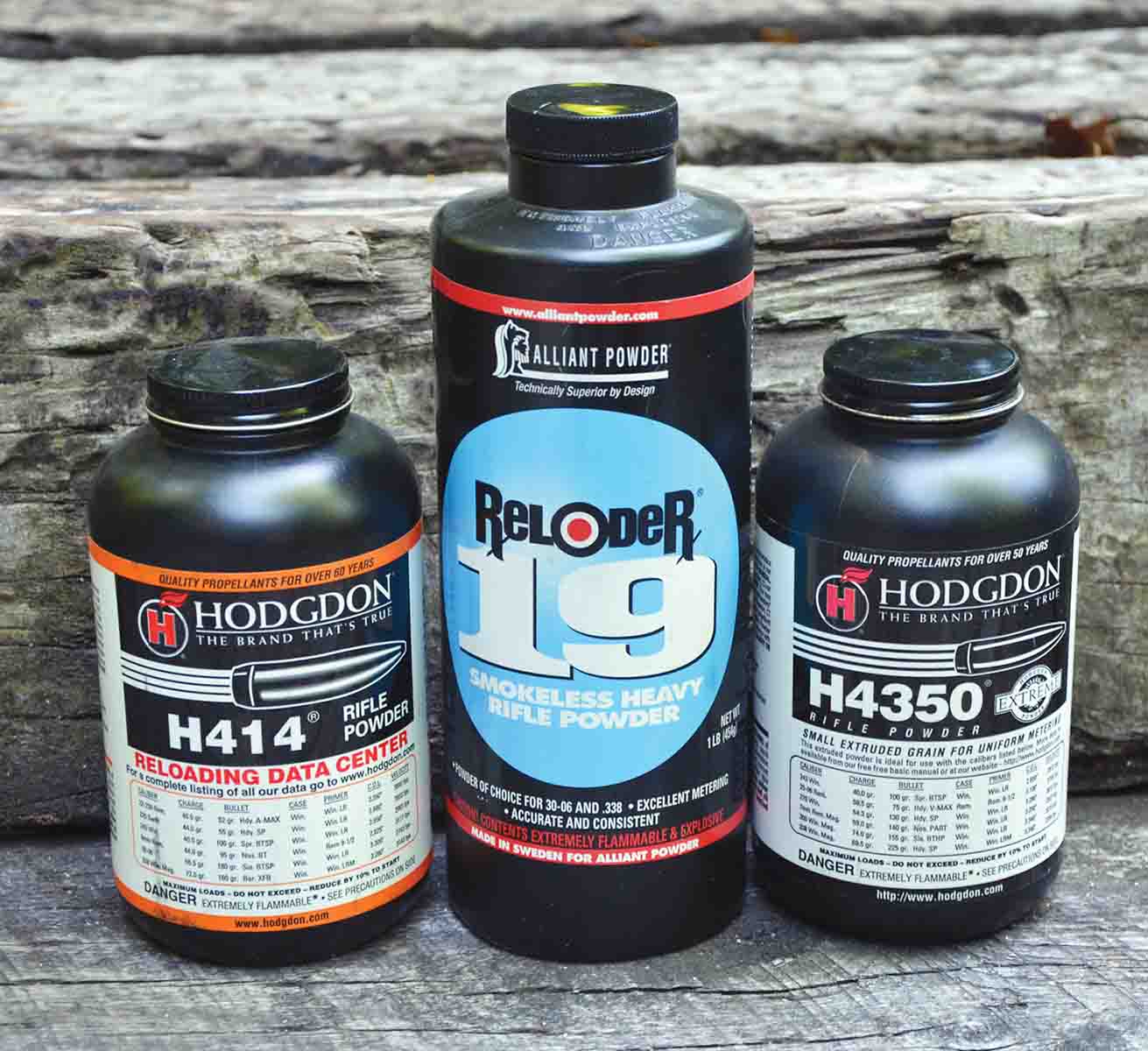 With the hunt concluded, we loaded everything on the boat for the trip back to Juneau. Both of my rifles were in waterproof, soft cases. Extremely rough waters caused the boat to bounce violently enough to shift a heavy box of gear onto the Marlin, breaking its stock at the wrist. That was actually my third lucky day in two weeks because soon after I returned home, a friend at Marlin searched the warehouse and found a replacement stock of nicely figured American walnut.
Quite a few whitetail deer and feral pigs have also fallen to the rifle. A bobcat I took with it while hunting deer weighed a few ounces over 38 pounds on accurate scales. An exceptional cat for my area, it was the largest the taxidermist I took it to had seen in the 42 years he had been in business. A nice rug made from its hide stares at me as I write this.
The Marlin 336 in .356 Winchester (it was never offered in .307 Winchester) and the Winchester 94 with a reinforced receiver in .307 Winchester and .356 Winchester are still candidates for rebarreling to 7mm STE, but they are not easily found. I am told that nothing more than rebarreling converts a Marlin Model 444 in .444 Marlin to 7mm STE, but I have not examined such a conversion.
I don't believe Winchester has made .307 Winchester cases for many years, and that's okay because those available from Hornady are of excellent quality. Most owners of rifles in .356 Winchester have probably already learned how easy they are to neck up. In a pinch, the 7mm STE case can be formed from .444 Marlin brass, with no form dies needed. Run a .444 Marlin case through a 7mm STE full-length resizing die, trim to a length of 2.015 inches and fireform. Then, fill a few cases with full-power loads and head to where deer, black bear, antelope and huge bobcats romp and play.