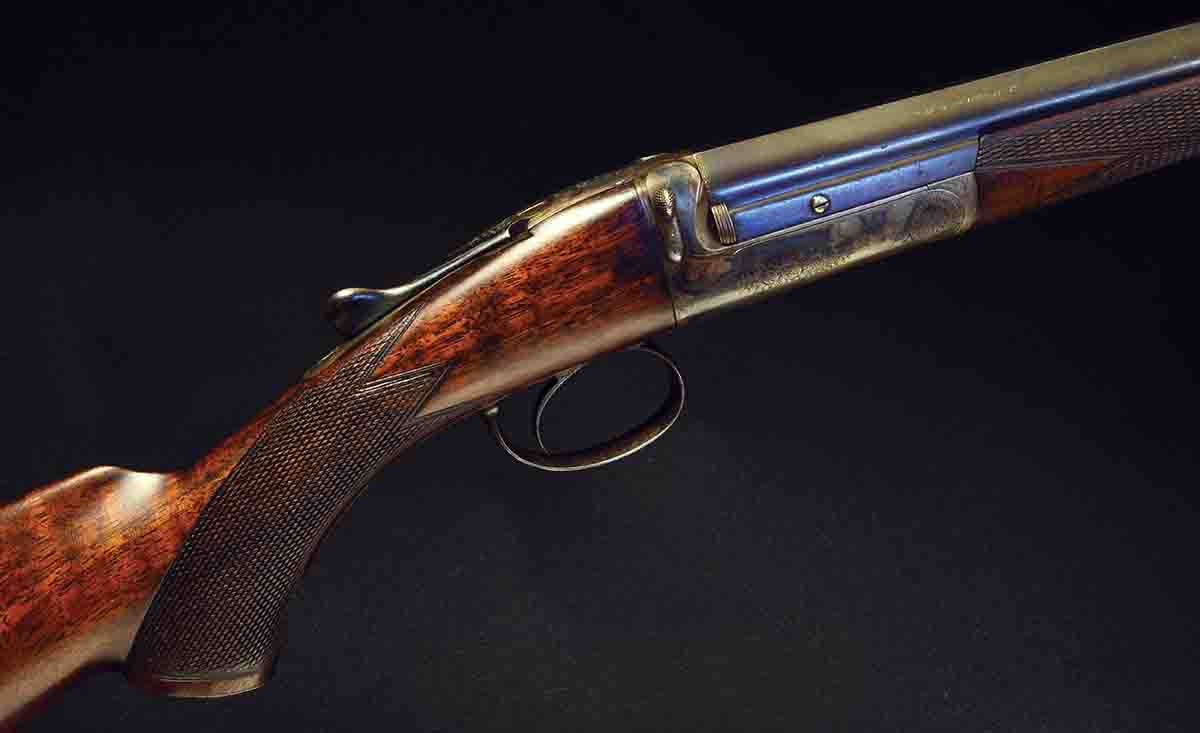 One of the first lessons one learns in this business is to expect the unexpected. Logic may tell you this powder or that will deliver the best results, but when you try it, it may fail abysmally. So we come to reloading ammunition for the venerable English .300 Rook Rifle.
The .300 Rook (as it's commonly known) was one of a group of cartridges developed in the late 1800s for a class of rifle called "rook & rabbit." These were single-shots, often of very high quality, intended for shooting rooks in the spring and rabbits the rest of the year. Rooks are blackbirds, distantly related to the crow, which are very good eating when they first emerge from the nest.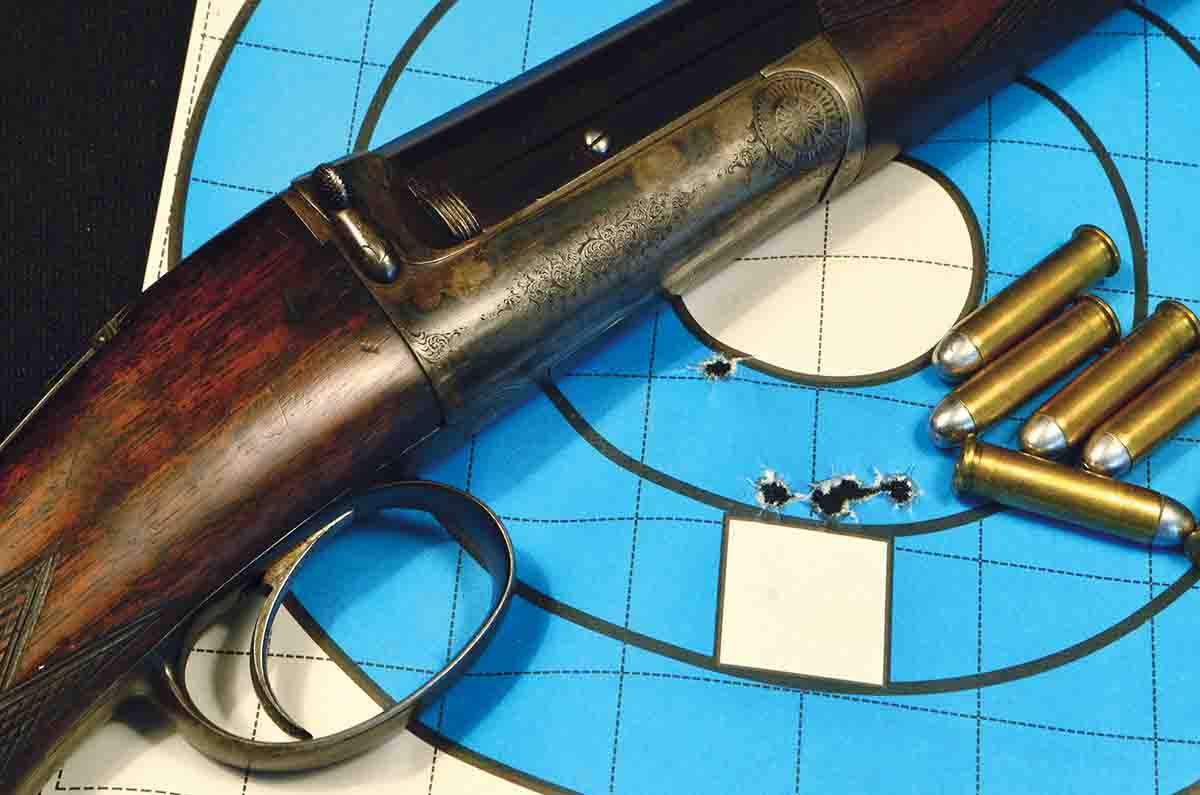 If you remember "four and twenty blackbirds, baked in a pie," those were rooks, and if you look on the internet you can still find recipes for rook pie. Traditionally, rook season begins on May 15, and lasts as long as the young rooks continue to leave the nest, climb out onto the branches of the "rookery" tree, and get up their nerve to try flying.
Sportsmen (and women) would position themselves 50 to 75 yards from the tree and pick off the young birds one by one.
Obviously, shooting in this style required a rifle with some very specific qualities. First, it needed to be highly accurate; second, it must not destroy much meat; third, it should lose its velocity and fall to earth quickly, rather than carry on into the next shire and wound a cow.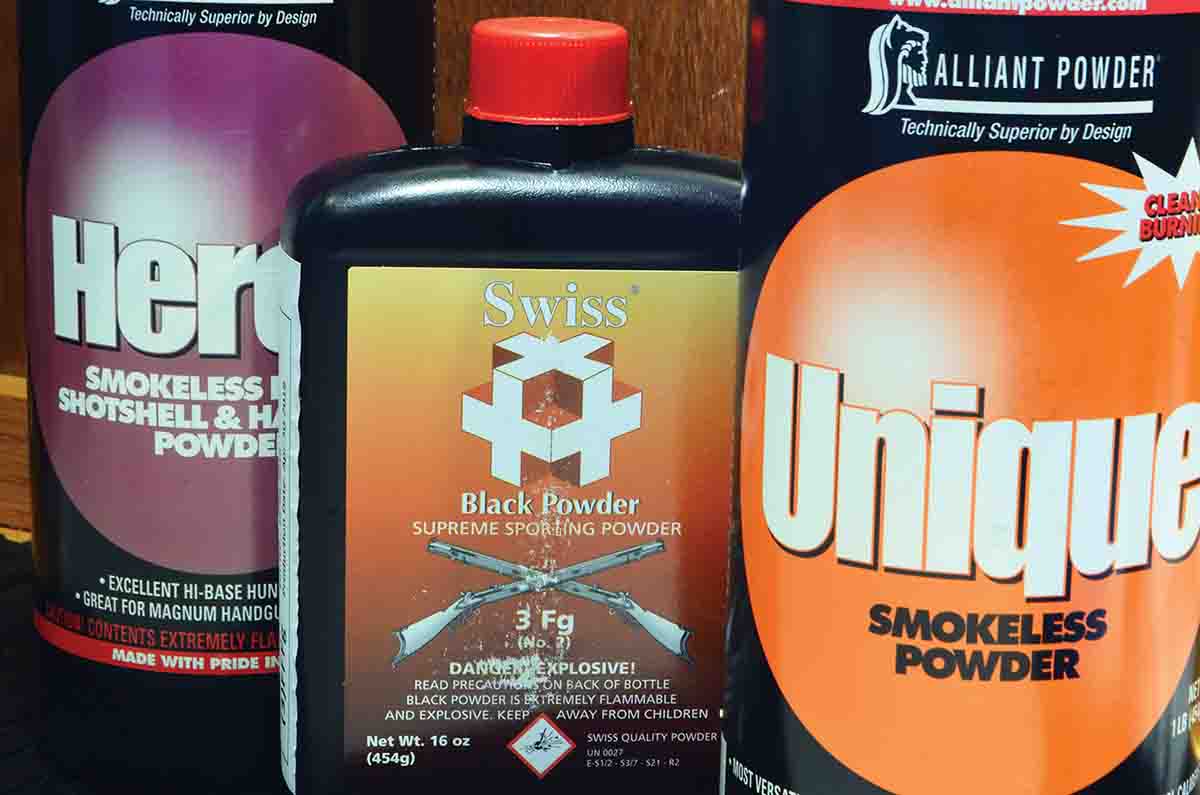 Rook rifle cartridges were being developed around the same time as early cartridge revolvers, and revolver cartridges (or something very like them) were found to be ideal for the purpose. Some were as large as .36 caliber (think .38 Long Colt), others as small as .25, but most were around .30 to .32. The .300 Rook so closely resembles the modern American .32 H&R Magnum that it's hard to tell them apart at a distance.
The .300 Rook was developed by Holland & Holland in the early 1880s, and chambered in a break-action, single-shot rifle they dubbed "The Ross." It was named after Captain Horatio Ross, a famous shot of the era, who attested that it was the "most accurate rifle he'd ever held in his hands." H&H had no factory of its own at that time so the rifles were manufactured for them in Birmingham by W&C Scott & Son.
The Ross design became a standard of the trade and can be found bearing many different names of gunmakers, ironmongers and retailers; the evidence indicates they were made by both P. Webley & Son and Richard Ellis & Sons, as well as Scott, and since these three companies merged in 1897 to become Webley & Scott, trying to figure out who made what and for whom is a losing game. All three made high-quality guns and at least one H&H-designed Ross exists with the name James Purdey on the barrel. That should tell you everything you need to know.
My rifle bears the name "Joseph Harkom," which was a highly respected Edinburgh maker of primarily shotguns. In 1923, Harkom merged with T.E. Mortimer, and the two were later absorbed by John Dickson.
In 1883, the sporting magazine, The Field, held a series of rifle trials to determine which manufacturer's rifles and ammunition were the best. Holland's entered all 10 categories and swept the field. The rifle that won the "rook rifle" class was a Ross chambered for the .300 Rook. Twenty shots at 50 yards were grouped into a cluster that could be covered by a half-crown – approximately 1.25 inches in diameter. That's fine shooting in anyone's world.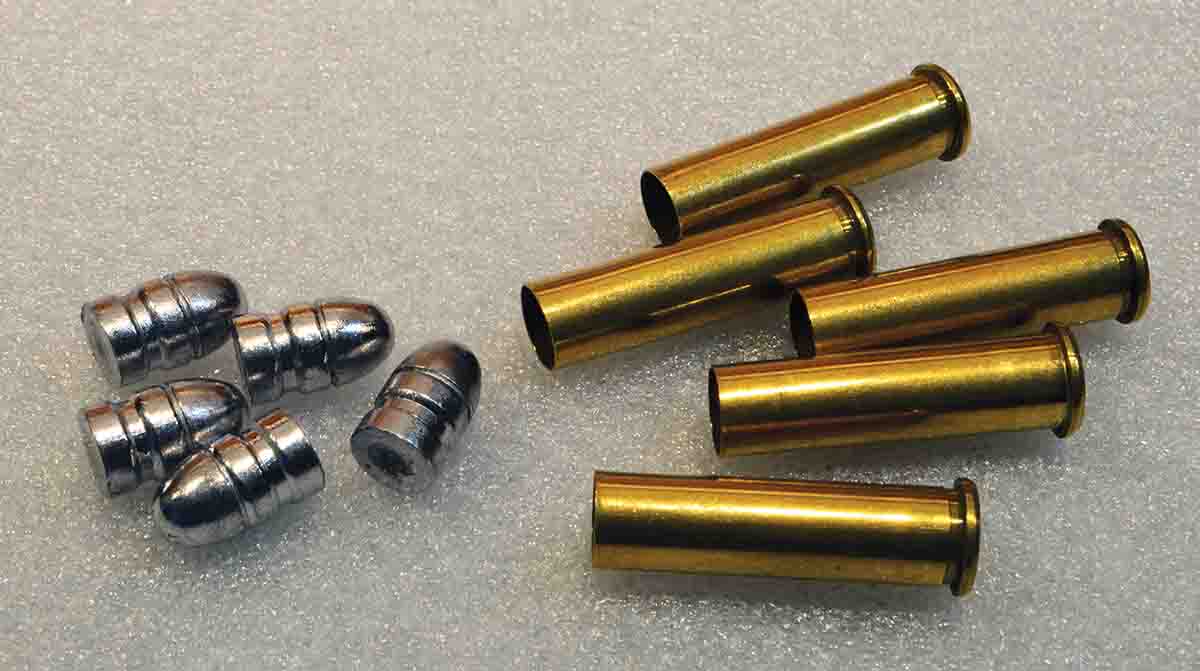 Ammunition was made by Kynoch, which called it the .300 Rook, while H&H called it the .295 Rook, and it is so named on H&H rifles. These are, however, exactly the same cartridge. There are conflicting reports as to its origin, with some crediting H&H, others suggesting it was merely an elongation of the .30 Revolver cartridge, and possibly introduced by Eley Brothers. For our purposes, this is arcane to the point of inanity and has no bearing on loading for it.
Originally, it was loaded with an 80-grain bullet, with 10 grains of black powder, and achieved a muzzle velocity of 1,100 feet per second (fps). Later, the same performance was delivered with smokeless powders such as Cadet Neonite, long since obsolete. Kynoch discontinued .300 Rook ammunition in 1962 and it's been a handloading proposition ever since.
Loading the .300 Rook, one is immediately presented with two problems. First, it was chambered in rifles other than Holland's Ross, so given the variety of designs and possible condition, the rifle should first be checked over thoroughly by a gunsmith familiar with older rifles to make sure it's safe to shoot with smokeless powder. Some rifles may already have nitro proof marks, others may not. Mine does not, but Lee Shaver considered it stout enough, and in excellent condition, and therefore safe to develop some moderate smokeless loads. Obviously, a handloader is not going to try to break any velocity records and, as I found out, higher velocities can work against us.
The second problem is lack of loading data. As mentioned, Kynoch's smokeless loads used obsolete powders like Cadet Neonite. While the .300 Rook was loaded in the U.S. at various times, those times were long ago, and who knows what powders were used?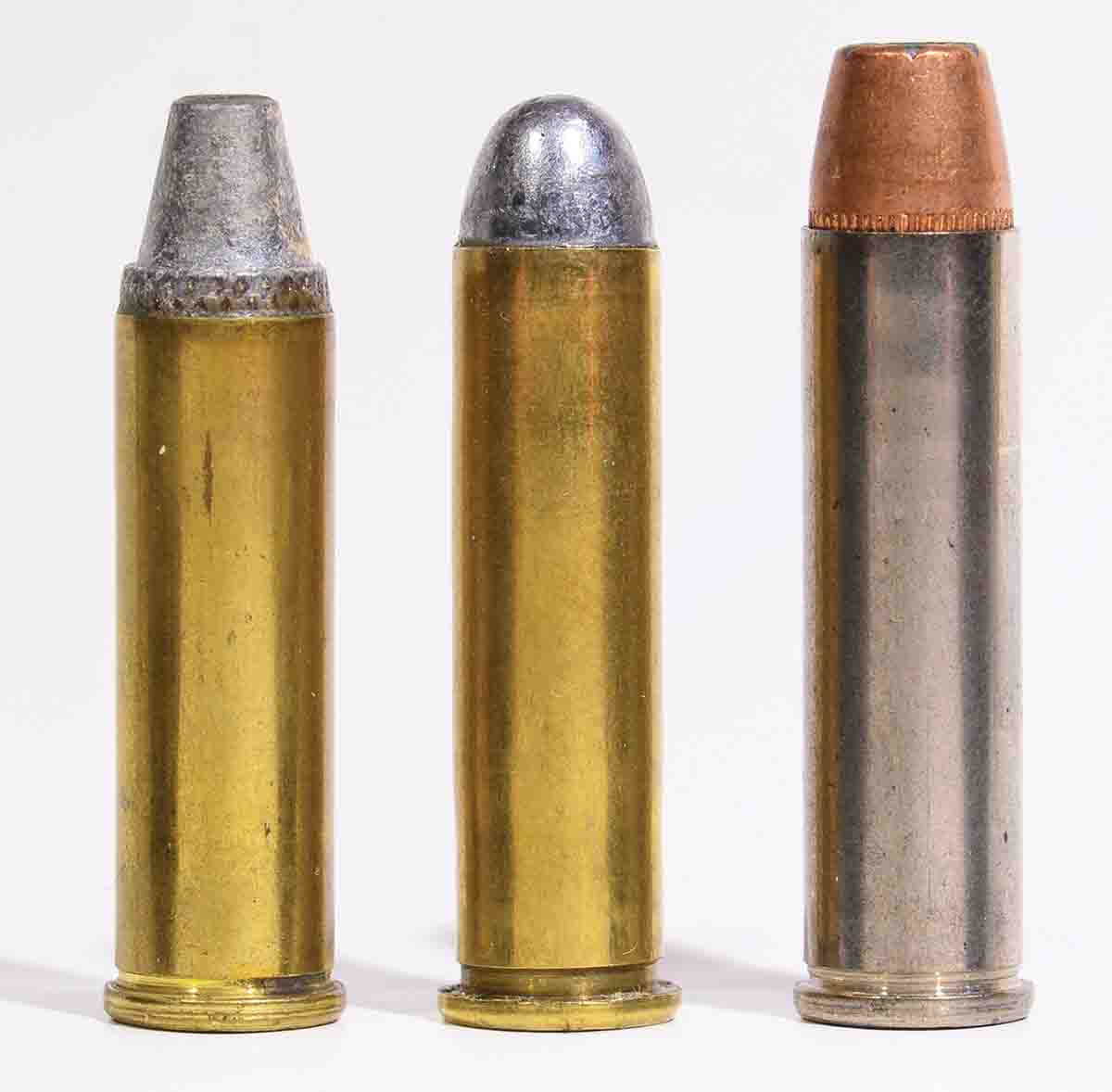 Early editions of
Cartridges of the World
suggested loads using both Alliant's Unique and IMR SR-4759, as well as 10 grains of black powder, with either 80- or 90-grain bullets. Why these loads were omitted later, I have no idea. It may have been on legal advice. Colin Greenwood, in his book
The Classic British Rook & Rabbit Rifle
, also recommends Unique, but a smaller charge (4.5 grains versus 5.0).
These gave me a starting point. CH4D makes .300 Rook dies as a matter of course, and fortunately, had some in stock. Having found some suitable 80-grain bullets at Buffalo Arms, and Bertram brass at Huntington Die Specialties, I was ready to begin. This I did by trying Greenwood's load, as well as the old SR-4759 load, and a third with black powder. The results are shown in the accompanying table.
Although early data calls for 10 grains of black powder, it required 12 grains of Swiss FFFg to fill the case to the base of the bullet, which is what I did.
The result with IMR SR-4759 was such that it was not worth pursuing. The Unique load, however, was better than expected. So far, so good.
Another modern powder that should have been suitable was IMR's Trail Boss, which is simple enough to use: In a cartridge like this, I simply fill the case to the base of the bullet, being careful not to compress it. The result, however, was disappointing, and I abandoned it since I could not vary the charge to improve performance.
It occurred to me that loads for comparable revolver cartridges might serve equally well in the .300 Rook. Its case is remarkably similar to the .32 H&R Magnum – slightly narrower, slightly longer, with water capacities of 15 and 16 grains, respectively. Since the .32 H&R can be loaded with a 90-grain bullet ahead of 4.5 grains of Unique, it seemed reasonable (and safe) to assume that other loads for it might work in the .300 Rook.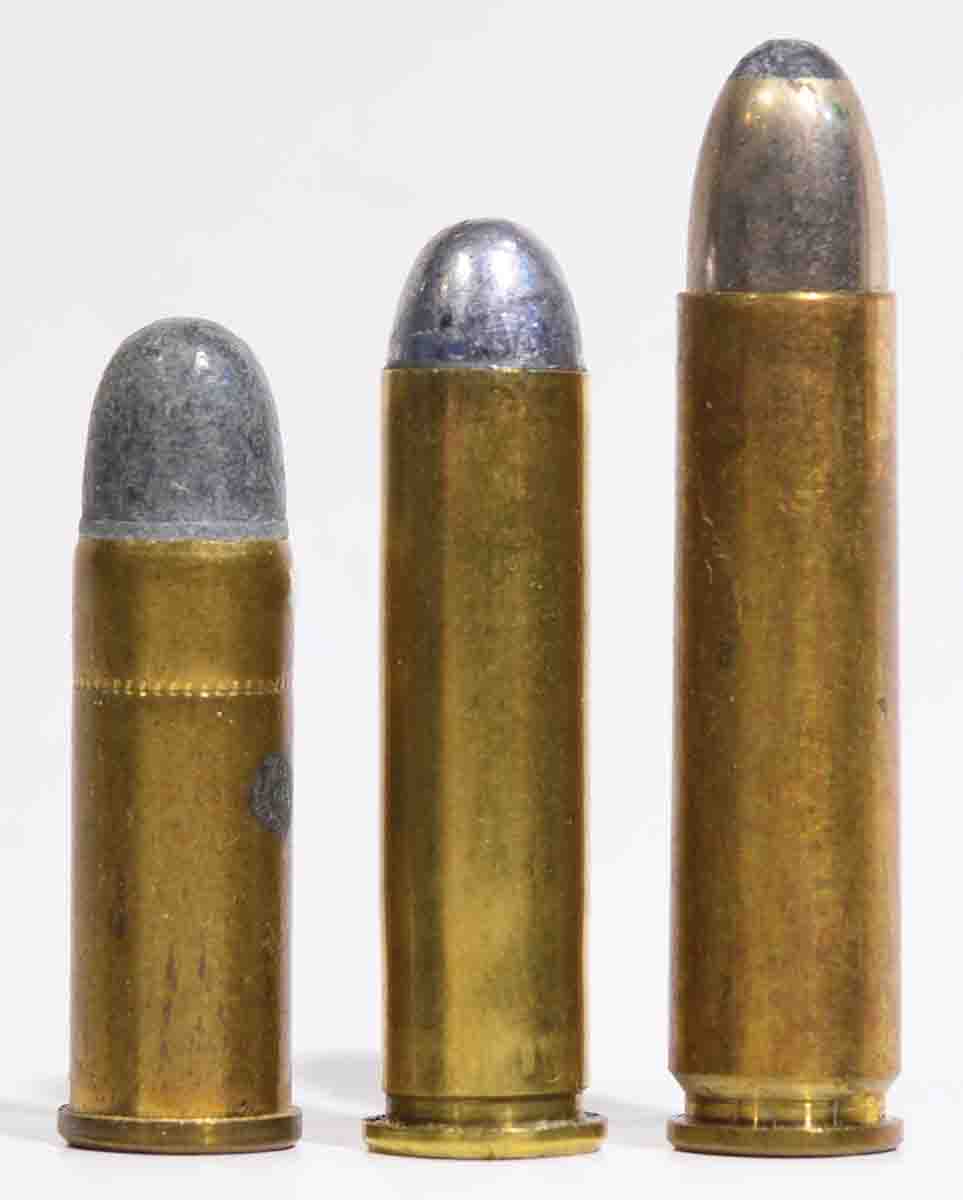 Anyone who tries this approach is, of course, doing so at their own risk, but it seemed like a safe method to me. Naturally, I started with midrange charges – nothing near maximum – and proceeded with caution.
Sierra lists at least a dozen suitable powders and loads, and I tried two aside from Unique – Alliant's Herco and Ramshot's True Blue.
Again, the results are in the loading table. I was astonished at the velocities. Contrary to my usual experience, they were substantially higher than expected.
The one fly in the ointment was that two of the Bertram cases split – one with Unique, the other with True Blue, but that is a brass problem, not an indication of an excessive charge. As with some other calibers of Bertram brass, annealing before beginning should forestall this.
Other than that, not one of these loads displayed any sign whatever of excessive pressures. The only physical difference I could see among any of them was a slight variation in the appearance of the primer, with those from Ramshot True Blue and Unique flowing back slightly into the striker hole. The recoil (slight as it was) was more noticeable with Ramshot True Blue, which is understandable.
The remarkable thing about the results – aside from the accuracy, which we'll get to – was the wide variation in velocities. In the Sierra table for the .32 H&R, with a 90- grain bullet, Alliant's Unique, Herco, and Ramshot True Blue were rated in the 950-1,050 fps range. In the original Cartridges of the World data from long ago, Alliant's Unique and SR-4759 were rated at 1,100 fps. There was no rating anywhere for Hodgdon Trail Boss. Yet, the measured velocities ranged from a low of 830 fps (Trail Boss) to a high of 1,639 with True Blue. SR-4759 was well below what was expected (870 vs. 1,100) while Unique was well above (1,436 vs. 1,100).
The only load that came close to delivering the expected velocity and consistency was the black-powder load of 12 grains of Swiss FFFg.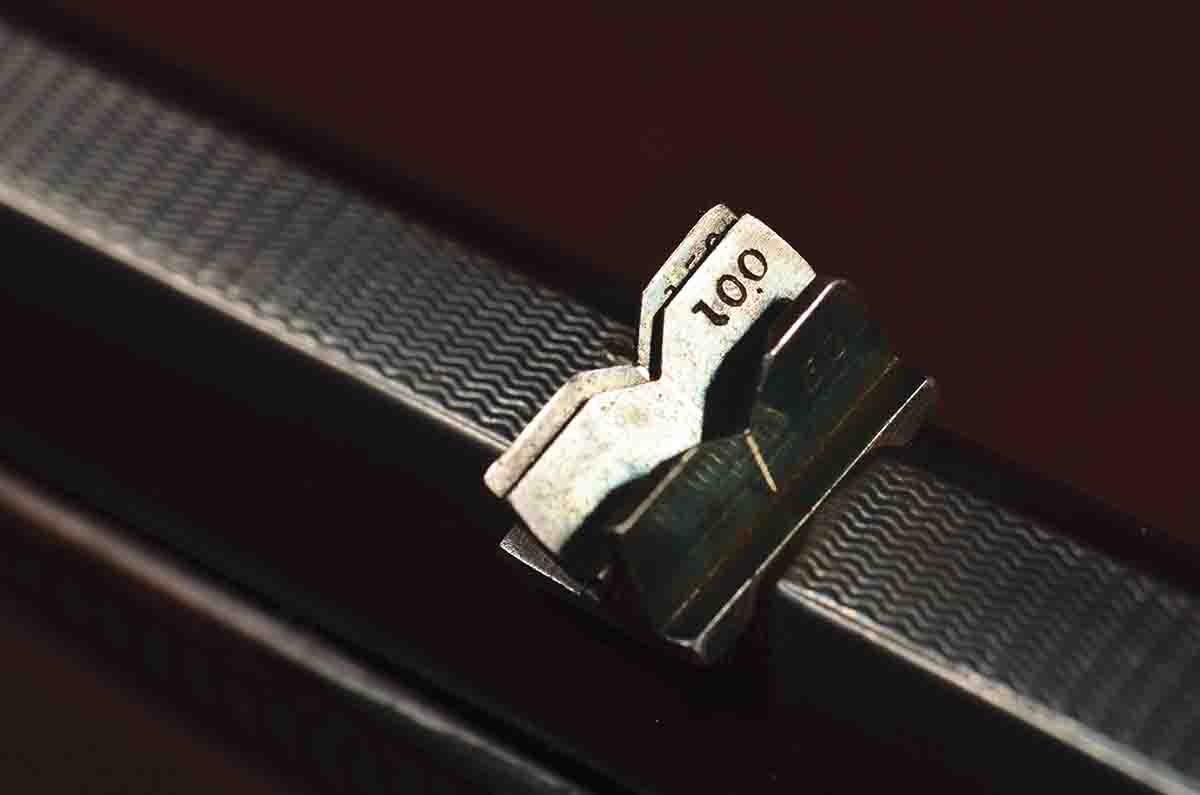 So now I want to discuss accuracy. If I'd been offered a bet, I would have put money on Unique, based on its proven performance during the past 120 years. It did do the best of any of the smokeless loads, followed by Herco and True Blue. I noticed that as the powder got newer, the velocity got higher, but the accuracy deteriorated. That's one for which I have no explanation.
The real surprise out of it all was the black-powder load. Like Holland & Holland's famous group in the long-ago The Field trials, it could have been covered by a half-crown.
Also notable was the group's location in relation to the rifle's iron sights. Like most rifles of the era, the Harkom was regulated to shoot one load only (probably the Kynoch) and is fitted with a non-adjustable front sight, and a rear sight with one standing leaf and two folding. The standing leaf is regulated for 50 yards, the folding ones for 100 and 150. I could probably bring the group down where it belongs by simply drawing what the Brits called "a finer bead."
I could live with either the Unique or Herco loads, and in fact, those might well be tightened up by reducing the charge to get the velocity back down closer to the 1,100 fps that was the advertised velocity for a century, and the one that set the records.
Either way, I now have what I was looking for: A highly accurate load (black powder) and a usable load with smokeless should I need it.

Some years ago, my friend Garry James, who is a black-powder devotee of long standing, advised me that if a rifle was made to shoot black powder, then only black powder should be used. It's a matter of balancing all the factors: Velocity, rifling twist, bullet hardness. Another explanation for the fine performance with black powder here is its ability to "bump" bullet diameter to fit the bore tightly, something smokeless doesn't do. My rifle's bore diameter is .296 inches, groove diameter about .300 and the bullets are .299. A little bumping obviously wouldn't hurt, and would give a firm grip on the rifling.
For now, the Harkom is back to being a black-powder rifle – which is certainly not something I expected when I began all this.