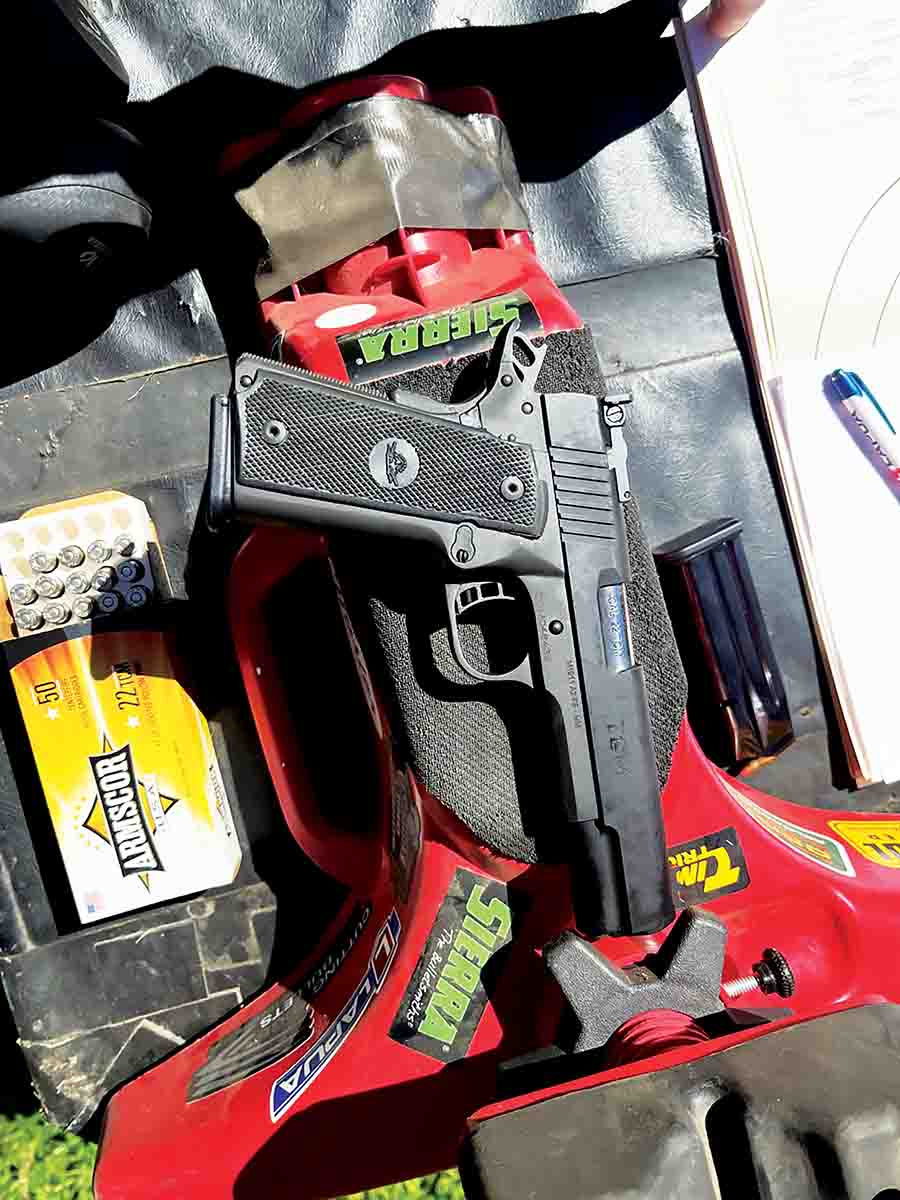 The .22 TCM has been around since 2012 and is most commonly chambered in Rock Island Armory 1911- style handguns. Two Armscor/Rock Island rifle models have been chambered for the round as well, one each with wood and synthetic stocks. The .22 TCM is a bottlenecked pistol cartridge based on a necked-down .223 Remington case shortened to function from 9mm Luger magazines. It is an Armscor International propriety cartridge, and as such, has been chambered only in Armscor/Rock Island firearms. It has not gained the Sporting Arms and Ammunition Manufacturer's Institute's (SAAMI) seal of approval.
The "T" in TCM comes from Martin Tuason, Armscor's president; the "C" from Frederick Craig, a former Armscor gunsmith and consultant; the "M" stands for MicroMag. Armscor advertises that it will launch 40-grain jacketed hollowpoint bullets at 2,000 feet per second (fps) from the 5-inch barrel.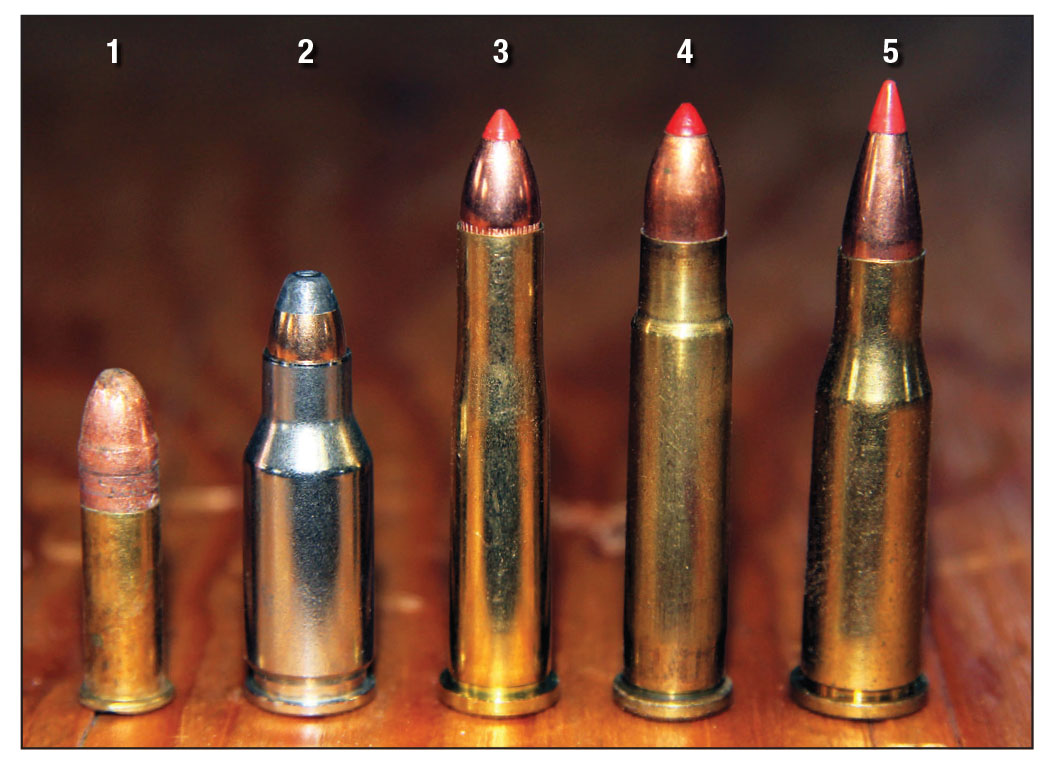 While I own, load for and occasionally varmint shoot with an Armscor/Rock Island Armory M22 TCM BA rifle, my experiences with the pistol version had been limited to a handful of magazines fired while attending SHOT Show Industry Day at a range in Boulder City, Nevada. These sessions proved quite enjoyable. The TCM's gentle recoil is offset by its obnoxious muzzle report, so serious hearing protection is required for this one. The TCM struggled to flip 8-inch dueling-tree steel plates that 9mm Luger handgun rounds slammed with authority – though I certainly wouldn't want to take one of those frangible 40-grain hollowpoints in the chest!
Loading for my rifle was initially hampered by scant and oftentimes sketchy load data. Standard .22 Hornet data (and a lot of trial and error) served to get me started, as the cases included similar capacities. Winchester .22 Hornet cases hold an average of 13.2 grains of water when filled to the brim, TCM cases around 14.5 grains. The 1-grain difference adds a margin for safety.
Since then, Western Powder's Handloading Guide Edition 1 appeared (Wolfe Publishing, 2017), including pressure-tested pistol data (no rifle) for the .22 TCM. The only drawback is that this data includes only four Western Powder options: Accurate TCM, A-4100, No. 11 FS and Ramshot Enforcer. Maximum pressures were held to around 38,000 psi, while Armscor factory loads are apparently loaded to around 40,000 psi. This data has been recently added to Hodgdon's handloading website, as the company purchased Western Powders several years ago. Still, the lessons learned while loading from Hornet-based data for my bolt rifle served this pistol project well, with many of those "magnum-pistol" propellants transferring well to the short barrel of the 1911-style handgun.

Accurate TCM was developed specifically for the .22 TCM cartridge, as the name would imply. It sits at the fast end of the relative burn-rate spectrum at number 53, to Ramshot Enforcer's 55, Accurate 4100's 58, with Accurate No. 11 FS sitting at the slow end at around 66. This test takes in everything from Accurate TCM at the fast end to Alliant Power Pro 300-MP and Accurate No. 11 FS at the slow end. My additions all occurred at the slower end, including Vihtavuori N110 (61), H-110 (63) and Power Pro 300-MP (66). The slower-burning powders didn't really give up any velocity to the faster options, and some solid loads were discovered.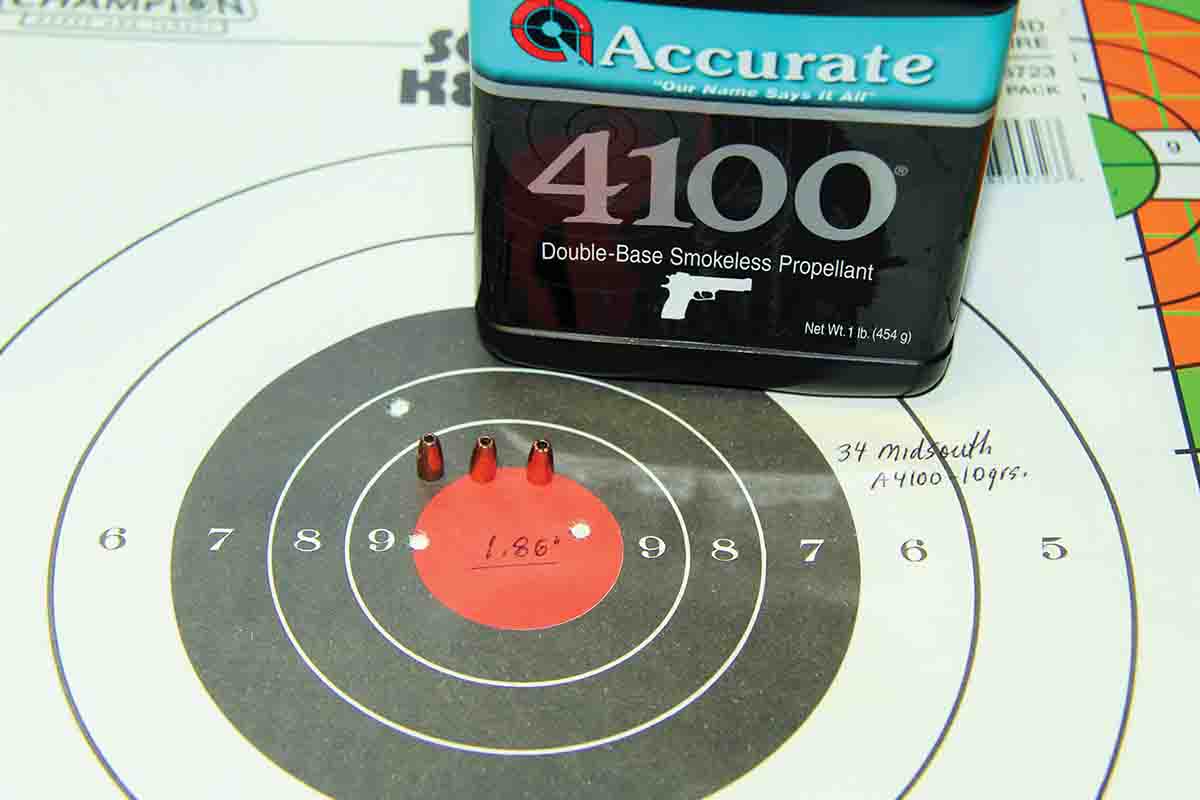 As far as I can determine, Armscor headstamped brass is the only option available to handloaders, much of this found as range brass for sale online. Armscor offers a proprietary 40-grain jacketed hollowpoint – if you can find them – with test gaps filled with stumpy examples of bullets weighing from 34 to 45 grains. The short bullets are a necessity due to the confines of the steel double-stack detachable magazine, which serves double duty as a 9mm Luger magazine. Several of Rock Island pistol's include interchangeable .22 TCM/9mm Luger barrels.
I started shooting with Philippine-made Armscor factory ammunition to establish a baseline. Armscor's factory rounds held a 40-grain jacketed hollowpoint and are sold in 100-round boxes with either brass or nickel cases. Velocity ranged from 1,970 fps at the low end and 2,014 fps at the high end, averaging 1,987 fps after firing 10 rounds past the LabRadar Doppler chronograph. Overall, my handloads closely matched factory velocities, with a few exceptions seen with lighter bullets or start loads. Armscor is an ISO 9001 certified company, with cartridges and components widely used by police, military and other shooting enthusiasts, but any extensive experience I've had with the company's ammunition was limited to .22 Long Rifle rounds, which performed acceptably with minimal duds.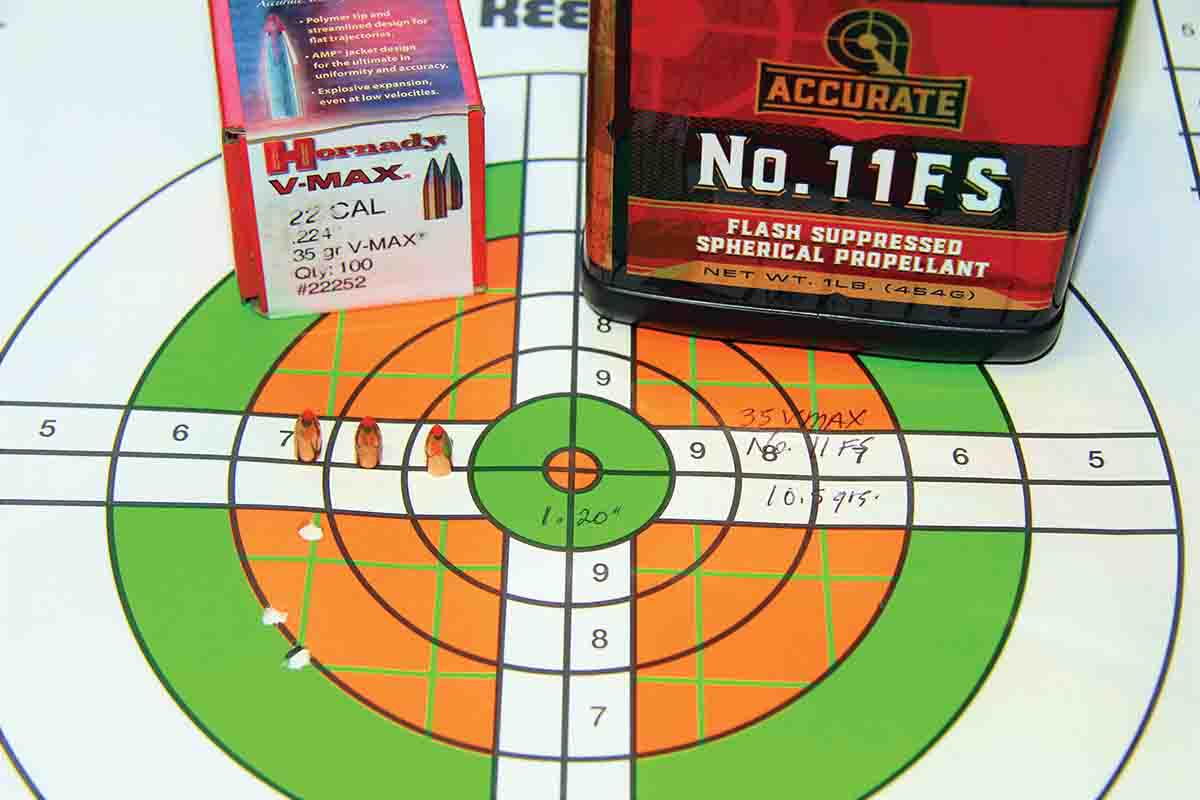 The test pistol is Rock Island Armory's Standard FS 22TCM 10- round HC with a reasonable MSRP of $749. The 1911-style pistol is constructed from 4140 ordnance steel and refined by the company's hand-fitting process. It holds a 5-inch barrel and feeds from an Italian-made 10-round double-stack magazine. The skeletonized hammer and trigger included an adjustable overtravel stop, the trigger breaking at a reasonable 4.5 pounds. The pistol arrived with a dovetail-cut, fiber-optic front bead and TRT1 adjustable rear sight with no alignment dots. The checkered polymer grips and knurled grip backstrap provided good purchase. The pistol was finished with a durable Parkerized coating to deter rust. The double-stack magazine made the grip somewhat chunky, around 1.45 inches side plate edge to side plate edge, compared to the 1.16 inches of my Springfield 1911 A1 in single-stack .45 Auto. I have big hands, so this presented no problems. Standard 1911 thumb and grip safeties (ribbed), left-side magazine release button slide release and beavertail grip are included. The rear-ribbed slide serrations proved sufficient for the light-cycling slide.
Bullets consisted of five examples, including a Midsouth Shooters Supply 34-grain Varmint Nightmare Xtreme, a Hornady 35-grain V-MAX, a Armscor 40-grain hollowpoint, a Sierra 40-grain Varminter Hornet softpoint and a Hornady 45-grain hollowpoint/Bee. All were squat designs, the Midsouth measuring .413 inch, the V-MAX .515 inch, the Armscor .473 inch, the Sierra .491-inch and the Bee bullet .490 inch. The Armscor brass was full-length resized using Redding Custom dies, Winchester WSR primers seated with an RCBS hand-priming tool. A generous inside neck chamfer was required to ensure the stubby, flatbase bullets started square into the cases, as they were frustratingly prone to tipping.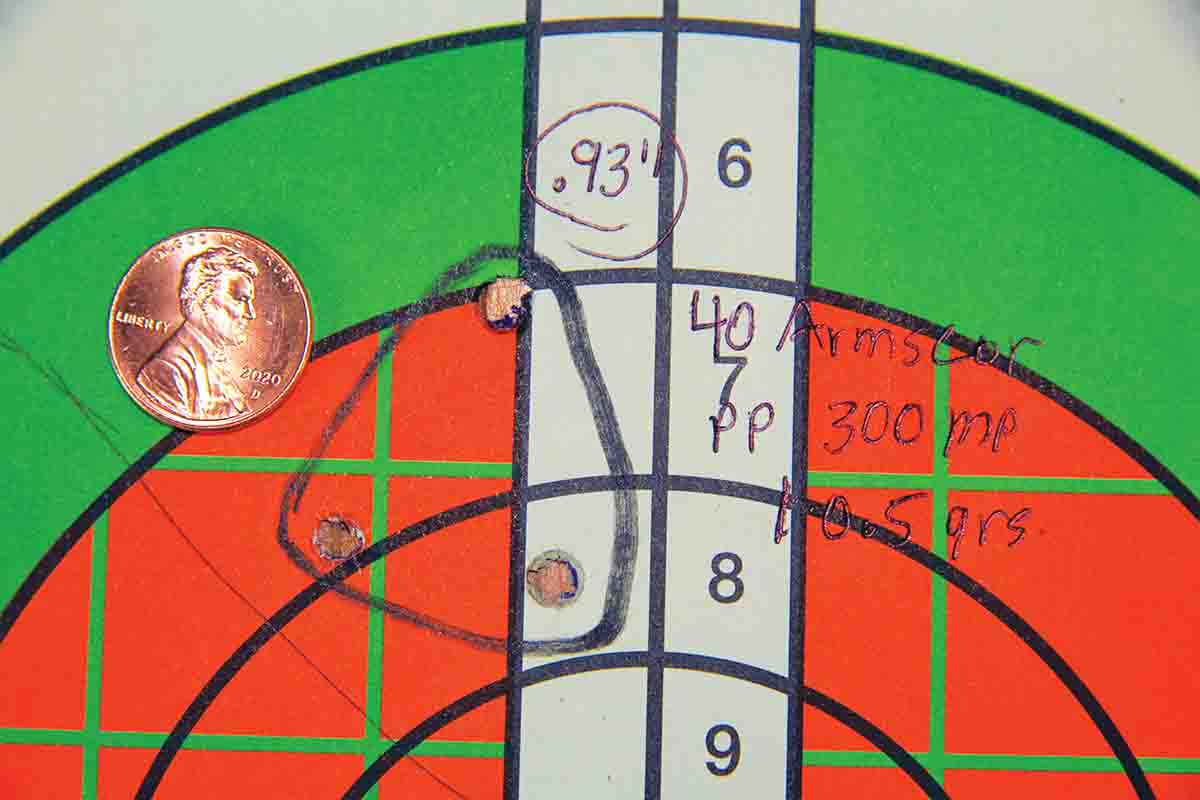 All groups were shot at 25 yards, fired from a solid bench with the pistol rested over the front half of an MTM Case-Gard Predator Shooting Rest with incorporated wrist rest. Up front, accuracy was somewhat disappointing, but I blame this mostly on my inability to cope with the pistol's chunky sights. Looking at the front fiber-optic bead through the rear sight notch left sloppy margins to each side, making repeatable consistency challenging. Many tight two-shot clusters were ruined by single fliers that were no doubt all on me. This pistol deserves better sights! More importantly to me, though, every single handload fed and ejected flawlessly. I'd expected to experience jams and hang-ups due to the piecemeal collection of bullets, but happily, that wasn't the case.
Midsouth Shooters Supply's 34- grain Varmint Nightmare Xtreme is a flatnose hollowpoint I keep on hand for my Taurus Raging (.22) Hornet revolver. They were paired with Accurate TCM and A-4100, and Vihtavuori N110, producing an overall group average of 3.08 inches. Accurate TCM failed to impress, and Vihtavuori N110 proved downright disappointing, producing some of the largest groups of the entire test. Accurate A-4100 ran away with this one, producing a 2.04-inch group using 9 grains of powder at 1,826 fps, plus the best group with this bullet produced by a maximum load of 10 grains at 1,958 fps. That group measured 1.86 inches.
The Hornady 35-grain V-MAX is the shortest bullet in that series, but still the longest bullet used in this test. To fit in the magazine, bullets were seated so the start of the ogive was just inside the case neck, which I feared would cause stoppages, yet that failed to materialize. Ramshot Enforcer, Accurate No. 11 FS and Alliant 2400 were paired with this bullet, producing a 2.89-inch overall group average. Ramshot Enforcer produced some impressive velocities, but failed to produce any equally impressive groups. Alliant 2400 also produced some of the top velocities of this test, but only one group worth mentioning. That group measured 2.32 inches, using 9.5 grains of powder and pushed to 1,990 fps. At the maximum 10.5 grains, Alliant 2400 also proved a bit too hot, conspicuously flattening primers. Accurate No. 11 FS (FS stands for Flash Suppressed) proved the clear winner with this bullet, producing 1.20- and 1.88-inch groups at 1,940 and 2,160 feet per second, the latter with very low extreme-velocity spreads. The 1.20-inch group resulted from 10.5 grains of powder.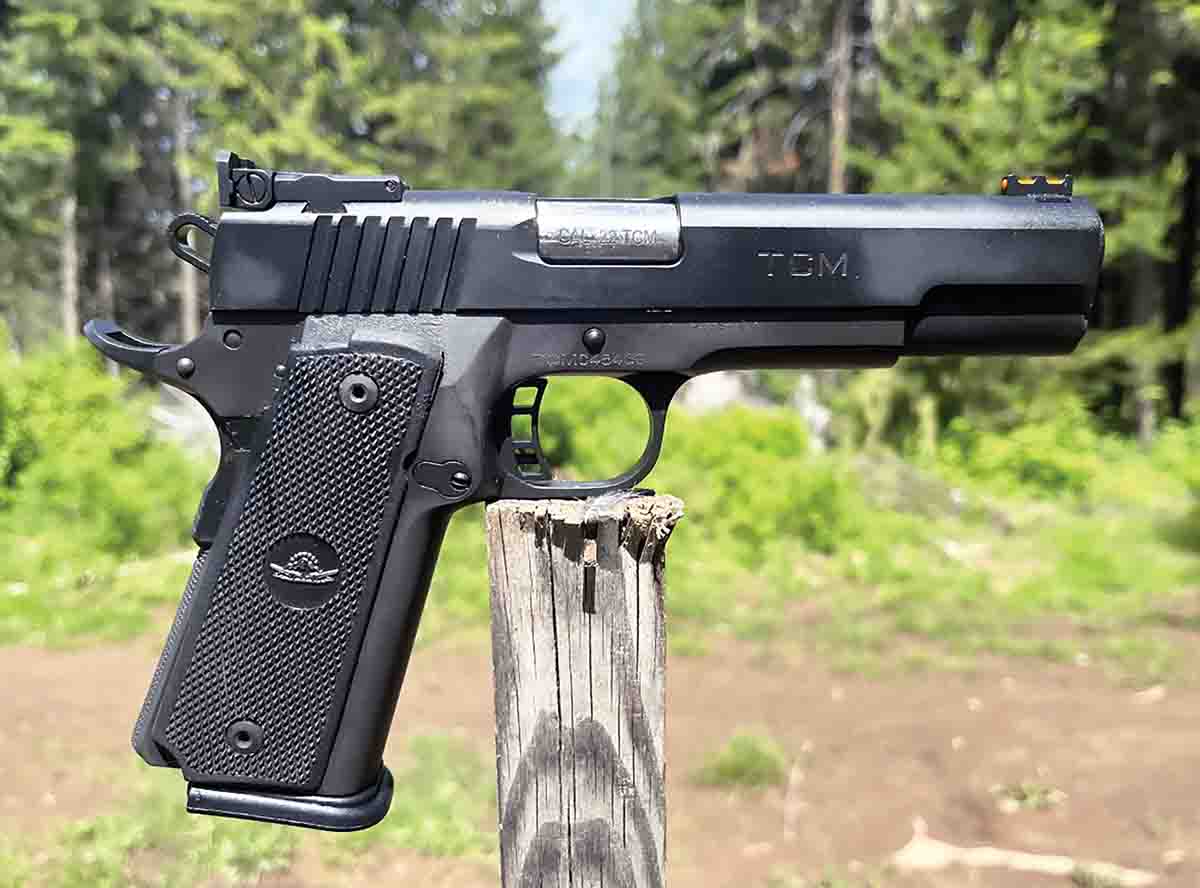 I had a limited supply of Armscor's 40-grain softpoint/hollowpoint bullets, pulled from older factory ammunition, allowing two groups with Accurate TCM, three with Hodgdon 110 and two with Alliant Power Pro 300-MP. All groups combined averaged 2.84 inches. Surprisingly, TCM did poorly here, producing groups measuring more than 3 inches. Hodgdon H-110 nearly broke 2 inches using 11 grains sent at 1,960 fps, and with very impressively low extreme-velocity spreads. Though, I did note elevated muzzle report and flash with this powder. This bullet's tightest group – .93-inch at 1,864 fps – resulted from 10.5 grains of Alliant Power Pro 300-MP, but then fell completely apart with the addition of a half grain more. That powder obviously deserves more experimentation.
Sierra's 40-grain Hornet softpoint made a good TCM bullet, falling right in the middle of measured length with all bullets tested. Accurate TCM, No. 11 FS and A-4100 were tested with this bullet, producing 2.74-inch average groups – the best of this test. The start load of 8.5 grains of TCM dribbled spent brass onto the shooting bench, indicating it was too light at 1,726 fps. The best TCM group involved 9 grains of powder at 1,822 fps and a 5 fps extreme velocity spread, printing at 1.50 inches. Accurate No. 11 FS didn't do the trick with this bullet. Accurate A-4100 provided the magic with the Sierra, all groups measuring at or less than 2.5 inches. The best measured 2.20 inches with a maximum load of 10 grains with a velocity of 1,901 fps and impressively low extreme-velocity spreads.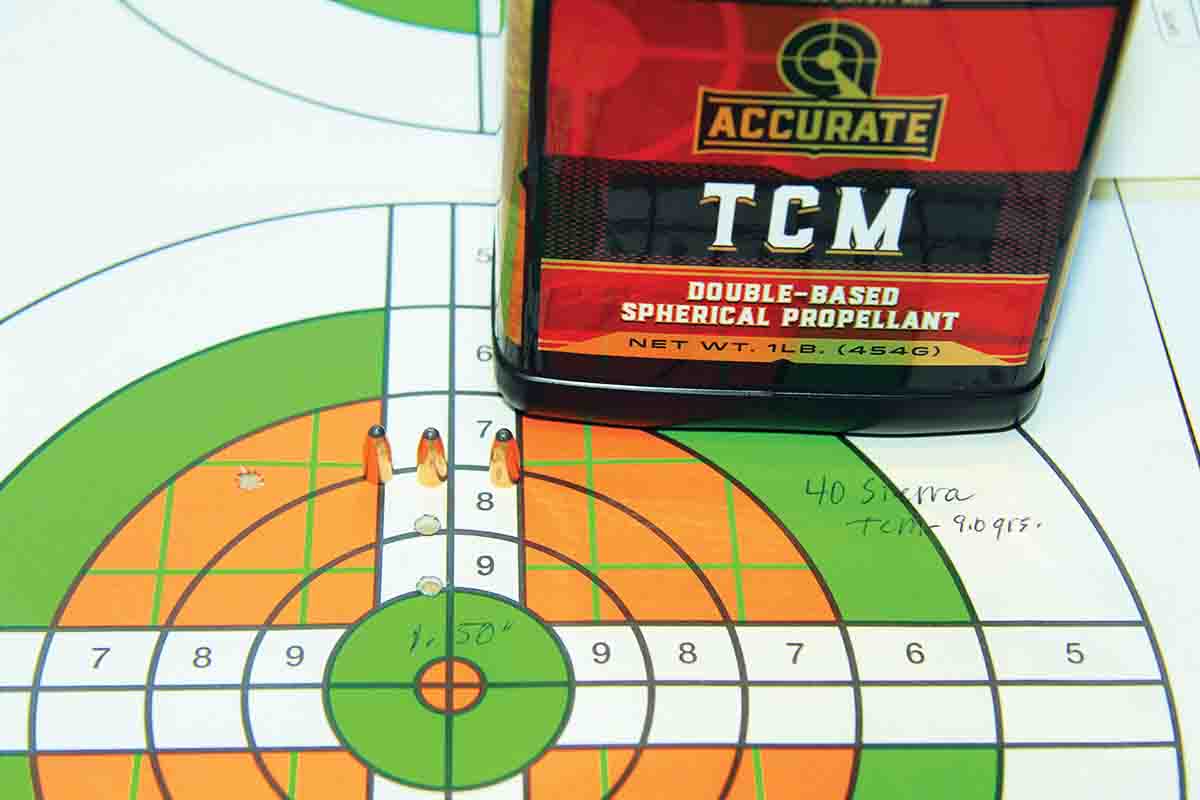 Finally, the 45-grain Hornady Bee hollowpoint includes a flatpoint designed for tubular magazines, making it TCM compatible. I had just enough to create three loads with Accurate TCM and two with Alliant Power Pro 300-MP. The aggregate of all groups averaged 3.44 inches, heavily weighted by the largest group of the entire test – 4.76 inches – though the bullet really didn't get a fair shake with this limited sampling. All of the listed 45-grain Bee groups could be dropped from this test, but were left to serve as what
not
to try. The tightest group measured just 2.71 inches, including a maximum load of 9.5 grains of Accurate TCM at 2,078 fps and including a very low extreme-velocity spread.
A friend who tagged along to watch my testing asked what this pistol and cartridge was good for. Fair question. Equipped with a compact red dot (I cannot say with any degree of certainty if such an option is available for this pistol model), it would make a super-fun, small-game option, especially for southwestern jackrabbits or tight-cover predator calling for foxes, bobcats and coyotes. I think most people who purchase a .22 TCM see it as the ultimate tin can plinking pistol, and it would certainly be that.
Overall, I enjoyed shooting this pistol and wouldn't hesitate to purchase one. I would certainly figure out where it fit into the overall picture, even if all it was used for is to send tin cans spinning.