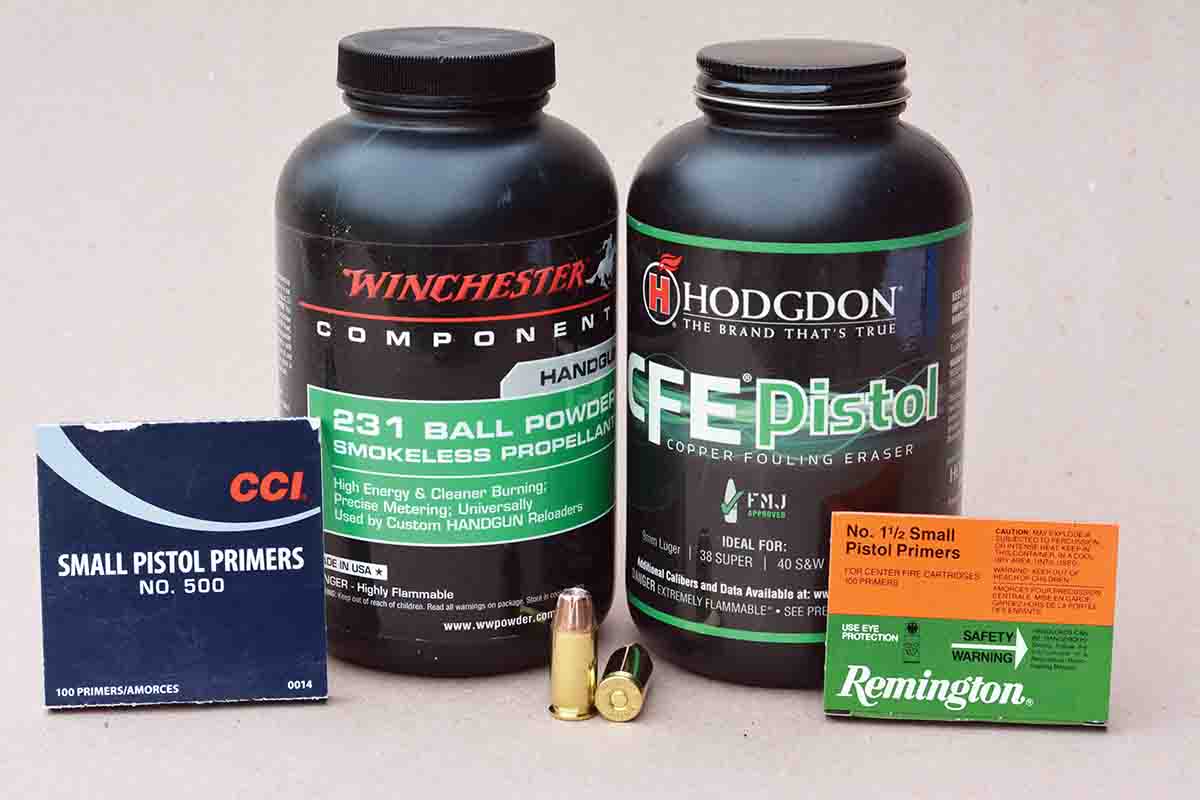 Q:
I have been handloading ammunition for the .45 ACP for nearly 20 years, in conjunction with several Model 1911 pistols that I own. I have tried a variety of bullets, but mostly stick with either 230-grain roundnose ball-style, or JHP's from Hornady or Nosler that are of the same weight. Recently, I purchased a large quantity of once-fired cases, as I cannot find them available new, but when I began loading them, it was quickly noticed that about half of them take small pistol primers.
Other than not being able to mix cases while reloading on my Dillon 550RL press, I am not sure if this is a problem. My question is: Should I use standard small pistol primers, or will I need to use small pistol magnum primers (which I don't have on hand and are not available anywhere at this time?) I do have on hand CCI 500 primers and Remington No. 1½ primers. Can I use either of these primers with 6.2 grains of Winchester 231 powder or 6.1 grains of Hodgdon CFE Pistol powder with the previously mentioned 230-grain bullets? An experienced friend told me that I will need to use a small pistol magnum primer to make up for the decreased priming compound volume with the small primer. I don't know if he is correct and am seeking your advice. Any insight that you can offer will be greatly appreciated. Also, I find the technical aspects of your articles very valuable and always learn something from everything that you write.
S.H., email
A: Thank you for you kind remarks. Your question has been raised many times over the past few years, as several ammunition companies have begun using cases featuring small pistol primer pockets. You will not need a small magnum primer; rather your standard small pistol primers will work fine. The powder volume of the .45 ACP is not great and small pistol standard primers will offer adequate ignition. However, pressures are decreased (when compared with the same load containing a large pistol primer) and velocity usually drops around 10 to 30 fps. Variables include primer make, powder type, load specifics and other factors.
In order to duplicate the velocities of your normal loads containing large pistol primers, I suggest bumping the powder charge weights of both of your loads by .2 grains.
.223 Powders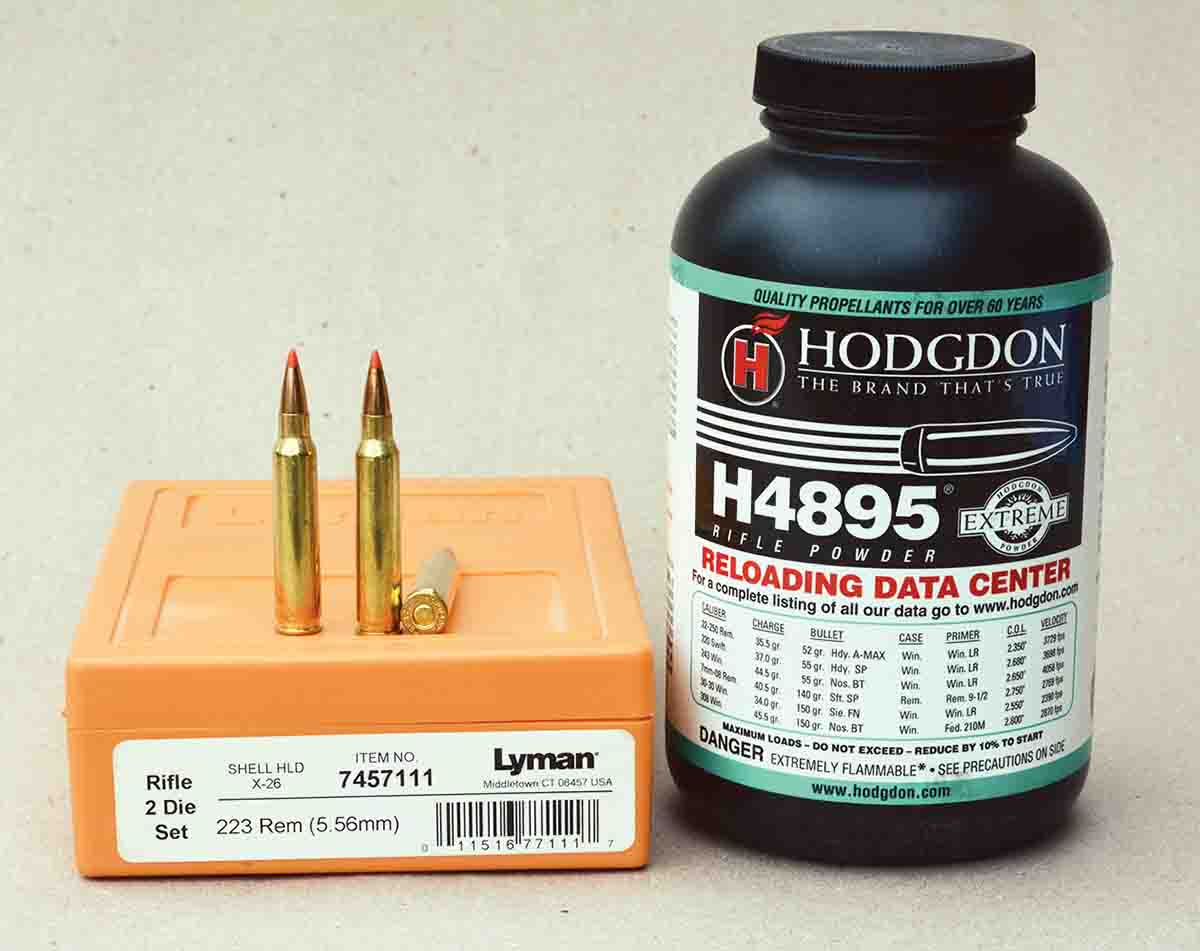 Q:
Thanks for your article in
Rifle
No. 323 (July – August 2022) "Handloading to Improve the .223 Remington." I do have a question regarding handload data for that cartridge. I purchased my one and only rifle in .223 Remington in 1985, which is a Winchester Model 70 Sporter Varmint model. At this point in my life, I had been handloading for 20 years. The best information that I could obtain at that time suggested that I use Hodgdon H-4895 powder. I found that my loads were accurate and performed well on prairie dogs. Over the years, I have tried other powders in the .223, but none have equaled the accuracy of H-4895 powder. Today, when I read new handloading data from various bullet and powder companies, seldom is H-4895 mentioned, yet alone declared as one of the best powders for that cartridge. Can you offer any insight, or am I alone in using H-4895 powder in the .223?
Thank you and keep up your great writing.
C.C., email
A: Hodgdon H-4895 is an excellent choice for handloading the .223 Remington. I first tried it around 1983, primarily with various 55-grain bullets, which gave good accuracy and usually more or less duplicated factory load velocities.
Today, powder competition has become fierce. As a result, we have many more powders to choose from, with many of them offering specific advantages that modern shooters are looking for. For example, Hodgdon introduced CFE 223 specifically for that cartridge. It costs less per pound, meters nearly perfectly and offers a decoppering agent to keep barrel fouling to a minimum. Many high-volume shooters that often load ammunition on progressive presses favor the lower cost, accurate metering and a cleaner barrel. Other powders are less sensitive to temperature changes and were developed specifically to offer benchrest-type accuracy for both varmint shooters and target shooters. Examples include Hodgdon Varget, Benchmark, Accurate LT-30 and LT-32, IMR-8208-XBR, Alliant Reloder 10X and many others. Some powders offer greater velocities than traditional factory load performance, which is appealing to hunters and long-range shooters.
Back to H-4895: Hodgdon has refined and improved this powder over the many decades since Bruce Hodgdon first began selling military surplus H-4895 powder, which was the first powder that he began selling to handloaders. It now boasts of "Extreme" technology that further improves its accuracy and appeal. Since you are obviously thrilled with the overall performance of your handloads, there is no reason to change. On the other hand, if you like to experiment, the list of possible load and powder combinations is nearly endless!
Loading for a Marlin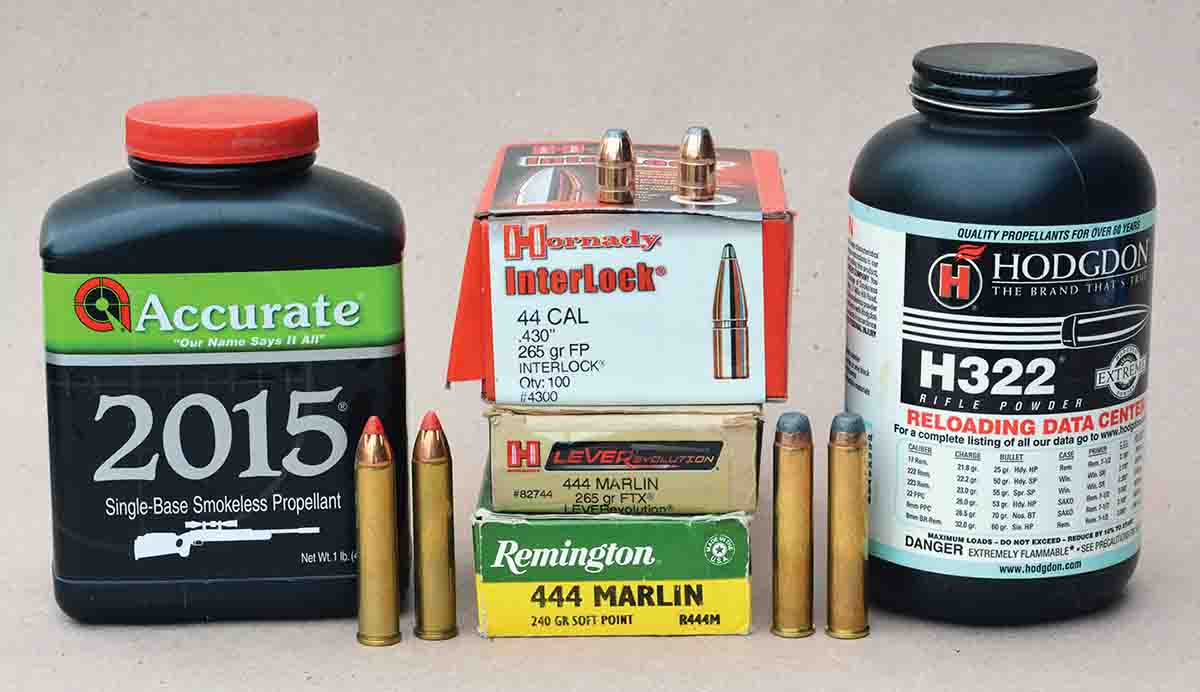 Q:
I consider myself fortunate to have acquired one of the last Marlin Model 444 rifles that they produced in Ilion, New York. Just like the rifle that you reviewed in
Rifle
magazine, mine is very accurate. More than 20 years ago, I had one with the 1:38-inch twist barrel, but accuracy was always a bit finicky. I am especially excited to work with heavyweight cast and jacketed bullets in the new rifle with the 1:20-inch twist barrel, which I understand from a company spokesman that you had considerable influence to get Marlin/Remington to make this change.
In beginning to develop loads, I have experienced a problem that I hope you can help me resolve. When using the 265-grain Hornady FP bullet, it often deep seats when cartridges are placed in the magazine and the gun fired. I am placing a roll crimp on the bullets cannelure, but the last cartridge in the magazine often shortens by around .100 to .200 inch by the time that I have fired the other cartridges in the magazine.
Handloader is like no other gun magazine and I especially appreciate your technical insight.
T.S., via Facebook
A: Yes, I did encourage Marlin engineers to offer the 1:20 twist on .444 Marlin rifles, but so did about 1,000 others, so I take no credit for this long overdue change!
Regarding your handloads shortening in the magazine tube; there are a couple of items that should help remedy this issue. First, use a powder that will support the base of the bullet, or in other words, utilizes 100 to 104 percent of the case capacity when measured to the bottom of the bullet. Hodgdon H-322 or Accurate 2015 are excellent choices for this application. You also should increase the crimp. You don't specify what kind of dies you are using, but generally the crimp should be applied as a separate step after bullets are seated to the correct depth. A good option is to use the Lee Factory Crimp die. And last, make certain that your expander die is at least .004 inch smaller than bullet diameter, or no larger than .426 inch. When you begin using cast bullets, most proper designs will have a deep enough crimp groove, along with a full-caliber ogive in front of the case, that the problem you describe will be alleviated.
Thank you for taking time to read Handloader magazine.
.41 Magnum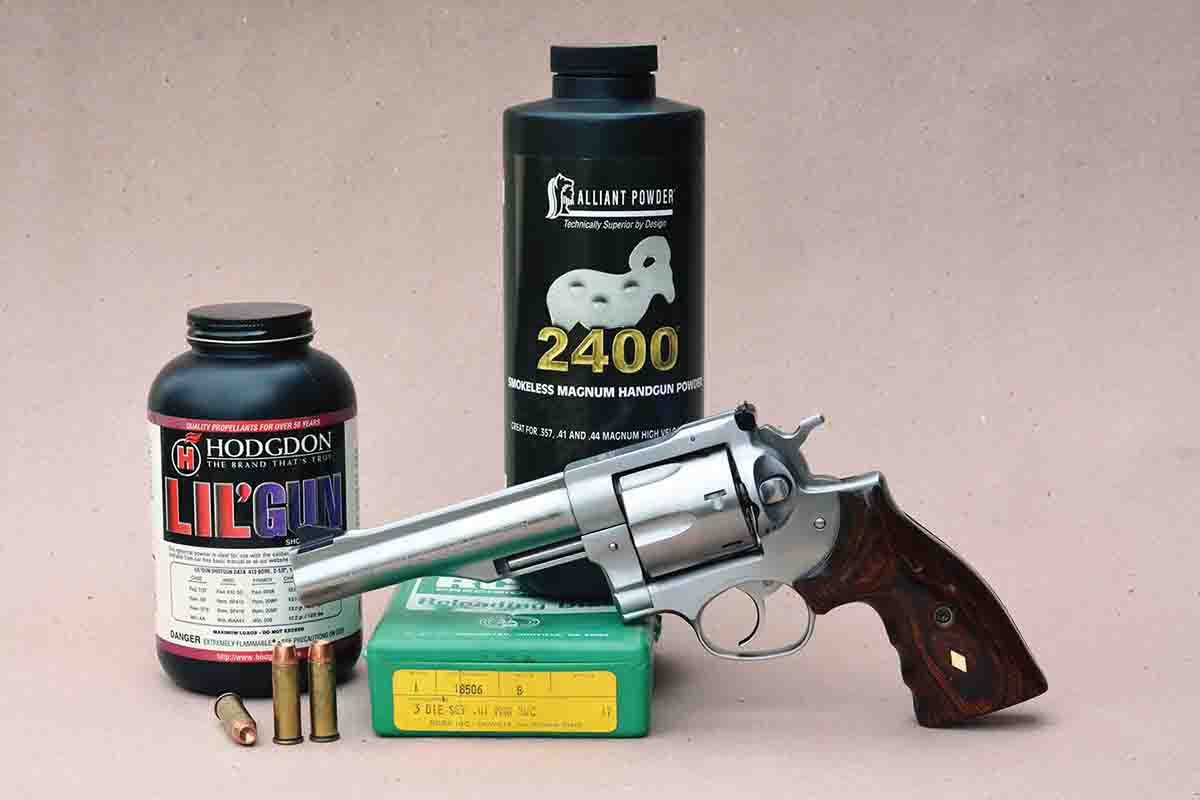 Q:
I have very much enjoyed your writing and data published in
Handloader
magazine. As a fellow shooter and handloader of quite a few revolver cartridges, I have enjoyed developing loads for my Ruger Redhawks (both with 5½-inch barrels) in .45 Colt and .41 Magnum. Your article on the strength of the Redhawk in .45 Colt was of great interest to me and has me wondering about the strength of the Redhawk in .41 Magnum.
Since the steel surrounding the chambers is much thicker in .41 Magnum versus the .45 Colt version, what do you surmise the pressure limit of that revolver might be? I have not seen anyone address this before. My calculations suggest that I can load the .41 to .454 Casull levels, but then the limitation would become the large pistol primers. If needed, I could possibly ream the primer pockets to accept large rifle primers. I intend to fully explore the heaviest safe loads in my Redhawk with cast bullets weighing from 212 to 280 grains, naturally seated to utilize the extra available cylinder length. I also plan to use the Swift 210-grain A-Frame jacketed bullet. I have other .41 Magnum revolvers, including Smith & Wesson and Ruger, for more conventional loads.
Many thanks for any information that you might be able, or are willing to share.
B.E., email
A: The Ruger Redhawk .41 Magnum is a very strong sixgun and will easily handle high-pressure loads that exceed SAAMI pressure guidelines that are established with a maximum average of 36,000 psi. However, the problem is that the case will not take the .454 Casull pressures that you suggest, which has a working pressure level of 65,000 psi. Primer pockets will loosen excessively after a single firing and should be destroyed for safety reasons. Keep in mind that cases designed specifically for ultra-high pressures, such as the .454 Casull, are engineered differently than cases designed for more traditional magnum revolver pressures. In most instances they have different metallurgy or receive a different heat-treating process to increase strength, prevent sticky extraction, etc.
I suggest limiting .41 Magnum pressures (in the Ruger Redhawk and Freedom Arms Model 83 only) to around 50,000 psi maximum. When loaded to this level, do not expect long case life, rather, fire cases only once at this pressure level. Be certain to properly identify loads to prevent them from inadvertently ending up in one of your other .41 Magnum sixguns. I would not suggest reaming primer pockets to accept large rifle primers, as this will result in premature high pressures. Use large pistol primers that will give more uniform velocities and will actually allow you to reach higher velocities with loads that are at the same pressure.