The .35 Remington was introduced in 1906 in the Model 8 autoloading rifle. In spite of legendary lawman Frank Hamer using this rifle and cartridge combination on May 23, 1934, to abruptly end the bloody career of the notorious killers Bonnie Parker and Clyde Barrow, the Model 8 rifle was rather odd in both appearance and function. As a result, this early rifle and cartridge combination only enjoyed modest popularity among hunters and sportsman. However, as early as 1912, Remington introduced its Model 14 slide-action rifle, which became the improved Model 141 Gamemaster in 1935, with each being chambered in .35 Remington. Both of these "trombone" or pump-action rifles became fairly popular and the cartridge earned respect among hunters. As early as 1910, Stevens offered its Model 425 lever-action rifle.
However, the popularity of the cartridge really accelerated when shortly after World War II, Marlin began offering its excellent Model 336 lever-action rifle so chambered. Remington expanded its rifle offerings with the Models 760, 7600 pump actions and Model 600 bolt action, while Winchester offered its pre-'64 Model 70. As of this writing, Marlin Firearms has been back in production under Ruger ownership for just a few months and is adding new models and calibers as production ramps up.
It is expected that due to continuing demand, eventually, the Model 336 will again be offered in .35 Remington. Incidentally, Henry Repeating Arms currently offers its Side Gate Lever Action with a brass frame so chambered. The .35 has also gained considerable popularity among handgun hunters and silhouette competitors in the Thompson/Center Arms single-shot pistols.
The .35 Remington is one of those cartridges that is often overlooked and certainly misunderstood by modern shooters who often seek rounds with higher velocity and greater range potential. However, hunters that use it in brush and timber country will attest to its value. I know of several houndsmen and guides that swear by it for hunting black bear and will energetically state its value on northwest bruins. I know of a family of northern Idaho hunters that have used the .35 to harvest elk and whitetail deer for more than 50 years and have never lost a single animal. The brush and timber is dense, and they are skilled hunters and shots rarely exceed 100 yards, while bullets are always placed precisely through the vitals. Owing to its larger caliber and heavier bullet options, properly loaded, it most certainly offers greater shock and penetration on game than competing cartridges such as the .30-30 Winchester. In addition to boasting of reliable medium bore performance, recoil is comparatively modest and it is easily mastered by most hunters. With all of that said, it is at its best as a black bear and deer cartridge, and is generally considered light for large moose and the great bears of the north. However, with proper bullet choice and placement…but I digress.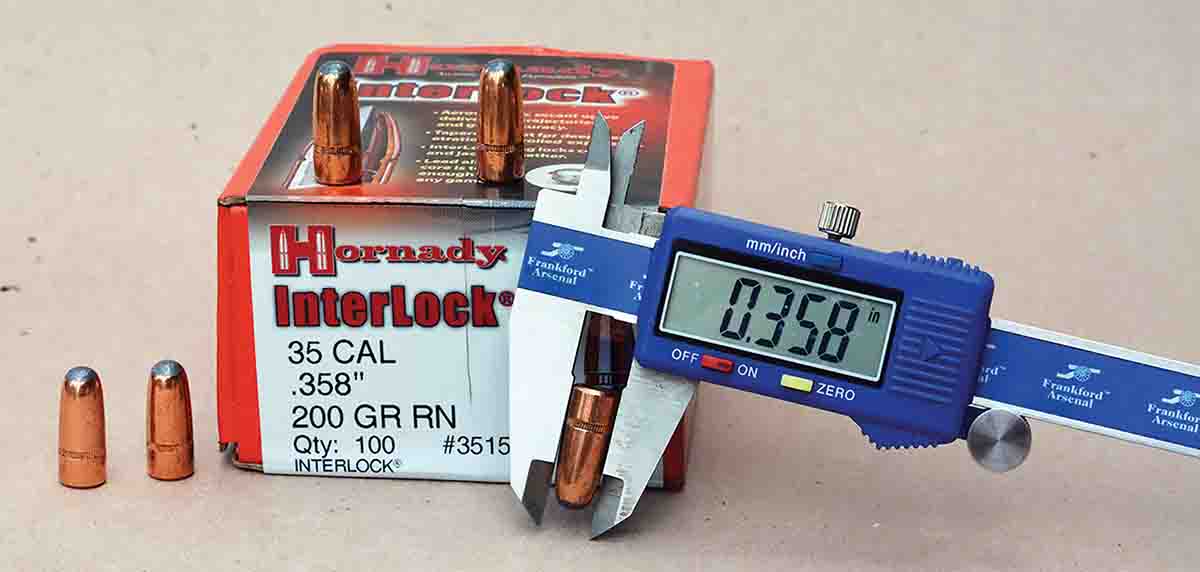 While bullet weights and velocities have varied during the past 116 years, Remington currently lists a 150-grain bullet at 2,300 feet per second (fps) or a 200-grain bullet at 2,080 fps. Federal Cartridge likewise lists a 200-grain bullet at 2,080 fps, but Winchester dropped the same bullet weight to 2,020 fps. Hornady lists the 200-grain FTX bullet in the LEVERevolution product line, with its rubber tip and spitzer profile for a higher ballistic coefficient at an impressive 2,225 fps. Buffalo Bore Ammunition lists a 220-grain JFN bullet at 2,200 fps. All of the above stated velocities are obtained from 24-inch barrels. It is always interesting to reference the actual velocities of factory loads in a given test rifle and make a direct comparison with handload data. Unfortunately, due to an ongoing industry-wide backorder of ammunition, the only loads available at press time were the 150- and 200-grain Remington loads that clocked 2,309 fps and 2,105 fps, respectively, from the Remington Model 141 Gamemaster rifle with 24-inch barrel.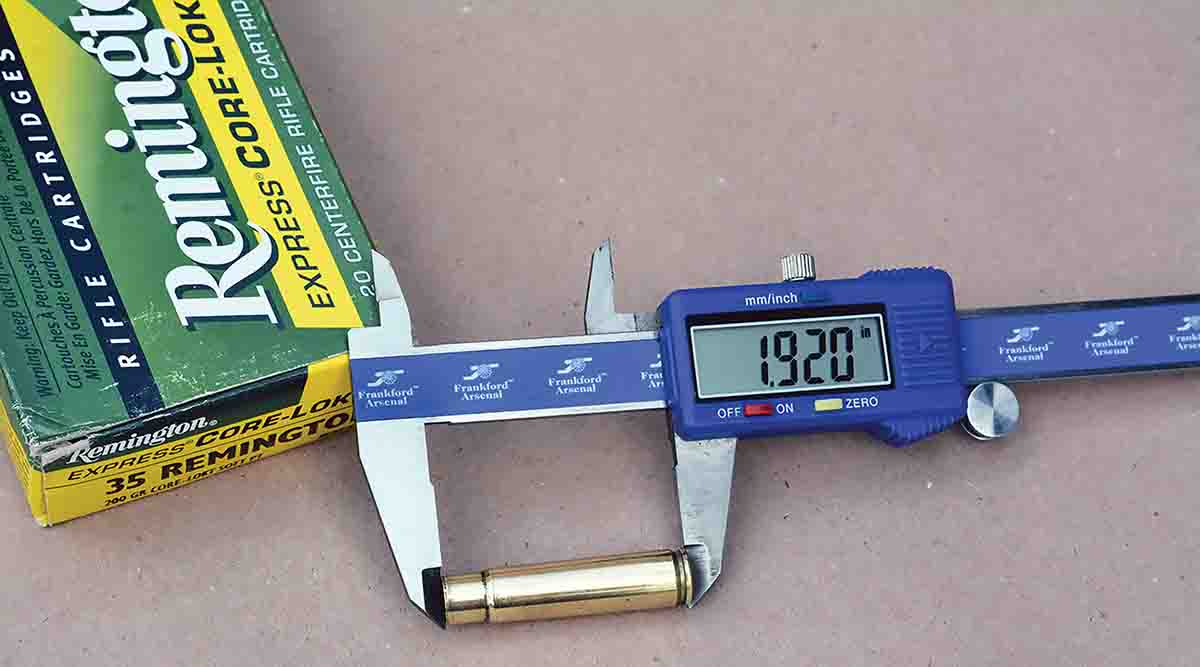 Two rifles were used to develop data that includes a Remington Model 14 and a Model 141 Gamemaster with 22- and 24-inch barrels, respectively. These are sleek, compact, reliable and well-made pump-action rifles that still find favor with many woods hunters. I have worked with both rifles previously and found them to be accurate. Most of the load development was in the Model 141, as it featured the longer barrel and a period Redfield receiver mounted aperture rear sight that allows more accurate target shooting under all light conditions than the Model 14 that still retains its factory-issued open sights. The Model 14 was primarily included to check function and to cross-reference maximum loads to see if they were exhibiting signs of excess pressure.
Shooting a pump-action rifle from sandbag rests, is a bit different than a bolt-action rifle with its one-piece stock. While I have obtained good accuracy by simply resting the forearm directly on the sandbags, sometimes this method can cause fliers. I prefer to place my left hand (I am right-handed) between the forearm and the sandbags. Rather than pulling backward on the forearm while squeezing the trigger, my grip is firm but is neutral in that I am not pulling backward or pushing forward. Pulling backward on the forearm will cause it to move back instantly as the trigger breaks, which causes movement and results in fliers.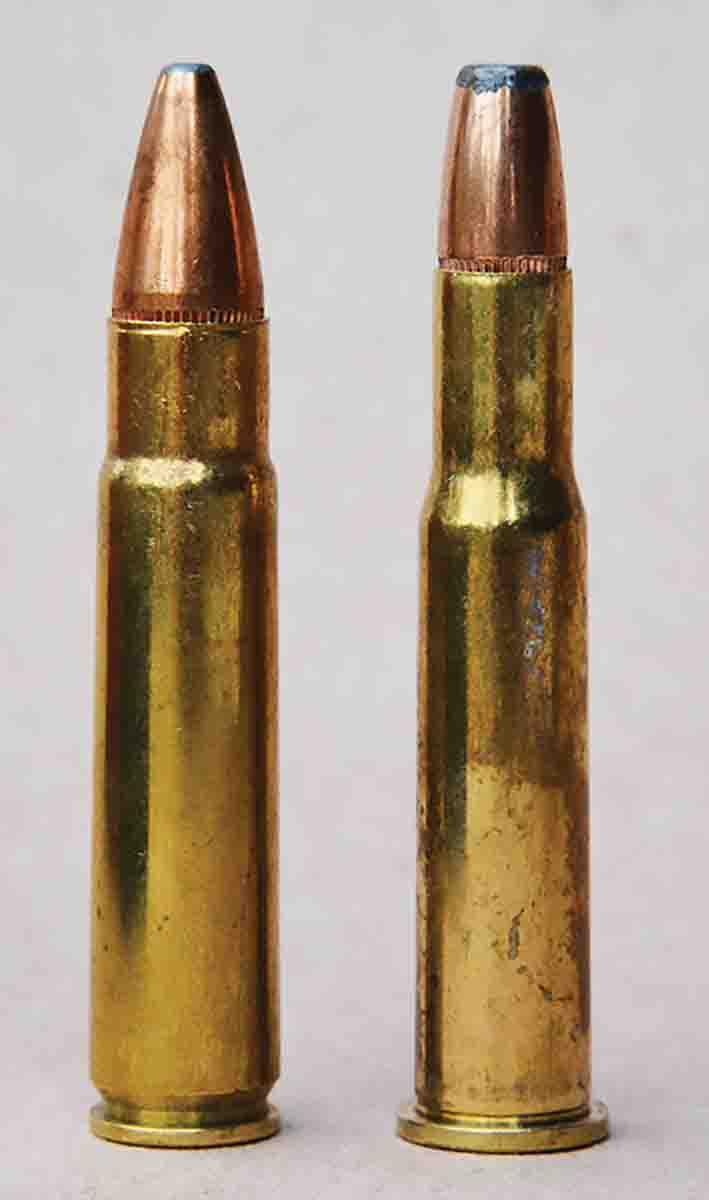 The .35 Remington case is technically odd and not based on any other rimless case. For example, its head diameter measures .457 inch (technically .4574 inch), which is smaller than the .30-06 that is standardized at .4698 inch. Neither does it share the same case head dimensions as its obsolete siblings including the .25, .30 and .32 Remington cartridges. The Sporting Arms and Ammunition Manufacturer's Institute's (SAAMI) standardized maximum average pressure is 35,000 CUP or using the more modern piezoelectric methodology, it is established at 33,500 psi. Most of the accompanying data has been tested and is within these pressure limits while the remaining loads are believed to be within these limits.
When using pump-action, autoloading or lever-action rifles, it is generally recommended to use a small base sizing die to assure that loaded cartridges chamber with ease. Other-
wise, cartridges may offer slight resistance as the action is closing, or in some cases may not chamber at all. I have two sets of .35 Remington dies that include a set of RCBS and a set of Hornady. Both feature a full-length sizer die. Cases were sized with each of the above dies and then checked for proper chambering in three rifles, including the above mentioned Remington Models 14 and 141 and a Marlin Model 336C. As long as the sizing dies were properly adjusted, all cartridges chambered easily and without resistance in any of the rifles. With that said, some rifles may still require a small base sizer die to bring cases back to specifications and allow loaded cartridges to readily chamber.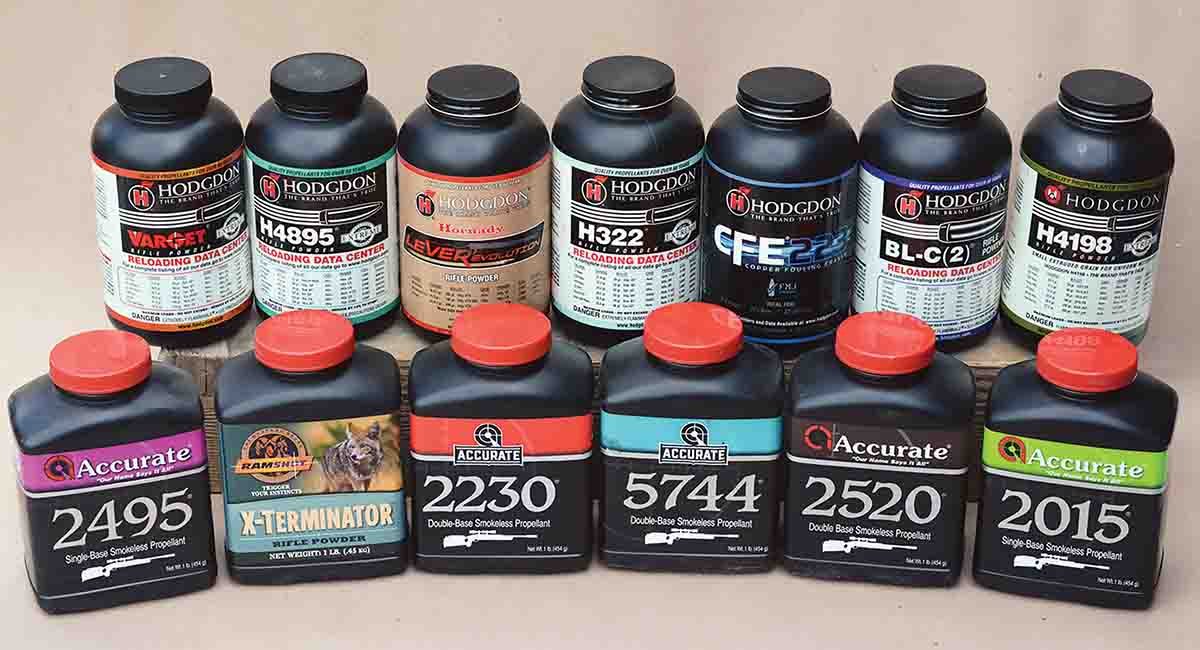 Like most cartridges, the .35 can have varying case capacity depending on case make. In checking Federal, Hornady, Remington and Winchester, the Remington has the least capacity and Winchester the most. Remington cases were selected for two reasons; first, I had enough on hand to work with in large batches. Second, the Remington case will give slightly higher pressure than other cases. As a result, the accompanying data is suitable for any case used.
After full-length sizing cases and checking them for proper case length, trimming and chamfering as needed, they were primed using CCI BR-2 primers seated .003 to .005 inch below flush. In addition to being an industry standard, seating primers with the anvil in positive contact with the bottom of the primer pocket will help prevent misfires.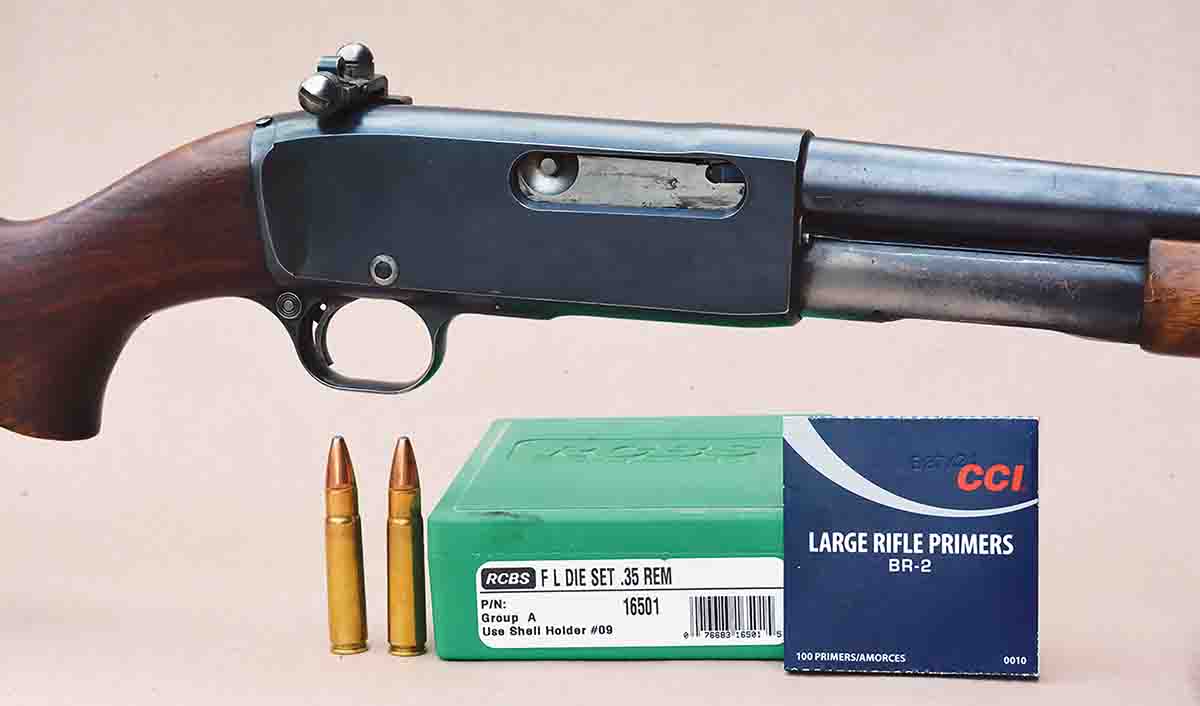 After charging cases and seating bullets to specified overall cartridge length, bullets were crimped in place. This is important when cartridges are used in rifles with a tubular magazine (with almost all .35 Remington rifles featuring a tubular magazine); as this practice helps to prevent bullets from being deep seated when subjected to magazine spring pressure and recoil. The Lee Factory Crimp die is an excellent choice for this application. If bullets still tend to deep seat, using a powder that uses 100 percent plus of the case capacity will offer support to the base of the bullet and further prevent deep-seating issues.
There is a reasonable bullet selection for the .35, which is specified to be used with .358-inch bullets. Traditional designs feature a roundnose profile such as the Sierra 200-grain RN, or Hornady 200-grain RN. Their design generally places the ogive close to the rifling or chamber leade. As a result, they shoot well in most rifles. For those wanting to extend the cartridges effective range, the Hornady 200-grain FTX boasts of a spitzer profile with a flexible rubber tip to allow its use in tubular magazines. Another excellent big-game bullet is the Speer 220-grain Hot Core Flat Point. Back in the mid-1980s, family, friends and I used this bullet on black bear, mule deer and several head of elk. My handloads reached around 2,200 fps from the Marlin leverguns, which performed very well and was a notable improvement over the traditional factory loads. Regardless of the bullets selected, if using a rifle with a tubular magazine, be certain they feature a nose profile that is suitable for tubular magazines.
In the past, I have experimented with .357 Magnum revolver bullets in various .35-caliber rifle cartridges such as .358 Winchester, .350 Remington Magnum, .35 Whelen and .35 Remington. There is great interest in this practice, as various handloading manuals offer data and many letters have been received seeking data. About eight or nine years ago, I used a Remington Model 141 .35 Remington loaded with various .357-inch bullets that only produced mediocre accuracy. However, its bore showed some wear and my tests were not conclusive. Using a different Model 141 that showed very little bore wear (scrutinized with the aid of a Lyman Borecam Digital Borescope) both Hornady and Speer .357-inch revolver bullets were tried. Accuracy was respectable, as select loads containing the Hornady 158-grain XTP-FP bullet grouped into 1.80 inches while loads containing the Speer 158-grain DeepCurl bullet hovered just over 2 inches at 100 yards. These bullets can be pushed to 2,400 fps and offer extremely rapid expansion even at extended distances.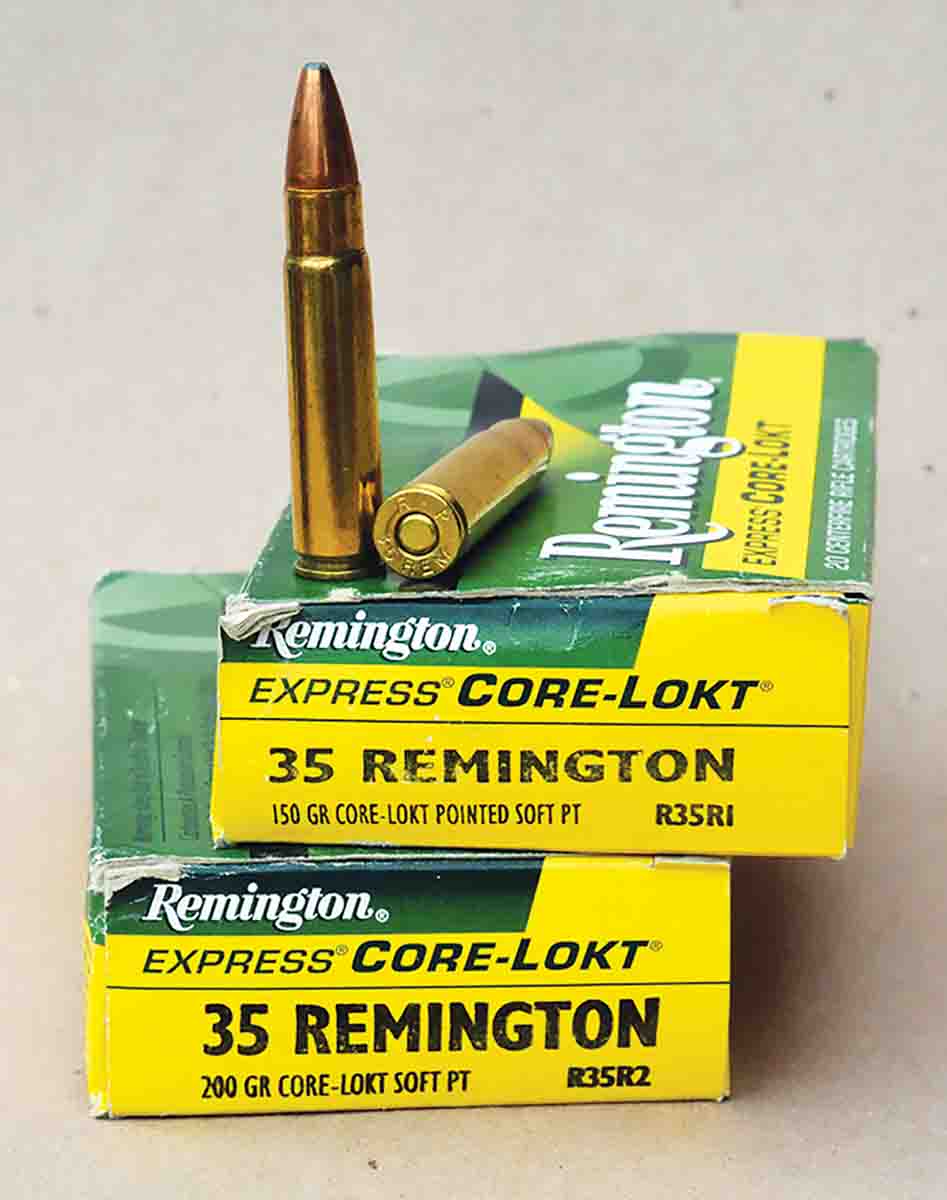 Data is included for cast bullets from RCBS mould No. 35-200-FN that weighed 208 grains and were sized to .3585 inch with Lyman NRA formula Alox bullet lube applied. While the best group obtained came from 22 grains of Accurate 5744 powder (1,671 fps), I believe that with additional experimenting, groups can be further improved, as several three-shot groups measured 1.5 to 2 inches, but the fourth shot opened groups to around 2.5 inches. Finding out why this flier occurred and making correction should bring groups down to below 2 inches.
There are many, many powders that duplicate factory load performance and provide excellent accuracy. The difference in overall performance of the accompanying data, including accuracy and velocity, was almost imperceptible. This illustrates that the .35 Remington is relatively easy to develop good handloads for, but also how many excellent and competitive powders are offered to handloaders. Top-performing extruded powders include Alliant Reloder 7, AR-Comp, Hodgdon Varget, H-322, H-4895, H-4198, IMR-4320, IMR-3031, IMR-4198, IMR-8208-XBR, IMR-4064, Accurate A-2495, A-5744, A-2015, Vihtavuori N133 and N135.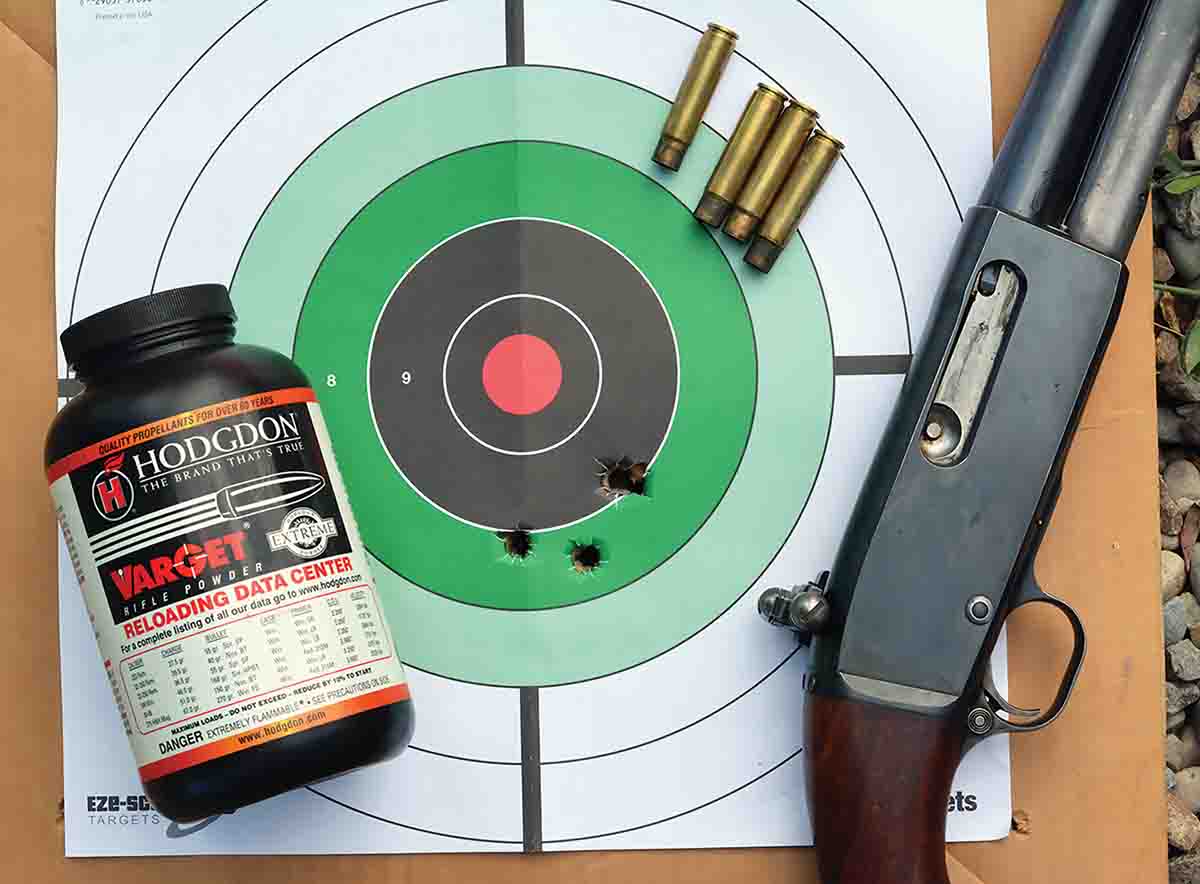 Select spherical powders likewise provided excellent performance. They boast of near perfect metering and are often offered at lower costs (when compared to extruded powders). Many give very low extreme spreads, offer benchrest-type accuracy and are clean burning. Others, such as Hodgdon CFE 223 and Ramshot X-Terminator offer decoppering agents that control barrel fouling. Hodgdon LEVERevolution powder was developed in conjunction with Hornady Manufacturing to increase performance in select lever-action cartridges. Examples used in the accompanying data include Accurate A-2520, A-2230, Alliant Power Pro Varmint, Power Pro 2000-MR, Hodgdon LEVERevolution, BL-C (2), CFE-223, Winchester W-748 and Ramshot X-Terminator. Generally speaking, suggested start powder charges using spherical powders should not be reduced, or hangfires and erratic performance can occur.
Many loads produced four-shot groups that hovered around 2 inches in the Remington Model 141 Gamemaster. This is respectable accuracy with an 85-year-old pump-action rifle fitted with aperture sights and being fired by a respectable, but imperfect shooter! With that said, I have seen scope-sighted Marlin lever-action rifles with Micro Groove rifling, along with carefully developed .35 Remington handloads, produce MOA groups. The accuracy potential is there in many rifles, and the handloader just needs to experiment to find it.
Considering that the .35 Remington is 116-years-old (as of this writing), is not based on any other existing case, is not one of the more popular bore sizes, is still being offered in new rifles while used versions are commanding premiums due to demand and does not have a popular gun writer promoting its virtues, seems to be proof that it still has plenty of merit with modern hunters.