We may never know for certain who was first to neck up the .223 Remington case for .243-inch bullets, but it just might have been longtime Remington Design Engineer, Jim Stekl. The 6x45mm (sometimes called the 6mm-223) did not become as popular in benchrest competition as the earlier 6x47mm on the .222 Remington Magnum case, but Stekl gave it a serious whirl.
In 1973, he used a heavy-barrel rifle on the Remington 40-XB action chambered for it to set a new 200-yard aggregate record of .3069 inch in IBS Sporter class competition. That was his average for five, five-shot groups and back in the day, it was quite remarkable. Stekl was later involved in the development of the 6mm BR Remington cartridge, but neither it nor the 6x45mm managed to keep the 6mm PPC at bay.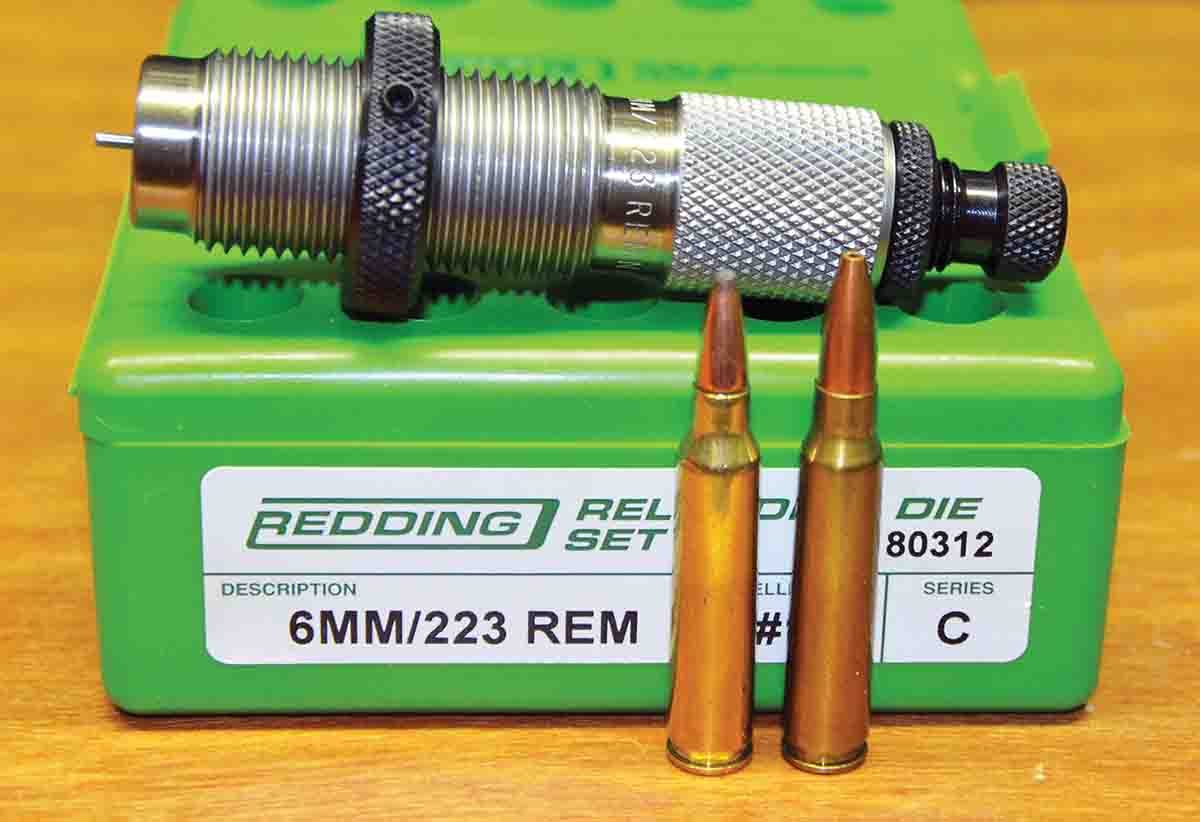 Among accuracy cartridges, the powder capacity of the 6x45mm puts it in serious company. Average gross water capacity when formed from Remington .223 brass is 30.4 grains compared to 32.4 grains for the 6x47mm, 33.5 grains for the 6mm PPC and 27.9 grains for the .24 Nosler. A big advantage in favor of the 6x45mm is the abundance of .223 Remington brass, military surplus for high-volume varmint shooting and Hornady, Lapua and Nosler for the highest level of accuracy. A safety issue does exist.
The 6x47mm is longer than the 6mm PPC and .24 Nosler, so it will not chamber in rifles chambered for those cartridges. The 6x47mm won't fully enter a 6x45mm chamber, but since the opposite is not true, I am very cautious about keeping the ammunition separate. The 6x45mm ammunition goes in red MTM boxes while the 6x47mm boxes are green.
A tapered expander button in the resizing die of reloading die sets makes case forming easy. Lightly lube the mouth of a .223 Remington case with Redding or Hornady sizing wax, run it through the die, trim to a uniform length and the case is ready to load. Case loss with virgin or once-fired brass seldom exceeds zero.
Many different powders are suitable for 6x45mm handloads and plenty of load data is available in the Berger Bullets Reloading Manual and the Western Powders Reloading Guide. I have also used data published for the 6x47mm in various editions of the Hornady Handbook of Cartridge Reloading, but always make it a point to reduce published starting loads by 2 grains for the 6x45mm. Most small rifle primers will light the fire and I have enjoyed consistently good results with the Remington 7½, Federal GM205M and the CCI BR4.

The 6x45mm appears to be more popular in other countries than in America, especially so in South Africa where it is used to hunt (and cull) blesbok, klipspringer, impala and other fairly small antelope. The cartridge is loaded there by Denel PMP, a huge manufacturer of military and sporting ammunition. South African gunsmith Ken Stewart makes premium-grade bullets and a number of cartridge cases, including 6x45mm. Sako used to load the 6x45 with the ammunition sold locally and shipped to various other European countries. During a visit to the factory, I was given several boxes to take home and quite a few feral pigs and coyotes bit the dust before it was used up. I still have a box of Black Hills Ammunition loaded with an 85-grain bullet but was unable to find out if it is still available.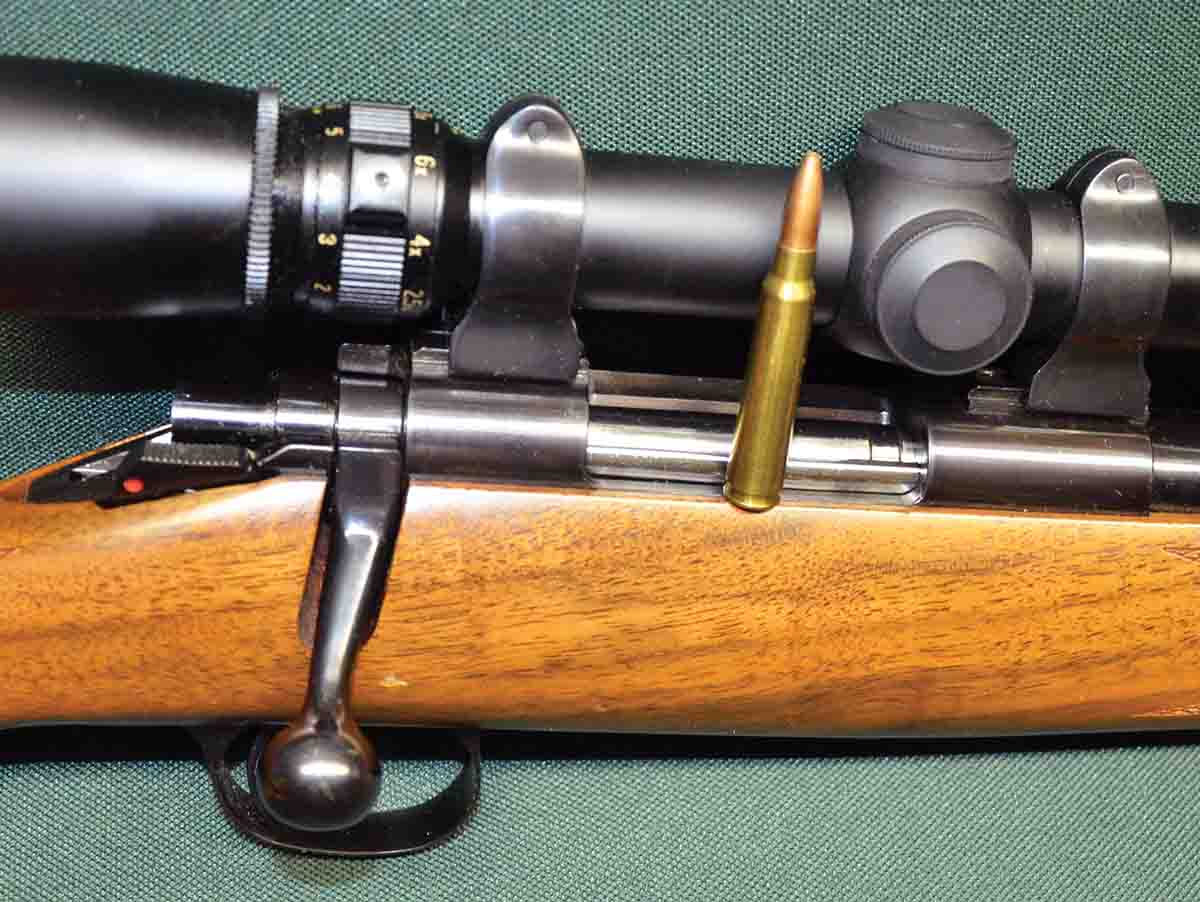 As rifles go, for many years I have owned a Model 84 in 6x45 built by Kimber of Oregon. A beautiful little rifle, it weighs a few ounces over 7 pounds with a light 2.5-8x scope. Considering its rather thin barrel, it is quite accurate. The Model 84 was introduced in .223 Remington and when Greg Warne of Kimber asked me about a close to medium- range deer cartridge small enough to squeeze into its magazine, I immediately recommended the 6x45mm. Shortly thereafter, I received Model 84s having barrels with three difference twist rates along with a note requesting accuracy test results. With bullets weighing up to 85 grains, the rifle with a 1:12 twist had an edge in group size so the other two barrels eventually made their way back to Oregon. Doors at the Kimber factory closed for a final time years ago, but Cooper Firearms of Montana continues to offer very nice rifles in 6x45mm.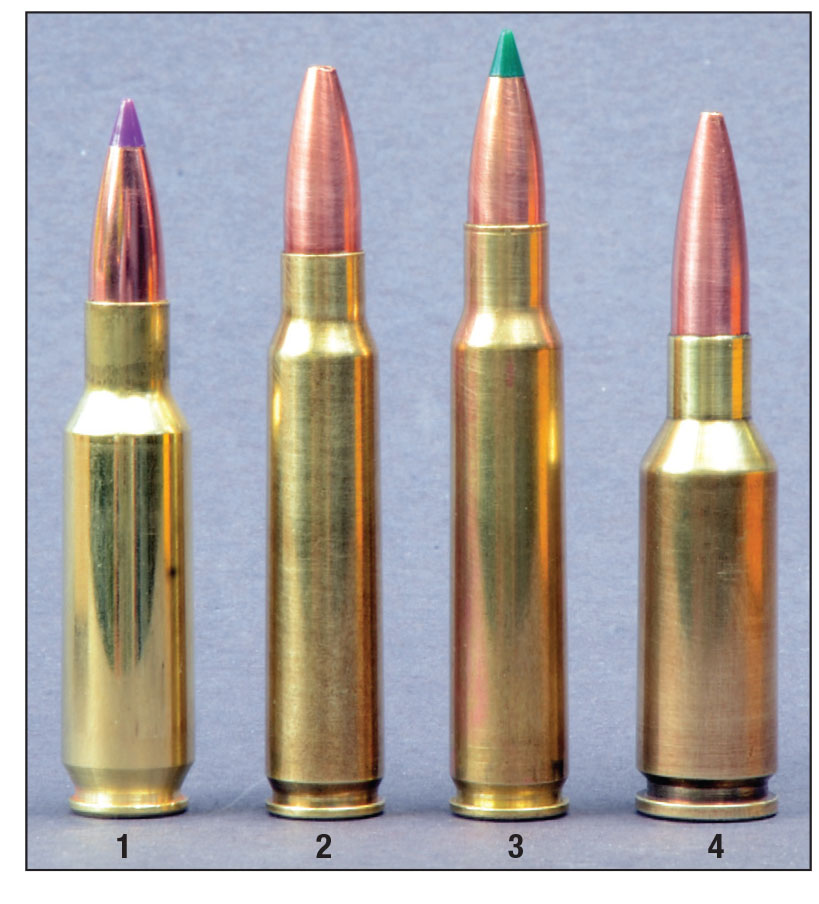 Through the years, I have used the Kimber to take deer, feral pigs and coyotes, with most standing inside 150 yards. For that, the Nosler 85-grain Partition is the best bullet available for the 6x45mm, and while today's version is accurate enough, the original screw-machine version is more accurate because being a bit shorter, it is better stabilized by the 1:12 twist of the Kimber barrel.
My most interesting hunt with the 6x45mm was for capercaillie in central Finland. For those who do not know, it is the largest member of the grouse family and only slightly smaller than a young hen turkey. Most Americans who hunt turkey carry shotguns and so do Finns who go after capercaillie with pointing and flushing dogs. Stalking a cock bird resting high up in a hemlock as it sings a courting song in hopes of attracting a hen looking for romance is also popular. Using a small-caliber rifle to take the bird seemed more traditional and is how I pulled it off during one of my several visits to the Sako factory in Riihimäki. The Sako L461 rifle I used belonged to my guide who worked at Sako, and when I asked why it was in 6x45mm rather than .222 Remington, he replied that it was less damaging to the skin and feathers of a wonderful trophy.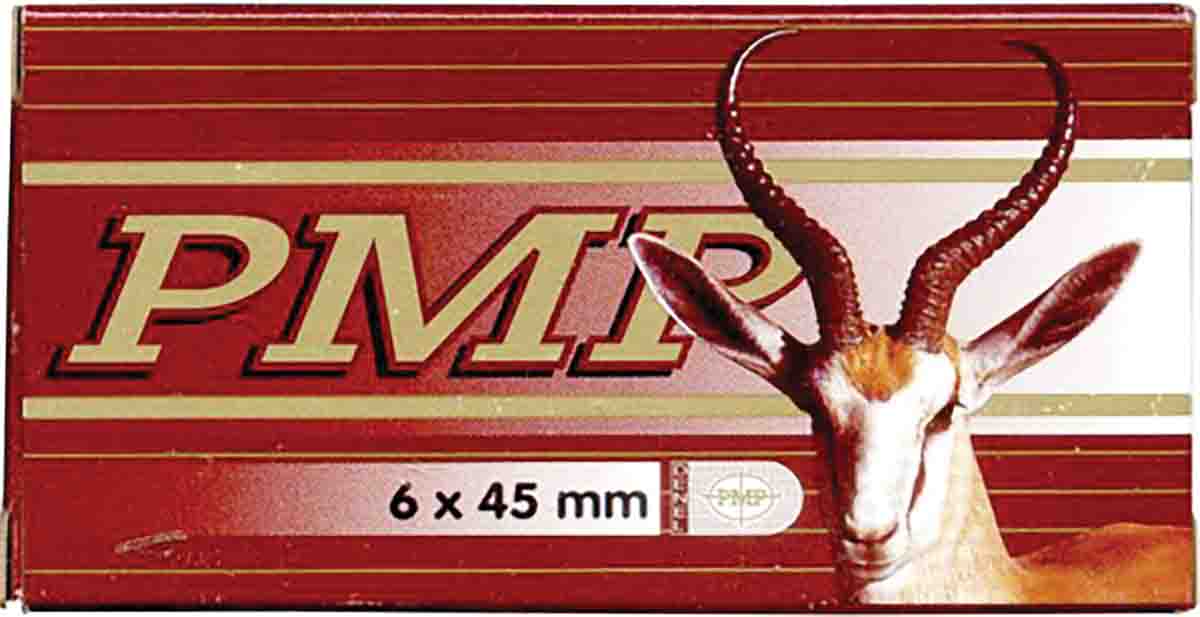 The Danish-built Schultz & Larsen Legacy may be the finest bolt-action rifle built in 6x45mm and it is still in production. Scaled to size for that cartridge as well as the .222 Remington, .223 Remington and .300 Blackout, it weighs just over 6 pounds, it has knockout wood, flawless metal finish and a reputation for excellent accuracy. A switch-barrel design, it can be ordered with barrels in the four calibers. The barrels in .223 Remington are available with a 1:8 or a 1:10 rifling twist rate.