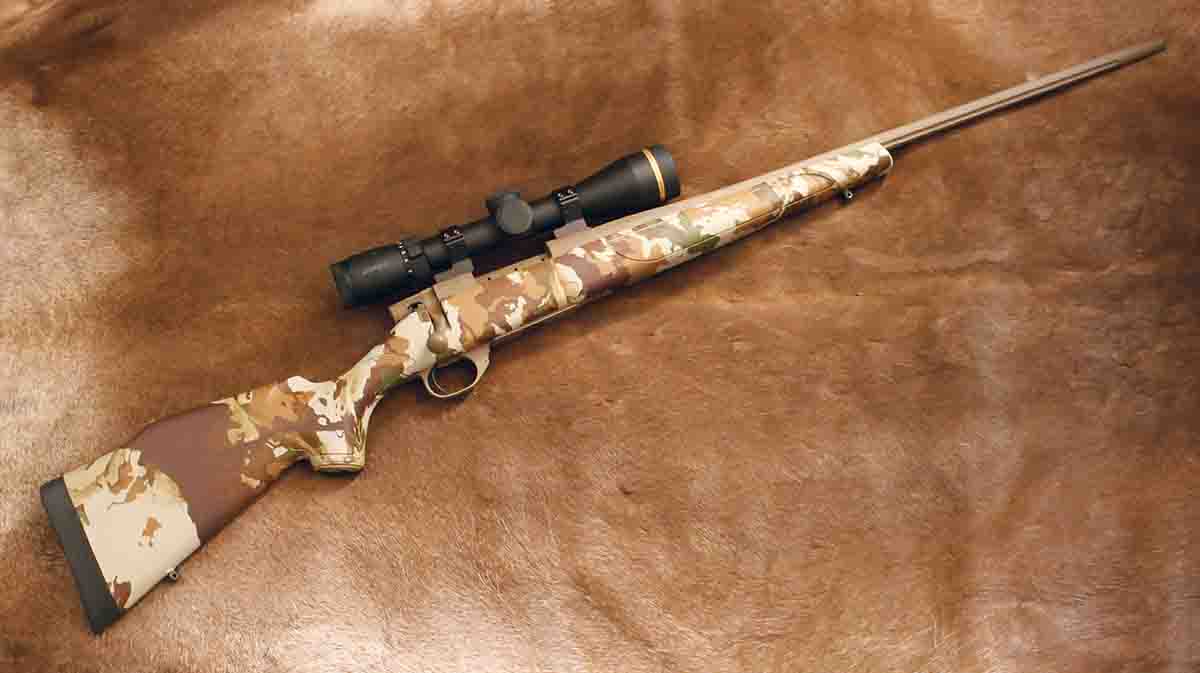 In late spring of 2022, even more evidence of the 6.5 Creedmoor's popularity showed up on my front porch, a cardboard parcel containing two boxes of a new Lapua factory load. As most handloaders know, Lapua is a company in Finland known for very high-quality cartridge cases, plus accurate match bullets and ammunition. The 6.5 Creedmoor is also known for accuracy, especially with high ballistic coefficient (BC) boat-tail bullets, and I assumed the ammunition featured one of those bullets – but I was very wrong. Instead, the bullet was Lapua's 156-grain Mega, a heavy- jacketed, semi-roundnose hunting bullet designed for deep penetration on larger big game – in particular moose, in Finland called
hirvi
.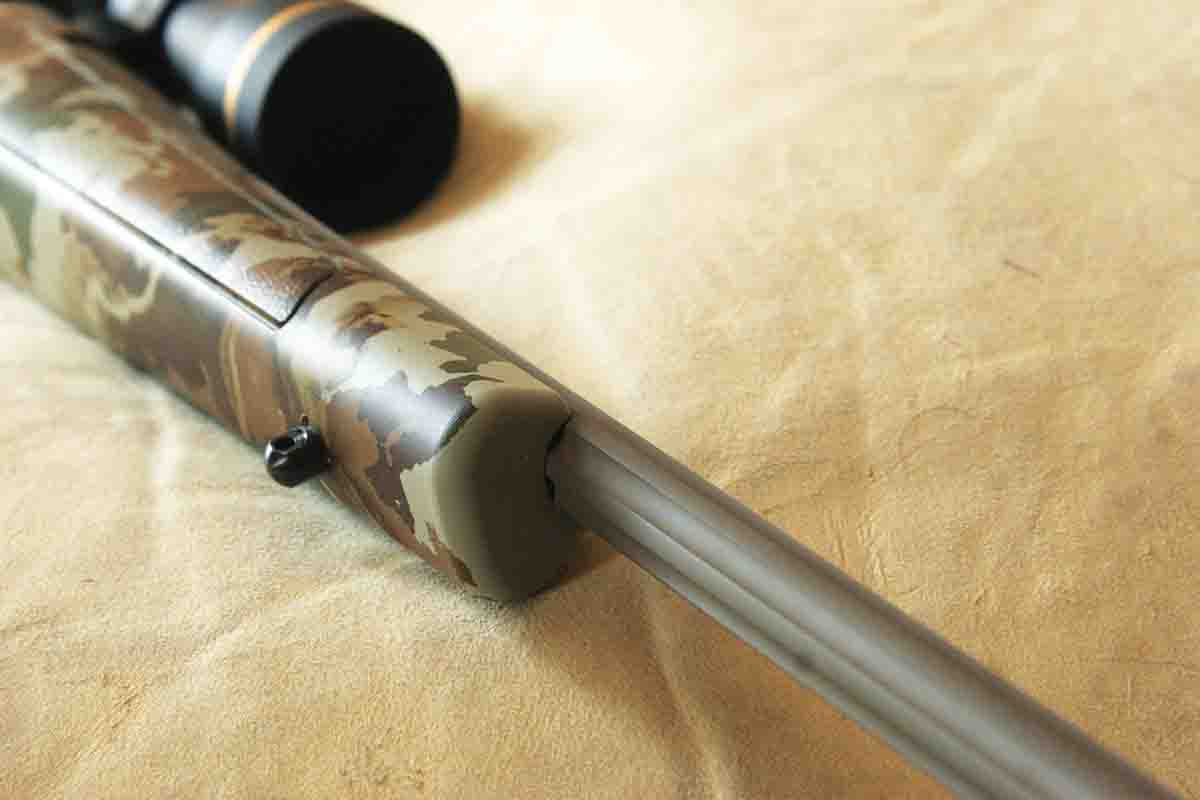 Hirvi hunting is very popular in Finland, partly because there are a lot of 'em, with year-to-year numbers averaging around 100,000. This may not sound like much compared to Alaska's moose population of around 200,000 – but Finland's only about 20 percent as large as Alaska.
Such statistics, however, do not reflect the vast enthusiasm for moose hunting in Finland, which I learned about while visiting the Sako/Tikka factory in the town of Riihimäki, with several other gun writers, during autumn in 2015. Part of the deal was a Finnish moose hunt, usually performed by using Norwegian Elkhounds to drive moose past a line of standers – the reason for the infamous two-headed, running-moose target prospective hunters must qualify on.
I qualified – but did not get to shoot at a live moose, though one of my Finnish hunting companions killed a big bull calf from his stand, across a small clearcut from mine. All sizes of moose are taken in order to keep the herd balanced, and everyone congratulated him, quite sincerely. Thus Lapua's 156-grain Mega factory load is significant news, reflecting the 6.5 Creedmoor's popularity not just in the U.S. but in a land of avid – and demanding – shooters and hunters.
The ammunition shot very accurately, of course, in my latest 6.5 Creedmoor, a Weatherby Vanguard First Lite, recently acquired for a very good price. Since purchasing my first 6.5 Creedmoor in 2010, I've owned six of 'em, partly because I wanted to know whether they all shot as well as my first, a Ruger Hawkeye. Eventually, I decided to settle down and stick with one, and the First Light got picked partly because of the deal, but partly due to realizing my ideal 6.5 Creedmoor hunting rifle, like Jack O'Connor's favorite .270, would weigh 8 pounds scoped – exactly like the custom walnut-stocked FN Mauser 6.5x55 I put together in 2007, the year Hornady formally announced the 6.5 Creedmoor.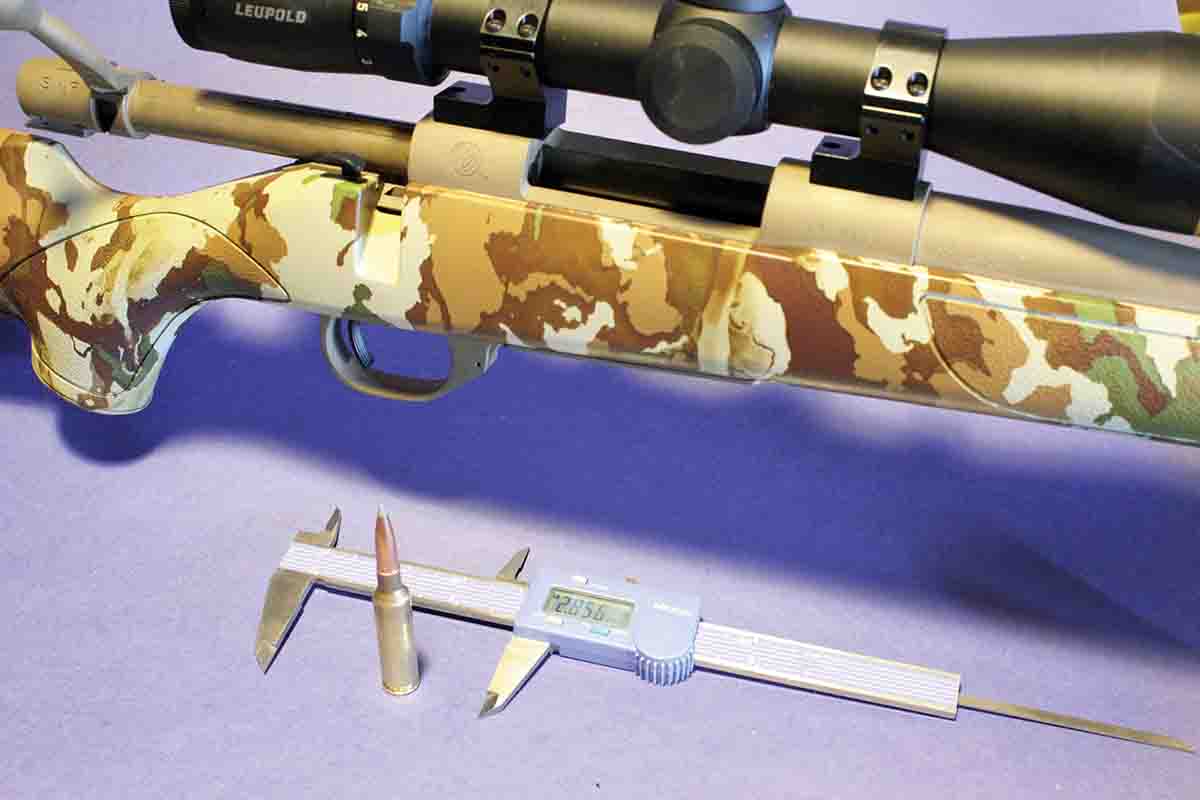 The First Lite was my 6.5x55's twenty-first-century equivalent, with a synthetic camouflage stock and a fluted, 24-inch barrel Cerakoted in a color Weatherby's website calls Flat Dark Earth. The Lapua Megas were the first ammunition fired through the barrel, and averaged three shots in .70 inch at 100 yards. This is far finer accuracy than required for a typical Finland moose drive, but Finns tend be perfectionists in anything involving rifles.
Afterward, a search was conducted through the latest 6.5 Creedmoor handloading information, both printed and cyberspace, for data involving newer bullets and, especially powders. An article on the same subject appeared in Handloader several years ago, but some new stuff had been introduced since then. In fact, at least two recent powders were developed at least partly for use the 6.5 Creedmoor, Winchester StaBALL 6.5 and Vihtavuori N555, which fills the burn-rate gap between their long-established VV-N550 and VV-N560.
One of the other interesting things about the newer powders tried was that many (including both Winchester StaBall 6.5 and VV-N555) are both temperature resistant and include a decoppering agent. In fact, a few years ago, Vihtavuori announced that ALL its powders are now temp-resistant and copper-reducing.
Decoppering comes in handy when testing dozens of handloads, because even if some of the powders don't include a decoppering agent, the decoppering powders still remove most of the fouling. I reported on this in Handloader No. 327 (September-October 2020) when trying newer powders in the 7mm Remington Magnum. The test rifle was my Mauser M18, and after every range session, I checked the barrel for copper-fouling with my Gradient Lens Hawkeye borescope. Copper never increased into more than a faint line along the edges of the lands, and the rifle maintained its accuracy through several range sessions without cleaning the barrel.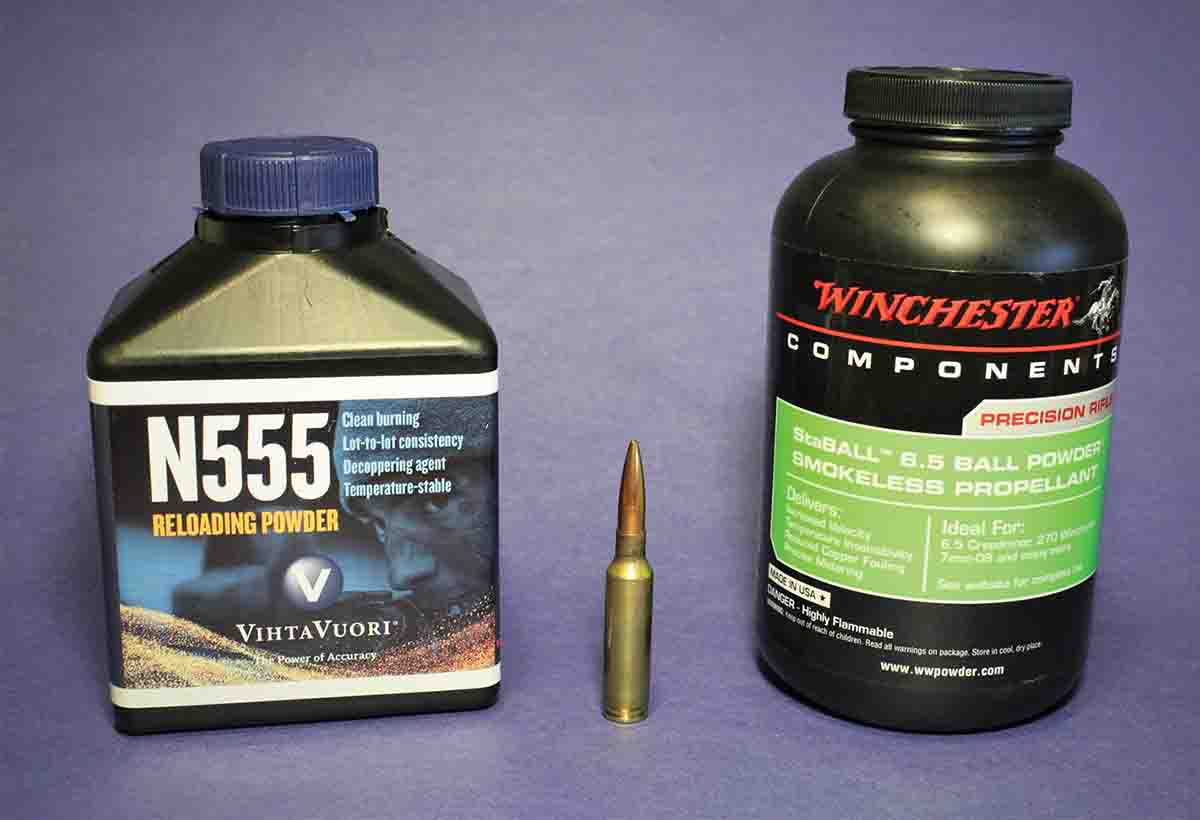 The same thing happened with the Weatherby First Lite, which like the Mauser M18 has a very smooth bore. However, one thing I've learned after using the Hawkeye for around 20 years is the smoothness of a rifle's bore does not necessarily effect how much it copper-fouls. In fact, one of the smoothest centerfire barrels on any of my rifles copper-fouled so badly, it had to be scrubbed out with JB Compound after every 20 rounds. (That problem was finally solved by a then-new product named Dyna Bore-Coat, but that's another story.)
The Weatherby's bore has now been cleaned twice, once before I ever fired it, to remove the slight amount of copper fouling from the test-firing at the factory, and then after the range session with the Lapua Mega ammunition. Of the handloads listed, 86 percent featured anti-copper powders, and the last group fired measured .74 inch. I just looked at the bore again, using my brand new Teslong digital borescope, and like the Mauser M18, there's only a hint of copper along the edges of the lands, about as much copper as from the factory testing.
There was plenty of 6.5 Creedmoor brass in my loading room, so I decided to try three different brands, Hornady, Norma and the Lapua from the fired 156-grain Mega factory loads. Before loading them, however, I weighed and measured a random sample of 10 cases of each brand. All three had case necks varying no more than .001 in thickness from side-to-side, which is what I look for when handloading, since "lopsided" necks tend to affect accuracy more than any other part of a cartridge case. However, they all averaged somewhat different in weight – including two different manufacturing lots of Hornady cases. The first Hornady batch averaged 148.5 grains, varying 2.1 grains, while the second averaged 145.5 grains, varying .6 grain. The Norma cases averaged 155.5 grains, varying 2.2 grains, and the Lapua cases average 166.8 grains, varying .8 grain.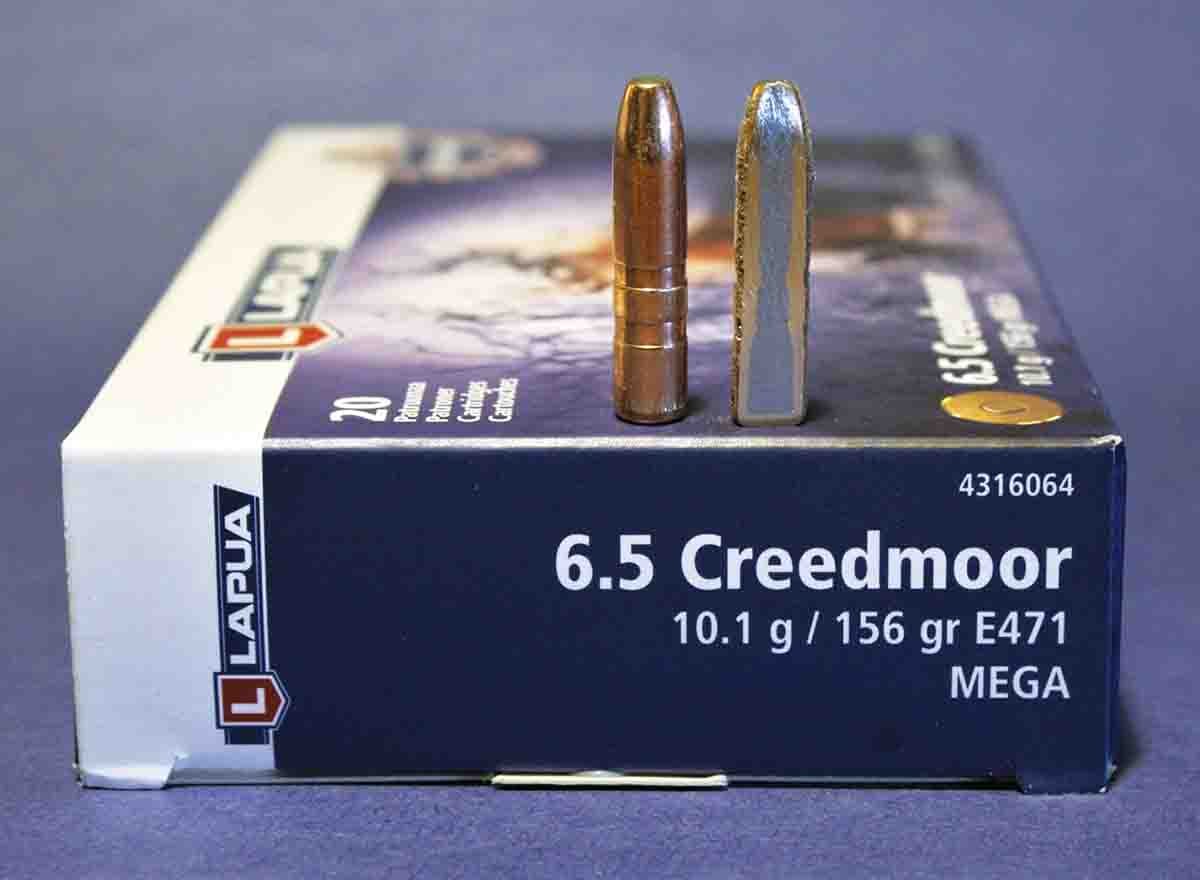 The Lapua cases also had small-rifle primer pockets. This, plus their heavier weight, tends to lengthen case life to maybe forever, even with maximum-pressure loads, due to more brass surrounding the primer pocket. I decided to use CCI 450 primers with them, which are probably the hottest small-rifle primers commonly available in the U.S.
Due to the latest component shortage, I didn't get to test all the new bullets that had recently appeared. In fact, 6.5mm bullets were even harder to find than bullets in other calibers – yet another indication of the recent popularity of 6.5mm cartridges, including the Creedmoor. I particularly wanted to try some of the newer high-BC bullets of 150-plus grains, but none were available. Even though the Weatherby's barrel is the typical 1:8 twist, which isn't optimum for some of the longer "heavyweights," from past experience at 4,000-plus feet in this part of Montana, I suspected they would stabilize pretty well, so I ran several on the JBM Ballistics online twist-rate computer program, which has proven very accurate many times. It predicted all the recent 150-plus grain spitzer boat-tails introduced by various companies would stabilize more than sufficiently from the 1:8 rifling twist in the First
Lite's barrel – but I couldn't get any of those bullets in time for this article. That said, the table's load data for Vihtavuorhi N565 for the 156- grain Lapua Mega would be a good starting point for any of those new spitzers.
With a few exceptions, the overall length of the of the test loads was determined by seating lead-core bullets .03 inch from the lands, the Barnes monolithics .05 inch from the lands. Both have proven to be good starting points, but the accuracy of some loads would improve with some more tweaking of seating depth. I would have liked to try deeper seating with a few loads, but range time was limited by perhaps the windiest, wettest May and June since weather recording began in Montana in the 1800s (In fact, the last range-test was made the day after Yellowstone Park, a little over 100 miles away, was shut down due to unprecedented flooding destroying its highways). The exceptions were the 85-, 100- and 107-grain bullets, which had to be seated farther from the lands to hold them firmly in place inside the case necks.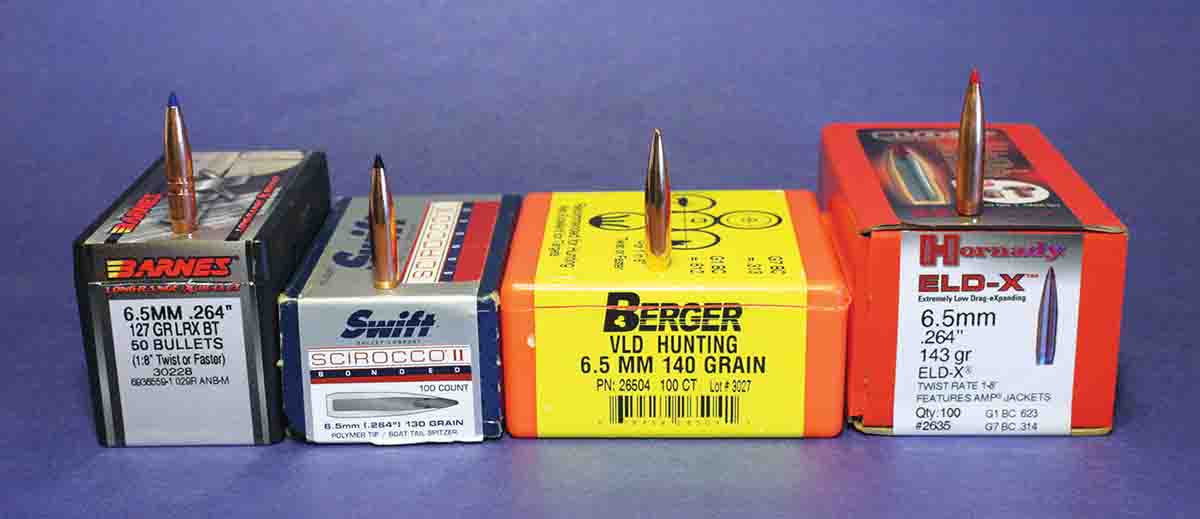 However, some loads obviously didn't need any tweaking, in particular the Berger 140-grain Hunting VLD with Alliant Reloder 26 and the Hornady 143-grain ELD-X with Reloder 16. The velocity with RL-16 was somewhat surprising, since the 43-grain charge is slightly less than Alliant lists as maximum with a different brand of 140-grain bullet, for a velocity of 2,821 feet per second (fps) from its 24-inch test barrel.
However, powders vary slightly in burn rate from lot to lot, and bullets also differ in the amount of pressure they create, though there was no hint of excess pressure when shooting the load. Plus, the First Lite proved to have a tight chamber: None of the brass fired in other 6.5 Creedmoors would work unless it was first run into the "body die" included in my Redding Type S Match Die set.
I also want to retest the 156- grain Mega bullet with heavier powder charges, because the muzzle velocity was pretty low compared to the factory ammunition – which actually chronographed over 50 fps faster than Lapua's listed 2,559 fps. I broke down one of the factory rounds, finding 43.5 grains of a powder that looked a lot like VV N565, though of course it might not be. The overall length of the factory ammunition was also used for the handloads.
One interesting feature of the Weatherby First Lite is the magazine length, slightly longer than most other 6.5 Creedmoors I have tested, several of which would not accommodate rounds even slightly longer than 2.800 inches. The Weatherby worked fine with rounds up to 2.856 inches long.
The trigger of the First Lite is listed as a two-stage, because it has a slight amount of free-travel before a very clean break, which averaged a very consistent 2 pounds, 12 ounces on my Timney scale. This is about what I prefer these days for Montana big-game hunting; providing enough control during cold weather, but still light enough for accurate shooting.
The stock's forend has a pressure point at the tip, which can sometimes help a rifle shoot more accurately, but sometimes not. In fact, one of my previous 6.5 Creedmoors was also a Vanguard, an older model purchased used in 2017, made back when Weatherby used pretty flexible injection-molded stocks, also with tip-pressure forends.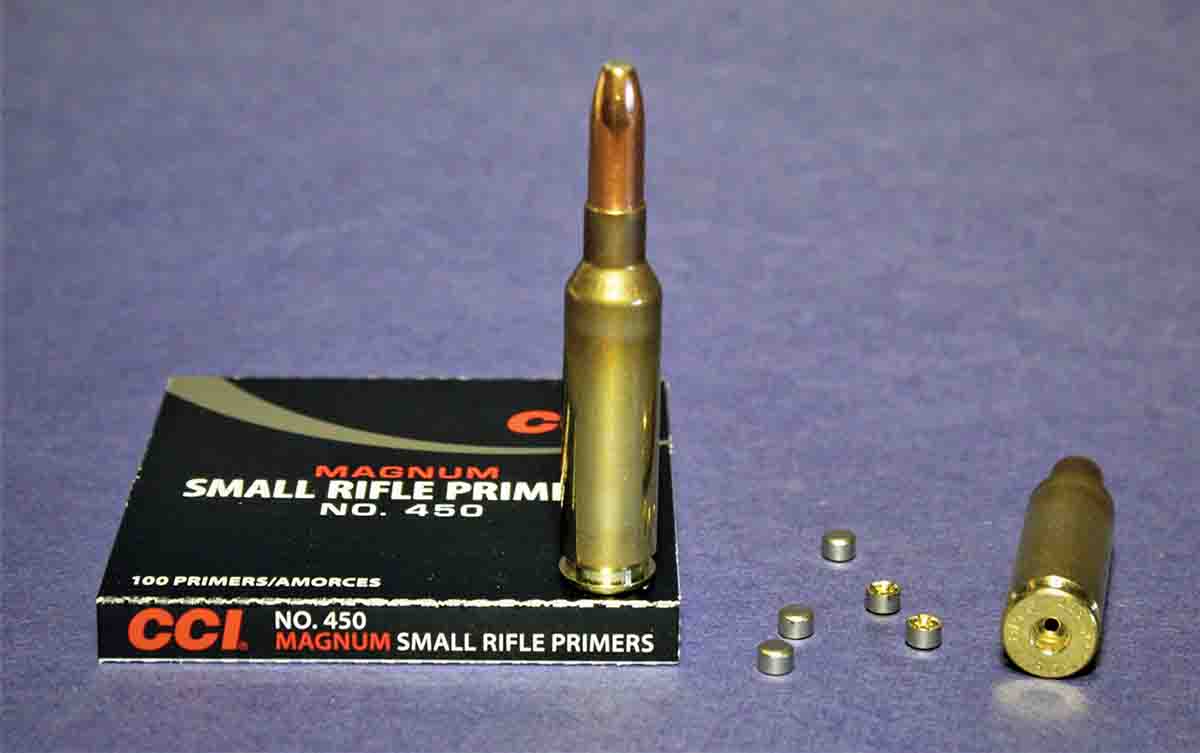 My first synthetic-stocked Weatherby was a sub-MOA Vanguard in .300 Weatherby Magnum, which shot more accurately after I free-floated the barrel – but free-floating didn't make any change in that first 6.5 Creedmoor Vanguard's accuracy. However, it would still put three rounds of my normal test load of 41.5 grains of Hodgdon H-4350 with the Berger 140-grain Hunting VLD into less than an inch. The injection-molded stock on the First Lite is much stiffer than the stocks on those older Vanguards, and it shot very well.
The scope used was a 2-10x 42mm Leupold 5HD, which they sent me for testing. The adjustments clicks worked very reliably, and the optics are very sharp and bright. However, like many 30mm-tubed scopes, the 2-10x 42mm 5HD weighs somewhat more than typical 1-inch tube scopes in the same magnification range, and in this particular model, 18 ounces. As a result, with the scope, the First Lite weighed closer to 8.5 than 8 pounds, so eventually the Leupold will be transferred to a harder-recoiling rifle for more testing and a lighter scope mounted on the Weatherby.
Now, a decision needs to be made about what animal should be the rifle's first "field test." A 2022 Montana Sportsman's License was purchased as soon as it was available, which comes with general-season deer and elk tags, and I've drawn two more tags since, one for a doe mule deer and the other for a cow moose. I kept enough of the Lapua Mega ammunition to hunt with, and a moose would sure be an appropriate test, but several other rifle candidates are also in the safe. It's the old rifle loony dilemma, caused by owning more rifles than tags.