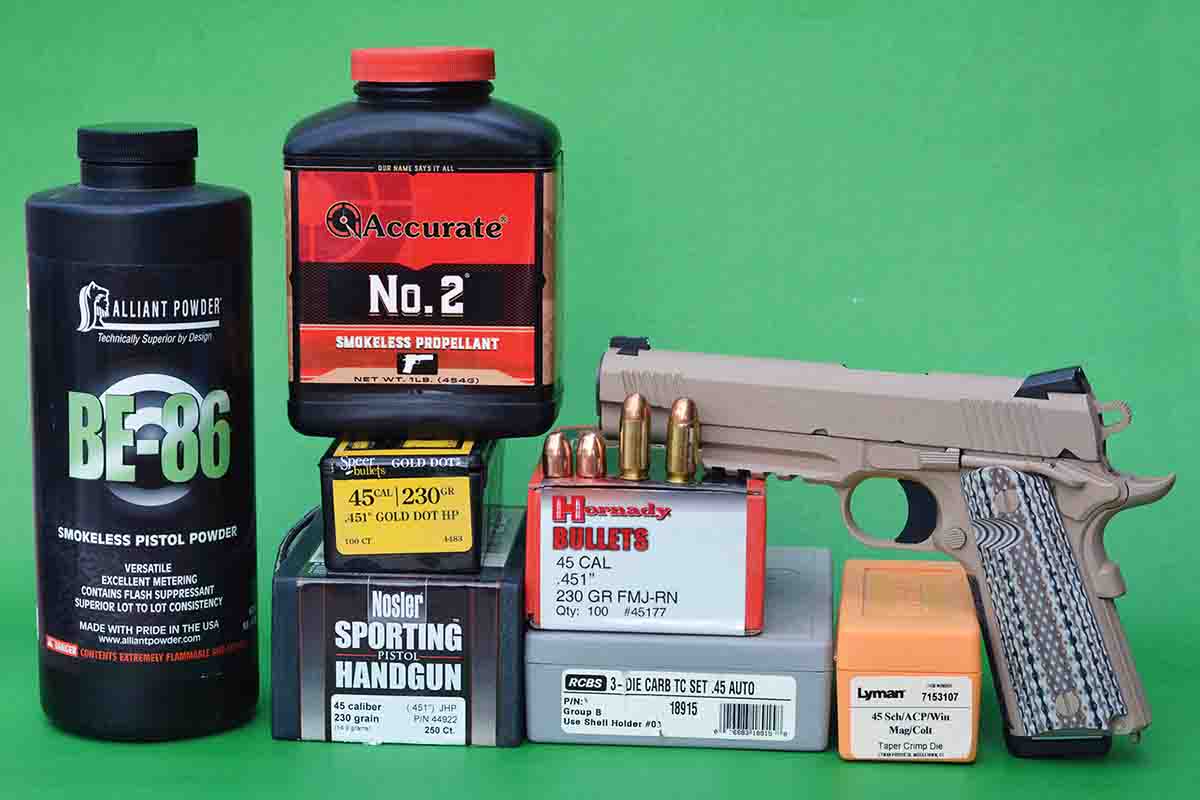 This standout Colt Model 1911 variant is a first choice pistol among combat Marines and is available to civilians.
After passing harsh military tests and passing with flying colors so to speak, Colt's remarkable Model 1911 .45 ACP pistol was officially adopted by the U.S. military on March 29, 1911. After 74 years of outstanding service that included countless wars and skirmishes, in 1985 the U.S. changed its official sidearm to 9mm NATO (to become NATO compliant). However, many select units from the U.S. Army Special Forces, U.S. Navy and U.S. Marine Corps continue to use the proven Model 1911.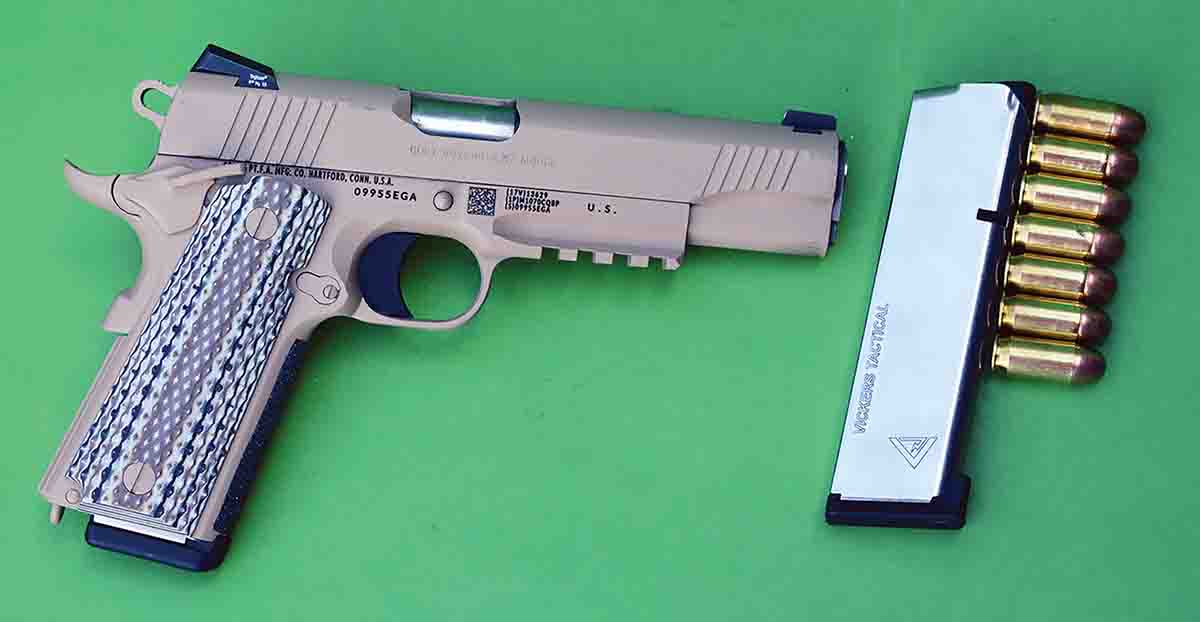 Let's take a closer look the latest pistol produced by Colt for the U.S. Marines that is known as the M45A1 and is naturally chambered for the proven .45 ACP cartridge.
The request set forth by the U.S. Marine Corps (more formally the Request for Proposal or RFP) indicated that the gun's "operating environment is characterized by high usage in training, rough handling and environments on deployments, and limited access to repair and maintenance resources during high-tempo operations." Clearly, the Marines need a pistol that is tough as nails and will easily take severe abuse, neglect and still work…flawlessly.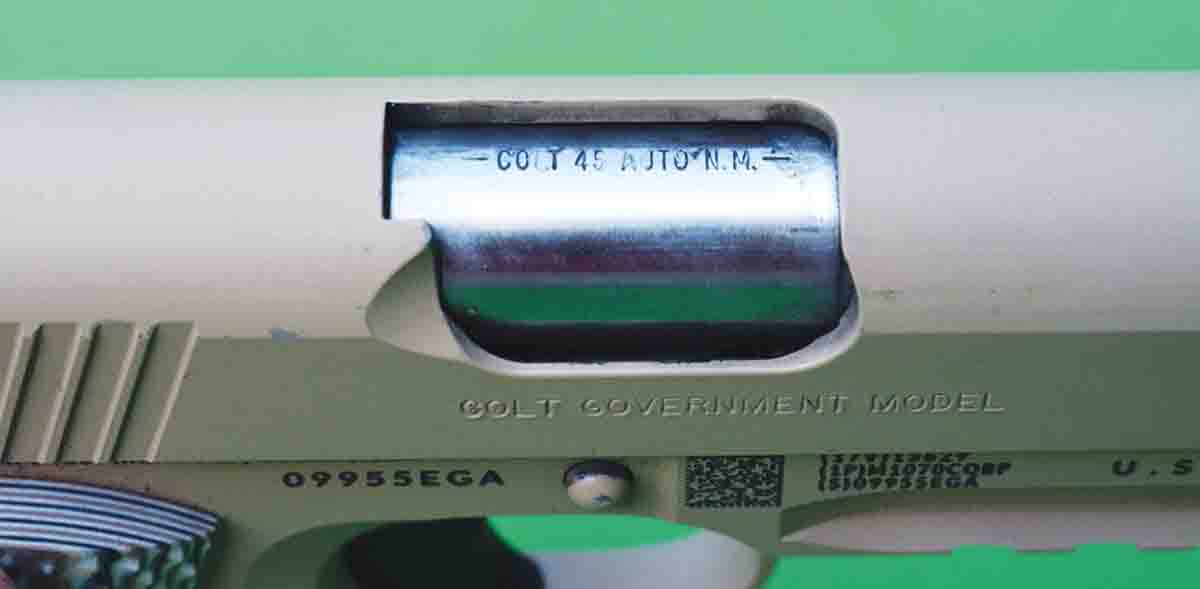 Interestingly, the RFP did not outline any particular pistol platform or design. However, it did specify .45 ACP caliber and that it utilize the same single stack 7-round magazine used in the MEUSOC pistol. Just some of the other aspects of the new pistol, as outlined in the RFP, included a locking slide, beveled magazine well, weigh less than 4.5 pounds, have drop-in parts with no fitting, have high-corrosion resistance and that it be a commercially offered pistol.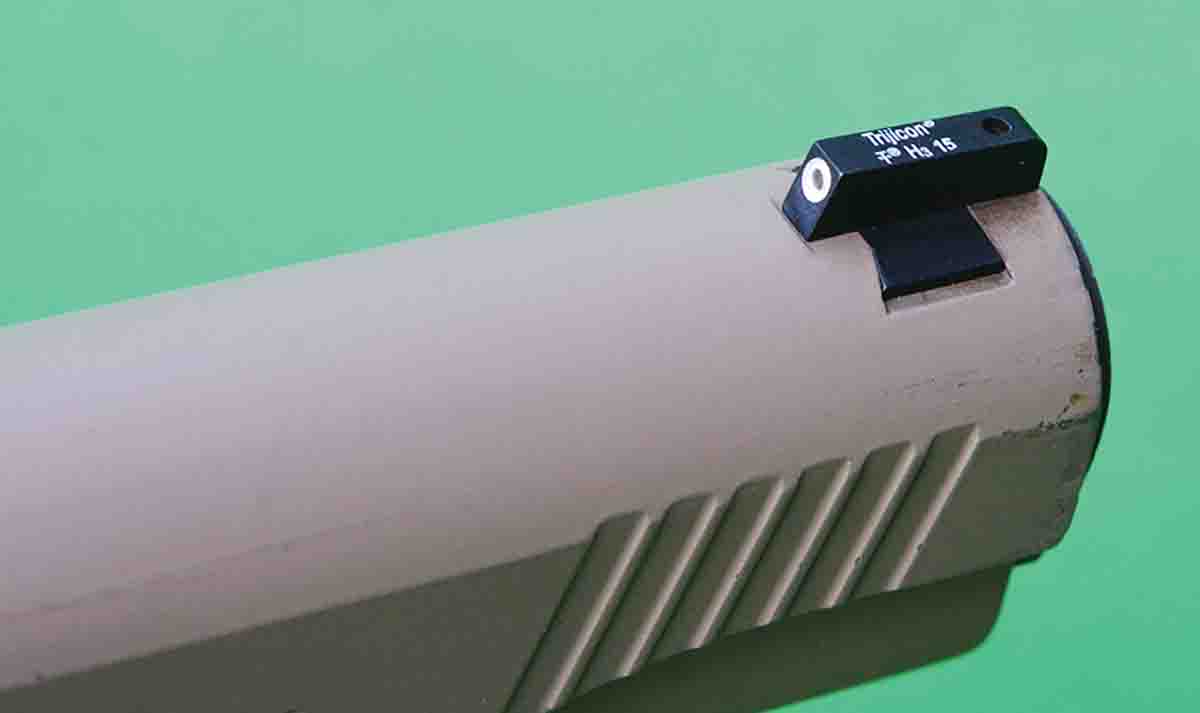 While many major handgun manufacturers competed for the contract, Colt was the ultimate winner with a Model 1911 variant known as the M45A1. This pistol boasts of several notable features. First, all major components, such as the frame and slide are stainless steel forgings. Forging essentially compresses the steel and rearranges the structure to increase strength, durability and toughness that is needed in extreme abuse situations. To better understand the value of this feature, consider that there are known U.S. military Colt Model 1911 pistols (that likewise boast of forgings) that have been fired well in excess of 500,000 rounds and are still in service. They have been rebuilt from time to time with new barrel, springs, etc., but the major components are still running perfectly. With the Model 1911 in military service for 111 years, it is no wonder that experienced military brass selected a forged gun. Additional M45A1 parts are machined steel, rather than the commonly encountered MIM parts found in many modern pistols. Other than the tritium sights, the Wilson Combat 7- shot magazine and the G10 synthetic stocks, Colt manufactures every part of this pistol in the U.S.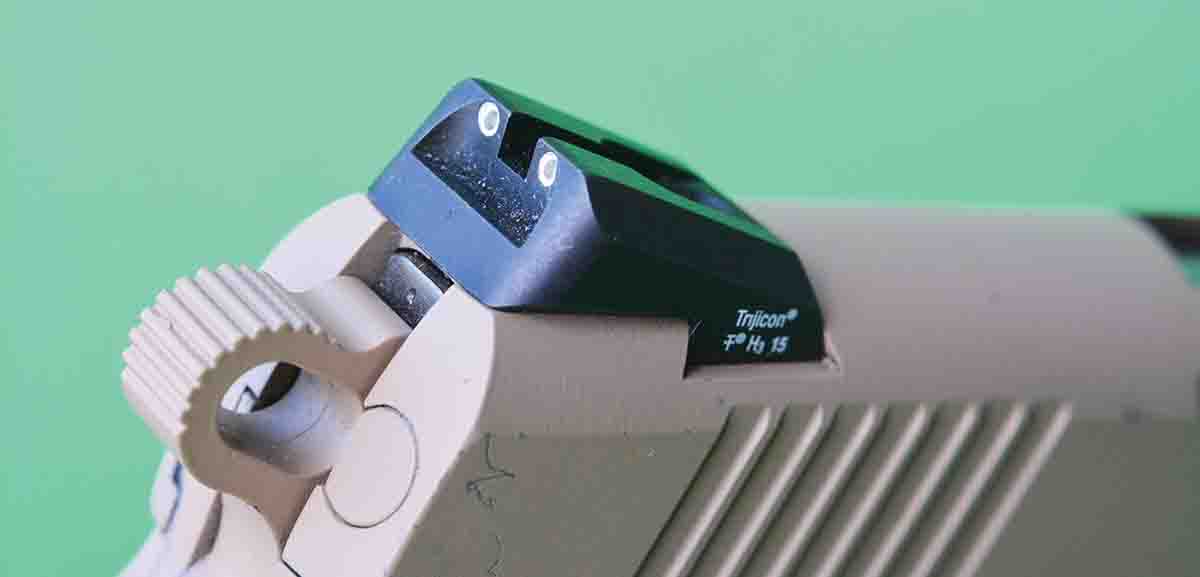 Unlike the original Model 1911 adopted in that same year, the M45A1 features a large and robust Picatinny rail (Mil-Std-1913) to accommodate any practical accessory. The trigger is solid (no slots) and is long and very similar in length to the original military 1911s (but should not be confused with the Model 1911A1 with its shorter trigger.) The mainspring housing is likewise flat, which is favored by most modern shooters.
The Colt M45A1 boasts of other desirable features, including a Trijicon tritium dot front and two dot rear sight, a high-position beavertail-style grip safety with memory pad, corresponding slotted hammer, swept ambidextrous safety, lowered and angled ejection port and a National Match barrel. The recoil springs consist of two springs with the smaller one operating inside of the larger one. This serves to positively close the action when the pistol becomes dirty, but also serves to mitigate recoil.
There are two versions of the M45A1. The first is from the Colt Custom Shop and has a few upgraded features including an overhauled trigger pull, textured front grip strap and other custom items that increase the cost. The second version is identical to the U.S. Marine Corps pistol and is the one selected for this review. (Remember, the RFP wanting a commercially offered, off-the-shelf pistol with fully interchangeable parts.)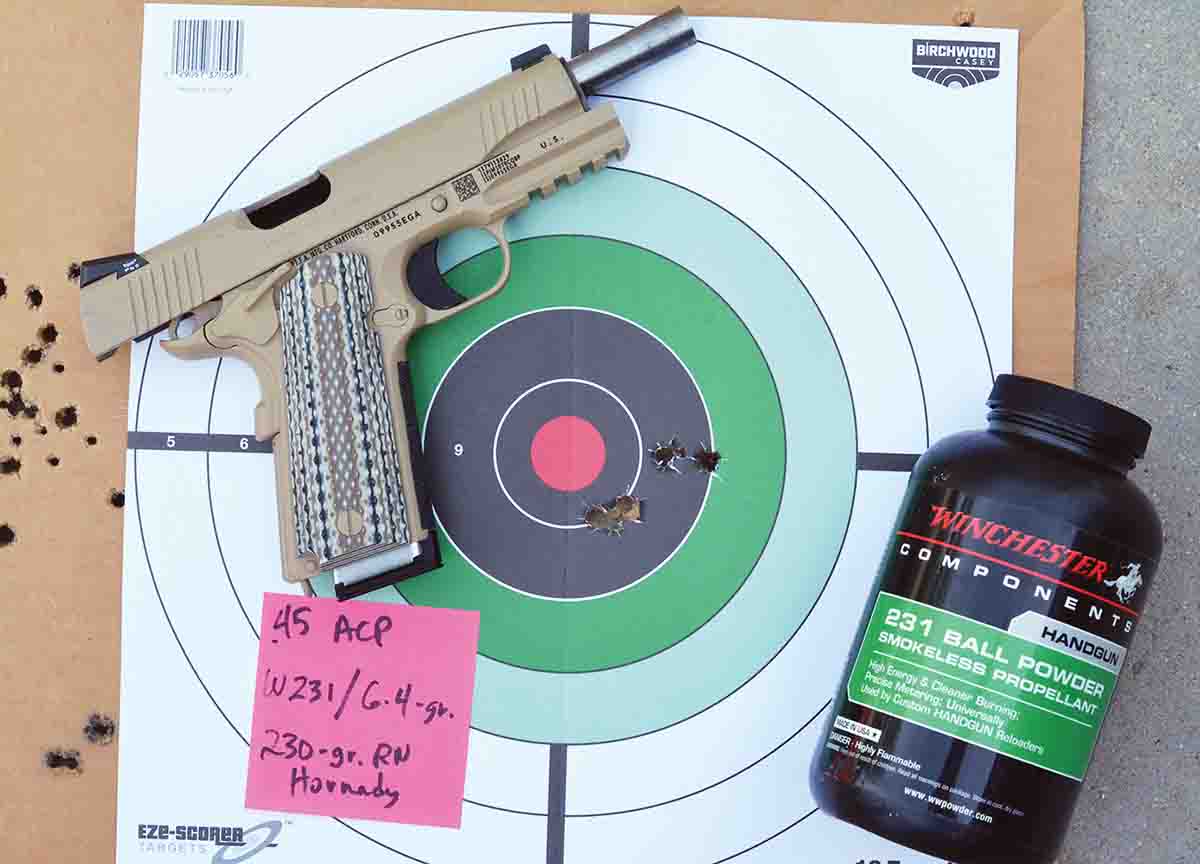 My first impressions of the M45A1 are very good. Machining is excellent, the frame, slide and barrel relationship is ideal, the trigger pull breaks cleanly at 4 pounds, 1 ounce, the Trijicon sights offer an excellent sight picture, the CERAKOTE finish is uniform and functional, while the safety and slide stop work perfectly. The only immediate improvement that I believed should have been included is some form of traction on the front-strap, which was quickly addressed with a small strip of skateboard tape.
The Marine's accuracy criteria includes that the average of five-shot groups does not exceed 4 inches at 25 yards. Using a few select factory loads proved that the gun is capable of much better accuracy. For example, loads from Buffalo Bore Ammunition, Cutting Edge and Hornady Manufacturing produced three, five-shot groups that averaged under 1¾ inches at 25 yards. However, all factory loads averaged less than 2¼ inches at that same distance.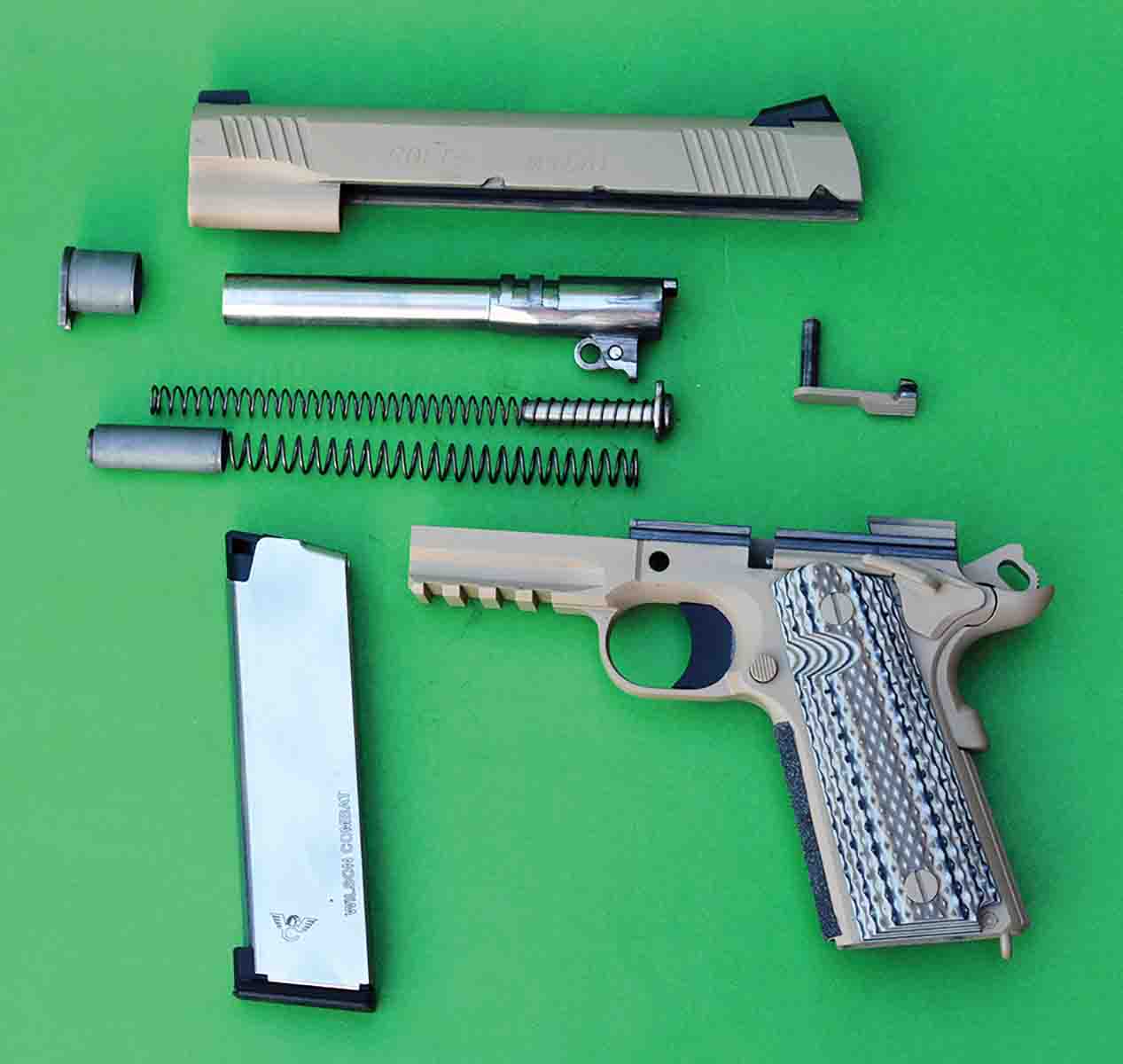 Moving on to a few select handloads, the Colt M45A1 again proved accurate. A couple of examples included the Hornady 200-grain FMJ-C/T bullet pushed to 966 feet per second (fps) using 5.5 grains of Hodgdon Titegroup powder, ignited with a Federal 150 primer and assembled in Starline cases that produced a three-group average of 1.55 inches. Another notable handload included the Nosler Sporting Handgun 230-grain JHP bullet pushed to 902 fps using Alliant BE-86 powder, which grouped into 1.50 inches (with accuracy figures being rounded). Naturally, I was very pleased with the accuracy of the Colt M45A1 that easily exceeded specifications.
The Model 1911 remains hugely popular worldwide and is considered by many professionals as a state of the art pistol for combat and self-defense purposes.
But it also serves well for target work, speed-shooting competitions and old-fashioned recreational plinking. It points naturally, boasts of a short trigger reset that aids with fast and accurate follow-up shots and its primary cartridge, the .45 ACP, is battle proven, powerful and versatile, but is also easily managed by most shooters. High-quality pistols boast of many additional attributes including high reliability, accuracy and excellent trigger pulls. The new Colt M45A1 functioned perfectly with a variety of factory loads and handloads. It is accurate, reliable and a truly remarkable and outstanding off-the-shelf pistol that is battle worthy and ready to go right out of the box.