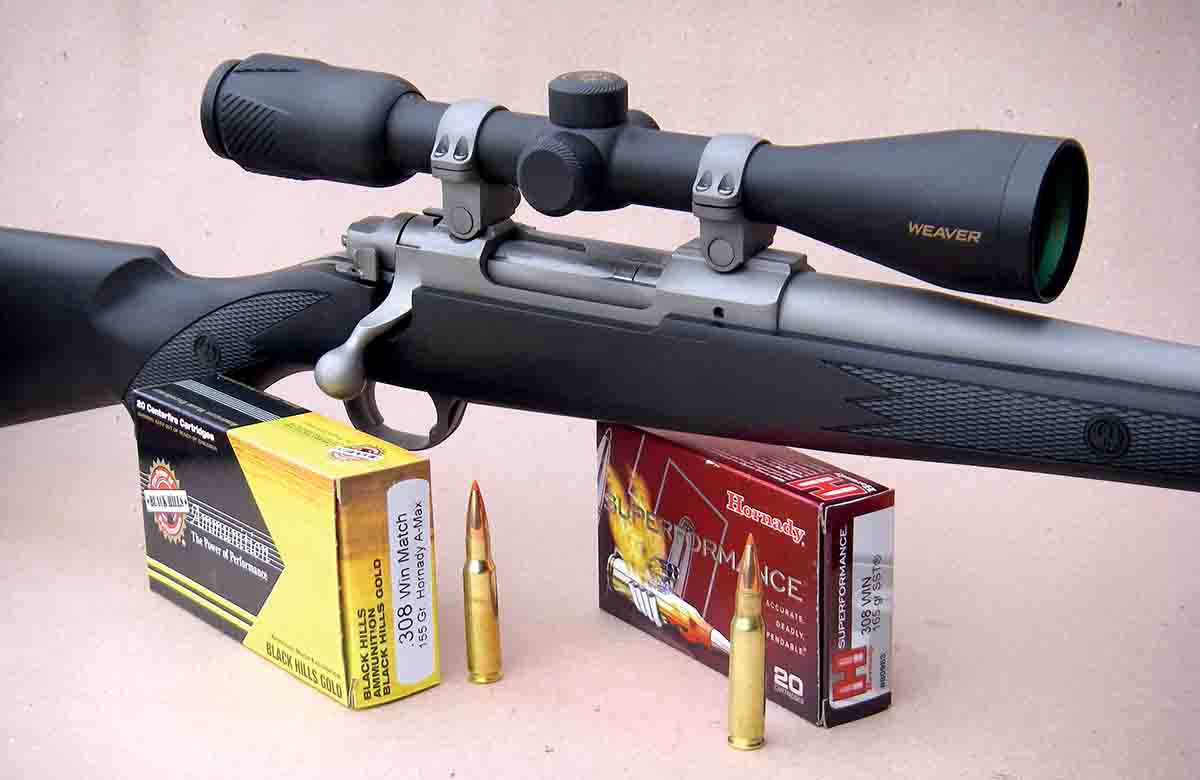 The .308 Winchester was introduced in 1952 in the Model 70 bolt-action rifle, with the Model 88 lever-action and Model 100 autoloading rifles offered in 1955 and 1961, respectively. The case was based on the .30-06 with the shoulder set back and cut from 2.494 to 2.015 inches, and maximum overall cartridge length was reduced from 3.340 to 2.810 inches. (However, some sources show the parent case as the .300 Savage.) Although it would be in the post '64 years that Winchester finally began offering a bolt-action rifle with a true short-action receiver, competing companies, including Remington, Sako and others, quickly responded. This resulted in a notably lighter rifle with shorter bolt travel, both of which appealed to many shooters.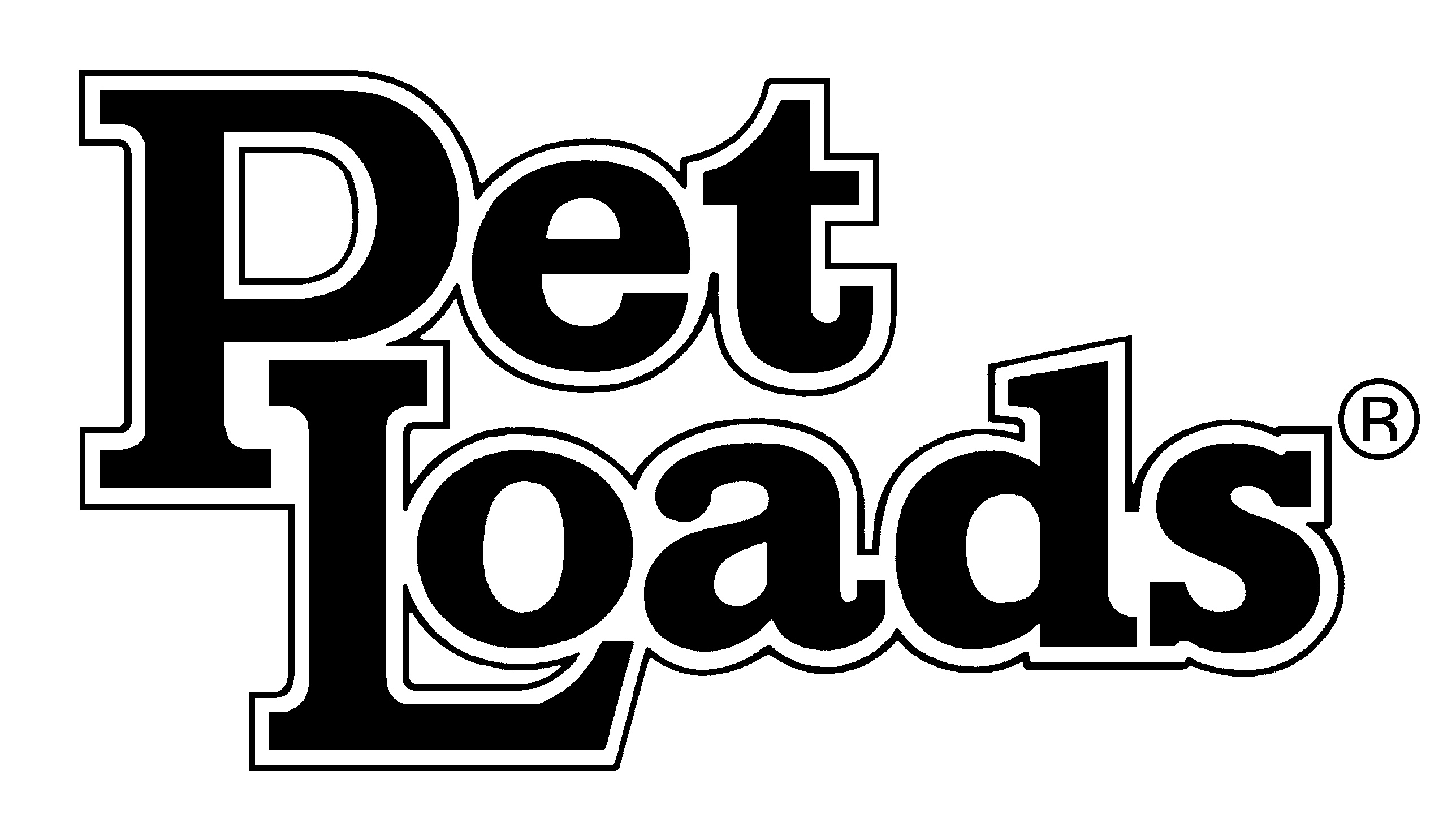 It is only speculation that the cartridge was initially well received by shooters and hunters and would have become popular on its own merits, but in 1954 the U.S. military officially adopted the 7.62x51mm NATO cartridge that is essentially the same as the .308 (but not identical). Military adoption has historically proven to popularize cartridges among civilians, which certainly proved true with the .308. Today, 66 years later, the .308 Winchester's extreme global popularity remains, which is understandable as it offers many virtues.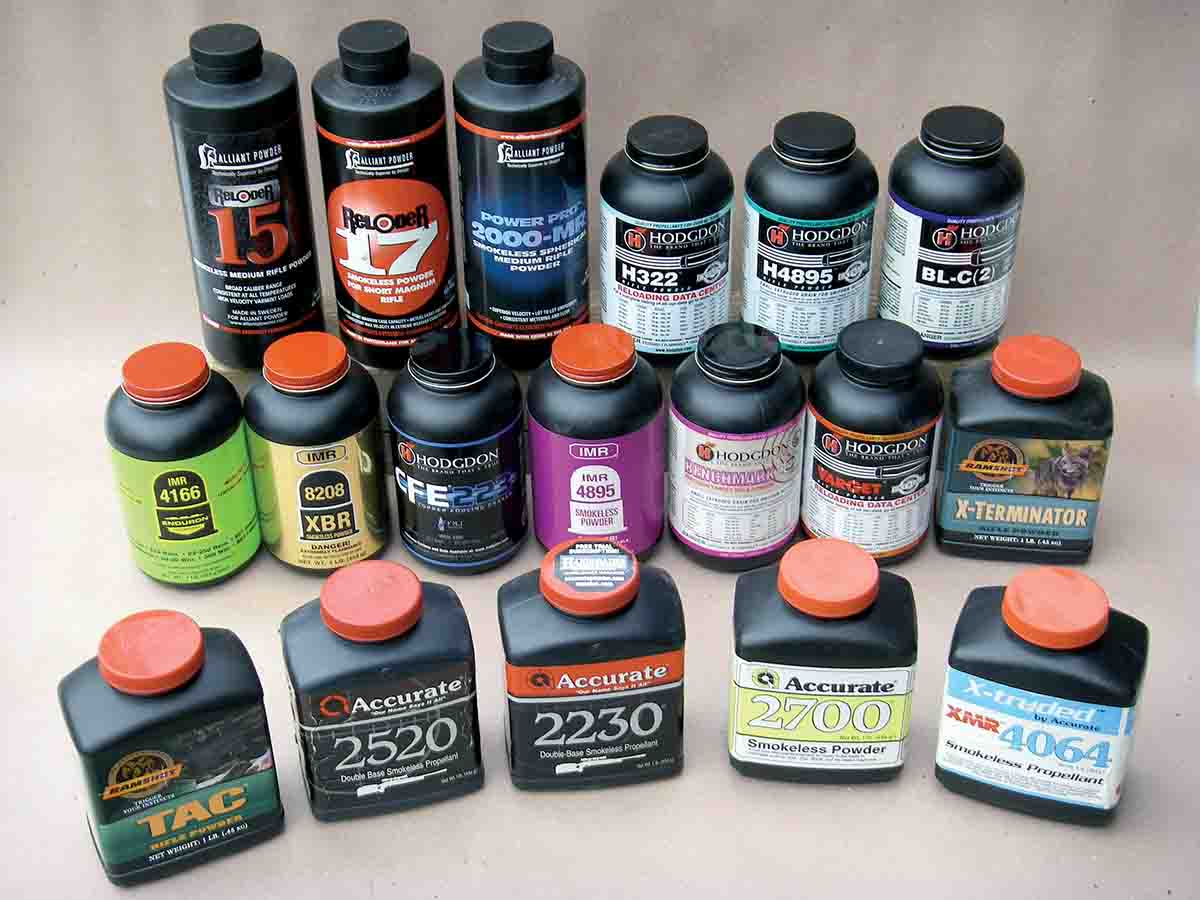 Early factory loads were advertised with 110-grain bullets at 3,340 fps, 150s at 2,860 fps, 180s at 2,610 fps and 200-grain bullets at 2,450 fps. However, those velocities are generally listed today with a more realistic 150 at 2,820 fps, 165 at 2,700 fps and 180 at 2,620 fps from 24-inch barrels. There are several additional bullet weights that are loaded specifically to better optimize performance. In spite of dealing with notably less powder capacity (54.5 grains of water on average for the .308 compared to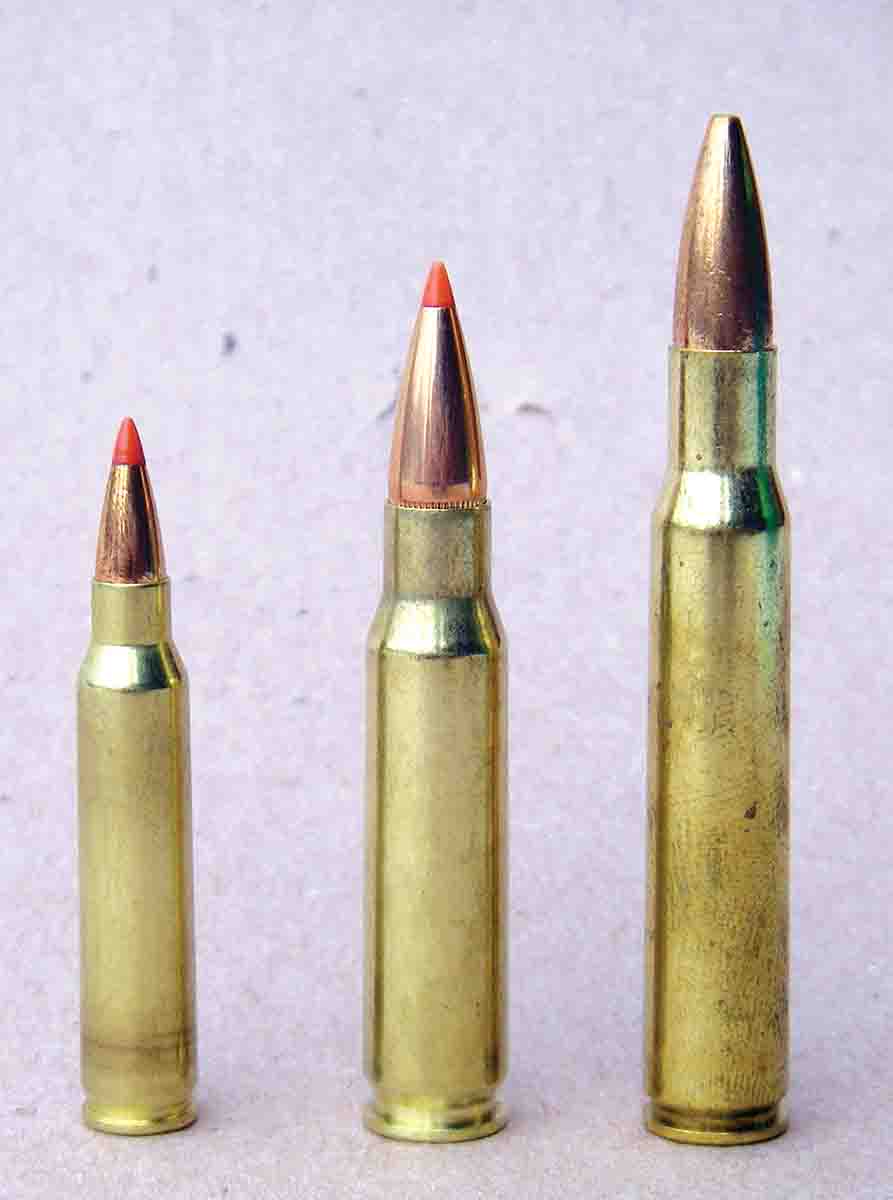 nearly 68.0 grains for the .30-06), Winchester engineers specifically worked to develop loads that nearly duplicated the ever-popular 150-grain bullet in the .30-06 (currently listed at 2,910 fps). As listed in most current ballistic charts, the .308 is within 90 fps of that classic .30-06 load, which in practical terms is a negligible difference in the field. This level of performance was accomplished by carefully selecting the correct Ball powder and by bumping chamber pressures, listed today at 62,000 psi maximum, but was formerly 52,000 CUP using the old copper crusher pressure measurement method.
A significant virtue of the .308 Winchester is its outstanding accuracy. It has established an excellent reputation among match competitors and is often used in 1,000-yard competition. It offers unusually low extreme velocity spreads with any reasonable load. When developing the accompanying load data, shot strings often displayed extreme spreads that were below 20 fps, and many of the better loads were less than 10 fps. Some of this is certainly due to the cartridge's design and comparatively short powder column; however, it is also due to the extensive selection of outstanding powders engineered specifically to give optimal performance in the .308. Thirty-caliber bullet selection is huge and includes versions designed for match target work, varmint and big-game hunting. This broad selection of components required that the accompanying data be limited to the development of hunting ammunition.
It is noteworthy that the .308 Winchester is the parent case for the .243 Winchester, .260 Remington, 7mm-08 Remington, .338 Federal, .358 Winchester and a host of wildcats. With a rim added and loaded with flatpoint bullets, it becomes the .307 Winchester; with that case necked up to accept .358-inch bullets, it becomes the .356 Winchester, both designed specifically for leverguns. But its "short-action" influence has inspired many additional cartridge designs, including the popular short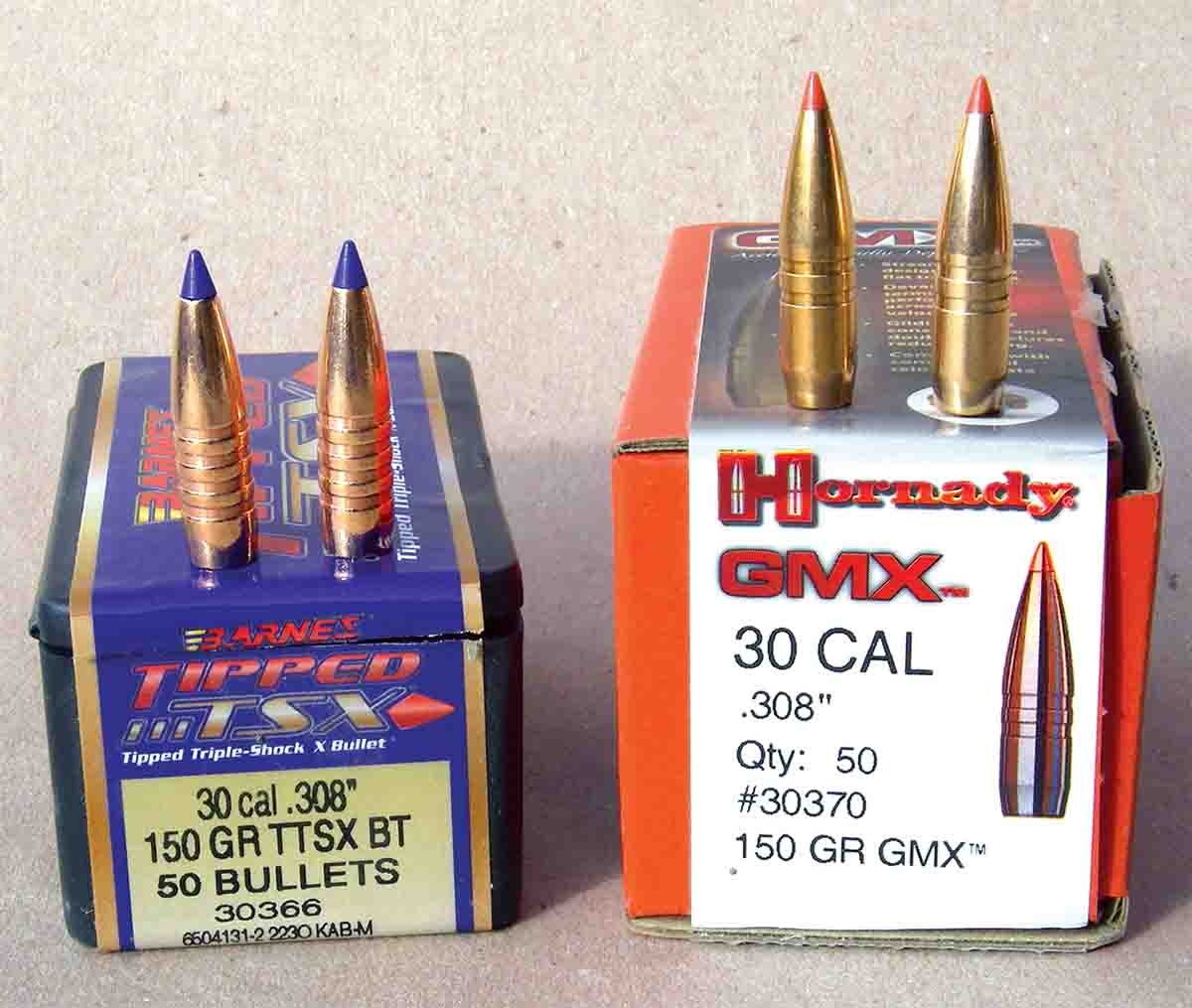 magnums.
For the record, the T65 was an experimental military cartridge designed to replace the .30-06, with development beginning shortly after World War II. This would officially become the 7.62x51mm (aka 7.62 NATO) in 1954. While it is not identical to the .308 Winchester, according to the Sporting Arms and Ammunition Manufacturers' Institute (SAAMI), it can be used in sporting rifles chambered for .308 Winchester.
In checking water capacity of many commercial .308 Winchester cases, variances were significant. PMC cases held the least, at 53.1 grains, while Winchester held the most at 56.1 grains. For the purposes of this article, Hornady Match and NoslerCustom cases were chosen that had a capacity of 55.9 and 56.0 grains, respectively. Additional tests showed there were practically no ballistic or pressure changes when a given load was fired in each of these two cases. Hornady cases were used for developing all load data with bullets ranging in weight from 100 to 165 grains. Loads fired with 168- to 200-grain bullets were done in conjunction with NoslerCustom cases. It should be noted that with a 3.0-grain case capacity variance, not to mention case construction and material variances from one brand to the next, velocities and pressures will change accordingly. It is best to obtain one lot number of cases to help eliminate that variable.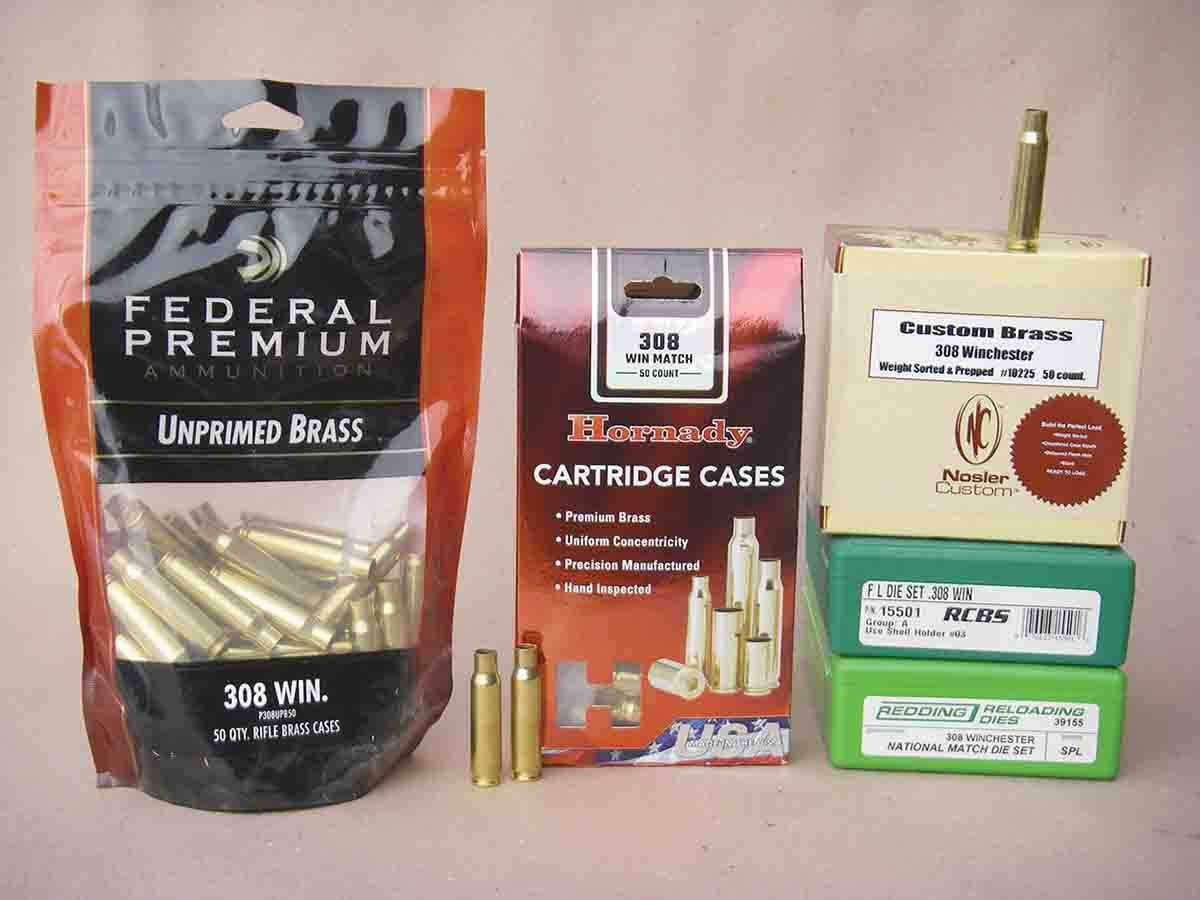 It seems important to mention that the empty case weight of more than 10 different brands varied by 28.1 grains, but again the water capacity variance was only 3.0 grains. This is mentioned to emphasize that not all cases are of the same strength. Brass recipes consist of a blend of copper and zinc but also contain varying amounts of lead, phosphorus, aluminum, magnesium, silicon, arsenic and other materials. Case manufacturing methods and annealing processes will also affect how they perform. As a result, some cases will show signs of pressure earlier (usually sticking in the chamber) than cases that have a harder or tougher blend of metals.
The .308 Winchester has been chambered in a variety of action types, including the previously mentioned bolt action, lever, pump, semiautomatic and single shots (typically in falling block persuasion). Die selection may be influenced by which rifle or ammunition will be used. For example, standard full-length sizing dies are favored for general use in bolt-action rifles, especially if ammunition is to be used in multiple rifles. Some shooters prefer using a neck sizing die when ammunition is to be used in a single bolt-action or single-shot rifle. The advantage is these dies often yield better accuracy and usually result in longer case life; however, loaded cartridges usually have some slight resistance when being chambered. When handloading for pump action, autoloading or lever-action rifles, a full-length sizing die can work fine, but using a small-base sizer die is generally recommended to assure correct (and easy) chambering of cartridges. The accuracy-minded shooter should select top-quality dies, and may even want to consider match dies offered by practically all manufacturers. By taking all the necessary steps to make uniform cases and primer flash holes, precisely charge powder and achieve coaxial bullet seating, which can be checked with a gauging tool, the .308 has the potential to produce excellent accuracy in hunting weight rifles.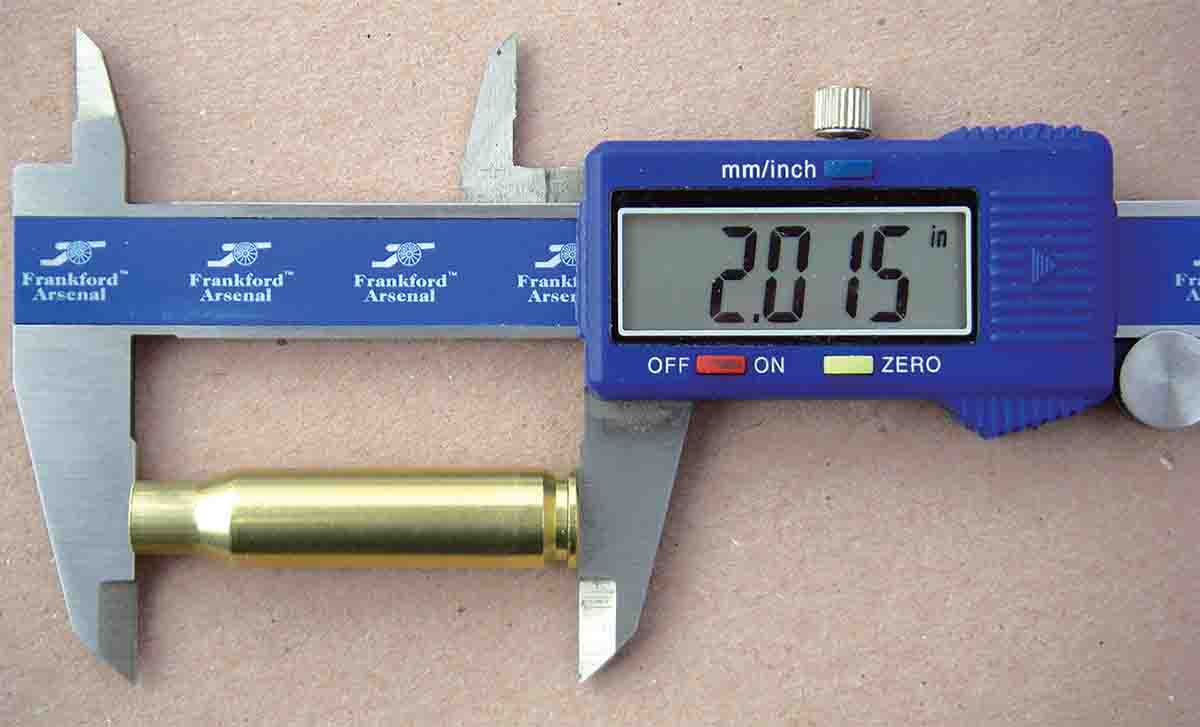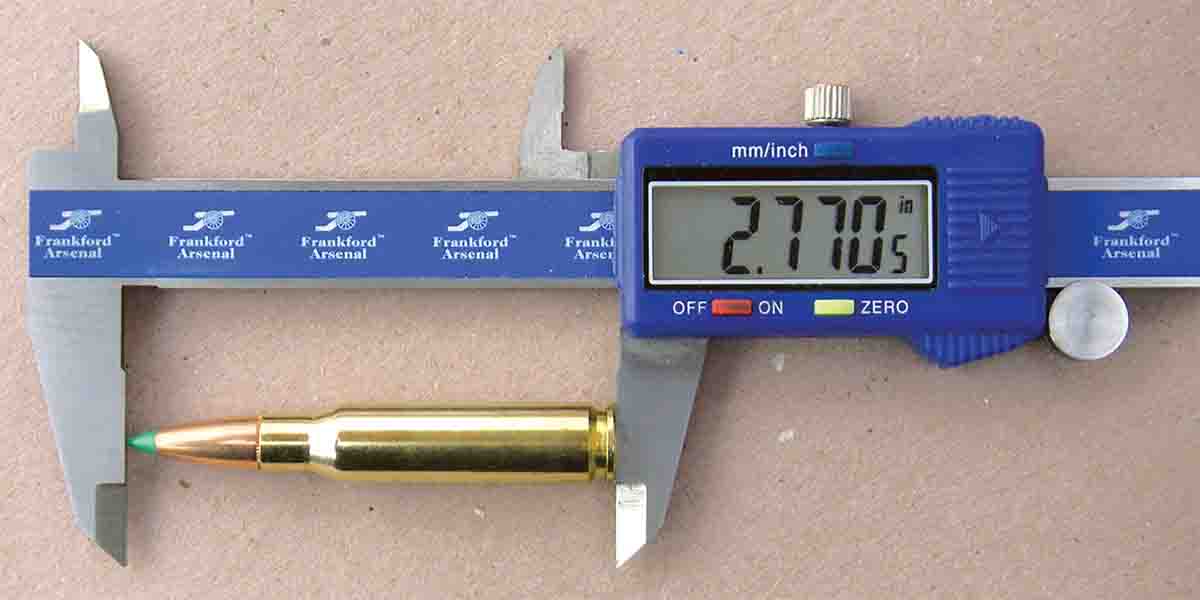 Because of the similarities between the .308 and the 7.62x51mm cartridges, there has been some confusion as to primer choice. For example, the 7.62x51 is loaded with a large rifle magnum primer, such as the CCI No. 34. Some of the reasoning for using this comparatively hot primer includes reliable ignition with spherical powders under all temperature extremes. They also feature a thicker cup and a specially angled anvil to help prevent slam fires associated with certain rifles, such as the M1A/M14. Even in sporting rifles, some reloading manuals recommend magnum primers with certain spherical powders to assure reliable ignition.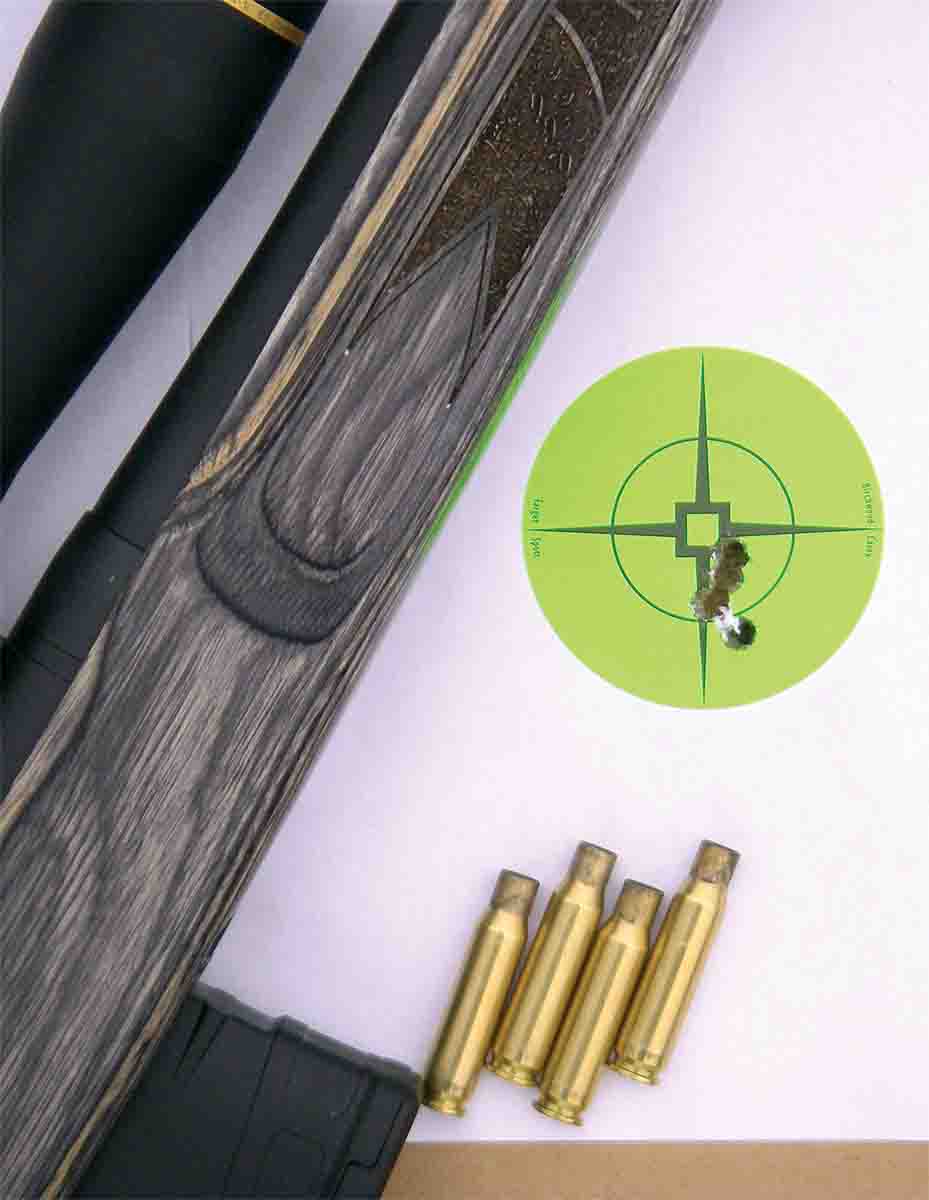 I have conducted fairly detailed experiments regarding primer choice in the .308 Winchester.For example, by using a Sierra 165-grain spitzer boat-tail bullet with 48.3 grains of Hodgdon CFE 223 powder and a Federal Gold Medal 210M primer, velocity was 2,827 fps and extreme spread was 17 fps. Using the identical load, but ignited with the Federal Gold Medal 215M Magnum primers, the velocity actually decreased by 41 fps to 2,786 fps, while the extreme spread remained similar at 14 fps. However, chamber pressures increased by 3,100 psi, actually exceeding SAAMI guidelines.
Switching to Hodgdon Varget (an extruded powder) and using a charge weight of 46.0 grains, several primers were tried, including the CCI BR-2, Remington 9½, Winchester Large Rifle and the previously mentioned Federal Gold Medal 210M and 215M.
Average velocities from each of those loads were recorded at 2,758, 2,761, 2,765, 2,741 and 2,765 fps, respectively, while extreme velocity spreads were 29, 16, 22, 14 and 8 fps. While there was no huge velocity difference produced by each primer (24 fps at most), all the standard large rifle primers generated less than 60,000 psi pressure, while the Federal 215M Large Rifle Magnum primer increased pressure to more than 63,000 psi, which again exceeds industry standards.
In the accompanying data only a few loads exceeded a 50-grain charge weight, and were mostly loaded in conjunction with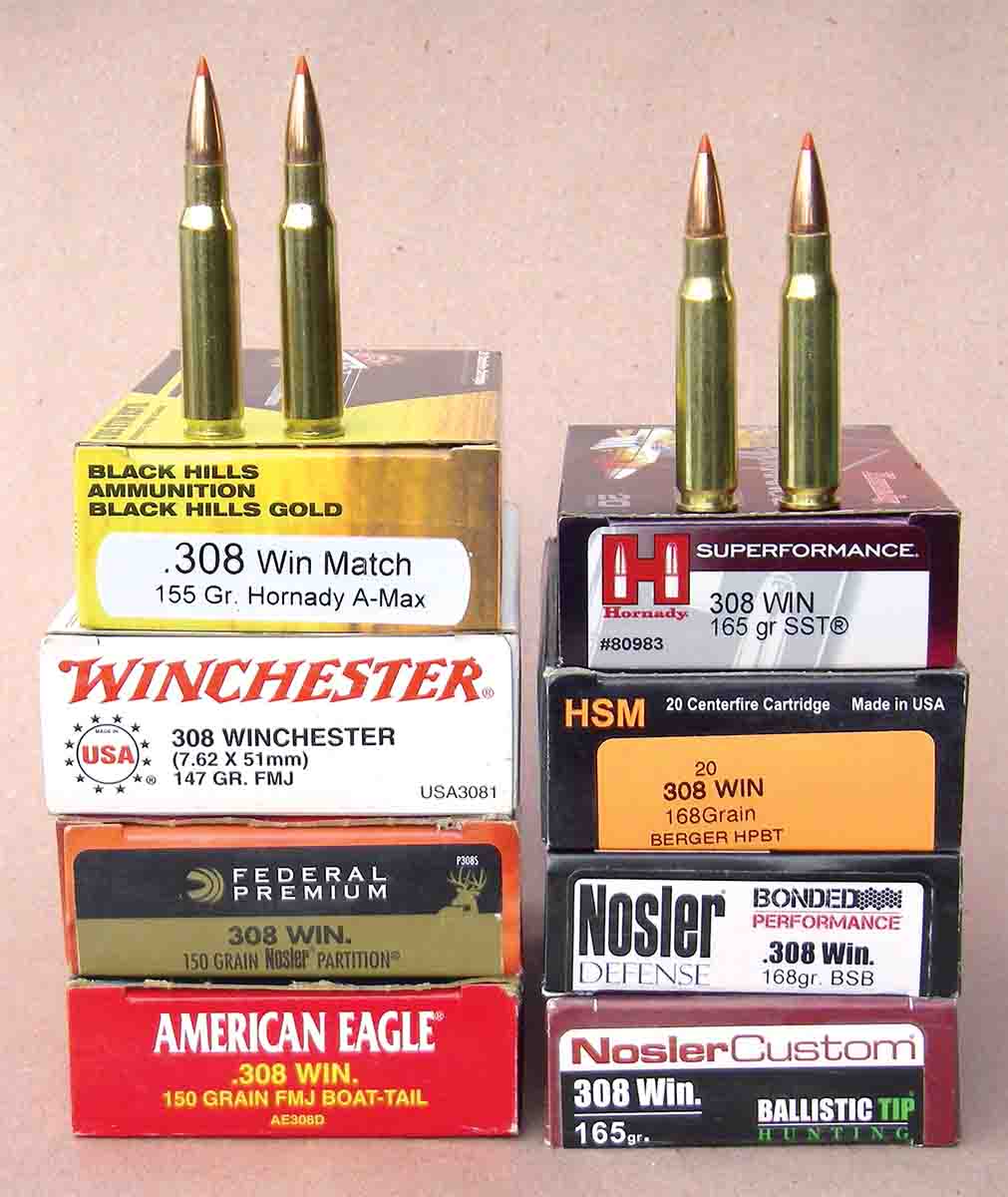 lightweight bullets. However, most powder charges were between 40.0 and 50.0 grains. Unless a powder is truly difficult to ignite, the .308's modest powder volume does not require a magnum primer to achieve correct ignition. Neither did I experience any poor ignition with any of the accompanying load data, which was developed using Winchester Large Rifle primers. Perhaps if a hunter were in subzero temperatures and using spherical powder loads containing 100- to 150-grain bullets, a magnum primer might prove beneficial. Switching to a magnum primer will increase chamber pressures, so powder charges should be adjusted accordingly.
While I had many rifles at my disposal, with barrel lengths ranging from 16.5 to 30 inches, this data was obtained using a Ruger M77 Hawkeye stainless. Reasons for choosing it included its respectable accuracy that was often sub-MOA, a 22-inch barrel that is more or less an "average" length and is popular among hunters, top-rated gas protection and durability, which was required for the high volume of shooting associated with the preparation of data.
A new Weaver Grand Slam 3-12x 42mm (1-inch main tube) variable scope was installed. This scope has recently been improved and upgraded, and it performed flawlessly throughout many shooting sessions. A few of its features include a one-piece main tube, multicoated lenses, argon purged tubes, it is waterproof, fogproof and features a precision Micro-trac adjustment system, .25-MOA finger-click adjustments, a fast-focus eyepiece and matte finish. This quality hunting scope offers good optical clarity.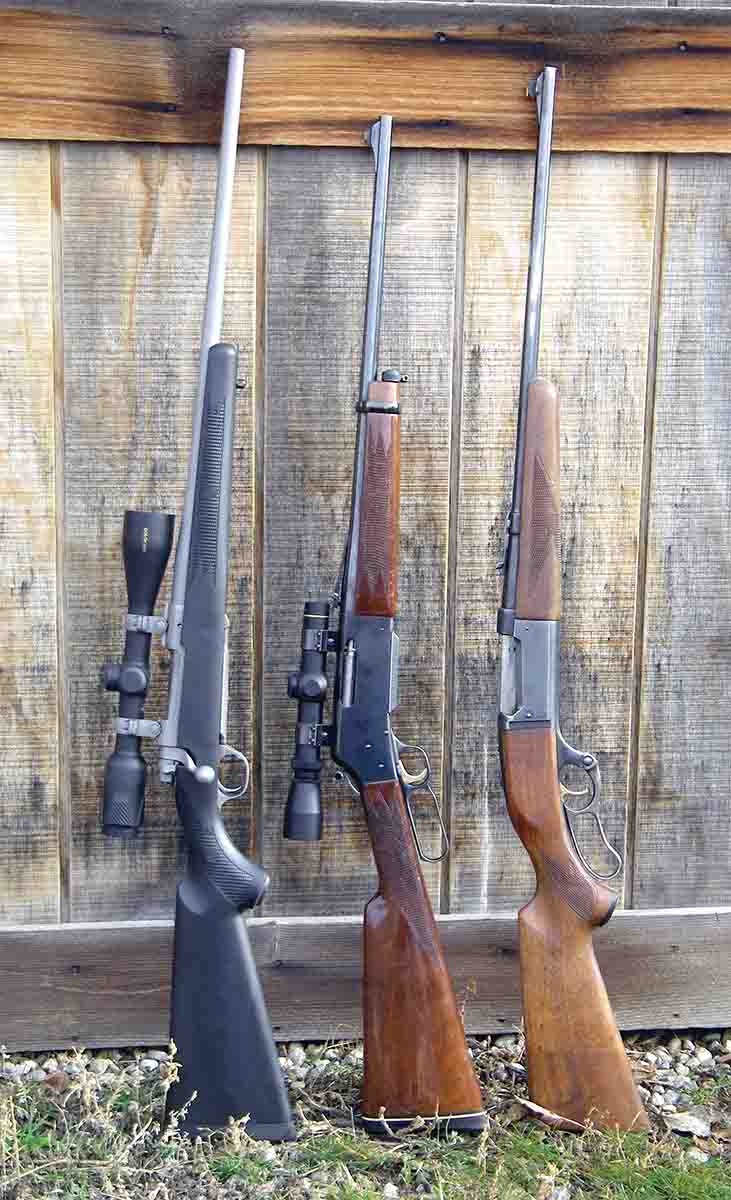 In referencing and evaluating a variety of factory loads, most were well below the industry maximum average pressure of 62,000 psi. This is certainly understandable, as not all production rifles are built to the same specifications, and some will produce higher pressures than a test barrel, and this ammunition must work smoothly in all action types, including pump and lever action, both of which have less camming power than bolt guns and generally work best with loads below maximum. Furthermore, ammunition companies have no control over how cartridges are stored, such as rattling around on a pickup's dashboard during summer heat, which will almost always raise pressures when fired. Nonetheless, most loads approached advertised velocity figures established from 24-inch test barrels when fired from the Ruger M77 Hawkeye's 22-inch barrel.
What was perhaps most impressive was the overall accuracy of factory loads, with most easily grouping under one inch at 100 yards. The three most accurate loads included Hornady 165-grain SST Superformance, Nosler 165-grain Ballistic Tip and Black Hills 155-grain Hornady A-MAX.
As indicated, there is a huge selection of top-notch extruded and spherical powders that have been designed primarily for the .308/7.62 NATO cartridges. Some are designed for match-winning performance, others with the hunter in mind, while select spherical powders were designed for combat in semiautomatic and automatic rifles but also serve well in sporting applications. It seems almost difficult to develop a handload that doesn't perform well. With that said, notable powders that received top marks in accuracy include Hodgdon Varget, Benchmark, CFE 223, H-4895, BL-C(2), H-322, IMR-4895, Winchester 748, 8208-XBR, Accurate A-2015, A-2460, A-2495, A-2520, A-2230, Norma 203-B, Alliant RL-15, RL-17, Power Pro 2000-MR, Ramshot X-Terminator, TAC and Vihtavuori N150.
It is always recommended to begin with "start" loads and work up carefully to maximum charges while carefully watching for signs of excess pressure. The .308 Winchester can build pressures rather quickly, so this warning should not be taken lightly. A load that exhibits completely normal pressures, or pressures that are within industry guidelines, can jump quickly above recommended levels with the addition of just one or 2 grains of powder (or by switching case brands or even lot numbers). I have also seen powder lot numbers vary enough to bump pressures to undesirable levels. Again, approach maximum loads with caution. It is also noteworthy when using spherical powders to not further reduce the "start" loads, or erratic ignition and strange pressures can occur.
Some of the accompanying maximum loads generate pressures that exceed most (but not all) factory loads; however, they are within industry maximum average pressure guidelines. While these loads worked flawlessly in the Ruger Hawkeye, they may give some leverguns, such as the Savage Model 99, Winchester Model 88, some Browning BLR variants and pump-action Remington Models 760 and 7600 some difficulties. It is not so much an issue of strength or safety but rather function. A fired case that is easily leveraged and extracted by a bolt-action rifle may give some resistance when being pulled from the chamber with the straight pull-style extractor of the Savage Model 99, and possibly the other actions mentioned. With this thought in mind, loads that are just below maximum, like most factory loads, should be considered as a stopping point for these rifles.

There is a reasonable selection of .30-caliber varmint bullets, which adds versatility to the cartridge. A few lightweight examples that can reach around 3,300 fps include the Nosler 110-grain Varmageddon, Hornady 110-grain V-MAX. Moving up in weight, the Nosler 125-grain Ballistic Tip, 125-grain Sierra SPT, Hornady 125-grain SST and Speer 125-grain HP TNT give spectacular results on prairie dogs and coyotes and can reach 3,200 fps.
The number of solid expanding hunting bullets continues to grow. Most notable is the Barnes Tipped Triple Shock X-Bullet, but there are several good examples, including the Hornady GMX that produced .5-inch groups in the test rifle. The Cutting Edge Raptors tested in 100-, 130- and 150-grain weights proved accurate and are gaining a good reputation among hunters. Data developed with the above bullets should not be interchanged with more conventional cup-and-core designs, and in most instances with each other, as they each generate different pressure levels.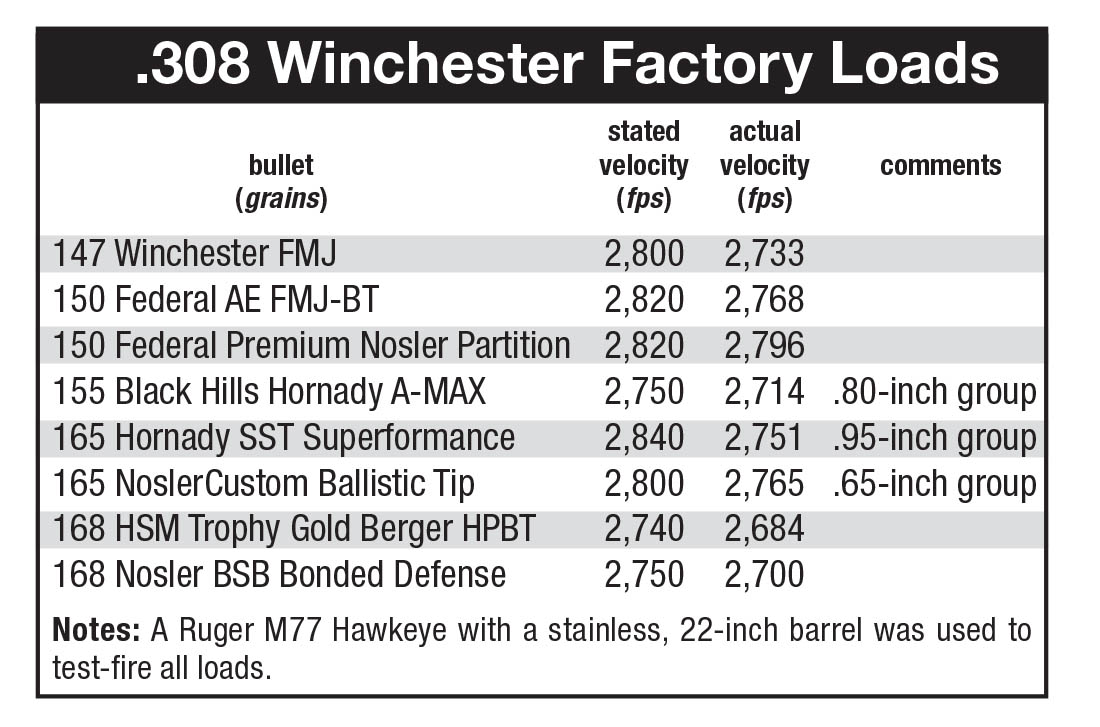 The above comments also apply to cup-and-core bullet designs, as their construction, bearing surface and seating depth varies enough to change pressures of a given powder charge. Anytime a bullet is substituted, begin with start loads and work up carefully.
The number of premium lead core hunting bullets is nearly endless. Hunters can literally choose the type of performance they want. For example, Nosler offers the Partition, AccuBond and Ballistic Tip in a variety of weights, each with a distinctly different type of terminal performance. Hornady offers the Super Shock Tipped (SST), the bonded InterBond, the long-range ELD-X and traditional lead-tipped InterLock bullets that are comparatively inexpensive and still work very well. Swift offers the Scirocco II and A-Frame with two distinctly different types of performance, while Sierra and Speer offer more traditional cup-and-core lead tipped bullets that are suitable for the distances that the majority of big game is shot.
The .308 Winchester is an American classic that offers versatility. A broad selection of bullets, powders and precision cases allow handloaders to assemble ammunition that is better in every respect than at any time in its 66-year history.