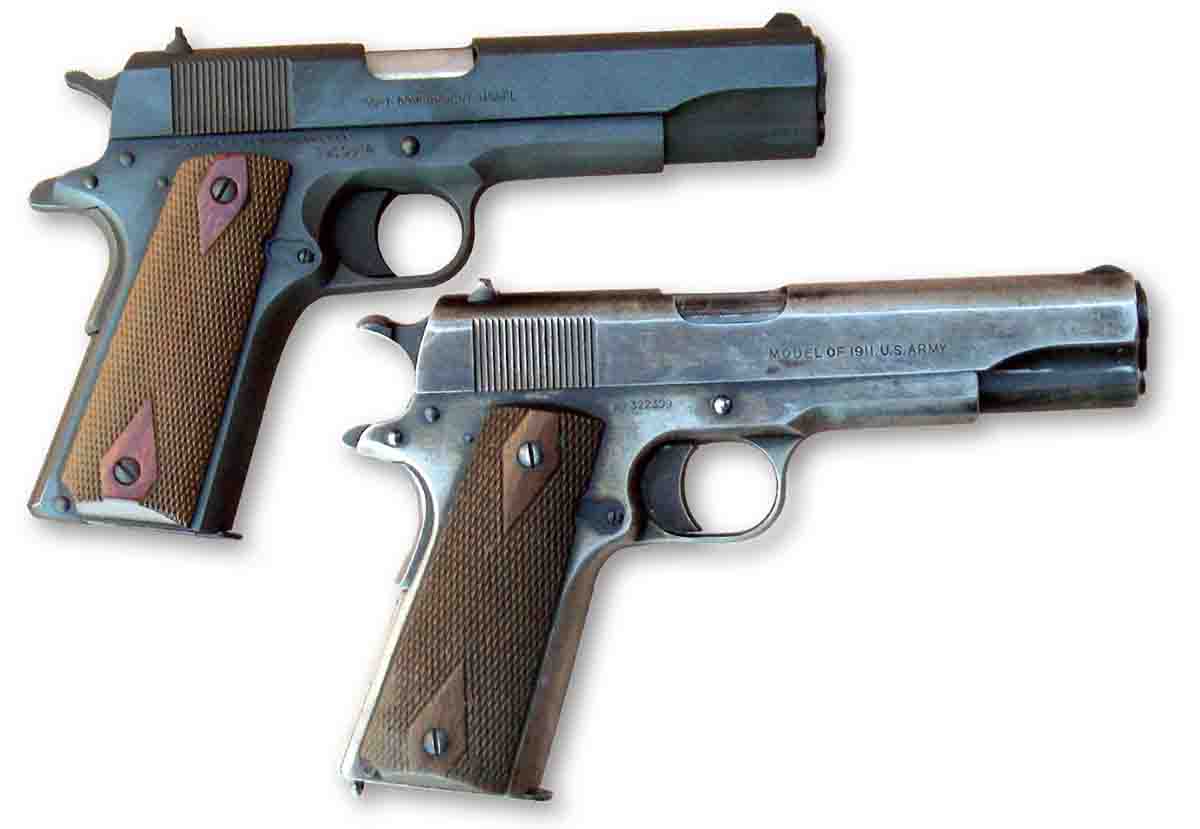 During the 1890s the U.S. military began searching for a new handgun to replace the battle-proven Colt Single Action Army .45 Colt revolver. While the Colt Model 1892 .38 Long Colt revolver was adopted in 1892, it proved inadequate in both reliability and power. The military recognized the possible advantages with autoloading designs and tested samples of the Mauser C96 "Broomhandle," Mannlicher M1894 and Colt M1900 that all failed in one way or another.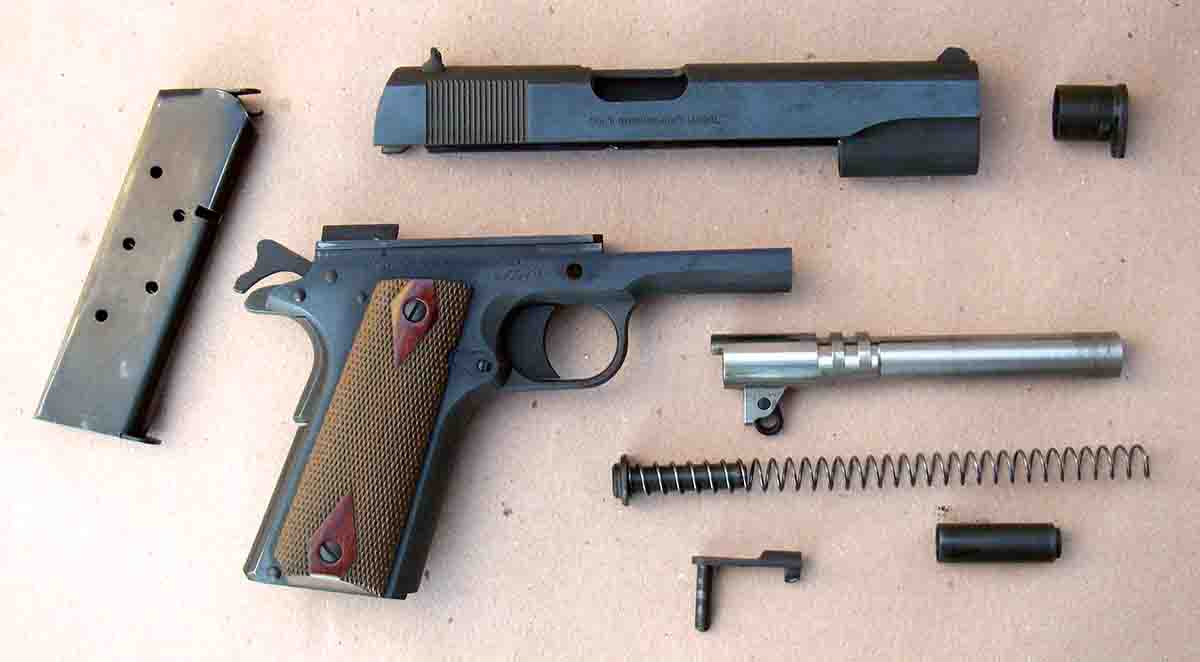 Prolific firearms designer John Browning began working on a design that would better meet the requests of the military, which lead to the Model 1905 .45-caliber pistol. The military liked this version but wanted further safeties and improvements, along with changing the bullet weight from 200 to 230 grains. Browning next developed a new pistol that was subjected to numerous torture tests in late 1910 (along with several other guns) and passed without any reported malfunctions, while Savage's pistol (the second runner-up) had 37 reported failures.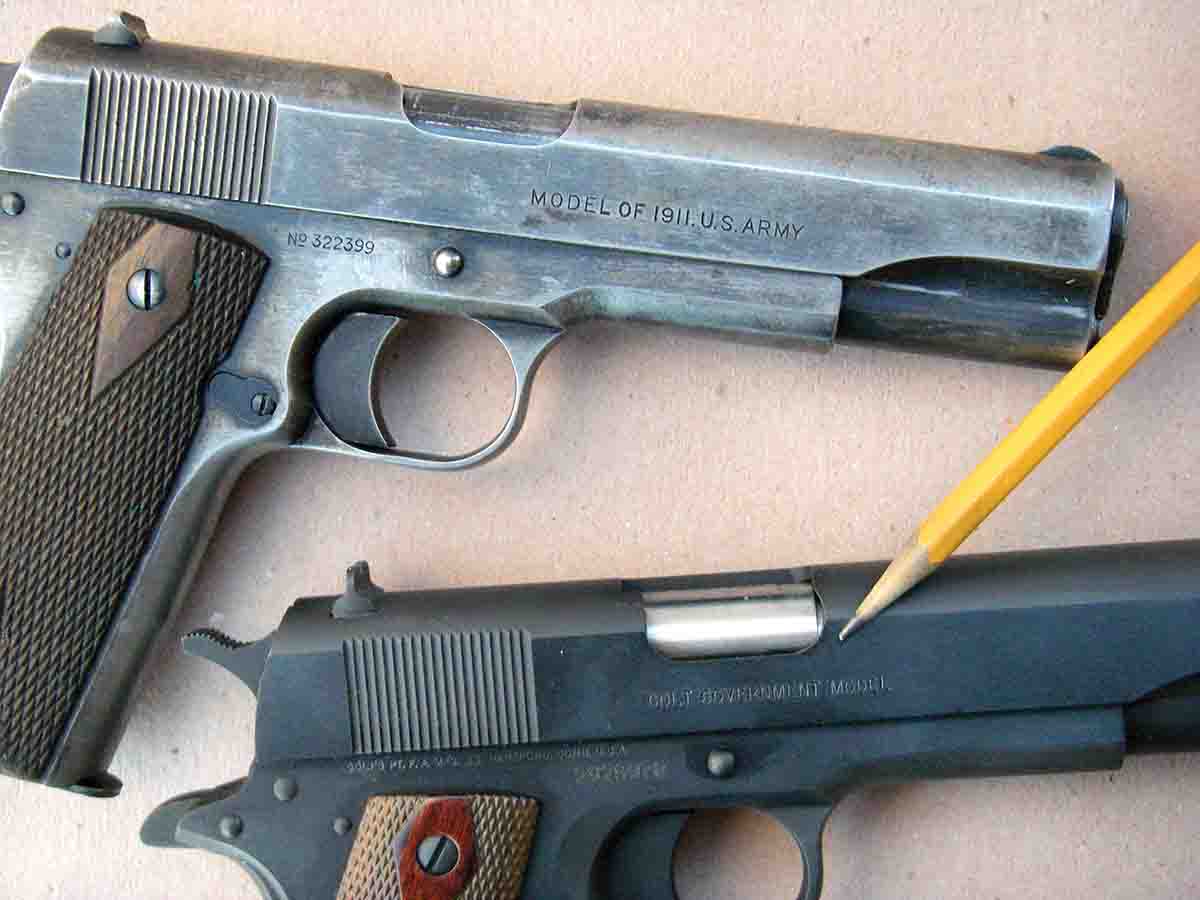 The new pistol was manufactured by Colt as the Model 1911 and was chambered in .45 Automatic Colt Pistol (ACP, aka .45 Auto). It was officially adopted by the U.S. military on March 29, 1911, and remained the official sidearm until 1986, when it was replaced by the Beretta M9 9mm pistol (part of U.S. conformance with NATO). However, many Special Operations Forces and other elite combat units still use a Model 1911 .45 ACP because it works so very well.
The Model 1911 served the U.S. extensively in World War I, World War II, the Korean War, Vietnam and many other wars and conflicts to date. It is also widely accepted within police circles, including the FBI. The versatility of the design has helped it find huge favor with various combat competitors (IPSC, IDPA, USPSA, etc.) and Bullseye "accuracy" matches, and has been used successfully for hunting. But its single most popular role has been for home and personal protection. Clearly it is a timeless design.
In addition to the original Colt, there have been countless manufacturers (including foreign manufacturers) that have produced Model 1911s for both military contracts and civilian use, which is a testament of its great popularity. A few notable U.S. companies include Wilson Combat, Les Baer, Ed Brown, Nighthawk Custom, Dan Wesson, Ruger, Kimber, Springfield Armory, STI International, Smith & Wesson, Remington and others.
The 1911 design is a recoil-operated, single-action pistol. As the cartridge is fired, the combustion pressures push the bullet down the barrel, while reverse thrust pushes the barrel and slide backward (which are briefly locked together at peak pressures) to cycle the action and eject the empty case. Upon closing from recoil spring pressure, the slide picks up a new cartridge from the magazine and chambers it, almost instantly making the pistol ready for the next shot.
One Model 1911 feature that has made it such a great speed-shooting gun (for competition and defensive purposes) is the short travel to reset the trigger between shots. In other words, there is minimal forward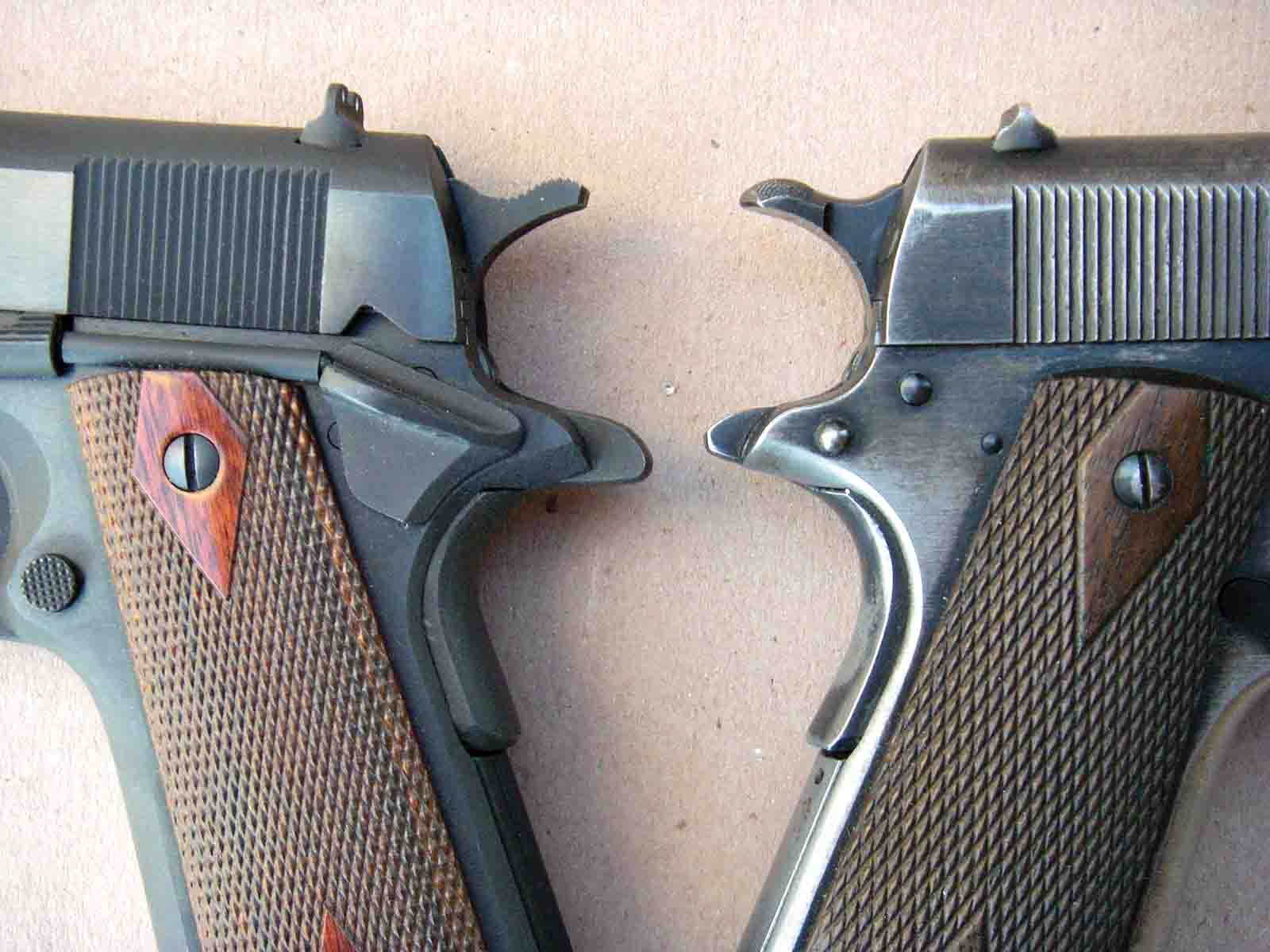 trigger-finger movement required to allow the trigger to reset, while the amount of trigger movement to fire the next shot is minimal and much less than many modern autoloading designs. This helps reduce the time between shots.
In the "cocked and locked" carry mode with the hammer at full cock and the slide safety in the "on" position, which is how Browning intended the 1911 to be carried, the 1911 is incredibly fast to get into action and is one of the reasons that it is a favorite of many professionals.
Not long after the Model 1911 was introduced, gunsmiths began "improving" it with better sights and tightened slide/frame and barrel relationship to improve accuracy, lightened trigger pulls, lowered ejection ports to increase reliability and made other modifications. These trends have continued over the past 100 years.By the 1960s and 1970s, grip safeties were installed that resulted in a higher grip (commonly known as beavertail or duck tail), and are generally considered better for speed shooting but also served to protect shooters with larger hands from being "bit" in the web of the hand when the slide cycles during recoil.
Today, most 1911 manufacturers offer guns with the above features as standard, making them a bargain compared to the cost of "building" a custom gun with all the same features. As odd as this may sound, there has been a trend from several manufacturers, including STI, Remington, Turnbull, USFA and others, to offer pistols with traditional features and appearance, which are reported to have strong sales. With that thought in mind, I decided to review the original "Colt's Government Model" as produced today.
While there has been little change in Colt's current Government Model from the original, there are a few items that should be noted. The sights are 3-dot white and larger for faster and more precise target acquisition. The grip safety is similar to the original (compared with a 1918-era pistol) but is slightly lower and extends farther back to help prevent the "bite" previously mentioned for shooters with larger hands.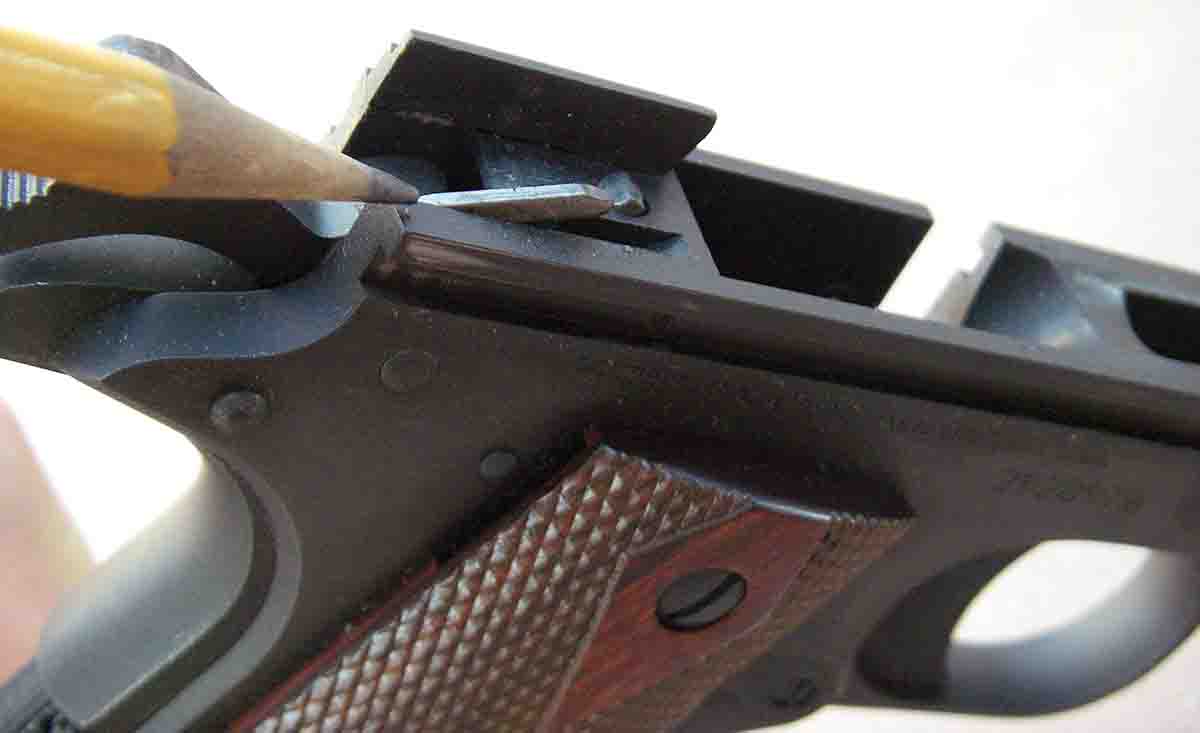 The ejection port is lowered, which helps cases clear the port more easily and generally improves reliability, but is not angled and dented cases accordingly. The slide safety is of the same profile as used on Colt's Government Models for the past several decades, but it is larger than the small originals and is easier to operate. In a similar profile as the originals, the trigger is extended and the mainspring housing is flat.
One notable internal departure includes the firing pin block safety, which was first offered in the Series 80 pistols. Incidentally, there are no markings to indicate that this is a Series 80 gun, however, the owner's manual indicates that it is, while the box refers to it as a "Model 0" and a "Model 01991." The firing pin block effectively prevents the pistol from firing if dropped on the muzzle with the slide safety in the "off" position. While there were heavy criticisms of this feature when it was first introduced (as most purists don't like change), it has been in production more than 30 years, and practically all manufacturers offer a similar device that has has generally proven reliable.
Overall machining is good; better than I have seen from Colt the past couple of decades. The bore shows an especially smooth finish and is straight, while the chamber is standard, offering the most reliable chambering rather than the tighter tolerances associated with a match chamber. The slide/frame and barrel fit is snug but not overly tight. The trigger broke crisply at 5 pounds, 1 ounce.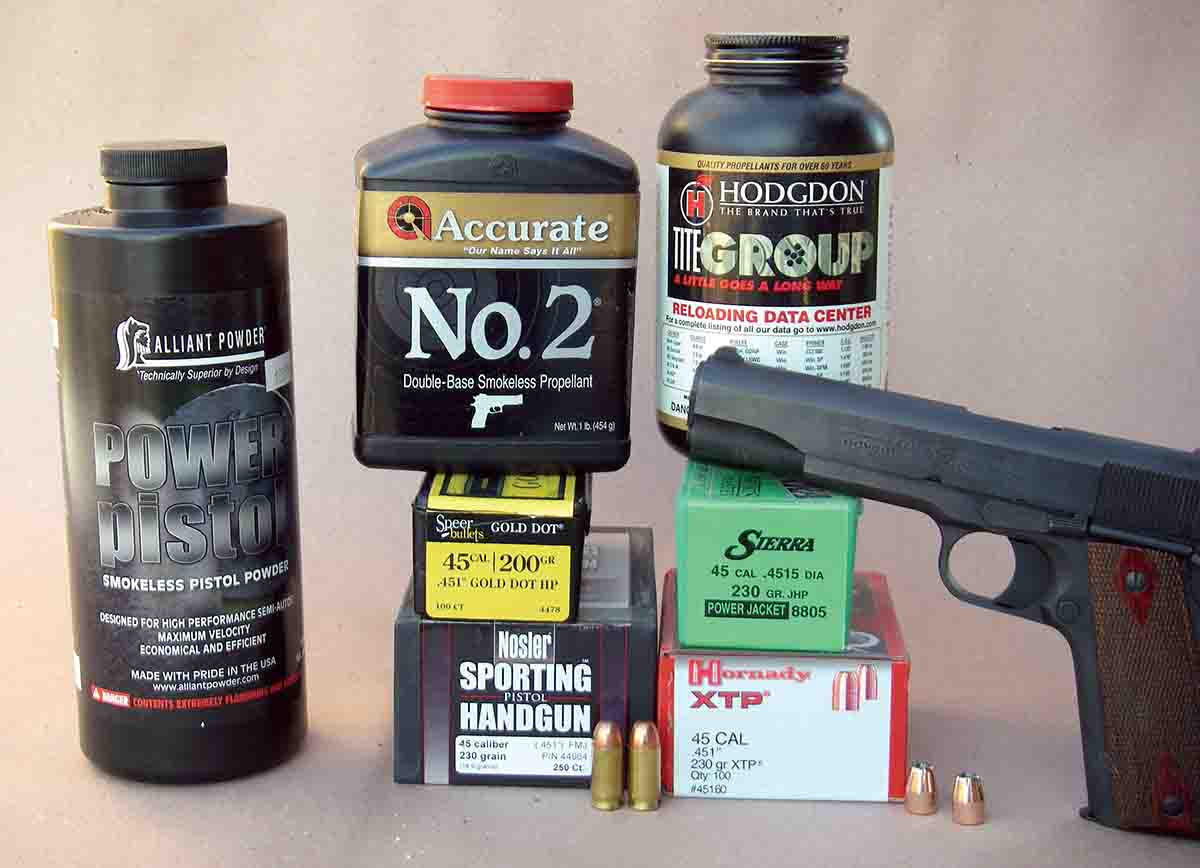 Several .45 ACP factory loads were selected to evaluate function and accuracy. With the aid of a sandbag rest, Black Hills' Speer Gold Dot 230-grain JHP load placed five shots into 1.65 inches at 25 yards; however, the average group size was 2.05 inches, which is more than satisfactory. Switching to the Hornady Critical Duty 220-grain FlexLock load, the average of three groups was an impressive 1.85 inches. Either load is an excellent choice for defense or hunting thin-skinned, deer-size game within resonable distances.
Several handloads were also tried. Two that gave notable performance included the Hornady 230-grain XTP bullet at 835 fps using 6.0 grains of Winchester 231 powder, and the Nosler 230-grain Sporting FMJ at 933 fps using 5.2 grains of Accurate Nitro 100 NF. Both loads were assembled in Starline cases and ignited with a CCI 300 primer. The average group size for both was between 1.75 to 1.80 inches, which is better accuracy than any unaltered Colt Government Model I have ever fired.
Generally, the best accuracy will show up as a pistol wears in, which usually requires at least 500 rounds. Although I did not fire that many rounds through this new Colt Government Model, I was still pleased with its accuracy. Considering that the design is well over 100 years old and is still the pistol of choice for many professional soldiers, lawmen, trainers and savvy shooters, it makes for a truly remarkable pistol. Colt's Government Model is still (thankfully) 100 percent manufactured in the U.S. and has an MSRP of $799, with street pricing being notably less.