The first rifle in 6.5 Shooting Times Westerner was built in 1998 by Ross Spagrud, owner of Prairie Gun Works of Canada. Like precision rifles being put together in his shop today, it had his Model 18Ti titanium action and was quite accurate. It weighed 6 pounds and had a Pac-Nor, 26-inch, 1:8 twist barrel measuring .640-inch at the muzzle.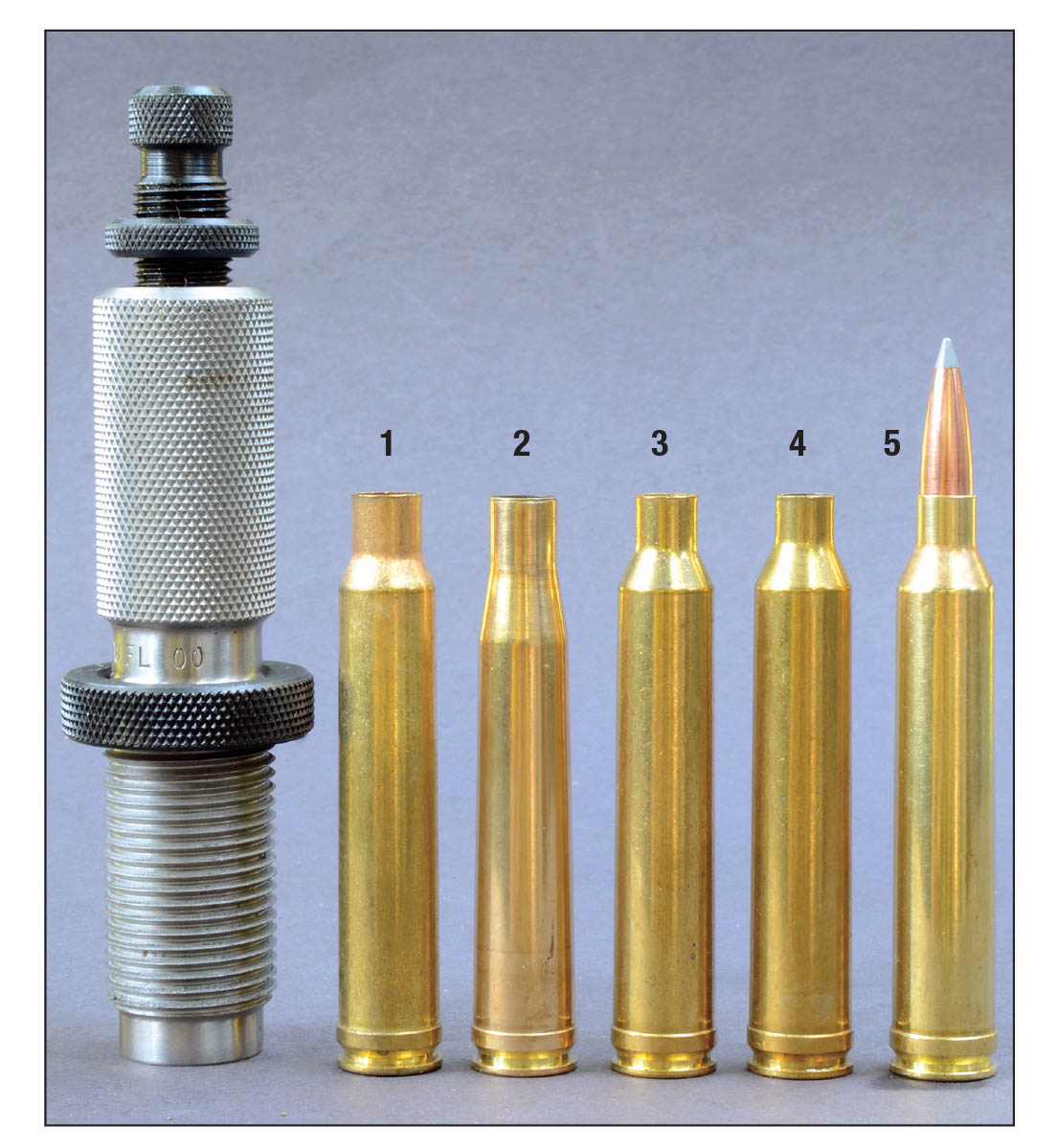 A very large Vancouver Island black bear was the first game taken with the new rifle. My handload consisted of a necked-down Federal 7mm STW case, Federal 215 primer, 88.0 grains of H-870 and a Nosler 140-grain Partition at 3,325 fps. Average accuracy was .687-inch groups at 100 yards. The year was 1999 and Bob Nosler was in the same camp, and after several days of glassing more huge bears than I thought existed anywhere on earth, we spotted the one I had traveled to Canada for.
We were being pounded by a frog-drowning rainstorm, and the hillside from which I was shooting prone was so steep and slippery I kept sliding downhill. When I squeezed one off, the bruin dropped dead where it stood and began rapidly tumbling downhill toward us like a big, black sack of Jello. Another hunter in camp later used the rifle and ammunition to bag two equally nice bears.
Sometime during the hunt, Nosler confided in me that his future plans included a rifle built by his company. He would also have his own line of loaded ammunition, and the 6.5 STW would be among the first to be produced. Nosler ammunition became available in 2004, and the very next year the Model 48 Custom Sporter made its debut. But the 6.5 STW was too long for its action, so the .26 Nosler was eventually developed instead.
The idea of necking down the full-length Holland & Holland belted case for .264-inch bullets did not originate on my loading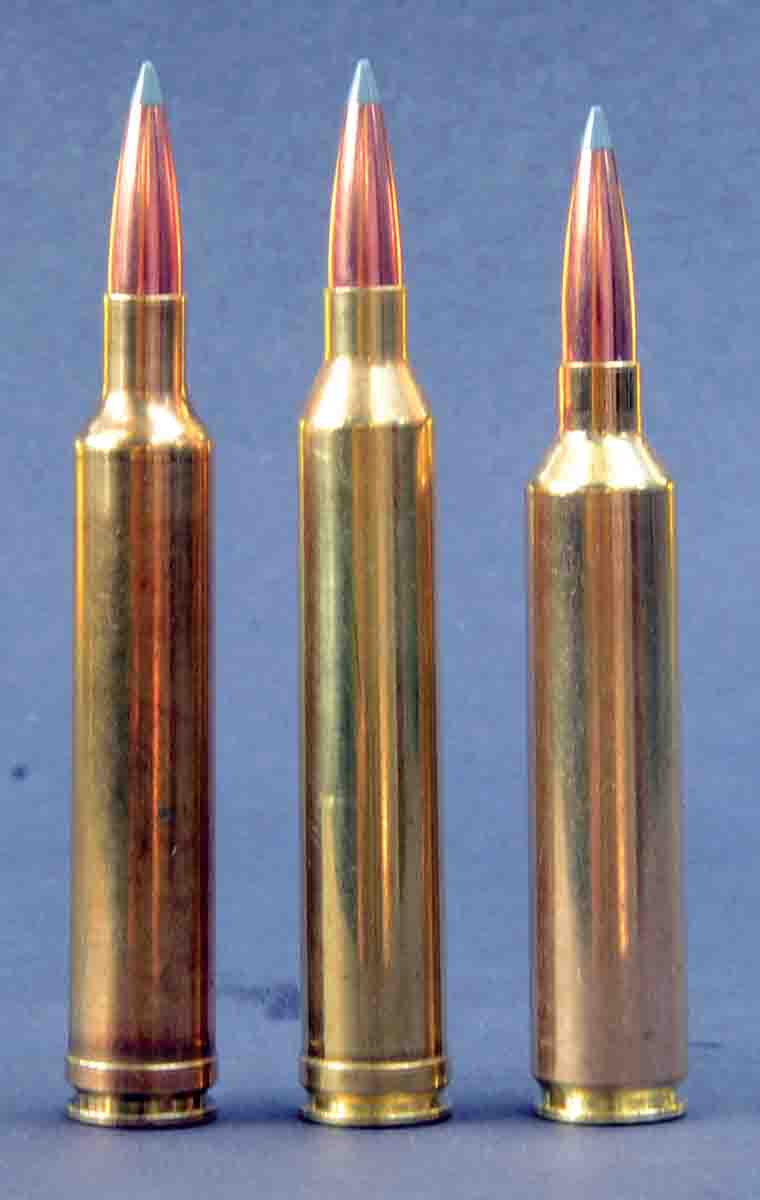 bench. Back in 1960, Colonel Paul Wright, retired, decided to come up with a cartridge for 1,000-yard competition that generated less recoil than various .30-caliber magnums dominating the sport at the time. He found what he was looking for by necking down the .300 Weatherby Magnum case for 6.5mm bullets with no other change. Muzzle velocities with a Norma 139-grain match bullet over a maximum charge of H-870 provided 3,375 fps from a 26-inch barrel and 3,525 fps from a 30-inch barrel.
The new wildcat made its debut in the hands of Wright at the 1961 1,000-yard Leech Cup and Wimbledon Cup matches at Camp Perry. As stated by another competitor who also used a rifle chambered for the cartridge, "It was an immediate winner in a game formerly dominated by .30 magnums." Most of those early benchrest and big-game rifles were built by Al Hoyer, whose shop was located in Mifflintown, Pennsylvania. And since the cartridge was created by necking down a case of Weatherby design, it was given the name, 6.5-300 Weatherby-Wright-Hoyer (6.5-300 WWH). If this sounds familiar it is because the 6.5-300 WWH is the exact cartridge recently introduced by Weatherby as the 6.5-300 Weatherby Magnum. For more on the 6.5-300 WWH and its development, I refer you to Robert Hutton's report in the 1965 Gun Digest and a more in-depth article by Earl Etter in Rifle No. 18 (Nov/Dec 1971).
While developing loads for the 6.5 STW back in 1998, I recalled that military surplus H-870 was a popular 6.5-300 WWH powder among 1,000-yard competitors during the 1960s. It and another surplus powder, Accurate 8700, also delivered top velocities along with excellent accuracy in the 6.5 STW. Those who used the 6.5-300 WWH also preferred to neck down and fireform Winchester-Western .300 H&H Magnum brass because it withstood more maximum-pressure firings than the softer Weatherby brass. Forming the 6.5 STW from .300 H&H is not difficult, but cases have to be fireformed before maximum charges can be used, and they last no longer than Nosler and Hornady 7mm STW cases necked down. Quality Cartridge offers 6.5 STW cases with the proper headstamp, but I have not gotten around to trying them.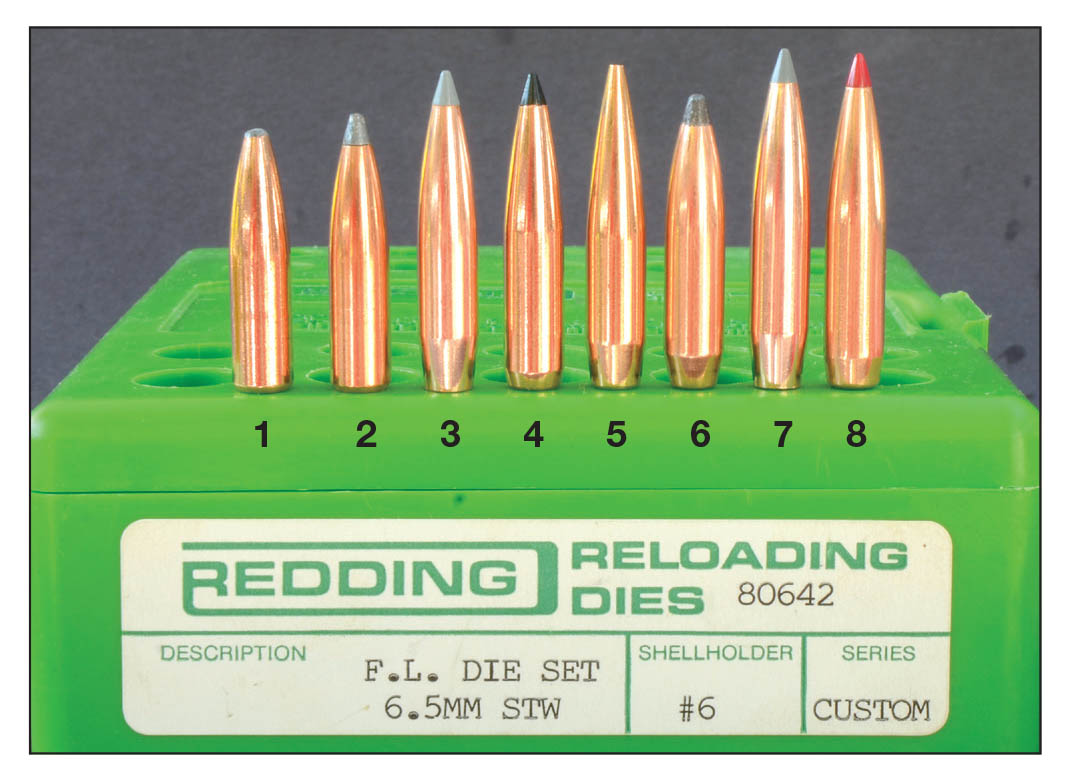 Realizing the supply of H-870 and Accurate 8700 would eventually run out, a search for their replacement began during 2008 and ended with US 869. It was introduced by Hodgdon in 2006 as a replacement for H-870. Whereas the two old powders were military surplus, US 869 is made at St. Marks Powder in Crawfordville, Florida. Like the old powders, it was originally developed for use in the .50 BMG but has also proven to be quite useful in low-expansion-ratio cartridges of smaller calibers. It is about the only powder I have burned in my Rifles, Inc. custom 6.5 STW.

Long-distance target shooters in the 1960s who used H-870 complained about difficult-to-remove fouling buildup in their barrels, but they were rapid-firing 10-shot groups. During paper-punching sessions, the barrel of my rifle was allowed to cool completely down between three-shot groups and its bore was scrubbed with J-B Bore Non-Embedding Bore Cleaning Compound every 100 rounds or so. According to my trusty Lyman Borecam, US 869 leaves no such residue behind. I obviously was on the right track when choosing that powder for the 6.5 STW because data recently published by Nosler, Lyman and Hodgdon for the .26 Nosler shows it producing the highest velocities with all bullet weights in that cartridge. It is the same story for 6.5-300 Weatherby Magnum data published by Barnes for its 127-, 130- and 140-grain bullets.
So how does 6.5 STW performance stack up against its competition? Filled to the brim with water, gross case capacities are 96.7 grains for the STW and Weatherby, and 98.2 grains for the Nosler case. A comparison of gross capacities is informative, but comparing net capacities with the same bullet seated in all three is a bit more meaningful because it is a better indicator of how much powder can be safely burned. With the Nosler 129-grain AccuBond LR seated to an overall cartridge length of 3.600 inches for the STW and the Weatherby, and 3.340 inches for the Nosler, net capacities are 92.1 grains for the Nosler cartridge and 90.2 grains for the other two. Those figures were arrived at not by calculating how much water was displaced by a seated bullet, but by seating a bullet in an unprimed case, weighing it, and then weighing it again after putting a small hypodermic syringe through the flash hole to fill the powder cavity with water.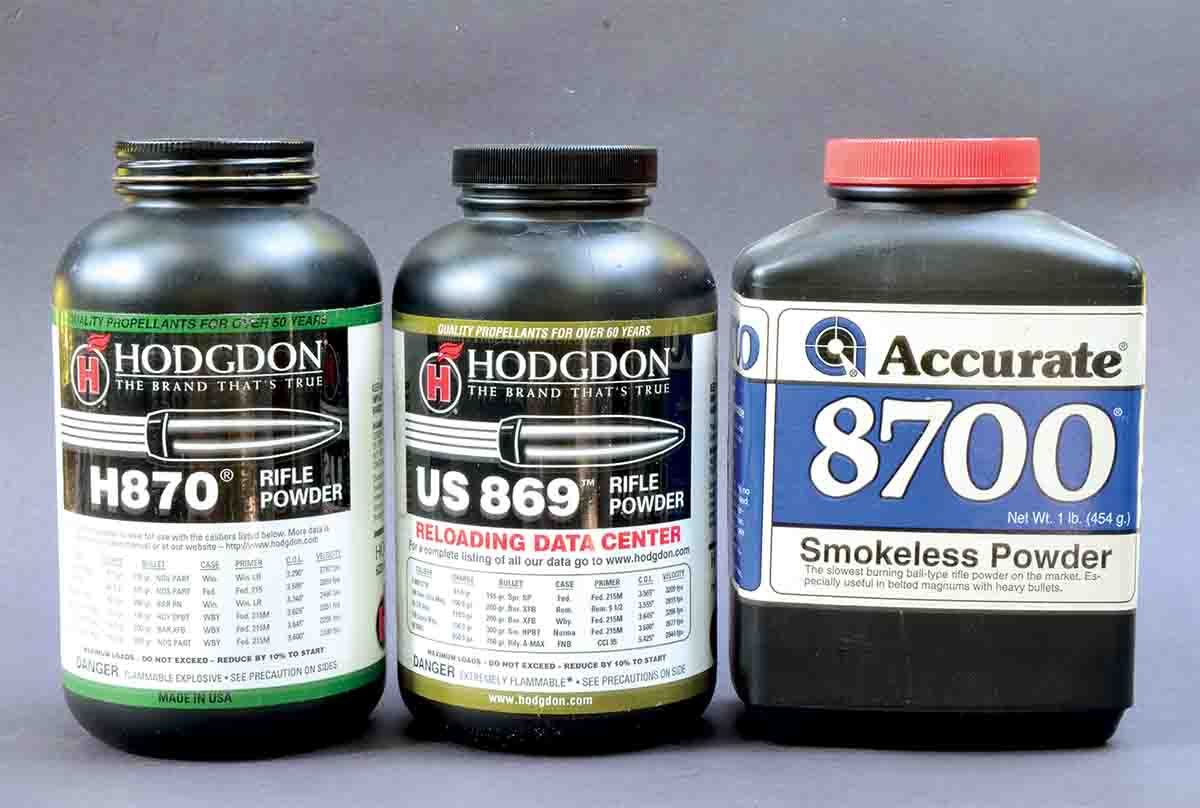 All things including chamber throat length, barrel length and the pressure to which cases are loaded being equal, maximum velocity is the same for the 6.5 STW and the 6.5-300 Weatherby Magnum. While a mere 2-grains difference in net capacity among cases that burn a handful of powder will not yield a huge gain in velocity, if this was a horse race "Mr. Nosler" would win by a nose.
Regardless of which is chosen, keep in mind that extremely-low-expansion-ratio cartridges are usually seen at their best when operating at maximum pressure, or close to it. An unacceptable level of velocity spread can be caused by a number of factors, with use of a primer that is too mild and inadequate case neck tension on bullets being a couple. All of the handloads listed here use the Federal 215, but CCI 250 and Winchester Large Rifle Magnum primers are also quite good.
If necessary, case neck tension can be increased by reducing the diameter of the expander ball in a resizing die by .001 to .002 inch. Perhaps even better is to use a Redding Type-S bushing-style resizing die with a bushing .003 to .004 inch smaller than the neck diameter of a loaded round.