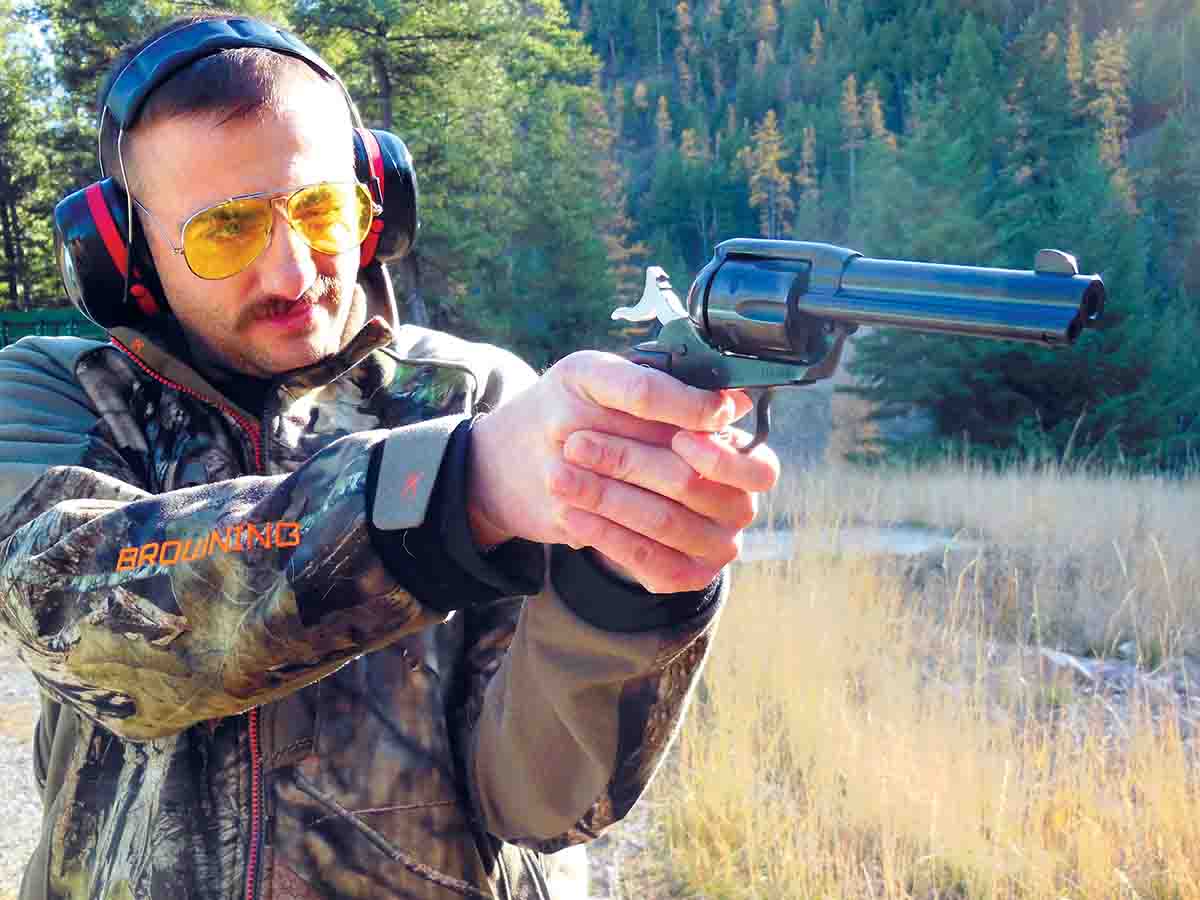 Ruger introduced its New Vaquero revolver in 2005, and ever since it has been a favorite of real and wannabe cowboys – and everyone else who likes shooting a slick, single-action revolver. Various Vaquero models include blued or stainless steel metal, and a Bisley model, with 3.75-, 45⁄8- or 5.5-inch barrels chambered in .45 Colt or .357 Magnum. A Single Action Shooter Society two-gun set is also available.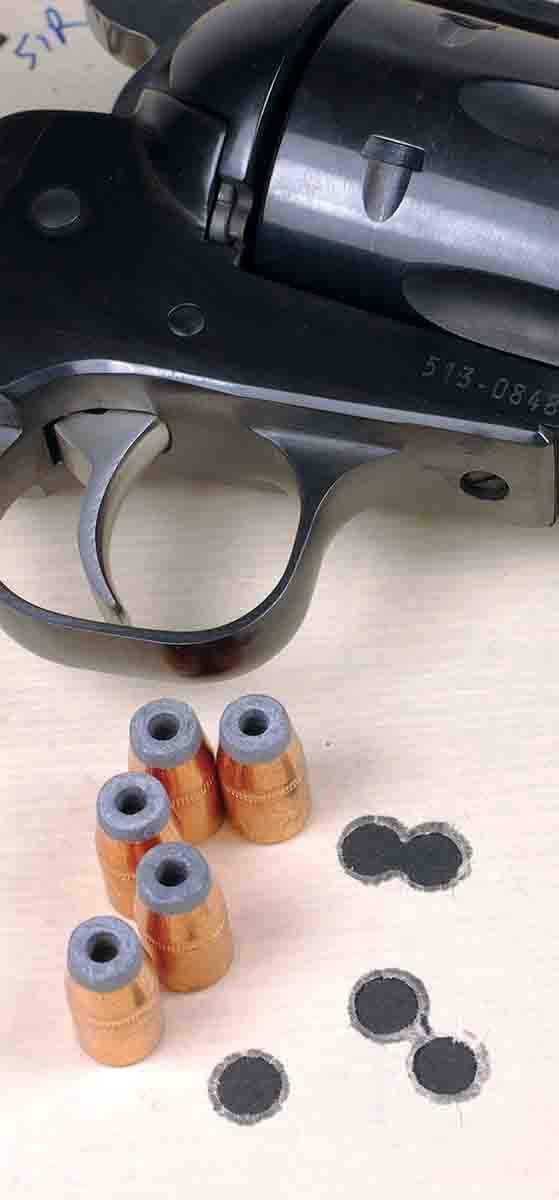 Ruger got it right with its Vaquero. The long tail of the hammer is easy to reach with the thumb of the shooting or support hand and a smooth click, click pull cocks the hammer. It weighs a rather heavy 43 ounces. The revolver's slender grip fits the palm of the hand, and the base of the thumb wraps around the backstrap to keep the gun on an even keel; it seems to point itself.
The Vaquero's sights include a rounded blade front sight that aligns in a grooved top strap. The instruction manual for the Vaquero states "… revolvers feature a blade front sight and fixed rear sight. They are set to be on target at 15 yards." The manual does not mention a particular bullet weight and velocity that is "on target."
I was leery of the fixed sights the first time my son and I shot the Vaquero with a variety of .38 Special and .357 Magnum cartridges, as the revolver consistently shot below point of aim at 25 yards with the top of the front sight even with the top of the grooved topstrap. Groups were not tight enough to tell exactly how much the various loads hit below aim.
Wholesale firearms distributor Lipsey's recently took the blued Vaquero .357 Magnum a step further by supplying the revolver with an extra 9mm Luger cylinder. I wondered how a 9mm cylinder would make the handgun any more versatile, as the .357 Magnum cylinder will readily shoot .38 Special ammunition.
Once I began shooting the Vaquero, it became apparent that 9mm ammunition turned in much more uniform velocities than the .38, and a check of several ammunition websites showed the lowest price for a box of 50 9mms was about $5 less than comparable .38 Special ammunition.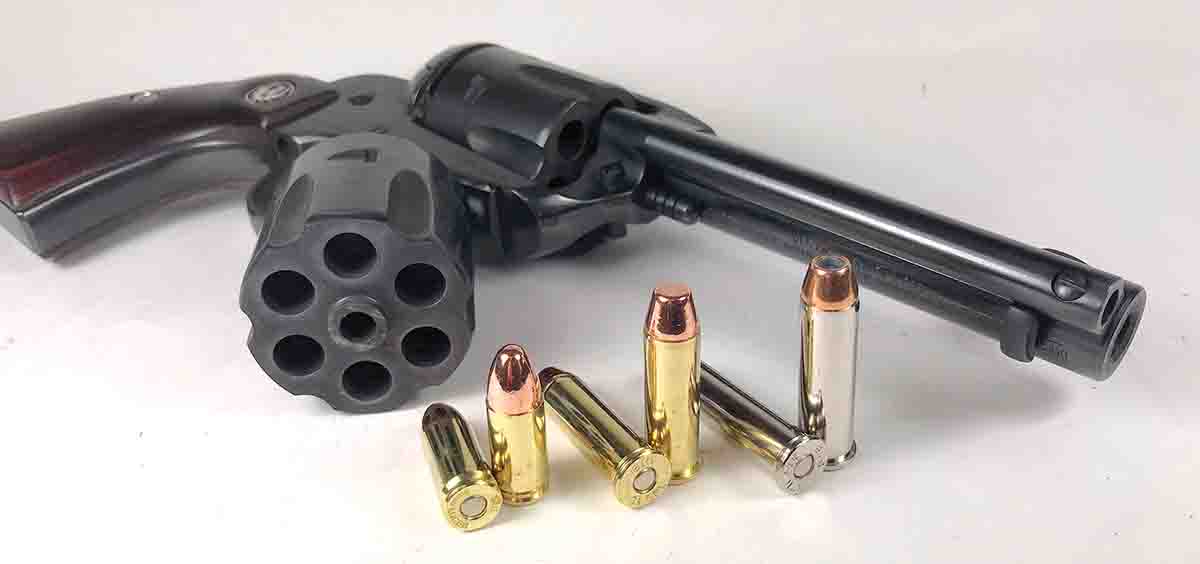 Finding loads for the Vaquero that hit on target was part of the purpose of handloading 9mm, .38 Special and .357 Magnum cartridges.
9mm Handloads
Nine-millimeter jacketed bullets measure .355-inch in diameter. The groove diameter of the Vaquero's barrel no doubt measures .357 inch. (Although I did not drive a lead slug through the bore, as the revolver was not mine.) There might be some concern about poor accuracy resulting from the slightly undersized 9mm bullets fired through the Vaquero's bore. My CZ Model 527 7.62x39 has a .310-inch groove diameter, and the rifle is very accurate when shooting .310-inch and .308-inch bullets. Such was the case with the Vaquero, as various 9mm cartridges shot nearly as accurate as .38 Special loads. However, experience has shown swaged lead and cast bullets that are somewhat narrower than a barrel's groove diameter shoot poorly and leave massive smears of lead in the bore.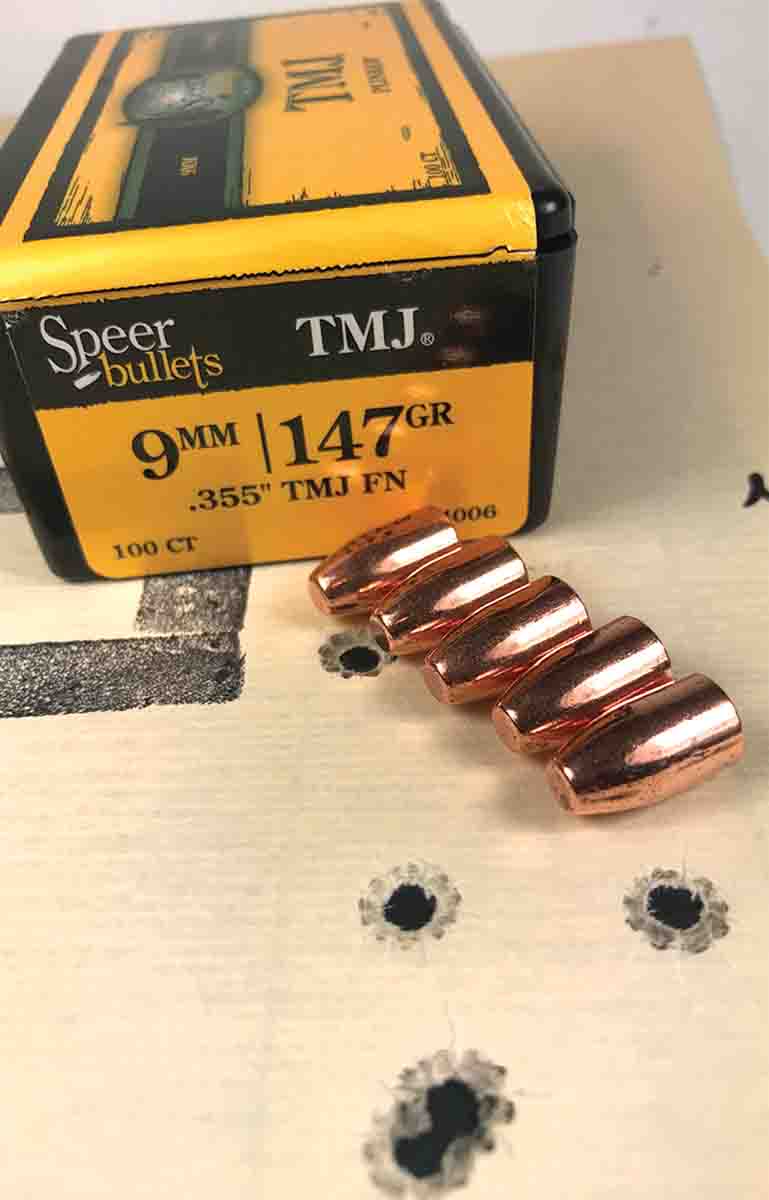 The 9mm has a relatively small case, and about 5 grains of various powders under a 115- or 147-grain bullet fairly well fills a case. Powder kept tightly together and against the primer flash hole aids in uniform powder burn to produce even velocities. A few of the various powders loaded with 115- and 147-grain bullets produced extreme velocity spreads of about 100 fps, but most combinations turned in extreme spreads of 30 to 50 fps.
To remove human error, I clamped the Vaquero in a Caldwell HAMMR mechanical handgun rest. All of the 9mm loads hit way below aim at 25 yards. Varying charge weights of individual powders did next to nothing to raise bullet impact, as minimum to maximum charges for the 9mm differ by about a grain at the most.
The slower a bullet was fired, the higher it hit on the target at 25 yards. For instance, Speer 115-grain bullets fired at 1,362 fps hit 13 inches below aim, but the same bullet fired at 1,100 fps hit 10 inches below aim. Because the slower bullet remains in the barrel longer and gives the muzzle more time to rise, the bullet hits higher.
Speer 147-grain bullets had a muzzle velocity about 400 fps slower than the lighter 115-grain bullets. The heavier bullets hit a few inches higher on targets at 25 yards, yet still far below aim. I held the Vaquero in my hands and shot some 9mm loads containing 5.7 grains of Blue Dot and Speer 147-grain bullets. The bullets hit 6 inches below aim at 25 yards, compared to the 8.5 inches below aim when clamped in the HAMMR rest.
.38 Special Handloads
Some of the .38 Special loads shot through the Vaquero had such wide velocity spreads I thought I had forgotten how to read a reloading scale and loaded incorrect amounts of powder. For instance, 110-grain bullets had velocity spreads of 227 and 251 fps loaded with Winchester 572 powder. Speer 125-grain bullets had velocity spreads approaching 300 fps when fired with Ramshot Silhouette. Velocity spreads were so great, the powder was omitted from the accompanying load table.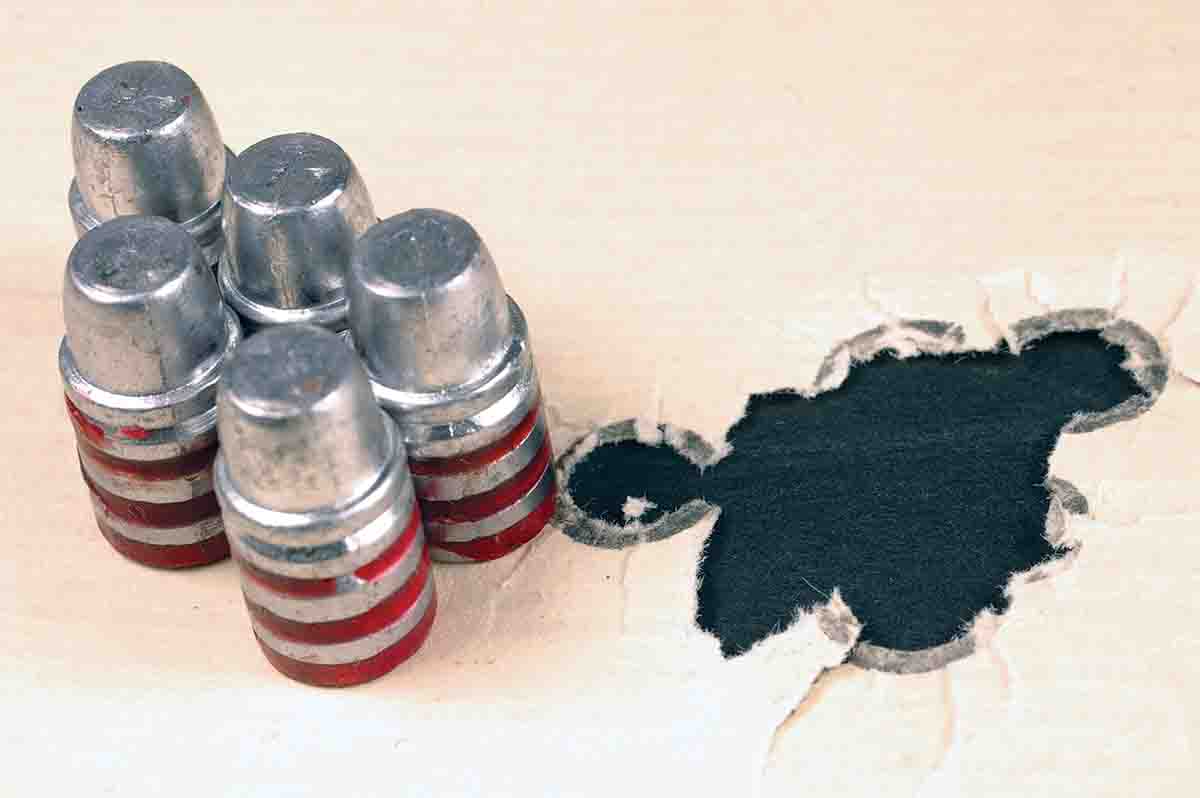 Rob Behr at Western Powders, which owns Ramshot and Accurate powders, said they had considered dropping Silhouette powder from the .38 Special reloading data section in Western's new reloading manual (www.westernpowders.com), but opted instead to increase the minium starting charge, which solved the problem. The deterrent coating on Silhouette powder, and the fact that a charge of it occupies only a small portion of a .38 Special case, cause the powder to ignite poorly and produce erratic velocities. "There was a real concern about lodging a bullet in a barrel using Silhouette," he said.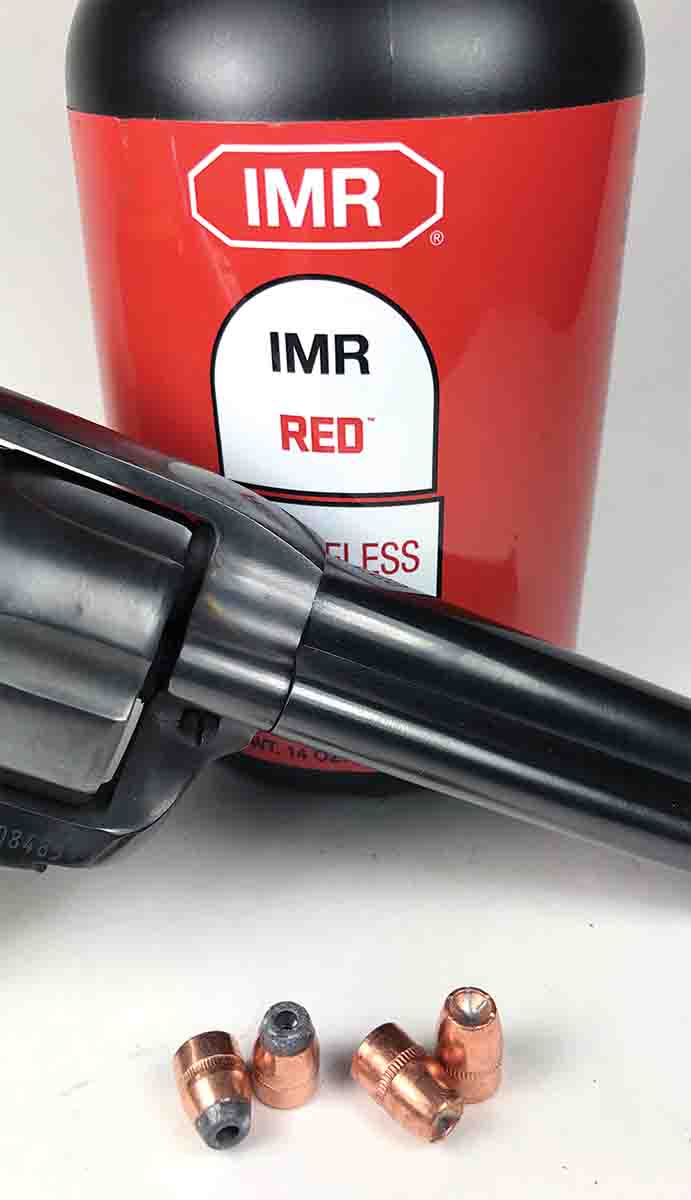 Behr said the wide extremes of velocity in the .38 Special are caused by positional sensitivity. The .38 Special cartridges contain a relatively small amount of powder compared to its case size. That allows powder to settle any which way in a case and prevents an even powder burn. A more uniform burn can be achieved by keeping a powder charge toward the bottom of the case near the primer flash hole. "Sporting Arms and Ammunition Manufacturers' Institute (SAAMI) requires us to test with powder rearward to produce the maximum velocity for that bullet and powder combination," Behr said.
The SAAMI website states cartridges are correctly handled by "… keeping the primer end in the lowest possible position until inserted gently and carefully into the chamber. … The bolt or breech mechanism should be closed gently in order not to disturb the position of the powder in the cartridge case. The object of this method of handling cartridges is to position the propellant powder at the primer end of the cartridge case …"
Behr said shooters can essentially do the same thing by raising a handgun's muzzle, slowly lowering the gun level and firing the cartridge. "That should reduce your extreme spreads of velocity," he said.
I did that with the Vaquero shooting SIG Sauer Elite Performance .38 Special factory loads with 125-grain FMJ bullets, and Lyman No. 358156 cast bullets loaded with 3.8 grains of IMR Target powder. Extreme velocity spreads narrowed to 41 fps shooting the SIG cartridges, compared to 59 fps just shooting the cartridges without positioning the powder. The cast bullet load dropped to a narrow extreme spread of 10 fps when raising the muzzle, slowly lowering it and shooting. Extreme spread was 37 fps.
Positioning the powder is rather impractical though, unless you want to shoot at a leisurely pace, where a box of cartridges last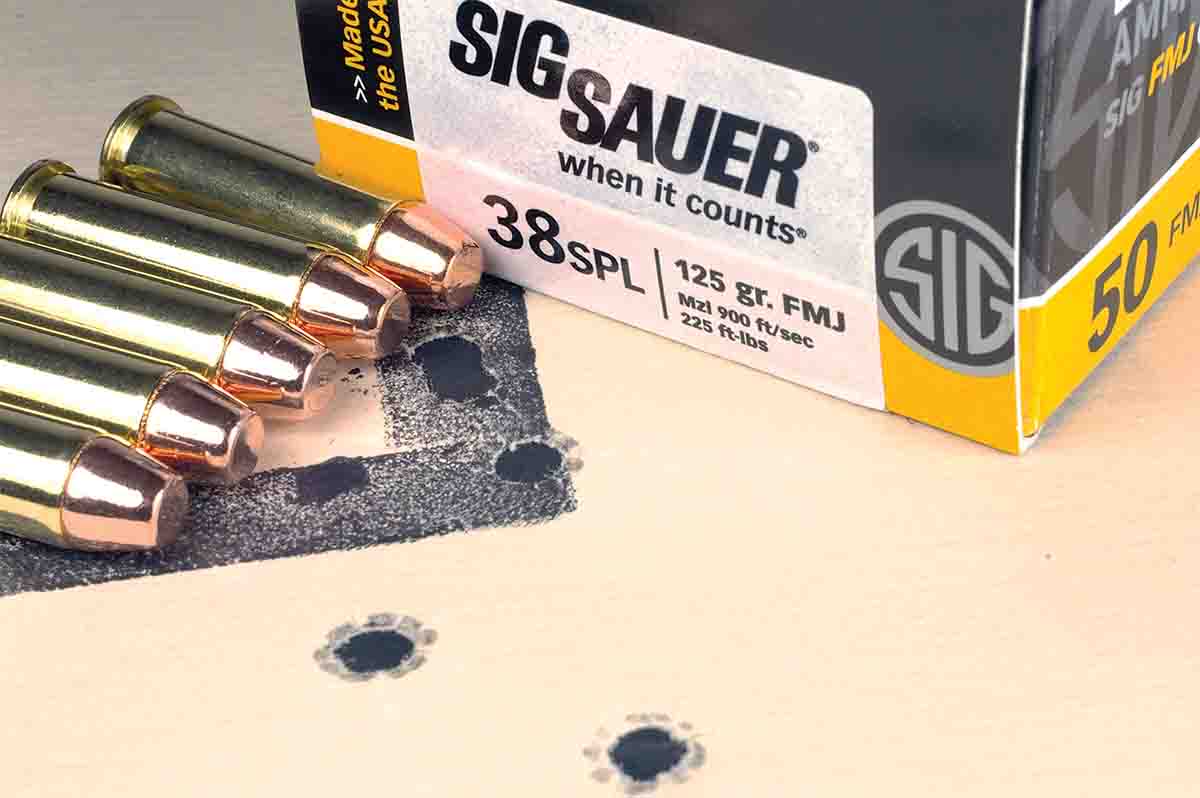 all afternoon. A better solution is to choose a bulky powder, or a bulky powder and heavier bullet, that nearly fill a .38 Special case. "Powders intended mainly for reloading shotshells works well in the .38 Special because they are so bulky," Behr said.
IMR Red produced extreme velocity spreads of 32 to 72 fps shooting Hornady 110-grain bullets loaded in .38 Special cases and shot in the Ruger Vaquero. The powder also produced velocity spreads of 23 to 75 fps when shooting Speer 125-grain bullets.
Thumbing through my .38 Special records, Bullseye and Power Pistol produced extreme spreads of 50 to 60 fps shooting 110-grain bullets. Unique and SR-4756 turned in velocity spreads of about 55 fps shooting 125-grain bullets.
My records also showed that when shooting heavier, 150-grain cast bullets and 158-grain jacketed bullets, Unique again produced velocity spreads of about 55 fps; HS-6, 37 fps and IMR-4227, 32 fps. Velocity spreads were a low 30 fps with True Blue loaded with 150-grain wadcutter bullets seated flush with the case mouth.
All of the .38 Special loads hit about a foot below aim at 25 yards. The first four loads with 110-grain bullets dropped so much they missed the large target paper. With the Vaquero in my hands, the Lyman 358156 cast bullet and 3.8 grains of IMR Target powder hit 4 inches below aim at 25 yards.
.357 Magnum Handloads
The volume difference is not all that great between .38 Special and .357 Magnum cases. "But the .357 is loaded with quite a bit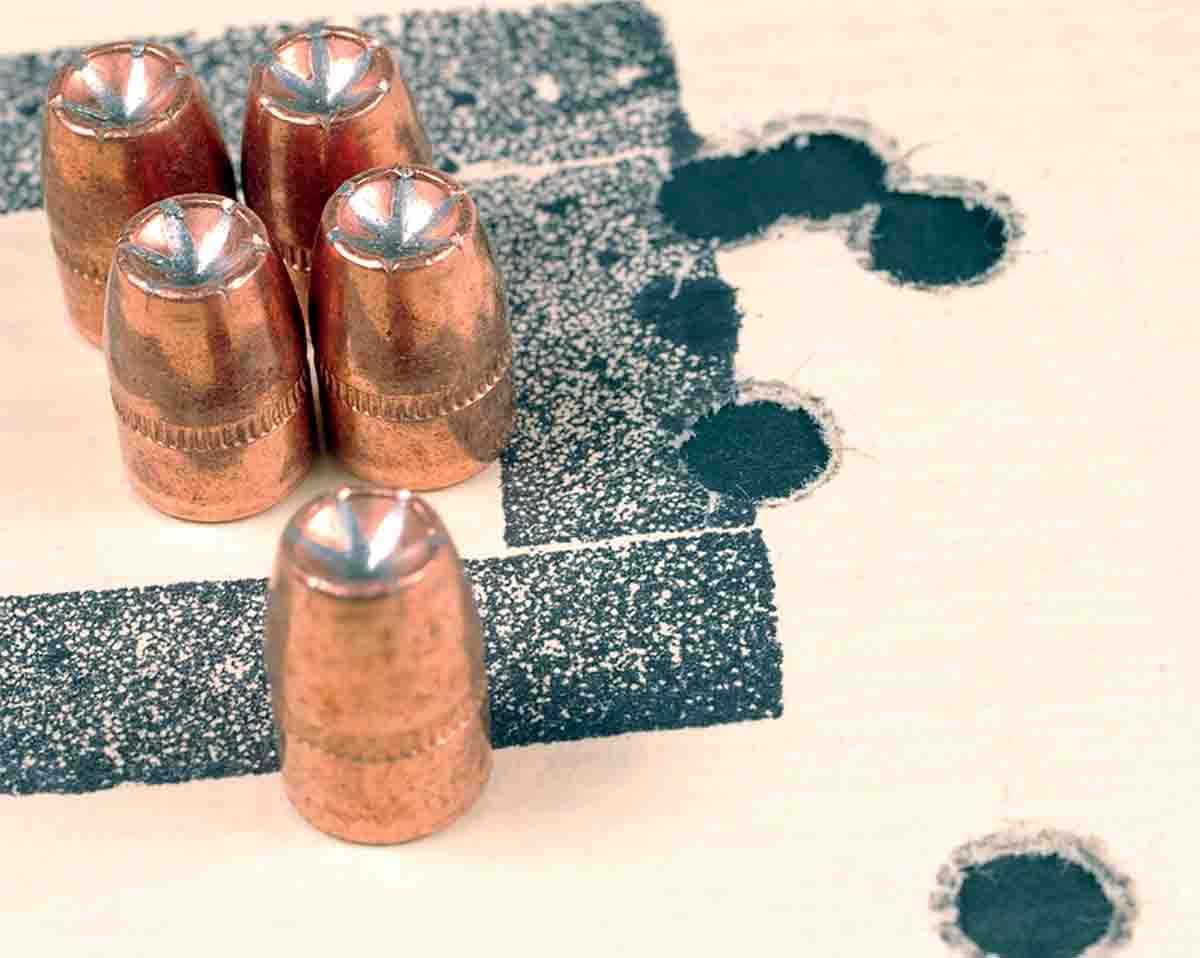 more powder," Behr said. "That prevents powder from migrating as much, and there is much less velocity spread than with the .38."
Hodgdon Lil'Gun and Alliant 2400 powders produced relatively even velocities with Sierra 158-grain bullets. Ramshot Enforcer powder provided somewhat wider velocity spreads with 158-grain bullets. However, 13.5 grains of Enforcer grouped 158-grain bullets only 1.5 inches below aim at 25 yards. With the revolver in my hands, the same load hit slightly above aim at 25 yards.
With a wide choice of .357s, .38s and 9mms to shoot, the Vaquero will never run dry. On a perfect fall afternoon, the Vaquero was shot with what remained of a box of .357s. With the smooth click, click cock of the hammer, a pointing aim and light touch on the trigger, I shot like a real cowboy. MSRP $899. For more information contact www.lipseys.com.