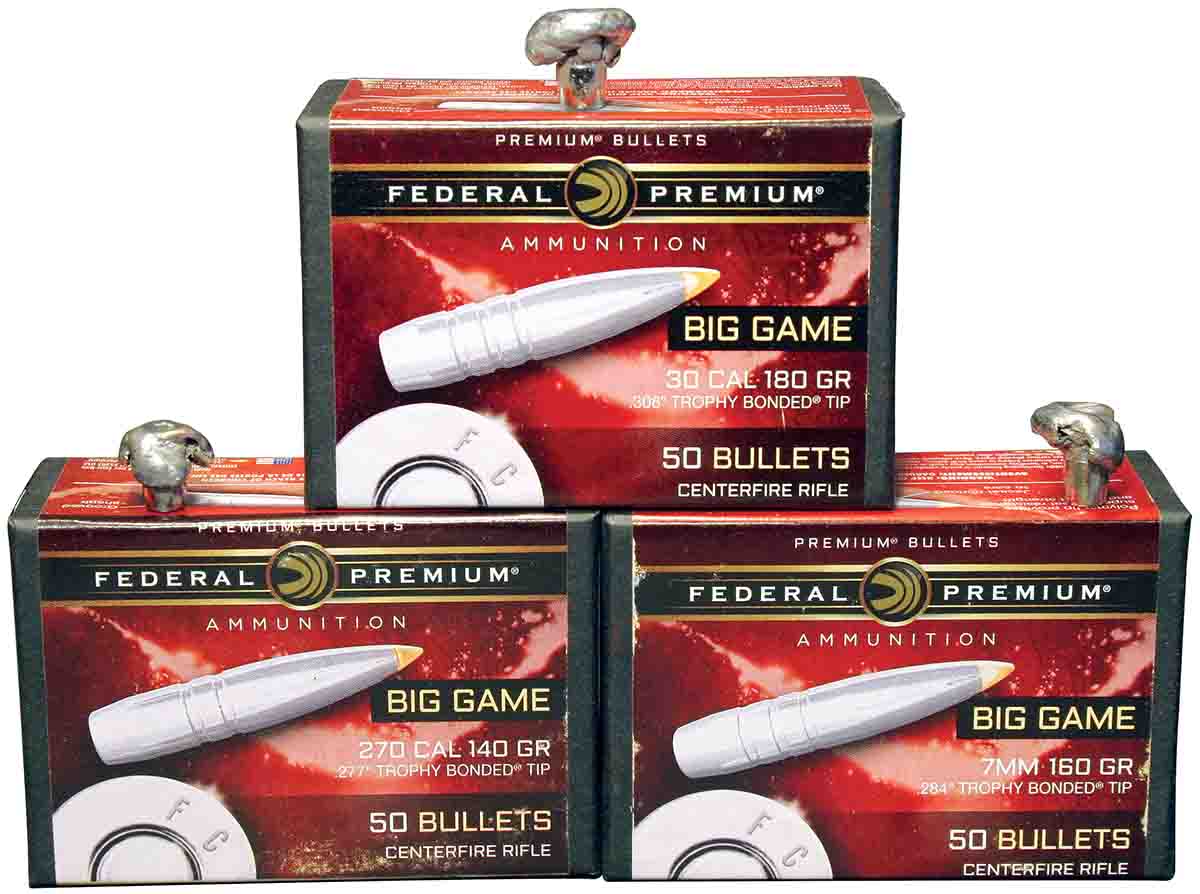 Believe it or not, back in the 1970s "premium" big-game bullets were pretty scarce, probably because not many American hunters went after game larger than deer. That changed during the 1980s, thanks in part to Bob Hagel's popular 1977 book, Game Loads and Practical Ballistics for the American Hunter. Hagel primarily discussed the Nosler Partition, which appeared in 1948, and a newer bullet made in small quantities by Bill Steigers, who lived in Idaho not far from Hagel. Called the "Bitterroot Bonded Core," it was apparently the first bullet with its jacket bonded to the lead core. Unfortunately, Bitterroot Bonded Core bullets were never widely available, and Nosler quit making Partitions larger than .338 for several years after switching to impact extrusion manufacturing in the late 1970s.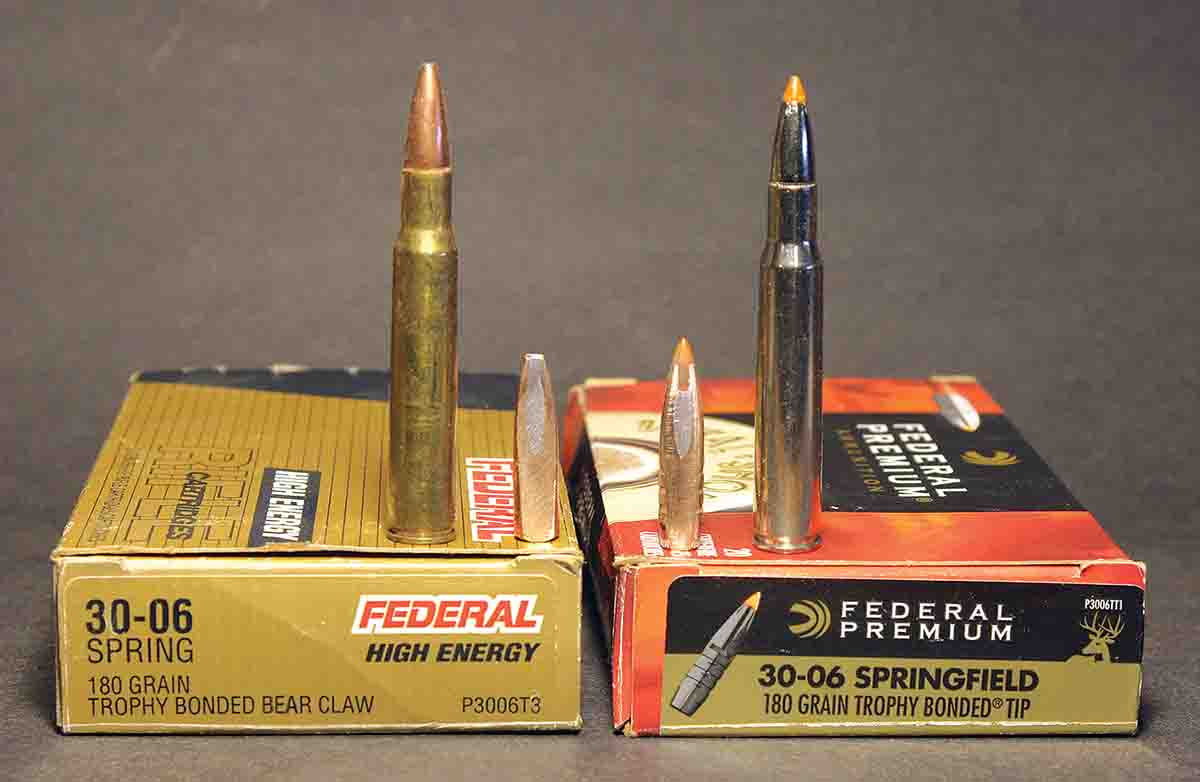 Other factors were a growing elk population in the Rocky Mountain West and the falling price of African safaris, primarily due to game ranching in South Africa, restoring native big game to a country where they had been eliminated to make room for domestic livestock. As more hunters went after larger game, more premium bullets appeared, often developed by hunters themselves, dissatisfied with the sparse selection.
Among those hunters was Jack Carter, a guy who primarily wanted a tougher expanding bullet for African game such as Cape buffalo. His bullet featured a solid-shank copper jacket with a bonded lead core in the front end. After considerable testing in "media," Carter did a field trial of Trophy Bonded Bear Claws in Africa in 1988, and they worked so well he started selling them to a limited number of customers. One of those customers was Montana gunsmith Dave Gentry, who proudly showed me a box of Bear Claws he had purchased for elk hunting, though he hadn't fired any yet.
Not long afterward I met Jack Carter at the annual SHOT Show, and after a very interesting conversation he offered to ship me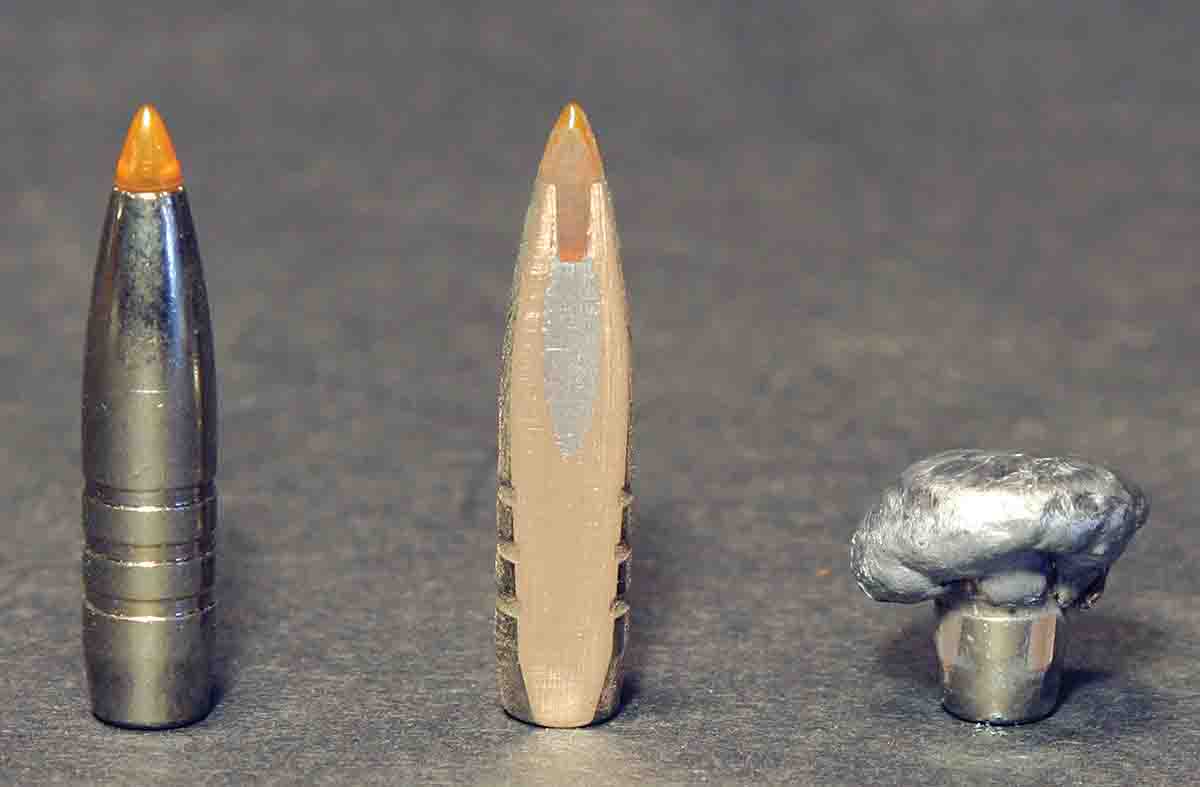 some Bear Claws for testing. They worked well on bigger game, precisely what Carter designed them for, but accuracy was mixed. In some rifles they shot all right, while other rifles didn't like them much.
This can happen with solid-shank bullets, probably because the lack of a softer lead core prevents them from swaging down easily to fit slightly undersized bores, or "bumping up" to fill slightly oversized bores. The pure copper also tended to foul barrels more than conventional gilding metal jackets, mild brass made of copper alloyed with 5 to 10 percent zinc. (At about the same time, a Utah hunter named Randy Brooks was encountering the same accuracy and fouling problems with an all-copper, hollowpoint design he called the Barnes X-Bullet.)
Still, Bear Claws worked so well on really big game that in the early 1990s Federal began offering them in factory ammunition, which sold so well Carter's production couldn't keep up. Federal started making Bear Claw bullets at its Minnesota factory, switching to what's known as 95-5 gilding metal instead of pure copper. This allowed faster production and reduced bore fouling somewhat.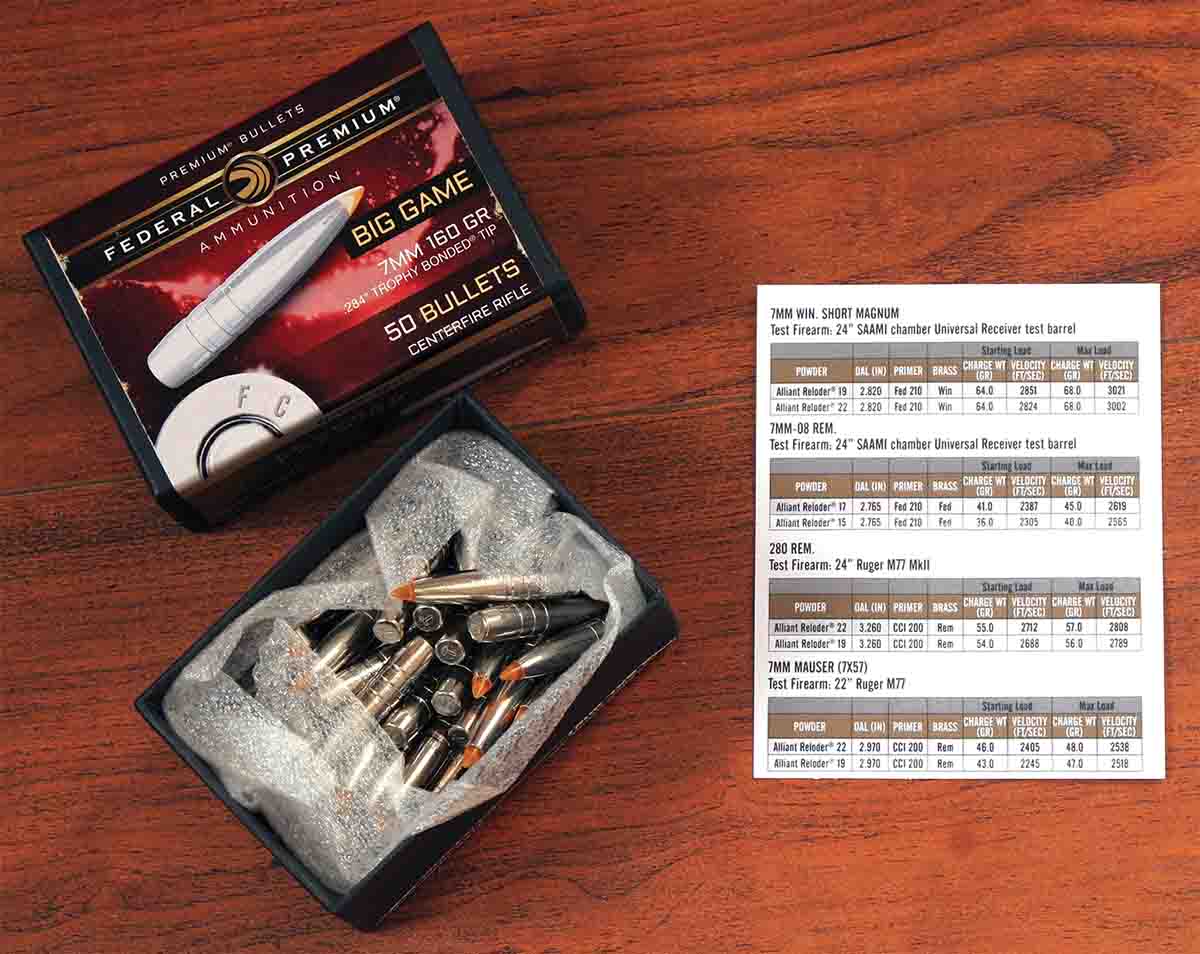 Federal also provided the same bullets to Carter for sale to his loyal customers, but since the same company that owned Federal also owned Speer, component Bear Claw bullets were also sold in Speer packaging. This caused confusion among handloaders who assumed the bullets were made by Speer, but I toured the Federal factory in 1996 and watched Trophy Bonded Bear Claws being made.
The Federal version, like the original, was designed specifically for larger game, so it often didn't expand well on deer-size animals, especially at lower impact velocities, which often occurred at longer ranges. Bear Claw spitzers likewise had flat tips (much like Speer Grand Slams), resulting in mediocre ballistic coefficients (BCs). As an example, Federal listed the BC of the 180-grain, .30-caliber bullet as .368, while most pointed-tip 180s have BCs over .400 – sometimes well over.
One solution Federal tried was some of the first extra-velocity factory loads called High Energy.
Both my wife and I used the 180-grain High Energy Trophy Bonded loads in a New Ultra Light Arms .30-06. Velocity was listed at 2,880 fps, though in the NULA it chronographed around 2,950 fps, probably because of a tighter-than-average chamber. Accuracy averaged 1.25 inches for three-shot groups at 100 yards, sufficient for big game at "normal" ranges, and the higher velocity did help expansion on lighter animals. Eileen absolutely crumpled an average-size black bear with a typical lung shot at about 150 yards.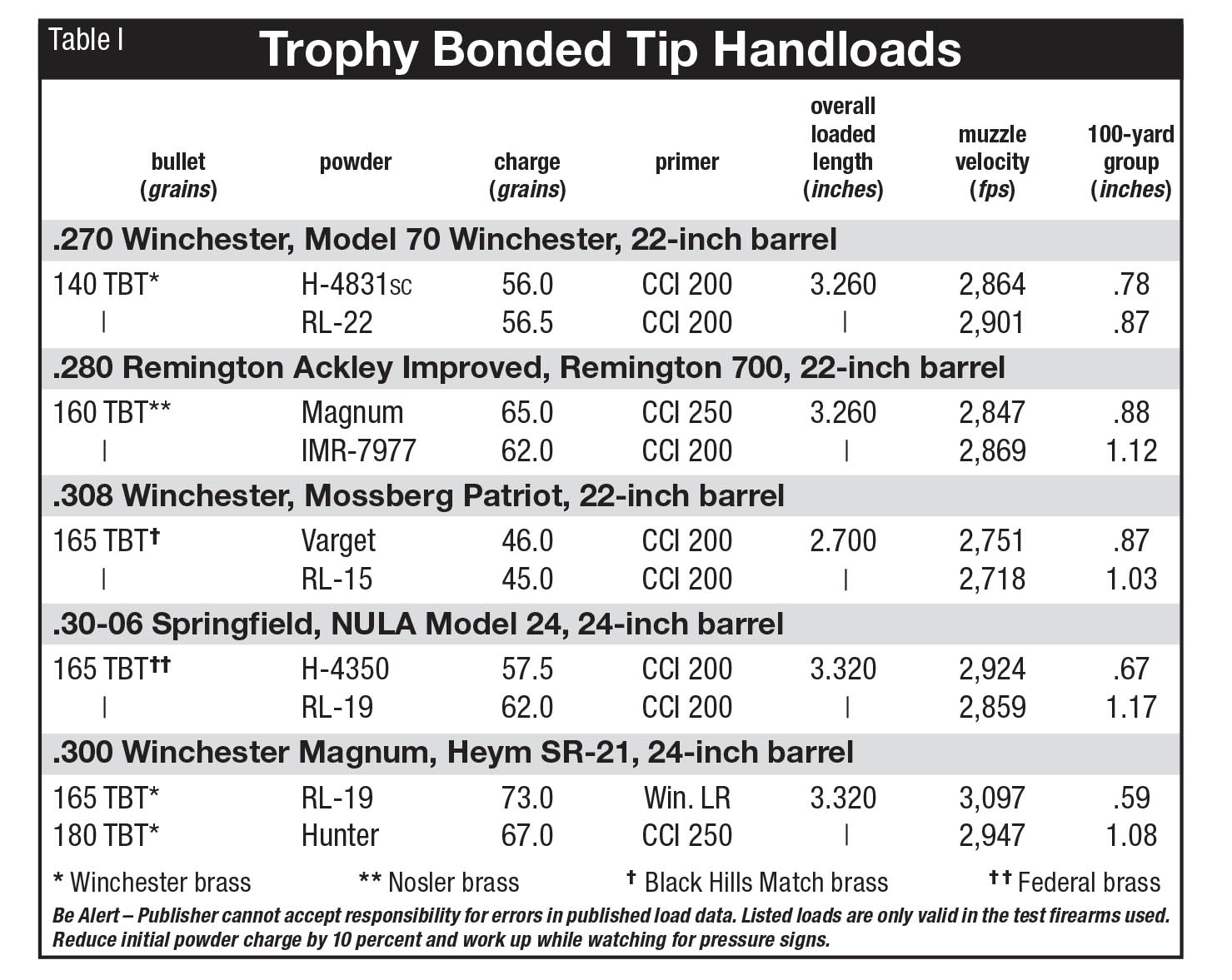 However, High Energy loads only lasted a few years, perhaps because in some rifles they resulted in noticeably higher pressure. In one of my other .30-06s, a commercial FN Mauser, the 180-grain load chronographed over 3,000 fps from its 22-inch barrel and blew the primer on the last of three rounds fired.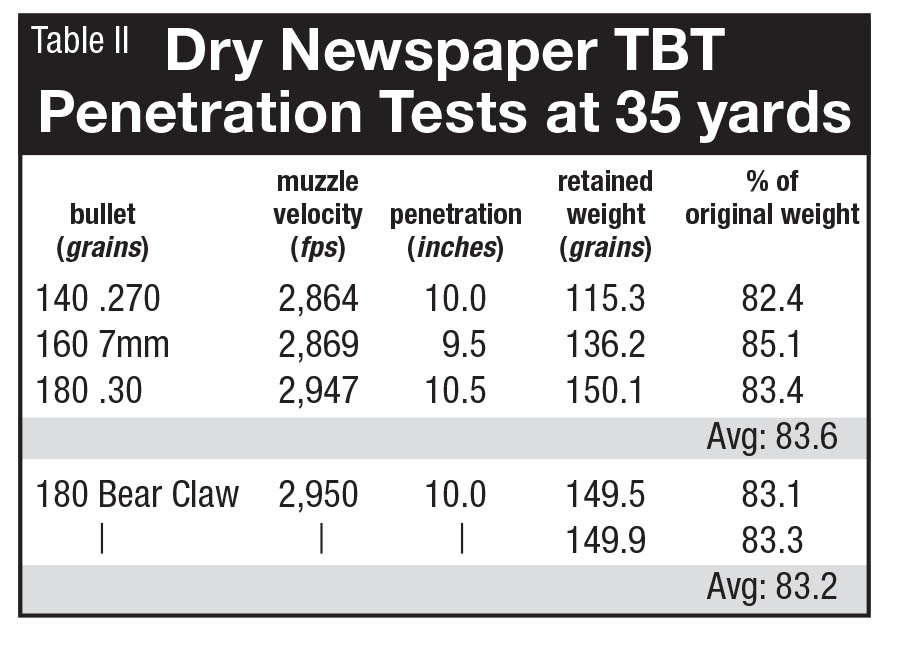 Federal eventually decided to design a Trophy Bonded that would expand easily on lighter big game, even at standard muzzle velocities. The new bullet retained the interior design of the original, with a solid shank and a bonded lead core, but added some twenty-first-century outside touches, including circumferential grooves around the shank. This reduced pressures and bore-fouling, and improved accuracy. A boat-tail and a streamlined plastic tip were also added, increasing BC considerably over the original Bear Claws, with the plastic tip also enhancing expansion.
Some shooters believe plastic tips "wedge" deeply into the bullet, but high-speed video of bullets shot into clear ballistic gelatin shows the tips moving ahead of the bullet almost immediately after expansion begins, then drifting off to the side. The major reason for enhanced expansion is probably the big cavity required for the shank of the plastic tip.
The final touch was nickel-plating the gilding metal jacket, supposedly to prevent tarnishing. However, the thin nickel also decreased bore fouling – confirmed through my Hawkeye borescope – and combined with the translucent orange tip results in a very striking appearance.
Federal announced the Trophy Bonded Tip in 2008, and publicized the new bullet through field tests involving various firearms-industry people. I was one of the lucky people invited on an elk hunt on a ranch near my Montana home. The rifle used was a Benelli R1 semiautomatic .30-06, and the ammunition was Federal Premium loaded with 180-grain TBTs.
The hunt took place a month after the rut, when bulls have resolved their recent differences. We found a group of a half-dozen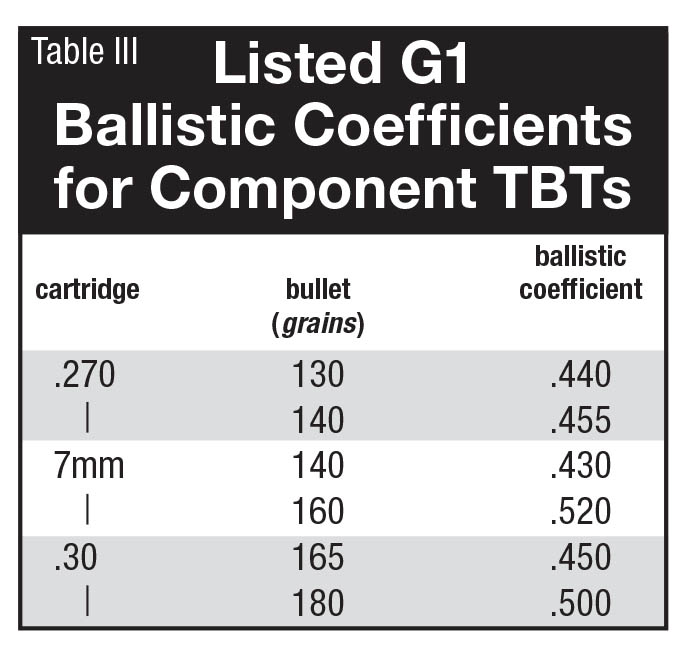 mature bulls across a timbered draw, but only one was fully visible, standing quartering away at 250 yards. I aimed for the far shoulder, and at the shot the bull "locked up," standing there as if stunned, something elk sometimes do when hard-hit. At the report of the rifle, the other bulls ran past the one I shot, preventing an immediate second shot. My bull attempted to follow them, walking very slowly about 20 feet before stopping broadside, then falling to another bullet behind the shoulder.
The second bullet exited, but the first bullet did not. The temperature was warm for November, so we skinned the bull as soon as possible. I was hoping to find the first bullet under the hide, but did not, so guessed it ended up in the massive left shoulder. After taking the quarters home and allowing them to age and tenderize, my wife and I spent a day butchering the meat.
I sliced apart the left shoulder, searching thoroughly for the bullet, but never found it. This occasionally happens, sometimes because a premium bullet near the end of its travels often doesn't leave an obvious hole in muscle. In the late 1990s I bit into a mule deer round steak, my teeth encountering what felt like a chunk of bone. Instead it was an expanded Nosler 140-grain Partition from my 7x57 that entered the buck's chest and ended up in a hindquarter, where when slicing steaks my knife slid by on either side of the bullet. Unfortunately, the TBT bullet never reappeared.
Federal planned to offer TBTs as component bullets, but reversed that decision within a few months, perhaps because Obama's election increased demand for ammunition so much that selling loading components became impractical. It may not be a coincidence that Federal again decided to supply component TBTs during the first year of the Trump administration as demand for ammunition dropped.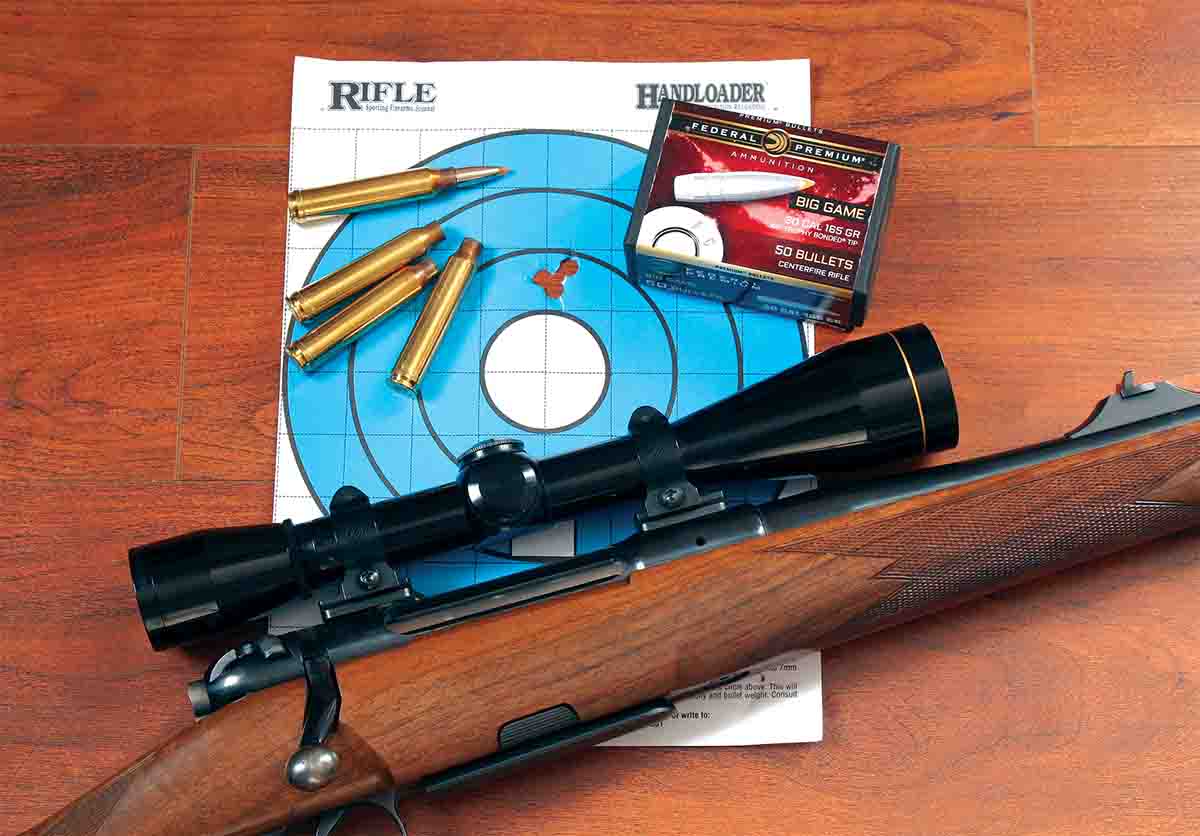 A selection was eventually shipped, including 140-grain .270s, 160-grain 7mms and 165- and 180- grain .30s. (Federal also makes two TBTs only available in loaded ammunition, a 52-grain .224 and a 200-grain .338, but if the component bullets sell well, perhaps the .22 and .33 will be offered to handloaders, along with other calibers.) Having already taken a big elk, I primarily wanted to see how they worked on deer-size game, and ended up shooting a medium-large mule deer buck with 3x3 antlers busted up on one side from rut fighting, using a 165-grain bullet at 2,750 fps from a .308 Winchester.
The buck stood quartering toward me at 65 yards, and at the shot made the little leap typical of a solid chest shot, then trotted a ways before falling. The bullet cracked the scapula just above the shoulder joint and exited toward the rear of the ribs on the opposite side, leaving a big hole through both lungs.
Some hunters have expressed concern that the TBT might expand too much, reducing penetration, so I shot the .270, 7mm and 180-grain .30 bullets into stacks of dry newspaper at 35 yards. Water-soaked newspaper is more commonly used as test media but is comparatively kind to big-game bullets, with even cup-and-core designs normally ending up perfectly mushroomed. Dry paper is much harder on bullets, providing a better simulation of striking heavy bone.
Shooting at 35 yards not only results in maximum stress on the bullet, but with rifles sighted-in a couple inches high at 100 is also about where the bullet's path first coincides with the reticle. This makes it easy to precisely place several bullets in a single stack of paper.
The results are listed in an accompanying table, along with the newspaper results from two High Energy 180-grain factory loads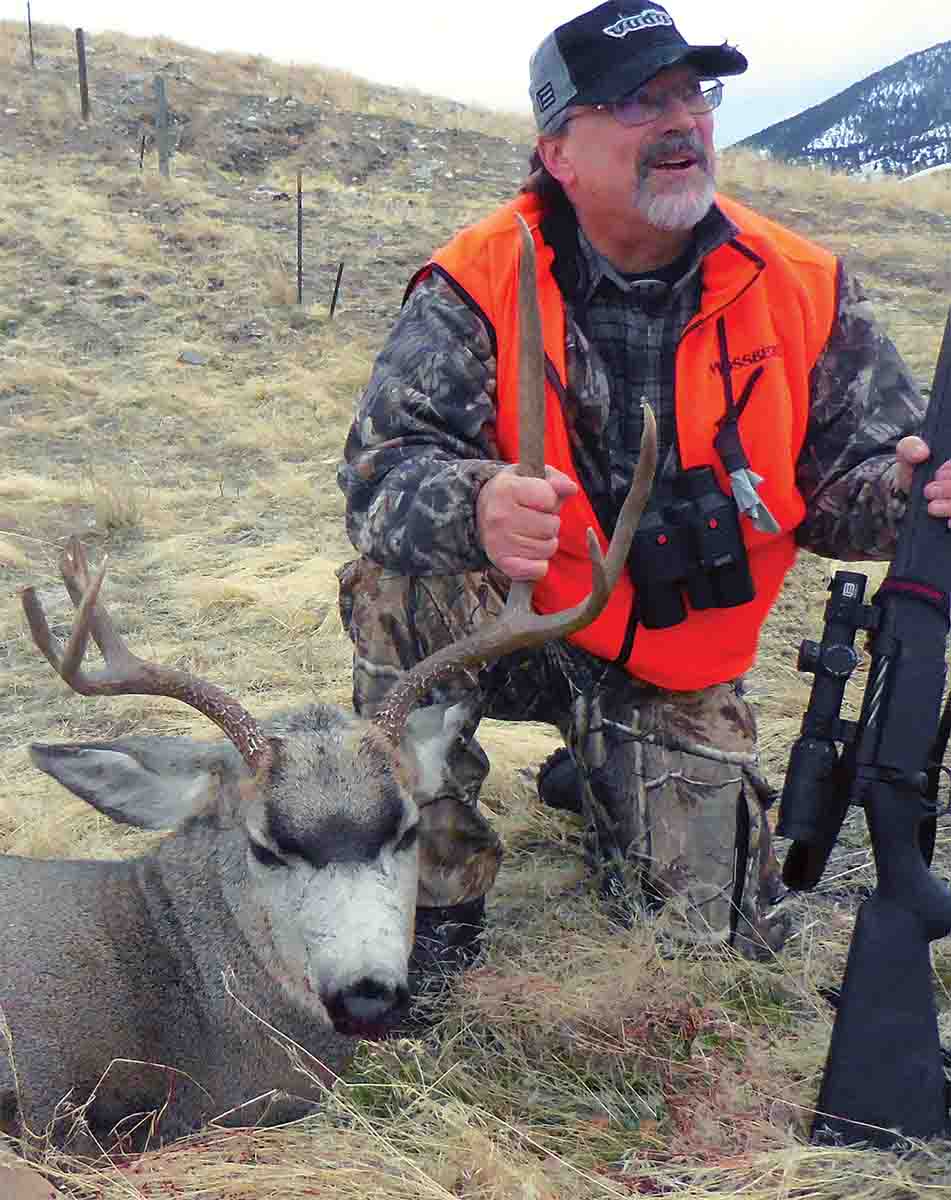 shot from the NULA 20 years ago, when the High Energy loads were first introduced. Muzzle velocities were purposefully held within a fairly narrow range to provide a reasonably equal test for all the bullets. Depth of penetration and retained weight were similar in all the bullets, indicating that despite Trophy Bonded Tips opening easier than softpoint Bear Claws, they penetrate just as deeply.
Accuracy averaged much better than with the original Bear Claws. Mostly I used Federal's loading data which, when compared to data for the same powders with other bullets, indicates the TBT develops more velocity (and hence pressure) than some other bullets. However, the 165-grain .308 Winchester load listed was worked up for the Mossberg Patriot before Federal listed Varget in its data. Several other sources list 45.0 to 46.0 grains as maximum for 165s in the .308, and in the Mossberg 46.0 grains shot most accurately without the slightest hint of excessive pressure, despite being two grains over Federal's listed maximum.
Federal's tables don't include data for the .280 Ackley Improved, the largest 7mm cartridge chambered in any of my present rifles. So far in my hunting career, 7mm bullets at .280 AI velocities have never bounced off big-game animals, and over the last couple of years, somewhat subconsciously, I sold off all my 7mm magnums. (Of course, as a rifle loony I also reserve the right to acquire 7mm magnums in the future.) The two loads listed use charges of Ramshot Magnum and IMR-7977 which have previously proven accurate with other bullets in the 160-grain range.
The 73.0-grain charge of Reloder 19 used in the .300 Winchester Magnum is 1.5 grains less than Federal's listed maximum, but 72 to 73 grains of RL-19 has shot extremely accurately with other 165s in several .300 Winchester Magnums. It proved to be very accurate with the 165-grain TBT as well. The Ramshot Hunter load with the 180-grain TBT was specifically designed to match the velocity of the High Energy 180-grain load from the NULA .30-06 for the penetration test, and it also shot well.
The higher BC of the TBT means it not only shoots flatter than the original Bear Claw, but it doesn't need to be started fast to expand reliably on lighter game. The present 180-grain Trophy Bonded Tip .30-06 factory load is listed at the standard 2,700 fps muzzle velocity, yet according to the Sierra Infinity ballistic program shoots just about as flat as the 2,880 fps Bear Claw load out to 500 yards. It also arrives at 500 with about 250 fps more velocity, and it drifts 6 inches less in a 10-mph cross breeze.
The TBT looks to be a great addition to the premium big-game bullets available to handloaders. I'm already making plans to field- test some more.