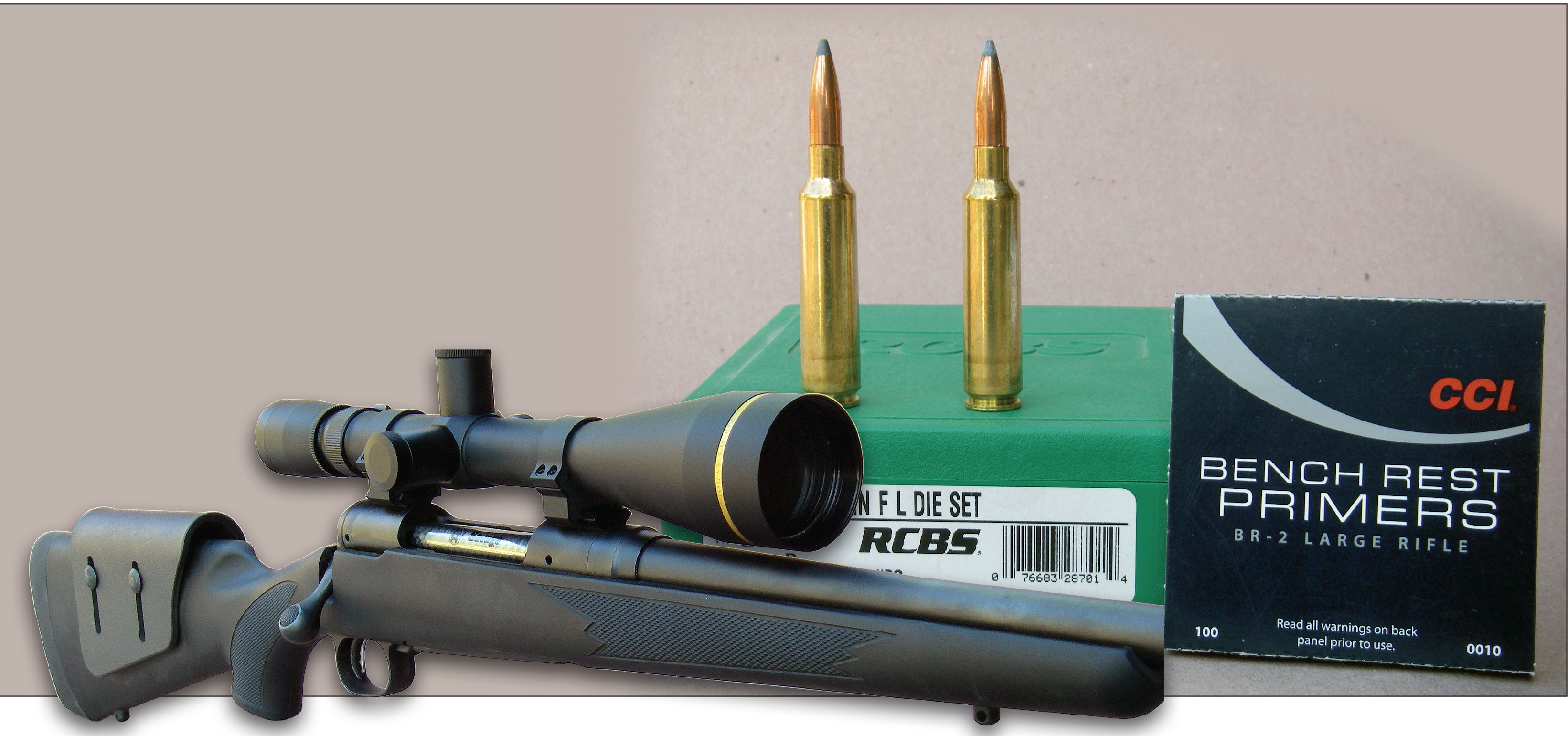 The wildcat 6.5-284 Winchester and the industry standardized 6.5-284 Norma have proven to be good long-range target cartridges that have set rec-ords at 1,000 yards and have become dominant in NRA Long Range High Power competition. Either is an excellent choice for hunting big game, especially in open country where long shots are expected. A handloader can expect good accuracy and modest recoil.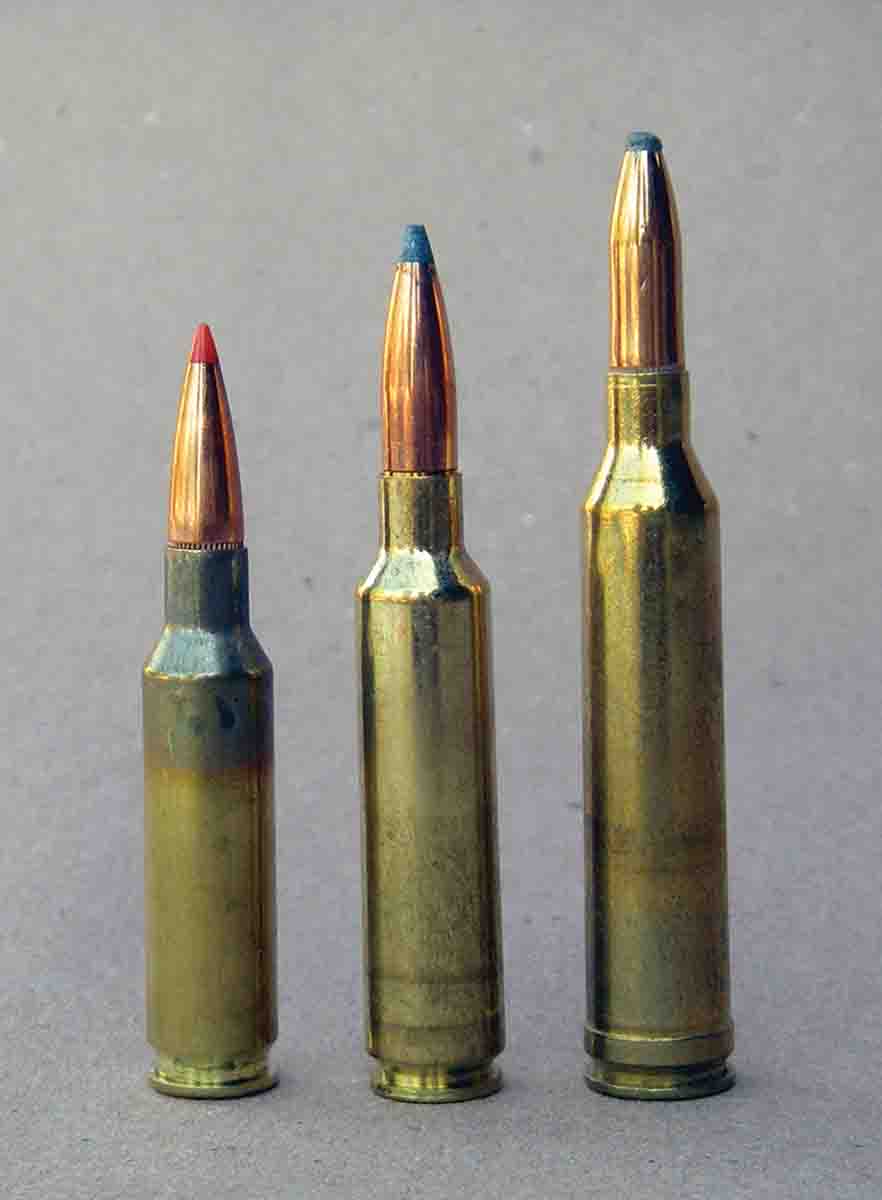 This story really begins with the .284 Winchester introduced in 1963 to approximate .270 Winchester and .280 Remington ballistics in a short-action rifle. It was originally introduced in the Winchester Model 88 lever-action and Model 100 autoloading rifle, both of which had sluggish sales when compared with popular bolt rifles so were destined for discontinuation, which likewise doomed the cartridge. Savage chambered the .284 in its Model 99, and Ruger briefly in its Model 77R, but neither were produced in large quantities.
The majority of hunters and shooters likely never recognized the virtues and advanced design of the .284, and it never achieved the popularity it deserved. The overall cartridge length is 2.800 inches, allowing its use in a .308 Winchester-length action. The case was not based on any other cartridge and was completely new. It featured a unique rebated rim that measured .473 inch (same as the .30-06), which was reported to assist with proper functioning in the Models 88 and 100. The case head measured .500 inch, or .030 inch larger than the .30-06, which served to increase powder capacity and resulted in a short, fat, beltless case long before such designs were popular among big-game hunters. The 35-degree shoulder angle was comparatively steep for a cartridge of that era. Maximum average pressure was established at 54,000 CUP; using modern piezo-electric pressure methods, that translates into approximately 64,000 psi. In ballistic labs and in precision rifles, the cartridge provided top-notch accuracy.
Savvy wildcatters quickly recognized the virtues of the .284 case and began necking it up and down to various calibers. It is the parent case for the .450 Bushmaster and several others, but in the 1960s it was most common to neck it to .243/6mm, .25 and 6.5 calibers. The 6.5-284 was the least popular of those three, but when it began to demonstrate its long-range advantages, competitors worldwide swarmed to it while the other wildcats fell from popularity. Using an "improved" case, Rich DeSimone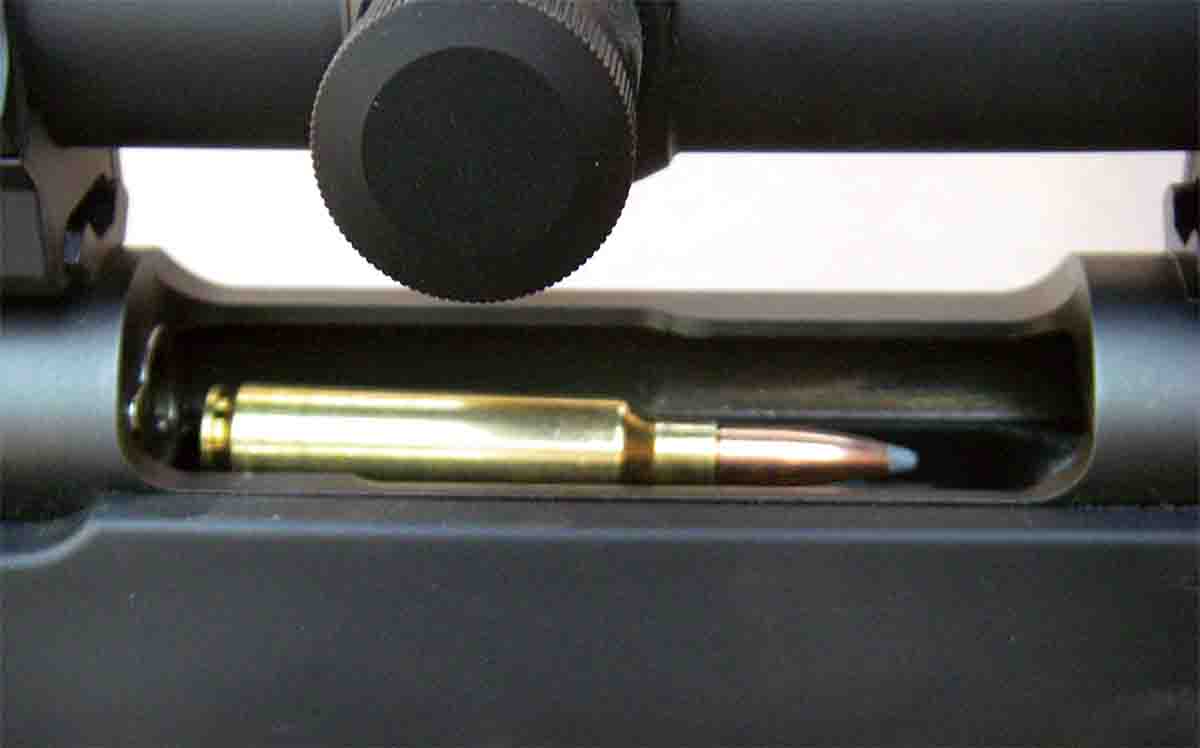 fired a 1.564-inch, world-record group at 1,000 yards.
While space will not permit a lengthy discussion, the 6.5 caliber offers a unique blend of long, high ballistic coefficient (BC), low-drag bullets that often retain high downrange velocities. This results in less wind drift, and reliable expansion when desired. Heavy-for-caliber bullets also have a high sectional density and often provide deep penetration on game. In Europe, various 6.5s are often used on moose with great success. Popular 6.5 cartridges, such as the 6.5 Creedmoor, 6.5x55 Swede, .260 Remington, 6.5-284 Norma and others, offer mild recoil and permit the shooter to concentrate largely on shot placement and shot-to-shot consistency. As long as the cartridge is not a hugely over-bore version, barrel life is respectable.
There are several variations of the 6.5-284, but the two most common are based on the .284 case simply necked to 6.5 without any other significant changes. The first version has an overall cartridge length of around 2.800 inches that allows it to function in .308-length actions, and chamber throats are cut comparatively short to correspond with the shorter cartridge. This short-action version is most commonly known as the 6.5-284 Winchester. It is popular with big-game hunters wanting a shorter, lighter rifle and is still offered by many custom gunsmiths, as well as New Ultra Light Arms, as a standard chambering that is reported to have strong sales.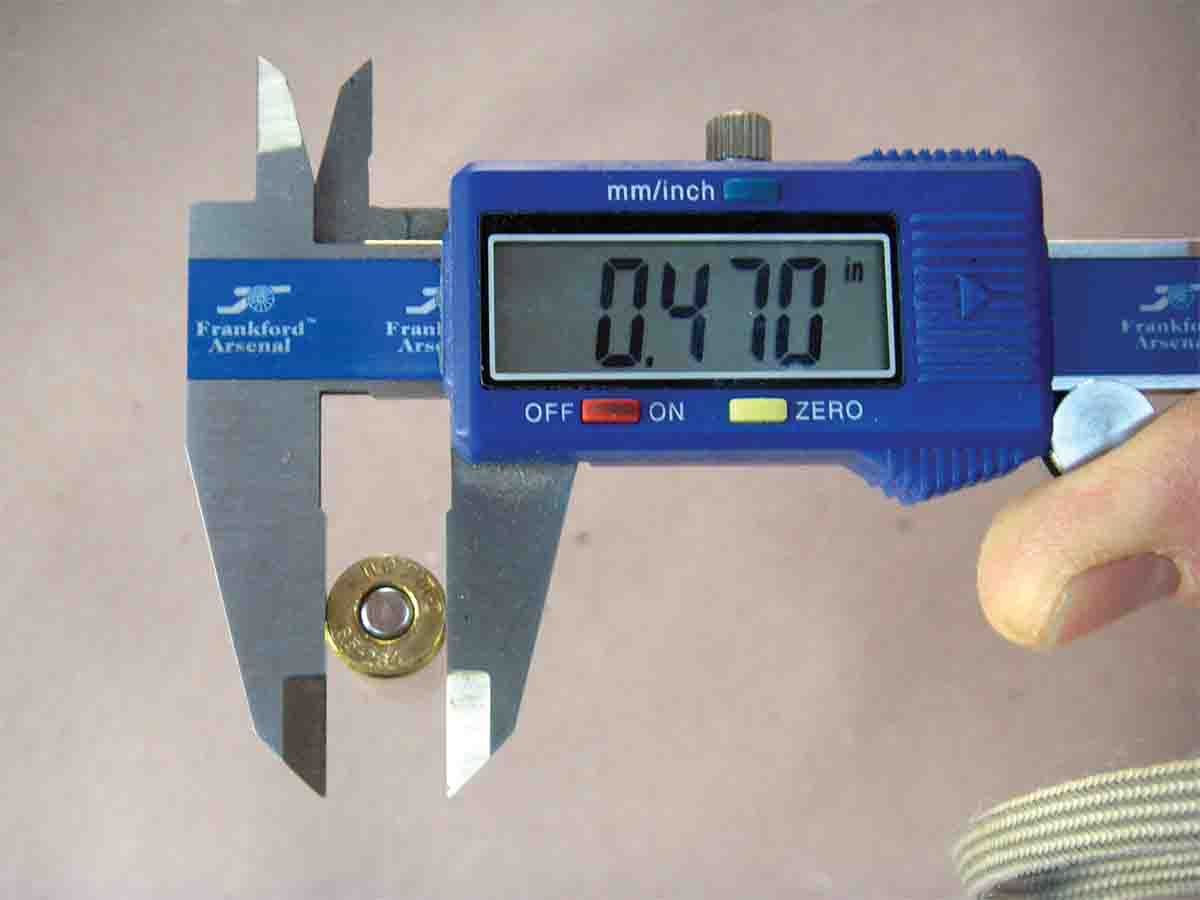 The second version is designed with bullets seated farther out for an overall cartridge length up to 3.228 inches, which requires a .30-06-length action. This version increases powder capacity and velocity. Naturally, the throat is cut longer to accommodate the longer bullets. This is the configuration that has gained such widespread popularity among long-range competitors.
Due to its huge popularity in Europe and the U.S., in 1999 the Swedish firm Norma introduced the 6.5-284 Norma as a standard cartridge to Commission Internationale Permanente (C.I.P.), more commonly known as the Permanent International Commission for the Proof of Small Arms. Its role is similar to SAAMI, including establishing industry specifications for cartridge pressures, dimensions, etc., for Europe. Commercial 6.5-284 Norma ammunition, first produced in 2001, is based on the previously described long-action version. As a result, ammunition offerings will not function in a short-action rifle chambered for the 6.5-284 Winchester, and neither will ammunition chamber in rifles with a shorter throat.
According to C.I.P., 6.5-284 Norma specifications include a standard barrel length of 24 inches with a 1:9 barrel twist rate. The standardized bore is .256 inch with a groove diameter of .264 inch, and six lands. Maximum overall cartridge length is listed at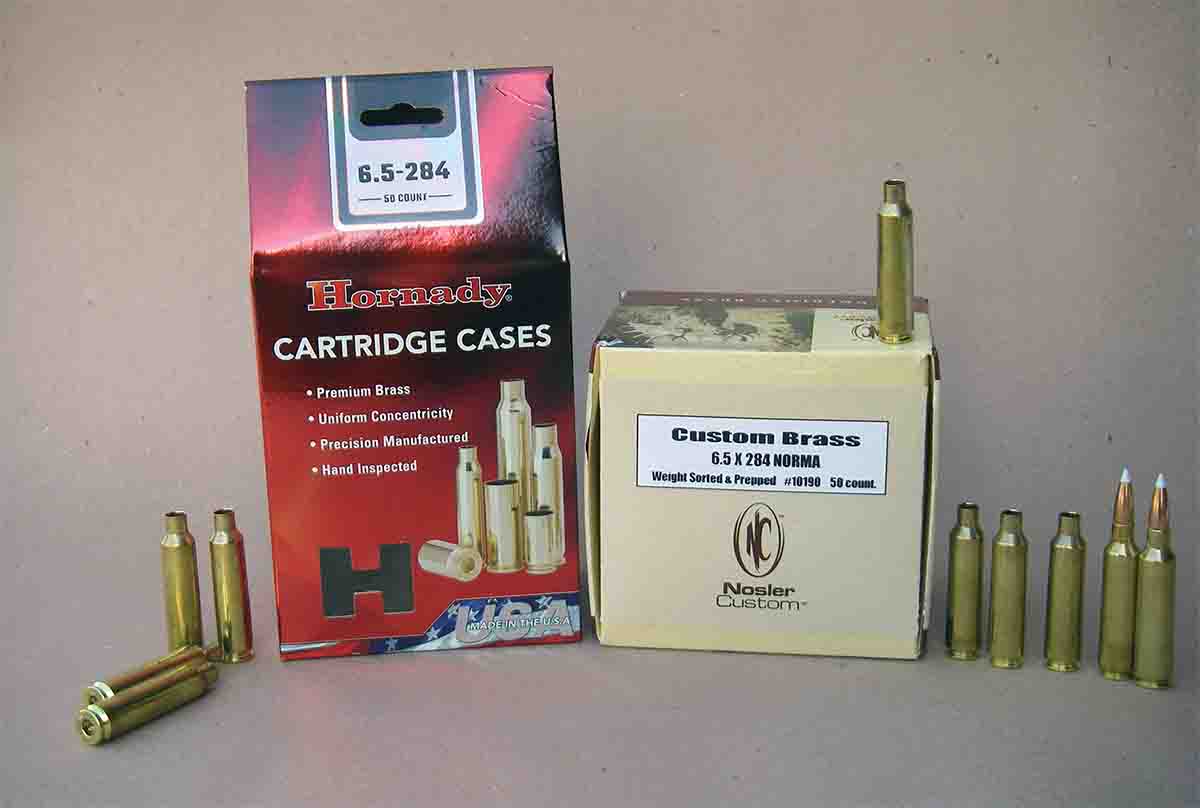 3.228 inches.
If using a rifle that was chambered when this cartridge was still a wildcat, use extreme caution and be certain that chamber dimensions (especially throat length) correspond with the Norma chamber, or pressures may increase prematurely.
NoslerCustom factory loads are offered with expanding hunting bullets that include 120-, 125-, 129-, 130- and 140-grain options. Norma offers a 156-grain Oryx bullet for deep penetration on heavier game. Nosler offers its 140-grain hollowpoint BT Match bullet, and Norma offers a 130-grain match load. For reference, the shortest load checked measured 2.881 inches overall length, but most measured around 3.00 to 3.10 inches.
For the purposes of developing Pet Loads for the 6.5-284 Norma, a new Savage Model 111 Long Range Hunter was purchased. With the Norma chamber, it is built on a .30-06-length action. It also features a 24-inch barrel fitted with a muzzle brake that can be changed from "on" to "off" with a twist. Time was taken to break in the barrel by firing a shot, cleaning the barrel, then wiping a light coat of oil in the bore and firing another shot. This process was repeated for the first 10 shots, then again after every five shots until around 50 rounds were fired. This helped smooth the bore and kept copper fouling to a minimum during load development. Other than barrel break-in and occasionally checking the guard screws with a torque screwdriver, the rifle was left as it came from the box.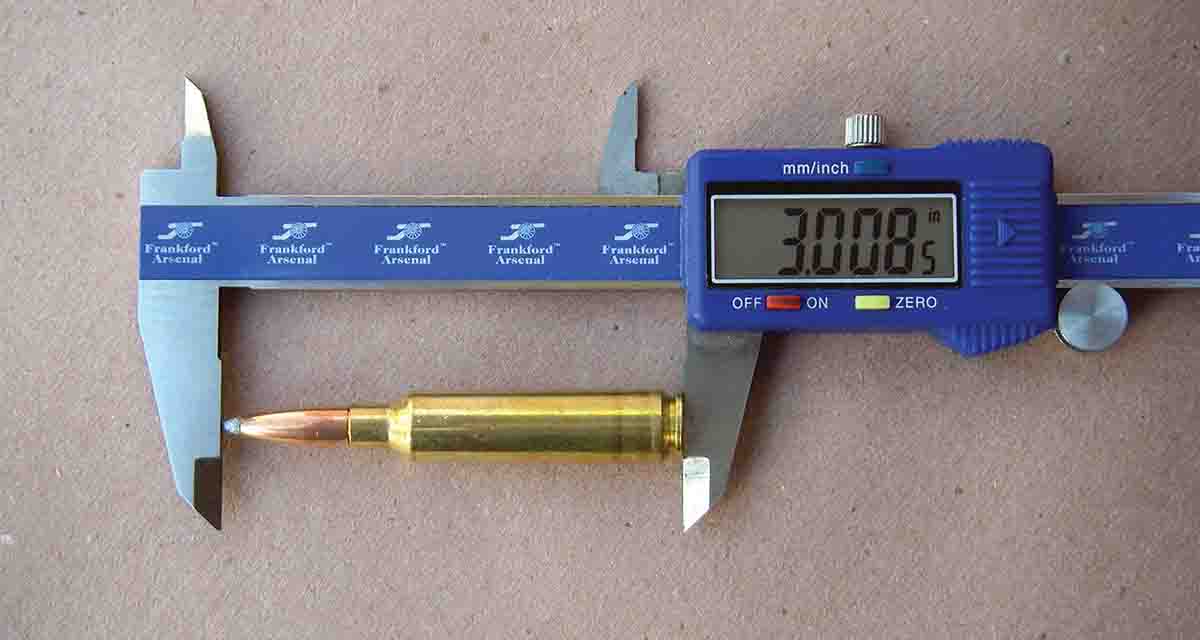 A Leupold VX-3i 6.5-20x 50mm variable scope was installed using Leupold QR rings. The rifle quickly proved that any reasonable load was capable of groups smaller than .5 inch at 100 yards. The rifle was checked for velocity and accuracy with factory loads from Norma and Nosler, the results of which appear in an accompanying table.
Cases are offered from several sources, including Norma, Nosler, Hornady and Lapua, the latter not available at press time. In checking water capacity measured level with the case mouth, Norma brass held 66.8 grains, Nosler brass held 67.0 grains and Hornady brass held 65.5 grains. All are of top quality and were uniform in weight from case to case. Hornady cases were used exclusively in developing the accompanying data.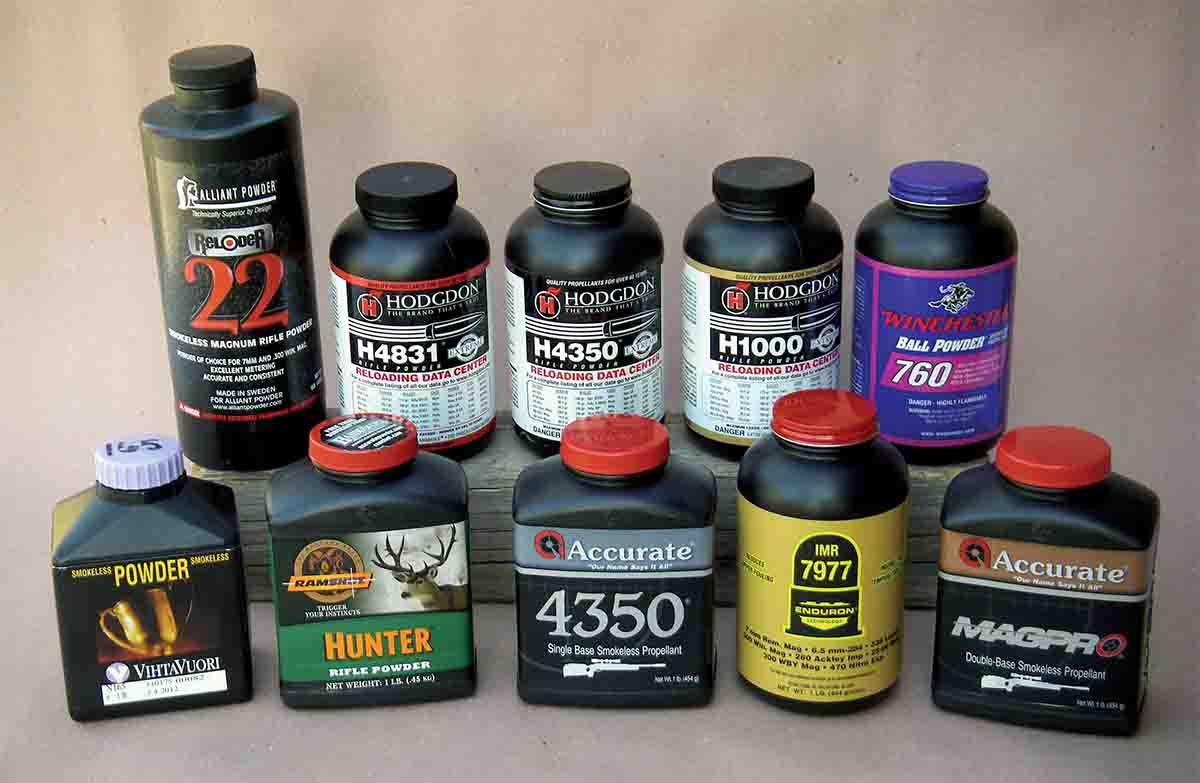 In studying data from other labs, two items stood out that should be mentioned: First are the differences in bullet seating depths. In some instances, bullets were seated to a longer overall length than the 6.5-284 Winchester cartridge (2.800 inches) but were not seated out to optimum lengths for the Norma chamber. This will usually result in higher pressures and a decrease in accuracy. Another notable observation was primer choice. Some data utilized large rifle magnum primers, which will increase pressure when used in a load that was developed with standard primers. (As a side note, Norma uses Federal 215 Large Rifle Magnum primers in its factory loads, which in my comparison testing resulted in maximum pressures being reached prematurely.) The data included here utilized standard CCI BR-2 primers and allowed increases in powder charges and velocities when compared to the same load with a magnum primer. There were no hangfires or indications of poor ignition. Most loads utilized around 45.0 to 55.0 grains of powder, with only a few loads reaching around 60.0 grains. This volume of powder is easily ignited with a standard primer. And in initial tests, standard primers were producing lower extreme velocity spreads and better accuracy than magnum primers.
When using load data that contains spherical powders such as Accurate 2700, Magpro, Ramshot Hunter and Winchester 760,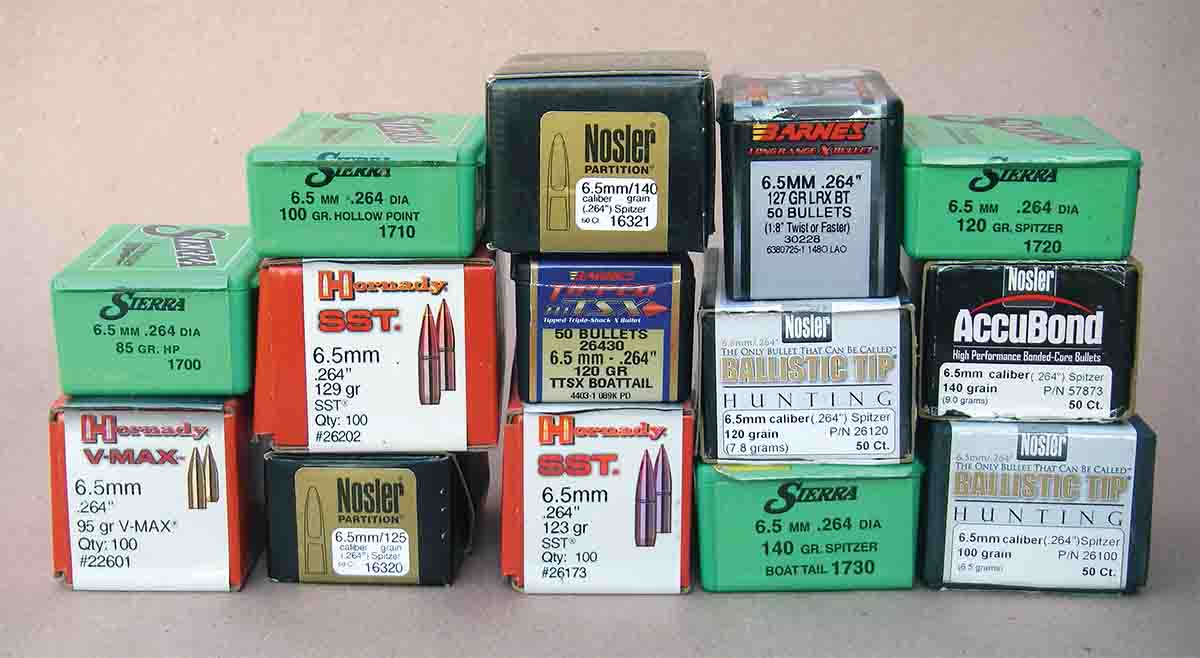 do not reduce the starting charges, or hangfires or erratic ignition may occur. I was pleased with the overall performance and accuracy of the powders mentioned above and especially appreciate their uniformity when charges are thrown, rather than weighed. It should be noted that, almost without exception, the best accuracy and consistency results were observed with maximum or near-maximum powder charges.
Extruded powders often yielded top accuracy and produced the lowest extreme spreads, a feature that long-range competitors go to great length to achieve for critical shot-to-shot consistency that is crucial at extreme ranges. Hodgdon Extreme powders, such as H-4350, H-4831, H-4831sc and H-1000, along with Vihtavuori N160 and VV-N165, Alliant RL-19 and RL-22 were all outstanding in this respect.
With various 6.5 calibers becoming popular among target shooters in the U.S. in the last few years, the selection of great match bullets is extensive. To keep the accompanying load data manageable, match bullets were limited to the Sierra 107-, 130- and 142-grain HPBT, Berger 120-grain BT Target, Nosler 123-grain HPBT and Hornady 143-grain ELD-X. Each produced notable accuracy; however, due to their typically high BC and lower drag, long-range shooters usually gravitate toward the heavier versions, with the ELD-X (a dual-purpose bullet) justifiably popular in this cartridge.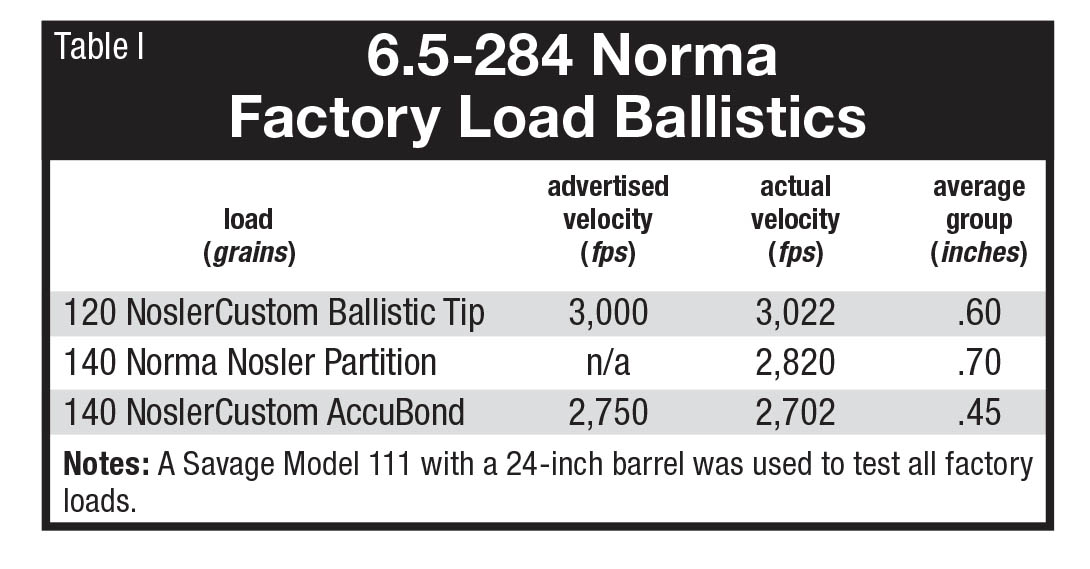 Varmint shooters will appreciate the high velocity and nearly explosive expansion of the Speer 90-grain TNT and Hornady 95-grain V-MAX bullets, both of which crowded 3,400 fps with select powders.
The choice of big-game hunting bullets is extensive. For its velocity, the Nosler 100-grain Partition could easily provide 3,450 fps. Solid copper expanding bullets, such as the Barnes 120-grain TTSX-BT, 127-grain LRX-BT and Hornady 120-grain GMX, are popular due to their comparatively light weights and deep penetration on game. Several loads easily reached 3,000 to over 3,100 fps. There are also excellent 120- to 129-grain cup-and-core bullets designed specifically for optimum performance on deer-sized game. A few examples include the Nosler 120-grain Ballistic Tip and 125-grain Partition, and Hornady's 123- and 129-grain SST. Velocities were typically between 2,950 and 3,100 fps. For heavier game requiring greater penetration, the Nosler 140-grain Partition and Swift 140-grain A-Frame are classic choices that often penetrate more deeply than much heavier .30-caliber bullets. Select loads reached 2,750 to 2,850 fps.
In working with the 6.5-284 Norma for many years, it has provided consistency and a high degree of accuracy and overall performance. With new bullets and powders, it is better than ever.