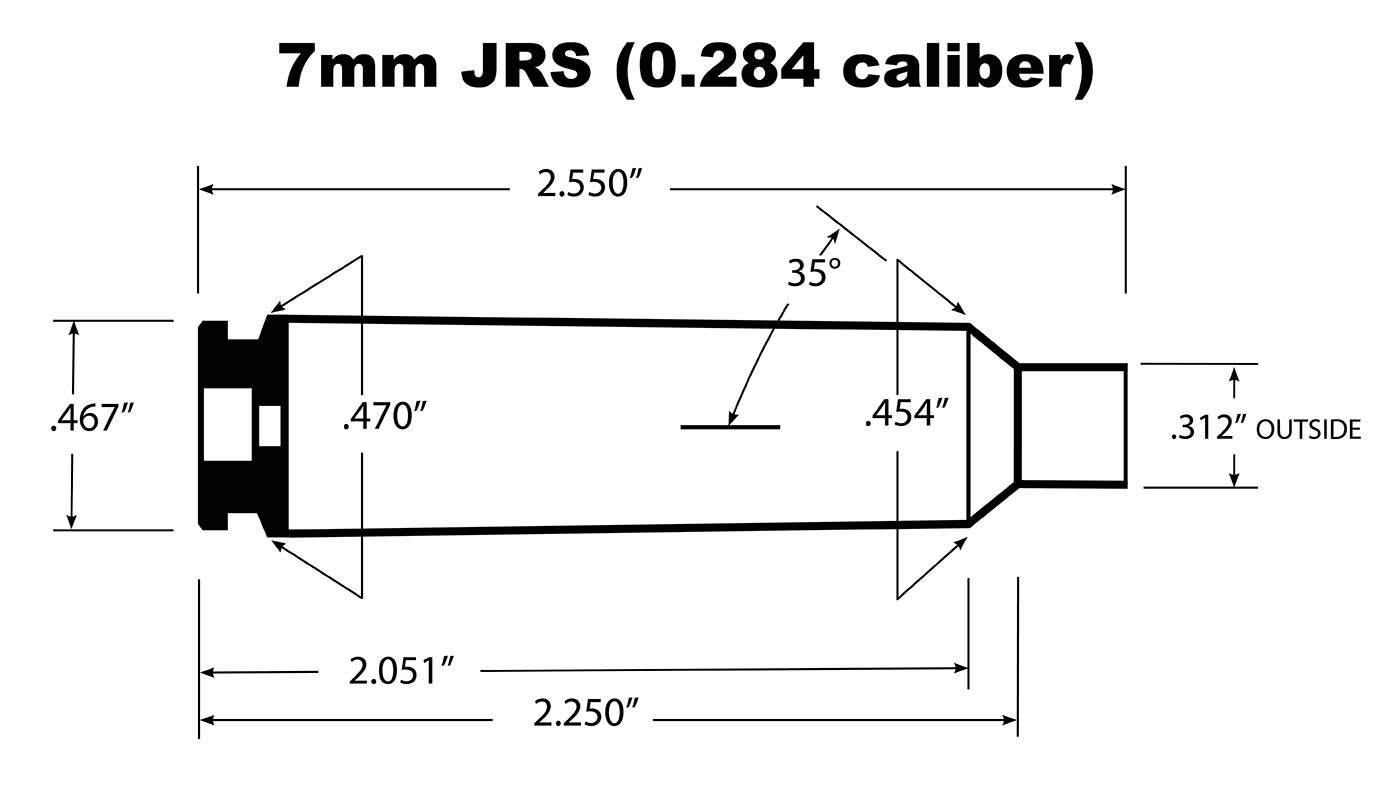 A fire crackled in the corner, rain played a tune on the metal roof, and Jon Sundra had our undivided attention. He was telling stories of hunting Rusa stag, black lechwe, warthogs and leopards. On that rainy Newfoundland night there was no mention of the 7mm JRS, but it was relevant because Sundra had used the wildcat cartridge bearing his initials to take all those animals.
Sundra's reasoning for the 7mm JRS – every wildcatter needs some rationale, real or imagined, to justify their obsession – was the fact that he disliked belted magnum cartridge cases. He also considered the roughly 82-grain water capacity of the 7mm Remington and Weatherby Magnums larger than optimum for the .284-inch bullet diameter. At the same time, he felt the 63-grain water capacity of the .280 Remington was less than ideal. These ideas lead to some work with the .280 Improved, but Sundra still felt there was a better answer.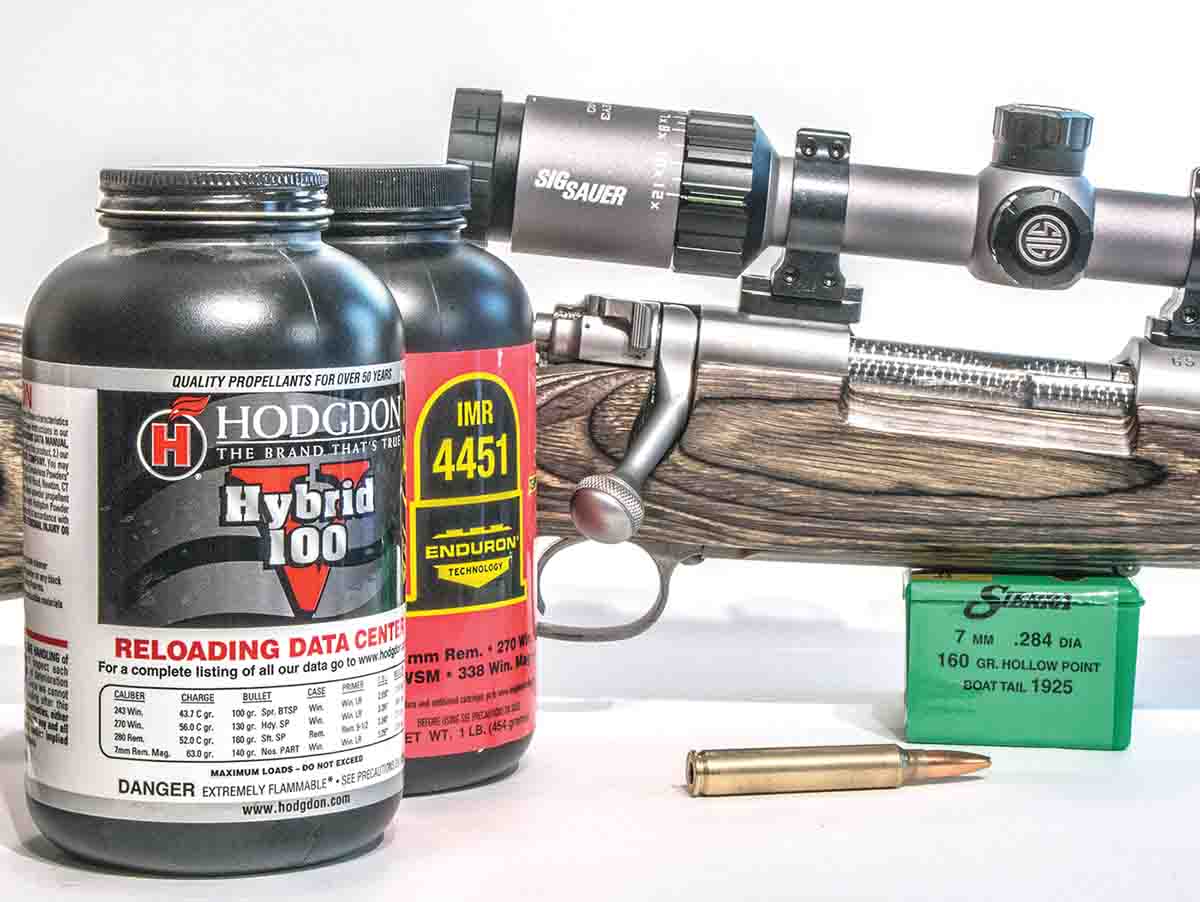 Working with Max Clymer, he specified a reamer based on the .280 Remington case that increased the shoulder angle to 35 degrees and pushed the shoulder forward the distance necessary to form a neck .300 inch long. The result was a case capacity of 71 grains. That's 8 grains (12.6 percent) more than the .280 Remington and 7.5 percent greater than the .280 Improved. Sundra essentially created a cartridge similar to the 7mm Gibbs but with a longer neck and a shoulder angle that is a bit less sharp.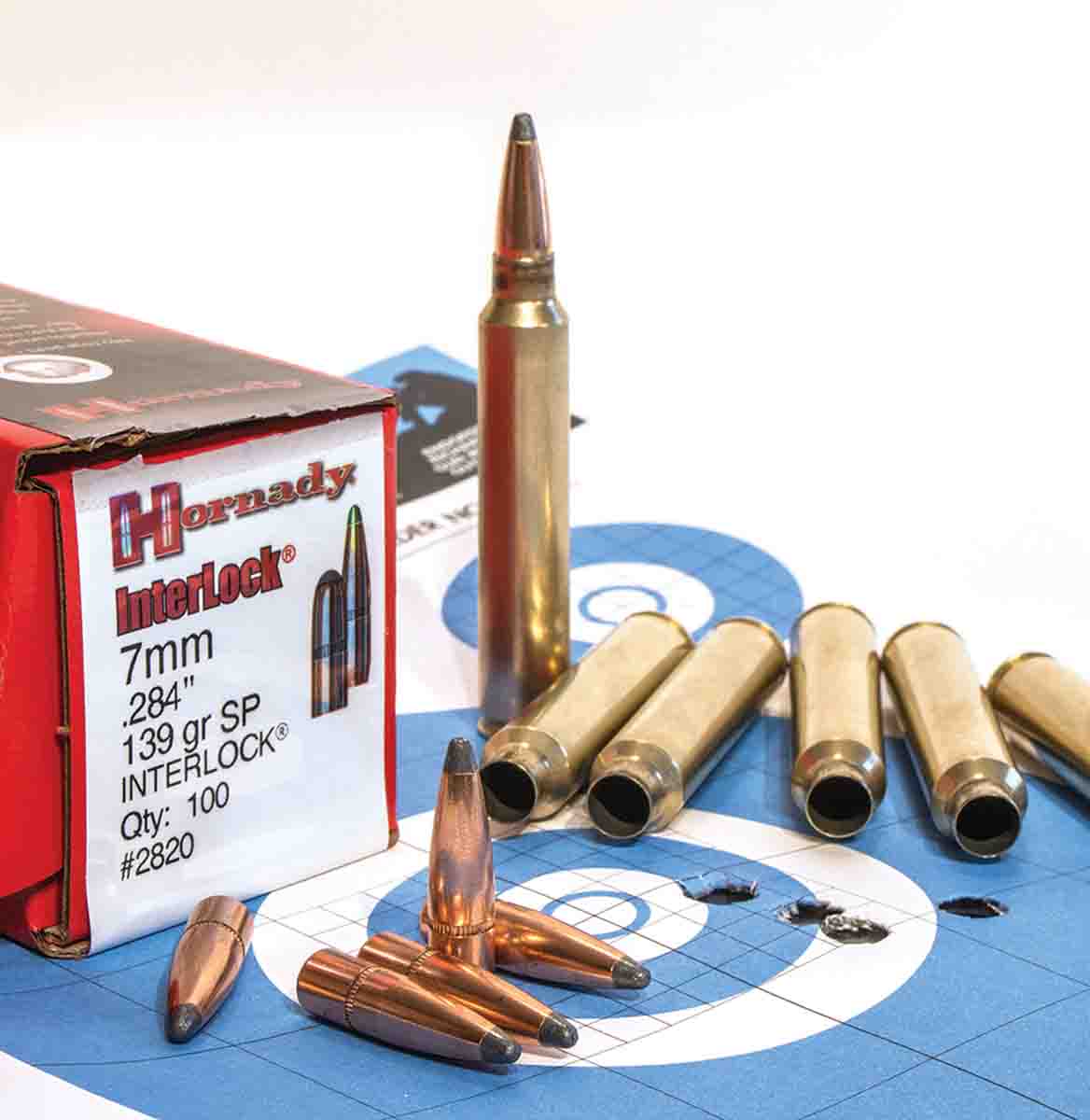 Ballistically, the 7mm JRS cartridge virtually equals the performance of the 7mm Remington Magnum, but without a belt. In an honest admission Sundra wrote, "Equally important is the fact that I'm just vain and superficial enough that I enjoy being the only kid on the block with a 7mm JRS. The wildcatter is no different than the car buff who refuses to drive some nondescript lump the likes of which he sees a hundred others coming the other way each day."
It is unlikely there will ever be a wildcatter that gains fame through the creation of a cartridge, as Ned Roberts did with his .257. That does not mean the 7mm JRS is not a practical cartridge that still has value, even in this world of "short and fat" and 6.5mm hysteria. That's why I was eager to work with it, specifically using propellants that were not available when the wildcat was created.
Sundra sent me a Winchester Model 70 with an E.R. Shaw barrel fitted to a Boyd's laminated stock, along with some brass and instructions on case forming. There are two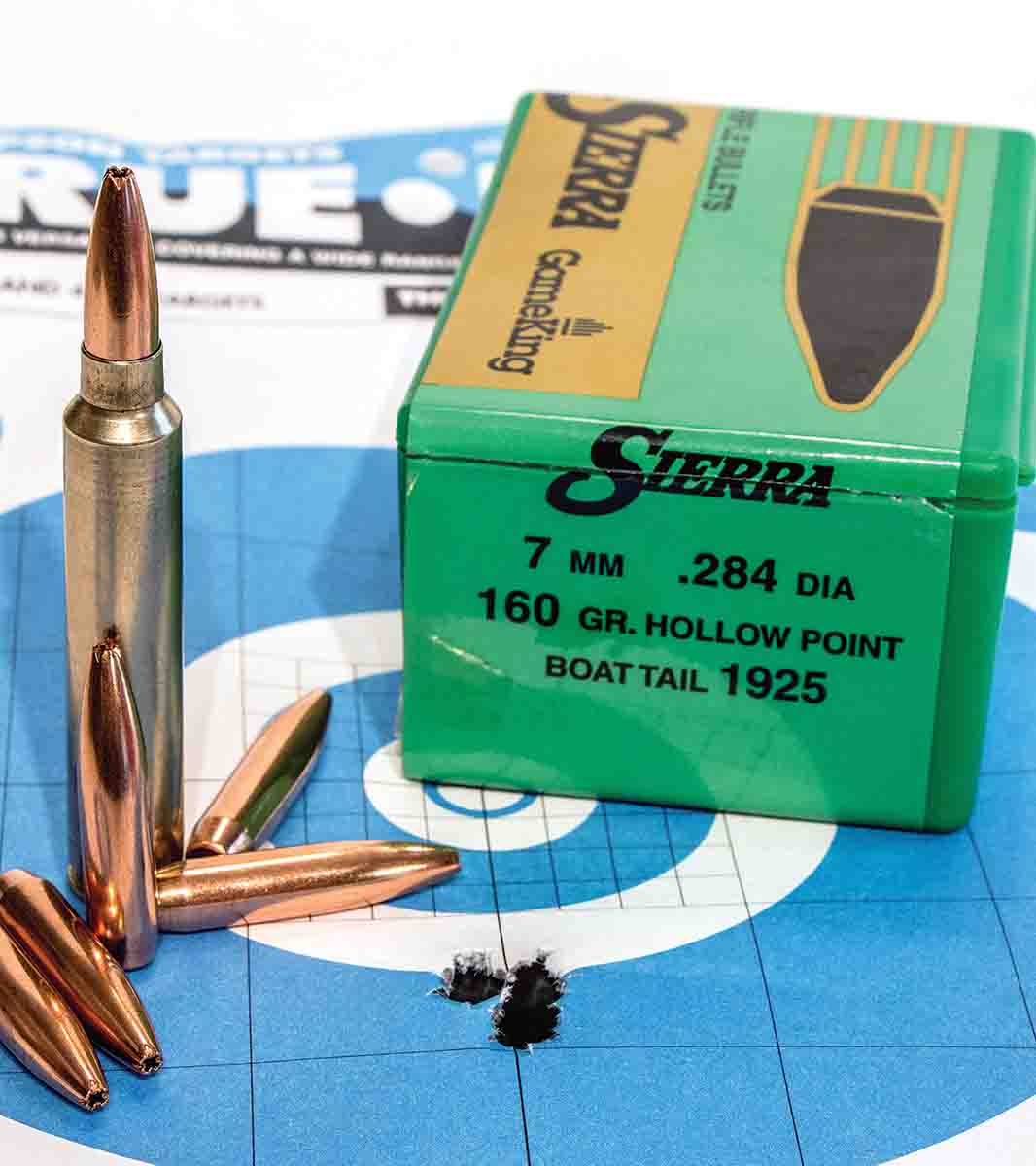 ways to make 7mm JRS brass. The first is to neck up .280 Remington cases to .30 caliber. This can be done with a .300 Winchester Magnum sizing die. The next step is to partially size the neck with the 7mm JRS sizing die; the neck is only sized down far enough so the case will enter the rifle's chamber with slight resistance. This task is performed simply to control headspace. With the case sized in this manner, select a medium-range load for the .280 Remington and fireform the case.
The other method is to start with .30-06 brass and partially size the neck down with a 7mm JRS sizing die until resistance can be felt when closing the bolt. Again, pick a midrange .280 Remington load and fireform the case. The difference in using .280 Remington and .30-06 brass is that with .30-06 brass, the case neck will be formed about .045 inch shorter than the .30-inch neck length specified by Sundra.
I tried both methods, and both worked just as described; however, working with .280 Remington brass requires the extra step of expanding the neck to .30 caliber. Given that I had a good supply of Nosler .30-06 brass, I used it to save time and effort.
Sundra specified Reloader 22 as the ideal powder for the 7mm JRS, with H-4831, IMR-4831 and IMR-7828 being suitable too. I also tried IMR-4451 Enduron introduced in 2014, and Hybrid 100V. Both have a faster burn rate than RL-22 but are in the 4350 range. Without getting too aggressive, I wanted to see if I could approach 7mm Remington Magnum velocities. The question was where to start, and the answer was found with Hodgdon's .280 Improved data.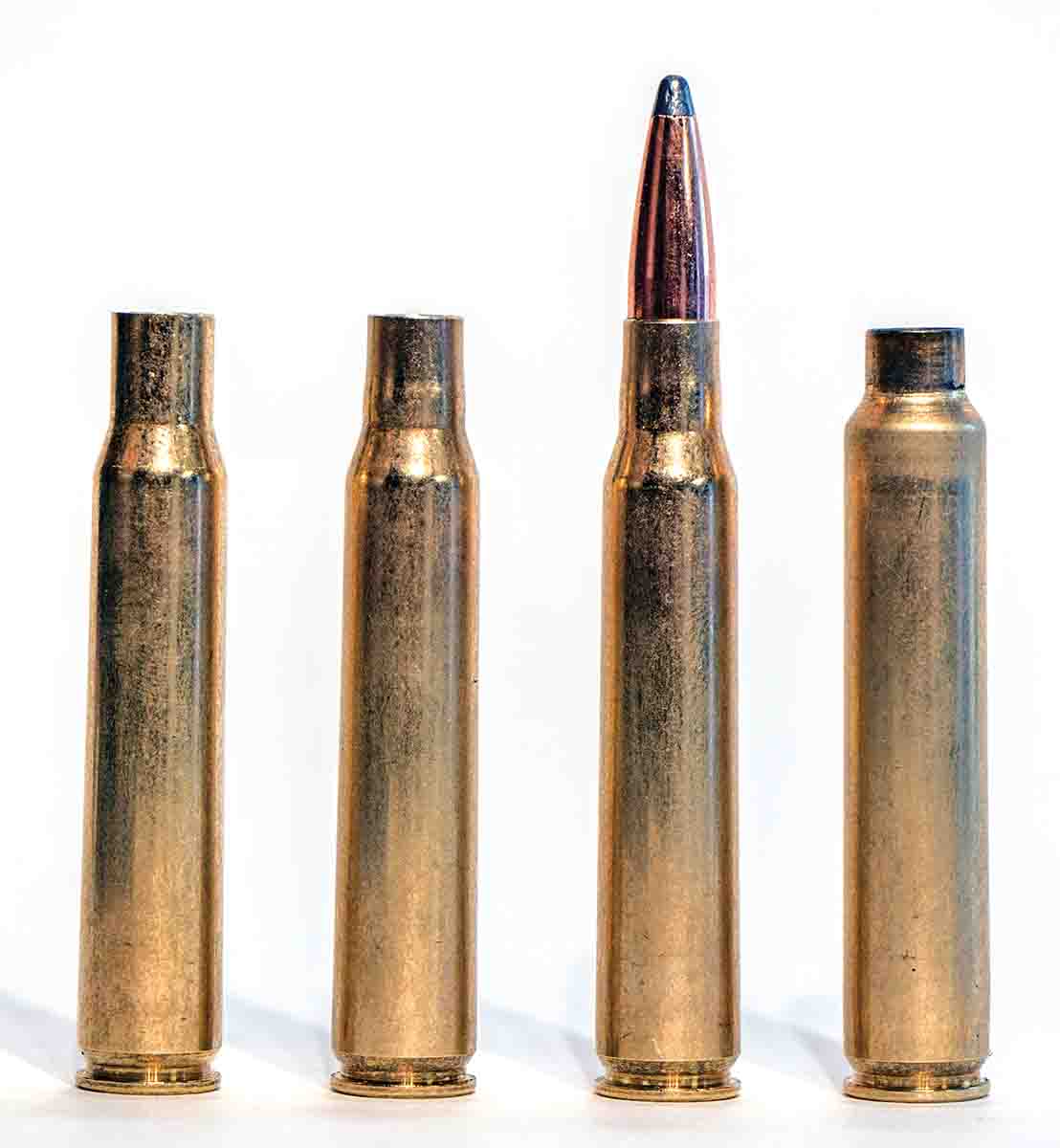 Since the 7mm JRS has a capacity advantage of about 7.5 percent over the .280 Improved, I figured increasing those loads by between 2 and 4 percent would be a good starting point, particularly since Sundra's load of 65.5 grains of RL-22 with a 150-grain bullet uses 6.5 percent more powder than is listed as maximum for the .280 Improved.
Typical 7mm Remington Magnum handloads provide a velocity of around 3,330 fps with a 120-grain bullet. Using 61.3 grains of Hybrid 100V behind a Hornady 120-grain V-MAX delivered an average velocity of 3,334 fps. This load represents a 4.79 percent increase over the maximum powder charge for the .280 Improved. A Sierra 160-grain bullet provided 2,870 fps with 55.8 grains of IMR-4451. This powder charge is 3.91 percent above the maximum .280 Improved load and only falls short of 7mm Remington Magnum loads by 78 fps.
Accuracy with the rifle was rather good. Forty-two, five-shot groups were shot at 100 yards without cleaning the bore. The average group size for all loads fired was about 1.20 inches. Given the rifle's snappy recoil, that is reasonably impressive. It should also be noted that because the brass used was formed with .30-06 cases, case necks were a bit shorter than Sundra's specified ideal of .300 inch. Only one load was developed using the longer neck obtained with Norma .280 Remington brass. It shot groups a bit tighter than the .30-06-based loads, and it also showed a slight increase in velocity.
According to Hodgdon, the maximum 120- and 160-grain .280 Improved loads with Hybrid 100V and H-4451 produce velocities very similar to those I chronographed with the 7mm JRS. What this means is that there is room here to grow. If powder charges that were 6 percent larger than those listed as maximum for the .280 Improved were cautiously used for the 7mm JRS, then 7mm Remington Magnum performance might be exceeded. As stated earlier, I did not want to push the envelope, I wanted to see what I could do – conservatively – with the 7mm JRS using these new powders.
Admittedly, I'm not a 7mm kind of guy. I'm also not a "magnum" kind of guy, because I've never felt the need to deal with much recoil to kill a big-game animal. Regardless, with a rifle chambered for the 7mm JRS, there are only a few critters walking this planet that would seem too big to tackle.