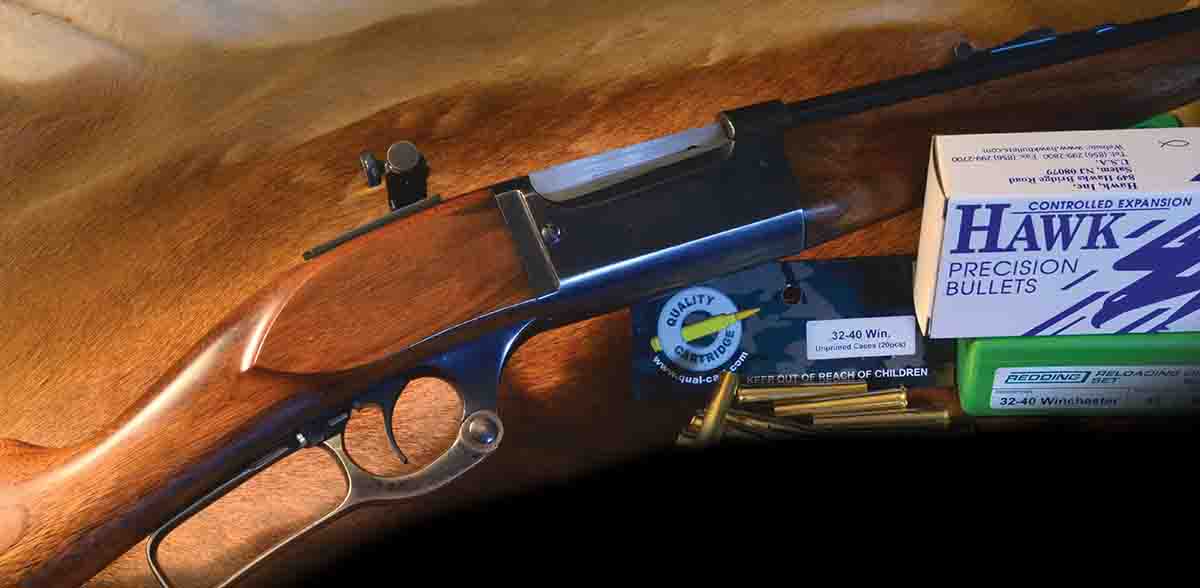 In the bad old days when good brass was so hard to come by, we haunted small-town gun shows, buying up lots of a dozen cases here, a dozen there – used, grimy, tarnished and of uncertain history, but ready to be lovingly returned to life (It was hoped!) and ready to reload.
Old-timers used to do the same thing with bullets. You'd be nosing around a trestle table laden down with the detritus of someone's loading room and find a beat-up, old partial box of Remington Core-Lokts, usually with about 25 or 30 bullets in it. Not enough to do any load development; not enough, really, to do anything except haul out data for a load you put together during the Carter administration, pray that it didn't require HiVel No. 2, and cobble together enough loads for a .32 Remington to resight the old beast and get through one hunting season.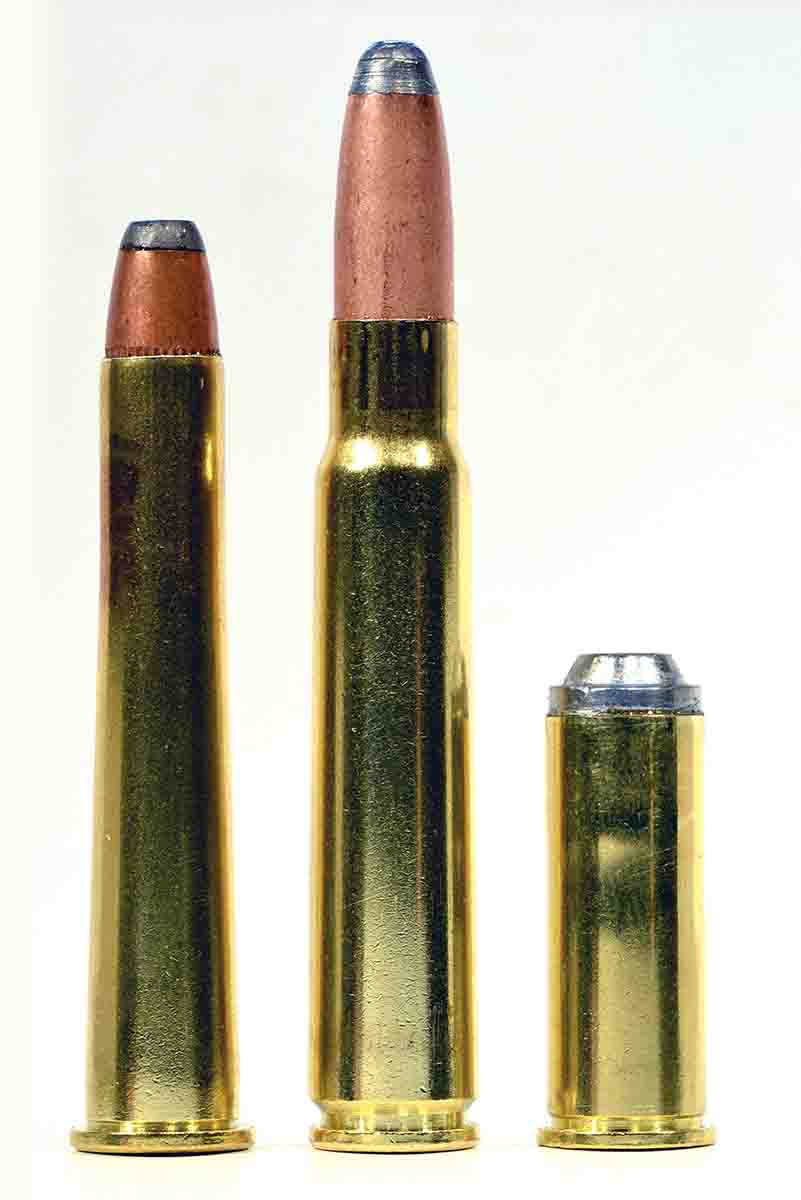 Lest you think that's mere hyperbole intended to scare you into laying in a lifetime's supply of brass and bullets for every gun on hand, right now while the getting's good, relax. It's not intended to scare anyone, nor is it mere hyperbole. It's all true. I was there, and I did it, and so has every other serious shooter of my acquaintance over the age of 50. I won't even mention primers.
Taking a quick stroll through the dusty aisles of my memory, I recall living through three full-blown primer droughts – by which I mean serious shortages lasting at least a year. There have been two periods of serious brass shortages of every caliber, not just the oldies or the weirdies. Bullet shortages come and go. If memory serves, these usually coincide with periods of radically increased military demand.
If a handloader wants to really shudder, go back and read accounts of what shooters had to do between 1939 and 1945. The U.S. wasn't even in the war for the first two and a half years, but available ammunition capacity was concentrated on military contracts for the British and other countries that were fighting. Munitions companies were not about to divert machinery to produce small runs of .32-40, for example, when they could keep them running full blast, turning out .303 British for stacks of immediate cash. Those shortages continued for years after hostilities ceased, but this at least had the benefit of spurring the creation of small specialty companies like Hodgdon, Sierra, CCI, Speer, Hornady and Nosler.
In recent years both bullet and brass manufacturing has become less of a big-money investment as technology has progressed and the necessary machinery has become more available and less expensive. It's still not cheap, and making good bullets and brass requires a lot more than a piece of machinery or two, but it has allowed some even smaller niche companies to get into the business, filling a definite need that is not worthwhile for bigger manufacturers.
The field of new brass includes Quality Cartridge, and for bullets, Hawk, Inc. Those are just two, and there seem to be new ones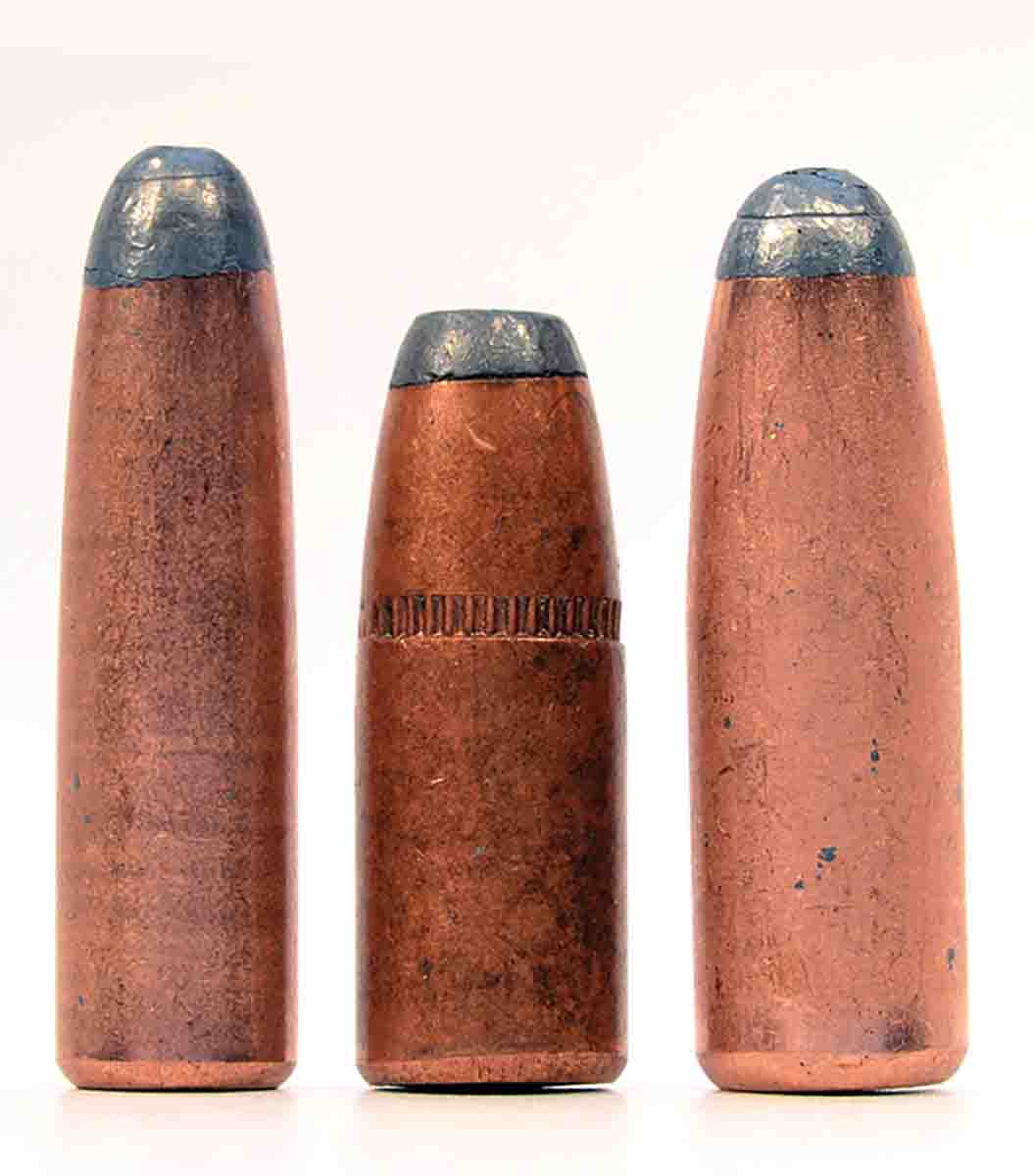 coming along all the time, but Quality Cartridge and Hawk have been around long enough to establish a track record, build a reputation for their products and attract a loyal clientele. I've been using Hawk bullets in various applications for about 15 years, and Quality Cartridge brass almost as long. Hawk (www.hawkbullets.com) is run by Andy Hill and is located in New Jersey; Quality Cartridge (www.qual-cart.com) is in Maryland.
To start with Hawk, Andy's bullets are available in a wide range of diameters, weights and configurations. The basis of his quality rests on using pure copper jackets containing pure lead cores. Within certain velocity limits, this combination has proven very effective for 130 years. The jackets are not bonded; instead, bullets are tailored to a particular velocity range by varying the thickness of the jacket, usually from .025 to .035 inch, depending on caliber.
Bonding, by whichever of the many methods now being employed (or claimed), is an expensive process and adds substantially to production costs. This naturally translates into increased prices, and while I've been known to pay extravagantly for some bullets, it is not something I do willingly. As well, if a handloader shoots a lot, and most of those bullets are only hitting paper or steel plates rather than game, why waste money on bonded bullets?
Another consideration is that older cartridges, like the aforementioned .32-40, 8x56 Mannlicher-Schönauer, .32 Special or 9x57, do not generate enough velocity to make bonding necessary, even if hunting elk. What's more, many of the barrels in older rifles were made of softer steel than that used today. It responds better to either lubricated lead or soft copper than to harder alloys, especially at higher velocities. What this adds up to is that for many great, old cartridges, Hawk bullets will perform well on either game animals or inanimate objects, and be kind to both your rifle and your bank account in the process.
My experience with Quality Cartridge's brass has been nothing but good, and I have used six or seven different calibers over the years. The most common fault with brass is splitting on the first or second shot – a problem I have encountered with other brands of brass in the past in some (but not all) calibers. By coincidence, it happened almost every time with some new .32-40 and .303 Savage brass bought a dozen years ago. With brass, the only real test (provided it chambers properly) is whether it lasts and can be reloaded over and over without case necks hardening and splitting. I have yet to have this happen with any Quality case.
One great advantage with Quality brass is a proper headstamp to match your rifle. This is not an issue unless you are traveling with a rifle and ammunition, and for customs and legal reasons need to have them match. This is necessary with my .450 Ackley, which is one reason I bought about 200 cases earlier this year. That is more than a lifetime supply, as anyone who has shot much with a .450 Ackley can attest.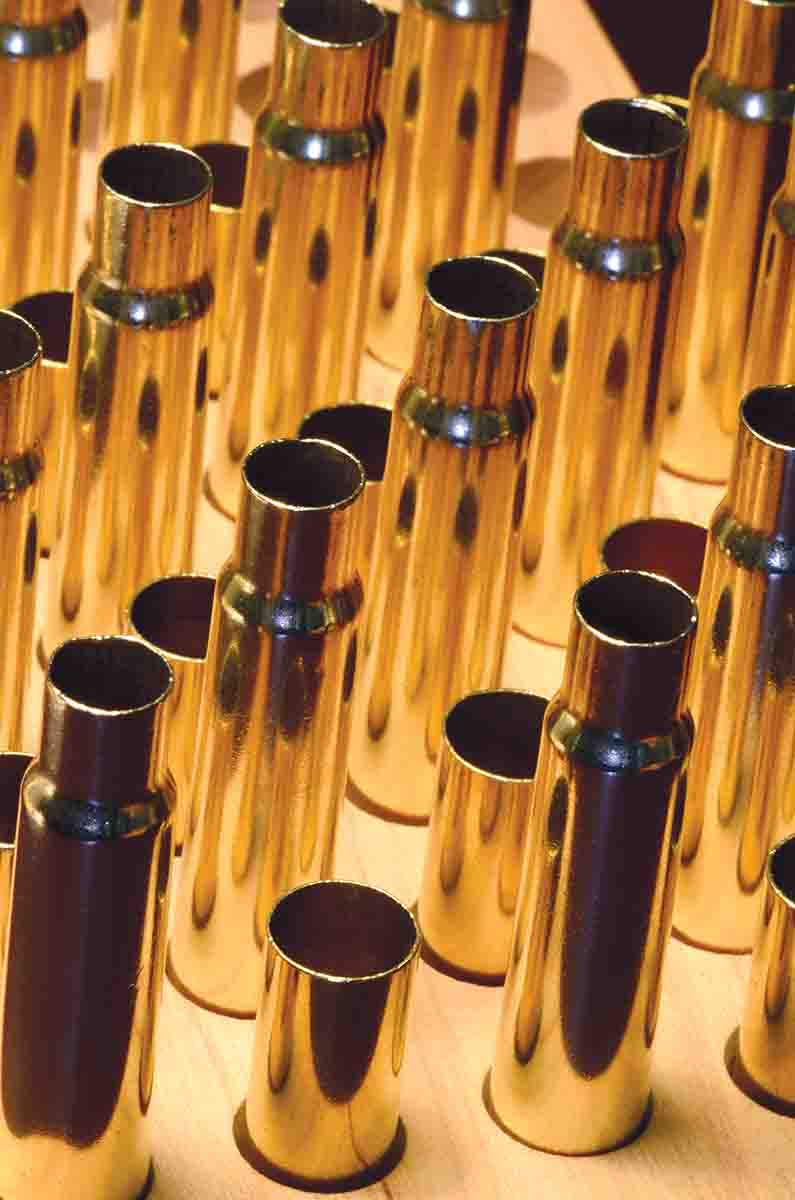 For the purposes of this test, I wanted to get Quality brass and load it with Hawk bullets, but this was only possible with two cartridges, the .32-40 and 8x56 Mannlicher-Schönauer. I got some .41 Special brass, which I loaded with no-name, 175-grain, cast bullets. Hawk also sent bullets for the .280 Ross, which I will test at some future date. This test was fairly carefully planned, but the plans came apart because of a common problem with both Hawk and Quality. That is, they are often out of stock on a bullet or case, and one has to wait until they do another run. Unlike big companies like Winchester that may decide it's time for some more .32-40 brass and then run off a half million or so, small companies do limited runs. One cannot blame them for this. However, if there is something you need, it's a good idea to get your name on the waiting list, if for no other reason than to help establish a demand, and hope that supply will be forthcoming.
Quality Cartridge could supply the .450 Ackley brass I needed, but Hawk was out of stock on some .450 bullets; conversely, Hawk supplied .280 Ross bullets, but Quality had no brass.
For fun, I decided to measure and weigh 10 random samples each of the bullets received from Hawk. On the box, the company states that the bullets contained therein have been electronically weighed and will not vary more than plus or minus .5 grain. The bullets were 170 grain, .321 inch (.32-40); 200 grain, .323 inch (8x56 M-S) and 160 grain, .280 Ross.
The 170-grain bullets varied between 169.3 and 170.5 grains (a range of 1.2 grains) and measured a uniform .322 inch, with two bullets measuring .3227. The 200-grain, 8mm bullets varied from 198.6 to 199.2 grains (.6 grain difference) and measured from .3238 to .3242 inch. The 160-grain .280s ranged from 159.5 to 160.2 grains (.7 grain difference) and varied in diameter from .2860 to .2872 inch.
Since benchrest shooters like to weigh cases to achieve uniformity, I did the same with three Quality cases: .32-40, 8x56 M-S, and .41 Special. The .32-40 brass varied from 131.6 to 132.9 grains. The 8x56 M-S varied from 176.0 to 178.1 grains, and the .41 Specials from 91.2 to 93.0 grains. These weight variations are comparable with what I've found weighing 6 PPC and .22-250 Remington brass in the past, and that was brass intended for benchrest and target work.
Loading these bullets in this brass and shooting them for velocity and group size in two rifles that are more than a century old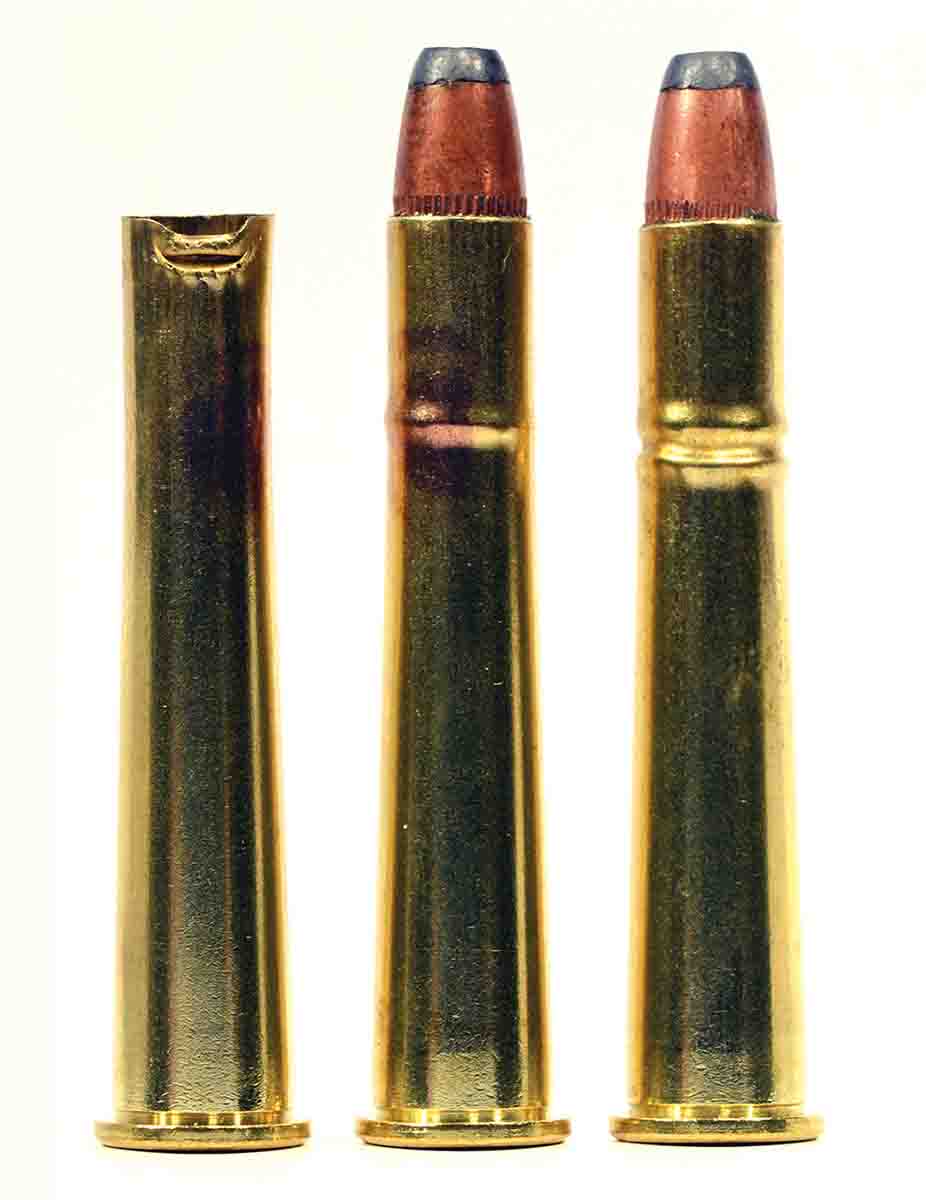 yields results that are absolutely meaningless for anyone other than myself, and only in these two rifles. They may, however, prove useful to someone, if only as starting loads.
The .32-40 brass was loaded with the 170-grain, .321-inch bullets and 27.5 grains of H-4895. The 8x56 Mannlicher-Schönauer was loaded with 41 grains of Vihtavuori N150. These are both midrange loads used only to look for any adverse pressure signs that might indicate less case capacity than usual. This is always a good idea, especially with old rifles for which original ammunition might have differed considerably. Both loads were taken from Ken Waters' Pet Loads. The test rifles were a Savage Model 1899 with a 26-inch, octagonal barrel, and a Mannlicher-Schönauer Model 1908 with a 19.5-inch barrel.
The .41 Special presented a different problem since, being a pure wildcat, there is neither comparable factory brass nor anything in the way of loading data – at least, not that I could find. I therefore used Trail Boss and calculated the starting load using Hodgdon's formula (fill case to base of bullet, weigh, then start with 70 percent of that weight). With my unidentified 175-grain cast bullets, maximum was 6.0 grains, 70 percent was 4.2 grains. These were tested in both a Seville single-action .41 Magnum and a Smith & Wesson Model 57 .41 Magnum.
Test results are laid out in the accompanying table. However, a few conclusions can be drawn: Accuracy and velocity from the Savage Model 99 .32-40 were sufficient to warrant further work with heavier charges. With the .41 Special cartridge, accuracy was decent while recoil and noise were mild, which is really the point of that cartridge over the .41 Magnum.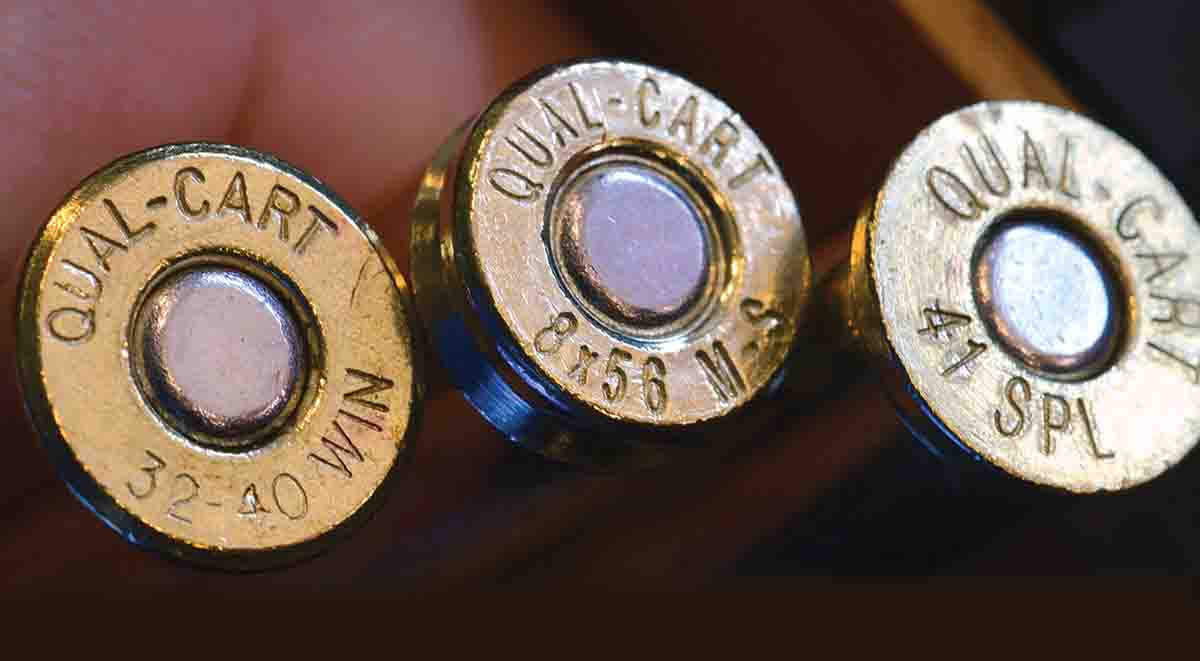 The 8x56 M-S was a pleasant surprise, delivering both excellent open-sight accuracy and sufficient velocity with a 200-grain bullet to make it a fine short-range hunting load. Muzzle blast was substantial, and recoil was about all I would like to have in a Mannlicher with a 19.5-inch barrel. Right out of the box, this is a good hunting load with no further development required.