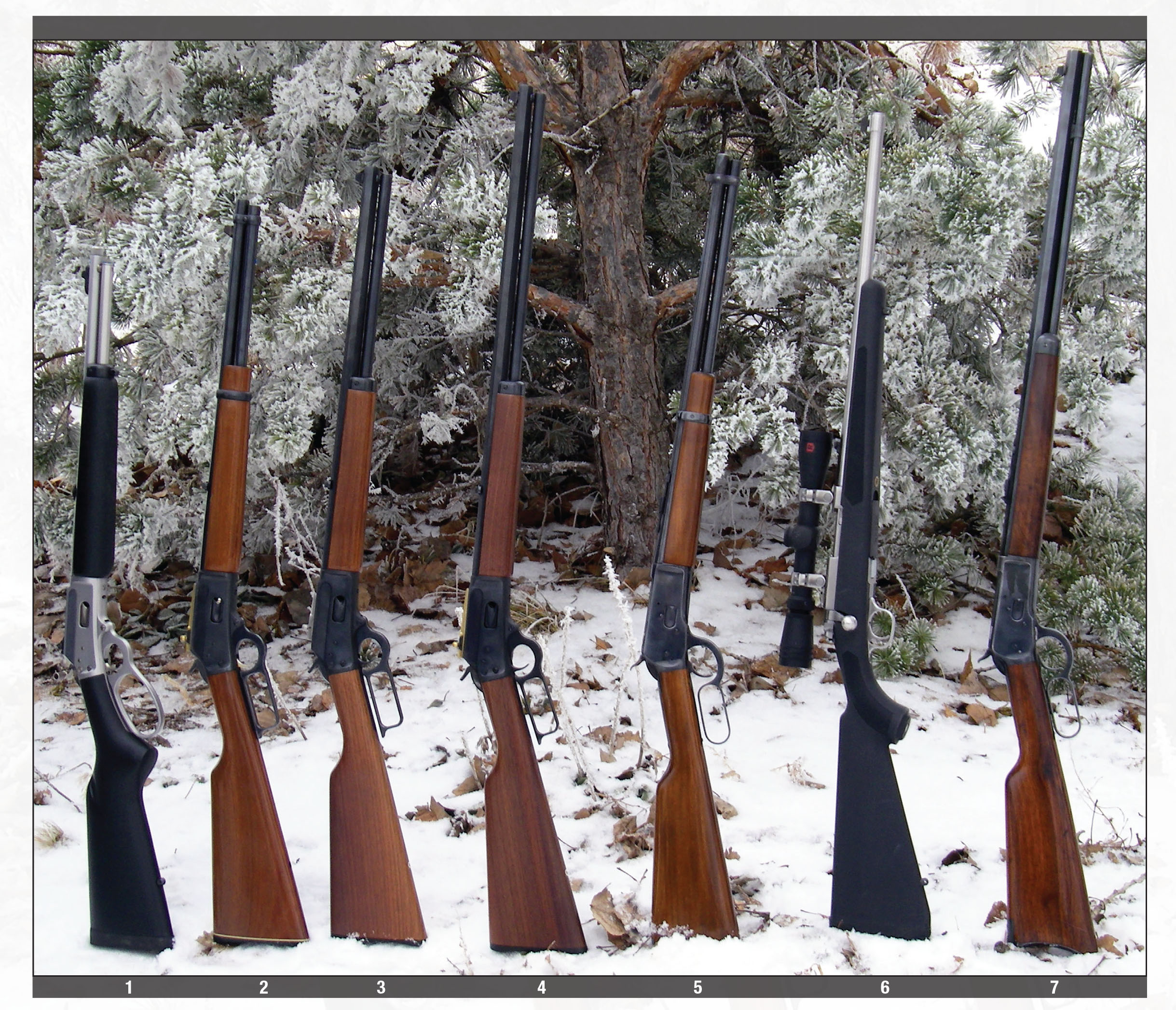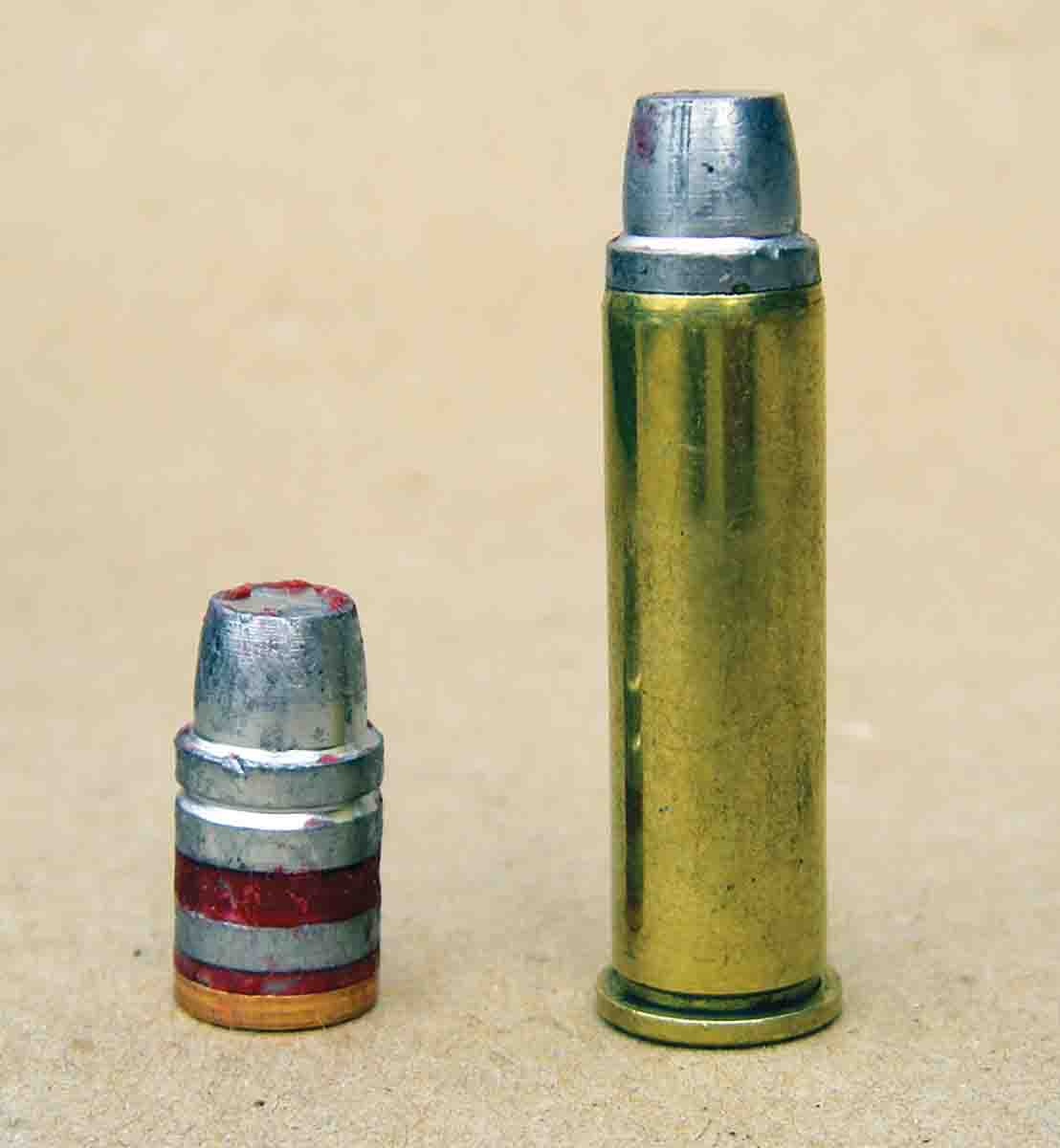 The .357 Magnum was developed as a joint effort between Smith & Wesson (S&W) and Winchester, and was formally introduced in 1935. It was our first magnum revolver cartridge and offered sensational velocities for that era, as it advertised a 158-grain SWC-style bullet at 1,510 feet per second (fps) from a 83⁄4-inch barrel, but was around 1,400 to 1,450 fps in most revolvers. Current velocities generally list 158-grain jacketed bullet at 1,235 fps from a 4-inch vented test barrel.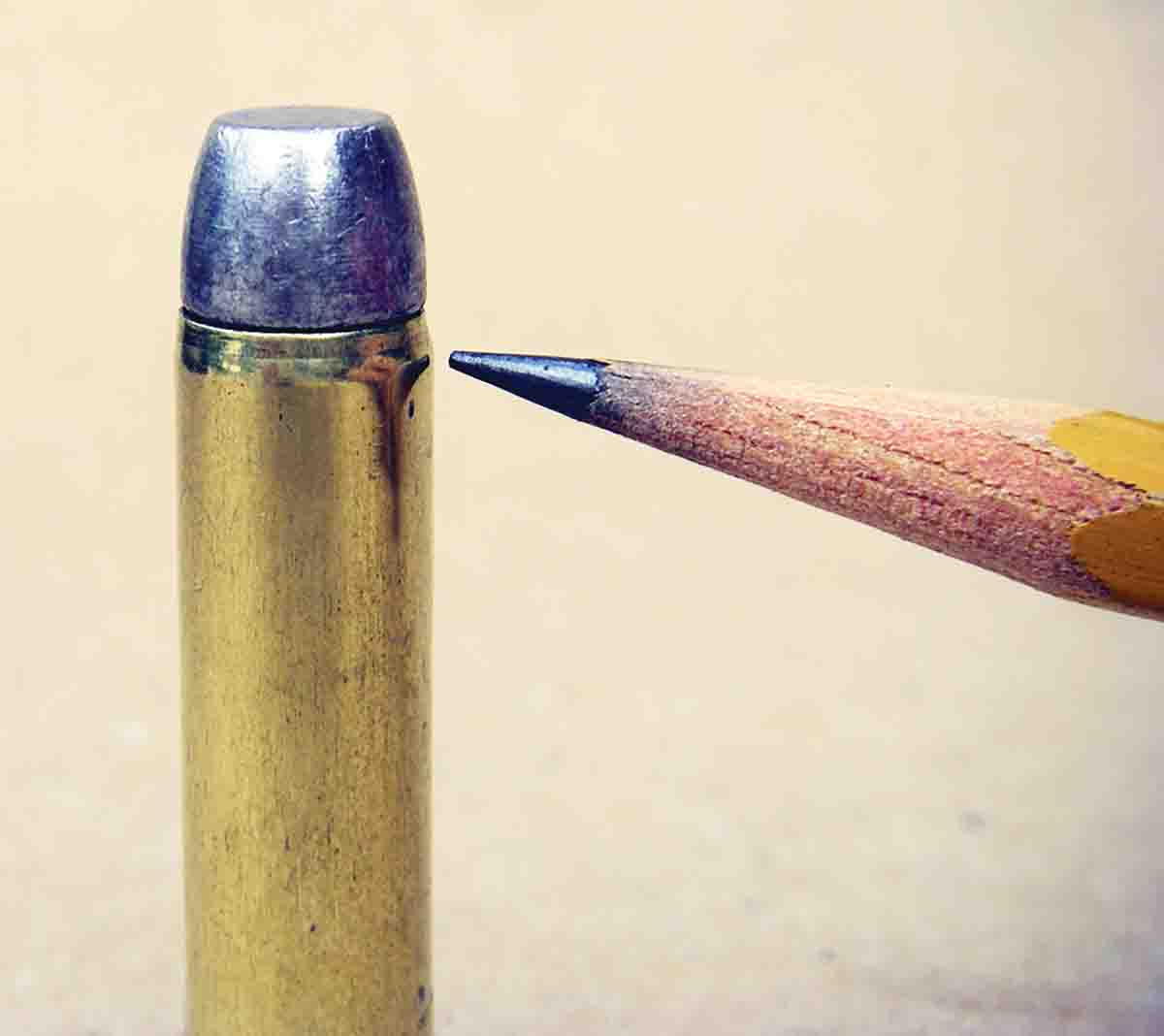 While the original S&W ".357 Magnum" or "Registered Magnum" was essentially a special order, custom-built, factory sixgun with a comparatively high price tag offered during the dark days of the Great Depression, it still sold very well. Today, virtually all revolver manufacturers offer multiple models in this caliber. In addition to being especially versatile, it is easily our most popular magnum revolver cartridge but has also been chambered in single-shot pistols, autoloaders, etc. When chambered in lightweight rifles and carbines that typically have barrels of 16½ to 24 inches, the .357 offers substantial velocity gains, remarkable terminal performance, is highly efficient, offers surprising accuracy and only produces modest recoil. Informed handloaders can further improve its versatility and accuracy.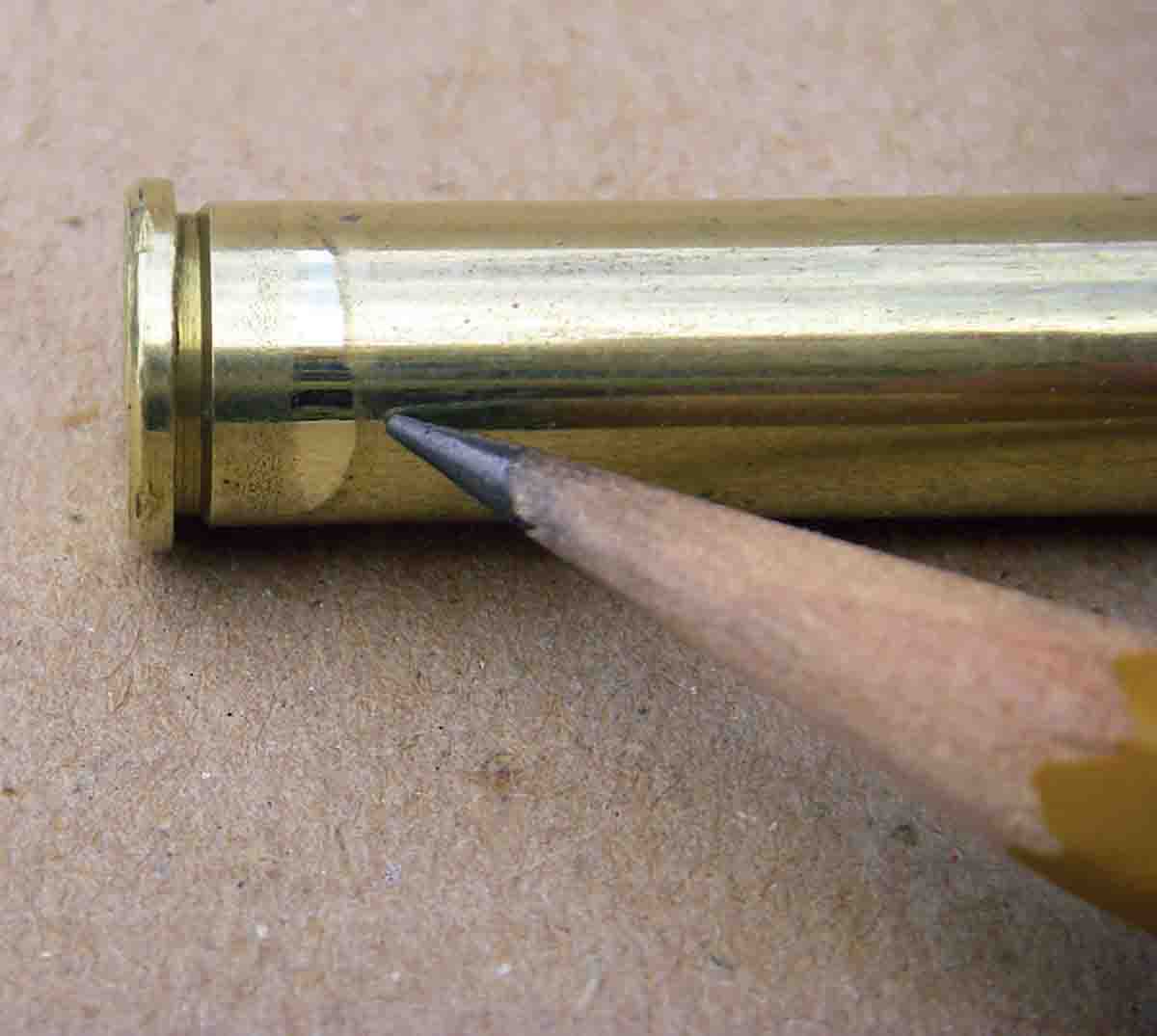 Almost immediately after the .357 was introduced, gunsmiths began converting Winchester Model 1892s chambered in .32-20 and .25-20 W.C.F. by reboring their barrels, cutting a new chamber and making the necessary modifications to the action to feed the larger diameter cartridge. In the post-World War II era, this conversion became widely popular. Responding to this demand, around 1973 Uberti began offering its Model 1873 lever-action rifle in .357, and in 1979 Marlin Firearms began offering its Model 1894C. Demand was high and Marlin sold all it could produce. In the decades since, many other companies have begun offering .357 lever-action rifles, including Rossi, Miroku manufactured Brownings and Winchester/USRAC (Model 1892 copies), Henry, U.S. Manufactured Winchester Model 94s, and others. There have also been many single-shot rifles, but also pump and bolt actions such as the Ruger 77/357. While there is certainly appeal to own a sixgun and rifle of the same caliber, a .357 rifle has great merit based on its own performance.
On a bit of a personal note, in addition to my 45 years of experience handloading and hunting with this cartridge in rifles (and sixguns), my children were raised shooting levergun .357s. They learned to handload for them using both cast and jacketed bullets, shot them a lot, developed shooting skills and took many varmints and even deer. It is a very practical cartridge in rifles, but especially leverguns. In an accurate rifle, experienced handloaders should be able to assemble loads that group into an inch to 1.5 inches at 100 yards.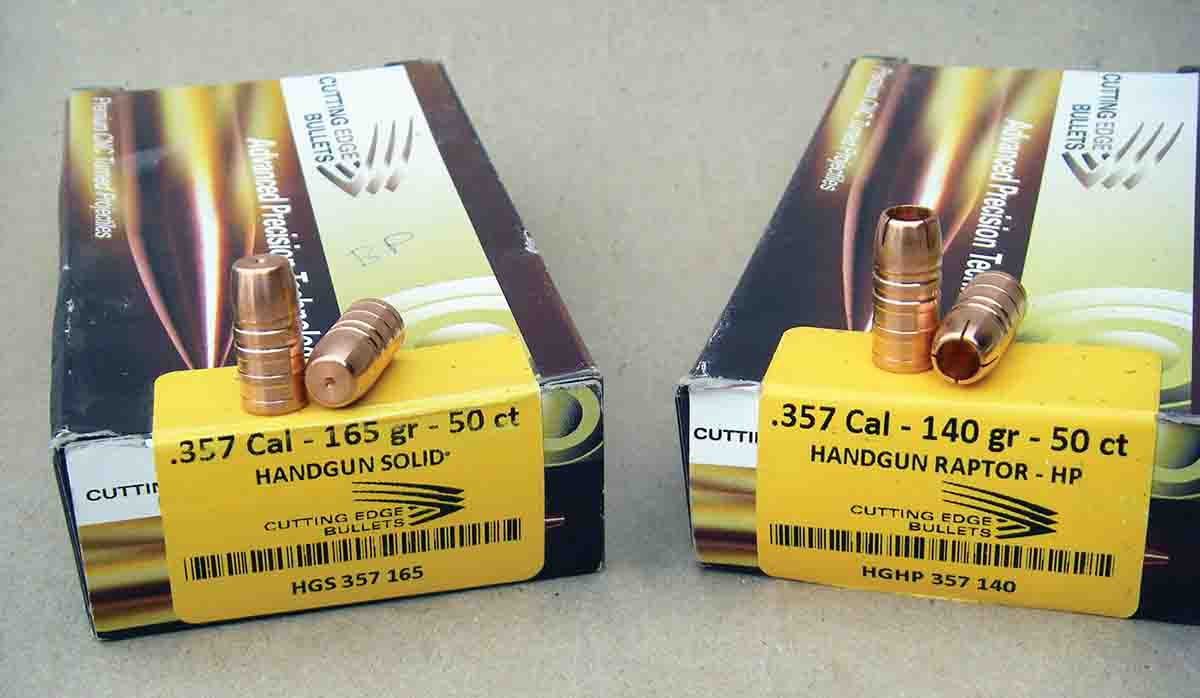 I have read many times that a .357 rifle or carbine will only add around 200 fps, and absolutely not over 300 fps when compared to the same load fired in the average revolver, which is contrary to my experience. While revolvers vary widely with the velocities that they produce, generally, a full-house .357 load containing slow-burning magnum revolver powders will increase the velocity at least 400 fps over most revolvers, but usually closer to 500 fps and often over 600 fps using standard 158-grain jacketed bullets. With 110-grain bullets, the velocity increase can be around 1,000 fps.
As can be seen in the accompanying table, factory loads from Black Hills Ammunition, Hornady, Speer and Buffalo Bore containing 158-grain jacketed bullets reached roughly 1,700 to 2,000 fps from a 20-inch barrel, which supports the above stated velocity increases over common revolvers.
I have also read in print that the velocity increase per inch of barrel is 5 fps; however, in testing several Marlin rifles with 16½-, 18½-, 20- and 24-inch barrels, velocity increase per inch of barrel is usually between 8 to 11 fps with common magnum revolver powders, while target loads containing faster burning powders will be less.
While various handloads were cross-referenced for accuracy, function and velocity in other rifles, the primary test rifle was a Marlin Model 1894CB Cowboy Limited with a 20-inch barrel. It was produced in New Haven, Connecticut, and features Ballard pattern rifling with a 1:16 twist. The factory semi-Buckhorn sights have been replaced with a Skinner aperture rear (stainless steel) and the front sight is a black post style. When shooting for accuracy on paper targets, the smaller .040 and .070 inch apertures were installed. Many times this rifle has produced MOA accuracy with select loads containing both jacketed and cast bullets.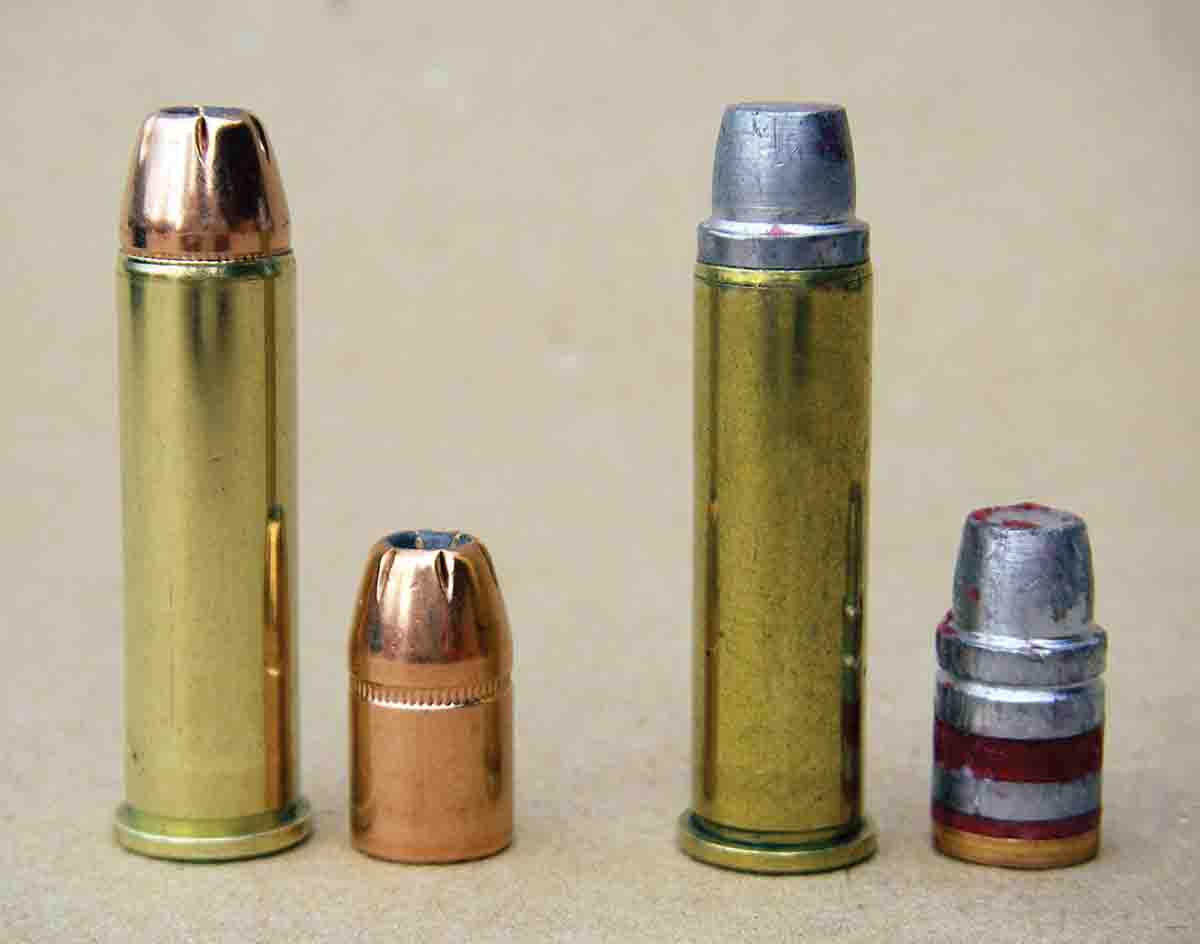 When reloading .357 cases that have been fired in certain lever-guns, correct case sizing can become important, or reloaded cartridges may not chamber correctly in rifles or sixguns. Standard full-length case sizing procedures may not be enough. For example, some leverguns feature a significant bevel at the bottom of the chamber that serves to facilitate feeding of cartridges that enter the chamber at a significant angle, but this comment does not apply to all leverguns. This is very similar to an "unsupported chamber" found in select auto-loading pistols. In short, it results in a bulge just forward of the case head that needs to be removed to bring the case back to industry specifications and allow reloaded cartridges to readily chamber.
Many older carbide sizing dies from Lyman and RCBS feature a carbide ring that is flush with the bottom of the die that will easily remove the above described bulge. However, to better protect the carbide ring and prevent it from breaking if it contacts the shellholder, most die manufacturers now install it so the bottom of the die contacts the shellholder rather than the carbide ring. In other words, the carbide ring is now countersunk and the case will not fully enter into the die. To make matters worse, most companies add a significant bevel to the carbide ring to better allow cases to easily enter the die (which is an important feature for those loading on progressive machines). Regardless, these dies will not remove the case bulge. I have had especially good results with the Lee Precision sizing die, as the carbide insert is flush with the bottom of the die and features minimal bevel, which will remove the case bulge.
Another option (which most companies will not endorse) is to alter the depth of the shellholder. From the bottom of the shellholder, where the case head rests, to the top is standardized at .125 inch. The top of the shell holder can be machined down around .020 to .025 inch to reduce its height, which will allow the case to insert deeper into the die and will usually remove the case bulge. (Handloaders might want to have an extra shellholder on hand before making this modification.) If this is not enough to fully remove the bulge, study the design of how your sizing die is crimped to hold the carbide ring insert. Many dies have a very generous amount of "protective" steel and will allow a few thousandths of an inch to be machined off, which results in the carbide ring being closer to the shellholder and allows the case to be inserted deeper into the die to remove the bulge. Older steel dies will almost always remove the bulge, but require lubing cases.
Virtually all leverguns chambered in .357 feature rear locking lugs. While they are generally strong, some designs tend to cause case head separation (just forward of the head) after five or six reloadings. In some instances, this is the result of generous headspace, breech bolt movement or compression, or poor fitting of the locking lugs. I have not experienced this in reloading cases eight to 10 times in multiple Marlins, Ruger No. 1s, Ruger 77/357s, Browning 1885s, H&R Handi-Rifles or Uberti 1873s. Regardless, cases should always be checked for defects before reloading.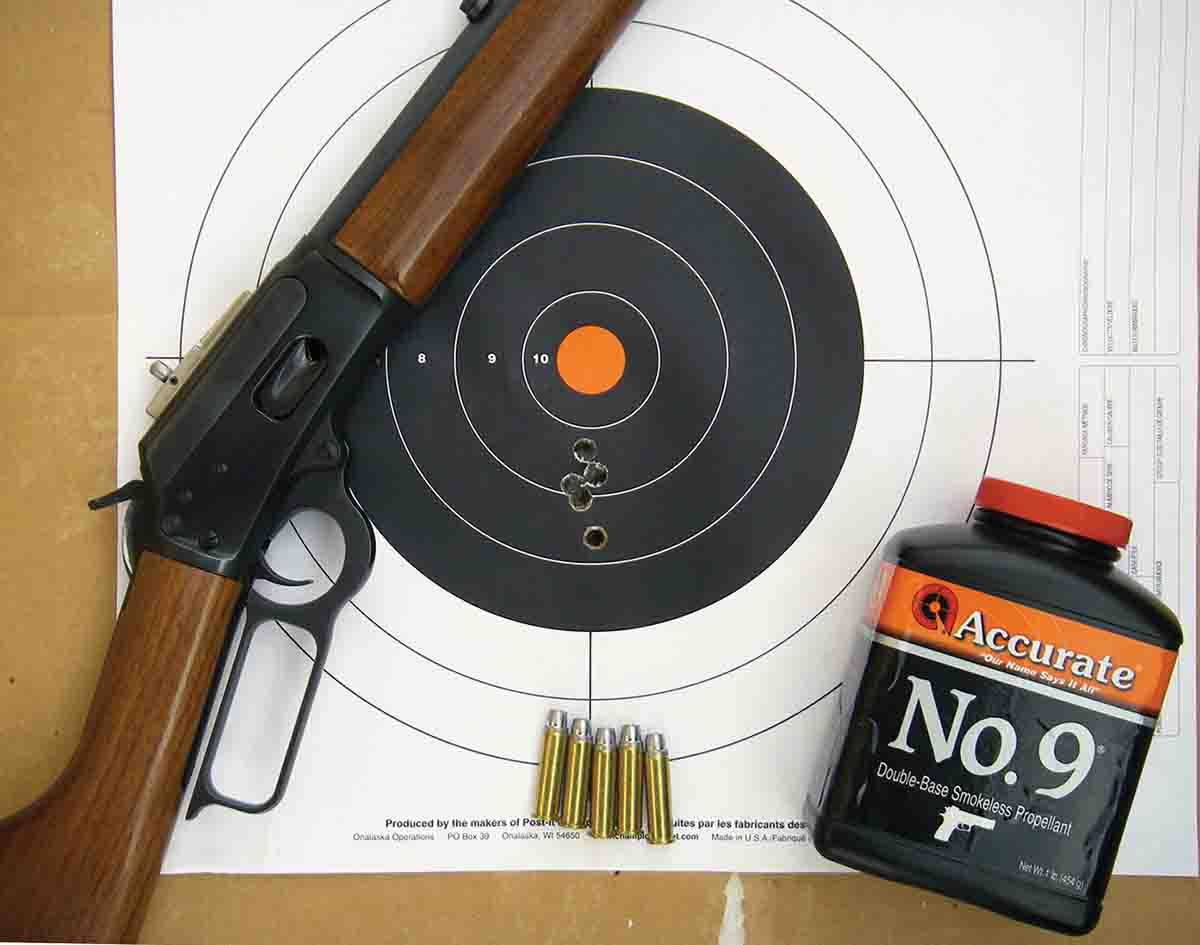 The Sporting Arms and Ammunition Manufacturers' Institute (SAAMI) specifications list maximum over-all cartridge length at 1.590 inches. Unlike .357 revolvers, most repeating rifles will require the cartridge length to be within that specification to feed properly; however, I have some Marlin Model 1894s that will feed cartridges that measure up to 1.610 inches, and Winchester Model 94s will accept cartridges that are notably longer. Some rifles, primarily Model 1892 variants, will struggle to feed SWC-pattern bullets with large (or wide) meplats that feature wide front driving bands. Sometimes seating bullets with an overall loaded length of around 1.570 inches can help facilitate feeding. Another option is to use cast bullets from Lyman mould 358156 that usually weigh around 162 grains and feature a narrower front driving band that allows it to feed in most rifles.
SAAMI has updated maximum average pressure for the .357 Magnum from 45,000 CUP to 35,000 psi, with the latter piezoelectric pressure measurement being a much more accurate system. While many of the loads in the accompanying tables have been pressure tested, others have not. Nonetheless, based on experience and testing, I do not believe that any of the loads exceed industry pressure guidelines.
It is important to use loads exactly as listed and without component substitutions. For example, many of the loads utilize standard primers rather than magnum. Magnum primers will increase pressures, sometimes by as much as 8,000 to 10,000 psi. Good examples include Alliant 2400 and Accurate No. 9 powders. When 2400 is loaded in conjunction with the 158-grain XTP-HP Hornady bullet and is capped with a CCI 550 Magnum primer, it reaches maximum pressure at 12.8 to 13.0 grains and velocity is approximately 1,475 fps from a 20-inch barrel. By simply changing to a CCI 500 primer, pressure drops nearly 10,000 psi. The powder charge can then be increased to 14.8 to 15.0 grains for just under 35,000 psi, and velocity increases to around 1,750 fps. Switching to Accurate No. 9 powder and using the same 158-grain Hornady bullet with CCI 550 Magnum primers, maximum pressure is reached at around 13.8 grains, which yields just under 1,700 fps. By changing to a standard CCI 500 primer, the powder charge can be increased to 14.9 grains for 35,000 psi and velocity jumps to around 1,825 fps.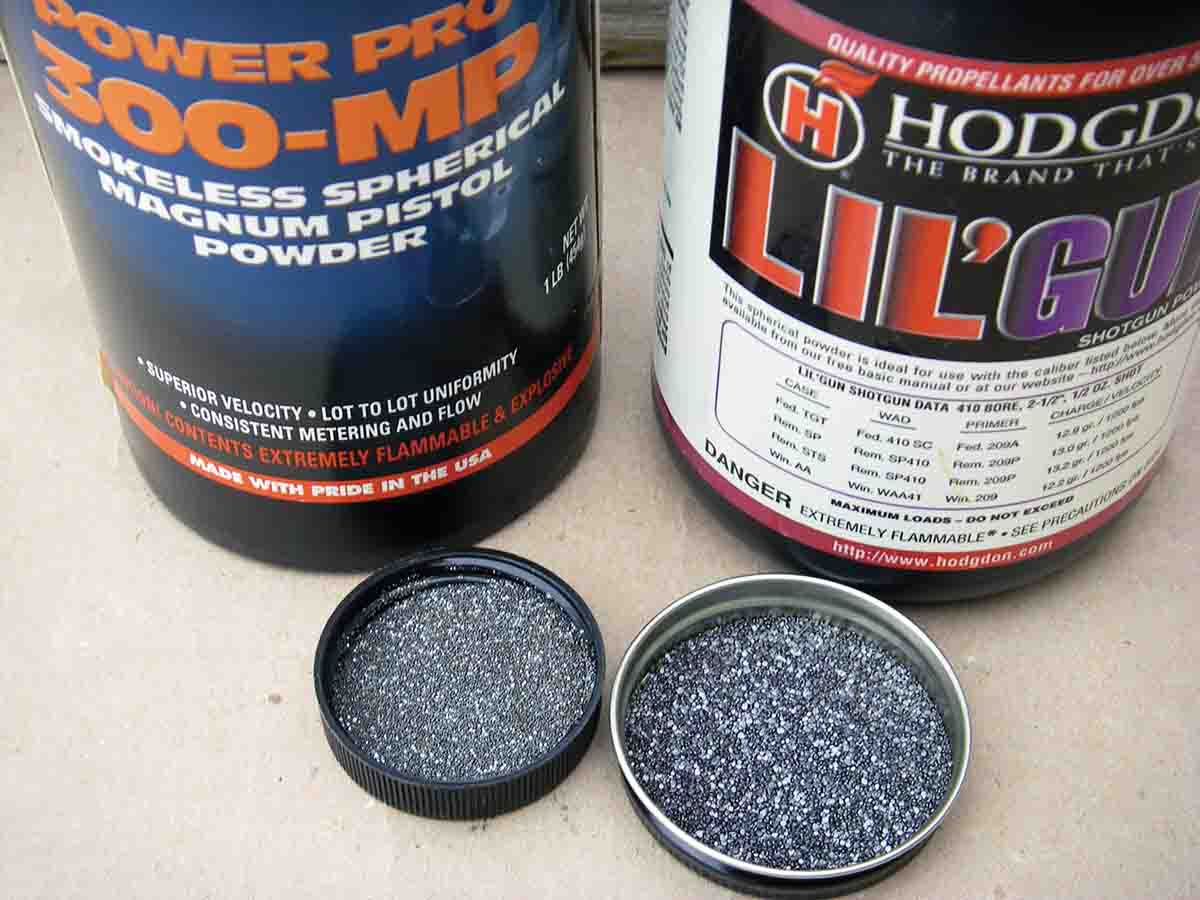 Starline cases were used exclusively in developing the accompanying load data. They are strong, uniform, hold the crimp especially well, offer long case life and produce less pressure than most other cases (starlinebrass.com).
CCI 500 and 550 primers were used to develop the accompanying data and were carefully matched to the powder and load. For example, many slow burning magnum revolver powders will offer top performance (and best accuracy) when loaded with standard non-magnum primers; however, other powders will perform best when ignited with magnum primers. Examples include Hodgdon H-110, Lil'Gun, Winchester 296 and Accurate No. 11 FS. All other powders were used with standard primers. Incidentally, primers should be seated between .003 to .005 inch below flush to assure that the anvil contacts the bottom of the primer pocket, which will assist in achieving reliable ignition and prevent misfires.
With the exception of the Hornady 140-grain FTX bullet, which is a spitzer with a rubber tip, cast and jacketed bullets should feature a flatpoint to prevent possible magazine tube detonations.
The most popular jacketed bullet weight for the .357 is 158 grains. Hornady offers its excellent XTP-HP and XTP-FP designed to expand at velocities of 800 to 1,400 fps and 1,150 to 1,800 fps, respectively. They boast of accuracy, reliable expansion and outstanding terminal performance. In spite of Hornady listing its velocity range at 800 to 1,400 fps, many times I have used the XTP-HP at around 1,800 fps on varmints and even deer with excellent results. However, on big game the XTP-FP is probably the better choice.
The Nosler 158-grain Sporting JHP has produced several sub .75-inch groups from my Ruger 77/357 and offers outstanding terminal performance. The 158-grain Speer Deep Curl HP (formerly Gold Dot HP) is a bonded bullet that offers devastating performance on coyotes and deer-sized game. All of the above bullets will expand reliably at any reasonable range that a .357 Magnum rifle will be used (typically within 200 yards), but due to the above bullets' low velocity expansion characteristics, they will expand at distances beyond 600 yards.
Accurate No. 9, No. 11 FS, Alliant 2400, Power Pro 300-MP, Hodgdon H-110, Lil'Gun, Ramshot Enforcer, Winchester 296 and Vihtavuori N110 powders are top choices for duplicating or exceeding factory load performance with the above 158-grain jacketed bullets.
Some handloaders will seek the unusually high velocity and explosive effect of 110- and 125- grain jacketed bullets; however, they generally will not produce the same level of accuracy as 158-grain and heavier bullets. Most of these lightweight bullets produced their best accuracy when pushed to between 1,500 and 2,000 fps using handgun powders with a medium burn rate, such as Alliant Unique, Power Pistol, Ramshot True Blue, Hodgdon Longshot and others. For example, using 21.5 grains of Vihtavuori N110 powder (compressed) with the Speer 110-grain UC hollowpoint bullet provided an impressive 2,533 fps; however, using 9.0 grains of Alliant Unique for 1,820 fps was a more accurate load.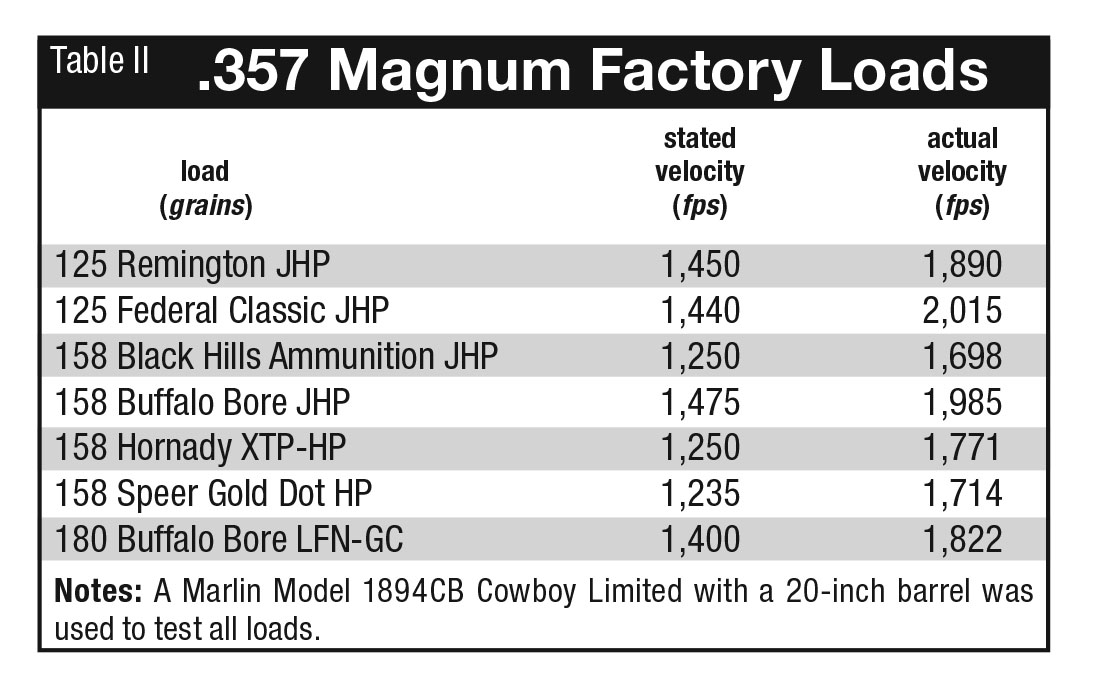 The .357 is a natural for cast and lead-based bullets. Swaged lead bullets from Hornady and Speer should be used in conjunction with fast-burning powders, such as Hodgdon Titegroup, Accurate Nitro 100NF or powders with a similar burn rate. For best accuracy and to prevent barrel leading, velocity should generally be limited 1,000 to 1,100 fps.
Plain base cast bullets such as those from RCBS mould 38-150-KT (Keith Type), can be very accurate and produce excellent results. However, when used with full-power loads, they should be cast hard with a Lyman No. 2 alloy or equivalent, and lubed with the NRA Alox formula to prevent barrel leading. If a barrel is prone to leading, gas check designs are an excellent option. Good results were obtained with bullets from Lyman mould 358156 (typically around 162 grains in solid form) or RCBS 38-158-SWC (typically around 168 grains in the new version). It should be noted that the new style of the RCBS mould requires crimping into the front driving band to keep overall cartridge lengths in check.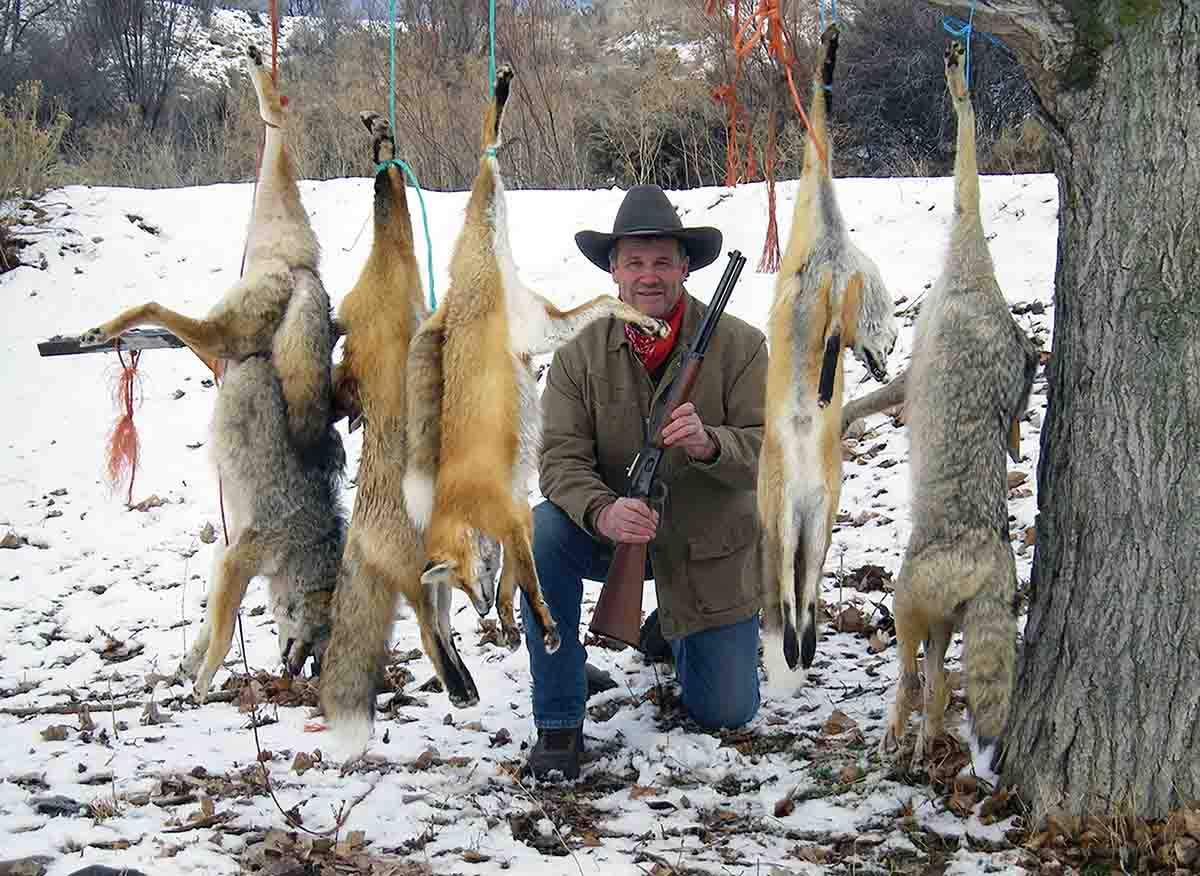 Two heavyweight cast bullets from Rim Rock Bullets (rimrockbullets.com) are noteworthy, as they are gaining considerable popularity and performed very well in the Marlin test rifle. These include the 170-grain LBT-RNFP w/gc and 180-grain LBT-WFN w/gc, which are both from that company's Top Shelf product line. While every powder tried in conjunction with these two bullets performed very well, Hodgdon Lil'Gun and Alliant Power Pro 300-MP powders pushed the 180-grain version at 1,837 and 1,879 fps, respectively, while Alliant 2400 gave the best accuracy. However, the difference in accuracy between the seven powders tried was very minimal, with most groups fired at 75 yards hovering around an inch. These are excellent hunting bullets that offer deep penetration on game such as black bear, etc.
Often, high velocity cast bullet loads displayed an extreme spread of just 5 to 20 fps. As a result, they showed slightly less stringing than jacketed bullets.
The .357 is an outstanding rifle/carbine cartridge that becomes even more versatile and economical when handloaded.