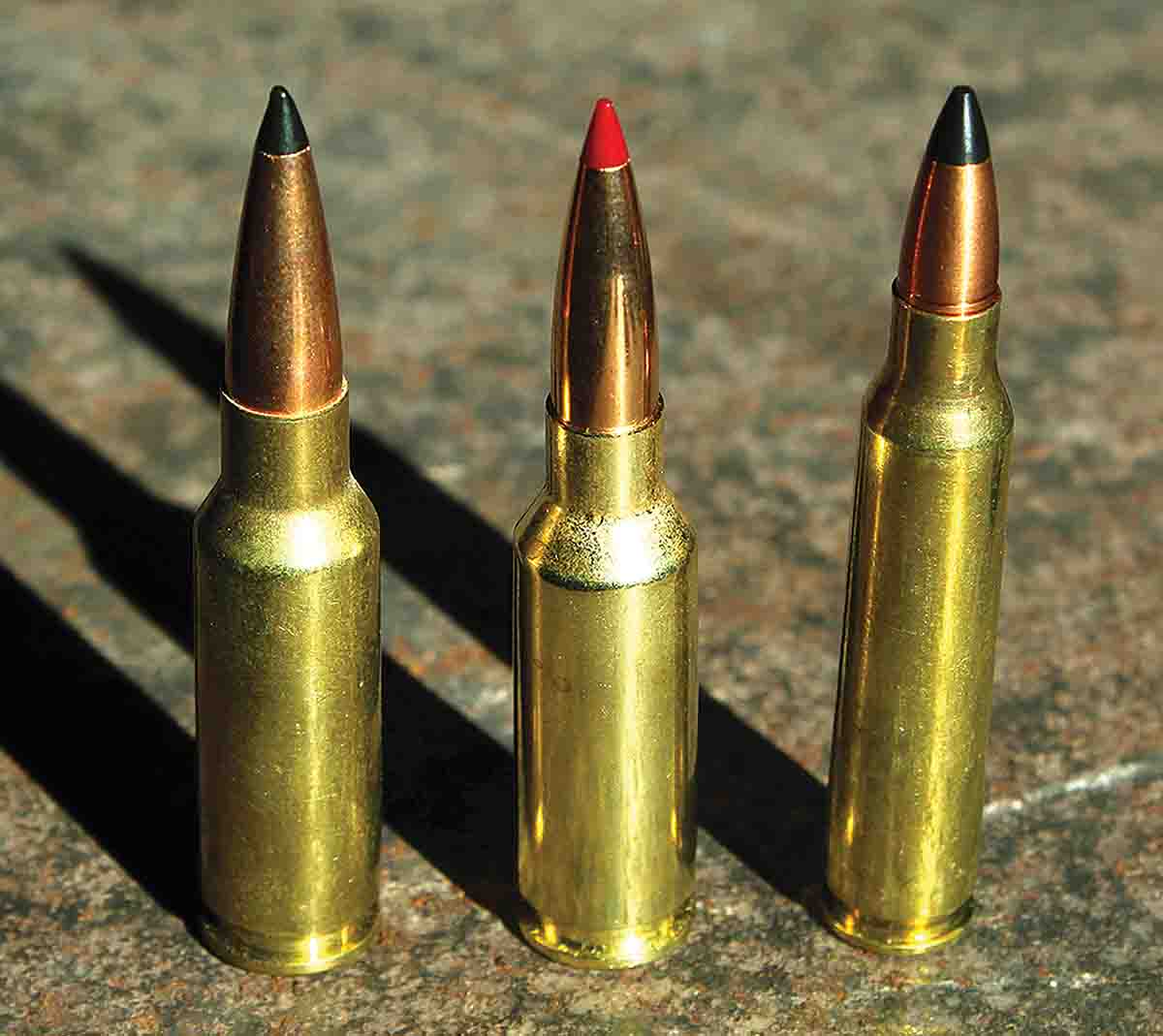 After using a 6.5 Grendel to cull a goodly number of Texas feral hogs, I've developed a great deal of respect for the cartridge. This has mostly involved nighttime forays shooting with thermal imaging optics. The 2.26-inch confines inherent to AR-15 magazines, and the Grendel's limited case capacity, make 123- to 130-grain bullets the practical upper limit for such activities. These projectiles chug along at around 2,350/2,450 feet per second (fps), but deliver well out of proportion to its diminutive size.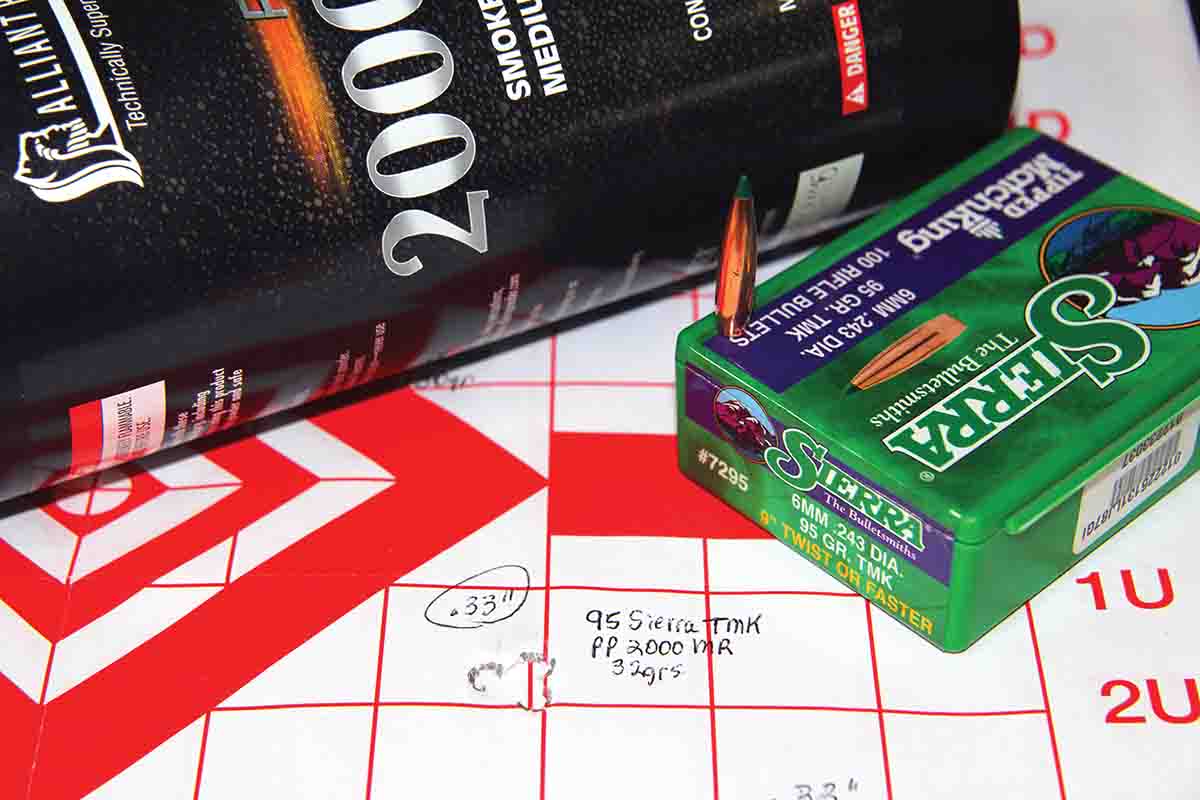 Now, take the 6.5 Grendel case, neck it to 6mm, give firearms fast rifling to handle long-for-caliber bullets weighing from 103 to 115 grains, including ballistic coefficients (BC) equaling those 6.5 projectiles, and you have Hornady's spanking-new 6mm Advanced Rifle Cartridge, or ARC.
As the story goes, Hornady developed the 6mm ARC under direction from the U.S. Department of Defense, optimizing the Grendel case to meet prescribed goals. The case head remains .441 inch and the rim is .059-inch thick. The neck was set back, allowing more room for long-for-caliber 6mm projectiles in standard AR magazines. The shoulder angle was set at 30 degrees. The cartridge was quickly accepted as a Sporting Arms and Ammunition Manufacturers' Institute (SAAMI) standard, an excellent start to such a new cartridge. It could easily be argued the ARC is yet another version of the 6mm PPC (which was never SAMMI standardized) – actually a pretty fair assessment, though the fast rifling twist changes everything.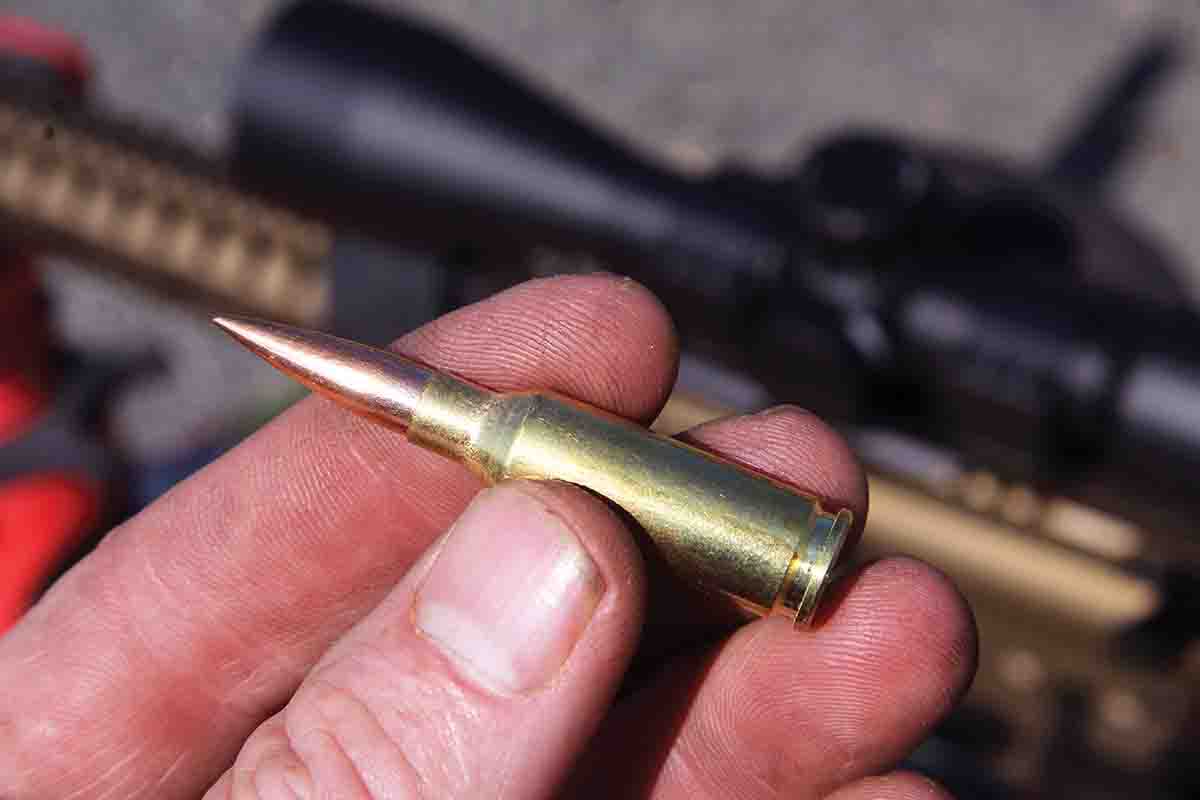 Hornady launched the 6mm ARC with three factory loads: a 103-grain ELD-X Precision Hunter at an advertised 2,800 fps, 105-grain BTHP Hornady Black at an advertised 2,750 fps and the 108-grain ELD-Match load at a stated 2,750 fps. Velocities were established from a 24-inch barrel.
In very simple terms, the 6mm ARC's exterior ballistics exceed anything currently possible with any other AR-15 cartridge, especially at long ranges. It blows the doors off the 5.56 NATO/.223 Remington, providing reduced wind drift and higher retained velocity/energy at any range. It even beats the 6.5 Grendel at extended yardages. The 6mm ARC also betters or equals AR-10-based .308 Winchester ballistics regarding drop and wind drift (if not delivered energy). Loading the longest-for-caliber .308 bullets provides equal wind drift and velocity retention, but at the cost of heavier recoil.
The 6mm ARC as a possible military round doesn't interest me so much as the promise of a serious hunting round. Flat trajectory minimized wind drift, high sectional density to aid penetration, tame recoil allowing spotting your own shots and the potential for exceptional accuracy are all part of the ARC package.
Initial Hornady load data was developed in a Noveske N4 AR-15 with an 18-inch barrel and 1:7.5 rifling twist. Top velocities with 108- and 110-grian bullets reached 2,575 fps. "Gas gun" data includes 52,000 psi maximum pressures. Bolt-action data was developed in a CZ-USA Model 527 with a 24-inch barrel and 1:7.5 rifling. Maximum pressures in the turn bolt were established at 62,000 psi. That, and the longer tube, resulted in average 300-fps velocity gains.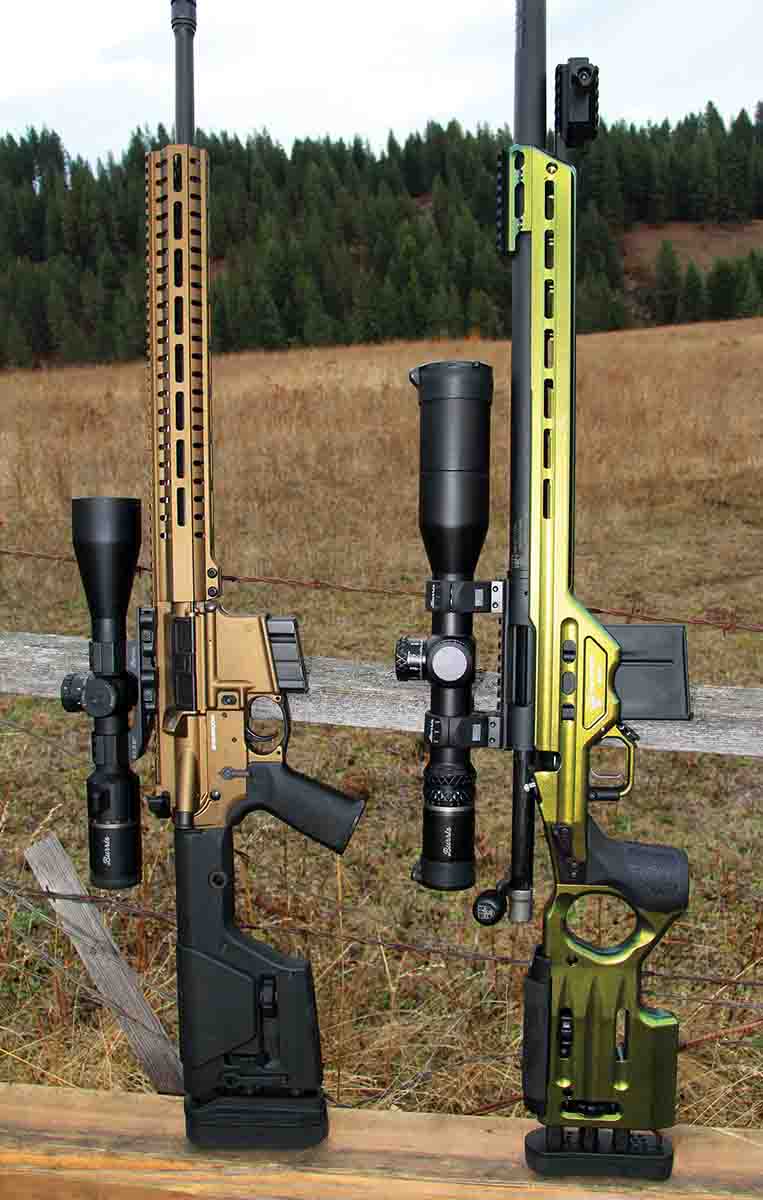 Handloading data for the 6mm ARC was newly minted at the onset of this month's-long project. Hornady's initial "gas gun" data included only 108-grain ELD Match and 110-grain A-Tip Match bullets; lighter bullets from 58 to 105 grains were added within a couple months. "Bolt gun" data appeared simultaneously with "gas gun" light-bullet data, listing bullets from 58 to 108 grains. Hornady also supplied dies, brass and initial factory ammunition for this project. As of press time, Hornady remained the primary source for properly headstamped brass.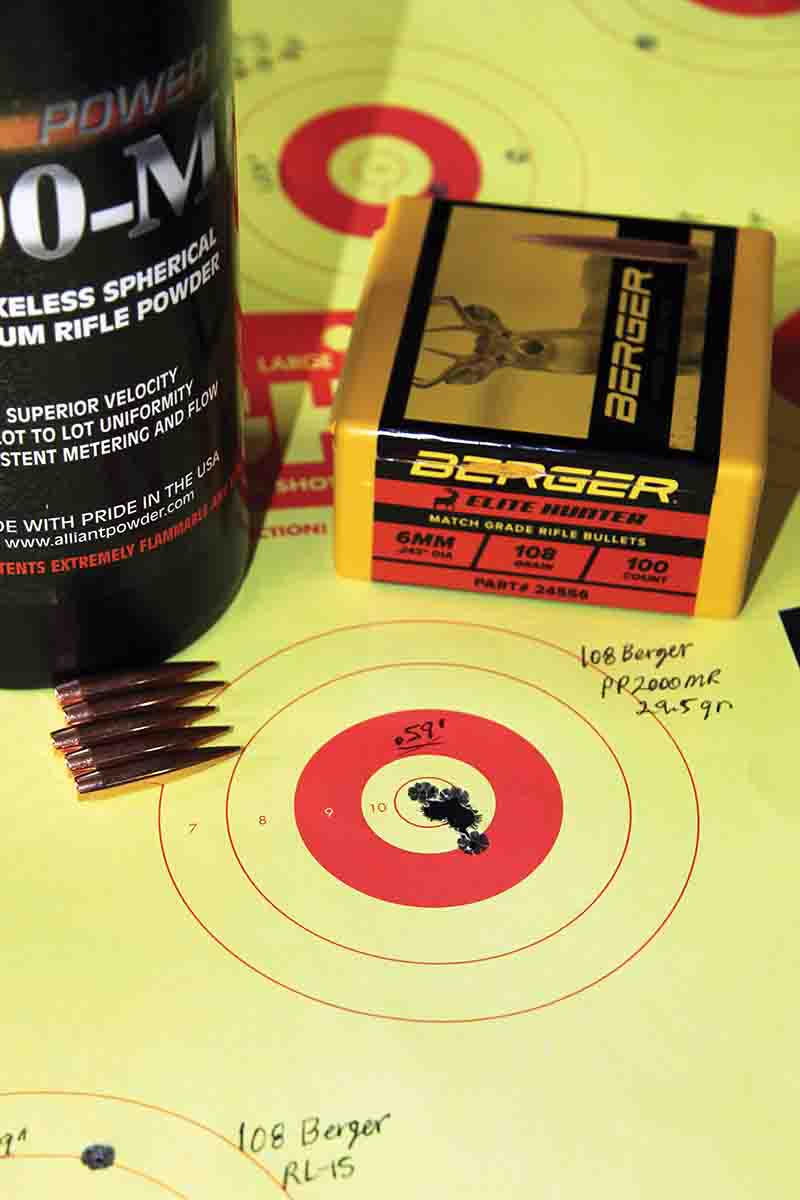 Since the 6mm ARC was designed to run heavy 6mm bullets – with a fast 1:7.5 twist necessary for proper stabilization – I saw no reason to dabble in lighter bullets from the AR. Powder choices include medium-burn rates used in cartridges such as the .224 Valkyrie and .22 Nosler. Most options provided in current Hornady data are modern, clean-burning formulas, most temperature insensitive and/or including copper-erasing formulas. ARC brass uses small rifle primers, and Federal Premium's Gold Medal AR Match were used for all AR loads.
AR test loads included Berger's 108-grain Elite Hunter with a .559 G1 BC, 110-grain Hornady A-Tip (.604 G1 BC) and Nosler's 115-grain RDF with a .634 G1 BC (the highest BC 6mm bullet I'm aware of). Hodgdon's CFE 223 and LEVEREVOLUTION (LVR), Accurate's A-2520 and Alliant Power Pro 2000-MR and Reloder 15 were chosen because they offer top velocities in all bullet weights.
The AR-15 test rifle was a CMMG Endeavor 300 MK4 with a 20-inch barrel and 1:7.5 twist. It included an SV Brake (5⁄8-24 threads), an SLR adjustable gas block, forged 7075-T6 M4 upper and AR-15 lower, CMMG RML15 M-Lok hand guard, CMMG oversized ambidextrous charging handle, MAGPUL PRS stock, Geissele Automatics SSA 2-Stage trigger and a 10-round detachable magazine. The rifle weighed 11 pounds, 7 ounces after the addition of a Burris RT-15 3-15x 50mm FFP 30mm scope held in Burris' AR-P.E.P.R. QD mount.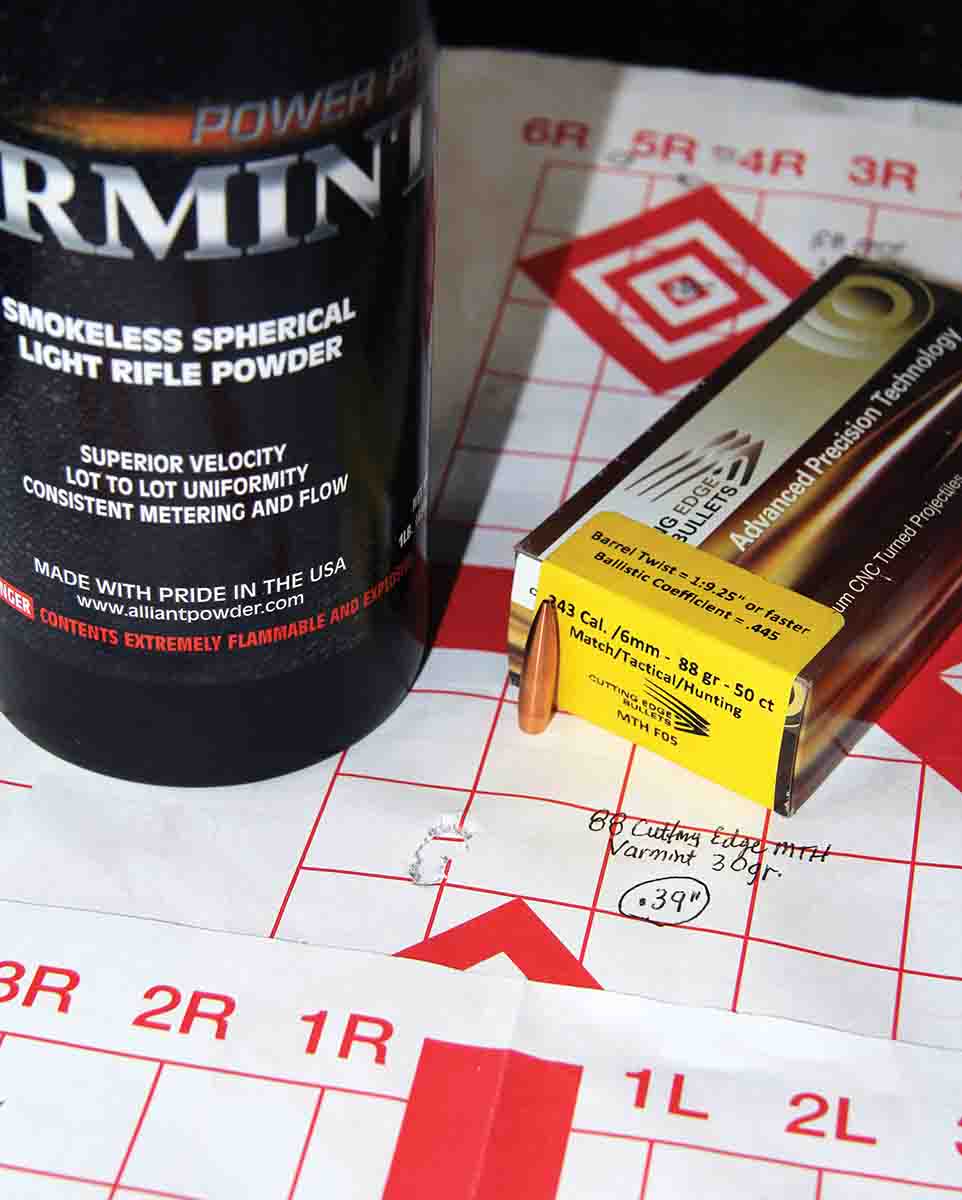 The Endeavor proved slow to warm with the ARC cartridge, and recoil was quite gentle. This rifle assembled five-shot, 100-yard groups I would deem better than average for any AR-15. All handloads tested averaged 1.30 inches, Hornady Black 105 BTHP factory ammunition 2.35 inches and Hornady Match 108 ELD Match 1.05 inches.
Of course, a handful of handload combinations provided exceptional results, which from an AR, I considered anything printing less than an inch with five shots at 100 yards. With Berger's 108-grain Elite Hunter, 28 grains of Hodgdon CFE 223 produced a .91-inch group at 2,463 fps; 27.5 grains of Hodgdon LVR a .72-inch group at 2,463 fps; 28 grains of Accurate 2520 a .96-inch group at 2,550 fps and 27.5 grains of Alliant Power Pro 2000-MR a .59-inch group (the best with this bullet) at 2,347 fps.
With the 110-grain Hornady A-Tip, highlights included a .90-inch group with 28 grains of CFE 223 at 2,481 fps; .39 inch (the smallest group with all AR loads) with 25.5 grains of LVR at 2,262 fps; .97 inch with 26 grains of A-2520 at 2,368 fps and .81 inch with 25.5 grains of Alliant Reloder 15 at 2,383 fps.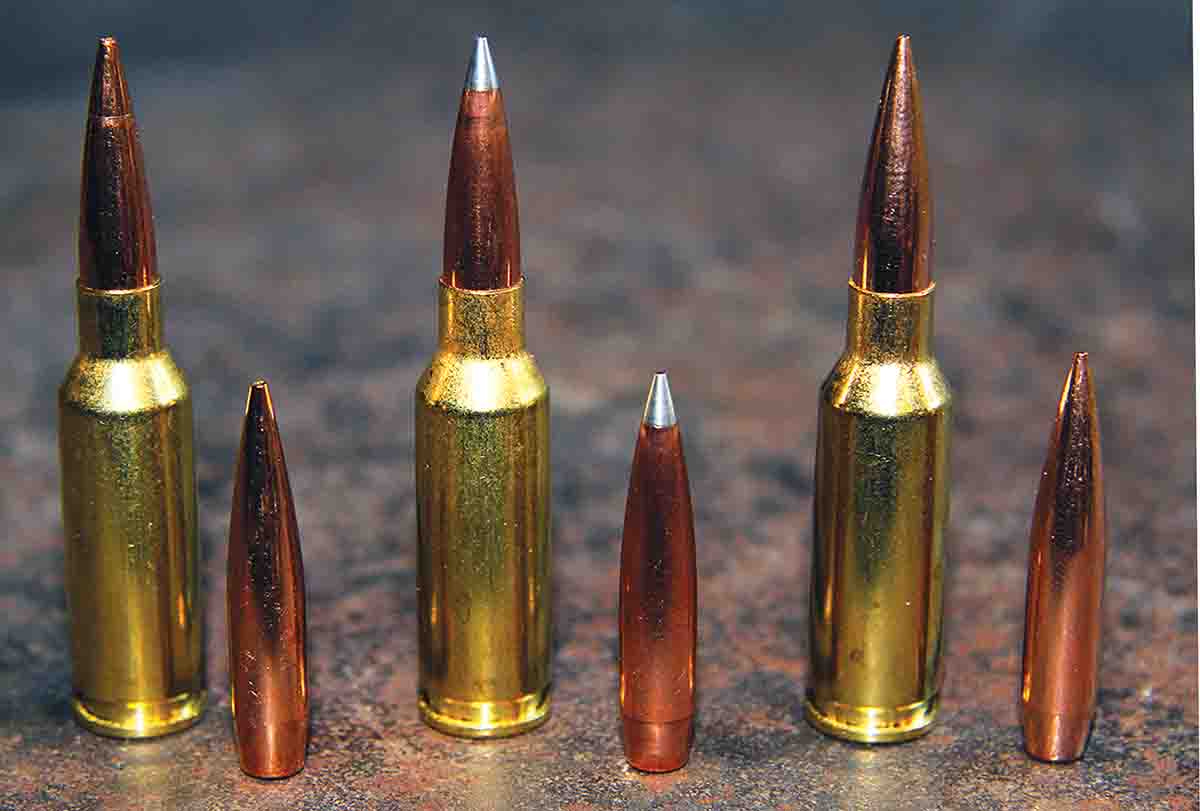 Nosler's 115-grain RDF printed several impressive groups, including .63 inch with 26.5 grains of CFE 223 at 2,381 fps; .57 inch with 26.5 grains of A-2520 at 2,422 fps and .65-, 1.00- and .92-inch groups with 25, 26 and 27 grains of Reloder 15 at 2,344 to 2,518 fps. Another five loads were very close to an inch, warranting further experimentation. Hornady's initial load data showed Hodgdon CFE 223 and LVR providing clear velocity margins, with Reloder 15 175 fps slower. From the CMMG's 20-inch barrel I found all of these powders provided fairly comparable velocities. All loads also fed flawlessly throughout testing.
Contemplating a trip to Texas with Trijicon representatives, and wanting to conduct in-field testing with the AR on deer and hogs, I turned to Hornady's 103-grain ELD-X. I ran test loads using Hodgdon LVR, Alliant Power Pro 2000-MR and Accurate A-2520. The first two resulted in at least one combination producing groups from .75 to 1 MOA, but 27 grains of A-2520 (about 100 fps off maximum) put the first three shots into .36 inch, No. 4 and 5 wandering .25 inch but printing a single hole.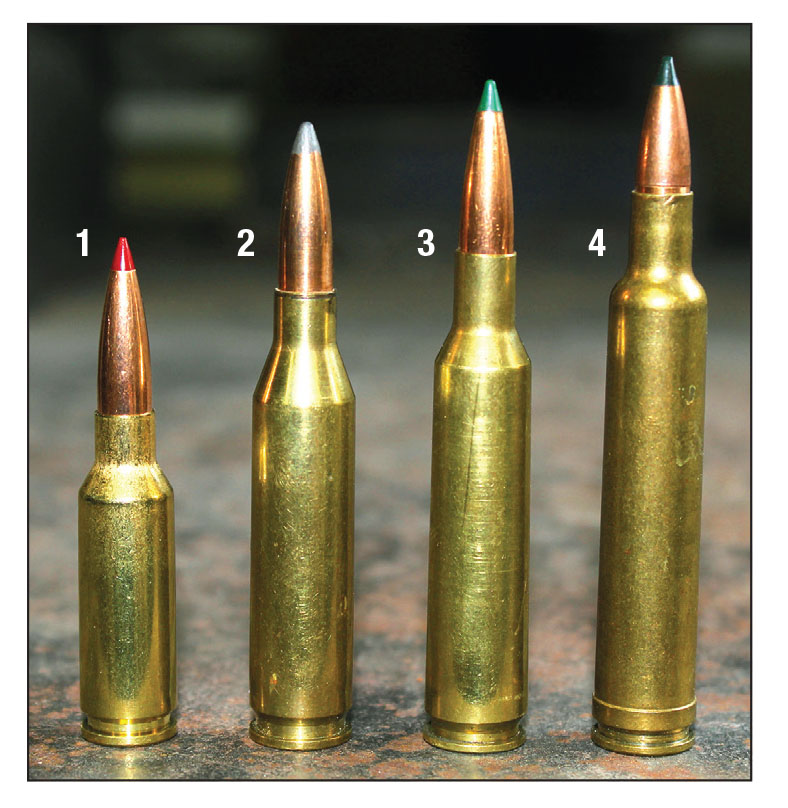 Masterpiece Arms' (MPA) Matrix Chassis bolt rifle allows custom fitting to any shooter via six grip options, three thumb shelves, five trigger supports, a Matrix buttstock with rear bag butthook, a thumbwheel-adjustable length of pull and comb height and adjustable recoil-plate cant. The rifle includes a built-in inclinometer (bubble level), a RAT Rail accepting bipods and other accessories and a V4 spigot mount and thermal-image optic bridge. The adjustable magazine catch allows setting magazine height for more consistent magazine feeding. The rifle fed smoothly with all loads tested. The heavy, hand-lapped barrel is a MPA 416R stainless steel number measuring 26 inches with a 1:7 twist, 5⁄8-24 muzzle threads and black CERAKOTE finish. The barrel measured .935 inch just behind the "hybrid" MPA muzzle brake. The action is an MPA/Curtis with a 60-degree bolt throw and fluted, Nitrided bolt body.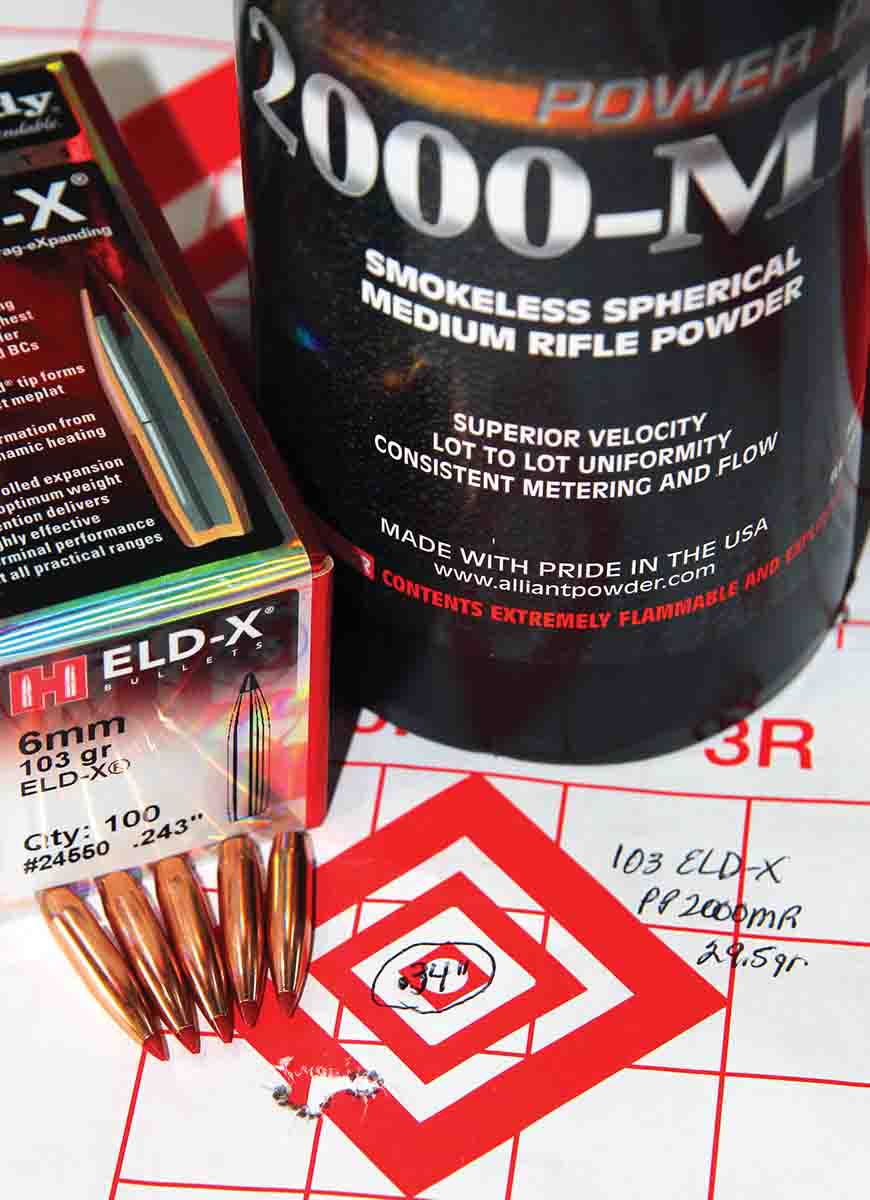 I ordered the chassis in an eye-grabbing Gun Candy Caiman. The trigger is a TriggerTech specially tuned to break at 15 ounces. The MPA held a Burris XTR III 3.3-18x 50mm turret scope with a 34mm tube set in Burris Xtreme Tactical Rings. The addition of an optic brought its final mass to 18.63 pounds.
The handloads chambered especially tight in this rifle's match chamber; the bolt turned down with some small effort, but otherwise it shot well. Philip Cashin said when chambering MPA rifles, headspace range is cut in half, using a plus-.002-inch go-gauge to drop total headspace range from .004 to .002 inch, which Cashin said helps handloaders going from one barrel to another with brass compatibility.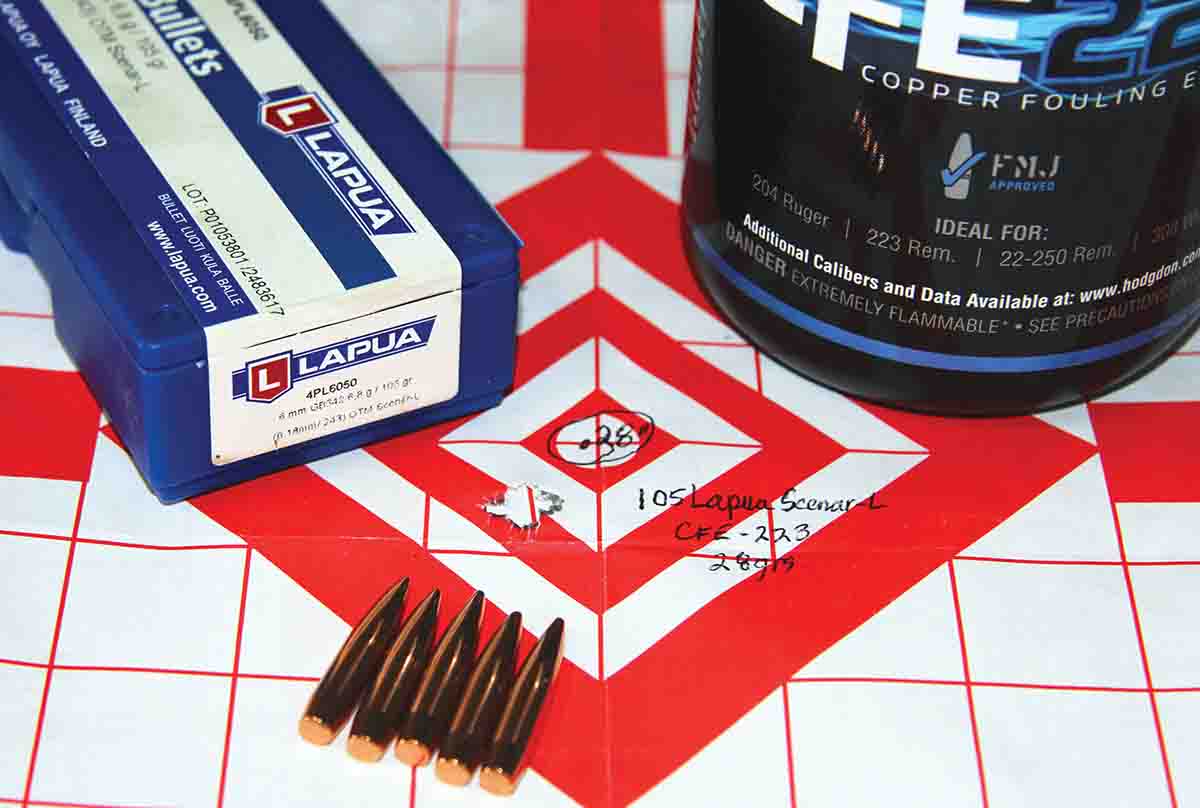 Spanking-new Hornady "bolt gun" data included bullet weights from 58 (V-MAX) to 108 (ELD Match) grains, though I saw no reason to shoot varmint bullets through a 1:7 twist tube. I started with Cutting Edge's mono-copper 88-grain MTH (G1 BC .445) to see what kind of velocity could be generated, then moved to Sierra's 95-grain Tipped MatchKing (.500 BC), Hornady's 103-grain ELD-X (.512), Lapua's 105-grain Scenar-L (.472) and finished with Berger's 109-grain Long Range Hybrid Target (.568).
Powders mirrored those used for AR loads, with the addition of Ramshot TAC, Alliant Power Pro Varmint, Hodgdon Varget, Shooters World Precision Rifle (extrapolated from 6mm Remington BR data) and IMR-8202 XBR. Except for Reloder 15, Precision Rifle and Varget, all are fine-grained or spherical powders that flow like water. Federal Premium's Gold Medal Match Small Rifle primers were used in all bolt loads.
The chassis rifle proved so accurate (.64-inch overall average from 45 loads) that only combinations printing near or less than .50 inch with five shots at 100 yards are worth mentioning.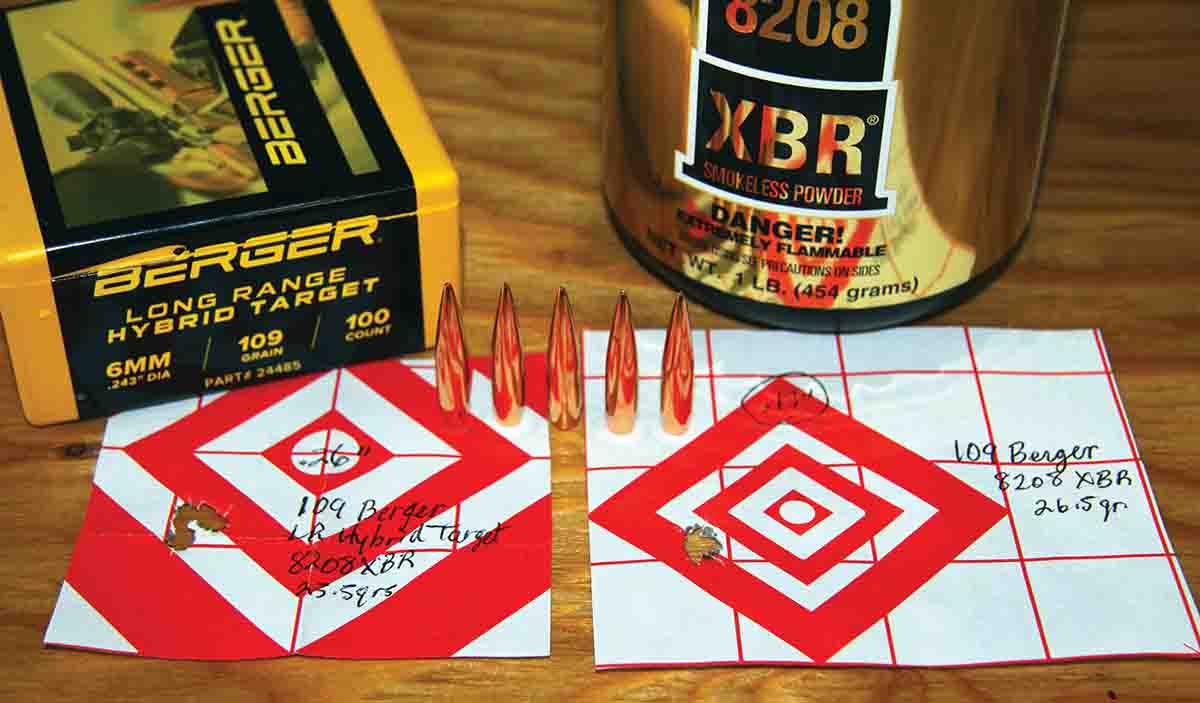 Cutting Edge's 88-grain MTH makes an excellent coyote, hog or pronghorn/Coues' whitetail bullet, with a decent BC and a hollowpoint design that produces multiple razor-like petals after a few inches of penetration, with the solid base usually passing through. This bullet proved a bit touchy, something I blame on seating depth. I believe a longer overall loaded length would result in less jump into the lands and improved accuracy. Two loads of note included 31 grains of Hodgdon LVR at 3,003 fps printing .59 inch, and especially 30 grains of Alliant Power Pro Varmint, printing .39 inch at 3,049 fps.
Sierra's 95-grain Tipped MatchKing is a favorite 6mm varmint bullet, with a great BC for weight and improved velocities compared to heavier 6mm bullets with similar profiles. They will expand on small varmints at 6mm Creedmoor velocities, so they should work well on average-sized hogs or smaller deer. Things started well with 28.5 grains of Accurate A-2520, with a .48-inch group at 2,745 fps. Power Pro 2000-MR, which also performed well in the AR, proved exceptional with this bullet: 30, 31 and 32 grains producing .44-, .53- and .33-inch groups at 2,754, 2,786 and 2,940 fps, respectively. Finally, a compressed load of 29.5 grains of Alliant Reloder 15 printed .45 inch at 2,900 fps.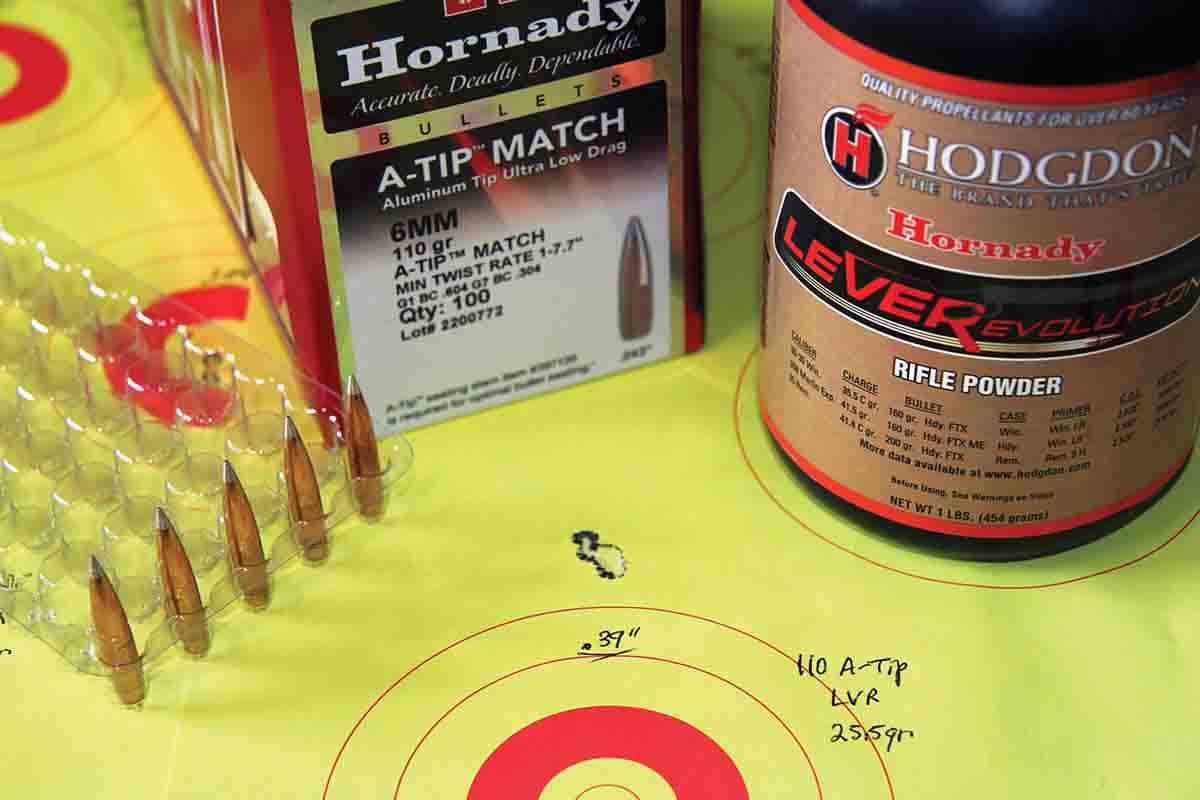 The 103-grain ELD-X from Hornady includes an impressive BC and expansion at velocities as low as 1,800 fps. It also produced a good number of tight groups from this rifle. Thirty grains of Shooters World Precision Rifle produced the best group with that powder (.57 inch at 2,887 fps), though the bolt opened just a touch tightly for my taste. Accurate A-2520 produced a .43-inch group at 2,886 fps, while Power Pro 2000-MR shined again. Charges of 28.5, 29.5 and 30.5 grains assembled .48-, .34- and .51-inch groups at 2,602, 2,706 and 2,845 fps, respectively.
Lapua's 105-grain Scenar-L has proven exceptionally accurate in several other 6mm cartridge tests. With this rifle, Hodgdon's CFE 223 was the hands down accuracy winner with 28 grains producing a .28-inch group at 2,800 fps, and 29 grains a .52-inch group at 2,835 fps.
The 109-grain Berger Long Range Hybrid Target would be the ticket for shooters addressing distant targets. I also wouldn't hesitate to use this bullet on varmints and predators, even hogs while aiming into the shoulder to assure bullet fragmentation. Overall, it proved the most accurate bullet of the bolt-rifle test, the 1:7 rifling twist really helping it excel. A 31-grain maximum charge of LVR produced a .35-inch group at 2,925 fps. Power Pro Varmint excelled once more, with 26.5 grains resulting in a .37-inch group, 27.5 grains a .54-inch group and 28.5 grains a .46-inch group at 2,678, 2,786 and 2,817 fps, respectively. Accuracy only improved with IMR-8280 XBR, with 25.5 grains producing a .26-inch group at 2,609 fps, which was quickly overshadowed by a true one-hole .13-inch (center to center) group at 2,678 fps – the rifle's best group.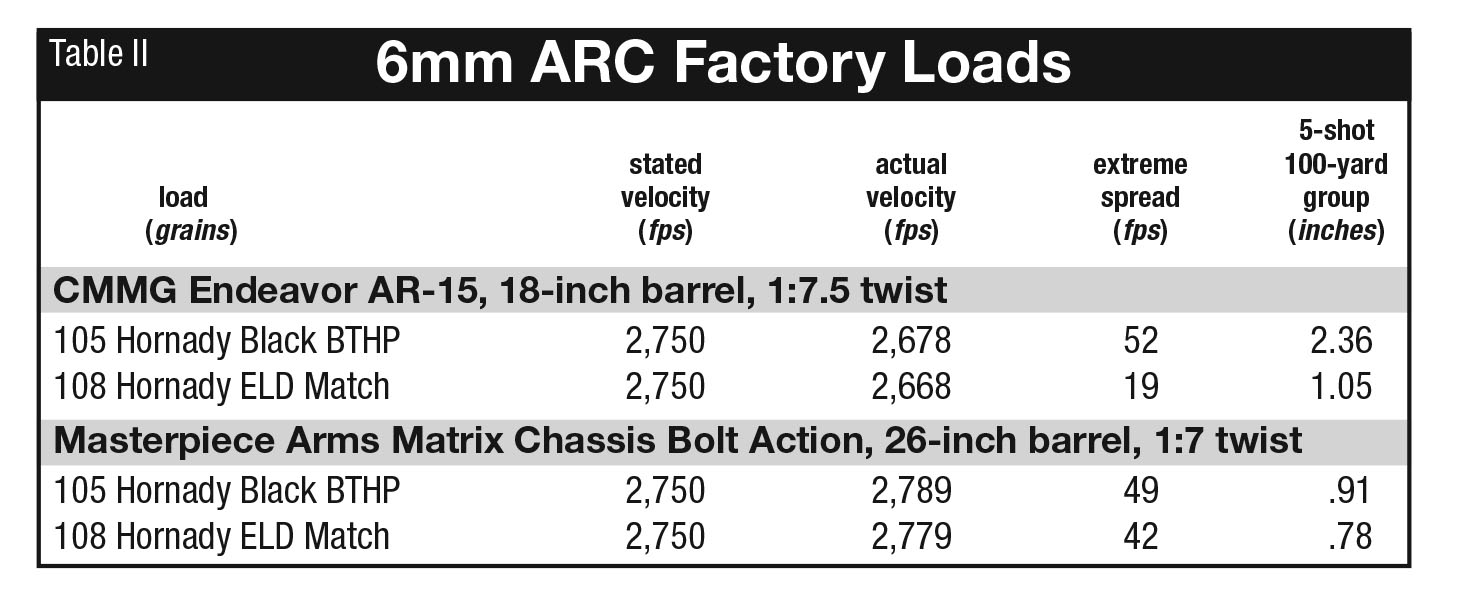 Narrowing ARC powders to a short list is relatively easy. From an AR, Hodgdon's LVR and CFE 223, Alliant's Power Pro 2000-MR and Accurate's A-2520 give top velocities combined with consistent accuracy. All worked well from the bolt action as well, with Power Pro Varmint, Reloder 15 and IMR-8280 XBR also exceptional performers. IMR-8280 XBR produced this series' smallest group and deserves more thorough investigation. Yet, if forced to choose but two powders, Alliant's Power Pro 2000-MR (AR and bolt) and Power Pro Varmint (bolt) proved exceptionally versatile and decidedly less finicky. The 6mm ARC is a serious cartridge, particularly from an AR-15, and one I hope fares well in the fickle world of cartridge popularity.