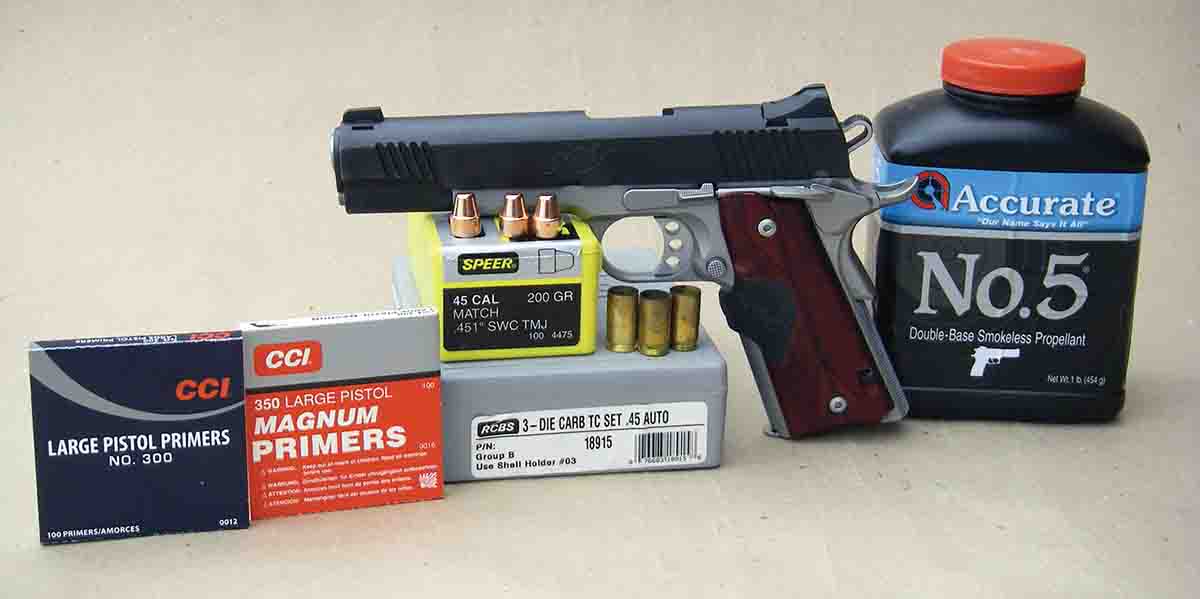 Q: I have been reading Handloader magazine for about 15 years and very much enjoy it. I especially enjoy your articles and the technical information that is not contained in any competing magazines.
Now for my question: When COVID-19 hit, followed by the political unrest, I was a bit unprepared to see the empty shelves at various gun shops in my area. Handloading components are especially hard to find. I needed standard large pistol primers for my .45 ACP, but have not been able to find any without paying over $200 per 1,000. I do have some CCI 350 Large Pistol Magnum primers and a few hundred Federal 155s on hand, but am worried that they will cause pressures to jump.
My standard load consists of 200-grain Speer TMJ Match SWC bullets with 8.5 grains of Accurate No. 5 powder with either the CCI 300 or Federal 150 primers. I occasionally use the 200-grain Speer Gold Dot hollowpoint bullet, but with 8.8 grains of the same powder. Is it possible for me to substitute the 350 primers in my handloads?
Tom T., via email
A: First, thank you for the compliment and for taking the time to read our magazine. I have received many, many questions similar to yours regarding primer substitution in various cartridges. Unfortunately, I cannot offer readers a general response regarding substitutions. Different powders and bullet combinations in a given cartridge will respond differently with primer substitutions. In other words, in one instance primer substitution is acceptable, but with a different powder in the same cartridge it can become a problem.
You have provided enough information that I am comfortable offering an answer. I tested your handloads containing 8.5 grains of Accurate No. 5 powder with the 200-grain Speer TMJ Match SWC bullet and CCI 300 primers with an overall length of 1.275 inches and assembled in Starline cases. I also tried the same load but with CCI 350 primers. Velocities from a Kimber Model 1911 Custom Crimson Carry II with a 5-inch barrel were 912 and 936 feet per second (fps), respectively.
Loads containing the magnum primer only showed a modest pressure increase. Your loads are approximately .7 grain below maximum and the pressures of the loads assembled with magnum primers are still within SAAMI pressure limits.
Good luck in your continued search for components.
.243 Coyote Loads
Q: Based on your comments, you are a predator hunter that uses, among other cartridges, the .243 Winchester, and I hope that you can offer some advice. I recently obtained a beautiful Winchester Model 70 pre-64 type with a 26-inch varmint/target barrel. It is in very nice condition but does show some light use. I enjoy the older classic rifles and have decided to take it into the field this winter for North Dakota coyotes. I finally found three boxes of the Hornady 87-grain V-MAX bullets and am ready to develop loads.
I have on hand several powders that should be suitable, including Accurate 4350, Hodgdon H-4831, Varget, Alliant Reloder 15 and others. I am most interested in accuracy over velocity. Can you suggest a load that will be potentially most accurate? I would prefer using the above powders, but would consider purchasing other powders if needed.
Thanks in advance for your help. I am always amazed at the useful information contained in Handloader each and every issue. Thank you for any insight that you might offer.
Jacob T., via email
A: First, you should get good results with any of the powders you have on hand. However, in a North Dakota winter you might appreciate the temperature insensitive nature of Hodgdon Varget and Alliant Reloder 15. I suggest working up to 36.5 grains of Varget for 3,131 fps (from a 24-inch test barrel) or 37.5 to 38.0 grains of Reloder 15 for the same velocity. These loads were assembled in Federal cases and capped with a CCI BR-2 primer. With the 26-inch barrel on your Winchester Model 70, you will probably pick up some additional velocity. Good luck hunting.
.223 WSSM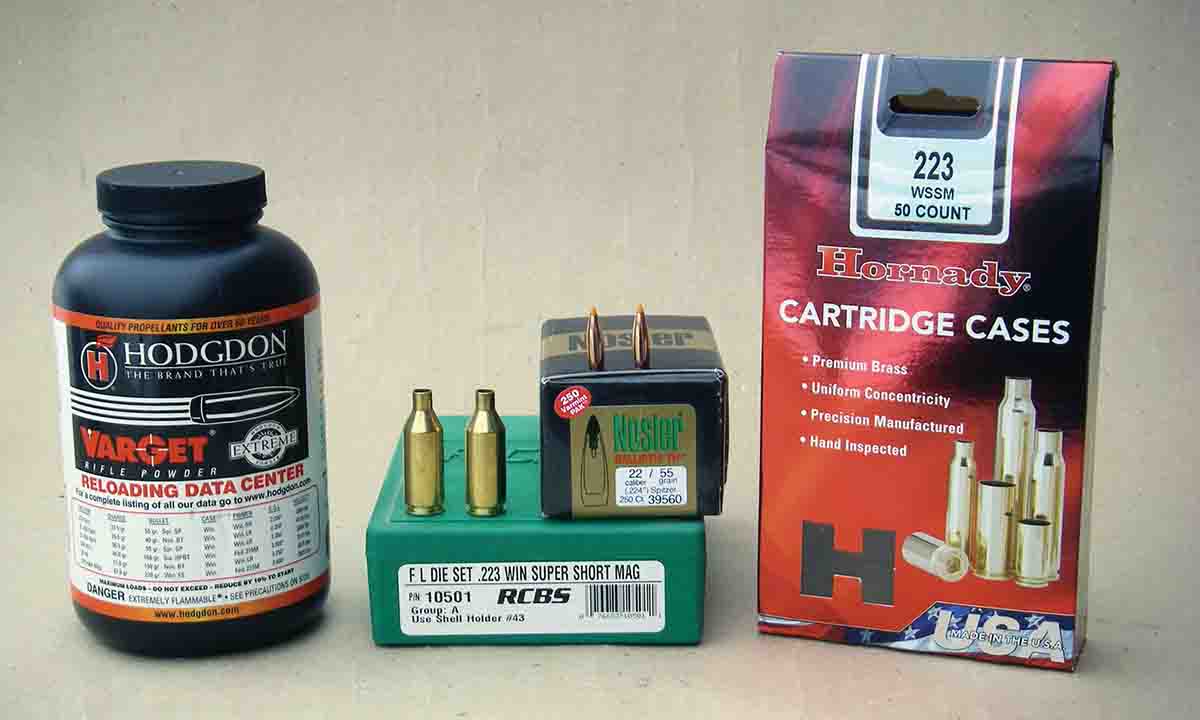 Q:
About 2003, I purchased a Winchester Model 70 chambered in .223 WSSM, thinking that it would be the ultimate long-range varmint and coyote cartridge. It seemed that shooter interest quickly waned and ammunition almost immediately became hard to find. Some claimed that the .223 WSSM was a barrel burner and that rifles would be shot out in less than 300 rounds. I would like to know your opinion on that matter. I fired it about 80 rounds at that time. It was fun and very accurate and I was happy with it, but as ammunition sources dried up, and with concerns over barrel life, I put it away.
Now I would like to develop handloads and begin shooting it again, but am having a hard time finding brass. I have had Winchester cases on order for over a year, but no luck, and it appears that may be the case for infinity. Do you know of any sources for brass? And can you suggest data using the Nosler 55-grain Ballistic Tip bullet?
Jerry S., Portland, OR
A: First, I am unaware of any independent scientific tests of barrel wear or expected barrel life regarding the .223 WSSM. I do know that Browning was involved in its development and conducted extensive experiments on that matter. While I don't recall the exact number of rounds fired through test rifles before wear became a concern, or resulted in accuracy loss, but it was much greater than a few hundred as many have claimed. I do know that Browning chrome-lined many of its barrels to extend life.
I have a Winchester Model 70 .223 WSSM that has been used as a lab rifle to develop loads for LoadData.com. I don't know the exact number of rounds that we have fired through that rifle, but it has been in excess of 1,000, and accuracy remains good.
Hornady is currently producing .223 WSSM brass as a component which, in spite of the huge nationwide rush on ammunition and components, it is readily available. Using the 55-grain Nosler Ballistic Tip bullet, start with 38.0 grains of Hodgdon Varget powder and work up to a maximum charge of 42.0 grains. Use a standard large rifle (non-magnum) primer such as Federal 210 or CCI 200, or their "match" or "bench rest" counterpart for increased accuracy.
Vintage .257 Weatherby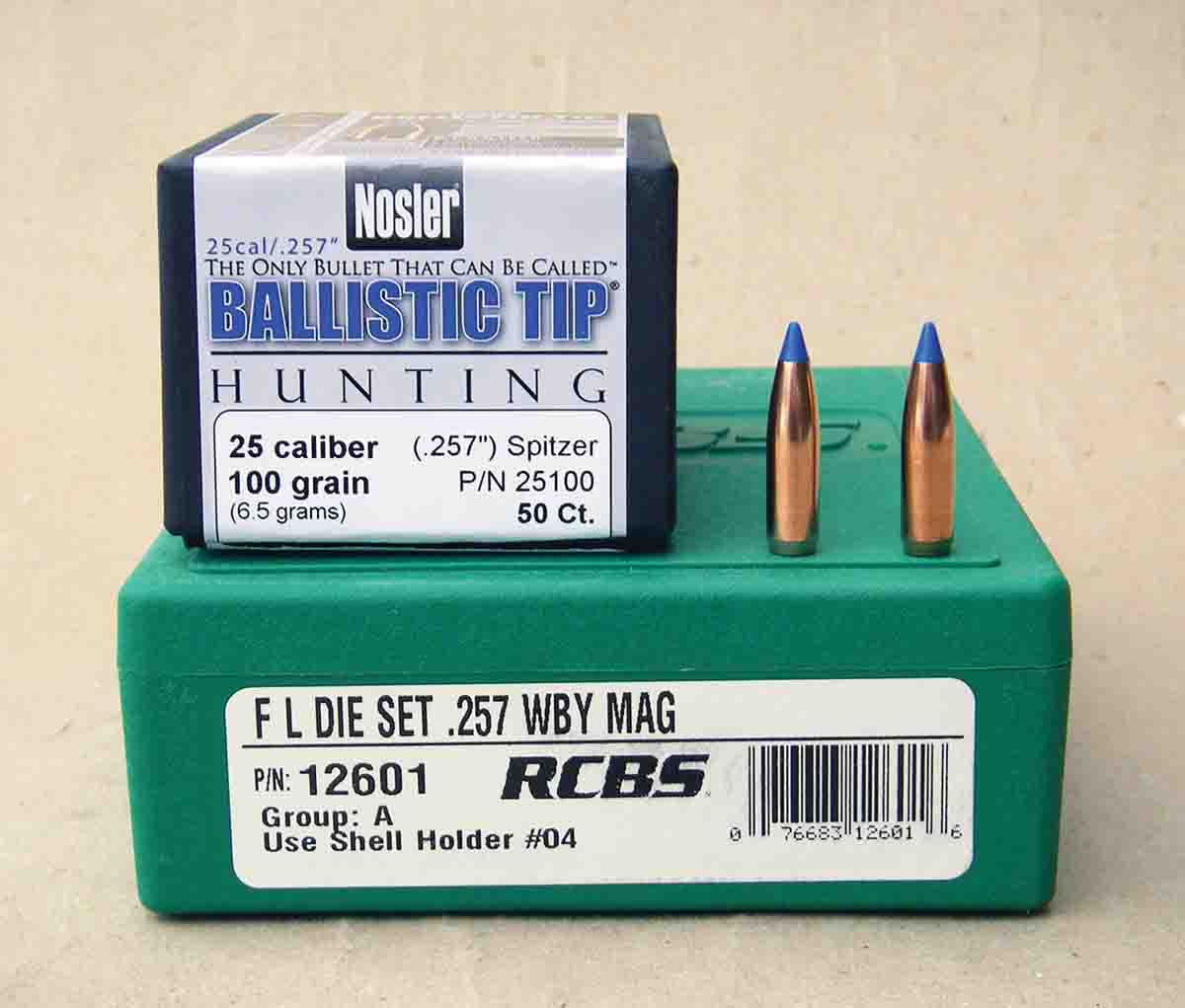 Q:
A couple of years back, I inherited my father's .257 Weatherby Magnum rifle that he special ordered around 1956, the same year that I was born. That rifle is full of special memories and I would like to use it for hunting whitetail deer here in Illinois. I obtained factory loads containing the 120-grain Nosler Partition bullet, but was a bit disappointed with the accuracy. I tightened all guard screws, checked for unusual barrel pressure or binding, but did not find anything.
I concluded that the vintage scope was probably the problem, but it was also very dim. So I replaced it with a new Leupold VX-3i 3.5-10x scope, along with new mounts. Due to the hugely improved optics, my groups did shrink, but they were still a bit disappointing. Knowing that Weatherby rifles are known for having a long throat, I developed loads using the same 120-grain Partition bullet used in factory loads, but seated out around .100 inch. Accuracy didn't really change. With limited components and time, I am hoping that you have some "magic bullet" that will give me the results that I am hoping for. Thanks in advance for your insight and any possible solutions you can offer!
Alvin S., Quincy, IL
A: While you did not offer many particulars about your rifle, if it was purchased in 1956 it was probably built on a Mauser 98 action (or possibly a Model 70 or others) rather than being built on the Mark V action that was not put into production until late 1958 or early 1959.
I am not sure exactly when the change occurred, but early .257 Weatherby Magnum rifles, such as yours, featured a 1:12 rifling twist. Weatherby later changed the twist rate to 1:10, which is found on all modern rifles. The 1:12 twist is a bit slow to properly stabilize bullets of around 120 grains; however, it will stabilize 100-grain bullets. I suggest switching to the 100-grain Nosler Ballistic Tip, which is an excellent deer bullet and should offer better stabilization than the heavier Partition you have been using.
I hope that you have a great time hunting deer with your father's rifle and savor those fond memories.