When I started casting bullets decades ago, my amateur casting methods worked sufficiently well to create large-diameter rifle and handgun bullets that shot adequately. However, a much more exact technique was required when I started casting smaller diameter and much lighter weight .22- and .24-caliber bullets. Any imperfection caused a disproportionate imbalance resulting in poor accuracy.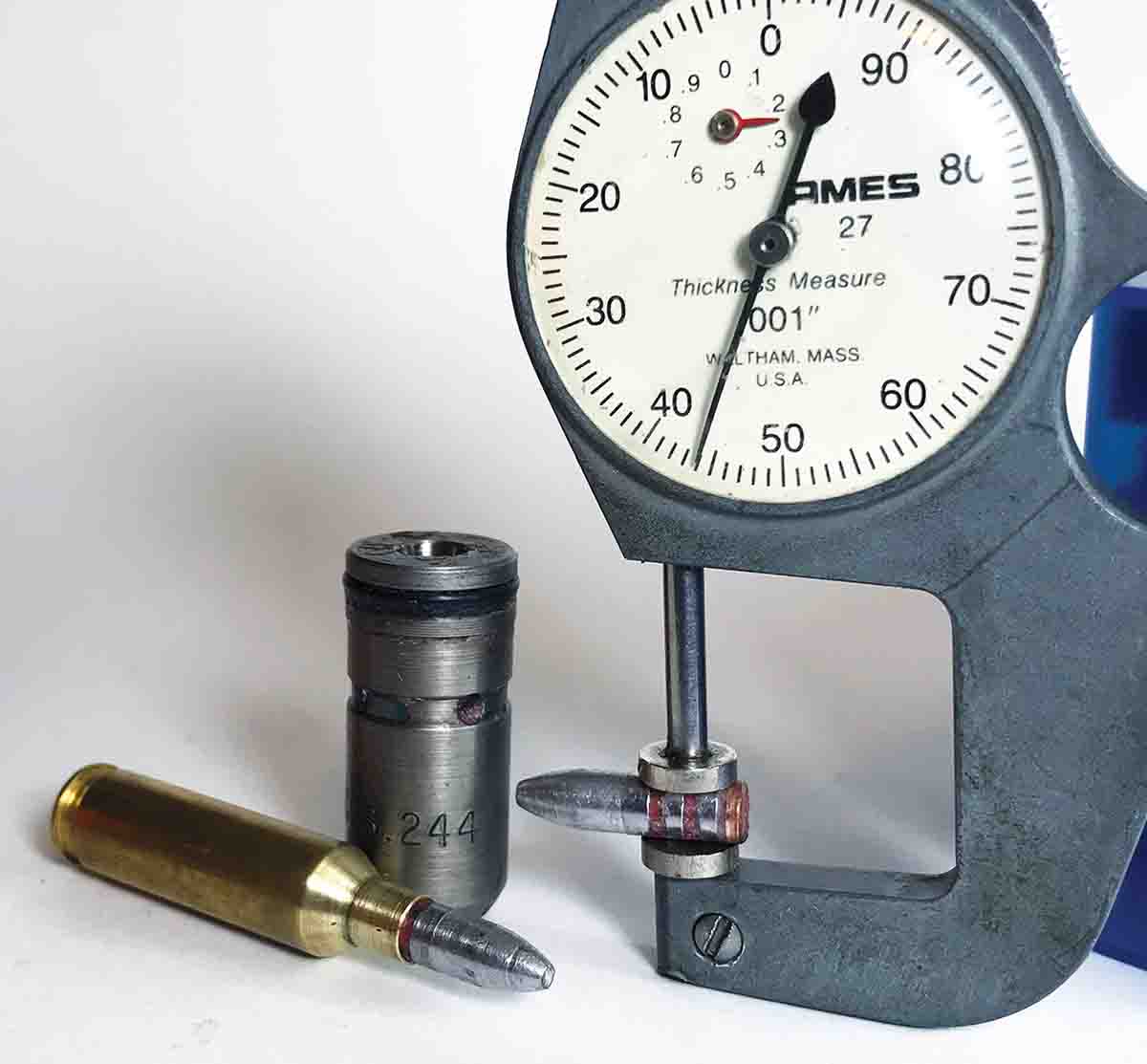 A lead alloy similar to Linotype or at least wheel weights with two percent tin added helped increase the flow of the lead alloy to cast full-formed bullets of exact weight. Correct powder selection and bullet fit in a chamber and rifle bore also went a long way to improve accuracy.
Even with all that preparation, a bullet sometimes goes awry. Recently, I was shooting RCBS 22-55-SP bullets with X-Terminator powder in a Cooper Model 21 Varminter in .223 Remington. The first four bullets formed a .89-inch group at 100 yards. Alas, the fifth bullet hit left for a final group size of 2.15 inches.
For this article, I used Linotype to cast bullets of two different designs. Bullets cast from an RCBS 22-55-SP mould were made for the Cooper Model 21 .223 Remington and a Cooper Model 22 Phoenix chambered in .22-250 Remington. Bullets cast from an RCBS 243-095-SP mould were shot from a Cooper Model 22 Phoenix .243 Winchester and a Ruger American Predator 6mm Creedmoor.
The .22-caliber bullets weighed 57.5 grains with the addition of a gas check. Weights of 15 of the bullets were very uniform, with only a couple tenths of a grain in variation. I could have weighed each one, but there are better things to do. The bullets dropped from the mould with a .225-inch diameter, and pushed in and out of a .225-inch sizing die in an RCBS Lube-A-Matic press, the bullets were only lubricated and gas checks crimped on.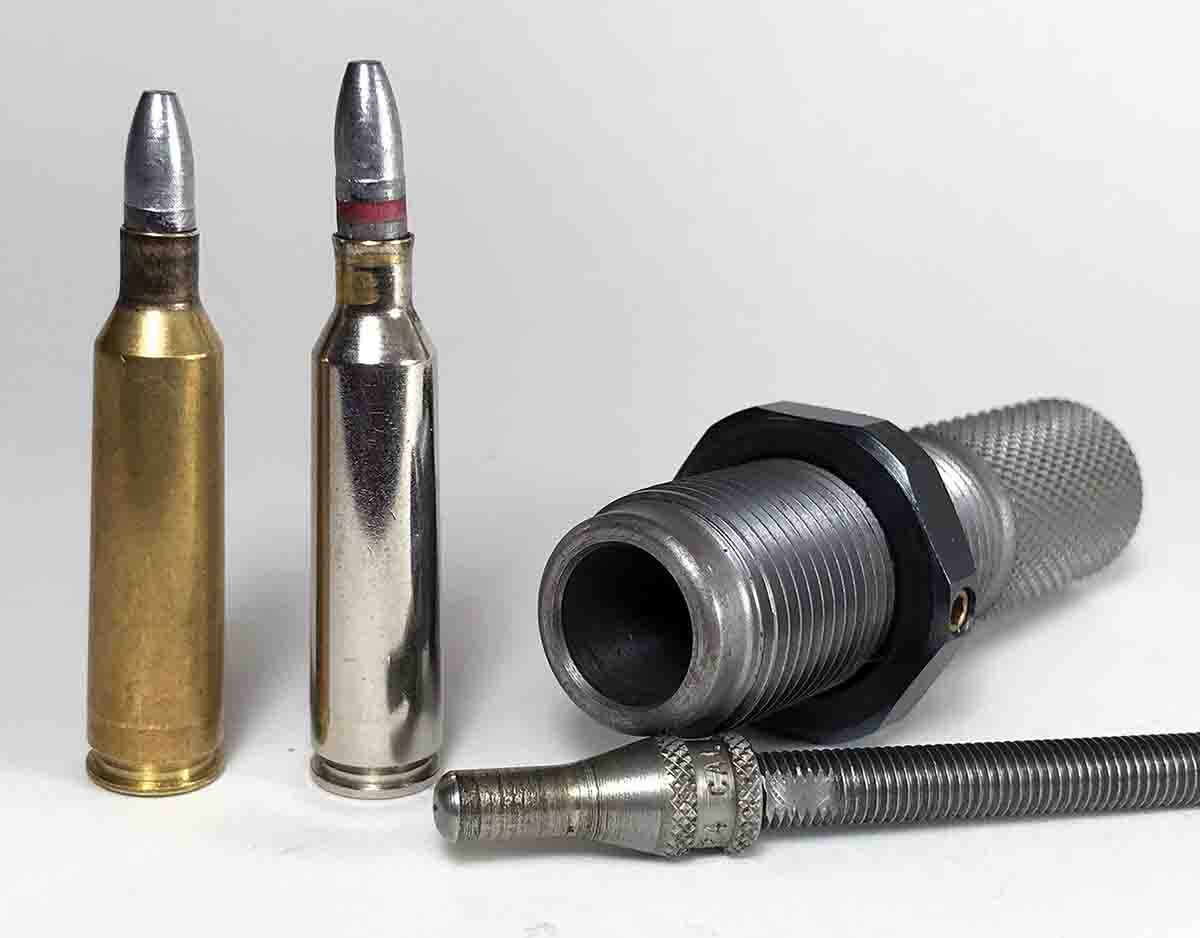 The rear half of the bullet is full diameter, which supports it in the rifling grooves. The forward portion tapers from slightly narrower than bore diameter to the tip, so the bullet is not further braced by the rifling lands.
The RCBS 243-095-SP bullet is a true bore-riding bullet that is braced about three-quarters of its length by the rifling grooves or lands. The diameter of its forward section measured .240 inch and the sides of the nose were slightly engraved by the rifling lands when a 6mm Creedmoor cartridge, loaded with the bullet, was chambered in the Ruger rifle. The bullet's body diameter measured .2448 inch as it dropped from the mould and .2445 inch after it was run through a .244-inch sizing die. That diameter provided a tight fit in the chamber throat of the Ruger and Cooper rifles, which helped align the bullets with the bores.
I experimented with seating depths of the RCBS bullet years ago in my wife's Remington Model 600 6mm Remington, thinking bullets jammed tightly into the rifling would improve bullet alignment with the bore. The Model 600 shot the cast bullets poorly at 100 yards with the bullets seated so they were firmly wedged into the rifling. Groups improved with the bullets seated in light contact with the rifling. Those shooting records sat right in front of me, and you'd think I would have consulted them.
But no, I also took that bullet alignment a step too far by seating the .243 bullets so the front of their driving band were jammed into the start of the rifling of the Cooper .243 and Ruger 6mm Creedmoor. That required a hard slam on the bolt handle to chamber cartridges, placed stress on the bolt and resulted in dismal accuracy.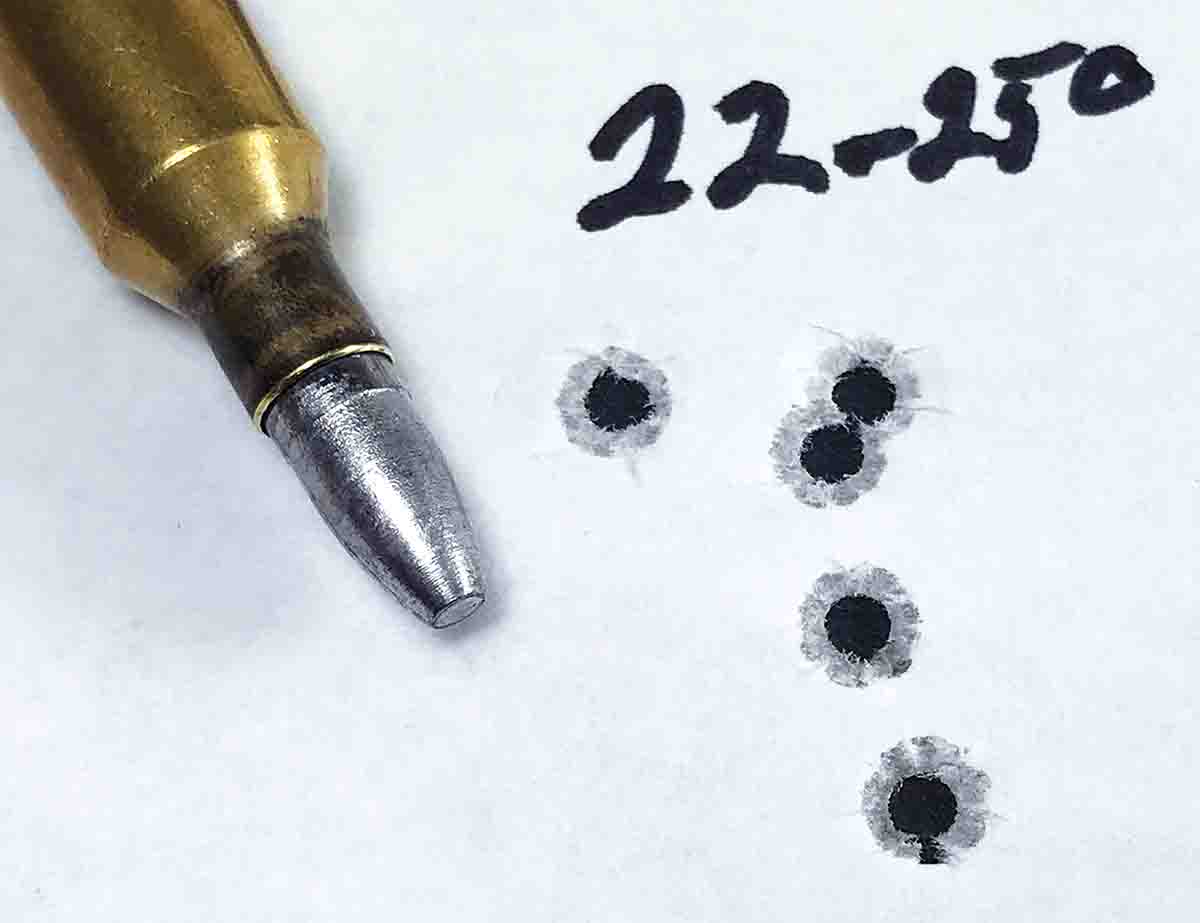 For instance, RCBS 243-095-SP bullets seated in 6mm Creedmoor cases for a cartridge length of 2.545 inches resulted in five-shot groups with bullets hitting targets here, there and everywhere. Seating bullets for a cartridge length of 2.508 inches, so their full diameter just touched the rifling, shrank groups in half shooting them with H-4198 and H-4895 powders.
The same thing happened with the RCBS bullet fired in the Cooper Model 22 .243 Winchester. Five-shot groups measured about 3 inches with a cartridge length of 2.686 inches, which jammed the driving band into the rifling. Groups were nearly half the size when shooting the bullets that had been seated slightly deeper at a cartridge length of 2.653 inches with A-5744 and H-4895 powders.
The RCBS 22-55-SP bullets were seated so the front of the driving band just touched the start of the rifling in the Cooper .223 and .22-250 Remington rifles. One load fired five-shot groups under an inch for each rifle.
Even bullets cast of relatively hard Linotype are soft compared to jacketed bullets. Inside diameter of .22-250 case necks measured .218 inch after they had been sized in a full-length sizing die. Seating .225-inch diameter cast bullets in such a narrow neck would possibly swage bullets .007 of an inch. To lessen deformation, of the cast bullets during seating, I pushed and pulled an expander plug in an RCBS Neck Expander Die through the neck of sized .22-250 cases, which expanded the inside of the necks to .221 inch.
The inside neck diameter of 6mm Creedmoor cases measured .238 inch after they were run through a full-length sizing die. Pushing case necks over a .24-caliber plug in an expander die widened neck diameter to .241 inch. Turning in the plug deeper slightly flared the mouths to prevent the case mouths from shearing the side of the bullets. Slightly lowering a seating die in a press to remove the flare during bullet seating is the only other additional step required to load cast bullets.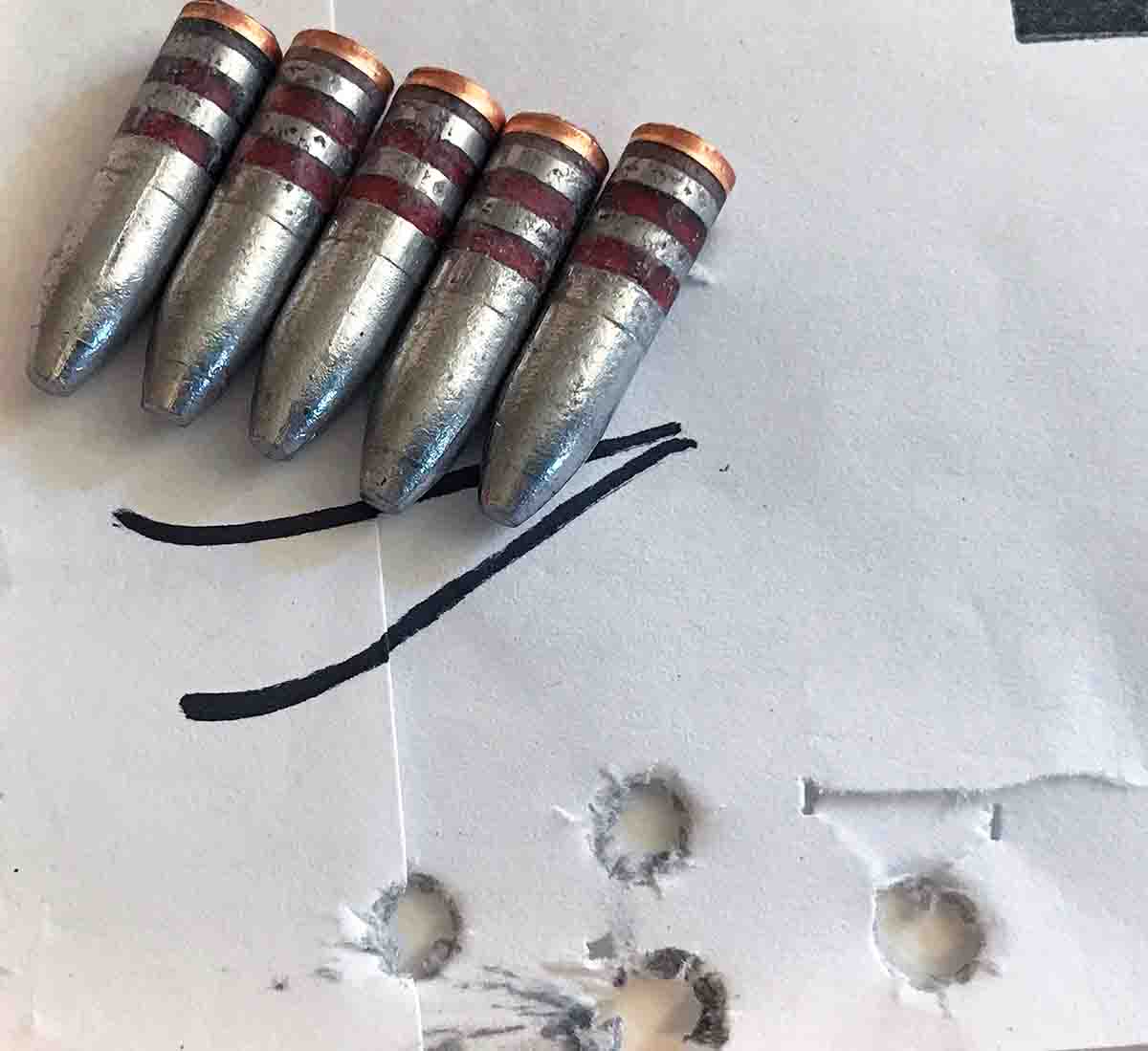 Relatively fast-burning handgun-type powders usually produce good accuracy with cast bullets fired at up to 2,000 fps from the .223. Unique is a favorite. Seven grains of this bulky powder fills three-quarters of a .223 case and groups are always under an inch shooting the RCBS 22-55-SP bullets in several rifles. I shot this load in the Cooper .223 while shooting the loads to compile the load table. The first five-shot group measured .64 inch. Five more formed a .89-inch group, and five more a 1.03-inch group.
The .223 burns only a slight amount of these powders with cast bullets. Some charges are similar to those loaded in the .357 Smith & Wesson Magnum. I substituted small pistol primers with several powders to find if the primers ignited these powders, and at the same time reduce pressure and turbulence to produce more even velocity. That was the case, at least somewhat, with Unique powder. Winchester Small Pistol primers had an extreme velocity spread of 55 fps compared to 68 fps for Winchester Small Rifle primers. As the load table shows, small rifle primers produced a narrower velocity spread with other powders.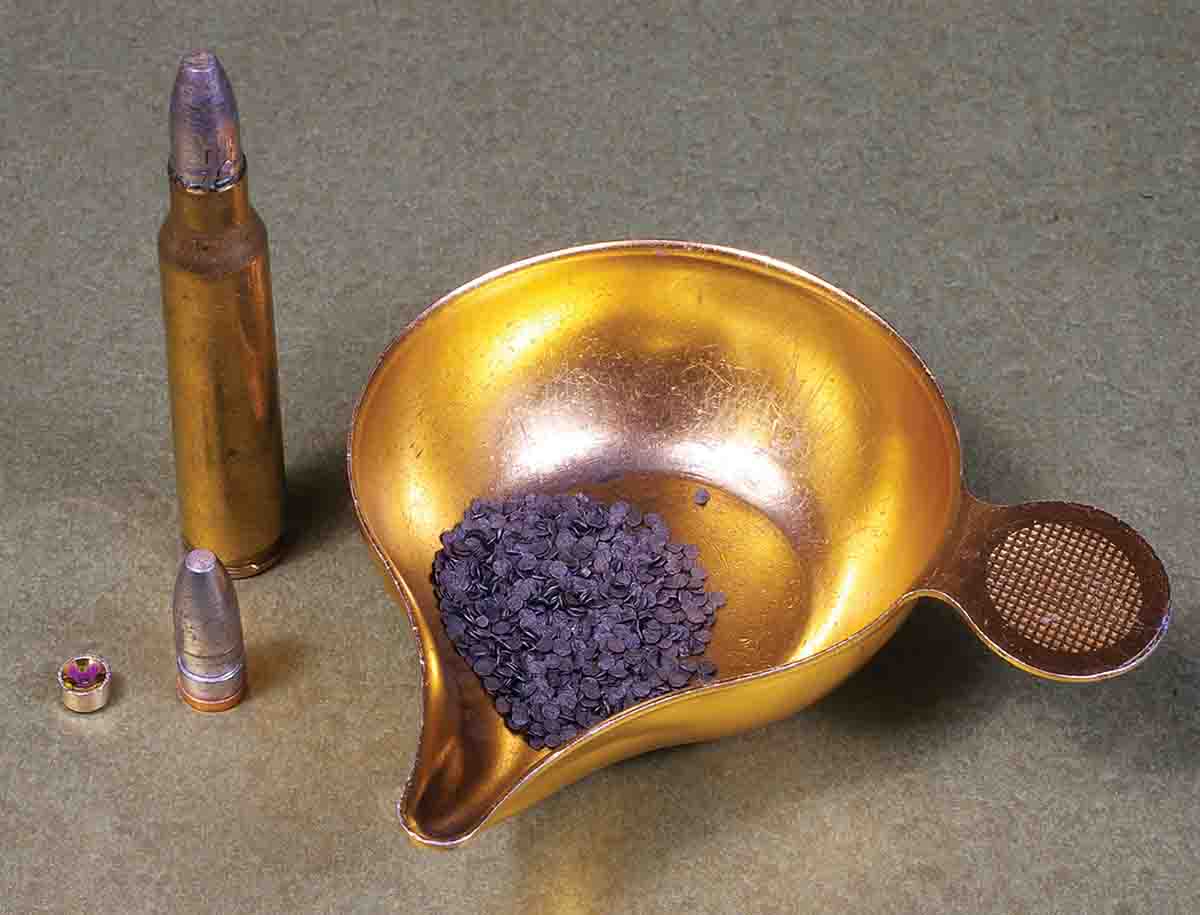 Slower-burning powders such as H-4198, Reloder 7, Varget, TAC and X-Terminator also accurately shoot cast bullets in the .223 and .22-250 Remingtons, .243 Winchester and 6mm Creedmoor. In years gone by, these powders turned in extreme spreads of 15 to 30 fps from the .223, .22-250 and 6mm Remington. This time, though, extreme spreads were wider at 45 to 70 fps. Varget generated a velocity spread of nearly 100 fps in the .223, resulting in a group with a vertical spread to its bullets.
I always keep an eye on cases to see if they have shortened in length, measured at the shoulder, after they have fired low-pressure loads. Near as I can figure, the energy of a firing primer forces a case forward into the chamber hard enough to slightly shorten the case. The case remains short if the powder charge does not develop enough pressure to expand the case. These short cases can cause misfires, and their excessive headspace is dangerous if the cases are fired with a high-pressure load, so, I keep cases for cast bullet loads separate from other cases.
A fired primer backed out of the pocket is an obvious sign of a case short at the shoulder. A tool like the Hornady Headspace Comparator provides an exact measurement of a case from the head to the datum point on its shoulder. The Comparator clamped on .243 Winchester cases showed the cases had expanded on the shoulder .007 inch after firing RCBS 95-grain bullets with 20.0 grains of Reloder 7, just like they should. After firing RCBS 55-grain bullets with 19.0 grains of TAC, .22-250 cases remained the same length. 6 millimeter Creedmoor case necks and shoulders were covered with soot and a couple thousandths of an inch short of the shoulder after shooting RCBS 95-grain bullets with 22.0 grains of H-4895.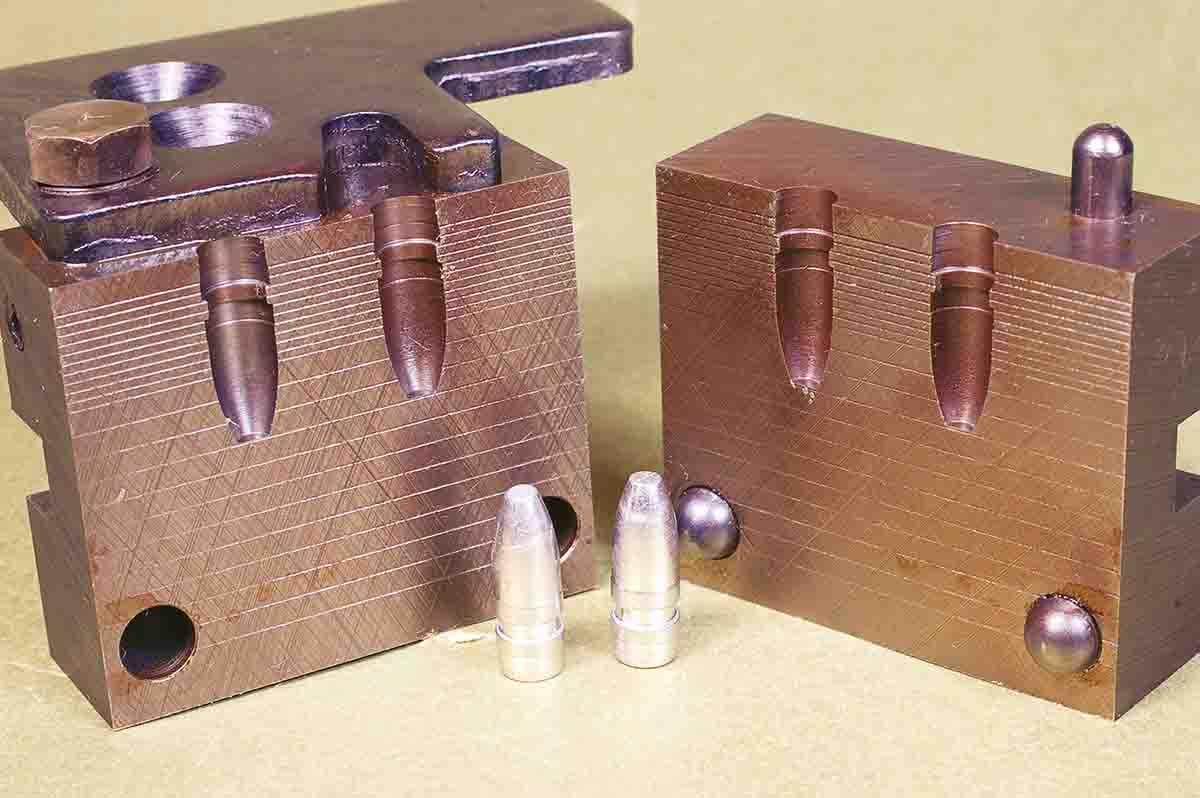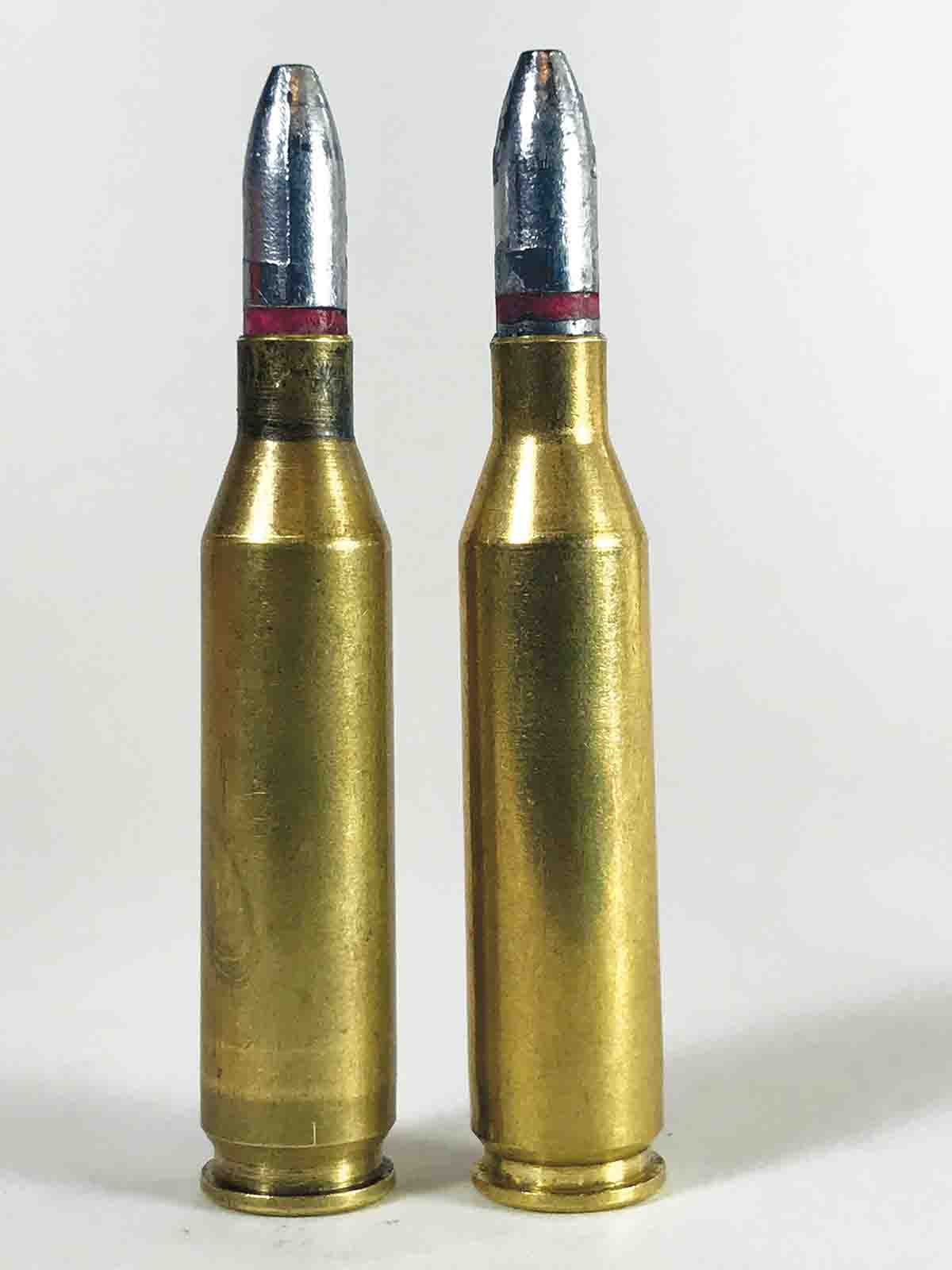 I was out roaming the ground squirrel fields with the Cooper Model 21 .223 and Model 22 .22-50 rifles. Loads for both rifles consisted of RCBS 55-grain bullets loaded with 15.0 grains of TAC in .223 cases, and 13.0 grains of Reloder 7 for the .22-250.
These loads allow seeing the hits and misses because their recoil barely bounces the crosshairs off the target. With bullets hitting on aim at 100 yards, an aim a sliver above a gopher's head will drop a bullet into the middle of the little varmint perched at 150 yards. More likely, the bullets tumble on impact. Whatever the reason, cast bullets certainly wreck gophers just as much as a bullet fired from a .22 Magnum rimfire.
The Cooper Model 22 .243 and Ruger 6mm Creedmoor have not been in the field yet to shoot RCBS 95-grain cast bullets, but I have shot lots of gophers and a few marmots with the same bullet fired from a 6mm Remington. The bullets didn't show nearly as much upset as the .22 bullets. Perhaps the long length of the .24-caliber bullet kept them from tumbling. Even though the bullets only drilled a hole through the gophers, the little varmints quickly gave up the ghost.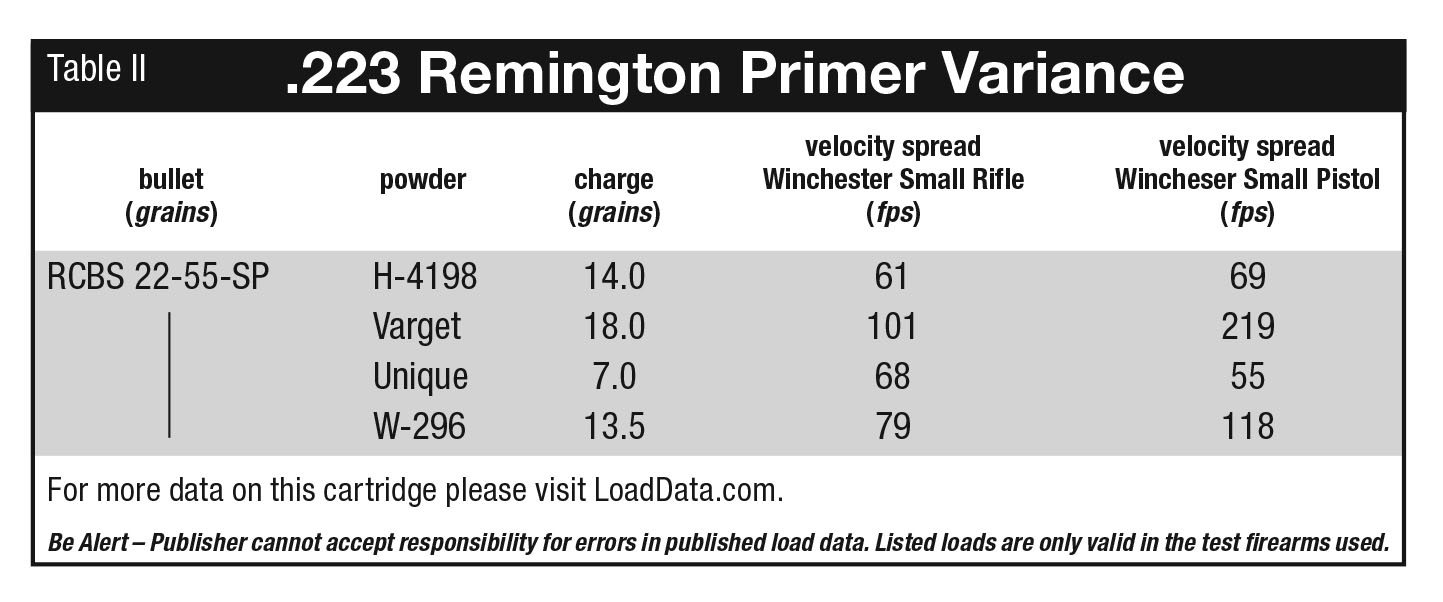 Cast bullets certainly come up short of delivering the flat trajectory and range of jacketed bullets fired at much higher velocities. However, cast bullet loads add versatility to the cartridges.