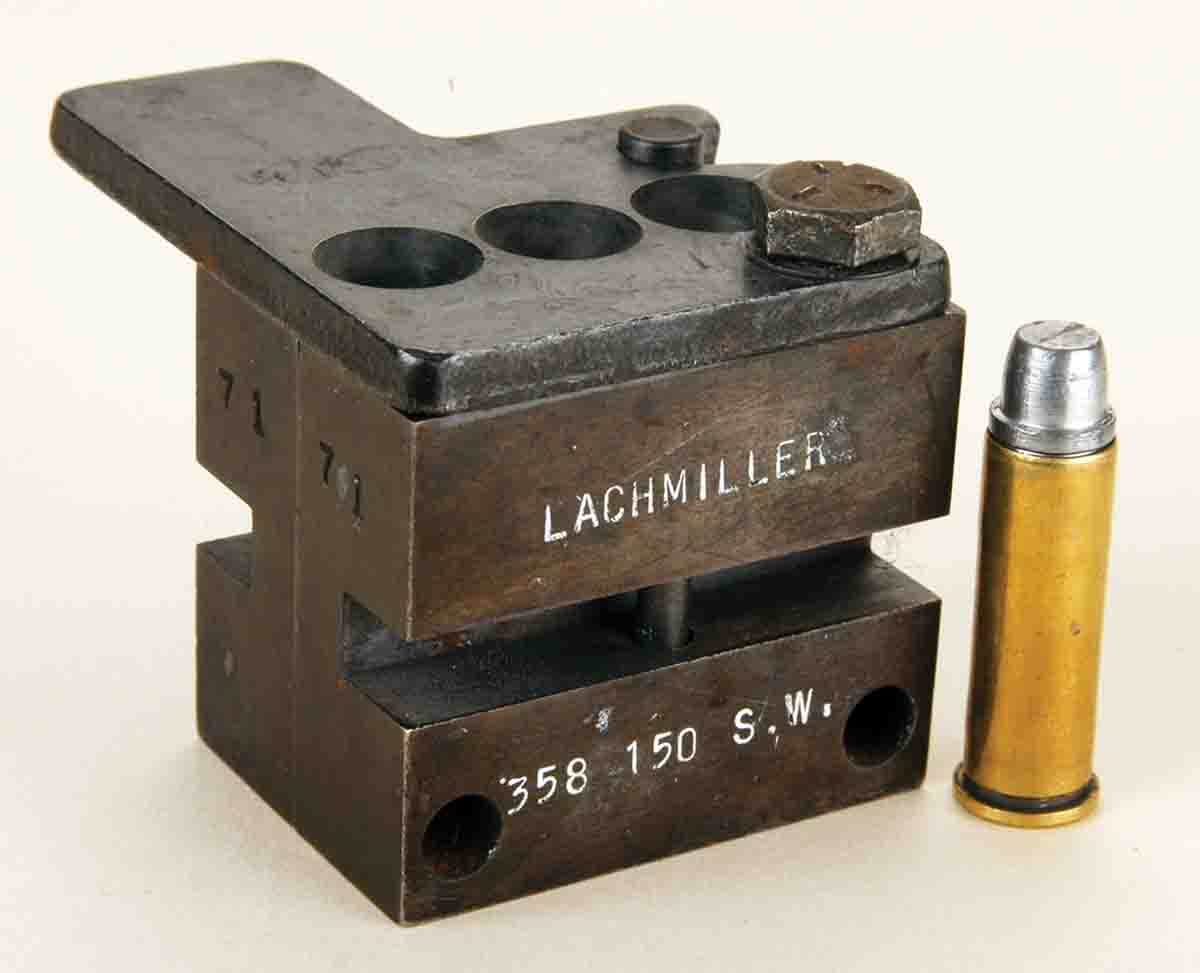 As this is written, I'm celebrating 54 years as a bullet caster. What's more, I still enjoy it. I've experienced hundreds of moulds ranging from .22 to .58, including hollowbase and hollowpoint versions, moulds for SWCs, WCs, RNs, RN/FPs and for paper patch bullets. Although I'm down to about 100 or so in my current inventory, I'm still on the hunt. Just last night I ordered a mould from a small maker I just learned about.
Along the way I've discovered that there exists a genre of moulds that I consider "Super Moulds." According to my desktop dictionary, the word super indicates something that is exceptional or superior. So what constitutes a Super Mould? In my opinion, there must be one or all of the following traits: If it consistently drops good bullets with no fuss, it's a Super Mould. If it casts good bullets quickly, it's a Super Mould. If its bullets deliver precision shooting from rifle or handgun, it's a Super Mould. If its bullets are amazingly versatile then it can be termed a Super Mould.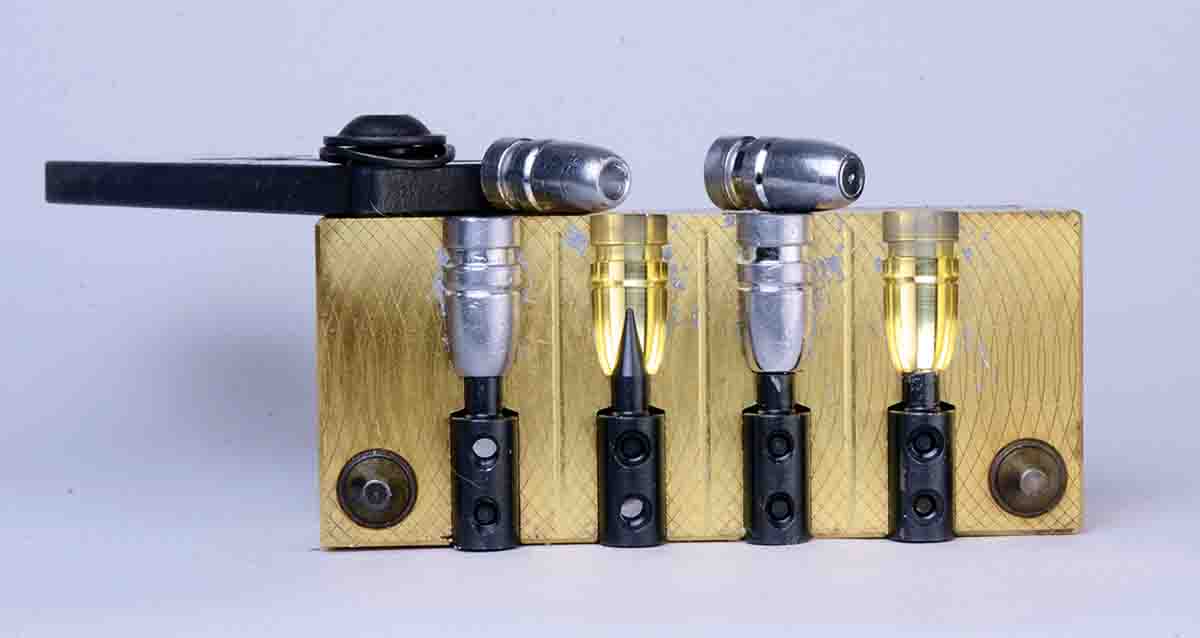 Although I began casting in December 1966, not until 1971 did I experience my first Super Mould. It was a product of the Lachmiller Company, which folded not long after I bought one of its moulds. There was nothing special about it in terms of the bullets it produced. They were common .38/.357 semiwadcutters weighing between 150 to 160 grains depending on exact alloy blend. Such a bullet, sized, lubed and loaded properly, can be counted on to deliver fine accuracy from a likewise fine quality revolver. What made that mould special was that it had three cavities, and once it came to proper temperature, it dropped three perfect bullets every time. Several tens-of-thousands of bullets were cast in it over the decades. Although it's still with me, it doesn't get much use because I don't load many .38 Specials or .357 Magnums anymore. Based on my experience with that particular mould, I would prefer triple cavity types if they were just commonly available. (To my knowledge, only Redding/SAECO offers triple cavity moulds and only on special order.)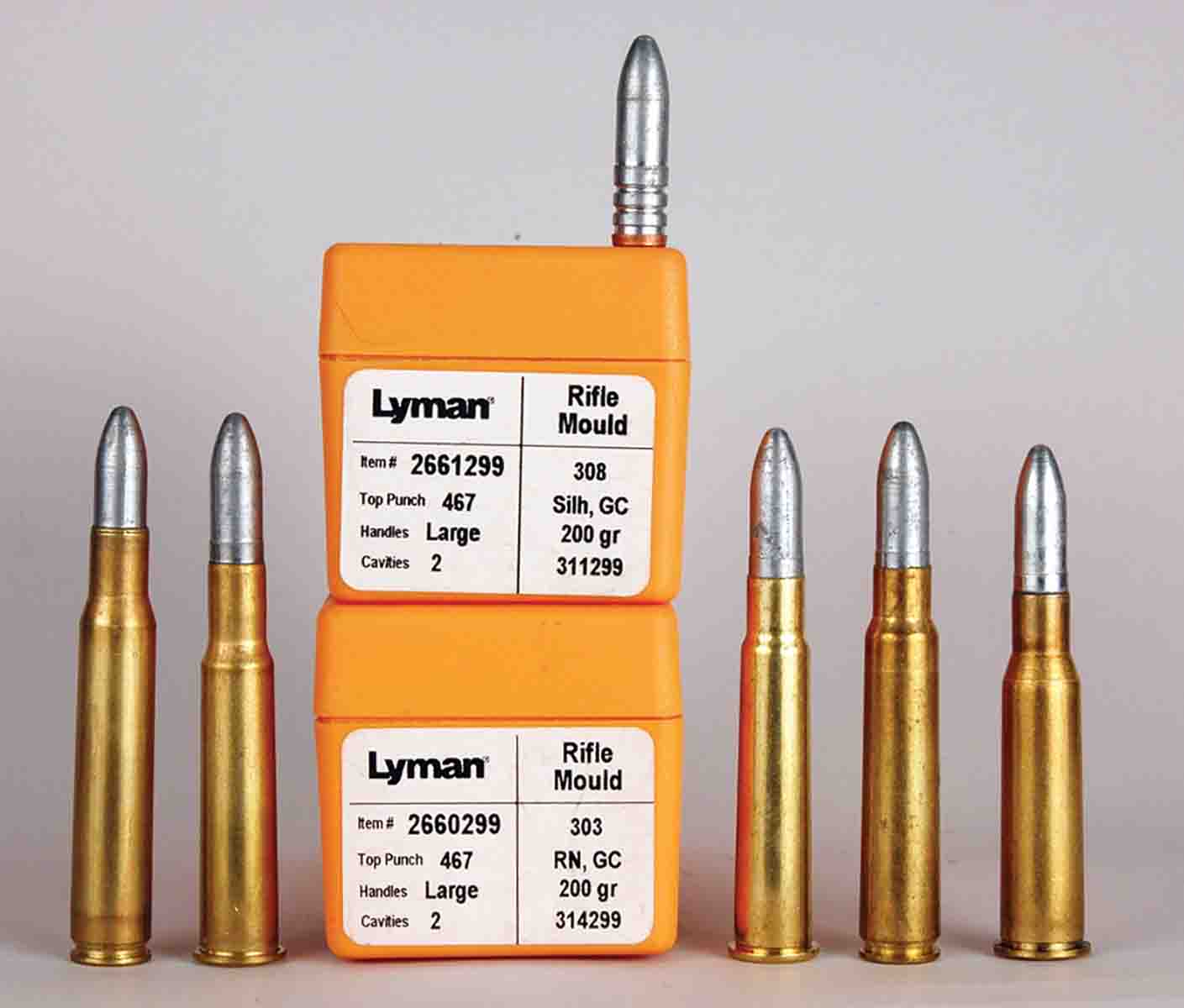 In my career as an avid Black Powder Cartridge Rifle (BPCR) Silhouette competitor I've used a myriad of .40- and .45-caliber rifles with uncounted dozens of cast bullet designs. My most exceptional .40-caliber bullet mould came from custom maker Steve Brooks of Butte, Montana. He calls it the "turkey killer." It has a pointed nose measuring .398 inch in diameter with four grease grooves on its .408-inch diameter body. Weight of 1:20 (tin-to-lead) alloy is 425 grains. My favored .40-65 rifle is a rolling block from the now gone Lone Star Rifle Company. With that rifle and the "turkey killer" bullet over 57 grains of Swiss 1½ Fg black powder, I once won the Montana State BPCR Silhouette championship and have won or placed well in numerous monthly events. In fact, in August 2020, with that rifle and load I shot my highest score ever on the notoriously difficult Butte, Montana, silhouette range. Besides being a very accurate bullet design, the mould itself is a gem. It drops perfect bullets one right after another. The last time I weighed a set of 100 fresh cast .40s, the plus/minus weight variation was a mere three-tenths of a grain.
To be sure, not every Super Mould is a discontinued or custom one. Lyman's mould No. 311299 is one. It is for a .30-caliber semi-pointed, gas check bullet with a catalog weight of 200 grains. That's with Lyman's No. 2 alloy formula. Mine are cast of straight Linotype alloy and weigh 195 grains. My favored sizing diameter for this bullet is .310 inch, and they shoot remarkably well in my .30-40 Krag, .308 Winchester, .30-06 military and civilian sporter rifles. Bullets from mould No. 311299 might shoot well in 7.62x54R rifles, especially if they have Finnish barrels. However, there is a fall back plan if those 7.62x54R rifles are Russian-made, as they often have barrels with larger groove diameters. Lyman makes a small alteration to its No. 311299 mould, which is No. 314299. It's for the same excellent bullet but .003 inch larger in diameter. Of course, it is also suitable for .31-caliber rifles such as British .303s, Argentine 7.65x53mms and the 7.7x58mm Japanese. Between these two Super Moulds, just about every .30- and .31-caliber rifle is covered.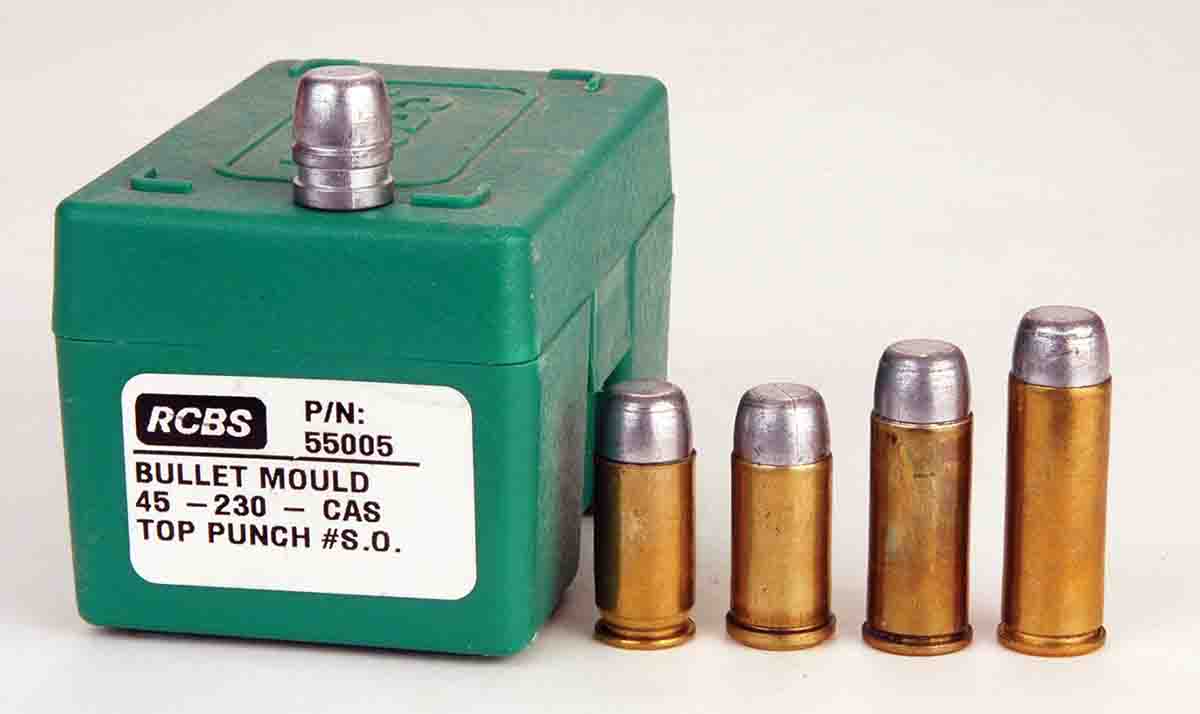 RCBS also has a versatile Super Mould. It's the company's 45-230-CM (cowboy mould). It drops a roundnose/flatpoint bullet cataloged at 230 grains. Cast of 1:20 (tin-to-lead) alloy, I have used them in revolvers chambered for .45 Auto-Rim, .45 S&W Schofield and .45 Colt. Cast of Linotype alloy, they have also worked fine in my array of Model 1911/Model 1911A1 .45 Autos. That's a lot of mileage from one mould. I just wish RCBS would offer it in a triple cavity option.
This last mould I'm going to list as a Super Mould is from a company I wasn't even aware of until a few months prior to this writing. It's from MP Molds. Back when I was searching the internet for a hollowbase mould for .41 Long Colt, I found a reference to MP Molds as a source for good quality hollowbase and hollowpoint moulds. Not until I went to pay for it by credit card and was asked if I wanted to pay by euros or dollars, that I realized MP Molds was in Europe – Slovenia. To my surprise that .41 Long Colt mould arrived in only five days!
Recently I purchased a 3rd Generation Colt SAA .32-20, but was distressed to find both my suitable .32 moulds missing. (DO NOT LOAN BULLET MOULDS!) So I turned to MP Molds again. Its .32-20 mould doesn't rate Super because of the bullet's versatility, but because of the mould's own versatility. MP Molds has worked out a system that makes a mould "convertible" with an ingenious plugs and pins arrangement. This .32-20 mould can cast either hollowpoint (115 grains) or solid 120-grain bullets. Furthermore, it has four cavities and can be converted so all cavities are for solid bullets, hollowpoints, or both types can be mixed. In my first session, I made two cavities hollowpoint and two solid. This is truly a twenty-first-century bullet mould.
There are others of my mould collection that rate as Super, but this variety fits in the space allowed, spreads some of the "attaboys" around and gives an idea of my Super Mould concept.