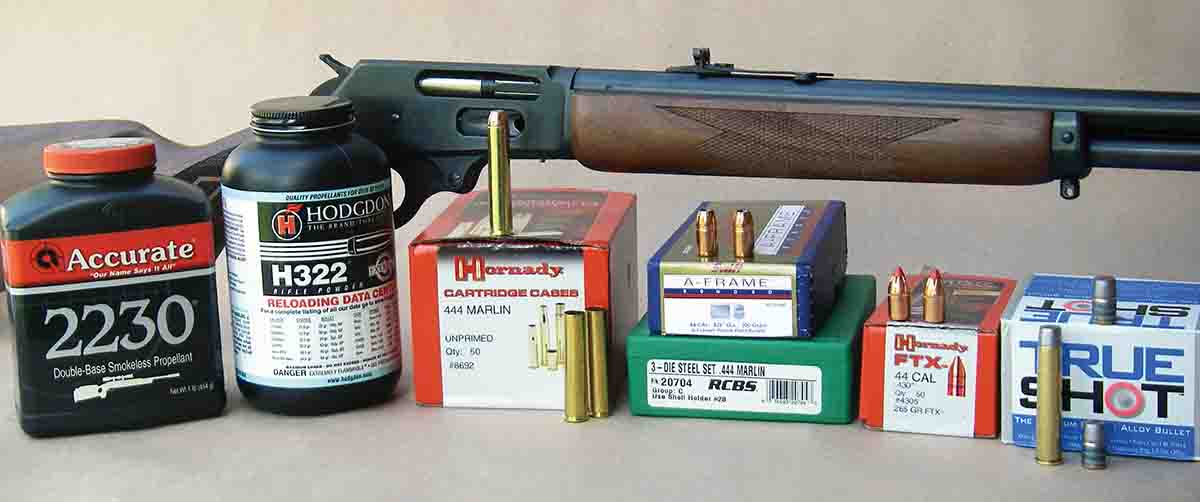 As a joint effort with Remington, the .444 Marlin cartridge was announced in 1964 in the Marlin Model 444 rifle based on the 336 action. Although the cartridge shared a similar profile to many nineteenth-century levergun rounds, it was not based on any existing case. Several published reports indicate that the case is based on a "stretched .44 Magnum" while others claim that the base case is the .303 British, neither of which are correct.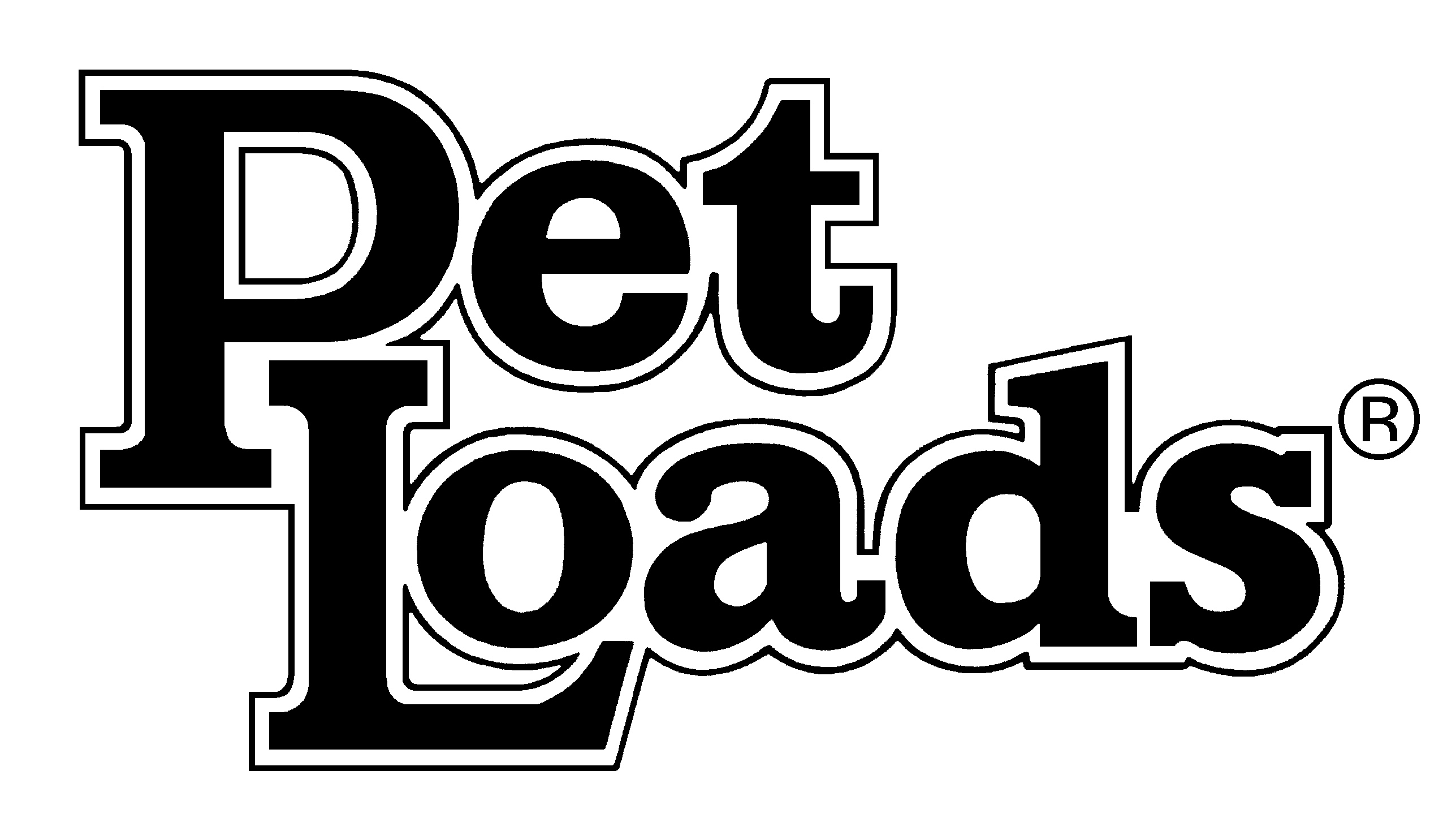 The .444's head diameter measures .4698 inch, which is identical to the .30-06. However, the .444 features a robust rim and is straight tapered to accept .44-caliber (.429- to .430-inch) bullets. Period factory loads advertised a 240-grain JSP bullet at 2,400 fps from a 24-inch barrel, which generated 3,070 foot-pounds of energy, which is a poor measurement of terminal performance for big-bore rifle cartridges. Currently, velocity is listed at 2,350 fps. Remington chose to load the 240-grain JSP bullet that was designed specifically for .44 Magnum revolvers and features a relatively thin jacket. Due to the comparatively high velocities produced by
the .444, it often breaks up when used on big game and severely limits penetration on heavier species.
By 1967 Hornady introduced the 265-grain Inter-Lock flatpoint bullet that featured heavier construction and was designed specifically to perform well at velocities produced by the .444. With increasing interest in handgun hunting, many companies have developed controlled-expansion jacketed and deep-penetrating solid .44-caliber bullets that have drastically improved the .444's terminal performance and versatility. When loaded with the correct bullets, I would not hesitate to use the .444 to tackle dangerous game, including grizzlies or even Cape buffalo. And I can state from experience that select bullets are absolutely devastating when used on whitetails and mule deer.
While I rarely make cartridge comparisons, it should be noted that the .444 can push a 300-grain bullet to 2,200 fps (or 2,100 fps from a 22-inch barrel), effectively duplicating the .405 Winchester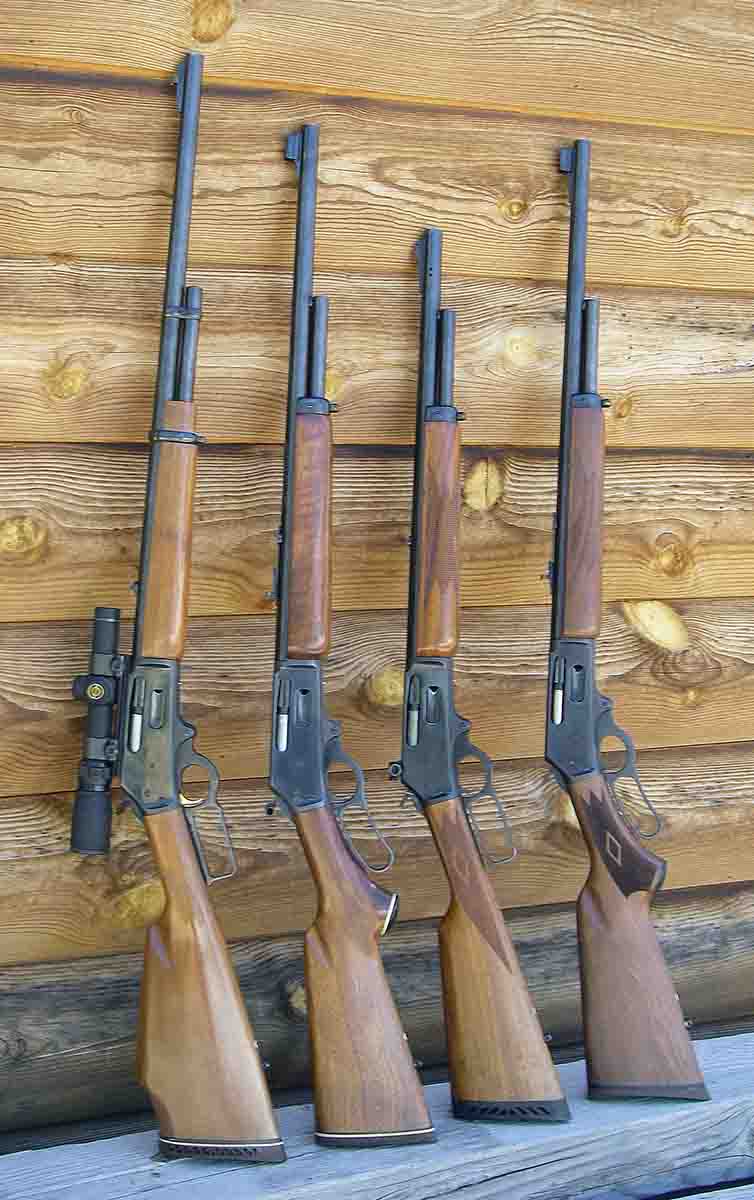 that earned a respectable reputation in Africa, even on lion per Teddy Roosevelt. It also easily exceeds current .45-70 factory ballistics for 300-grain jacketed bullets listed at around 1,850 fps while offering notably better penetration due to its improved sectional density with bullets of the same weight. Using correctly constructed 240- to 270-grain bullets, it can reach 2,400 and 2,300 fps, respectively, which edges out the .348 Winchester that was said to shoot 250-grain bullets at 2,350 fps (but actually reached around 2,200 to 2,250 fps from rifles with a 24-inch barrel). The .444 can also push various 320- to 335-grain cast bullets over 2,000 fps to provide notably greater punch on larger game. The .444 is a truly versatile lever-action hunting cartridge.
The most commonly encountered .444 rifles are variations of the Marlin Model 444, which have been offered with 24-, 22- and 18.5-inch barrels, as well as a small quantity of Winchester (USRAC) Model 94 Timber Carbines with 18-inch barrels produced during 2004 and 2005 just prior to the factory closing.
Marlin rifles produced from 1964 through approximately 1999 all featured a 1:38 rifling twist rate. During the 1990s I had multiple meetings with Marlin representatives in an effort to help them improve the overall product line. One of the items discussed was to increase the .444's twist rate from a 1:38 rifling twist to 1:20, which was first observed on the Model 444P Outfitter in 1999. The slower twist rate, however, remained intermixed with the Model 444SS until the company's move to Ilion, New York, in 2010, when production ceased.
After being suspended from manufacturing for the past eight years, the Model 444SS is back in production and is fitted with a 22-inch barrel with a 1:20 rifling twist that was used to develop the accompanying handloading data.
While the 1:38 twist is often criticized for being too slow, I have seen good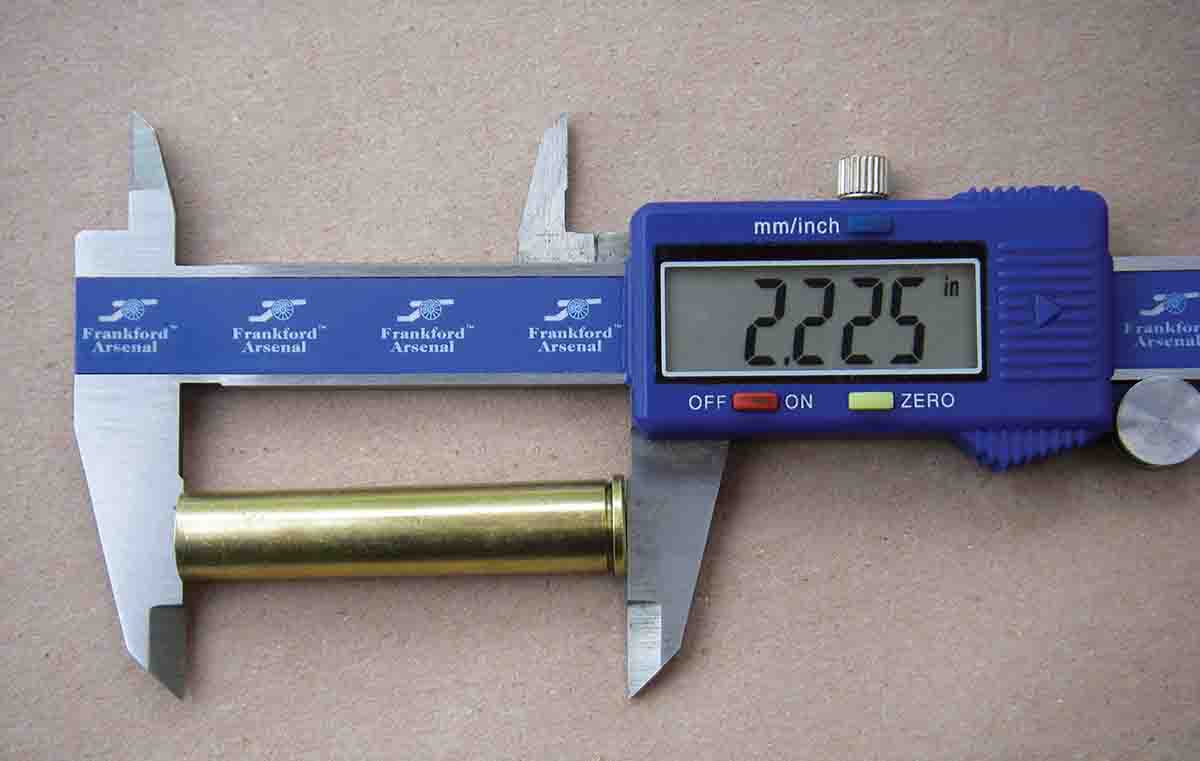 accuracy in multiple rifles with jacketed and cast bullets ranging in weight from 240 to 335 grains. I have often obtained one- to 1.5-inch 100-yard groups with bullet weights up to 300 grains; however, accuracy was always best when velocities were kept high. For example, the best accuracy with various 300-grain jacketed bullets was usually recognized with loads that reached more than 2,000 fps. On the other hand, the 1:20 rifling twist will usually deliver superior accuracy with all bullet weights and designs at a wide range of velocities, including comparatively low velocity "target" or "plinking" loads that hover around 1,300 to 1,600 fps. When using solid bullets such as the Barnes 300-grain Buster FN FB, Belt Mountain 300-grain Punch or Cutting Edge 240-grain Solid, the faster rifling twist provides complete stabilization and arrow-straight penetration when used on large, heavy game.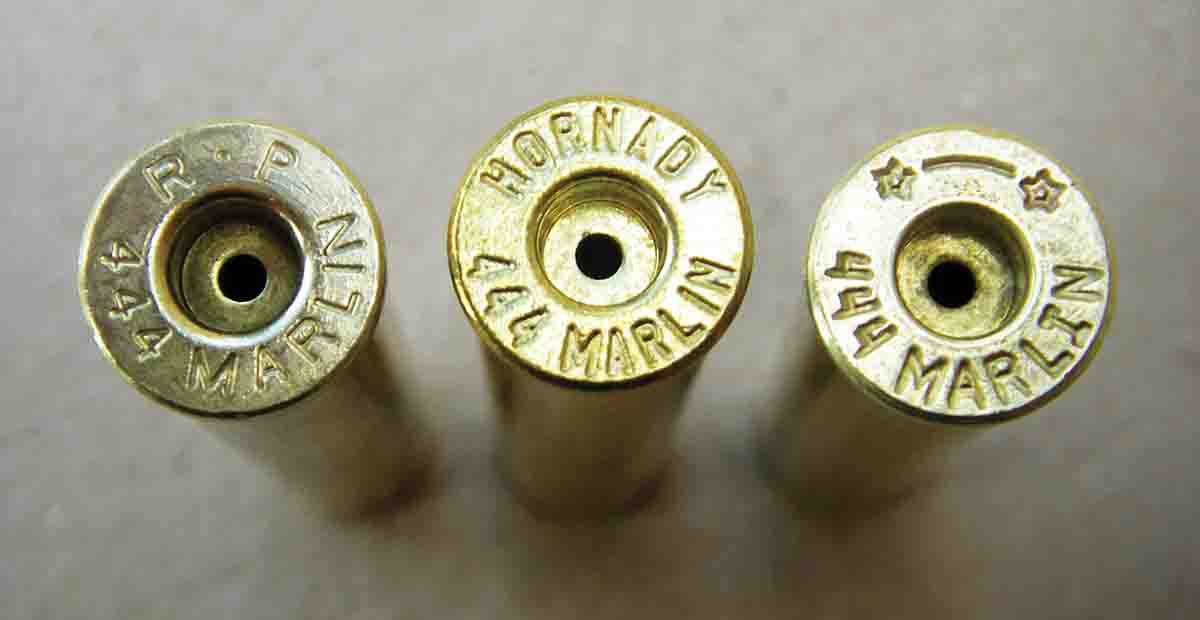 While the new 444SS used here was a prototype rifle, with production guns scheduled to roll off the assembly line this year, I was pleased with its overall quality, function and accuracy. The only changes I would like to see include lightening the trigger pull to 3 pounds, installing a softer rubber recoil pad (such as the Pachmayr Decelerator) and thinning the excessively wide forearm. After firing hundreds of rounds per day while preparing this article, the factory hard-rubber recoil pad was covered with a LimbSaver slip-on pad. Incidentally, the 1:20 rifling twist features six lands/grooves that replace the former Micro-Groove system.
A Leupold VX-5HD 1-5x 24mm variable scope was installed using a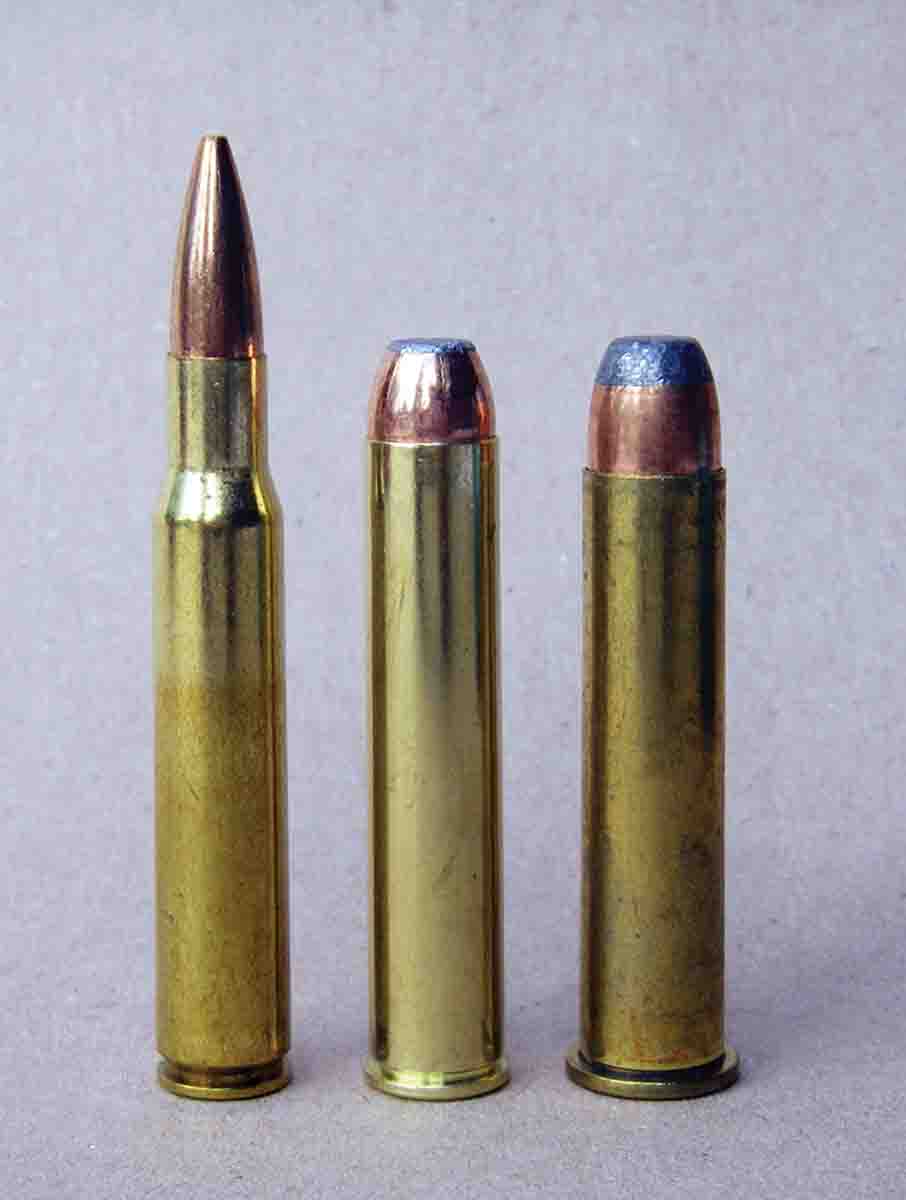 Weaver one-piece base and Leupold QRW2 low 30mm rings, which allow for quick detachment and access to the iron sights but can also be reinstalled while holding zero. The VX-5HD has all the desirable features of a quality hunting scope, including generous 3.8-inch eye relief at all magnification settings, a wide field of view, an illuminated FireDot reticle, a high-resolution, high-definition optical system and the company's Twilight Max
Light Management system for low-light visibility. Other features include a Custom Dial System ZeroLock, 170.0 MOA elevation and windage adjustments, hard-scratch resistant, mil-spec, multi-coated lenses and a fast-focus external eyepiece. Weighing 13.4 ounces, it is an outstanding big-game scope and feels natural on the Marlin Model 444.
A number of factory loads were checked for accuracy and velocity. Notable loads included Hornady's 265-grain Superformance load that reached 2,339 fps and produced at least two groups that were more or less MOA. Another excellent deer load was Buffalo Bore's Heavy 270-grain JFN (Speer DeepCurl) that reached 2,179 fps and gave nearly identical accuracy as the Hornady load, both of which are excellent choices for deer.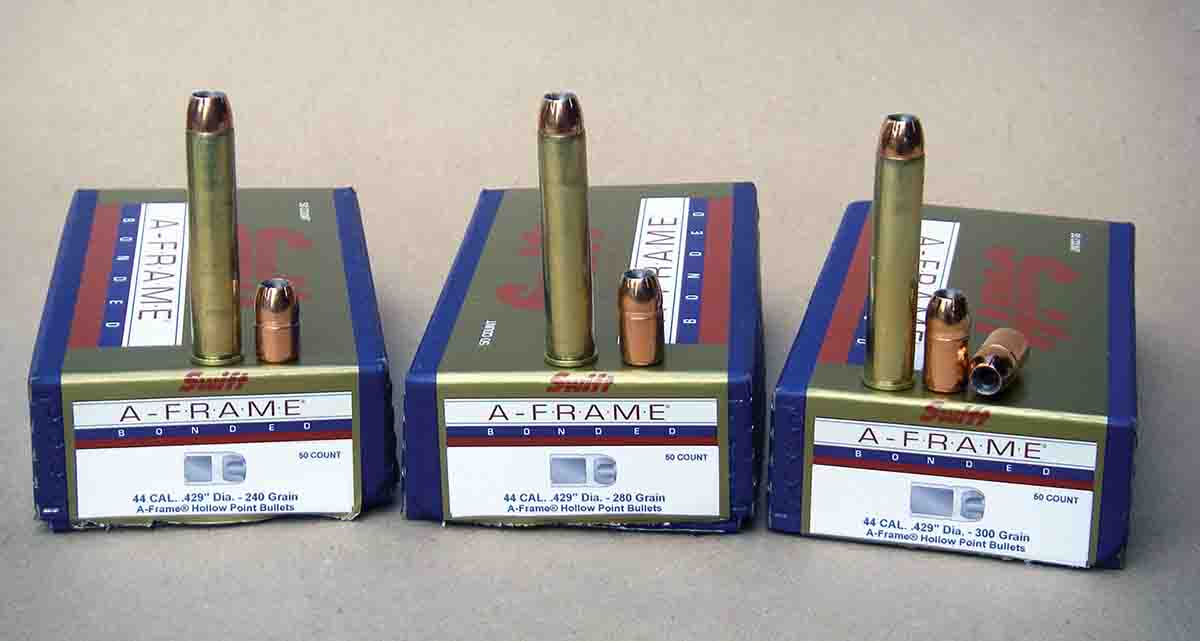 For heavier game, Buffalo Bore Heavy 300-grain JFN (at 2,060 fps) and 335-grain cast LFN-GC (2,046 fps) loads produced groups around 1.5 inches.
For many years Remington was the only company that offered .444 Marlin ammunition and cases; however, Hornady and Starline are now offering component brass that, in my tests, could be reloaded several more times. Remington brass weighed 193.4 grains, Hornady cases weighed 188.5 grains and Starline averaged 192.6 grains; water capacity was 68.1, 68.7 and 69.1 grains, respectively. In developing loads in all three cases, variances in water capacity were so minimal that loads could be used interchangeably. Hornady cases were used to develop the accompanying data.
The .444 Marlin was originally listed with a SAAMI maximum average pressure of 44,000 CUP; however, it has recently been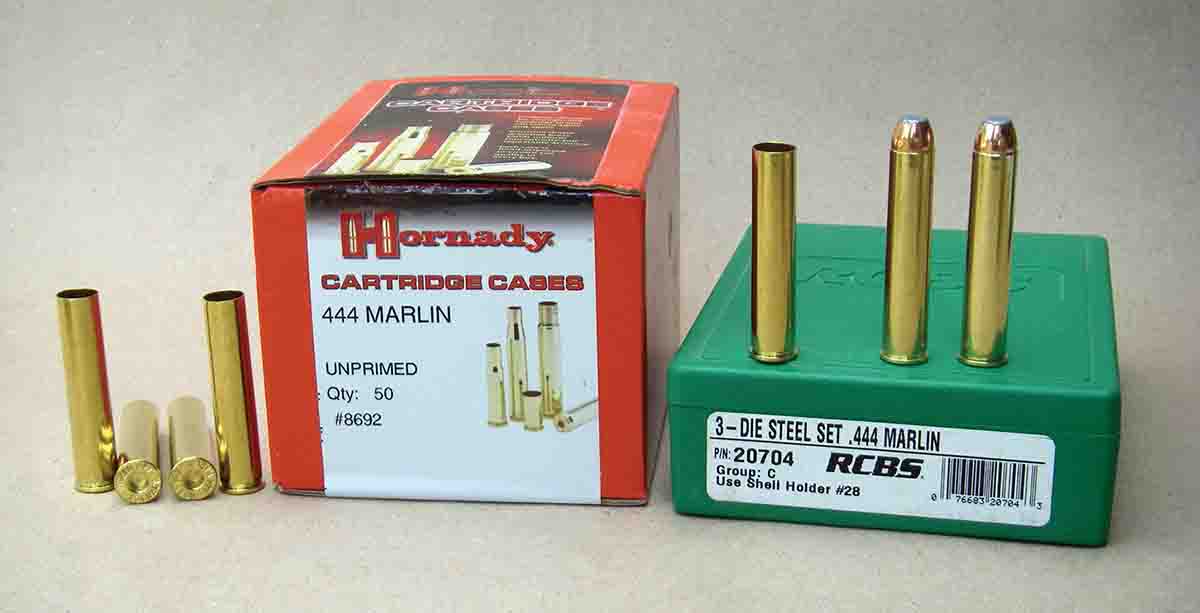 updated using piezoelectric pressure measuring methods and is now established at 42,000 psi. All of the accompanying data is within that limit.
The .444 has an industry maximum overall cartridge length of 2.570 inches. Some rifles will load, feed and function when bullets are seated to an overall cartridge length of 2.590 inches, but many will not feed properly when overall length exceeds industry guidelines. Most jacketed .44-caliber bullets feature a nose length that is typically between .330 and .350 inch and should be crimped on their respective cannelures. Some bullets, such as the Speer 300-grain PSP, Hornady 300-grain XTP and Barnes 300-grain Buster FN FB, feature dual crimp grooves to accommodate their use in .44 Magnum revolvers, where they can be seated out to the lower crimp groove to increase powder capacity. However, in the .444 the upper crimp groove should be used to keep overall cartridge length within guidelines to assure proper function.
It should be noted that a number of cast bullets were used that feature a longer nose than is suitable for use in the .444. In these instances, the bullets were crimped over the ogive to achieve proper length. The problem with this approach is that when loaded cartridges are placed in a tubular magazine, recoil can cause the bullets to become deep seated. For this reason, the powders chosen were either near 100 percent capacity or were compressed to support the base of the bullet and prevent deep seating.
While no jacketed bullets used here feature a large enough meplat to cause difficulty when loading cartridges through the loading gate, some WFN-style cast bullets had to be seated to a shorter overall length to allow them to make the "corner" from the loading gate into the magazine tube. In testing how these handloads loaded in several rifles, some accepted cartridges with a longer overall length than others. The lengths listed worked in all rifles; however, it will be beneficial to seat bullets to the longest overall length your rifle will accept.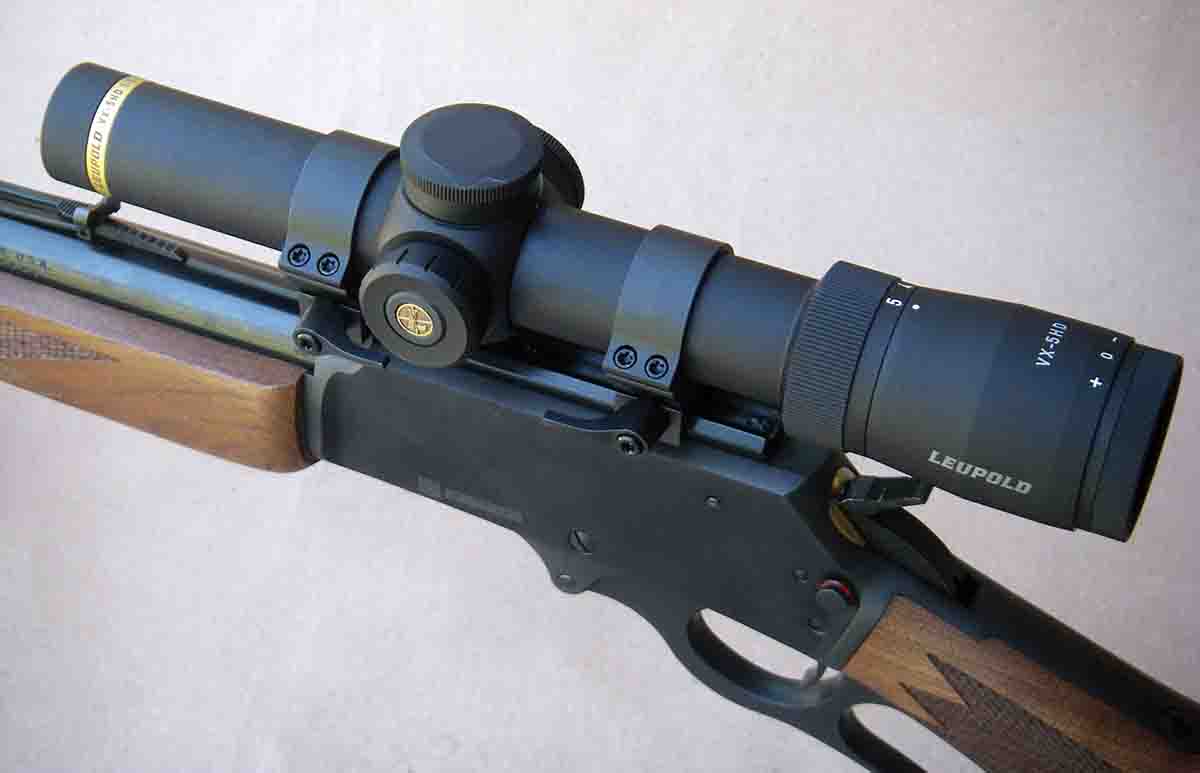 The Hornady 265-grain FTX bullet features a lengthened nose (ogive) to increase its ballistic coefficient and accommodate the rubber tip. As a result, cases will need to be trimmed to 2.065 inches to allow crimping in the FTX's cannelure and keep overall cartridge length within specifications. It should also be noted that some dies will damage this bullet's nose during seating, especially on compressed powder charges. It is suggested to use a Hornady seat/crimp die, or modify the shape of conventional seating plugs to correspond with the FTX's ogive.
An RCBS Group C three-die set was used to develop the accompanying handloads. It is suggested to full-length size cases to assure reliable rechambering, and expand the case mouth just enough to permit bullets to seat without shaving lead or damaging the case. A heavy roll crimp will not only aid with powder ignition, but it also assists with smooth feeding and helps keep bullets in place while pushing cartridges through the loading gate, and while cartridges are cycled through the action.
Great .444 hunting bullets that offer rapid, controlled expansion when used on deer-sized game include the Swift 240-grain A-Frame HP, Speer 240-grain DeepCurl SP, Hornady 265-grain InterLock SP and 265-grain FTX. I have used the Speer 270-grain DeepCurl SP (formerly Gold Dot SP) on several deer, and it has proven devastating on broadside lung shots. While I have not used the Swift 280-grain A-Frame bullet on game, penetration tests suggest that it will be a great all-purpose bullet for game including deer, elk, black bear and even moose. The Hornady 300-grain XTP, Speer Jacketed SP and Swift 300-grain A-Frame are all good choices for hunting large moose and bears.
For maximum penetration on heavy game, solids should be considered. The Cutting Edge 240-grain Solid produced 100-yard groups that were consistently under one inch. When pushed to almost 2,400 fps, it will easily penetrate an 800-pound animal while producing an arrow-straight wound channel. The Barnes 300-grain Buster FN FB is another good choice that can be used interchangeably with the same weight cup-and-core expanding bullets to provide similar points of impact. The latest Belt Mountain 300-grain Punch solid did not arrive in time to be included here, but it is a premium hunting bullet that offers outstanding accuracy and deep penetration.
When choosing a cast bullet design, roundnose flatpoint, wide flatpoint, long flatpoint and truncated flatpoint designs should generally be selected. The flat point is important to prevent possible primer ignition in the magazine tube. Semiwadcutter designs can work; however, their sharp shoulder (the forward edge of the front driving band) tends to cause cartridges to hang up in some rifles. For that reason, the only SWC design used here was the Rim Rock 290-grain Top Shelf with gas check, which was crimped into the front driving band.
The Oregon Trail Laser Cast 240-grain RNFP bullet was selected for low-recoil loads that can be produced at a modest cost. Using 16.2 grains of IMR Trail Boss powder, velocity was around 1,450 fps, recoil was light, and accuracy was surprising with 50-yard groups hovering around 1.5 to 2.25 inches. The
Lyman No. 429667 242-grain cast bullet is of similar design and can be substituted; it was accurate at lower velocities with loads containing Accurate 5744 and IMR-4198.
I was pleased with the overall performance of the Oregon Trail True Shot 310-grain WNFP-GC, the Cast Performance 320-grain WLNGC/DC and Rim Rock 335-grain Top Shelf TC w/gc cast bullets. They offered good accuracy and are excellent choices for hunting all big-game for which the cartridge is suitable.
Powder choices for the .444 are extensive. In years past I have had a fondness for Hodgdon H-322 and Accurate 2015 because they are accurate, provide low extreme velocity spreads, burn cleanly, produce near top velocities and fill cases to achieve the bullet support necessary for many projectiles, and both provide a comparatively modest muzzle report. Hodgdon H-4198, Benchmark, IMR-4198, IMR-8208 XBR, Accurate 2230, 1680 and 2200, Ramshot TAC, X-Terminator, Vihtavuori N-120 and N-130 likewise produced excellent over-all performance. I was pleased with Accurate 2200, as it metered uniformly and delivered top velocities and accuracy.
With a large selection of modern bullets and powders, the .444 Marlin can be improved through handloading.