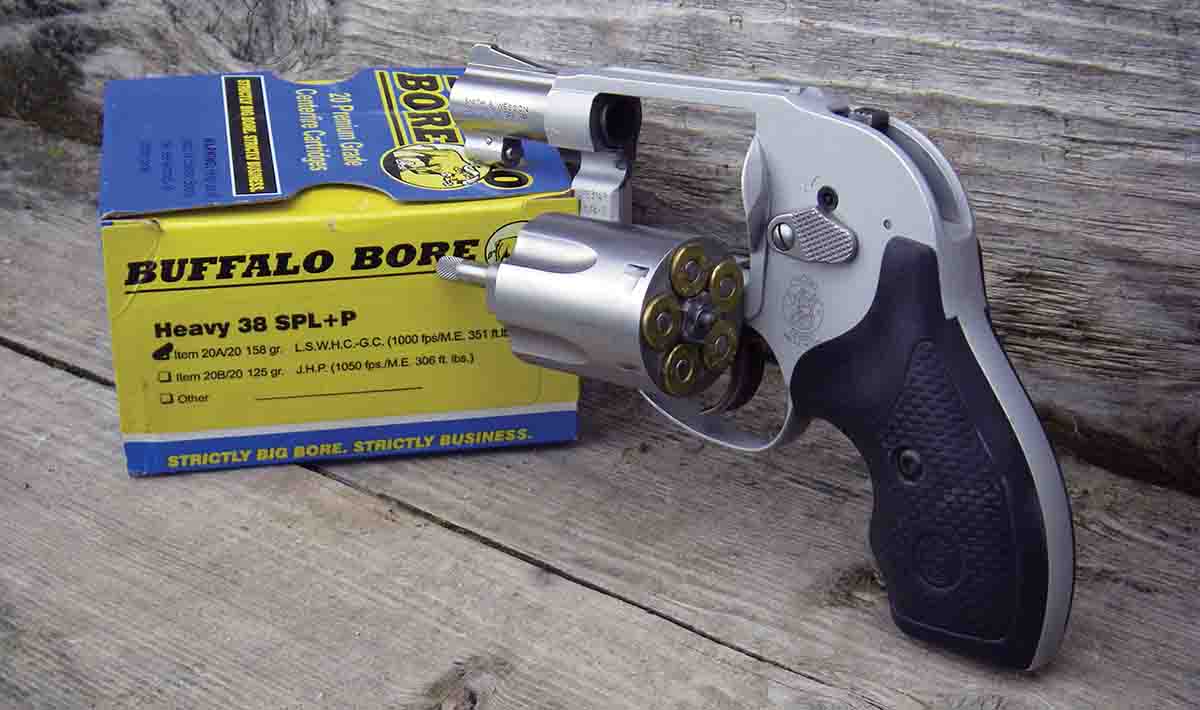 Beginning in 1950, Smith & Wesson introduced the Chief's Special that was based on the new, all-steel J-frame with a round butt, a five-shot cylinder in .38 S&W Special and a 2-inch barrel. Other barrel lengths and a square butt were added later. Sales were instantly strong, as it was reliable, compact and easily carried for self defense or as a backup gun for officers or the police chief, who was largely desk bound.
In 1957 the Chief's Special became known as the Model 36. In the decades since, Smith & Wesson's classic five-shot, J-frame revolver has been offered in too many variations and calibers to mention here, but the .38 Special is still the most popular chambering and enjoys strong sales in spite of stiff competition from a host of compact autoloading pistols designed to replace it.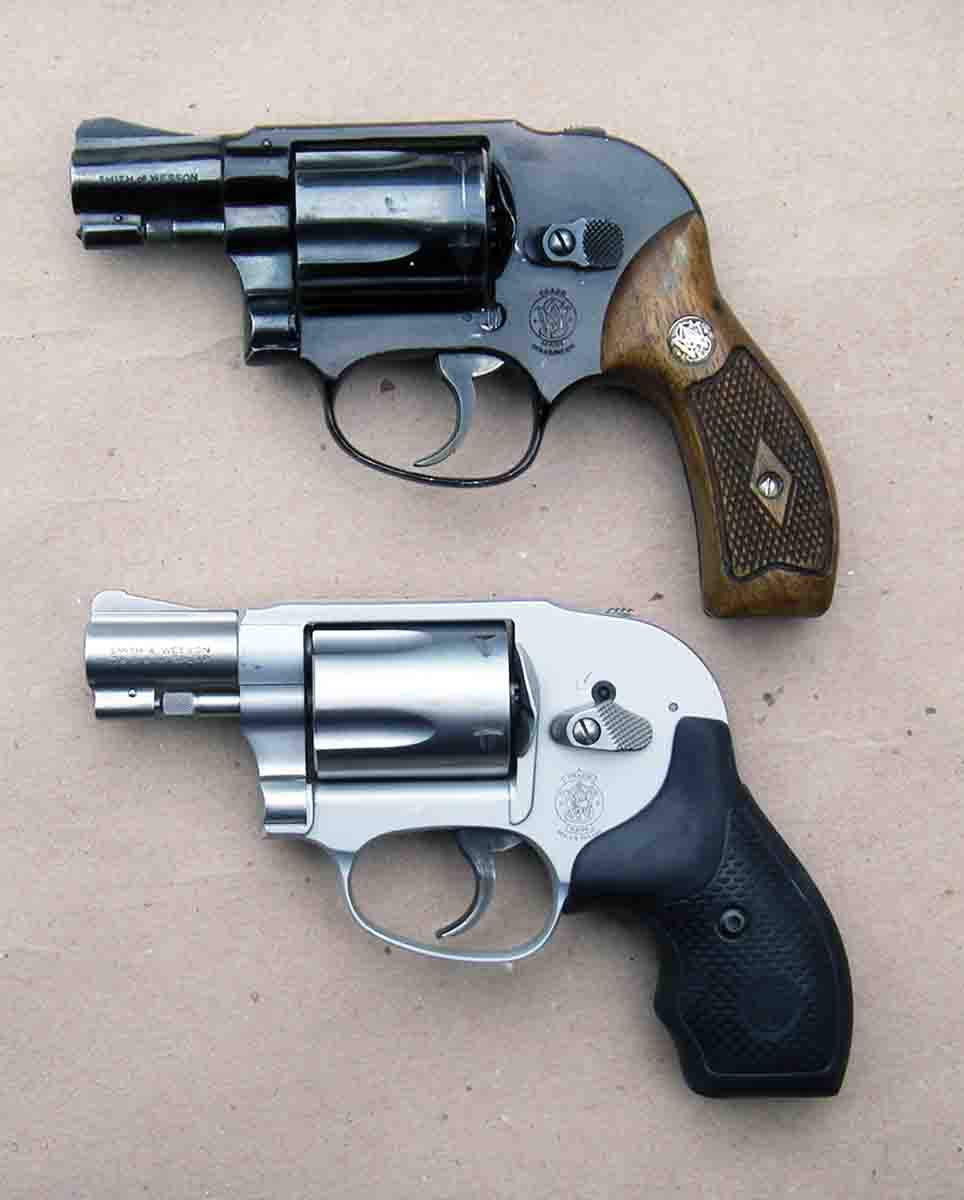 Highly popular are the various Airweight versions that include the Model 637 with a fully exposed hammer that can be fired in either single-action (SA) or double-action (DA) mode, and the Model 638 with a shrouded hammer that is also DA and SA, and the double-action-only Model 642 that features a fully enclosed hammer that is snag free. Each of these revolvers features a stainless steel barrel and cylinder, and a frame constructed of aluminum alloy, resulting in an appealing weight of 14.6 ounces (as compared to the all-steel Model 36 weighing 19 ounces). As a result, these guns are compact and can be carried or concealed with ease, and they are rated for continuous use of +P ammunition, permitting a large selection of self-defense loads to be used.
For the purposes of this article, a Model 638 was chosen, which is the stainless steel counterpart of the "Bodyguard Airweight" that was originally introduced in 1955 and became the Model 38 in 1957. As indicated, it can be fired in
double- and single-action mode and features a frame-shrouded hammer that makes it largely snag free. The hammer spur (or tip) is only slightly exposed for thumb cocking. It should be noted that some inexperienced shooters, or those with weaker hands, may have difficulty manipulating this hammer. In these instances, they should consider the Model 637, or fire the gun in double action only.
The Model 638 is built on what Smith & Wesson refers to as the "J-Magnum" frame, which has been notably strengthened when compared to previous Airweight models.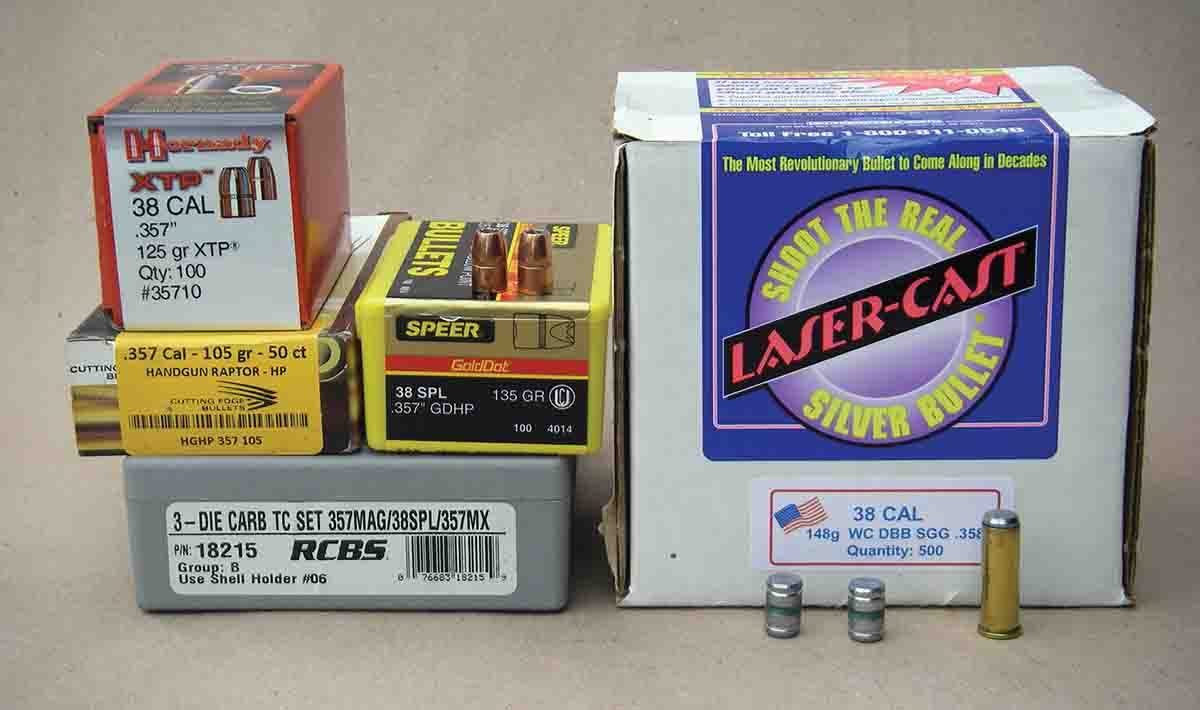 The barrel measures 17⁄8 inches and features EDM rifling that helps keep costs in check. While cut-rifled barrels (produced prior to around 2000) generally have an accuracy edge, especially with cast bullets, these are not target pistols and the practical accuracy difference is negligible. However, when developing handloads containing cast bullets, care must be exercised to assure that the correct bullet, powder and velocity combinations are chosen to prevent barrel leading.
The synthetic grips are black and shaped to fit a variety of hand sizes, yet they are compact and easily concealed. The trigger width measures .312 inch and its surface is smooth, which is desirable when firing in double action.
The rear sight is fixed while the integrated front sight is .110-inch wide. There is enough "light" between the front sight and the rear sight notch to allow a respectable sight picture. A good option to increase aimed accuracy in low-light conditions is to install a set of Crimson Trace (crimson trace.com) laser grips.
In Smith & Wesson tradition, the single-action trigger pull broke cleanly at 3.2 pounds while the double-action pull broke cleanly at around 11 pounds, which sounds heavy but is easy to manage. Furthermore, the mainspring provides enough energy (or power) for reliable ignition with all primers, which is crucial for a defensive revolver.
Using Winchester 158-grain Lead SWC-HP +P loads with a rated muzzle velocity of 890 fps, but from the 638's short barrel provided 816 fps, groups fired at 10 yards (the distance used to test all loads) hovered around 2.25 inches. This is more than adequate accuracy for any normal defensive situation where this gun will be used. Some barrel leading occurred, which was removed after firing groups with each load containing cast bullets. Buffalo Bore's 158-grain Lead SWC-HP with gas check produced 2-inch groups with minimal barrel leading and reached an impressive 841 fps.
Factory loads containing jacketed bullets delivered better accuracy than lead-based bullets, primarily due to the rounded lands and grooves of the EDM-style rifling and the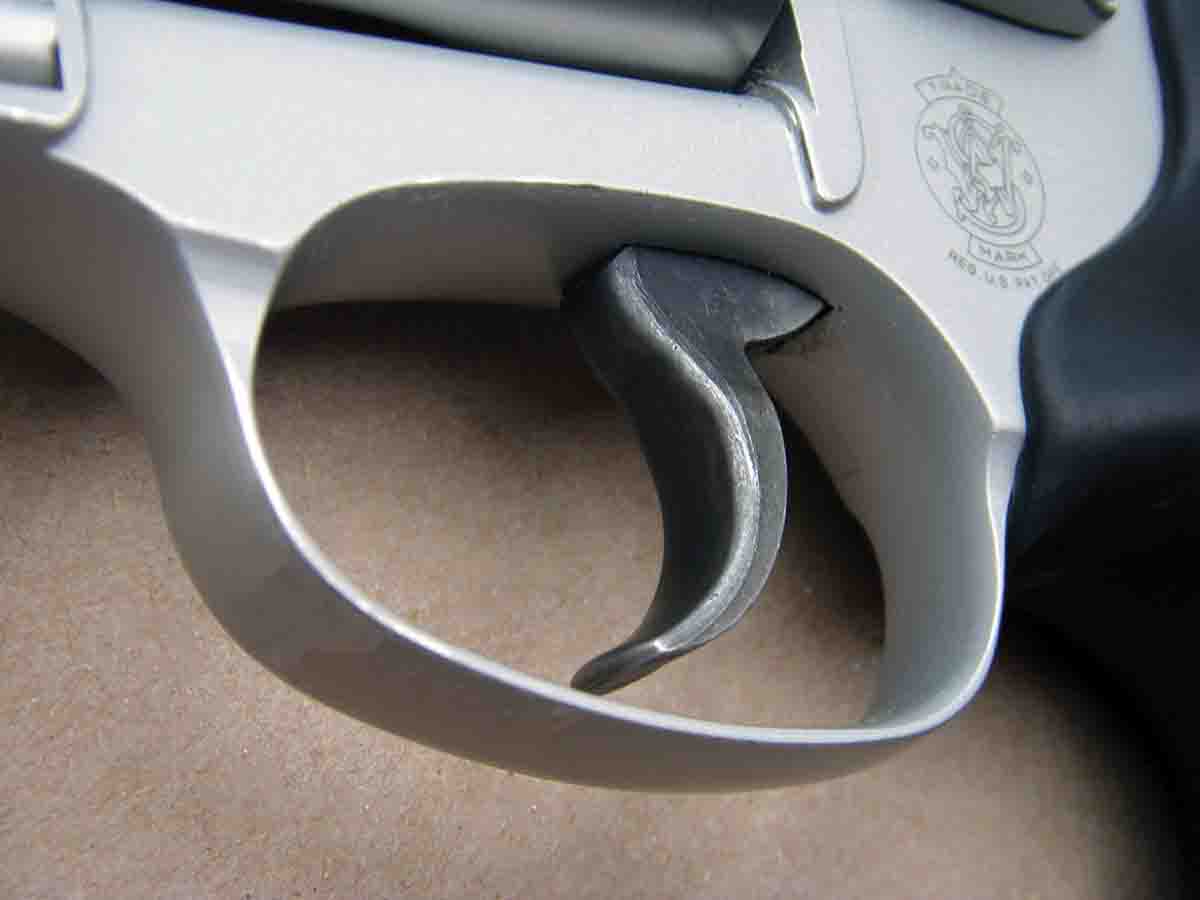 bore surface. Hornady 125-grain Hollow Point XTP loads reached 845 fps and produced groups just over one inch.
In selecting a few +P .38 Special handloads for the Model 638, one important factor influenced my choices. It is very difficult to get any jacketed expanding bullet weighing 140 to 158 grains to travel fast enough from the short-barrel Model 638 to achieve reliable expansion if industry pressure guidelines are observed. As a result, jacketed bullet weights were limited to 135 grains. Included were the Cutting Edge 105-grain Raptor HP, Hornady 125-grain XTP and Speer 135-grain Gold Dot HP.
Notable handloads include the Cutting Edge 105-grain bullet pushed to over 1,100 fps using 7.5 grains of Alliant Power Pistol powder, which grouped into less than 1.5 inches, and it offers an impressive blend of rapid expansion and deep penetration. The 125-grain Hornady XTP is a popular .38 Special bullet because it expands reliably at 800 fps. Using Accurate No. 5 and Hodgdon CFE Pistol powders, velocities reached nearly 900 fps, and the loads produced tidy 1.20-inch groups or smaller. These loads slightly exceeded Hornady factory-load velocities while staying within +P pressure limits of 20,000 psi and yielded similar accuracy. The Speer 135-grain Gold Dot HP was designed specifically for defensive purposes in the .38 Special. It is an excellent bullet that offers a great blend of expansion and penetration. Using 6.3 grains of CFE Pistol provided velocities of 850 fps and produced groups of 1.40 inches.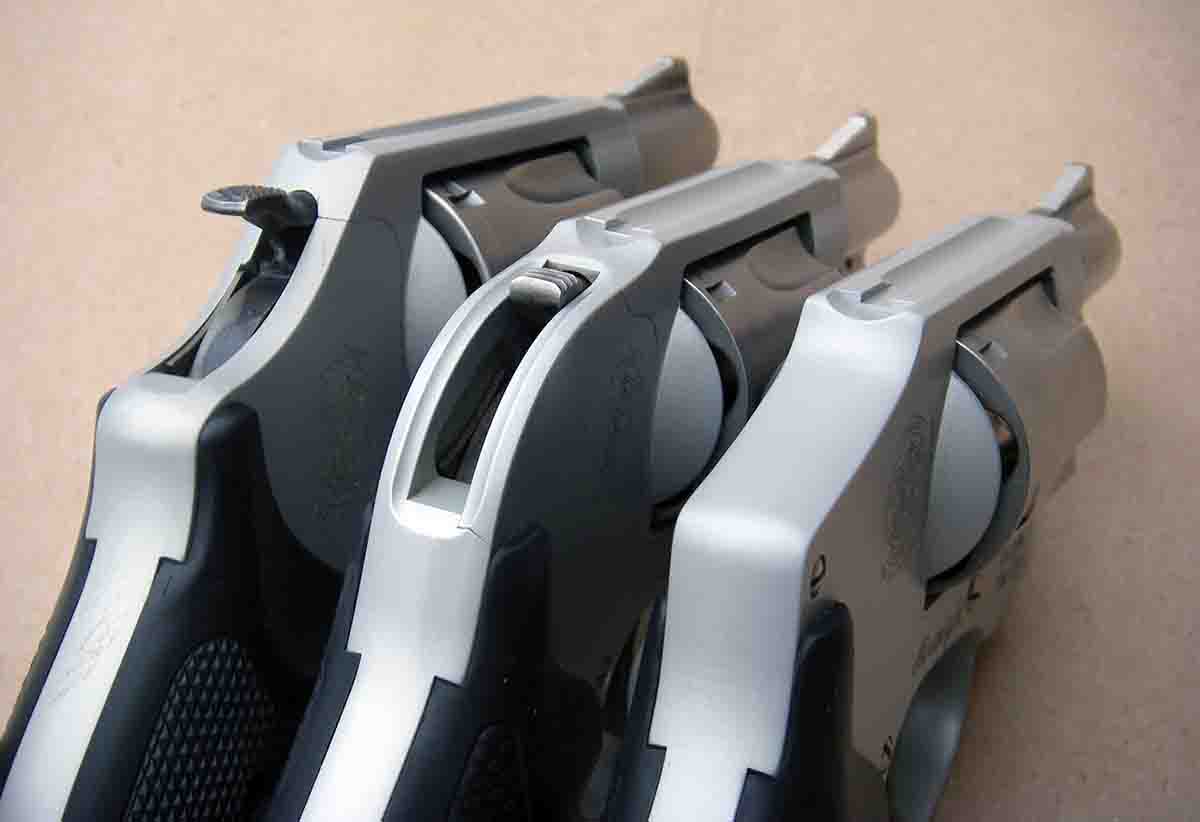 Cast bullets with large meplats can be very effective for defense and can be pushed to notably higher velocities than jacketed bullets. For example, Oregon Trail's Laser Cast 148-grain WC DBB bullet offers substantial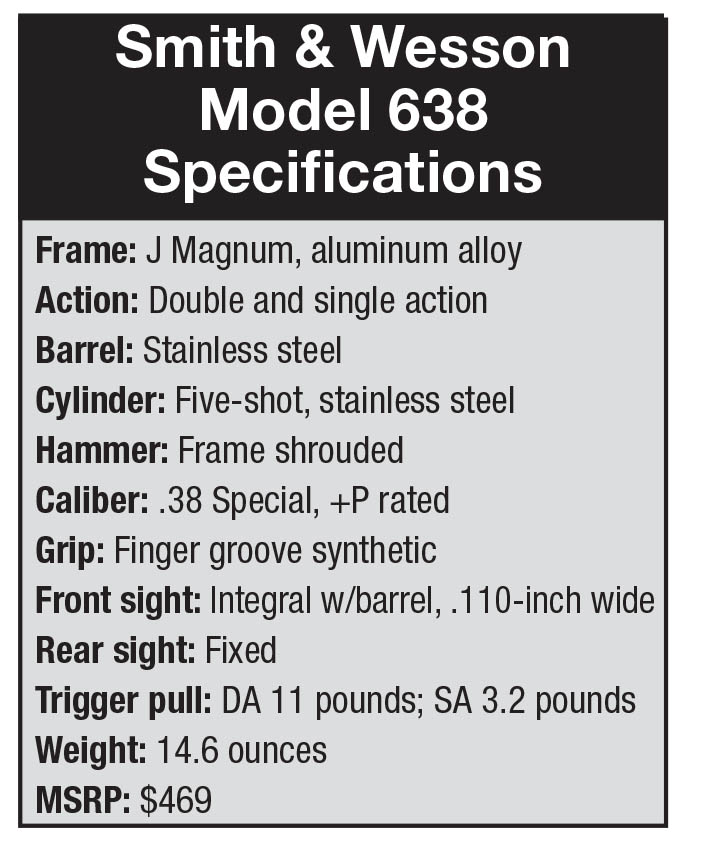 shock and deep penetration. A friend recently used this bullet at 850 fps (as outlined in the accompanying handload data) to finish a wounded elk with his Smith & Wesson J-frame with a 17⁄8-inch barrel; he shot it through the head. The bullet exited, left a full-caliber wound channel and killed the elk instantly. A Lyman No. 358429 173-grain Keith bullet pushed to 800 fps penetrates like there is no tomorrow, cuts full-caliber holes and has a proven record on game and when used for defensive purposes.
The Oregon Trail 148-grain WC DBB bullet reached 667 fps using 3.2 grains of Accurate No. 2 powder, did not lead the barrel to any important degree and was relatively pleasant to shoot, making it a great practice load. Increasing the charge weight to 3.6 grains yielded 731 fps. A top load includes 4.9 grains of Alliant Power Pistol for around 850 fps, with relatively modest recoil. Switching to the 173-grain Keith bullet, 4.2 grains of Hodgdon Titegroup reached 800 fps, and groups hovered around 2 inches.
In a world dominated by autoloading pistols for personal defense and concealed carry, Smith & Wesson Airweight revolvers still sell extremely well. They are reliable and continue to function when lint and dirt build up from daily carry (although it is always suggested to keep all guns clean). They are easy to operate, require minimal training to use effectively and are among the safest of all handgun designs. In wringing out the Model 638 with factory ammunition and handloads, there were no misfires or malfunctions of any sort, and with a MSRP of $469, it is competitively priced.
Back in 1950 when Smith & Wesson first offered the Chief's Special, it is doubtful the company envisioned the basic design would be in continuous production and in high demand nearly 70 years later. And there is no indication that demand will change anytime soon.