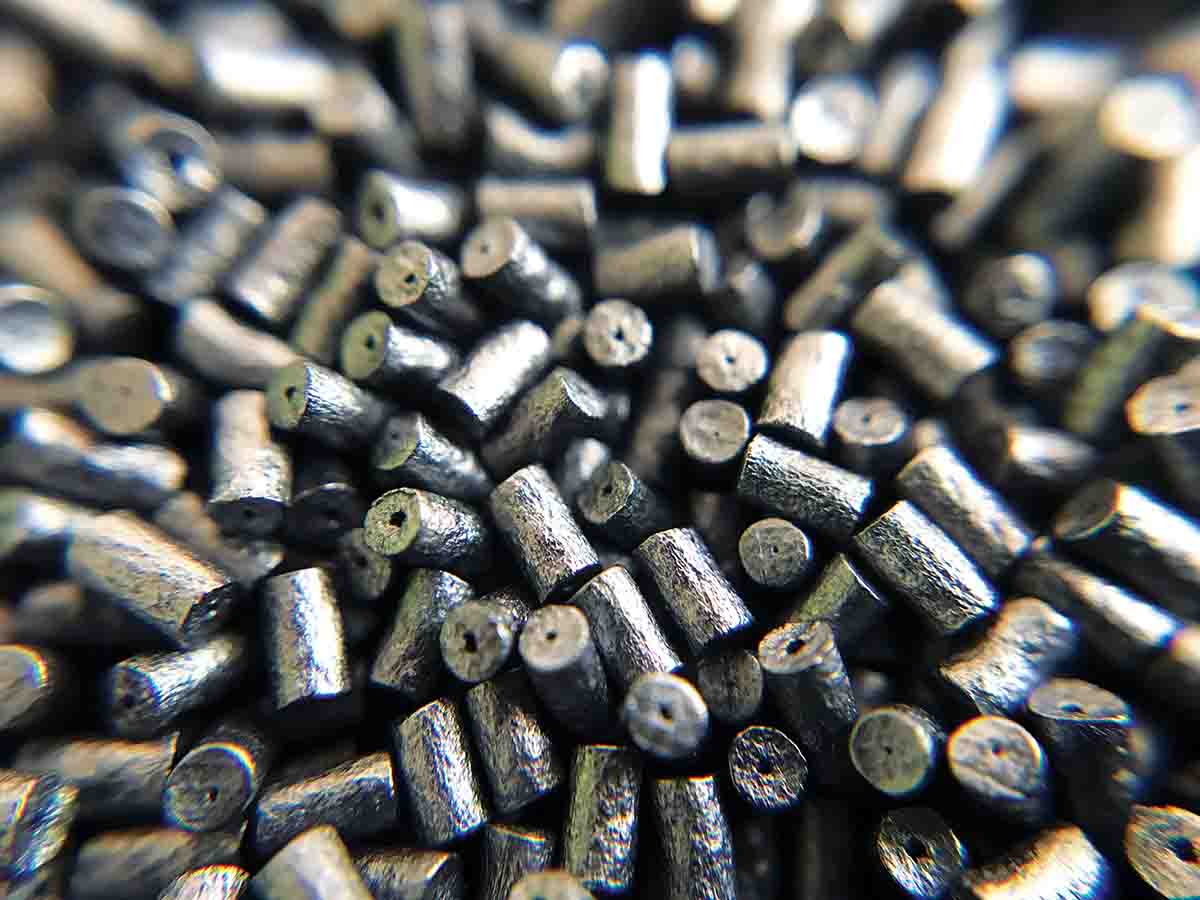 Sitting around a campfire last spring, two dedicated long-range target competitors discussed how they handloaded cartridges to produce low extreme velocity spreads, thereby minimizing the vertical spread of their bullets on distant targets. The analytical balances they used cost upwards of $2,000. For that money they can weigh powder to within .02 grain. To obtain that precision, they often add half a granule of powder (having sliced one in half) to bring a powder charge up to an exact weight.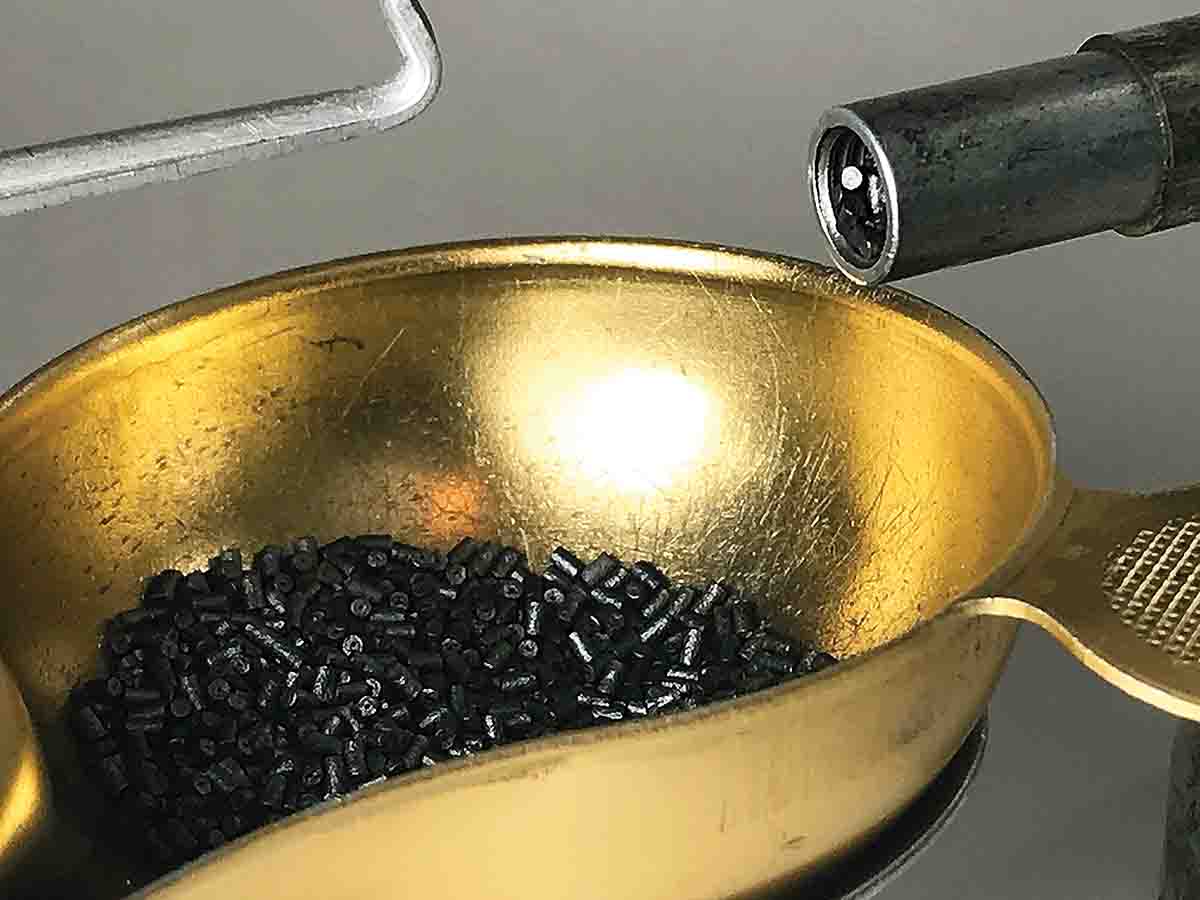 Rob Behr wrote Western Powders' Handloading Guide, Edition 1 and lent a hand developing some of the data in the manual. Behr said Western Powders' lab uses a scientific scale that weighs powder to within .01 grain. "An exact weight of powder is one more control you have in making uniform handloads," he said, but handloaders do not need a scale that weighs powder that precisely to produce handloads with low extreme velocity spreads.
"One day we'll record three to six fps velocity spreads with certain loads," Behr said. "But we'll come back the next day and shoot the same loads, and the velocities are not nearly as consistent. And both times this is in the lab where humidity and temperature are controlled. So I think there is much more to even and consistent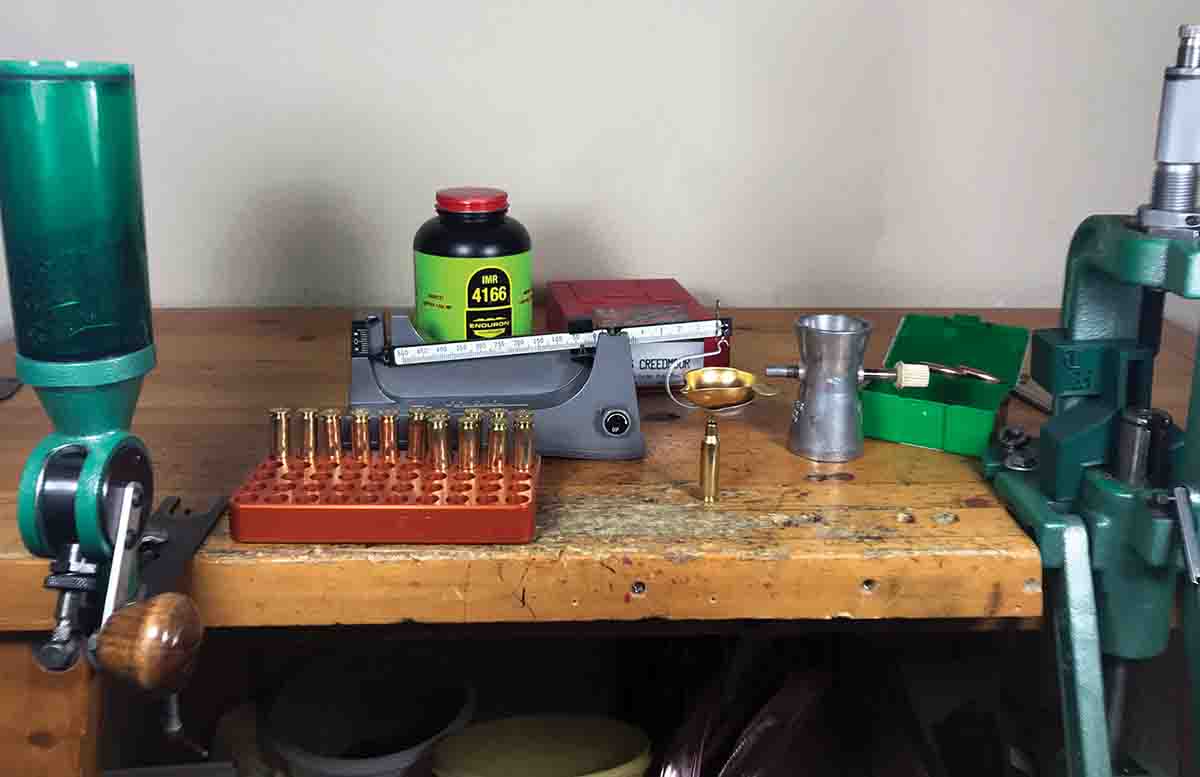 velocities than just exact weights of powder."
Uniform cases are one route to consistent velocities. Weighing cases to select those of uniform weight and internal capacity is the first step. Conforming flash holes and primer pockets, trimming cases to the same length and turning and annealing necks all help produce uniform velocities. "Eventually," Behr said, "all this work becomes no fun at all."
Behr believes cases with the same amount of neck tension are very important in producing even velocities. A technician with a benchrest shooting background used to work at Western Powders. Behr thought the technician was wasting time by taking new cases intended for pressure testing, and sizing just the necks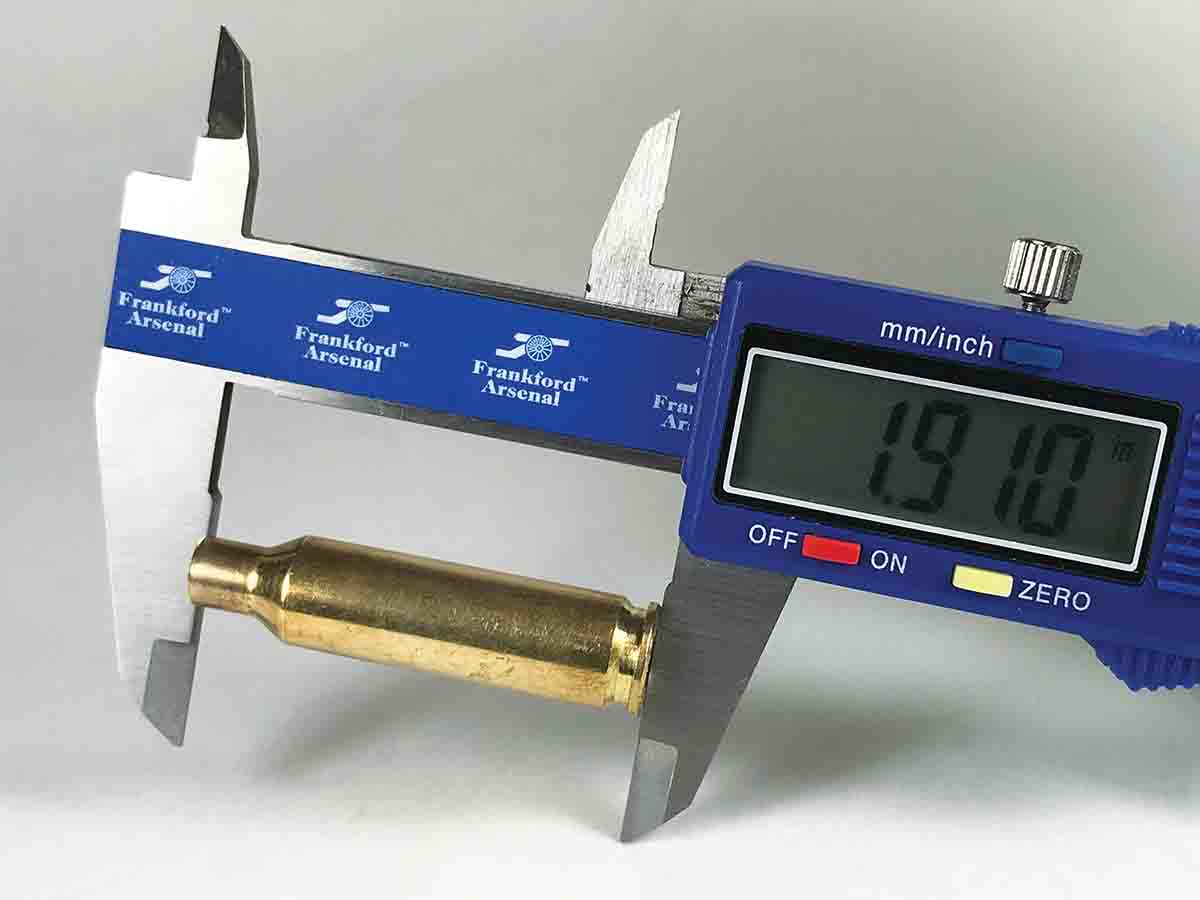 in sizing dies to true up the necks. "He wasn't wasting his time because those cases he sized had uniform neck tension on bullets and produced more consistent pressures and velocities than plain new cases," Behr said.
Years ago the general advice was to use magnum primers when shooting spherical powder to produce more even velocities, especially with powder charges weighing 40 grains or more. Many of Western's powders are spherical, and because of that Behr has somewhat stopped using a blanket recommendation of magnum primers for spherical powders. "But we have seen 15,000 pounds per square inch variation between standard and magnum primers firing the same load," he said.
Powder charges that fill a case to the base of a bullet also help create consistent velocities by keeping the powder column firmly compressed and against the primer flash hole. "You're not going to compress spherical powders much at all," Behr said.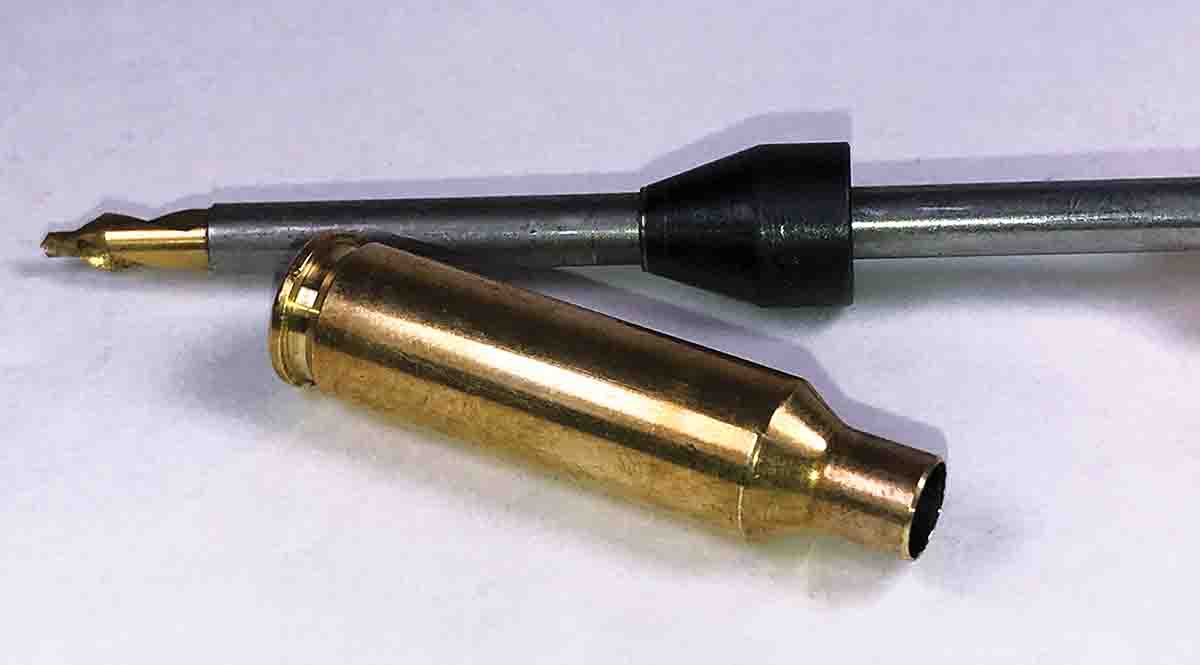 "But you can with extruded powders." New reloaders often call Behr and say they worry about the sound of powder granules crushing when they seat a bullet. "If their load checks out, I tell them that's normal."
Powder Scales
I have used several mechanical balance-beam scales since I started reloading as a teenager, and electronic scales have been used in recent years. These scales weigh powder charges to within ± .1 grain.
I verified the accuracy of an old Lyman D-7 mechanical scale and a Hornady Lock-N-Load electronic scale with a 10-gram check weight. Ten grams weigh 154.324 grains, and both scales registered 154.4 grains. Only three granules of IMR-4166 were required to raise the Lyman's pointer off the beam stop. With just short of 35.0 grains of IMR-4166 in the powder pan, one additional granule raised the pointer. The scale registered exactly the same each time after removing and replacing the Lyman's powder pan containing 35.0 grains of powder.
The sensitivity of the electronic scale was lower, with 8 to 11 granules required for it to read .1 grain. Eight granules of powder were required for the scale to change from 34.9 to 35.0 grains. I removed and replaced the weighed powder charge five times; the electronic scale displayed 34.9 grains three times and 35.0 grains twice. Hovering over both scales, the draft from my normal breathing moved the scale weights .6 grain.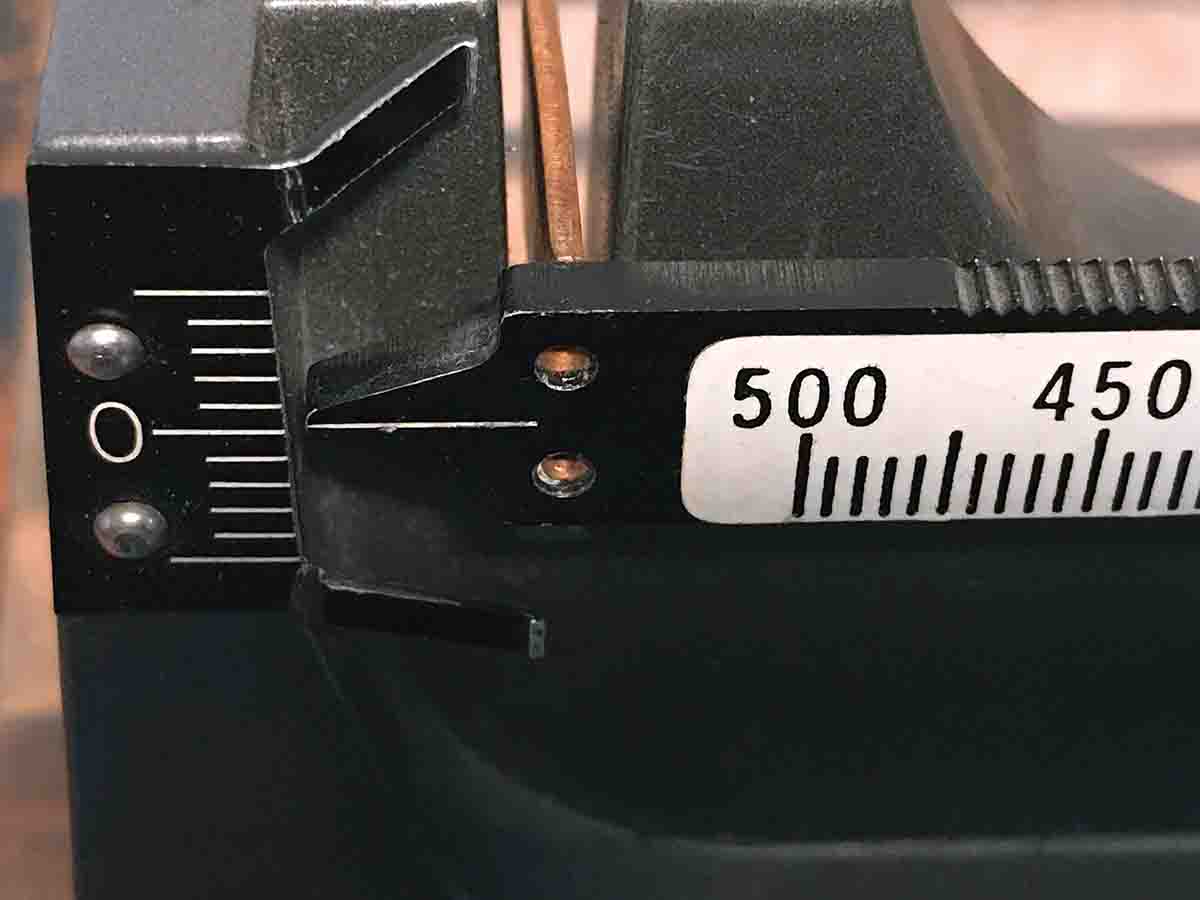 Scales that weigh powder more precisely than .1 grain cost serious money. I thought about buying one that weighed powder to within .02 grain but talked myself out of it, reasoning the money would be better spent on a nice rifle or a set of new tires for my pickup.
Besides, the Lyman scale is sensitive enough to detect one granule of powder. The only problem to solve would be precisely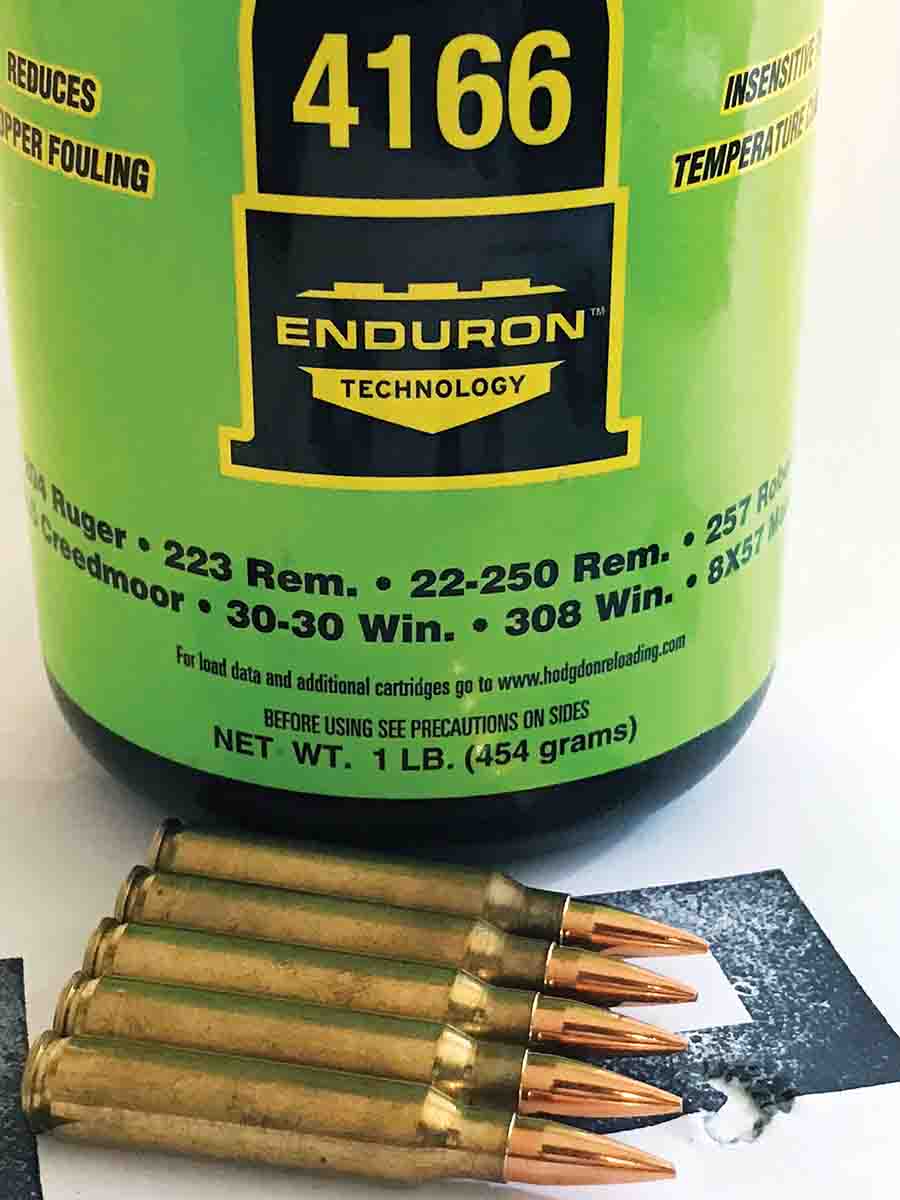 reading the scale every time powder is weighed.
Uniform Cases
Keeping with Behr's statement that steady velocities result from more than just exact powder charges, I sorted through once-fired Nosler .223 Remington and Prime 6.5 Creedmoor cases – two cartridges commonly used to shoot long-range targets. I separated 15 .223 cases that weighed 91.2 to 91.3 grains, and 15 6.5 cases that weighed between 159.9 and 160.0 grains. I also randomly picked 15 each of the .223 and 6.5 cases. A few of the select .223 and 6.5 cases were filled with water, and they all weighed the same, confirming they had the same internal volume. Long ago, the same thing was done with a lot of new .30-06 cases. Cases uniform in weight held exactly the same amount of water, but water capacity varied only .2 grain in cases that differed 3.4 grains in weight.
My attention turned to the select cases' necks to ensure they would place the same amount of tension on bullets. The thickness variance of the necks was next to nothing on the .223 and 6.5 cases. That saved having to turn the necks. The cases had been fired only once, so their necks remained equally uniform in hardness. After the cases had been fired and sized a few times, though, they differed in hardness, and annealing would be required to return them to a uniform hardness. After sizing, a few of the randomly hand-picked .223 cases measured over the maximum length of 1.760 inches, so all 30 cases were trimmed to 1.750 inches. The 30 sized 6.5 cases varied some in length but remained under the maximum length of 1.920 inches. Selected cases were trimmed to 1.910 inches, and the randomly chosen cases were unaltered.
The other end of the cases also required attention in this pursuit of consistent velocities. Selected cases had their primer pockets cut to a uniform depth and squared with a Lyman Primer Pocket Uniformer. Doing this ensured primers were seated to the same depth and received an identical blow from the firing pin. A Lyman Flash Hole Uniformer cut flash holes to a uniform diameter and the inside edges of flash holes to a uniform shape to produce a consistent flame to ignite powder. At most, the cutters removed a few flecks of brass.
For one reason or another, every handloader prefers certain primers. My preferences were Remington 9½ Large Rifle primers for the 6.5 and CCI BR-4 Small Rifle primers for the .223, and they were seated with an RCBS Hand Priming Tool that allowed me to feel the primers bottom-out in the pockets.
I thumbed through my handloading records to see which .223 and 6.5 loads had produced consistent velocities. Bullets on the heavy side seemed to produce lower extreme velocity spreads, such as 69- and 70-grain bullets compared to 40- and 50-grain bullets shot in the .223. Quite a few powders produced 3- to 10-fps extreme velocity spreads, but those low spreads were most likely a fluke as they represented only three or five shots. It was only by coincidence that I picked IMR-4166 to use with Berger 70-grain VLD Target bullets in the .223 and Sierra 142-grain HPBT MatchKing bullets in the 6.5.
Weighing Powder
Many handloaders who load rifle cartridges place their powder measure, scale and press on the same bench. They dispense a slightly underweight charge of powder from a measure into a scale's powder pan, trickle in the last few grains to bring the charge up to the correct weight, and immediately seat a bullet. I used that method to load the unsorted .223 and 6.5 cases. Looking at the Lyman scale positioned well below eye level on the bench, the pointer was perfectly aligned with the witness mark on the scale's frame, but at eye level the pointer was actually below the mark. Two or three additional granules of powder were required to bring the pointer up to even. After loading 10 cartridges, I moved the scale's counterweights back to zero. The pointer came to rest slightly out of alignment with the witness mark. No doubt the vibration from working the measure and press had jiggled it out of position.
I then used a more solid approach to weigh powder for the selected cases. A laminated board that was 1.5 inches thick was clamped level with the top of a bench that is solid and heavy enough to withstand a hurricane. The high bench and board brought the scale almost to eye level. Trickling in the last few granules of powder, I peered through a magnifying glass to watch the scale's pointer move and come into exact alignment with the witness line on the frame. The scale remained balanced after weighing five, 10 and 15 charges of powder. Lately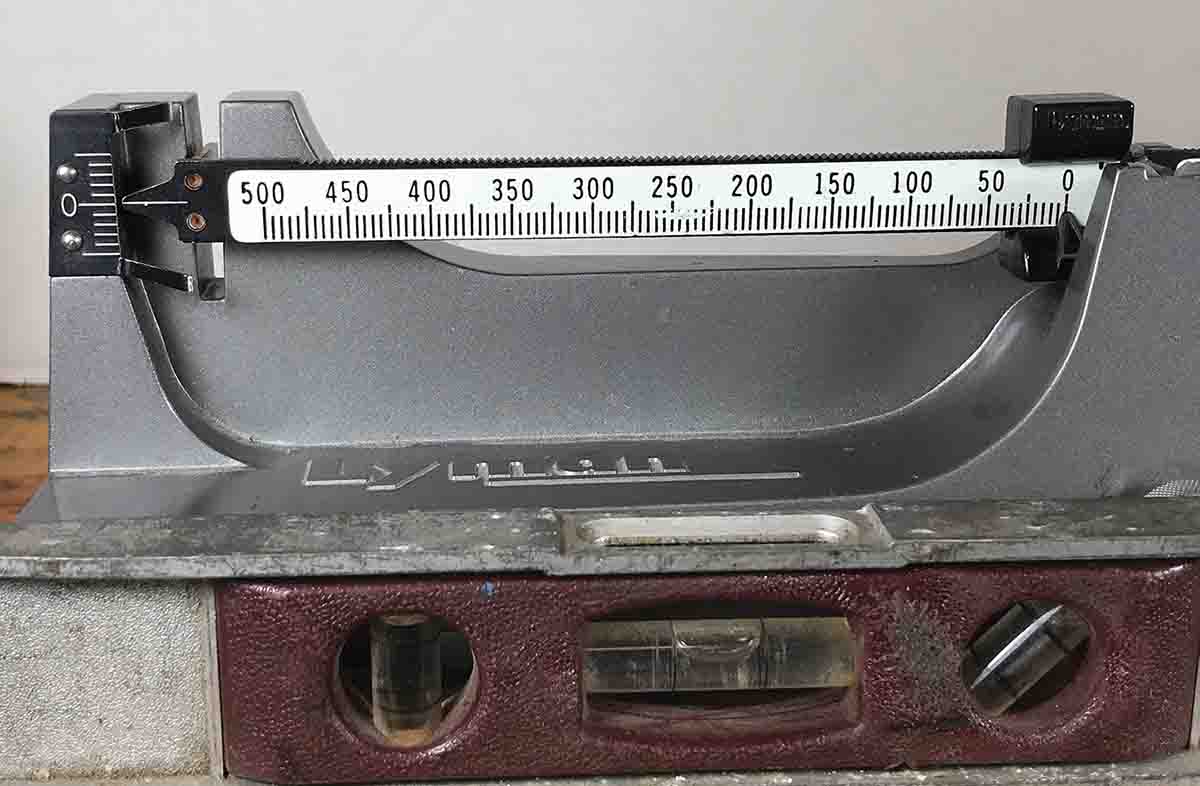 I've been setting my smartphone's camera level and close to the scale to watch the large image of the pointer come into alignment as the last few granules of powder drop into the powder pan.
After all the cases had been filled with powder, I seated bullets. Seating the Berger bullets in the .223 cases slightly compressed the powder. With a cartridge length of 2.810 inches, the long Sierra MatchKing bullet extended about .88 inch out of the Creedmoor's case. The base of the bullet sat even with the bottom of the case shoulder and did not compress the powder but held it firmly in place. That's the way the Creedmoor cartridge was designed.
Shooting Results
I shot the .223 and 6.5 cartridges on a sunny morning with a perfect temperature of 60 degrees Fahrenheit. Three shots each fouled the clean bores of the Savage Predator Hunter .223 Remington and Ruger Predator 6.5 Creedmoor. The plan was to alternately shoot five cartridges loaded with the meticulously weighed powder charges in trued cases, and five cartridges loaded with typically weighed charges in untrued cases, for a total of 15 cartridges of each.
The nearby load table shows there was not much if any difference in velocity spread between the carefully prepared and plain .223 cartridges.
The differing velocity from one cartridge often ruined the otherwise even velocities of a five-shot series. For instance, one .223 cartridge registered a somewhat slow velocity of 2,817 fps for Berger 70-grain bullets loaded with carefully weighed charges of IMR-4166. Velocities of the four other cartridges in the five-shot string varied only 19 fps, with velocities of 2,842, 2,852, 2,861 and 2,861 fps.
An extreme velocity spread of 47 fps for the Berger 70-grain bullet resulted in 2.2 inches of vertical span at 500 yards, and 8 inches at 800 yards.
The 6.5 responded well to the precisely weighed powder charges in carefully prepared cases. Average extreme velocity spread was only 19 fps for 15 Sierra 142-grain MatchKing bullets fired from prepared cases filled with precisely weighed IMR-4166 charges. Plain cartridges, in contrast, turned in an average extreme spread of 51 fps.
According to a ballistics calculator, an extreme spread of 19 fps for the Sierra 142-grain bullet would result in .98 inch of vertical spread at 500 yards and 3.33 inches at 800 yards. The plain cases' velocity span of 51 fps would cause three times as much vertical dispersion at those distances.
The 6.5 Creedmoor's even velocities showed that exact powder charges are possible with everyday scales used by handloaders. More importantly, they revealed that case preparation is more important than just talk around a campfire.