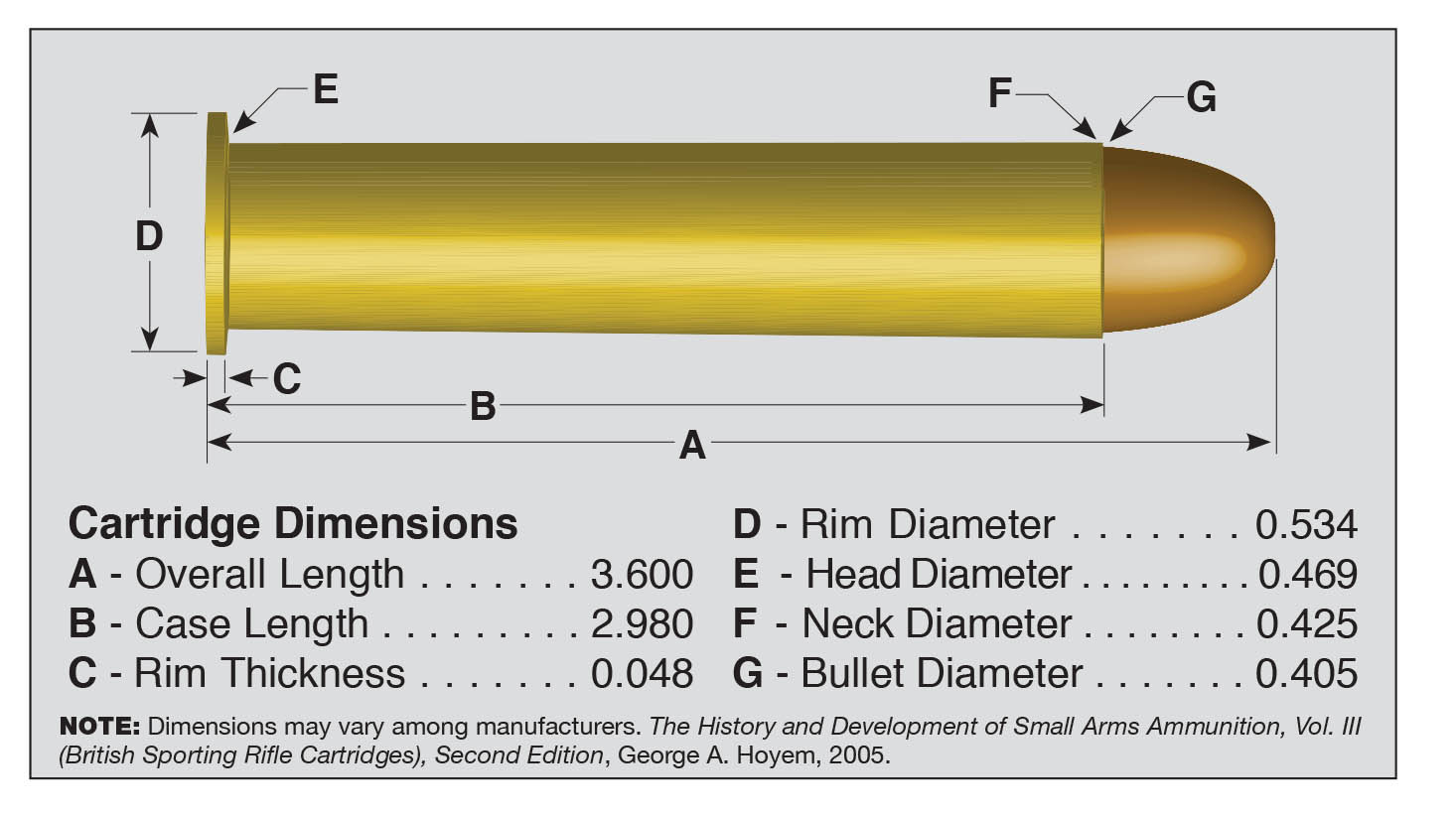 Many shooters delight in using what can only be called "specialty cartridges." These are rounds designed or intended to fill a certain need – real or imagined. Americans have a tendency to think we are the kings of specialty cartridge creation – hardly. European gunmakers are more scientific at the process, and the Brits have probably been at it longer!
Consider that the first breechloading cartridges for sporting arms simply duplicated powder charges and bullet weights for a few muzzle loading calibers popular at the time. Velocity attainable from black powder was limited, making more powerful rifles possible only by increasing bullet diameter. This is why the great bore rifles (10-bore, 8-bore, etc.) appeared. Bullets were elongated, however, and were rapidly replacing the old round ball prior to the dawn of breech loading.
Life went along until the invention of a practical smokeless powder in the mid-1880s. It allowed higher velocities from smaller, lighter bullets than black powder. Trajectories flattened, recoil was reduced, and hitting the target became much easier for the average soldier. Military rifle cartridges dropped in caliber from .45 or .50 down to as small as 6.5 mm almost overnight. Several well-known sportsmen acquired these military rifles and ammunition soon after they appeared. Reports were published concerning all manner of game, from small deer to the giant cattle of Asia to lions in Africa, instantly dropping dead when struck by the fast, little full-jacketed military bullets.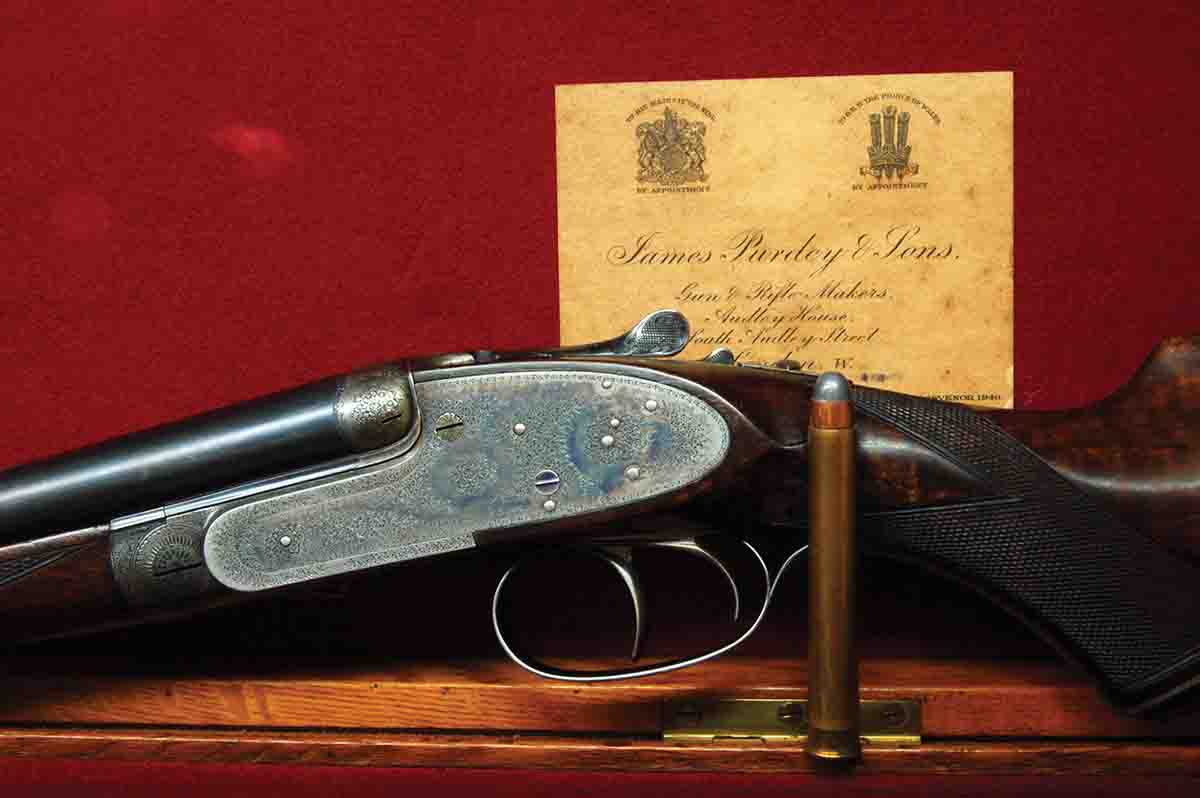 Lots of riflemen bought into this and began using the cartridges on medium and large game. Results were predictable. Sometimes the beast collapsed on the spot, but it could also run off never to be seen again. The most interesting narratives involved African lions that, after being hit by the little bullets, dashed over to the sportsman and allowed him to experience the exhilaration of becoming a cat's chew toy. It took a few years for everyone to get the word. Many globetrotting hunters, as they gained experience with the small rounds, refused to use them on any animals. Here is where the .400 Purdey Straight 3-inch Light Express comes in. Introduced in 1906, it was intended for the "large bullet, hit 'em hard, knock 'em down" school that had rejected the small-bore military cartridges for medium game.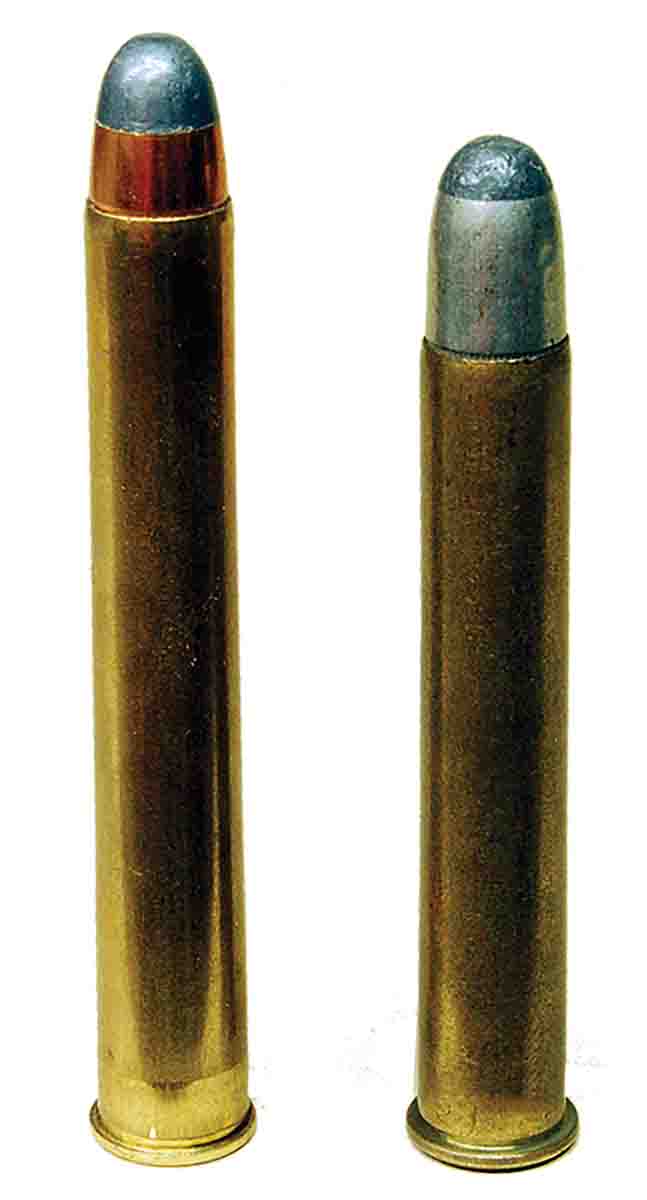 Features and ballistics of the new round further indicated its intended use: Straight case with good taper to make extraction easy; a sturdy rim for use in double rifles; .40 caliber, but a bullet weight of only 230 grains (the only one offered), meaning sectional density is not sufficient for penetration on really big animals. The bullet was pushed by 47 grains of Cordite to 2,050 fps at the muzzle of a 25.5-inch barrel yielding 2,150 foot-pounds (ft-lbs) of energy. At 100 yards it was 1,687 fps/1,455 ft-lbs, and at 200 yards 1,280 fps/835 ft-lbs. Bullet types were metal-based (essentially a long gas check), solid and copper-tubed (hollowpoint with a copper tube that is closed at the exposed end, filling the cavity).
Comparing the .400 Purdey to more well-known rounds, it could be said it is some 10 percent more powerful than the .30-30 and about equal to the modern .375 Winchester in the M94 rifle. While not having an early catalog showing the .400 Purdey in my collection, the company's 1931 issue states: "The light 400 is one of James Purdey & Sons special productions and is an excellent weapon for deer, wild boar, etc. and has gained great popularity for tiger shooting in India, having the advantage of being a really powerful weapon and at the same time being light to handle and no heavier than a heavy 12 bore gun."
The Purdey double shown in the photo is from friend John Gannaway. John shoots guns like this, rather than just locking them away. It was originally sold to Raja Pancham Singh in 1934. As there is some question as to bore dimensions of rifles firing this cartridge, both barrels were slugged. Bores measured .396 inch; grooves measured .407 inch. There are seven lands in this barrel.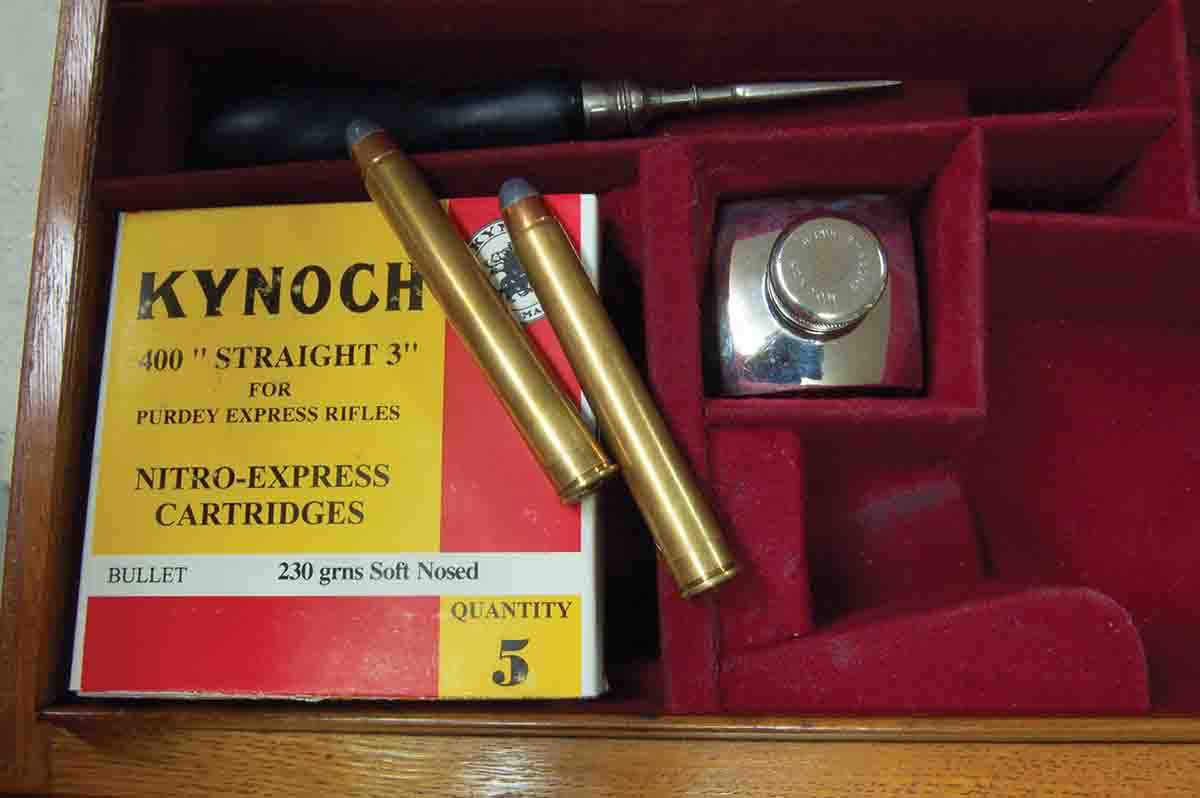 Purdey created this cartridge for hunters who did not trust (through personal experience) the new high-velocity, small-bore rounds and their far-from-perfected jacketed bullets. The job, however, was not as difficult as it appears. Several very early straight cases of various lengths, but the same base diameter as the .400 Purdey, exist in both drawn and Boxer (coiled brass body) form. Probably intended for single-shot target rifles, they never became popular. Instead, British makers did popularize .40-caliber rounds, but only using much heavier jacketed bullets and generating higher breech pressures. They gave up to twice the energy figures of the .400 Purdey and required rifles in the 11-pound class – exactly what Purdey did not want.
In 1901 Purdey introduced a cartridge it called the .400/.360 (2¾) Nitro Express built on the old .400 straight case necked down. This may have been the cartridge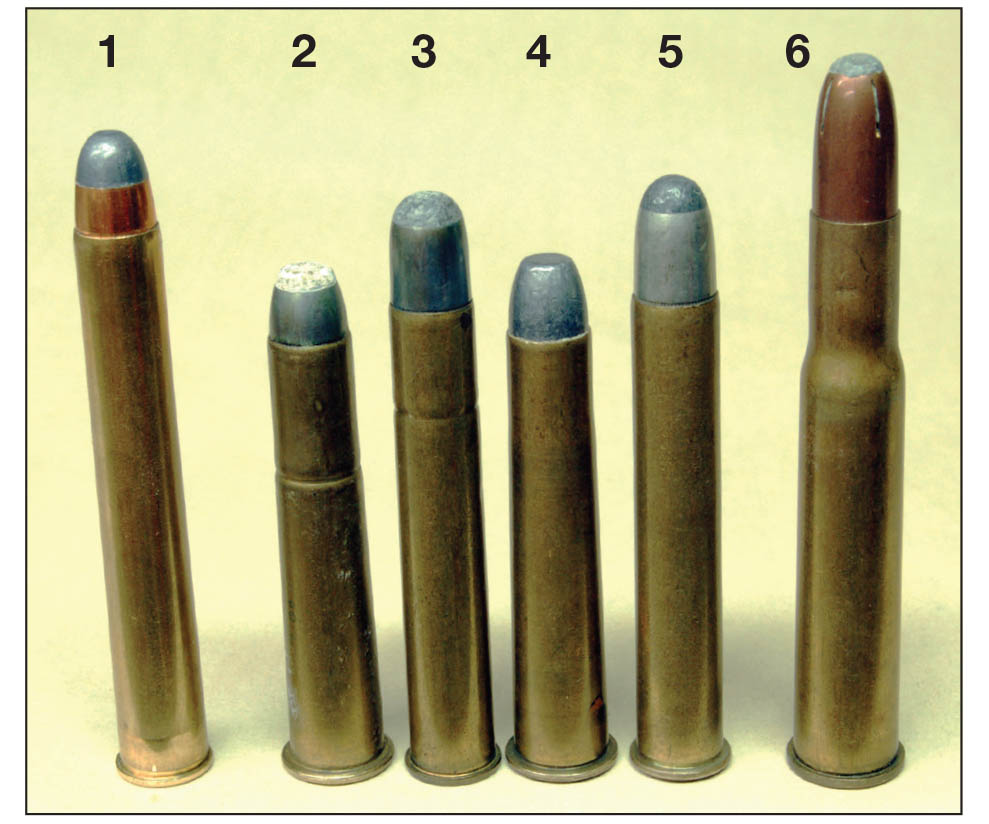 intended for the purpose the .400 Purdey was later designed to meet, but it was still too powerful and required an overly heavy rifle. Purdey then combined the 230-grain lead bullet from the old bottle-necked .450/.400 Black Powder Express of the 1880s with the smaller diameter .400 straight case filled with all the Cordite possible and still maintain accuracy. The result was the .400 Purdey.
Surprisingly, the round is listed as a proprietary cartridge, meaning only Purdey could legally chamber rifles for it. Rifles in .400 Purdey are seen often enough to suspect this may have changed at a later date. Both Eley and Kynoch made ammunition. Kynoch still had it on its list as "stock only" in 1961. All sporting ammunition production ended a few years later. The trade name "Kynoch" was sold in 1995, and today Kynamco, Ltd. sells .400 Purdey cartridges loaded to original specifications, except there is no lead bullet. Handloaders will have to provide this if wanted. Boxes are the familiar Kynoch red and yellow.
Like most of the old cartridges that appeared to be gone forever just a few years ago, the .400 Purdey can now be handloaded. Bertram of Australia sells cases that are stocked by Huntington Die Specialties, as well as proper .405-inch diameter 230- grain Woodleigh bullets. As mentioned, cast slugs can be used to duplicate the original lead-bullet factory rounds. Loading data is available on the Internet (be careful). I recommend the Woodleigh Bullets Loading Manual, which should be owned by all who handload the old British and European cartridges.
The .400 Purdey is a specialty cartridge if there ever was one. It served until small calibers and jacketed bullets reached a much higher stage of development. Though not needed today, thanks to suppliers of hard-to-find components, it remains just as effective on game today as it was so long ago.