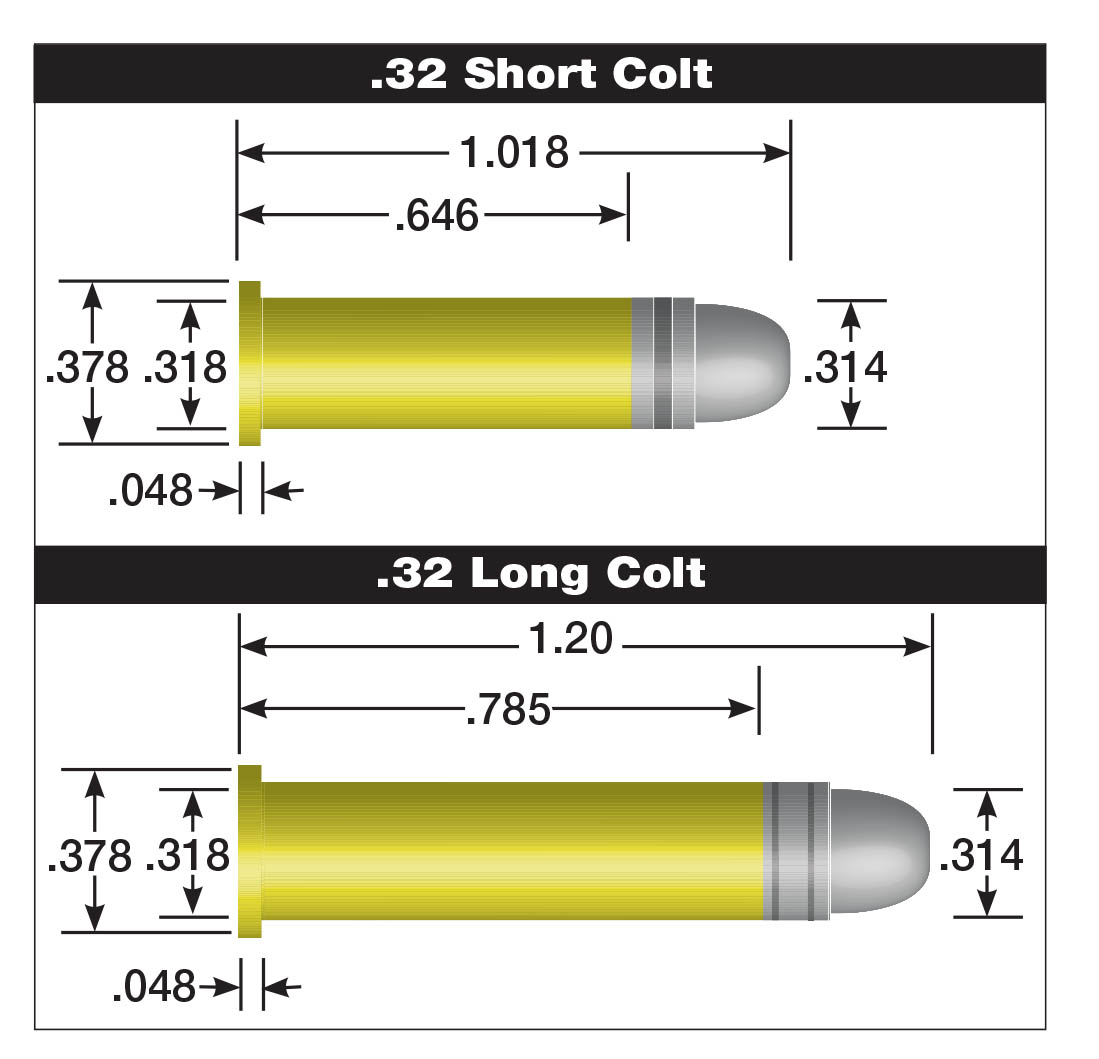 No matter how hard one tries, it is sometimes difficult to determine what useful purpose some cartridges serve. However, we can apply the old quotation… "The past is a different place; they did things differently there." Looked at in this light, the two .32 Colts make sense.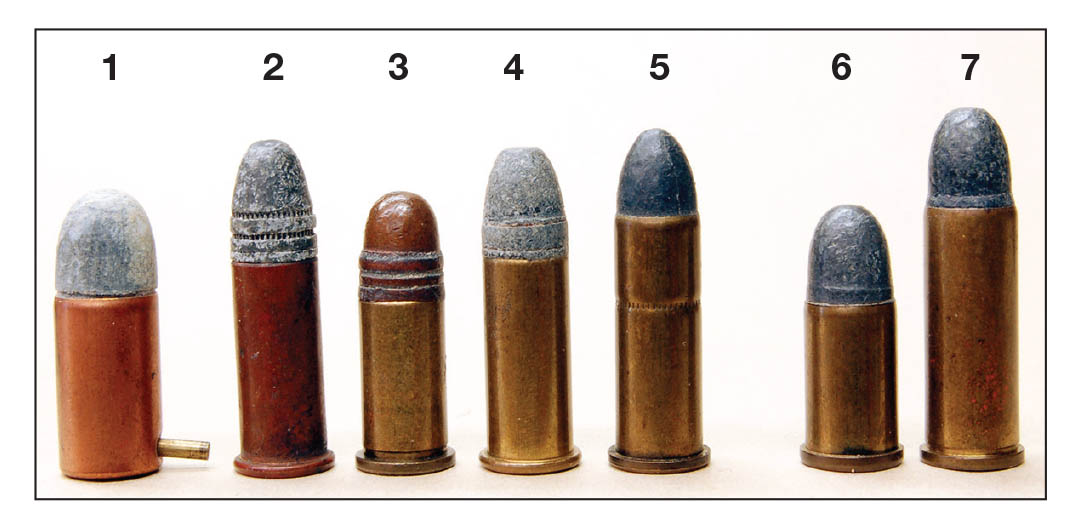 The chronicles tell us that Colt introduced a small revolver called the New Line Single Action Pocket Revolver in 1872. It was chambered for .22 and .30 rimfires, as well as .32, .38 and .41 in both rimfire and centerfire versions. The .32 centerfire is (or rather became) the .32 Colt. Actually, Colt had nothing to do with its creation.
So where did the .32 centerfire come from? First off, it was a solution to a problem. Early copper-cased rimfires sometimes burst rims upon firing, which could lock up the cylinder of a revolver. This was obviously not desirable in a self-defense arm, the only purpose the little pistols served.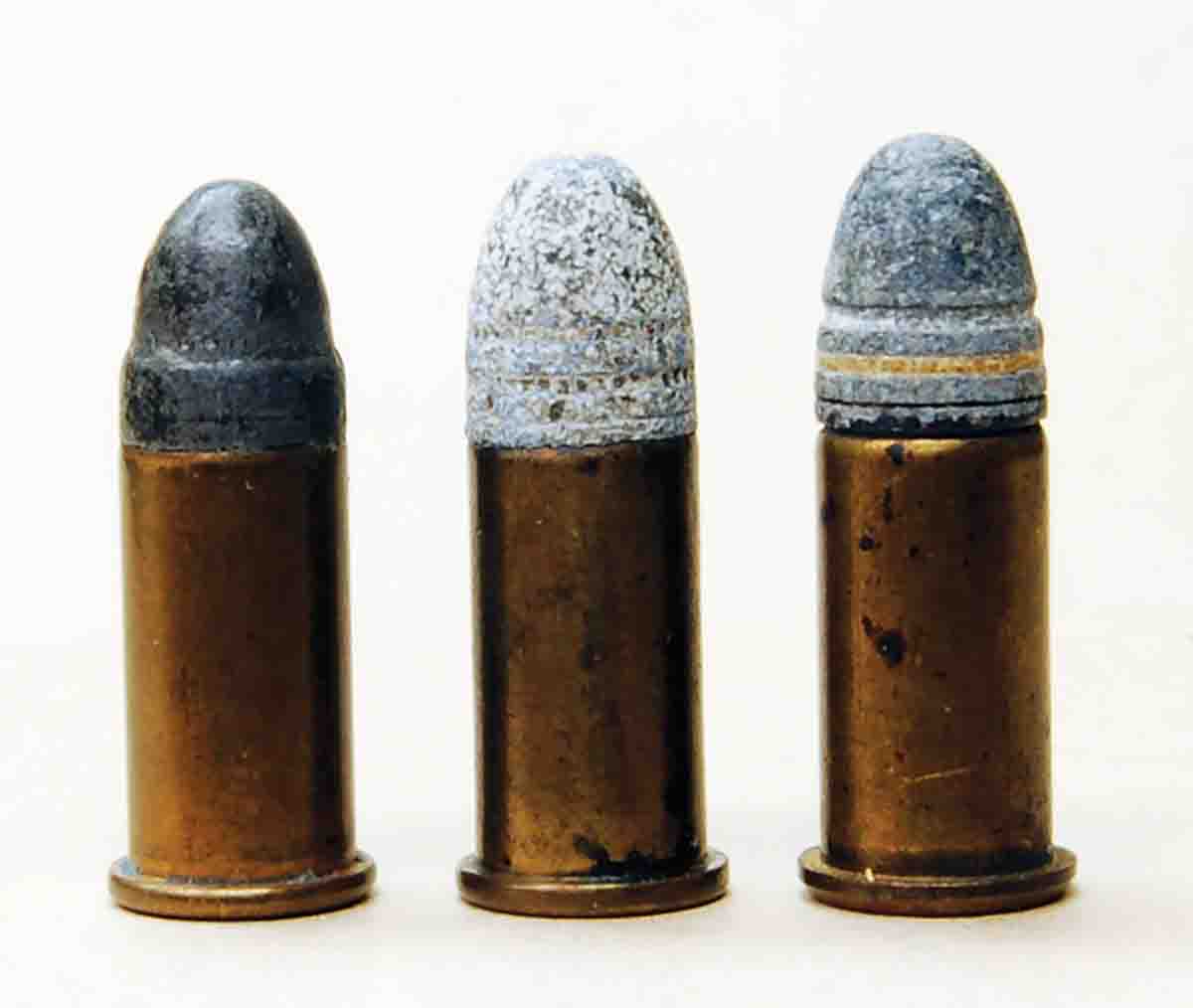 A few years earlier the floodgates were opened to this type of revolver by the pinfire cartridge, patented about 1855. Here a pin protruded from the side of a copper cup containing fulminate, powder and bullet. Ignition was caused by the hammer striking the pin. Far superior to percussion revolvers, pinfires were not perfect as fired cases were hard to eject and the pins often fell out from rough handling.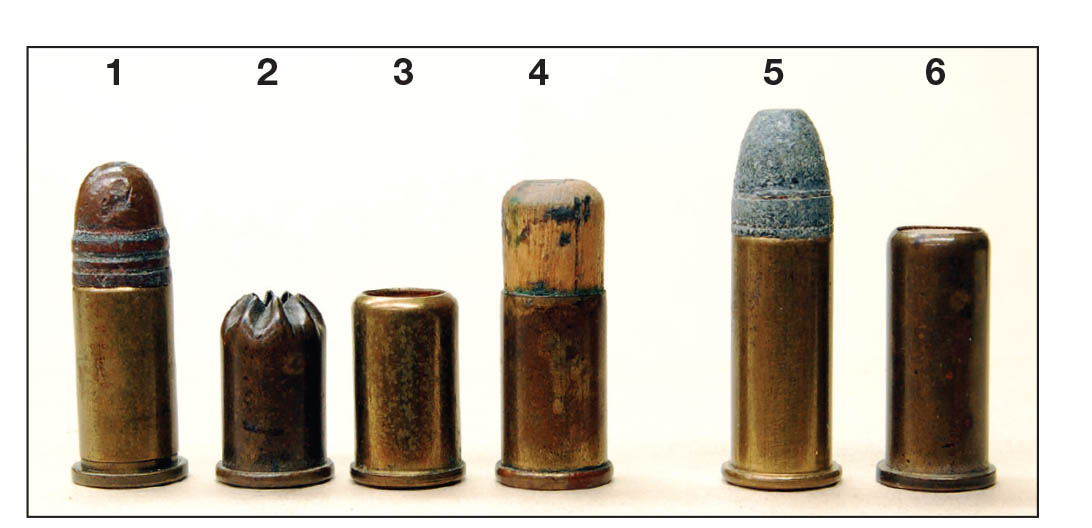 The British firm of P. Webley & Son, seeing the popularity of the pinfire and the first small Smith & Wesson rimfire revolver in the U.S., began producing a copy of the S&W Tip-Up (top hinged) revolver under license from S&W in the mid-1860s. These were wildly popular, but the occasional burst rim and "dead spots" in rims where there was no priming compound remained problems.
About 1868 the British ammunition industry created a cartridge similar to S&W's .32 rimfire, but using the new centerfire ignition. Called the .320 Centerfire Revolver or simply .320 Revolver, it became the .320 Short Centerfire in 1873 when the longer-cased .320 Long Centerfire version appeared. Webley immediately began making revolvers for the .320 Short and selling them in the U.S. a few years before gunmakers here.
Loading of .320 Short rounds in the U.S. began quickly, but it was known as the .32 Webley. When Colt began selling its New Line revolvers it was called the .32 Colt, then it became the .32 Short Colt because of the almost immediate appearance of the .32 Long Colt. While the .32 Webley, .320 C.F. Revolver and .32 Short Colt were identical, the .32 Long Colt was a bit shorter than the .320 Long Centerfire. At the same time there was (in the U.S.) another cartridge called just .32 Long Centerfire, which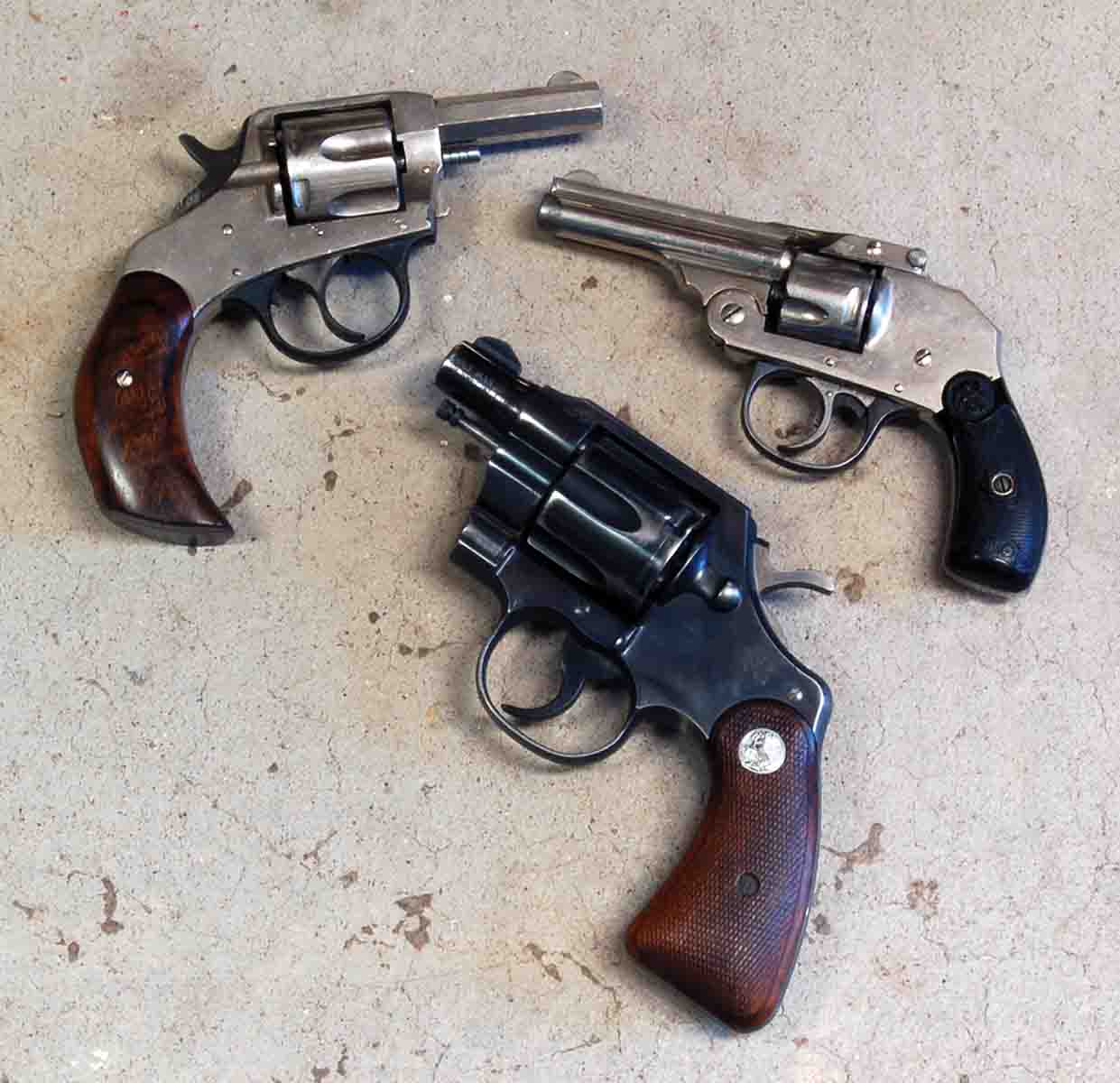 was some .035 to .050 inch longer than either the .32 Long Colt or .320 Long Centerfire rounds. None of this made any difference because all these used outside lubricated bullets that were the same diameter as the outside of the cartridge case. Chambers were therefore just a straight hole through the cylinder. Case and cartridge length made no difference so long as the bullet didn't protrude from the cylinder, preventing it from turning.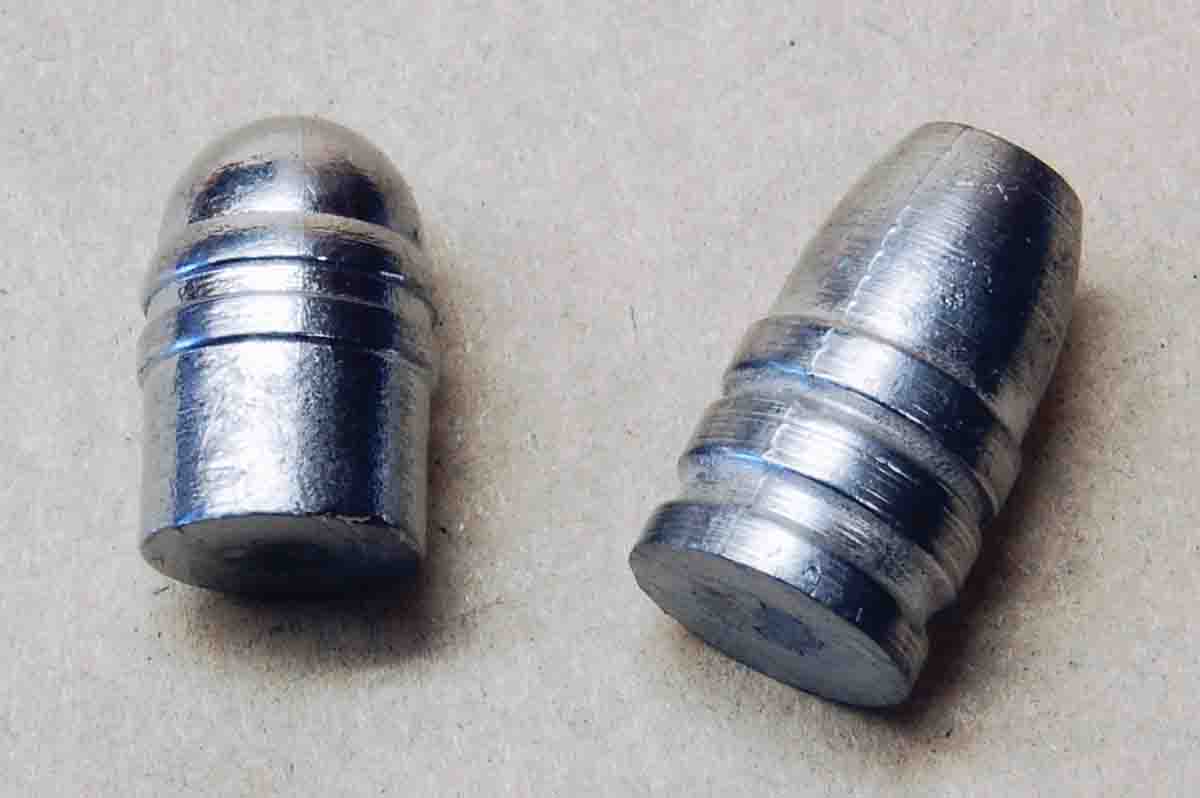 With the coming of the centerfire cartridge, most arms historians galloped off in the direction of repeating rifles. This is unfortunate because even though the .32 Colts began receiving competition from the .32 S&W in 1878 and the .32 S&W Long in 1896, it is still a safe bet that more small revolvers were made for the two Colt (or British) cartridges prior to 1900 than the total number of Henry rifles, Sharps buffalo guns and Colt Single Action Armys combined. The little revolvers were made by Hopkins & Allen, Harrington & Richardson, Colt, Webley and several European makers. They were carried in pockets and handbags, hidden in various rooms and drawers all over the "wild west" and "wild east." I'll bet those little guns could tell many interesting tales, but none were ever recorded.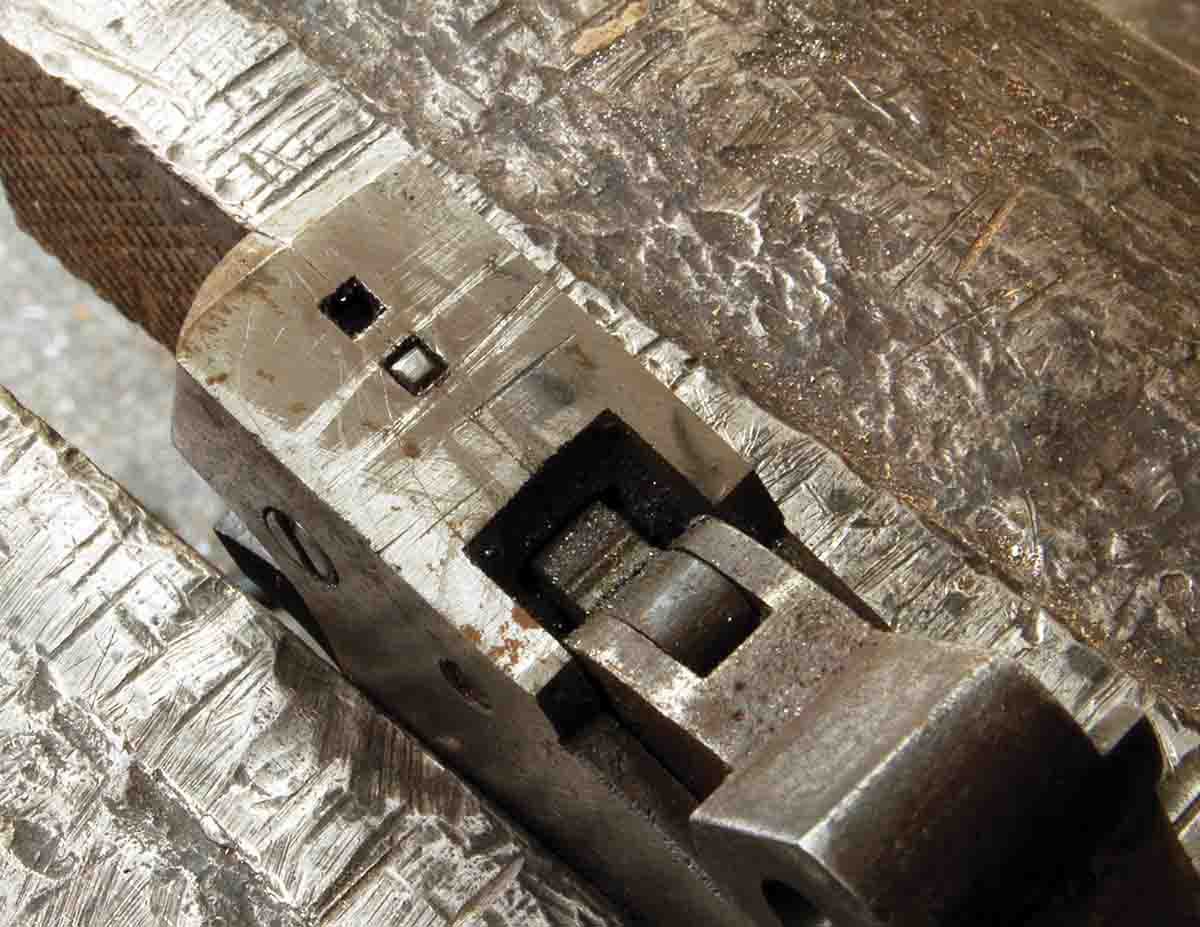 About 1895, the .32 Long Colt suffered a strange fate. Union Metallic Cartridge Co. announced its .32 Long rimfire and .32 Long Colt ". . . as now made, the cartridges are inside lubricated." (I have never seen an inside lubed .32 rimfire.) Winchester added an inside lubed .32 Long Colt in 1902 but continued the outside lubed round until 1928. Smokeless powder became available as early as 1896.
Outside diameter of the case remained the same for both outside and inside lubed bullets. Thus, the inside lubed slug got smaller – from .315 inch to about .299 inch – smaller than either groove or bore diameter. Case length was increased to cover the lube grooves, a deep hollow base was put in the bullet and weight was reduced from 90 to 82 grains. Velocity was about 700 fps from a 4-inch barrel.
There seems to be no reason for the bullet change. The cartridge remained the same until dropped by Remington in 1990 and Winchester in 1992.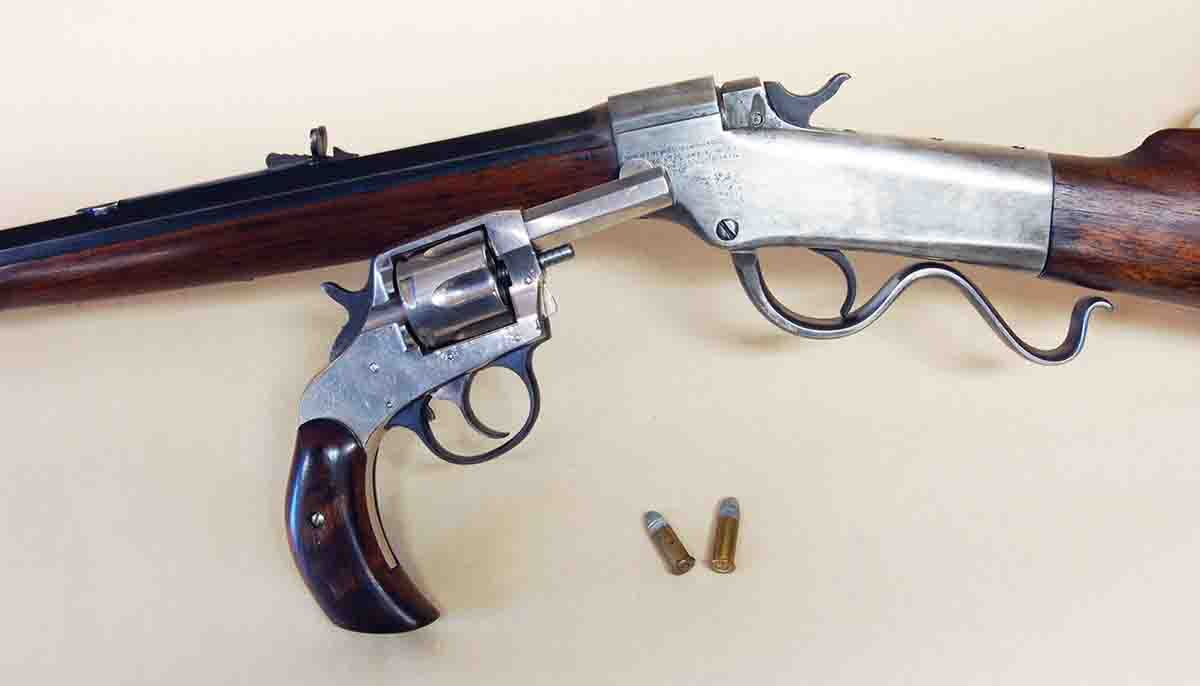 An interesting fact is that the Marlin M92 and Ballard No. 2 were chambered for the .32 Colt Long. Both rifles have two holes in their breech block faces that allowed switching firing pins to fire centerfire or rimfire cartridges; rimfires were much cheaper. Unfortunately, the bore of the Ballard shown is too rough for shooting.

Meanwhile the .32 Short Colt retained its 80/82-grain outside lubed bullet with a muzzle velocity of 657 fps (1918), 795 fps (1960) and 745 fps (2019) from a 4-inch barrel. Remington dropped the round in 1990, but Winchester still loads it today. There must be a lot of the old revolvers still in use.
Loading a few cartridges was not the job I thought it would be. Since handloaders never throw anything away, I found some .32 Short Colt REM-UMC cases fired long ago. Even though they had been fired in other guns, they entered the chambers of an old H&R revolver without sizing. A surprise was the availability of cast 80-grain, outside lubed heeled bullets available from Buffalo Arms Co. (BuffaloArms.com). They are a good match to original bullets. I wish I had a higher quality revolver to shoot them in.
Of course the case mouths had to be reduced a bit to hold the bullet. There is no other die that can be made to work, so since only a couple hundred rounds were to be loaded, a hole was drilled in a piece of steel rod using a letter "O" drill (.316 inch). Cases were pushed into this "die" by an arbor press. This left case mouth inside diameter at .292 inch, perfect for holding the Buffalo Arms bullet with its .293-inch heeled diameter.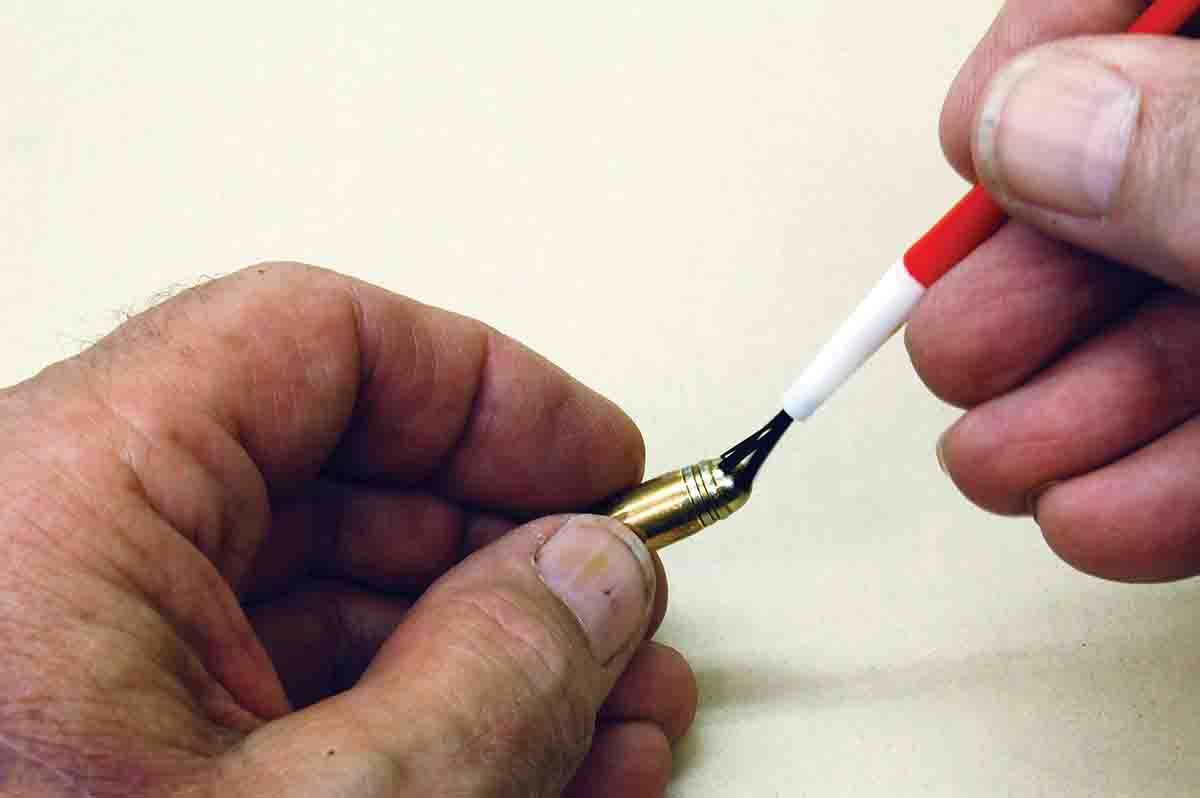 Bullet seating was done by a .32 Smith & Wesson seating die, which worked perfectly despite being a bit larger inside than the .32 Colt. Recoil was mild so no crimping of the case was needed.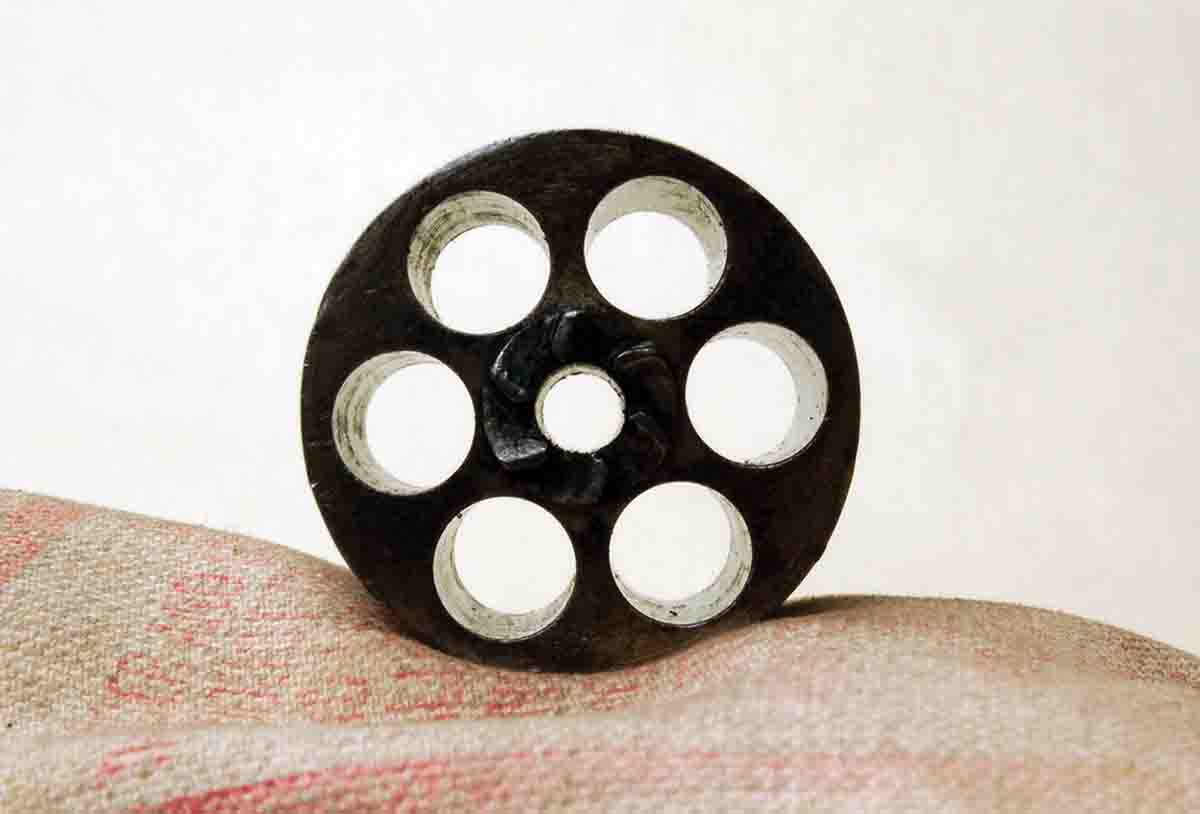 As for lubricating the bullet, after the cartridge was complete, an artist's paint brush was used to coat the exposed part with Lee Liquid Alox. Groups were 4 to 5 inches at 50 feet, same as from other such revolvers chambered in .22 LR, .32 S&W and .38 S&W.
The .32 Short and Long Colts served their intended purpose at the time. They were just a few years ahead of the development of inside lubed bullets. Today, the major interest is in the little revolvers that fired them.