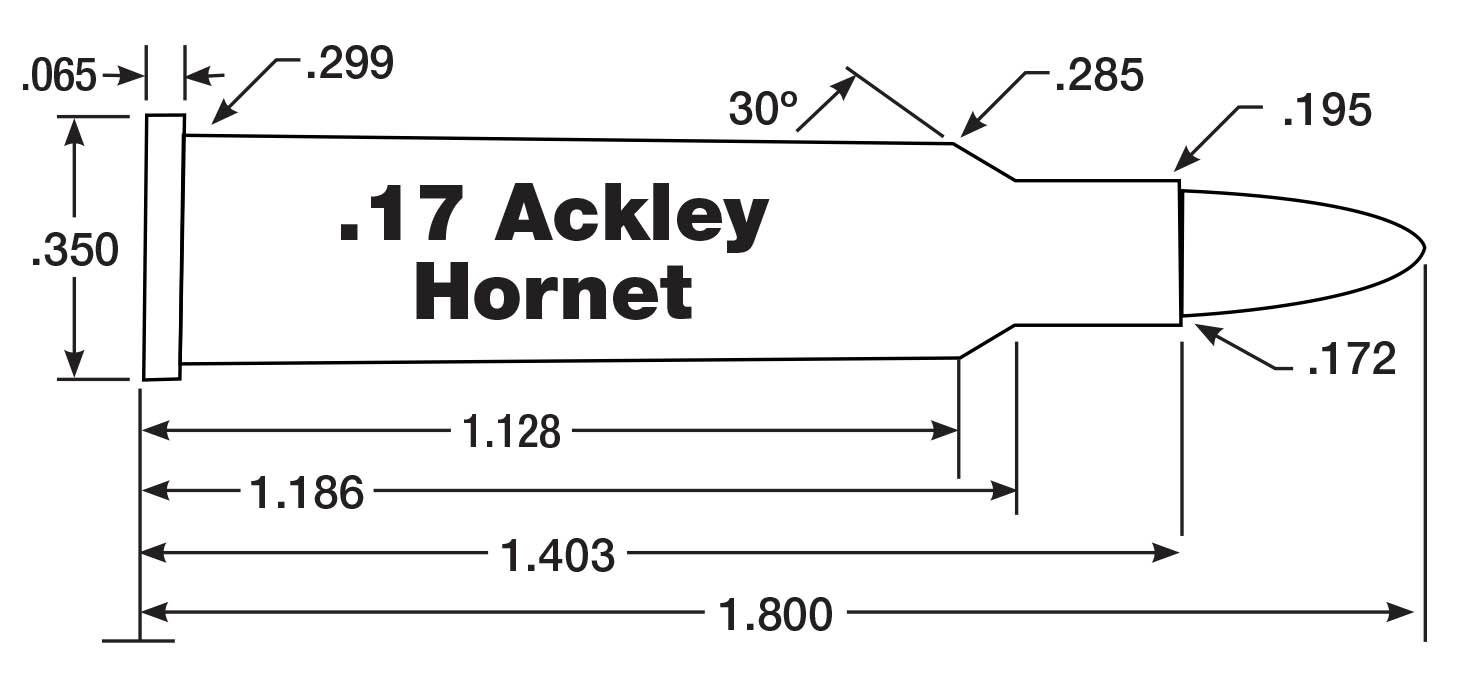 Parker Otto Ackley developed several .17-caliber wildcats. The .17 Pee Wee on the .30 Carbine case was his first, but his .17 on the .22 Hornet Improved case went on to become far more popular. Plenty of varmint shooters continue to use it to this day, and based on reloading die sales at RCBS, its popularity has diminished very little through the decades.
Forming the .17 Ackley Hornet case is quite easy. The RCBS dies I have are quite short and require an extended shell holder, which was included with the set. Pushing a .22 Hornet case into the form die squeezes its neck down to about .20 caliber. The trim die reduces the neck close to .17 caliber and its hardened surface allows squaring the mouth of the case with a fine-tooth file. After the mouth of the case is chamfered and deburred,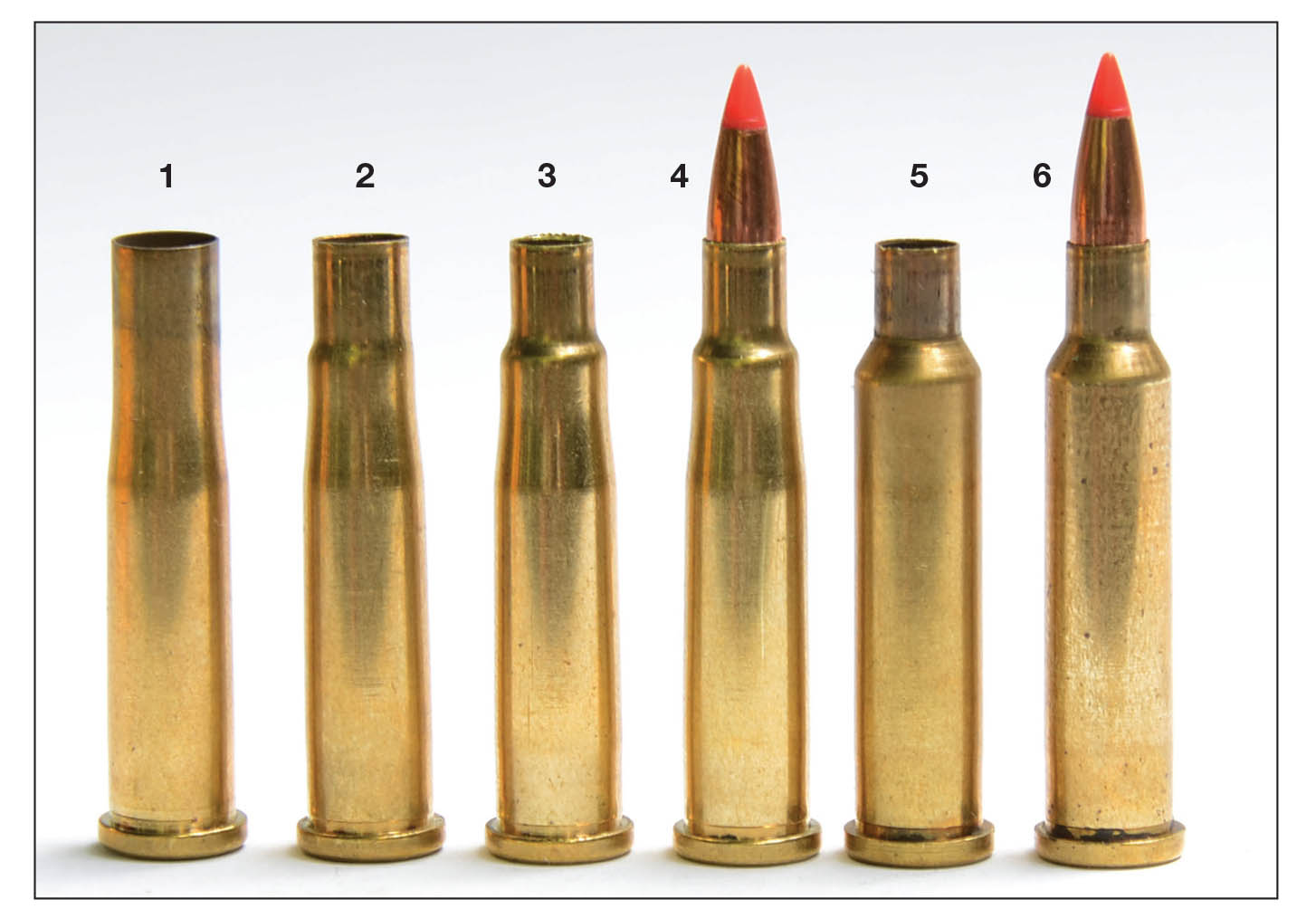 it is full length resized and then primed.
Probably due to the small powder charges used, rifles in .17 Ackley Hornet often indicate a strong preference in primers by the size of groups they shoot. In some rifles the mild-mannered Remington 61⁄2 Small Rifle primer can improve accuracy, but its cup is softer than the Remington 71⁄2 Small Rifle Bench Rest, Federal 205M, CCI 400 and CCI BR4, and it may not handle some of the pressures to which the .17 Ackley Hornet is loaded. Hodgdon ballistician Ron Reiber uses it in his rifle but he is careful about keeping chamber pressures a bit below maximum. A varmint-shooting pal of mine has two custom rifles chambered for the cartridge. One is noticeably more accurate with the Remington 61⁄2 while the other prefers the Winchester Small Rifle primer. A Cooper rifle I shot sometime back performed best with the Federal GM205M. My SSK rifle also prefers that primer as well as the CCI BR4.
Fireforming follows case priming and for that I have long used whatever 20-grain bullet is handy seated atop 11 grains of H-4198. During fireforming, the case headspaces on its rim and the shoulder is moved forward to the Ackley position. To eliminate case stretch just forward of the rim, Reiber recommends the application of a light coat of RCBS Case Slick Spray Lube on each case prior to fireforming. In goes a cartridge with lots of body taper and an extremely mild five-degree, 38-minute shoulder angle, and out pops a formed case with minimum body taper and a 30-degree shoulder. That's from my rifle.
I have seen rifles chambered for the .17 Hornet Improved with other shoulder angles. This is due to the fact that, through the decades, various gunsmiths have chambered rifles for several versions of the basic cartridge and called them "Ackley Improved" because doing so was likely to sell more rifles than, say, "Jones Improved."
When fireforming cases, don't waste powder, primers, bullets and barrel accuracy life punching paper. From my rifle there is not enough difference in accuracy between fireform loads and full-power charges in formed cases to matter, and for that reason they have dropped their share of varmints. The .22 Hornet case is not the strongest to come down the pike, but case life is long enough if chamber pressure does not greatly exceed 45,000 Copper Units of Pressure (CUP). Maximum pressure for .17 Ackley load data in Hodgdon's Annual Manual is 45,700. Switching to a neck sizing die once cases are fireformed increases case life. The same goes for annealing the necks of cases after three firings.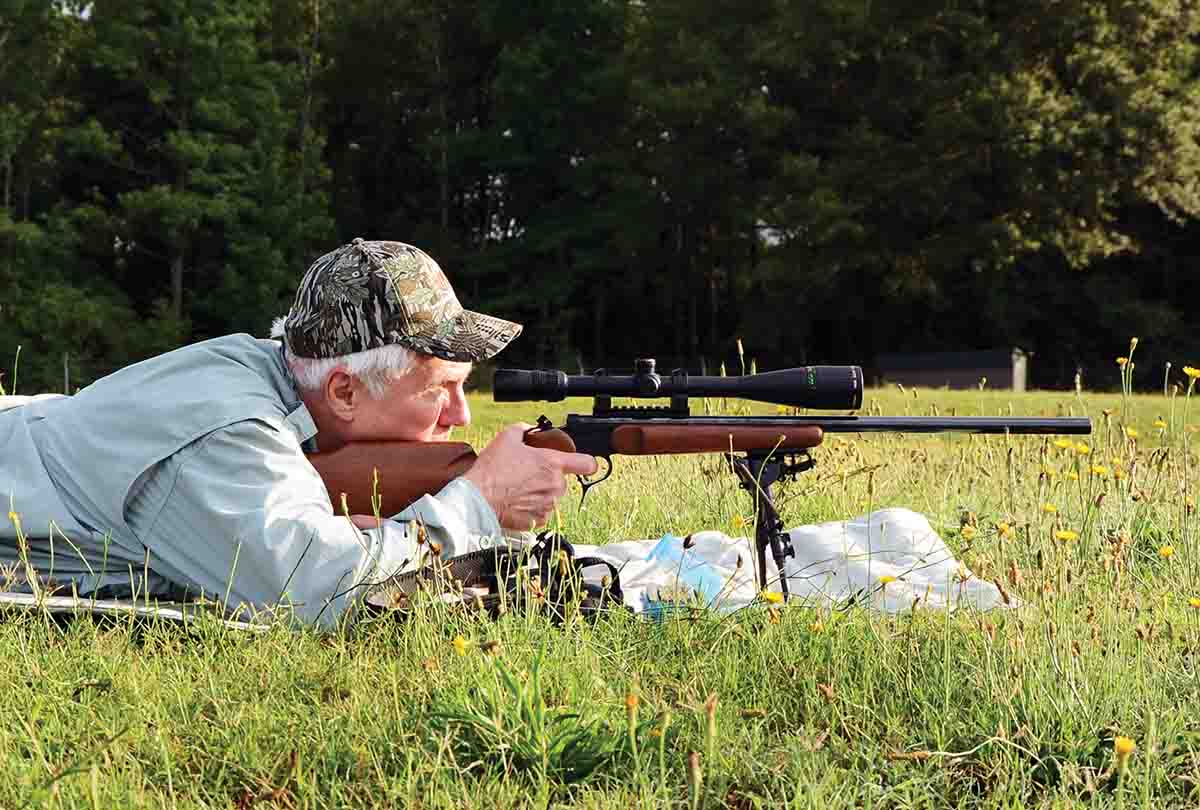 So how does the .17 Ackley Hornet compare with cartridges with larger capacities? When all are loaded to maximum with a 20-grain bullet and fired in barrels of the same length, the little cartridge is about 300 fps slower than the .17 Mach IV and .17 Remington Fireball, and about 600 fps slower than the .17 Remington. While the bigger cartridges are much more effective on long distance prairie dogs and woodchucks, no cartridge is more fun to shoot when flickertails (Richardson's ground squirrels) are as thick as fleas for as far toward the horizon as the eye can see. When fired in top-quality barrels the bigger cartridges don't leave behind as much copper fouling as some rifleman continue to believe, but due to its lower velocities and relatively small powder charges, fouling is even less with the .17 Ackley Hornet.
For its size, the .17 Ackley Hornet sends a bullet on a fairly flat trajectory. The Nosler 20-grain Varmageddon tipped bullet exiting the muzzle at 3,600 fps and zeroed 2 inches high at 100 yards is an example. It will strike 2 inches above line of sight at 200 yards and 4 inches low at 300 yards, which I consider to be about the maximum effective range of the cartridge on ground squirrels. On a calm day you can hit them at greater distances, but unless head shots are made, too many will escape underground to suffer a lingering death and that's not a good thing.
The .17 Ackley Hornet is not the best in the wind-bucking department but it is not bad either. In a 10 mile per hour crosswind, the Nosler 20-grain bullet drifts about 6 inches at 200 yards and 14 inches at 300 yards. Moving up to a larger caliber, the Nosler 50-grain Ballistic Tip nudged to 3,400 fps by the .223 Remington drifts about 5 inches at 200 yards and 11 inches at 300 yards. Due to its heavier bullet, the .223 does have a bigger edge in downrange energy delivery.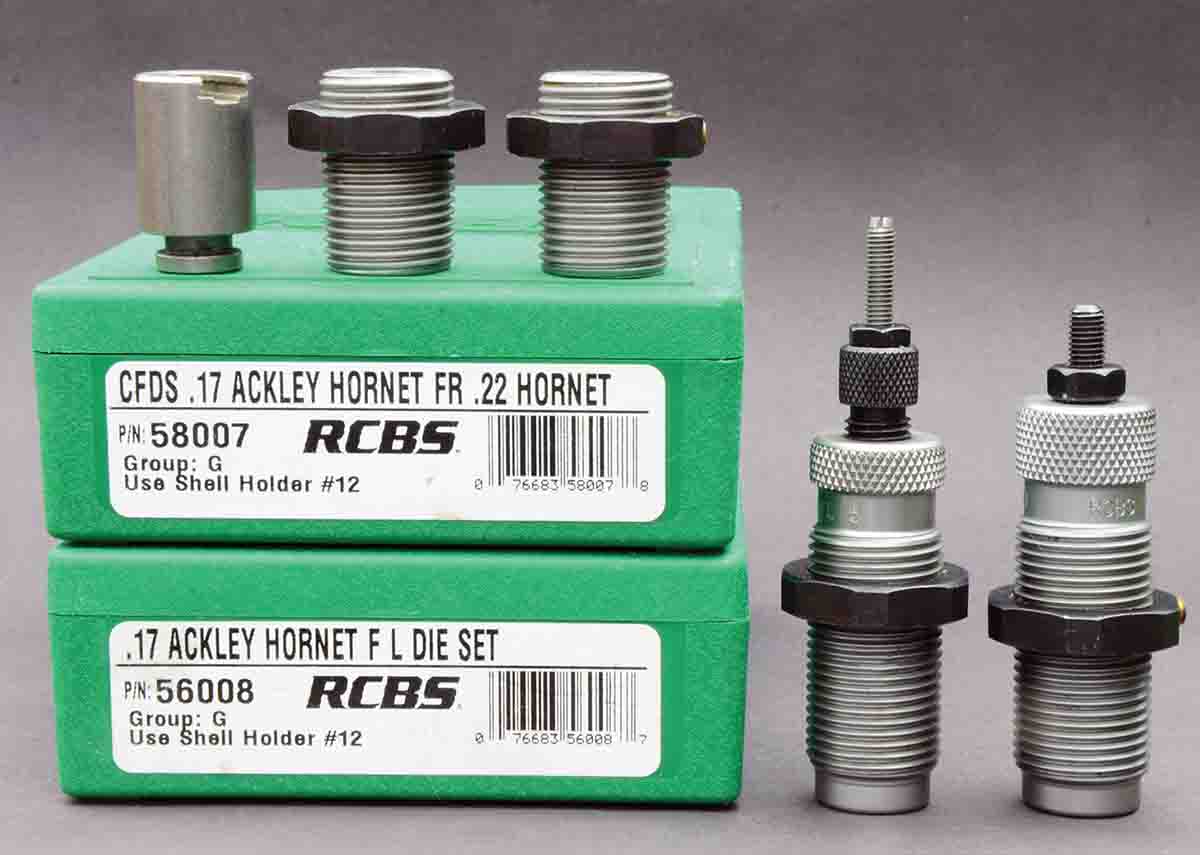 Extremely light .17-caliber bullets are greatly dependent on high impact velocities for effectiveness on varmints, and I believe that rules out the use of bullets heavier than 20 grains in the .17 Ackley Hornet. When shooting the .17 Remington on a windy day, I often use the Berger 30-grain hollowpoint, and it is most definitely my favorite coyote bullet in that cartridge. But the .17 Remington pushes a 30-grain bullet faster than a 20-grain bullet from the .17 Ackley Hornet. The smaller cartridge is unable to push 25- and 30-grain bullets to the velocities required for explosive bullet expansion and that makes 20-grain bullets the very best choices. From my rifles, the Berger 15-grain hollow-point at 3,750 fps has sent many flickertails to that big clover field in the sky, and its performance was spectacular.
Unfortunately, Berger no longer makes it. The little cartridge can be accurate. The smallest 5-shot group delivered by my rifle measured .223 inch, compliments of the Berger 20-grain hollowpoint and H-4198.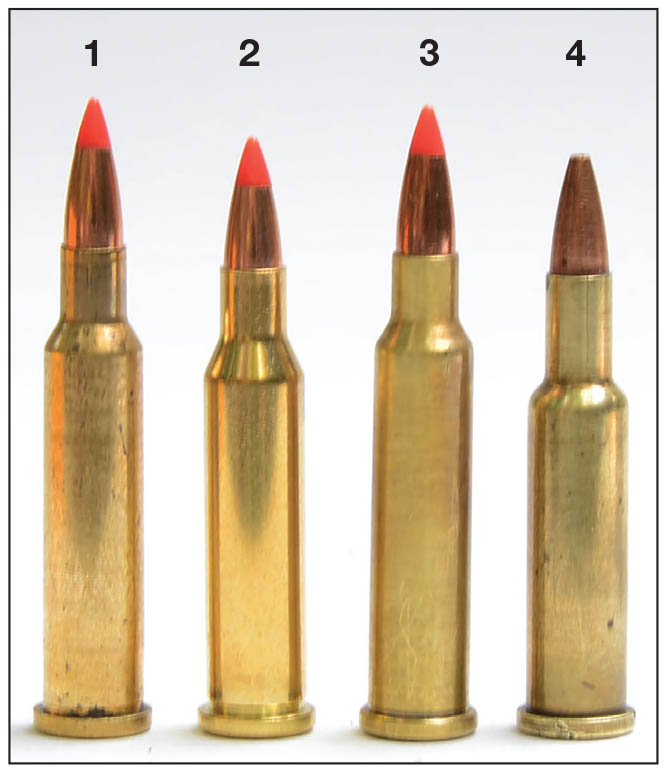 Like most cartridges, the .17 Ackley Hornet has had plenty of competition through the years with the most recent being the .17 Hornet introduced by Hornady. Powder capacity of the old timer is about 7 percent greater, and when both are loaded to the same chamber pressure and fired in barrels of the same length, Ackley's cartridge will average about 100 fps faster. Hodgdon's latest
Annual Manual
shows the Ackley version being 78 fps faster at 7,500 CUP lower chamber pressure.
I shoot the Ackley cartridge today, but during the 1980s I often thinned the flickertail population with an extremely handsome little rifle built by the original Kimber of Oregon. On the Model 82 action, it was available in two different .17-caliber cartridges. The .17 Kimber is on a shortened .22 Hornet case and it is quite similar to a cartridge developed during the 1960s by Charles Stocking of Hutchinson, Minnesota. My rifle was chambered for the .17 Kimber R2 on the full-length Hornet case, and except for slightly less body taper and the shoulder moved forward a tiny bit, it is the same as the Ackley version. It also produces the same velocity.
My rifle never consistently shot inside half an inch at 100 yards but it came close with several loads. I was quite fond of it but a Kimber collector proved to be even more fond. Regardless of which version of the .17 Hornet a handloader decides on, be prepared for loads of fun in the varmint fields.