It has been 31 years since I posted a handgun column titled "Those Incredible Silvertips" for this magazine. The intent was to review the lineup of Winchester Silvertip handgun bullets and to include a few loads that had been adopted, some of which replaced standards that largely featured cast bullet designs.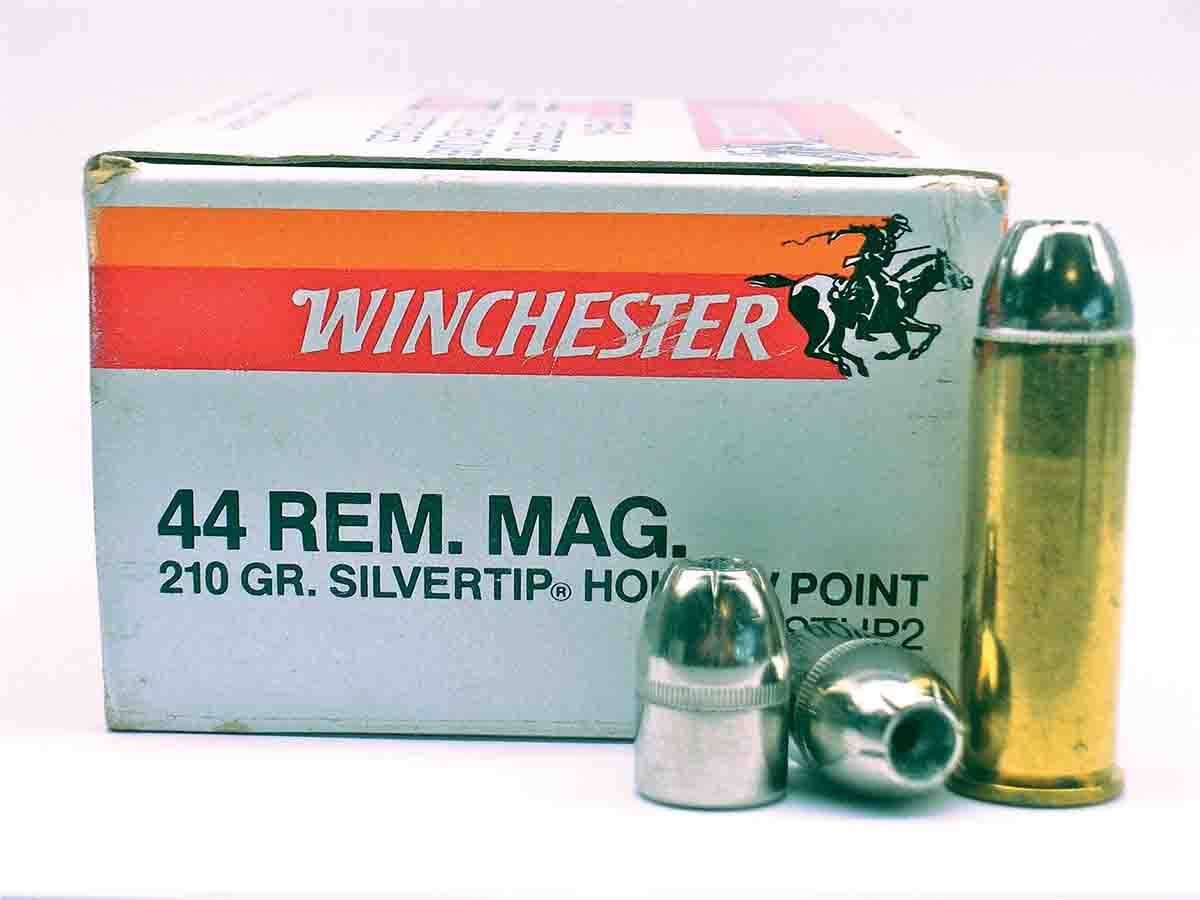 The common denominator was that a few of the loads developed what might be called maximum pressures and velocities. Some were stoked up a bit, but hardly maximum. The Silvertips, formed from drawn 3003 aluminum jackets over a relatively soft lead alloy core at the time – copper with nickel plating presently – were offered in .38 Special, .357, .41 and .44 Magnums, .45 ACP and .45 Colt factory loads. Most of the handgun bullets aimed at big-game hunting today from Federal, Speer, Hornady, etc., did not exist, albeit the Sierra jacketed hollow cavity (JHC) is still a standard.
The point of the column was that Silvertips were capable of fine accuracy and performance without running up against maximum pressure and velocity for any given bullet weight range in respective calibers. As such, they served quite well with what we might call midrange or sub-maximum loads in whatever barrel lengths.
It may surprise some younger readers, but hunting big game with a handgun was generally considered a stunt by most state fish and game departments until the early 1980s. Some states allowed the use of handguns during regular rifle seasons, with some restrictions for the type of game, but most did not. In the early 1980s, Oregon allowed the use of a handgun to hunt deer, but it had to be registered with the state. In the late 1970s, Utah made the power (energy) requirement so onerous that even the .44 Magnum failed to qualify for deer hunting. Both conditions offer clues that states did not take handgun hunting seriously.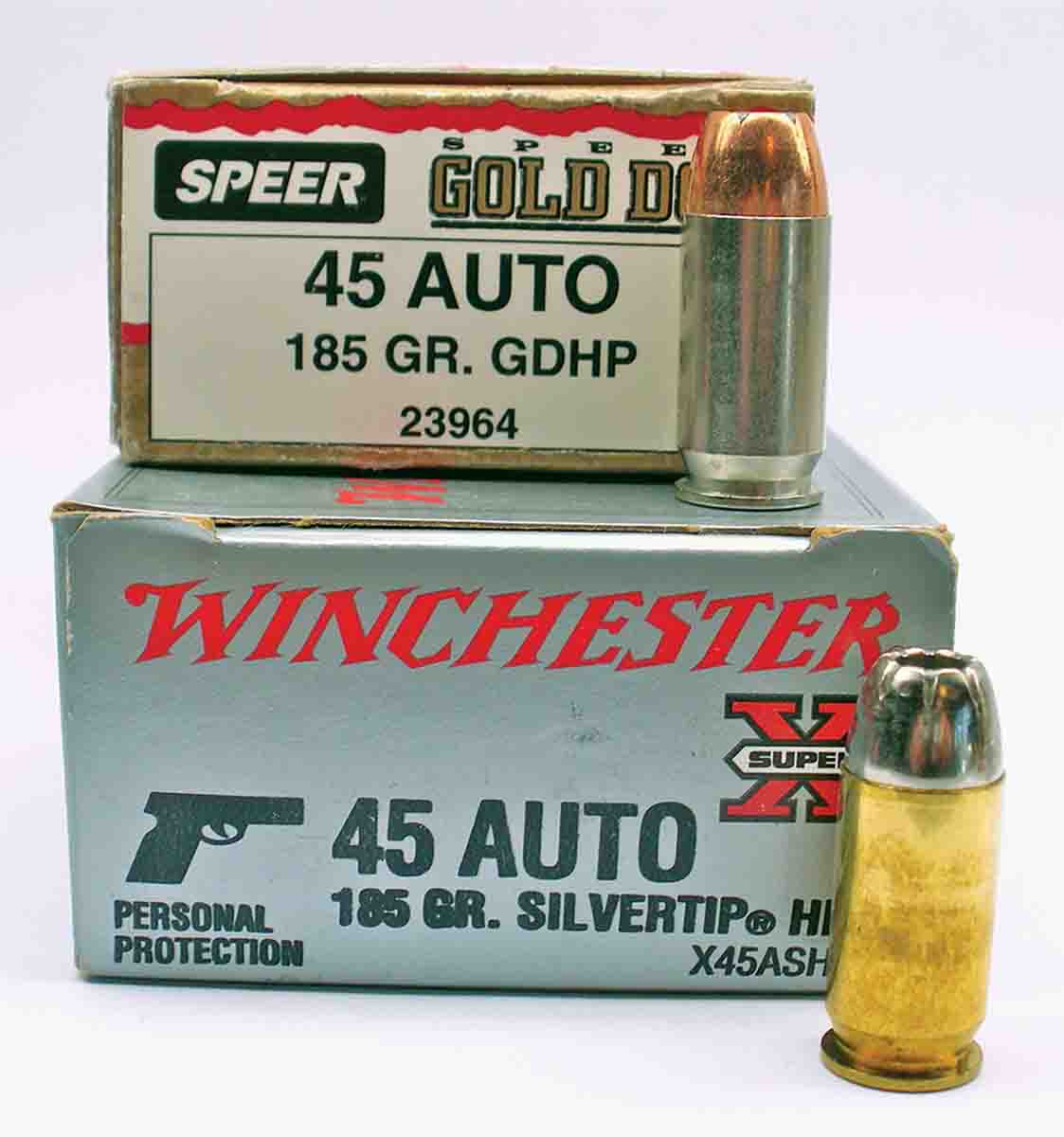 Traditional muzzleloaders were legal to hunt most big game species in the late 1970s, and several states set aside black-powder only hunts. The irony was that a .45-caliber, black-powder muzzleloader with the ever popular patched roundball packed less punch than the .41 or .44 Magnums. Eventually a phone call to Utah fish and game revealed that issues regarding accuracy, aka potential for wounding, with handguns was considered a problem the agency didn't want to deal with. One might assume that opinion was the result of someone's own mediocre skill with handguns.
Suspicions regarding handgun accuracy also cropped up with outfitters. One outfitter went so far as to pack six handgun hunters several miles to camp on the Idaho/Montana border by horseback, then proceeded to lecture the whole bunch of us about how handguns lacked sufficient accuracy and power to hunt big game. Most of our group were equipped with scoped Thompson/Center big-bore single shots with Herrett stocks to hunt elk, all of whom were experienced long-range competitors in addition to being dedicated varmint and big-game hunters. Mine was an SSK prepared Thompson/Center .40-65 with a 14-inch barrel and a 2.5x scope.
By the time the outfitter finished dressing us down, including Rod Herrett (Herrett Stocks) a former Idaho state trooper who is easily among the finest single shot and revolver shooters in the country, and the late George Webber, Hodgdon ballistician and firearms expert, it was apparent the outfitter wasn't much interested in doing the job he was hired to do.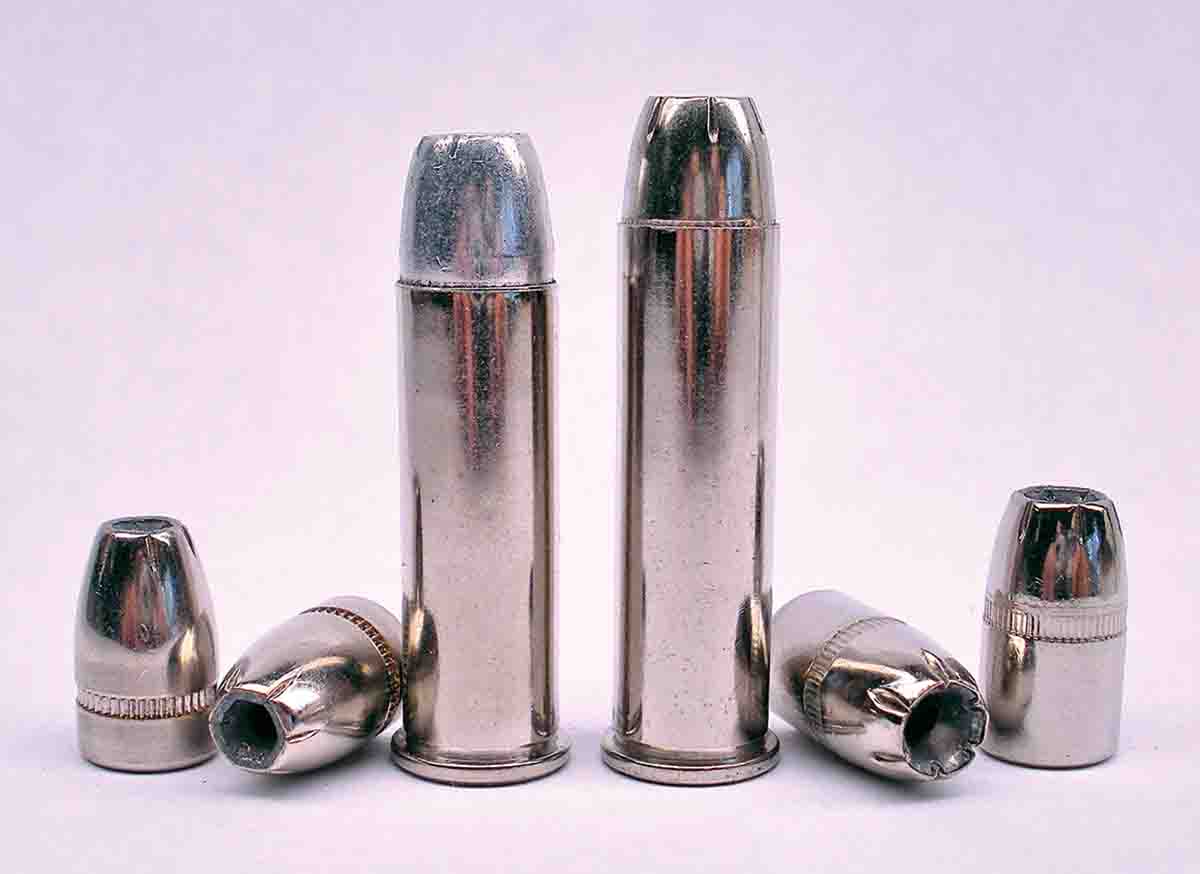 As our group stood mute and somewhat stunned after the lecture, I was about to suggest the outfitter might hold a beer can or some such up at 100 yards or so for us to sight our guns on, when I noticed a few grouse moving through the brush about 15 to 20 yards behind the cook tent. With no one near the line of fire, I pulled a Smith & Wesson .44 Magnum Mountain Gun loaded with 210-grain Winchester Silvertip factory loads out of my back pocket and asked the outfitter how much money he had to put up against head shots on those grouse. He declined the opportunity to back up his bravado, but I decapitated two anyway, then handed them to the outfitter, volunteering to clean the birds if the cook might fry them up in bacon grease with hash browns and a couple of eggs over easy.
Since fish and game departments, and no small number of outfitters, apparently had little interest in handguns for hunting big game prior to the late 1980s, I concentrated on varmints, etc., particularly during the winter, when a 145-grain Winchester Silvertip at 1,000 fps out of a .357 Magnum was less destructive to valuable hides. Elmer Keith's 358429 cast semiwadcutter or its hollowpoint version 358439 that averaged around 164 grains were equally effective when fired from a Colt single-action .38 Special or a heavy-duty Smith & Wesson .38-44, later known as the Model 20, at similar velocities. If the predator hunting was slow, the same loads would be used on high desert jackrabbits, chukar, grouse or cottontails.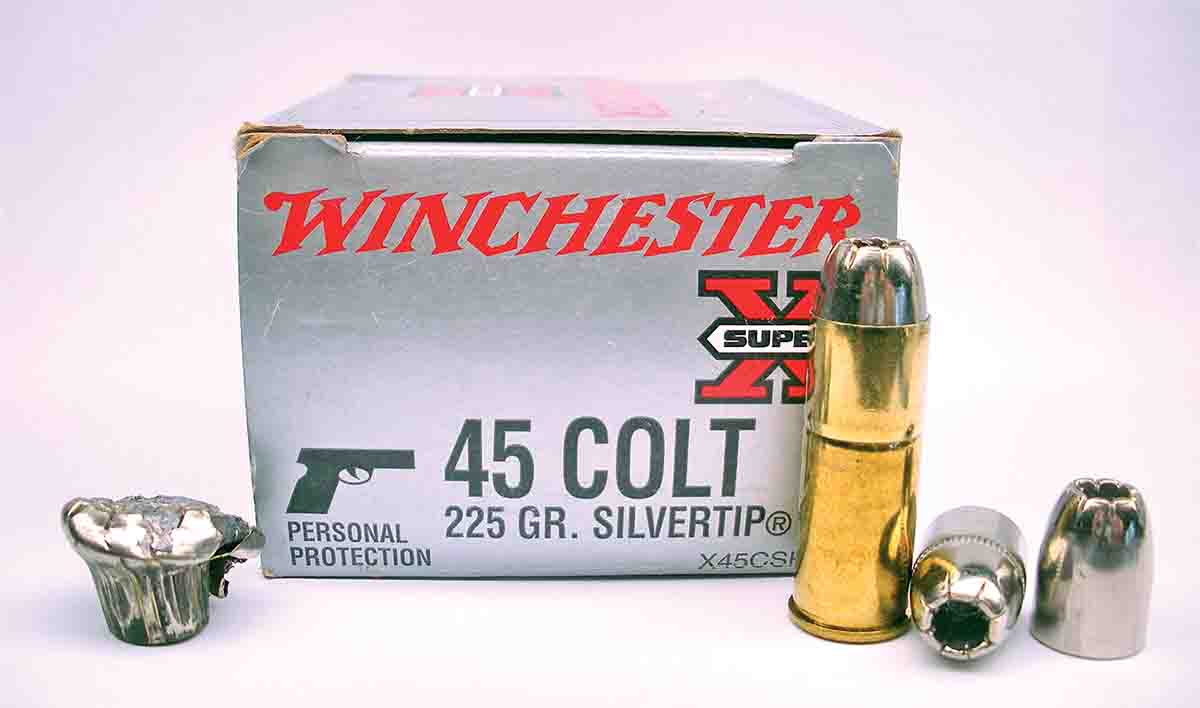 Since most of my everyday loads in the .38 Special, .357 Magnum, .44 Special, .44 Magnum and .45 Colt produced something close to 1,000 fps with representative bullet weights, they also produced similar trajectory out to 100 yards or so with the same or similar sight setups. Another benefit in keeping velocity below the speed of sound, around 1,100 fps, was less muzzle blast. So it didn't matter much which sixgun was used, since they all shot about the same at practical hunting ranges. That also eliminated most of the guesswork that results from using different guns, especially those with fixed sights.
As big-game hunting with handguns became more popular, it seemed that some folks were under the impression that factory handgun loads weren't loaded up to snuff, i.e., handloads were faster and more accurate, and wildcat big bores packed much more punch. A case in point is the Winchester .44 Magnum 210-grain Silvertip load that is listed at 1,300 fps in catalogs. Handloaders can push those bullets a bit faster in a 6.5- or 7.5-inch barrel. My advice is don't bother. That load is likely the most accurate factory .44 Magnum ammunition available but lacks the sectional density of heavier slugs preferred for deer or larger game. It is, however, nearly perfect for minute-of-grouse or cottontail head shots, aka camp meat, out to 30-plus yards, a coyote at 75 to 80 long steps or a treed bobcat.
For folks who like to run the .44 Magnum or hopped-up .45 Colt (Ruger or T/C) loads with 240- to 270-grain cast or jacketed bullets to the redline for larger game, these big slugs don't necessarily require maximum loads for everyday use.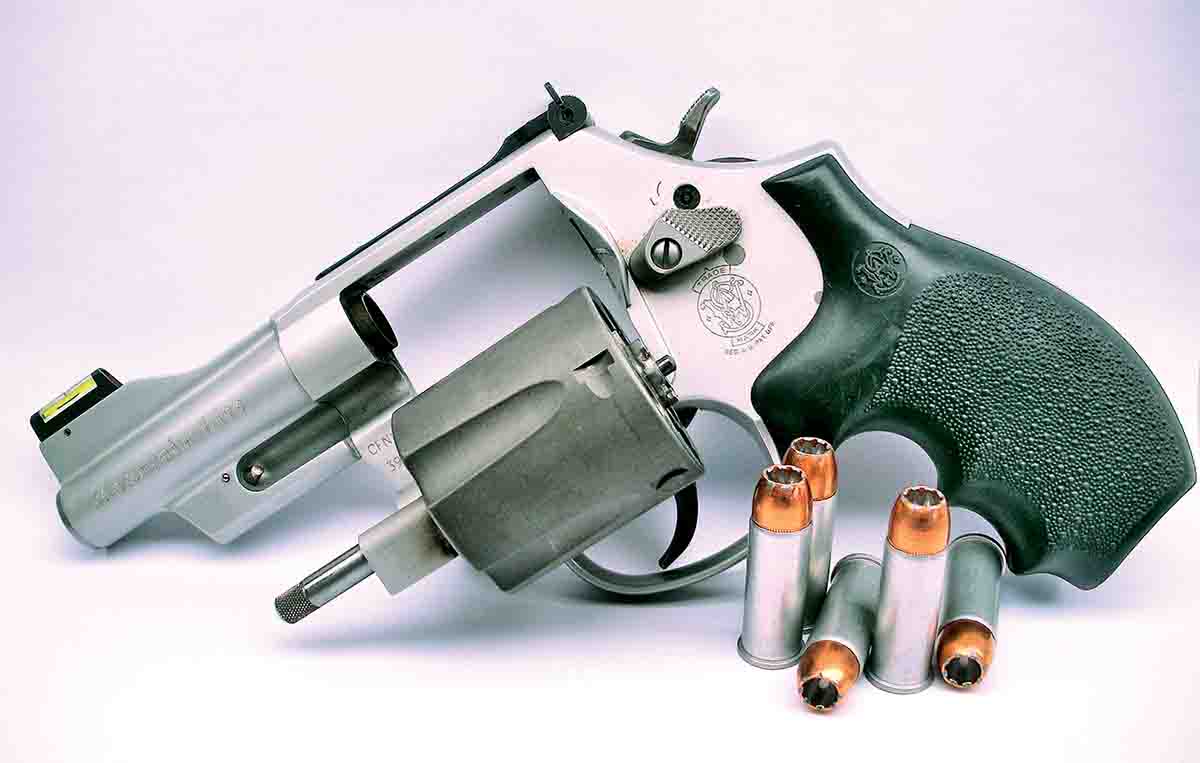 Obvious exceptions include Alaskan sourdoughs like Ed Stevenson (Sheep River Hunting Camps, PO Box 87-5149, Wasilla Alaska 99687; e-mail: hunting@mtaonline.net) and his son Ben, who prefer a Ruger .45 Colt stuffed with my RCBS 45-270 SWC heavy cast bullet pushed to the limit when clearing trail or working around camp.
John Lachuk, likely the first to actually build a wildcat .44 Magnum sixgun, offered useful advice in the Guns & Ammo 1972 Annual, "Pistol Predator Hunting." While reviewing solid tips on hunting coyotes, foxes, etc., Lachuk covered handguns, cartridges and loads to include the .357, .41 and .44 Magnums, .44 Special and .45 Colt. It may have been the first time a well-recognized outdoor writer not only included the .45 Colt, but also his loads with 2400 and Winchester 630-P that pushed those pre-XTP Hornady 250-grain jacketed hollowpoints from 900 to 1,000 fps from a Colt New Frontier with a 7.5-inch barrel.
Two years later Lachuk wrote "The Magnum Revolvers, Which One Is Best" for the 1974 issue of Gun Digest. Again, he included the .45 Colt and .44 Special and added the .45 ACP and 9mm, with a practical discussion of recoil, velocity, bullet weight and design that made it easy for anyone who might be thinking about handgun hunting for small game, and big game where legal at the time, to dive right in.
It would be fair to say that from 1972 to '74, you would be hard-pressed to find anyone, let alone a respected outdoor writer such as Lachuk, who believed the .45 Colt was capable of the kind of accuracy required for hunting anything, certainly not varmints, predators or deer-sized big game. As recent as 25 years ago, a respected member of the handgun hunting fraternity indicated I was ill advised to use a Colt Single Action .45 Colt to hunt deer, albeit he appeared to be of the opinion that fixed sights were the real problem. He didn't ask if I had killed any deer with a Colt SAA .45 Colt, he just decided it was inappropriate. Apparently he was unaware of the treatise by our good friend the late John Wootters, a respected former Wolfe Publishing staffer, who wrote ".45 Colt Game Getter" in the 1985 G&A Annual.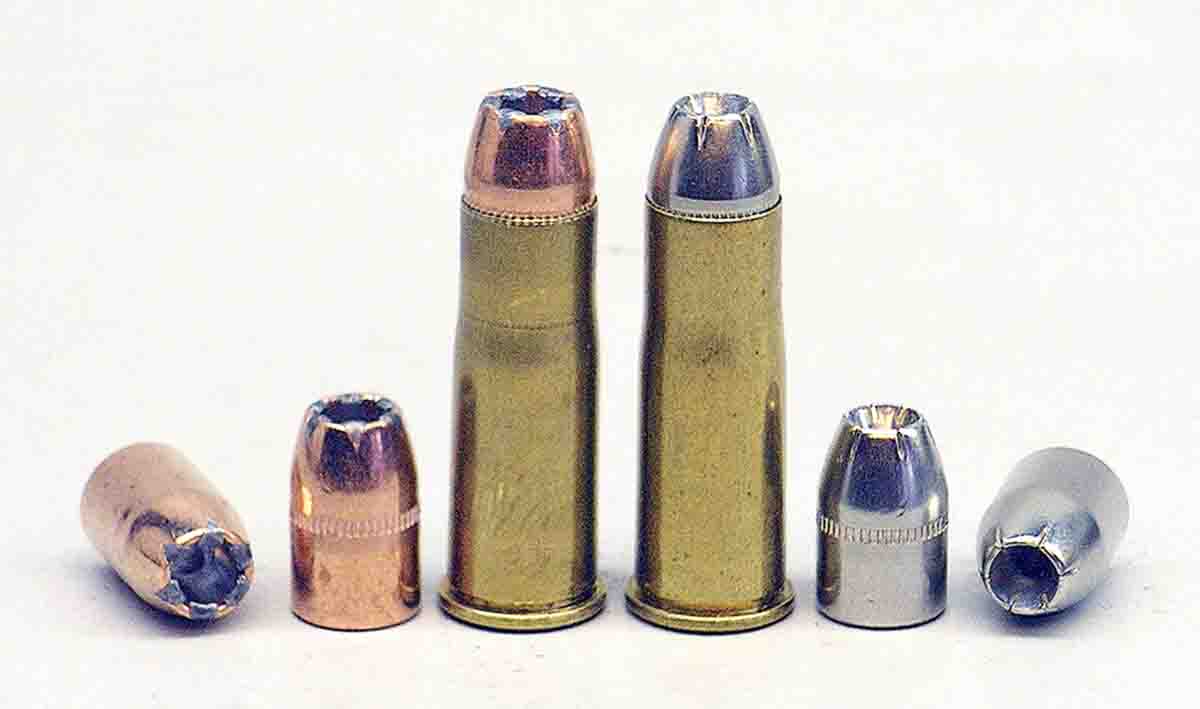 Reading between the lines of Lachuk's articles, it also occurred to me that few, if any, handgun hunters and/or writers on the subject have worked with anything less than barrel-rupturing loads, and as such, have little or no idea how well mid-range loads work on deer-sized game. That is, there is not a deer on the planet that can shrug off a properly placed 250- to 270-grain cast semiwadcutter that is pushed at a so-called pedestrian 850 to 900 fps muzzle velocity from a big-bore revolver. No, that's not a long-range setup, but revolvers are for the most part not long-range field guns. John Wootters said it best, "get close, then get closer."
Eventually, along with the quest for bigger and more powerful handguns came scopes, followed by "hand rifles." As per usual, the quest for gadgetry had a numbing effect on my ideas about hunting with an open-sighted revolver. Nevertheless, I tested several pistol scopes in the early days, and a few passed muster, not to ignore ducking the occasional flying lens and/or scope mount.
While most of the current discussion about handgun hunting is directed at big bores with big bullets to make the most of the relatively short hunting seasons, the remaining 11 months of the year small game, such as rabbits, badgers and foxes are on the menu. That's where the Winchester 145- grain Silvertip in the .357 Magnum or .38 Special is an excellent choice. More recently, the .40-caliber 185-grain Silvertip intended for the .40 S&W has been adopted for use in the .38 WCF (.38-40), up to 1,000 fps in the Colt SAA or about 1,200 fps in Marlin and Winchester .38 WCF rifles and carbines. The 225-grain, .455-inch Silvertip .45 Colt bullet has never been available as a component, so I pulled bullets from factory loads and shot them in handloads for several years until a supply of 300 mysteriously arrived on my doorstep a few years ago. They are among the most potentially accurate .45 Colt jacketed bullets available, even in factory loads.
If Winchester component Silvertip handgun bullets are not available through local sporting goods outlets and/or MidwayUSA, Cabela's, etc., Speer Gold Dots in similar weight ranges for each caliber are also good for mid-velocity work. As a general rule, any bullet in loads advertised for personal defense is fine for mid-range, small game or woods bumming loads. Factory loads can get pricey if you shoot much, so adopting those Silvertips and/or Gold Dot hollowpoints, the latter sometimes referred to as the "flying trash can," for handloads is probably a better choice. Most of the .44- and .45-caliber heavyweight slugs are designed for high velocity – magnum – loads and might not respond as expected when downrange impact is limited to 900 fps or less. That is not to say a .44- or .45-caliber hole through an animal's lungs isn't effective, it is just to suggest those bullets sometimes don't expand much, if at all, in soft tissue. In such cases, a cast semiwadcutter is probably a better choice.
Another pleasant surprise that has developed in the last few years has been Accurate No. 5 powder loaded up in sub-maximum charges for the .38 Special, .357 Magnum, .44 Special and .45 Colt with Federal non-magnum primers. Upon review of loads worked up for various bullets in the .44 Special and .45 Colt, Accurate No. 5 produced the best average accuracy when compared to several hundred rounds using other canister powders with a variety of bullet designs.