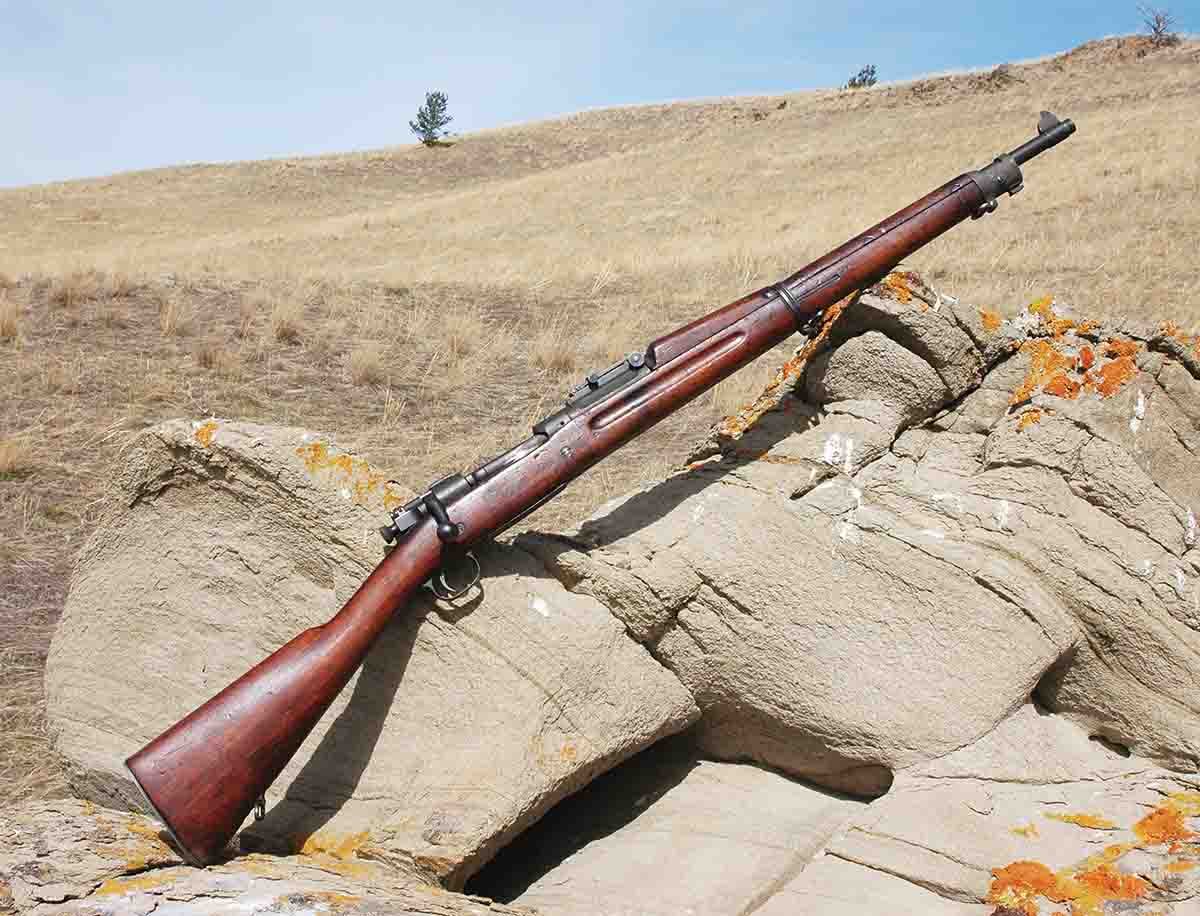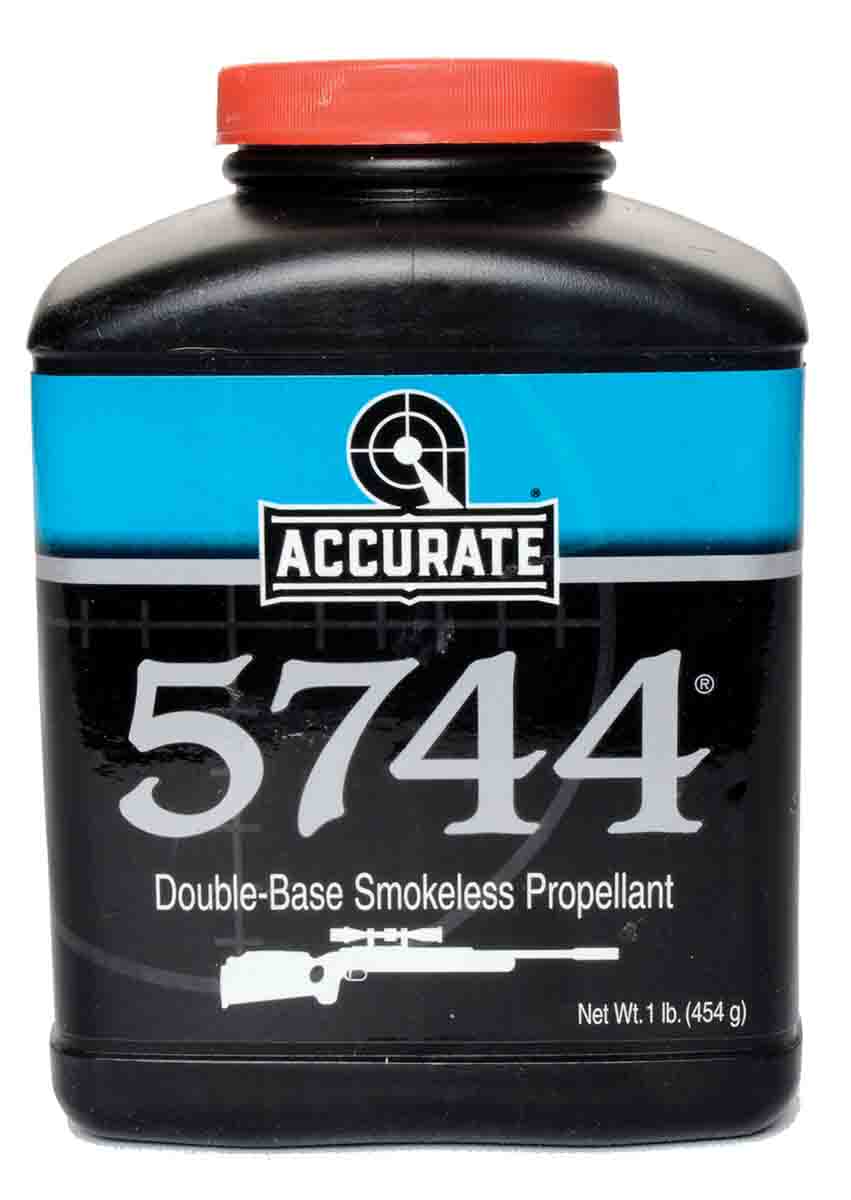 Today, there is talk of safe spaces for overstressed college students and even giving out teddy bears or live puppies to soothe their nerves. My last semester of college, January to May 1972, was extremely stressful. Because of a lackadaisical attitude in my freshman and sophomore years, every hour of my senior year was necessary for graduation. Furthermore, every one of those classes needed decent marks to get my grade point average above the minimum needed. My "safe spot" was a rifle range and my "puppy" substitute was wood and steel.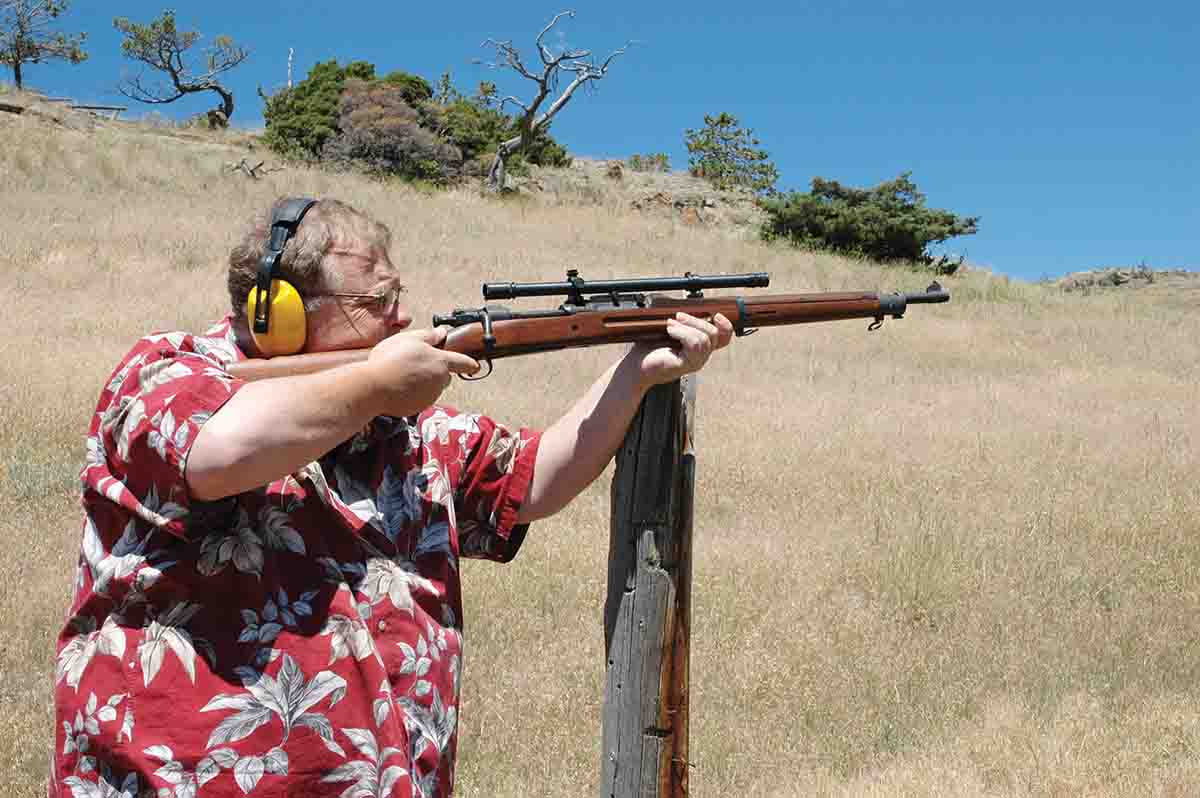 It was a different era in so many ways. For example, on a trip in December 1971, I was gifted a U.S. Model 1903A3 Springfield. It was carried home in a cardboard box in the airplane's cabin. When home, I immediately ordered a Lyman mould 311291 and a box of the company's .30-caliber gas checks. That mould was single cavity with a catalog bullet weight of 170 grains. It was a gas check roundnose design. The bullets dropped at .310/.311 inch. They were sized .310 inch and lubed with Alox. With my last few spare dollars, I bought a can of 2400 and (get this) a couple of one-pound paper bags of H-4831 priced at a buck each. That was in the era when World War II surplus powders were still around.
Weekends were filled with casting, loading and shooting '06s for that Springfield. In retrospect, those weekends were grand because my mind was briefly off school, and learning the ins and outs of cast bullet rifle shooting was pleasant because it went so well. Tried were my own home-brewed lubricants, gas-checked opposed to plain base bullets, different powders, charge weights and various alloys, etc. Not a jacketed bullet was fired. Most test shooting was done over sandbags, but sometimes when an accurate load was discovered, I'd plink at rocks or chunks of wood at varying distances and from different positions.
All that learning and shooting pleasure, I attribute to the good old '03A3. I've never encountered one that wasn't a good shooter with cast or jacketed bullets – if the barrel bore condition was good and smooth. These fine old military rifles came in a variety of forms. Encountered nowadays are examples with straight grip (S) stocks, pistol grip (C) stocks and "scant C" stocks with just a hint of pistol grip.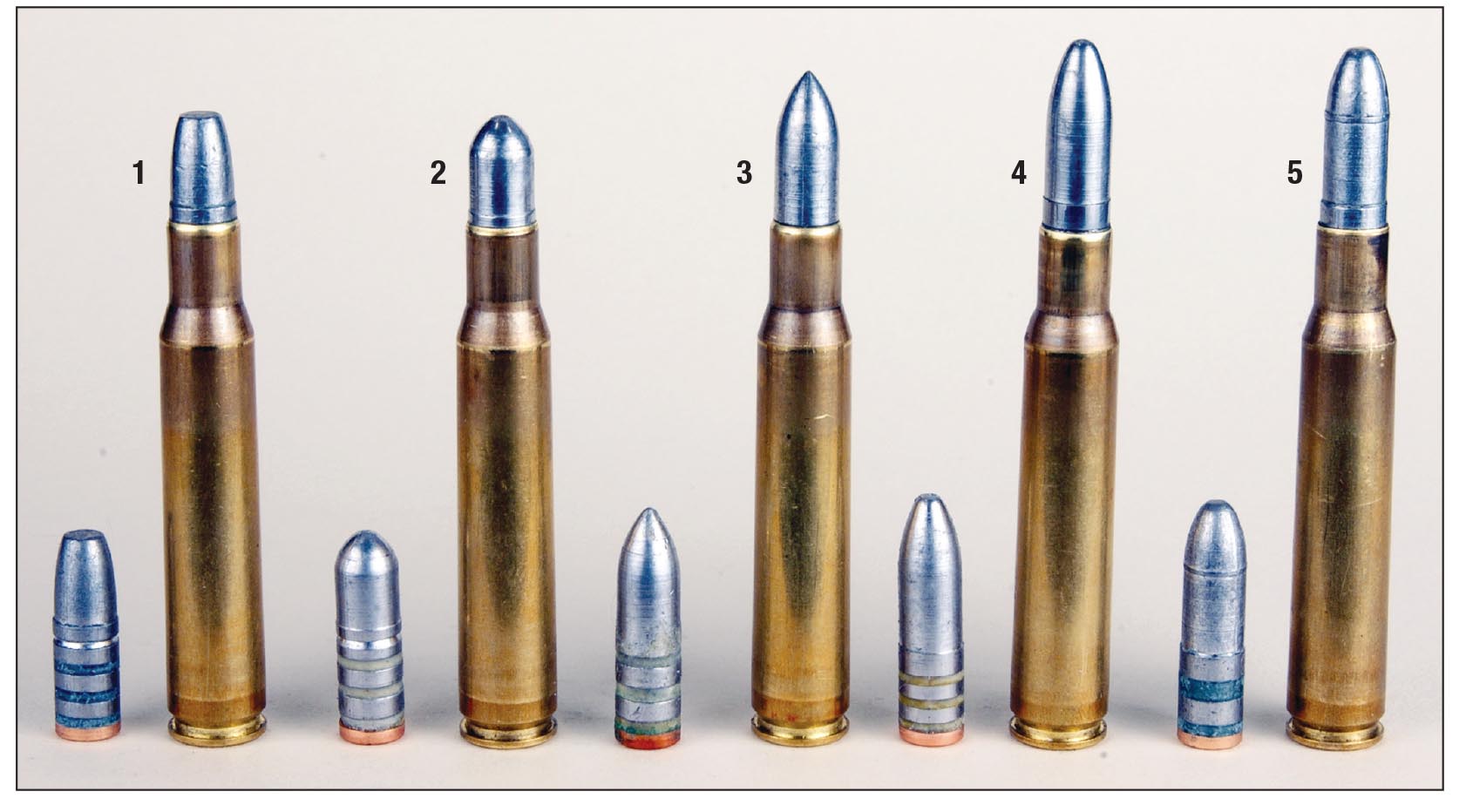 It seems that all '03s had four groove barrels with a right-hand twist. However, '03A3s could have two, four or (rarely) six groove barrels. Regardless, all had rifling twist rates of 1:10 with 24-inch barrels. Some shooters are leery of rifle barrels with only two grooves, but in my experience, they work just fine with cast or jacketed bullets.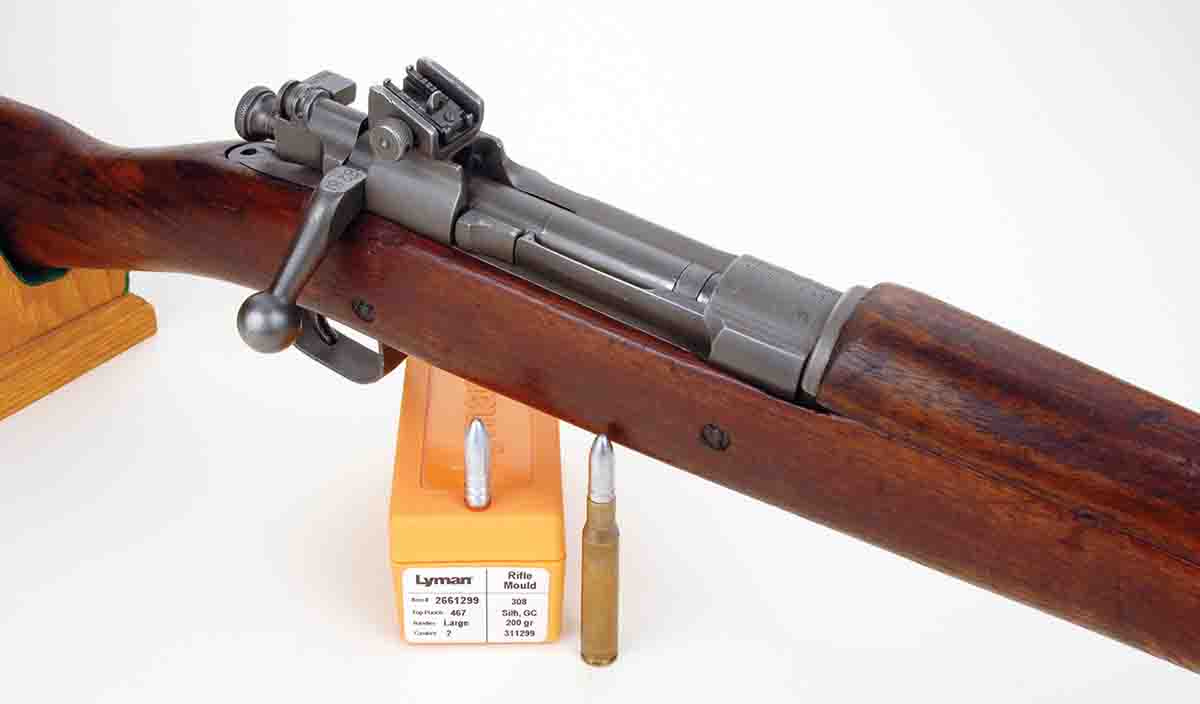 That brings us to the matter of sights. Model 1903s were fitted with finely-adjustable ladder-type open battle sights with graduations to 2,000 yards. Rear sights were also minutely adjustable for windage. An important change with Model 1903A3s was a peep rear sight rather crudely adjustable for elevation in 100-yard increments to 800 yards. Windage was adjusted by a knurled knob with 4-MOA clicks. The same thin blade front sights were used on both versions of '03/'03A3s. Of course, the sniper '03A4s (still marked '03A3 but upside down on the left front receiver ring) had 2.5x Weaver 330C scopes and incidentally were always issued with "C" stocks.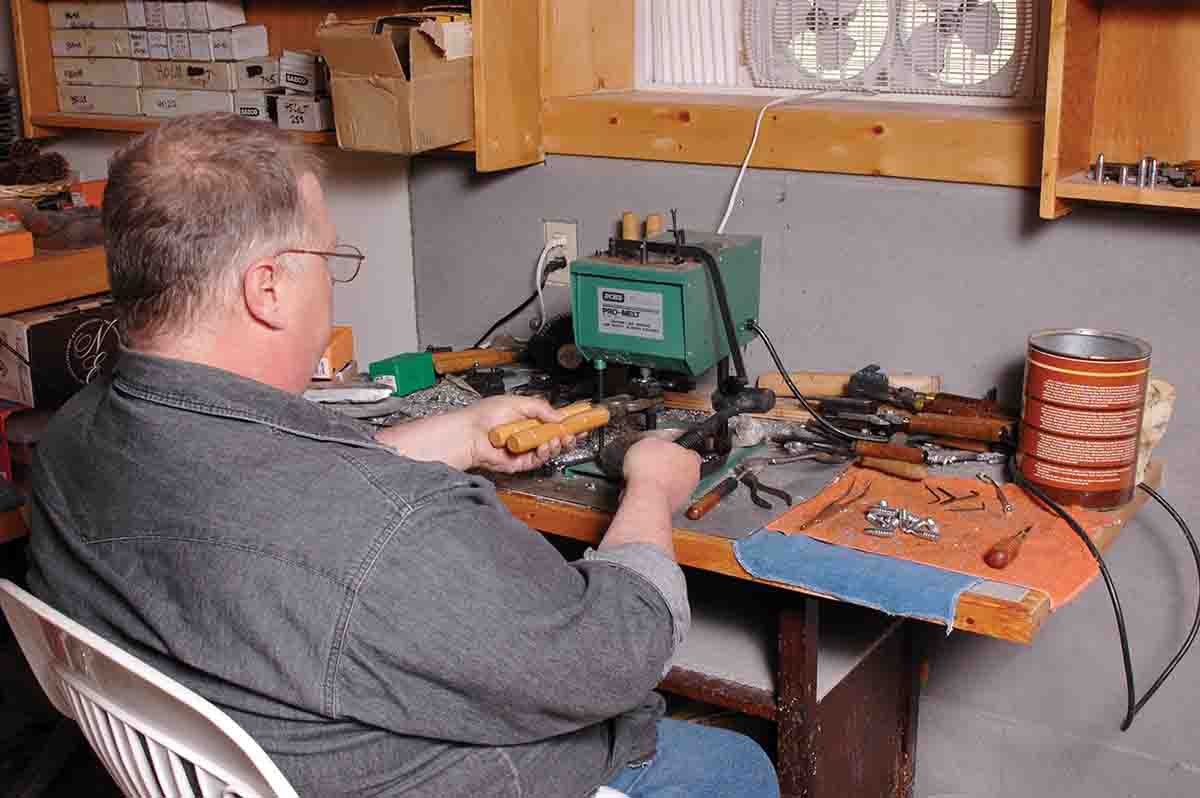 Until age 60, my eyes were perfectly satisfied with the open and peep sights as mentioned above. Then the front sights began to blur. Luckily, about that same time the Leatherwood Hi-Lux company began offering a Wm. Malcolm 3x scope. The addition of one of those to a non-collectible '03 greatly enhanced my cast bullet shooting.
Today, I use Linotype alloy for most small-bore (under .38-55) cast bullet shooting, simply because I was given enough of it to last a lifetime. Back in those college years, I managed to buy a few bars from my local newspaper. In order to make it last longer, it was blended 50/50 with wheel weights. The Brinell Hardness Number (BHN) of such a blend is unknown to me, and honestly, in those days I likely didn't know what BHN meant. Regardless, that alloy cast well and shot excellently in my '03A3. Bullets were fitted with Lyman gas checks, sized to .310 inch and lubed mostly with Alox. Making my own lube proved messy and far less successful than I had hoped.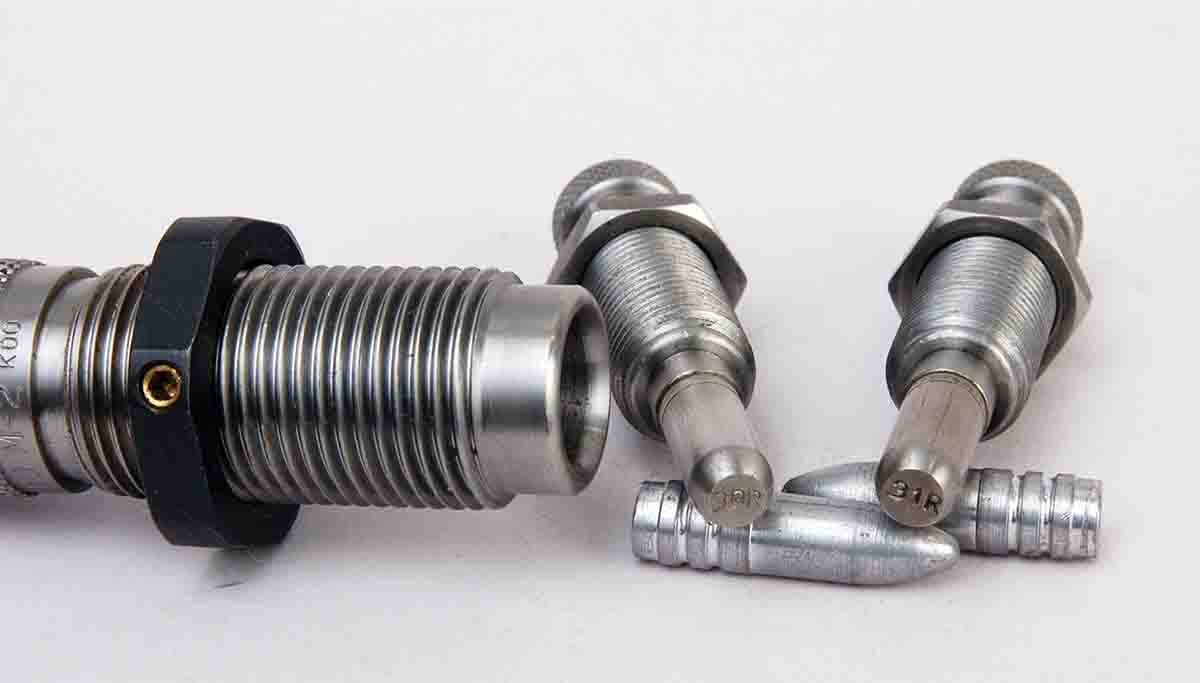 I'm going to talk about powders for a bit and mention something that is considered taboo today. For that reason, I won't list exact powder charges. At the time 2400 was commonly recommended as a cast bullet propellant for '06 velocities to about 1,500 fps. However, ignition was not efficient because recommended charges filled so little of the '06's capacity. Therefore, case fillers such as wads of toilet paper, kapok and other inert fillers were commonly recommended for holding powder charges close to primers.
Another option discussed in The American Rifleman magazine was using H-4831 in .30-06 cast bullet handloads for a few hundred more fps. However, it was reported that sometimes primers set back out of their pockets a mite upon firing. Another technical writer for that magazine at that time determined the reason for such was that firing pin strikes were driving cases further into the rifles' chambers, in effect creating a slight headspace problem. The cause was attributed to H-4831 being slower to ignite to full pressure. I was one of those shooters experiencing backed-out primers with my cast bullet handloads using H-4831. A remedy printed in The American Rifleman was to put 2.0 grains of Unique powder against the primer and then reduce the charge of H-4831 a few grains. As I said, this practice is considered completely taboo now, so do not try it. I'm including it here for historical information only. Besides, it's not necessary now as discussed shortly.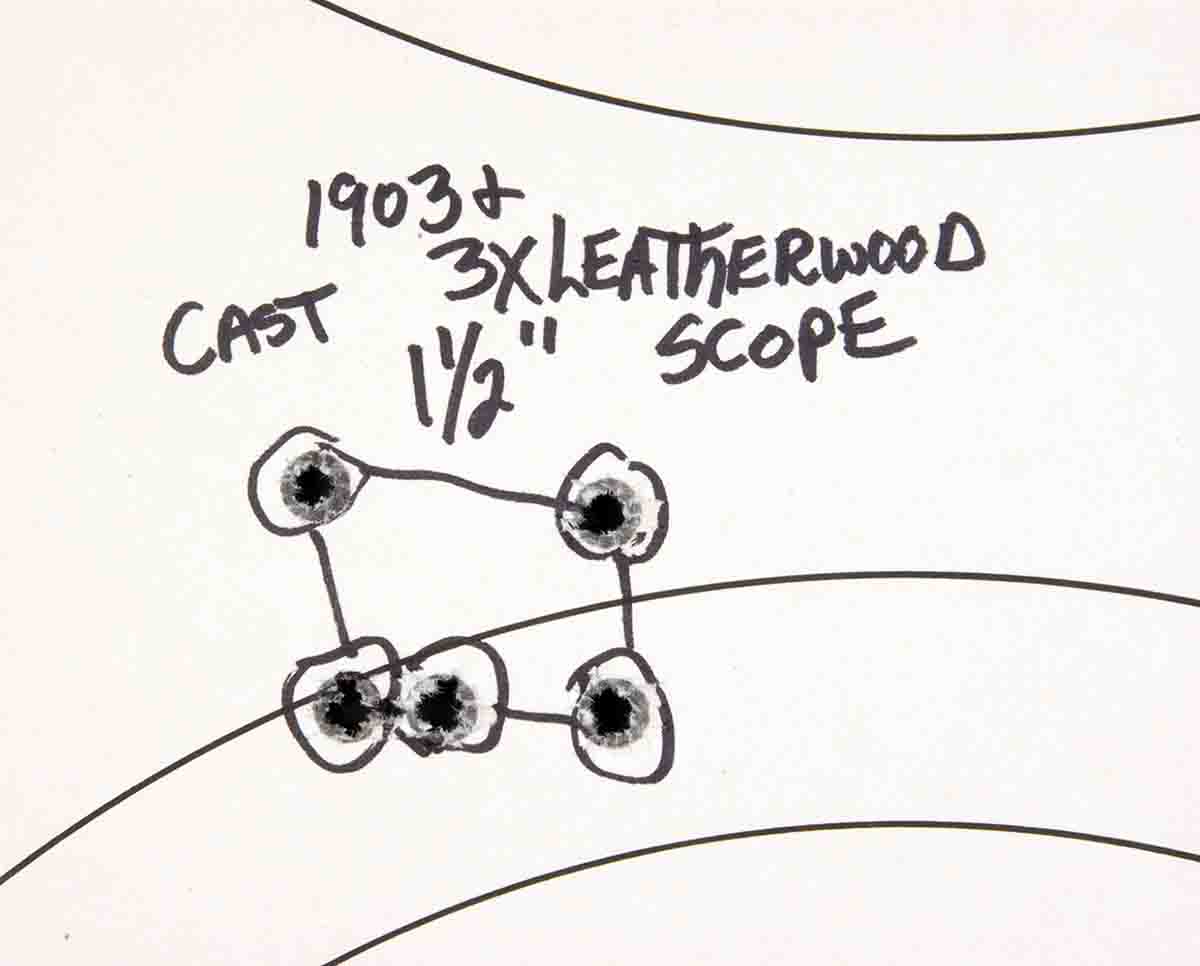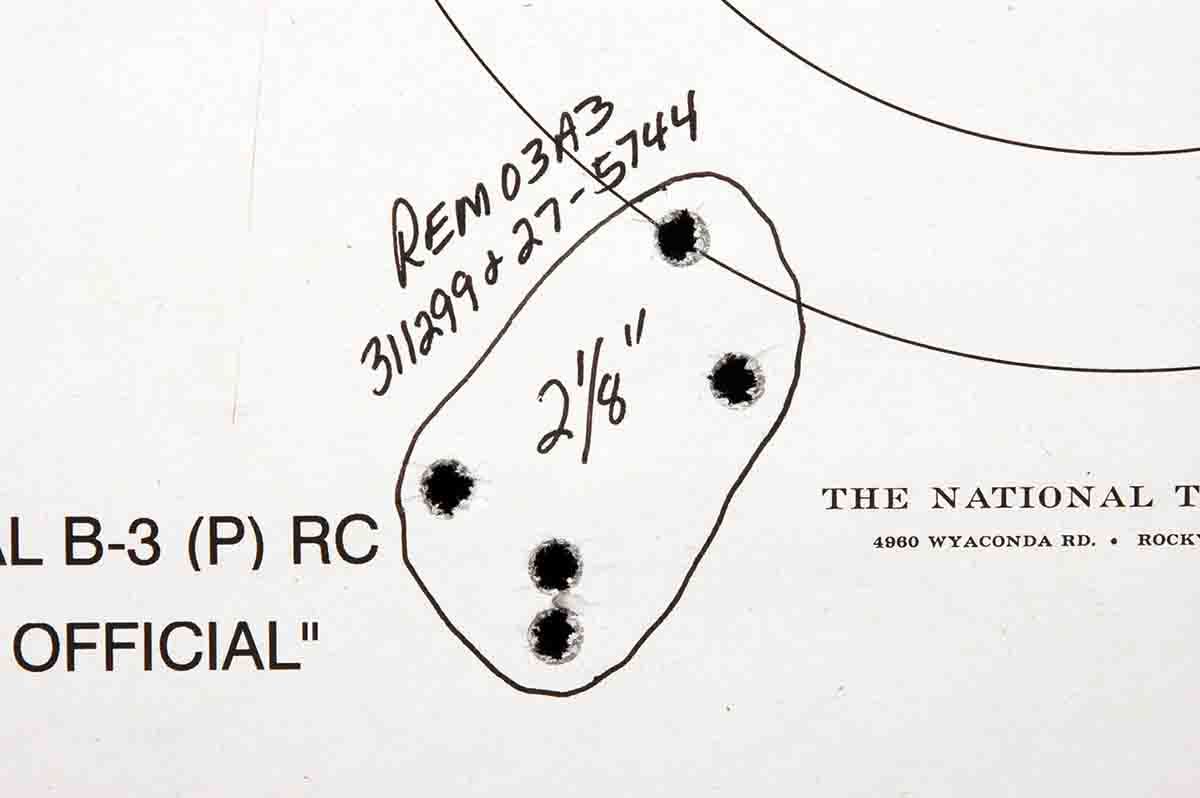 Following the recommended directions from The American Rifleman, my '03A3 shot nicely with H-4831 and the Unique booster. That helped me to become the cast bullet enthusiast I remain today. Over the years, hundreds of those '06 cast bullet handloads were also fired in an assortment of rifles, all of sporter configuration. It wasn't until early in this new century that I bought another military '06. It was a Model 1903A3 built by Smith-Corona and was followed quickly by many others, including several Model 1903s by Springfield Armory, Rock Island Arsenal and Remington. Even a Remington Model 1903A4 complete with a Weaver 330C scope was added to the collection.
However, the '03 that became my favorite shooter was a Model 1903 "parts rifle." A local fellow started putting it together, but his wife got in a family way, necessitating him selling it before completion. I added the few remaining parts needed to make it shootable and from the beginning that "parts rifle" showed exceptional precision for having only its issued battle sights. Right about that time, at a SHOT Show, Leatherwood Hi-Lux introduced its long tube Wm. Malcolm scopes of 3x power. These were not the extremely long ones meant for Old West "buffalo rifles," but 17-inch versions of Winchester's A5s of the early twentieth-century. With this '03 having no collector value, I turned to Rocky's Gun Works of Three Forks, Montana, to have my '03 drilled, tapped and fitted with the Leatherwood scope.
Later, my friends at Montana Vintage Arms (MVA) developed their Model B5 copy of Winchester's A5. Leatherwood's Wm. Malcolm scope had excellent optics but the Chinese steel in its mounts didn't hold up to .30-06 recoil. So the rifle in question now carries one of the MVA scopes.
When returning to handloading for military '06s in the twenty-first-century, some facets of my early cast bullet handloading remained the same. For instance, brands of cases were ignored as long as all were the same. They were full-length sized and initially trimmed. Case necks were expanded and mouths were belled just so the bullet's gas check was not visible when inserted into the case. This was done with a Lyman M-die with a .30 plug. That was with .310-inch bullets. If someone needed to go larger with their bullet sizing, then stepping up to Lyman's .31 plug is an option.
My old Lyman mould number 311291 was long gone, so a fresh one was ordered, along with Lyman mould numbers 311041, 311299, 311284 and 311332. Sizing diameter remained the same .310 inch, but bullet lube was now SPG. Gas checks were Lyman. It is easy for me to say right now that the winner in this bullet mould batch was Lyman 311299. It has shot superb groups in several of my '03s/'03A3s. Cast of Linotype alloy, it weighs 195 grains with no gas check or lube.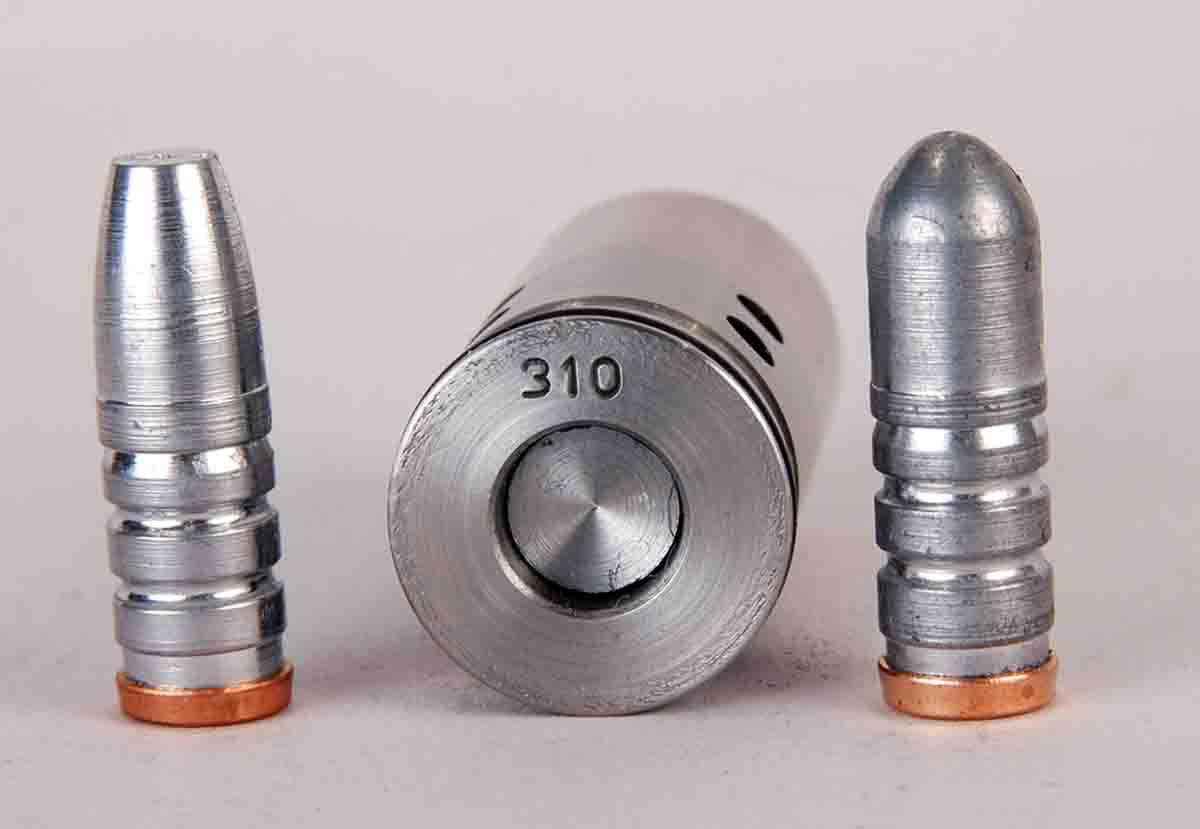 What did change were propellants. Around 1972, there were a few dozen available in this country. Now there are more than 100. Over the years I have learned a valuable lesson through paper target shooting and chronographing with dozens of rifles. That is, nothing will top Accurate 5744 for a cast bullet rifle powder. It ignites easily and gives perfectly adequate shot-to-shot variations without any sort of filler. Accuracy is usually exceptional. The only extra advice I've given to readers when using it is to apply a firm crimp on bullets. That will reduce or eliminate unburned powder in barrels.
As an aside, let me give a brief history of this wonderfully useful smokeless powder. The fellow who introduced me to it in 1981 (he soon formed Accurate Arms Company in Tennessee) said that he bought a silo of it as military surplus. He added that it had been the propellant the government used in developing the 5.56mm in the late 1950s to early 1960s. Then the switch was made to spherical powders, resulting in the controversy of which older firearms magazine readers are well aware. I was unsure of the man's statement until discovering in a book, The Gun by C.J. Chivers. In it was detailed original 5.56mm development information and the fact its early test propellant was named IMR-4475. Reverse those numbers and we get 5744. This powder has been labeled with slightly different prefixes as MP, XMR and XMP but always with 5744. Besides the original batch made in the U.S., 5744 has been produced in Israel, the Czech Republic and Canada. I have used all and have noted no differences in any lot. Today, it is a product of Western Powders of Miles City, Montana, and called simply Accurate 5744.
One variable I'm loath to experiment with in most of my cast bullet rifle shooting is bullet seating depth. My method is to always seat bullets so grease grooves are covered and with a crimp going in the proper groove or over the top driving band. Otherwise, grit of one sort or another will stick to exposed lubricant. That does nothing for barrel quality in the long run.
Here's one last point that may be argued by some cast bullet shooters. It is the old advice of, "Be sure to clean all copper fouling from a rifle barrel before shooting cast bullets. Otherwise your results will be poor." With the array of military rifles I own, I've tried to "clean all copper fouling" from some. Good luck with that. I have reduced it but have never been able to get white patches to ever come from any. No matter how tired my arm gets, patches still have that blue/green color. The rifles still shoot cast bullets just fine by my standards and provide good, inexpensive shooting for skill building.