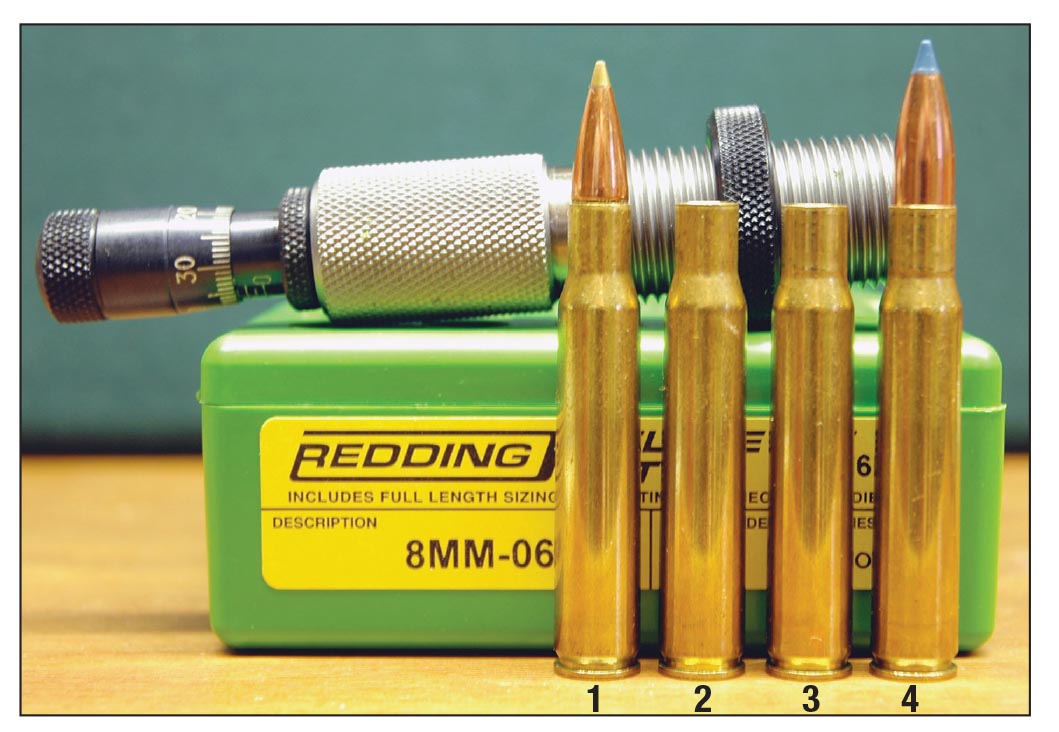 Just about every article, column and reloading manual cartridge introduction written about the 8mm-06 wildcat has basically the same beginning. It was created due to the great number of Americans owning military surplus 8x57mm Mauser rifles and the lack of ammunition to shoot in them. Reaming out the chambers of those rifles for the readily-available .30-06 case necked up for .323-inch bullets solved that problem. I have long been a bit puzzled by this explanation.
In his book Mauser Bolt Rifles (1976), Ludwig Olson wrote that Remington, Peters and Winchester introduced 8x57mm Mauser ammunition following World War II. With the coming of thousands of military surplus rifles imported to America beginning in the early 1950s, the availability of factory ammunition for them was good timing.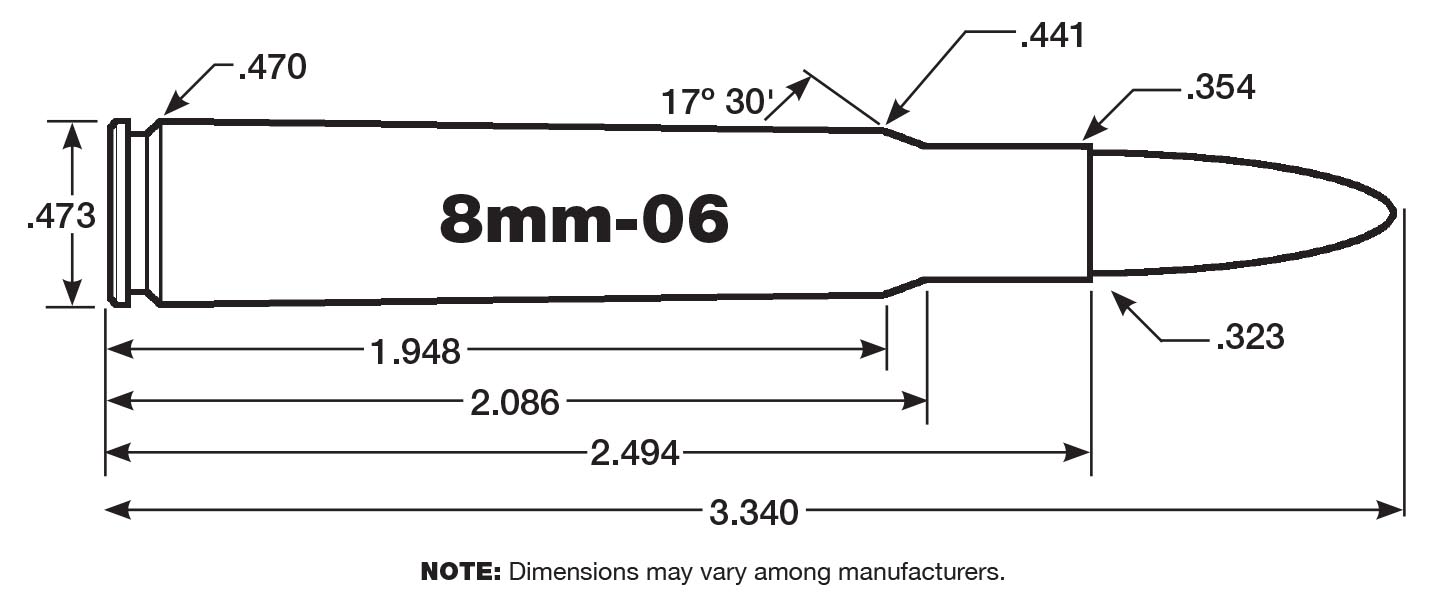 My reference library contains the second edition of Gun Digest published in 1946, and its listing for Winchester ammunition has two loads, one with a 170-grain bullet at 2,530 fps, the other with a 236-grain bullet at 2,100 fps. For a reason noted in the following paragraph, those loads were sometimes cataloged as "8mm Special." When the 8x57J cartridge was introduced in the Model 88 Commission rifle in 1888, it was given a bullet diameter of .318 inch. A later increase in bullet diameter to .323 inch prompted the 8x57JS cartridge designation. Ammunition with softnose bullets of both diameters continued to be loaded in Germany, and manufacturers there pointed out the difference to consumers with a warning on S-type ammunition packaging, stating it was not for use in rifles with Model 88 bore dimensions. To serve as an additional reminder, RWS blackened the primer cups of S-type ammunition.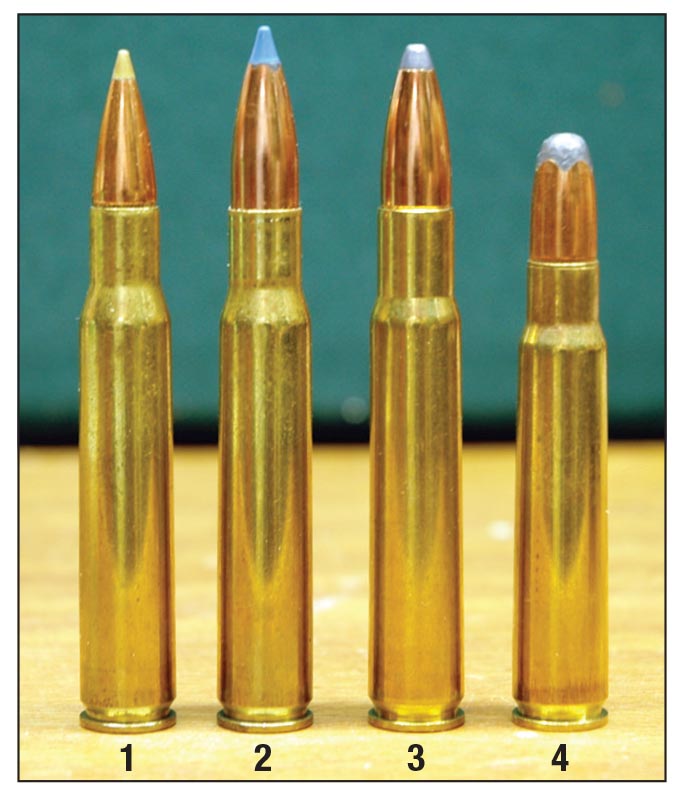 American ammunition manufactures took a different approach by loading 8x57mm ammunition with a "special" bullet of .323-inch diameter that was safe to use in rifles intended for use with .318-inch bullets. Maximum chamber pressure was 37,000 CUP for a velocity of 2,530 fps with a 170-grain bullet. Fairly low pressures, along with giving the bullet an extremely thin copper jacket and a soft core of virtually pure lead, allowed it to squeeze through a .318-inch barrel without damage to rifle or shooter.
Was the typical American hunter in the days prior to the availability of personal chronographs sophisticated enough to realize that domestic 8mm Mauser ammunition was reigned back in velocity? Were they dissatisfied with the performance of those thin-jacketed factory bullets on game? Could that explain why thousands of hunters had their rifles rechambered to 8mm-06? The answers to those questions are lost in time.
There is another puzzling detail. If the owner of a rifle in 8mm-06 did not purchase ammunition from a custom reloader, he would have had to buy reloading dies. So why go to the expense of having a rifle rechambered to 8mm-06 when nothing more than a standard 8x57mm die set is all that is needed for transforming .30-06 brass? Run a .30-06 case through an 8x57mm full-length resizing die with its expander/decap assembly removed, trim case length to 2.234 inches, full-length resize with the expander/decap assembly installed and you have an 8x57mm Mauser case.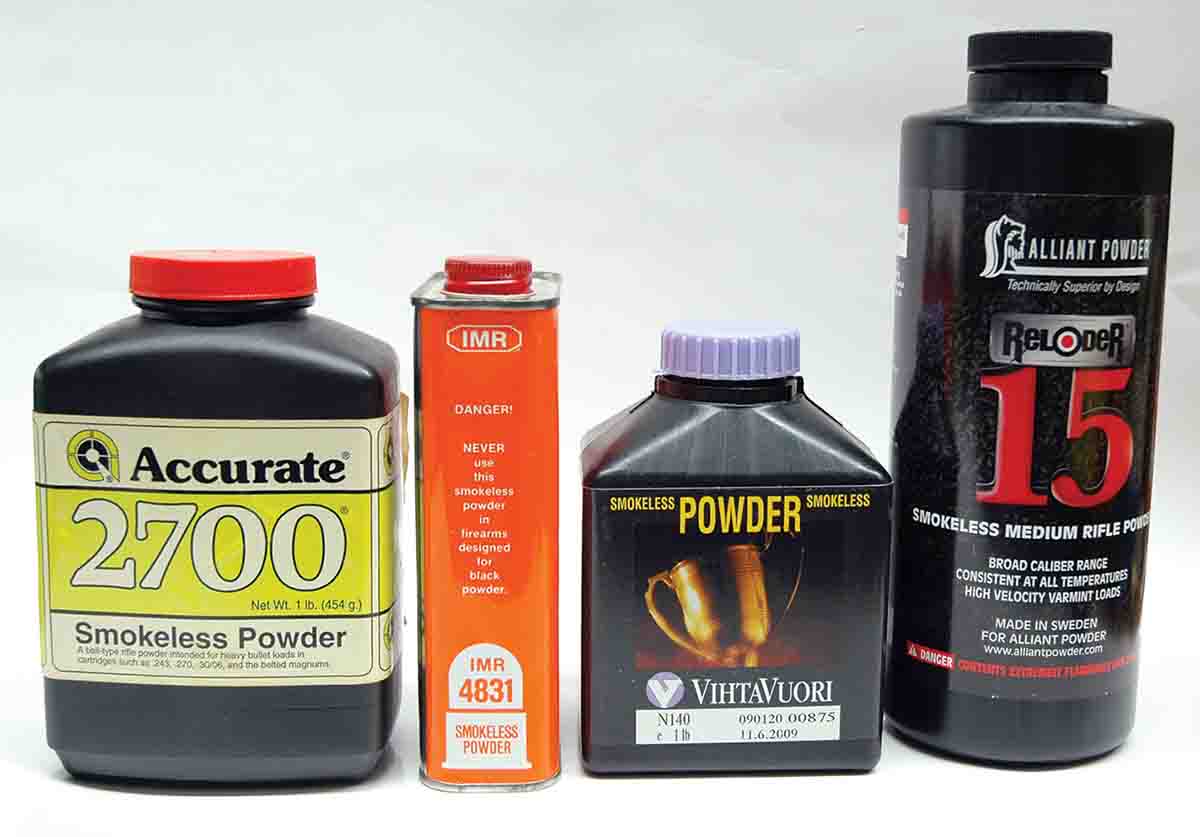 Be all of that as it may, the 8mm-06 is a fine, old cartridge that became popular enough for reloading manuals published by various components manufacturers to include it for several decades. The current
Western Powders Handloading Guide, Edition 1
, published in 2017 has plenty of data, and until recently it was included in manuals published by Nosler, Sierra, Speer and Hodgdon. A comparison of velocities in those manuals reveals the 8mm-06 to be about 100 fps faster than the 8x57mm Mauser. Maximum velocities with various bullet weights are about the same as for the .30-06.
My interest in the 8mm-06 began upon discovering a rechambered Remington Model 700 Classic. Remington offered the 8x57mm Mauser in that rifle in 2004, and the gun shop owner who had the rifle did not know why it had been rechambered, nor who had done the work. The price was right, and his promise to take the rifle back and refund my money if I was not satisfied sealed the deal.
Rechambering to 8mm-06 did have benefits, and one was about a 250-fps increase in velocity with a 170-grain bullet when compared to factory ammunition. Due to today's Sporting Arms and Ammunition Manufacturers' Institute, Inc. (SAAMI) maximum pressure of 35,000 PSI, some domestically-loaded ammunition is as slow now as it was back then. It might be even slower. From the pristine 29-inch barrel of my Model 98 Persian Mauser, Remington, Federal and Winchester 170-grain loads average a pokey 2,300 fps. Other companies do push on the throttle a bit harder. Nosler ammunition loaded with the 180-grain E-Tip averages 2,540 fps in that rifle. Moving outside the U.S., Sellier & Bellot ammunition with a 196-grain softnose bullet reaches 2,615 fps.
It is not unusual for military surplus Model 98 Mausers to have an extremely long chamber throat. Bullets shorter than those weighing 200 grains often travel quite a way through empty space prior to rifling engagement, and for that reason accuracy can be nothing to brag about. This is likely why my Persian Mauser delivers its smallest groups with bullets weighing 200 and 220 grains seated out as long as the magazine will allow. Rechambering a rifle to 8mm-06 with a shorter chamber throat was bound to improve accuracy with most bullets.
As the name indicates, the 8mm-06 case is easily formed by necking up .30-06 brass, but only virgin cases should be used. Both share the same 17-degree, 30-minute shoulder angle. Prior to necking up the case, its mouth should be chamfered, and I prefer to apply a thin coat of Redding resizing wax inside the neck of the case. The expander button in the full-length resizing die from some companies will be tapered, while others will not. Either way, the wax helps.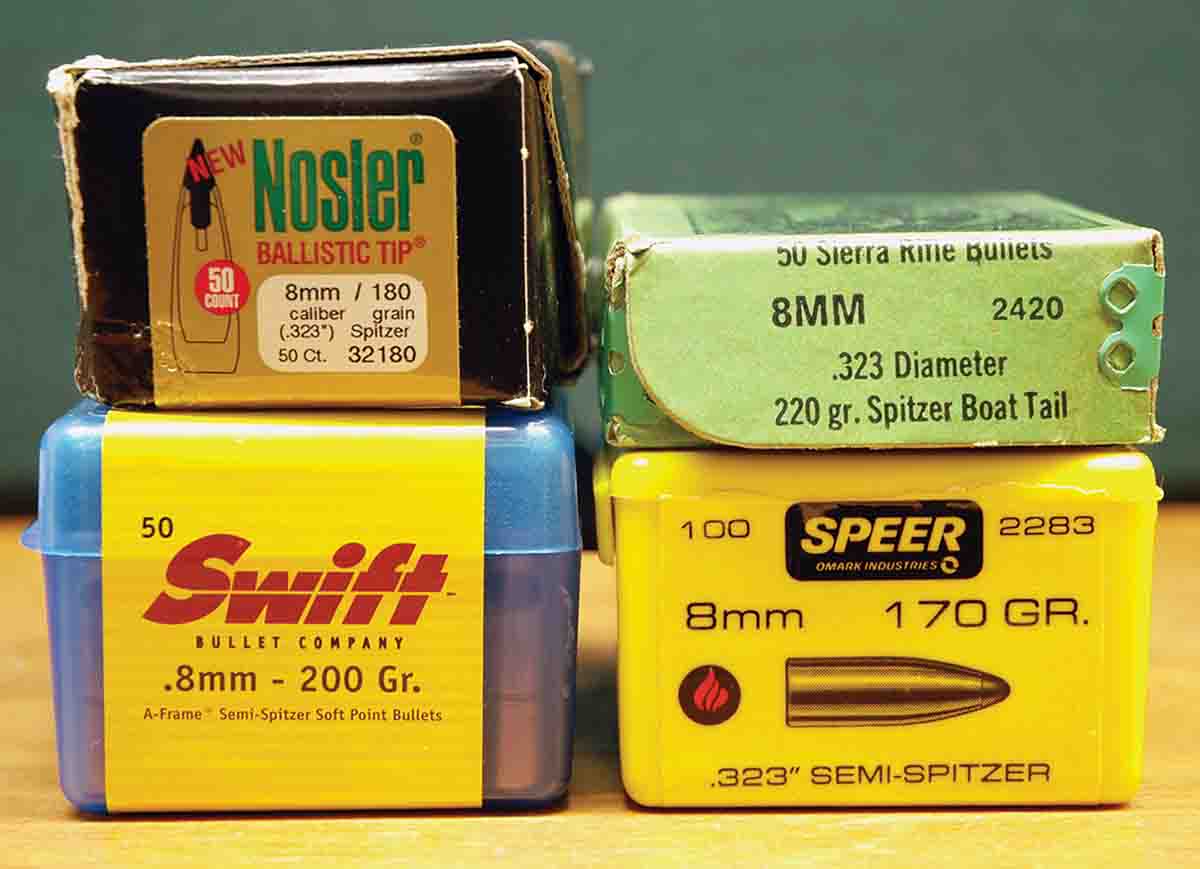 An occasional rifle will have excessive headspace, not necessarily due to locking lug setback, but because the gunsmith who did the rechamber work ran the 8mm-06 reamer a bit too deeply into the barrel. The problem can be overcome by necking up the .30-06 case to .35 caliber and then running it through the 8mm-06 full-length resizing die with it backed away from the shell holder far enough to form a small secondary shoulder on the neck of the case. Continue adjusting the die until the bolt will close with resistance felt from that shoulder. Loading and firing the case will move the original shoulder forward for a close fit with the chamber shoulder. In the absence of a .30- to .35-caliber neck expander die, the same procedure can be used by necking down the .35 Whelen case. Regardless of the method used, when full-length resizing the fired cases, the die should be adjusted to bump the shoulder back just enough for light resistance when a round is chambered.
When designing the .280 cartridge, Remington "idiot-proofed" it by moving its shoulder forward enough to prevent it from being forced into a .270 Winchester chamber. SAAMI maximum chamber neck diameter of the .270 Winchester is .309 inch, and since the neck diameter of .280 Remington factory ammunition usually ranges from .310 to .311 inch, it is easy to see why the shoulder of the .280 was moved forward a bit.
Depending on case wall thickness, neck diameter of the 8mm-06 cartridge can vary slightly, with those I formed from Nosler .30-06 brass measuring a consistent .346 inch. SAMMI maximum chamber neck diameter for the .30-06 is .342 inch for a difference of only .004 inch. While it is unlikely that the .323-inch bullet of the 8mm-06 could be manually shoved into a .30-caliber bore, enough push on the bolt of the rifle could, conceivably, force the bullet far enough into the case to allow a round to be chambered and fired. Those who have rifles in both .30-06 and 8mm-06 might consider using a red marker to paint the primer cups or the entire heads of 8mm-06 cartridges.
Great powders for 8mm-06 handloads include those of medium- speed burn rates such as H-4350, IMR-4350, Accurate 2700, W-760 and Reloder 19. Vihtavuori N540 also belongs here, but there was none on my shelf. As with any cartridge, choosing a bullet boils down to what the rifle will be used for. When going after deer-size game in open country, the Sierra 150-grain SPT at 3,100 fps shoots flat, although a heavier bullet might be better for a huge Alberta whitetail standing on the far side of a vast wheat field. A bullet weighing 180 grains might be the best all-around choice, with the Nosler Ballistic Tip for deer and such and the Barnes TSX BT or the Nosler E-Tip for elk.
The favorite rifle of a friend of mine is a Mauser sporter his father had rechambered to 8mm-06. Addicted to moose hunting, he has taken good bulls in Alaska, Canada, Sweden and about everywhere else they roam, including Wyoming, where it took him 11 tries before finally drawing a permit. His rifle has also accounted for grizzly and other game. The only load he has ever used pushes the Swift 200-grain A-Frame along at about 2,500 fps. He just might have something there.