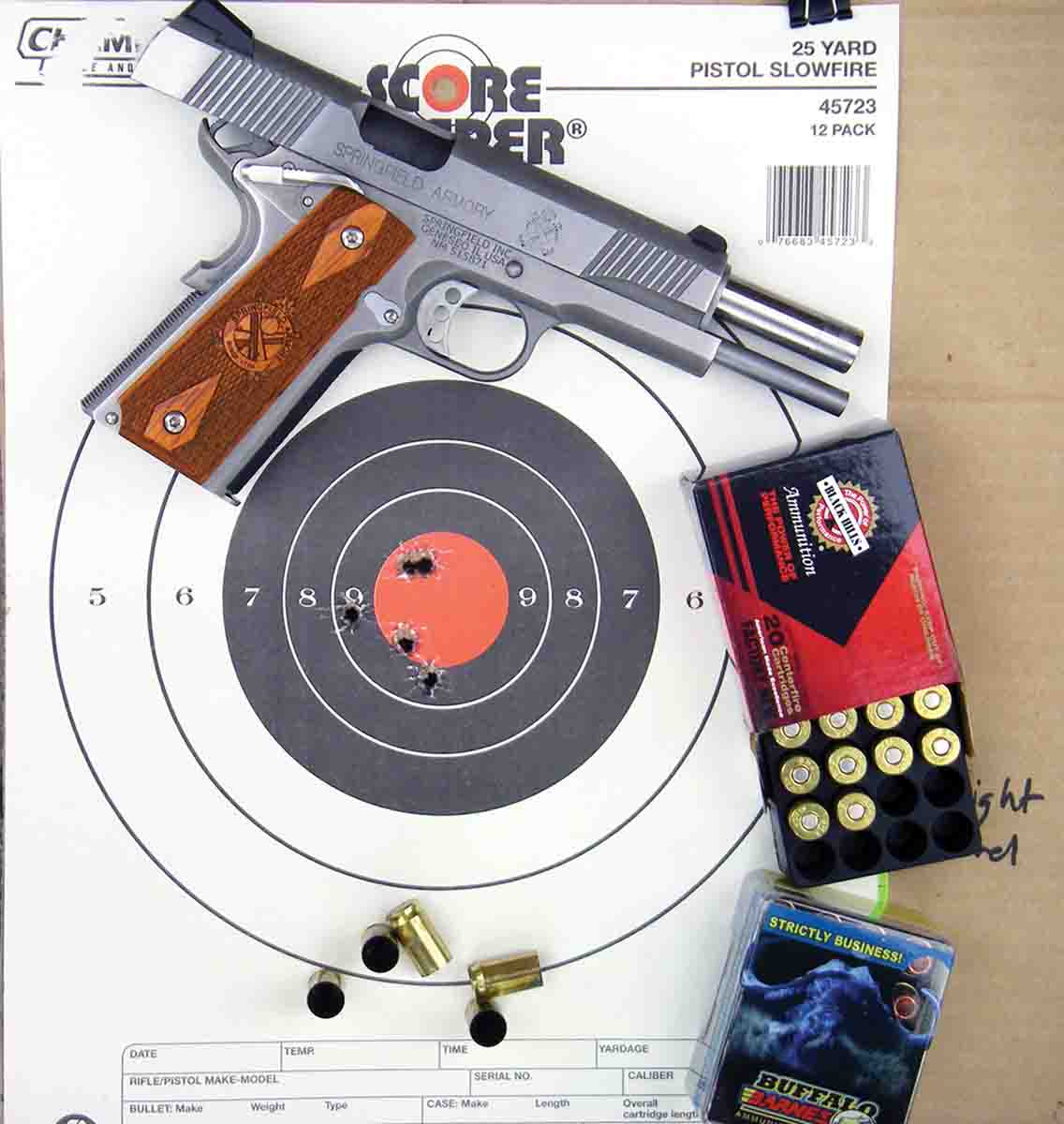 Most mechanical products designed and patented around 1910 have long since become obsolete, museum pieces or discarded in favor of more modern designs. However, John Browning's amazing Model 1911 pistol seems to be timeless.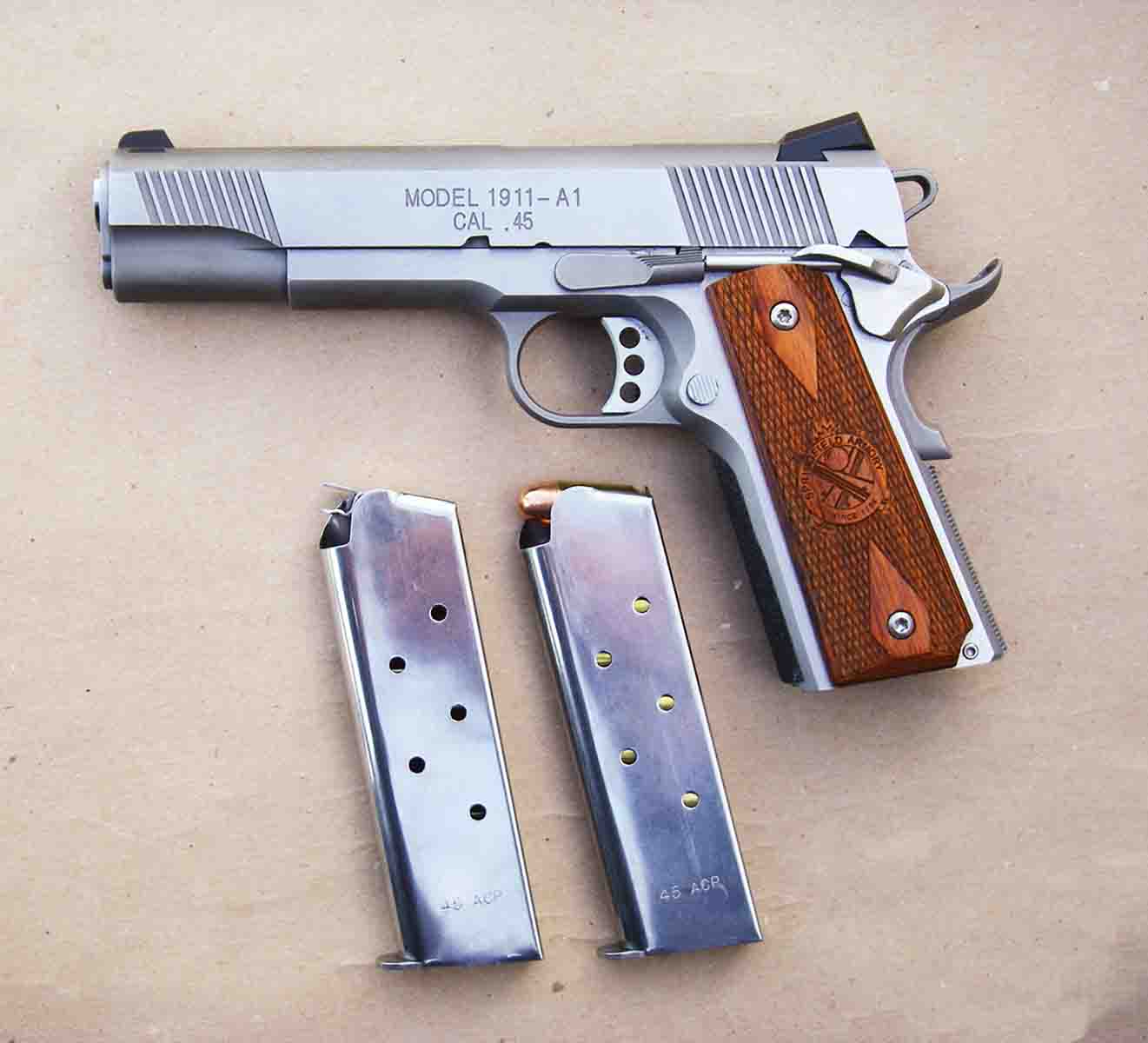 While the U.S. military almost immediately adopted it, and it racked up an excellent service record in many wars and conflicts that spanned more than 74 years, it was ultimately replaced by the high capacity Beretta M9 chambered in 9mm to allow the U.S. to conform to NATO standards in 1985. However, the Model 1911's military history was far from over, as it is still being used by elite combat units such as the U.S. Marines Expeditionary Unit (Special Operations Capable). They clearly understand the value of the design and reliable performance of the .45 ACP cartridge in combat.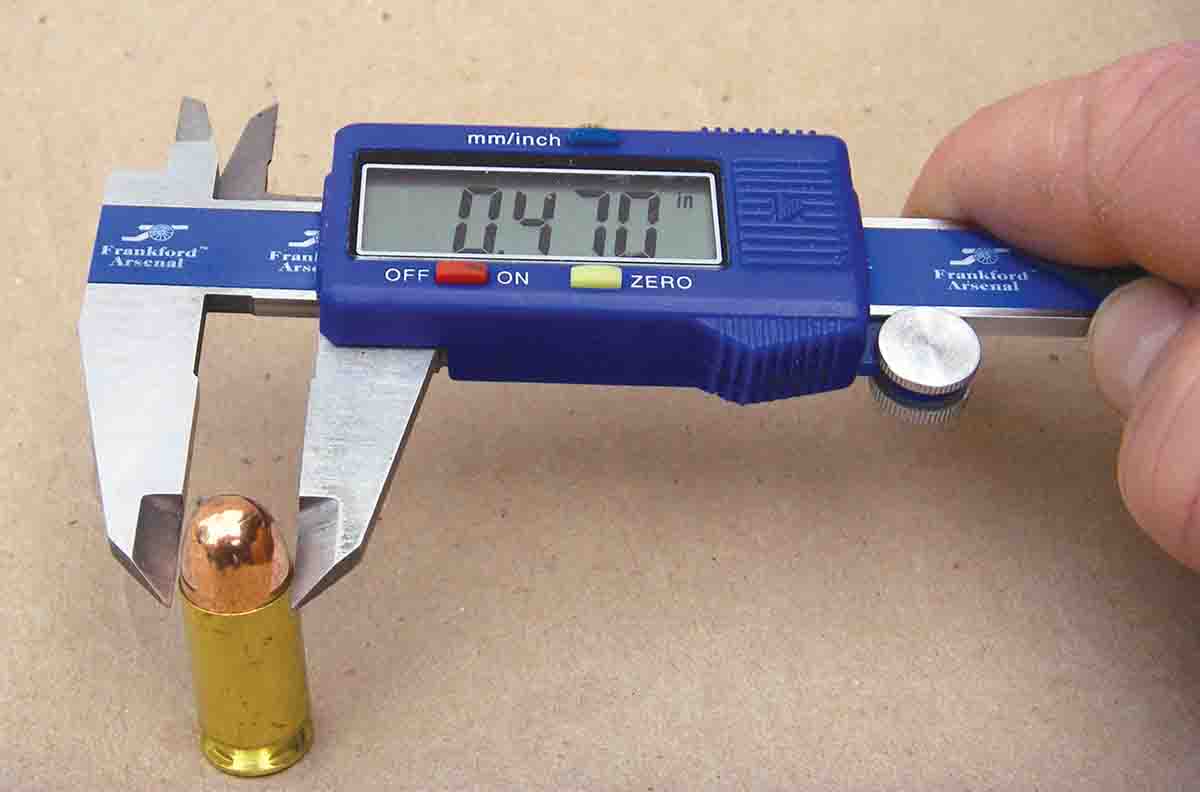 In recent years Colt, Kimber and Springfield Armory have each been awarded various contracts to supply U.S. Special Ops combat units with specified features on Model 1911 pistols. These units could have any pistol they desire, but they still choose the Model 1911. While today's Model 1911 is improved and more reliable than those produced more than a century ago, the basic design remains unchanged. One example includes Springfield Armory's Model 1911-A1 Loaded Stainless.
The original Springfield Armory was a firearms factory owned by the U.S. government and produced guns from 1777 (some sources list 1795) through 1968, with a few notables that include the Model 1873 Trapdoor (and variants), Krag-Jorgensen, U.S. Model 1903 Springfield and Model 1911 pistols. After its closure, in the early 1970s a private party purchased the "Springfield Armory" trademark. The Reese family eventually purchased the company and moved operations to Geneseo, Illinois. While this may sound confusing, Springfield Armory guns are manufactured by Springfield INC., that began doing business in 1974 and advertises appropriately as "The Oldest Name in American Firearms."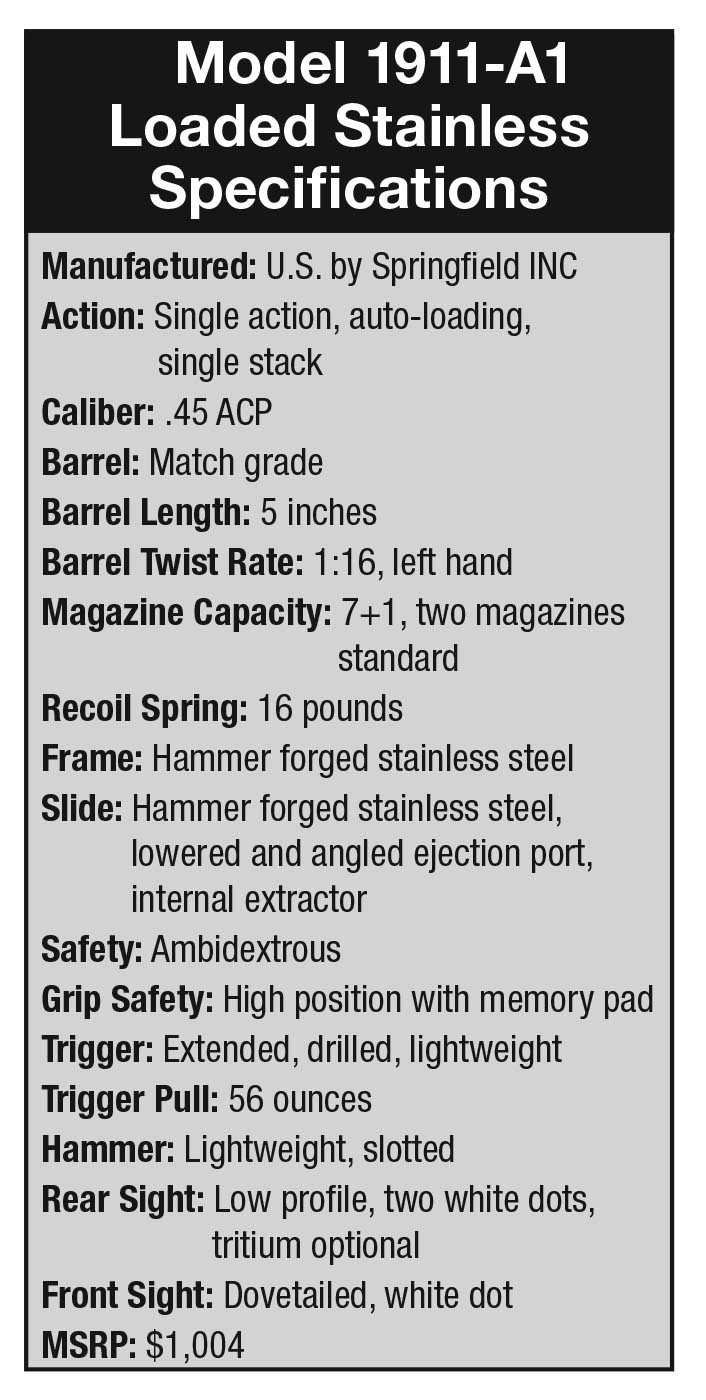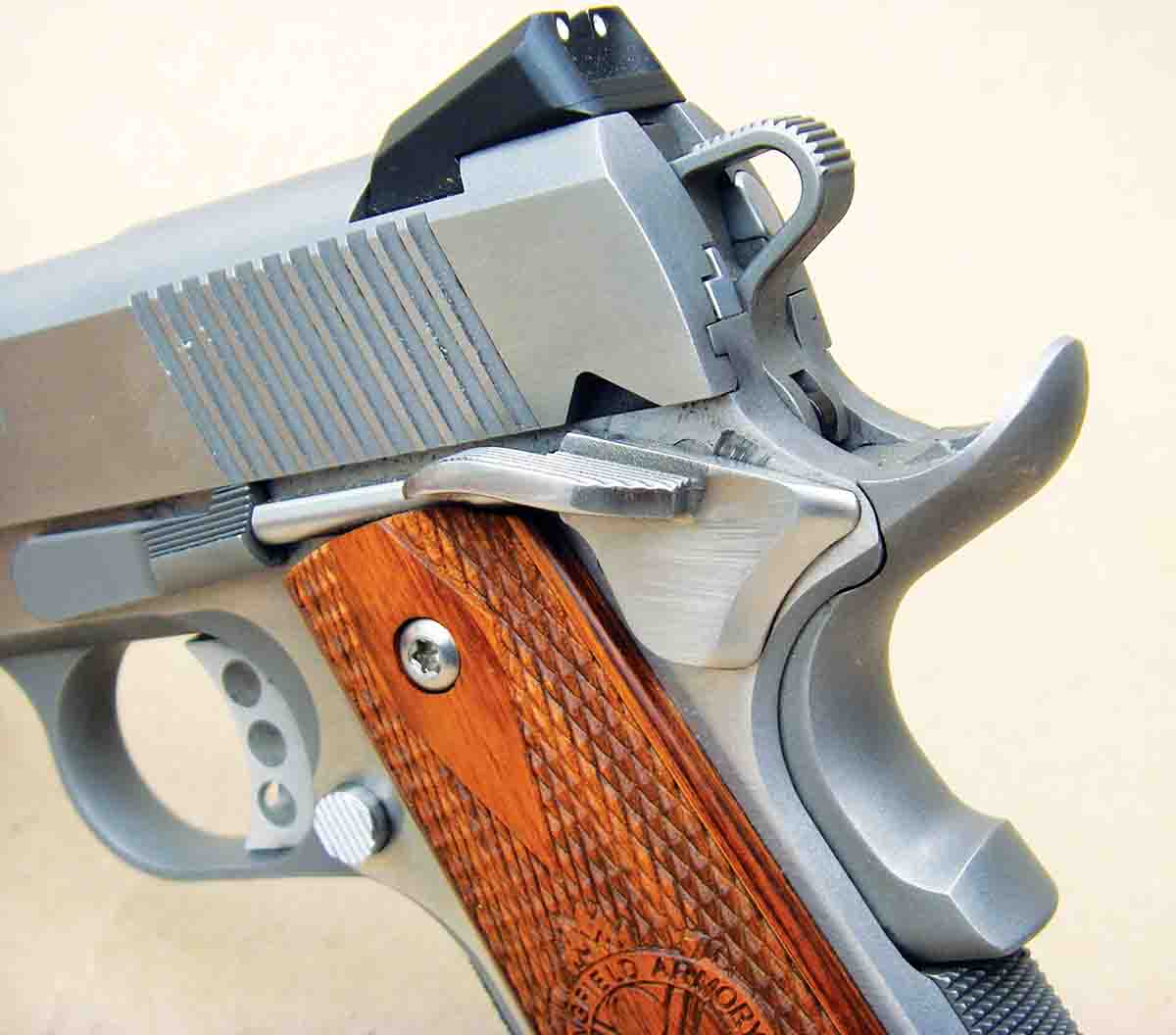 The first Springfield Armory Model 1911s were produced in Brazil and imported to the U.S. around 1985. In the decades since, Springfield has aggressively sought to improve the quality and design. It has become good enough that the company obtained Marine Corps contracts and secured a contract with the FBI for its TRP pistol, which is known as the Professional as produced for the commercial gun trade and is an outstanding variant. Beginning in 2016, Springfield began producing the Model 1911 the in U.S., and it is further improved when compared to previous production models.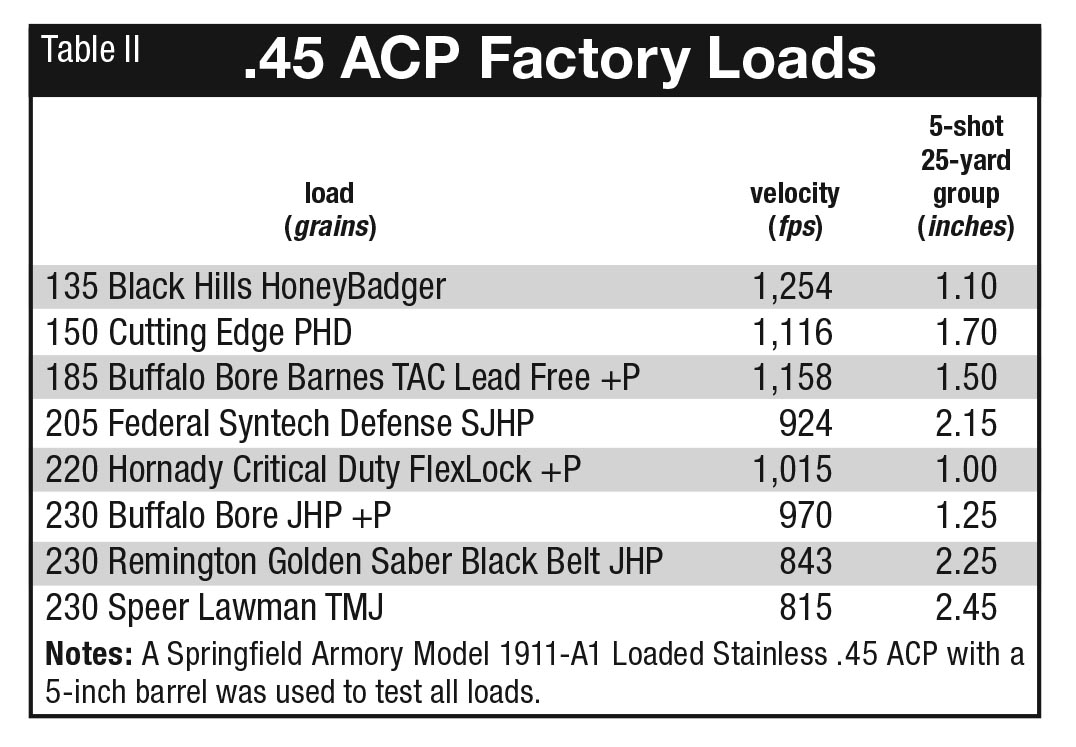 The Model 1911-A1 Loaded Stainless pistol features the traditional "Government" 5-inch barrel, but is "loaded" with features that were absent on vintage guns as well as early Springfield production. It features front and rear cocking serrations, Novak low profile three-dot sights, an extended ambidextrous safety, beavertail-style safety with memory pad, high position grip, a slotted hammer, flat mainspring housing and an extended drilled match trigger. Other features include a full-length guide rod, modestly beveled magazine well, lowered and angled ejection port, a hammer forged premium air-gauged barrel and many other desirable details.
The frame and slide are forged, which condenses and hardens the steel and rearranges molecules for superior strength and has proven highly durable for high-stress firearms parts. Incidentally, from the very beginning, service Model 1911s have featured forged frames, and many have in excess of 500,000 rounds through them and are still within military specifications, although they have had many of their worn parts replaced as needed. To quote Chief Warrant Officer Ken Davis in regard to Model 1911s with more than 500,000 rounds fired through them, [it is] "the only pistol that can stand up to this use." While Springfield has been producing good pistols for decades, in my humble opinion its latest versions are the best yet.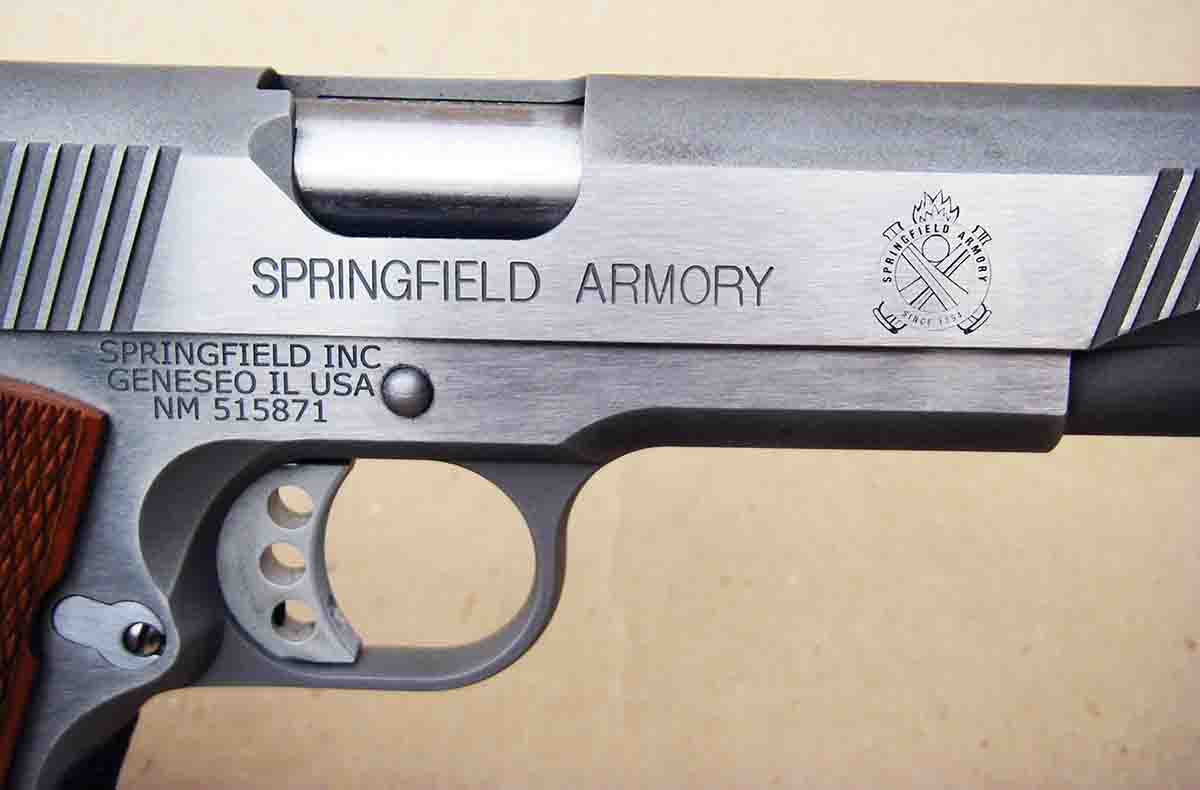 My first impressions of the Springfield 1911-A1 Loaded Stainless pistol is very high. For example, the machining and metal work is very good, the slide, frame and barrel fit (including bushing, linkage, etc.) is tight, much the same as if it were a custom built pistol. The trigger pull breaks at 56 ounces without creep. The safeties work positively. The bore of the air-gauged match barrel has a mirror-like shiny finish and is perfectly straight. Using 230-grain ball loads, the pistol hit dead center at 25 yards right out of the box. After firing just a few magazines, I felt as though I was spending time with a trustworthy old friend.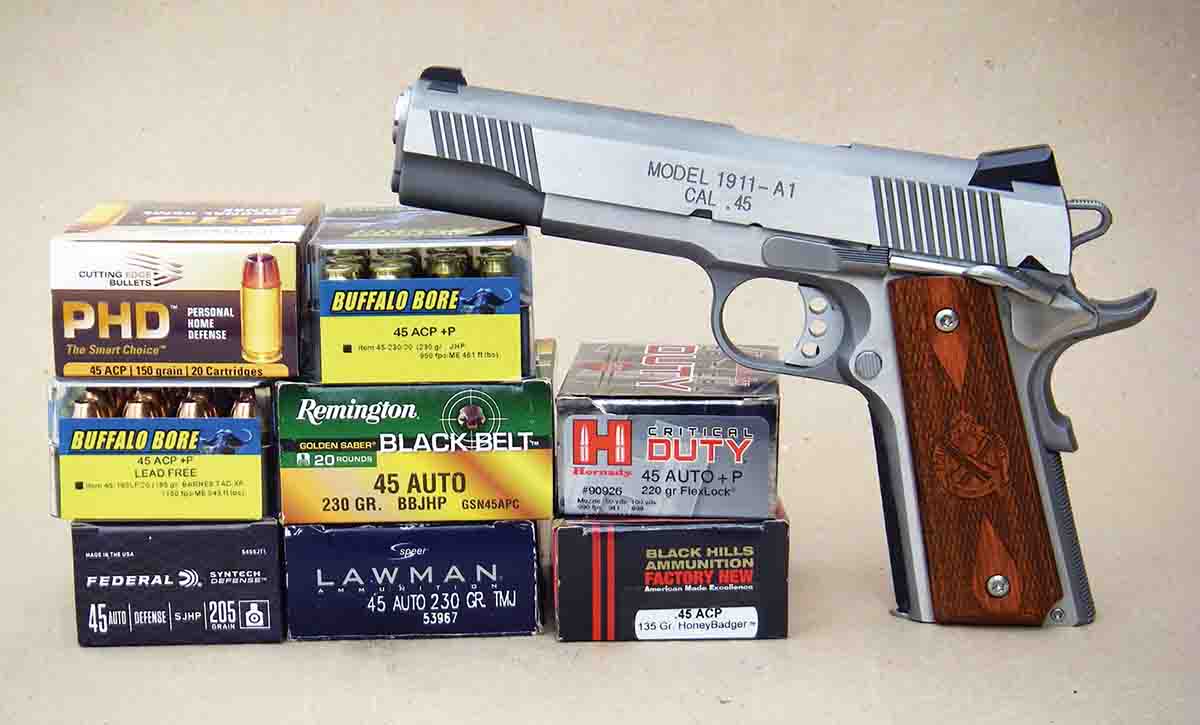 Deadlines being what they are, no time was spent breaking in the new pistol. Rather, 100 rounds of Speer Lawman 230-grain TMJ – a classic ball load – were fired through it and testing commenced. Eight factory loads were checked for accuracy, velocity and function, including bullet weights that ranged from 135 to 230 grains and had a velocity range of 1,254 fps to 815 fps, respectively. The Springfield 1911-A1 functioned flawlessly throughout all shooting sessions without any failures in any form.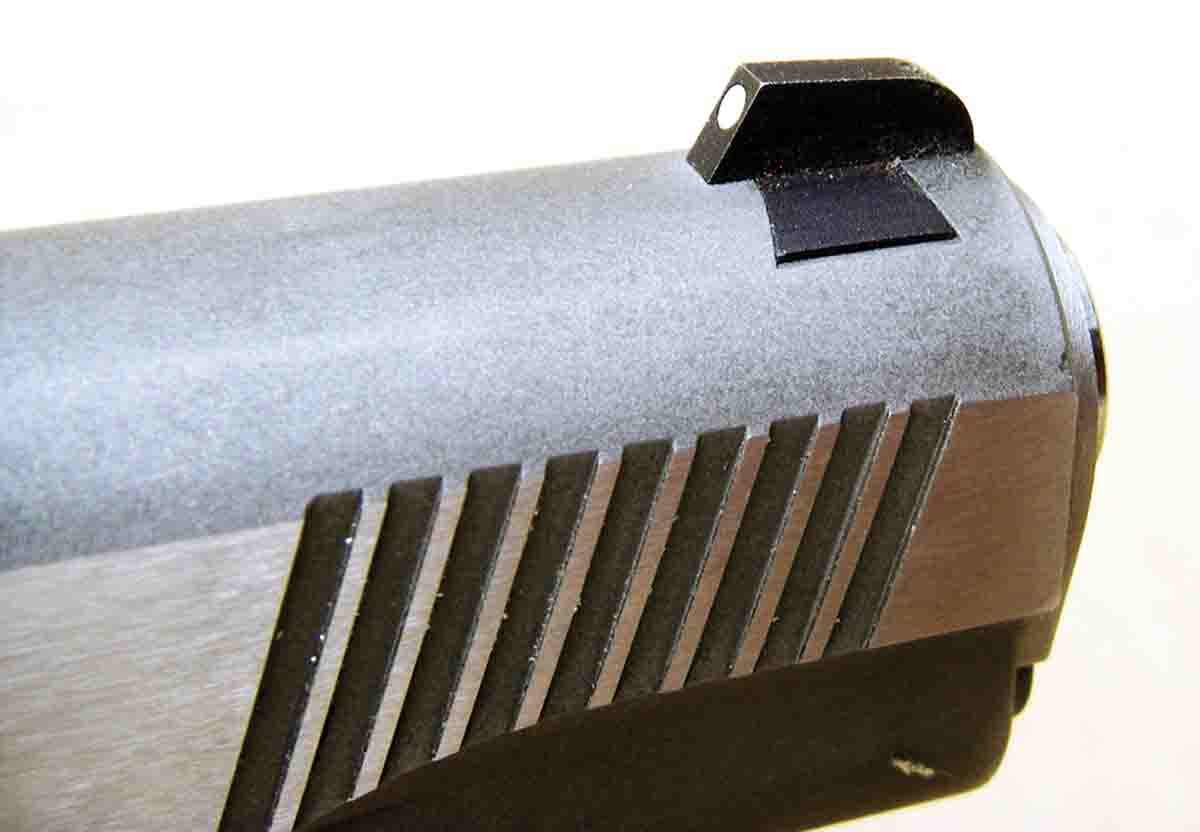 The two most accurate factory loads included the Black Hills 135-grain Black Hills HoneyBadger, which produced a five-shot, 25-yard group that measured 1.11 inches (rounded to 1.10), while Hornady's 220-grain Critical Duty FlexLock +P load produced a slightly smaller group that measured 1.02 inches (rounded to 1.00).
New Starline cases were used to develop handloads, which were capped using Federal 150 primers, and all loads were taper crimped to .470 inch at the mouths, which can be measured using blade calipers.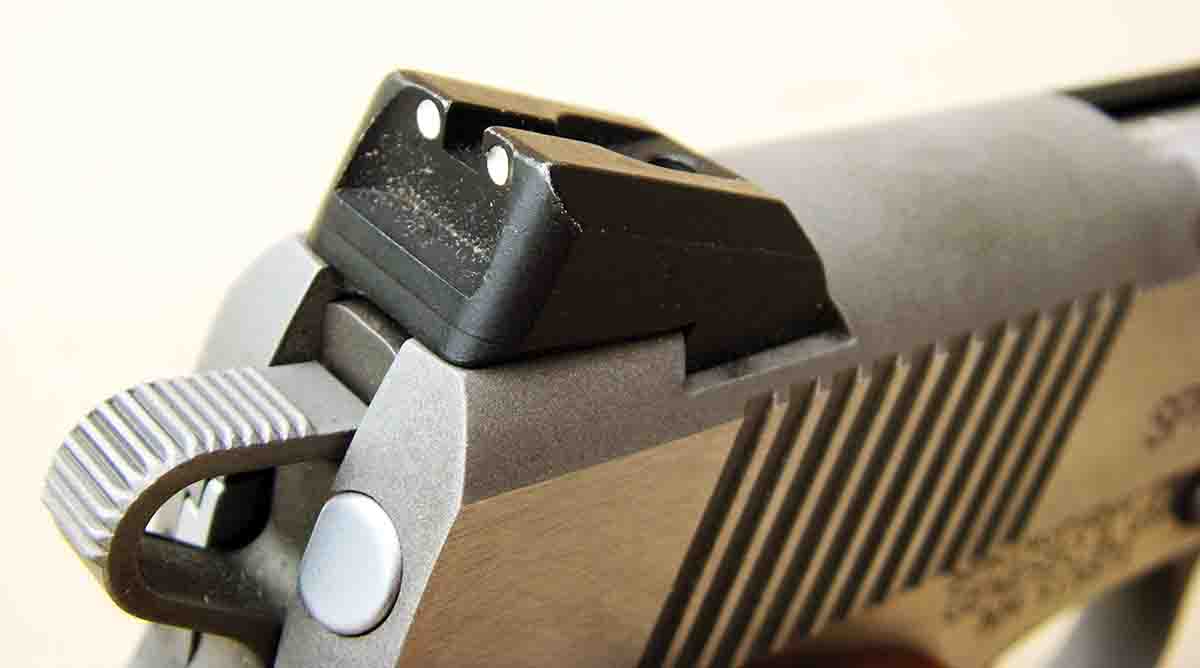 Notable performers included the Speer 200-grain Speer Gold Dot HP pushed to just over 1,100 fps using 8.5 grains of Power Pistol powder (a +P load) and grouped into around 1.60 inches. Switching to Nosler's 230-grain Sporting FMJ-FP bullet pushed with 6.0 grains of Accurate No. 2 powder produced 913 fps, and the best five-shot group measured around 1.40 inches. The most accurate handload came from the Hornady 230-grain XTP bullet pushed with 8.2 grains of Alliant Power Pistol powder for 1,018 fps (a +P load) and produced a five-shot group that measured 1.33 inches (rounded to 1.35).
The sample gun was purchased from a local dealer and was not a hand-picked sample from the factory. While my first impressions of the Springfield 1911-A1 Loaded Stainless pistol were very high, after shooting it with a variety of ammunition, along with careful examination, it is a fact that it is an outstanding pistol.
Galco Avenger Belt Holster
A great Model 1911 pistol deserves a great holster, such as the Galco Avenger Belt Holster. Galco Gunleather has been producing holsters since 1969 and has earned a sterling reputation for producing quality gun leather.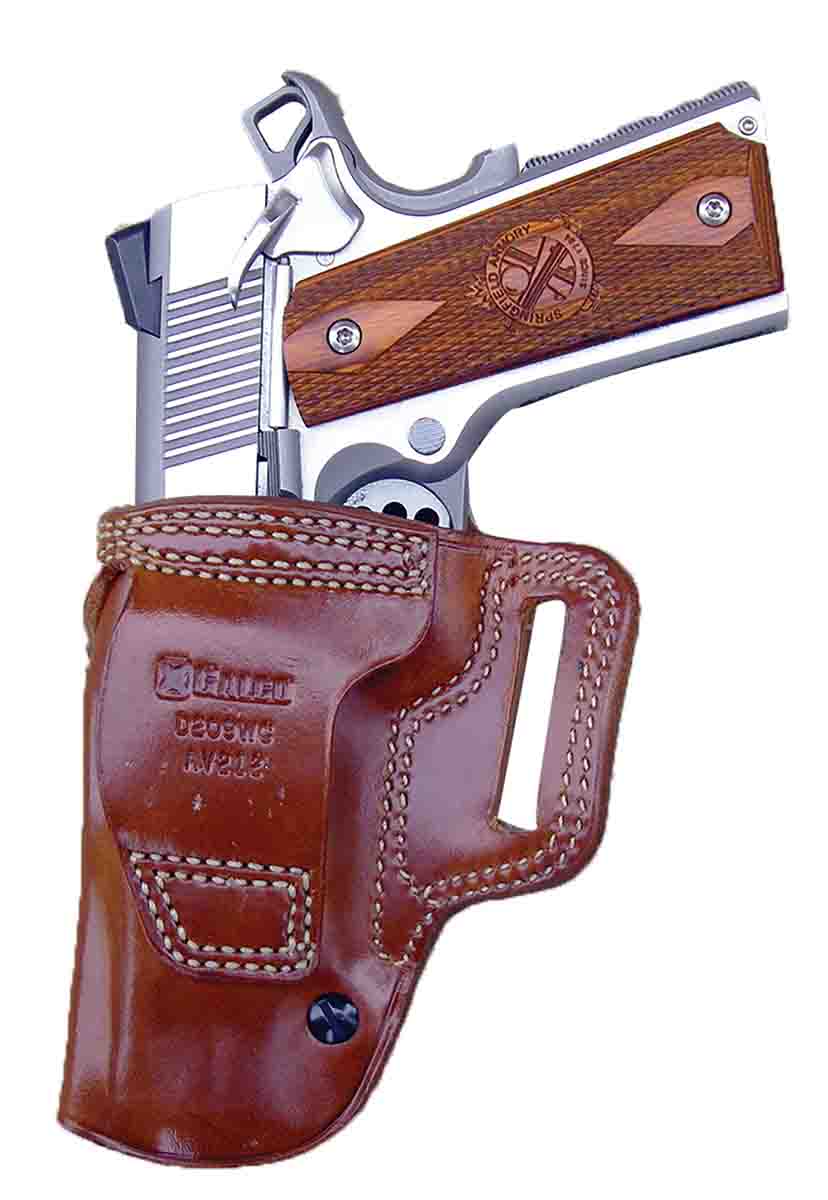 The Galco Avenger is patterned after the Askins Avenger holster designed by the late Charlie Askins, but it features further improvements. It carries the gun high, close to the body with a neutral cant. This allows the gun to be drawn from any practical
position, and with practice a skilled pistolero can draw with amazing speed. But it is also practical for day-to-day carry and getting in and out of vehicles, etc. For safety purposes, the trigger and trigger guard are enclosed, as this rig was intended for "business" with the gun to be carried in the cocked-and-locked position; however, many people use it with the gun in the hammer down position.
The Avenger features a reinforced mouth (doubled leather) that wraps around the top to increase rigidity and memory and to prevent the dreaded collapse associated with so many other designs. The backside features a belt loop for belts up to 1¾ inches wide, plus a belt slot (common with pancake-style holsters) that is located to the rear, all of which serves to minimize unwanted canting. An adjustable tension unit is located approximately 1¼ inches from the bottom of the holster and allows a custom tension fit to help secure the pistol while permitting a fast draw. The holster is moulded for each gun model to further achieve a perfect fit. Incidentally, a sight rail is moulded in to help prevent snagging, etc. For those that use a reflex sight, they work perfectly with the Avenger.
The Avenger is constructed of premium grade steerhide and displays virtually flawless workmanship. For more information, visit galcogunleather.com.