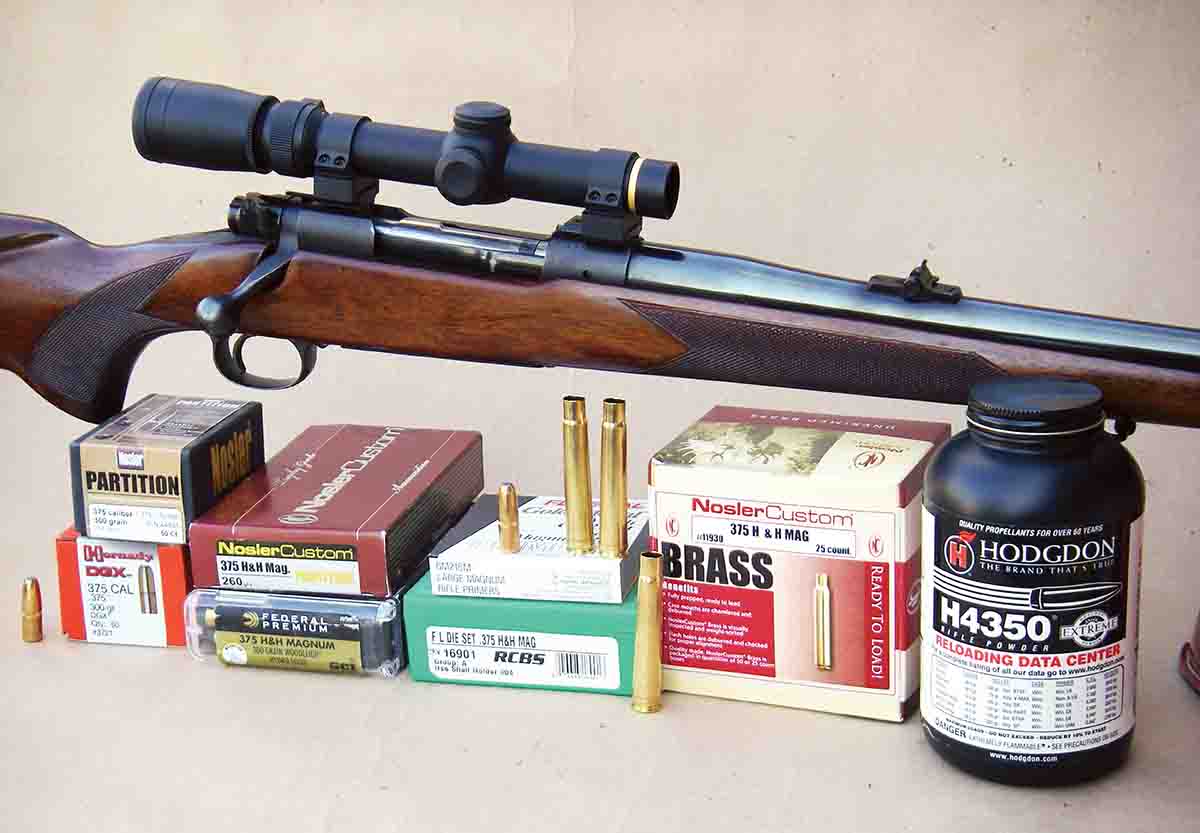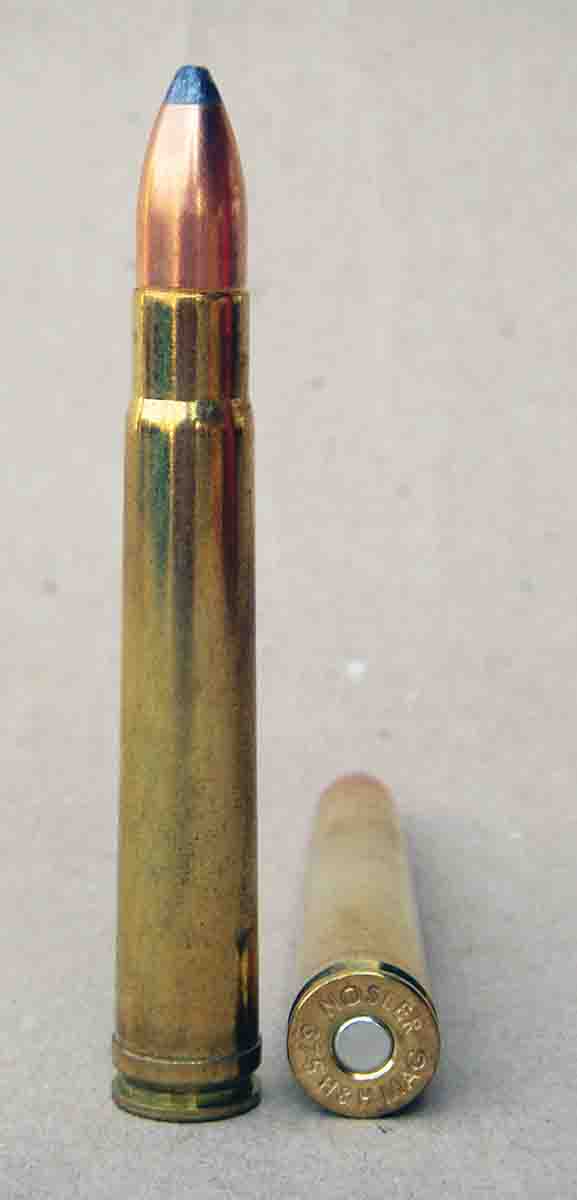 The Alaskan fall weather was wet and cold which, along with freezing rain, made it difficult to walk on rocks, so my guide and I chose to wade in the middle of the river. After days of tough hunting, we finally caught a glimpse of a suitable brown bear in the willows and alders half a mile upstream and began our stalk.
As we approached the small island, I felt a bit hobbled standing in three feet of water, so I quietly moved toward shore where I could be a bit more nimble. Suddenly, the great bear ran from the brush toward the riverbank, but somehow sensed us and stopped and turned its head in an attempt to identify us. I instantly shouldered the Winchester Model 70 .375 Holland & Holland Magnum, took quick aim and fired. The great bear roared with a near deafening screaming-bawl, then turned towards me, so I quickly placed two more shots through its vitals, although they proved unnecessary. The bear retreated 25 yards into the alders and expired in seconds.
In examining the area, a chunk of shoulder bone several inches long was lying on the ground some 20 feet beyond where the bear stood when I fired the first shot, along with a large quantity of berries scattered everywhere. The 270-grain Barnes Triple Shock X-Bullets used in my carefully assembled handloads had performed admirably. The grand old .375 H&H had once again proven itself on tough game.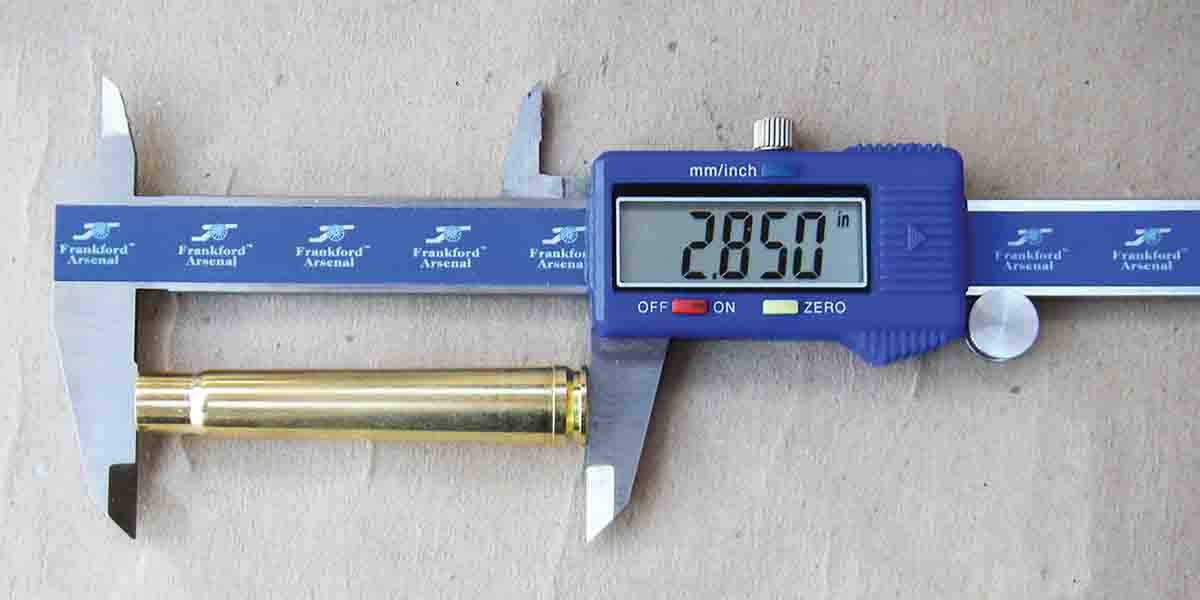 The .375 H&H Magnum was introduced in 1912 by the famous British firm Holland & Holland to serve as a versatile "medium bore" cartridge for hunting large game, although most U.S. shooters consider it a big bore. In spite of some design features that are no longer considered necessary (which will be discussed in a moment), it offers a remarkable blend of power, comparatively moderate recoil, a respectably flat trajectory and many other virtues that have made it a true legend. It has proven itself on virtually every big-game animal the world over.
While most African countries consider it the legal minimum for hunting elephant, in the hands of a skilled hunter and with correct bullets, it will perform perfectly; however, it is not a true powerhouse or a "stopping" cartridge. Nonetheless, it is widely popular among professional hunters and Alaskan guides and outfitters who often face the potentially dangerous task of dealing with wounded grizzlies and brown bears. It has earned an outstanding reputation around the world.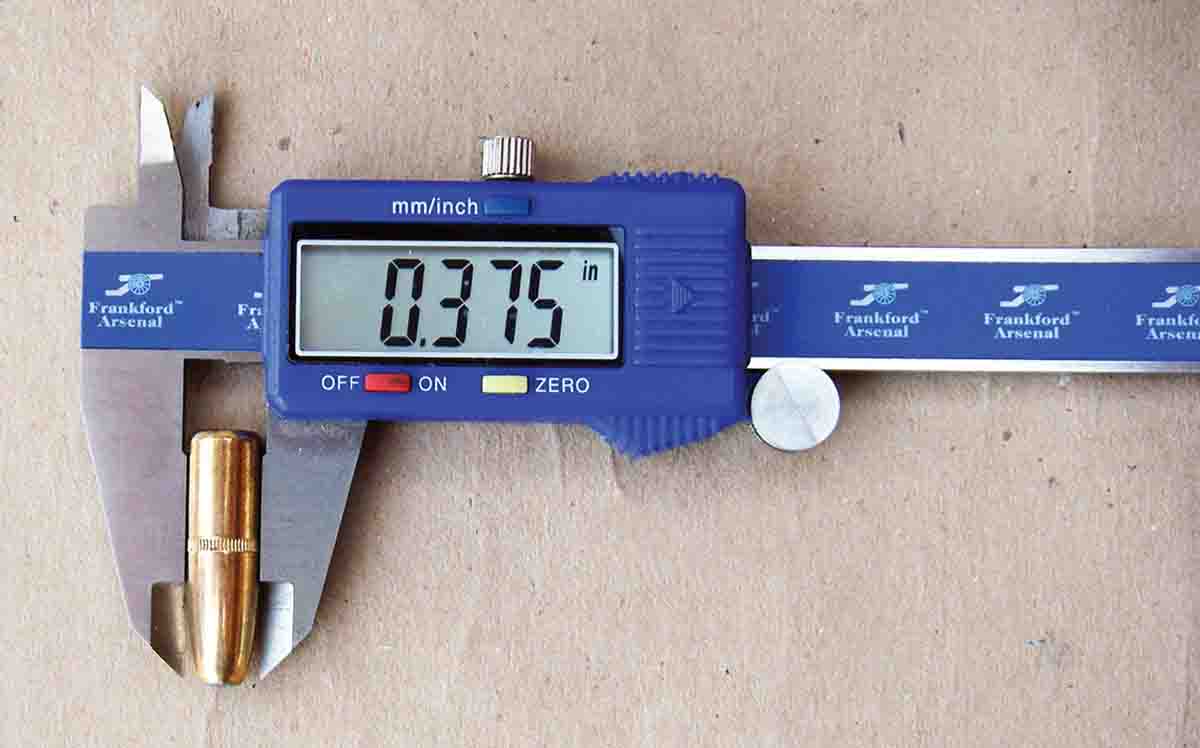 Shooters of small caliber rifles often think the .375 is a hard-kicking caliber; however, hunters of large game shoot and use it just as casually as deer hunters use a .270 Winchester. With that said, the .375 certainly pushes, but when chambered in standard weight rifles, recoil is not fast and it is unlikely to sore up the shooter to any important degree. In the preparation of this article, I fired more than 100 rounds daily for more days than I care to admit. There was no shoulder soreness, rather just some skin discoloration from the friction associated with the rubber recoil pad combined with wearing a thin summer shirt. While I may be recoil hardened, with practice, experience and a proper mindset, most shooters can easily master this cartridge and in the process find that it is fun to shoot.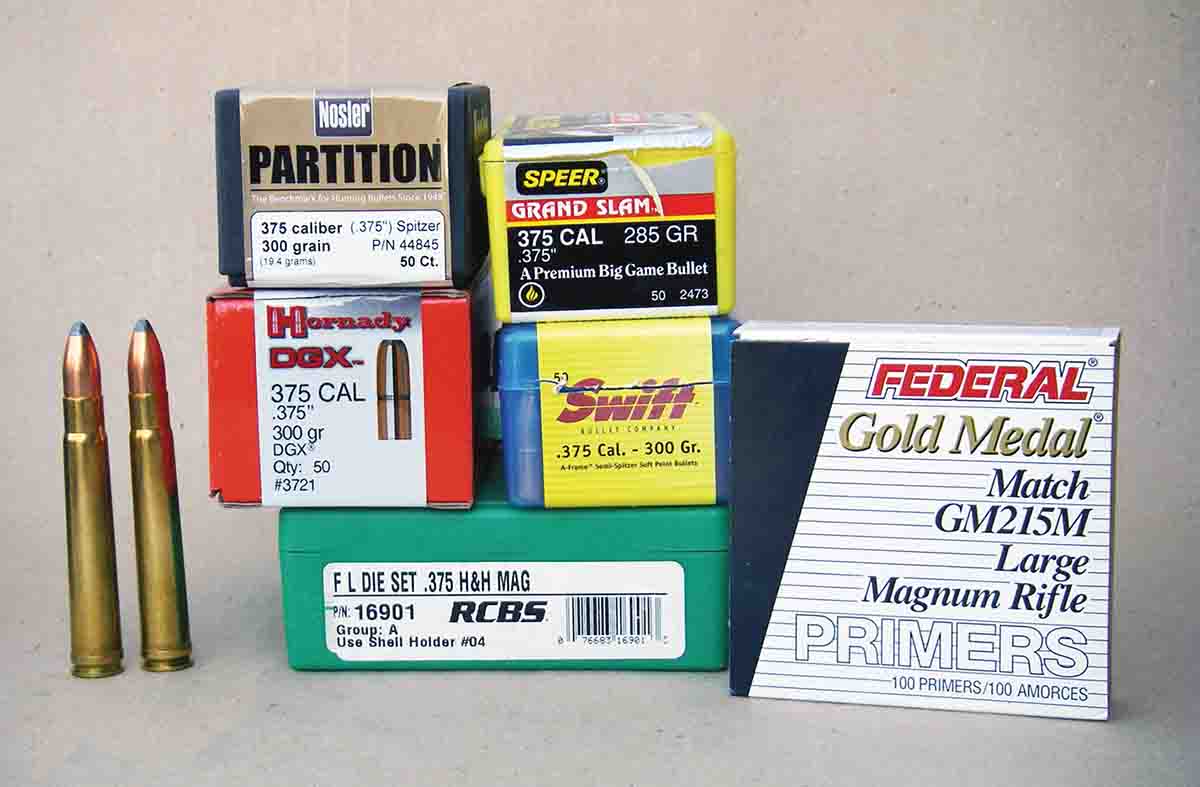 The .375 was originally loaded with cordite, which are long spaghetti-like strands, and measures 3.600 inches in overall cartridge length. The case is tapered and features a gentle 15-degree shoulder, which was too much slope to provide positive headspace. Therefore, a belt was added for the sole purpose to control headspace (a design borrowed from the .400/375 H&H). The tapered case resulted in additional benefits that include buttery-smooth feeding and easy extraction, which are especially desirable for a dangerous-game cartridge. Incidentally, the old .375 is the parent case of many modern magnums and explains why they feature a belt, but I digress.
Original cordite loads listed 62.0 grains behind the 235-grain bullet for 2,800 fps, while 61.0 grains pushed the 270-grain bullet to 2,650 fps and 58.0 grains launched the 300-grain bullet 2,500 fps (with those velocities being increased when the change was made to extruded powders).
The .375 offered a rather unique feature in that each of the above bullet weights shot to more or less the same point of impact and could be used interchangeably without resighting the rifle. Hunters found favor with 300-grain bullets for heavy game such as buffalo, elephants, etc. The 270-grain bullet shared a similar trajectory as the .30-06 loaded with 180-grain bullets while the 235-grain load was intended for hunting plains game in open country, where its comparatively high velocity resulted in a flat trajectory at any normal distance and served to compensate for small errors in range estimation. While modern long-range shooters are likely to scoff at such a general approach to ballistics and point of impact, the fact is, the .375 proved widely versatile for many hunting circumstances and a variety of game animals that are all usually hunted at the same time.
Resighting the rifle every time loads are changed is completely impractical when hunting in the bush. The .375 remains popular with hunters and professional hunters, and it is often speculated that it has taken more of Africa's Big Five than any other cartridge. As always, accurate shot placement is paramount, and as indicated, the .375 can be mastered by most hunters. In other words, a professional hunter would rather have a client show up with a .375 that he or she can shoot very well, rather than a more potent cartridge they cannot shoot well.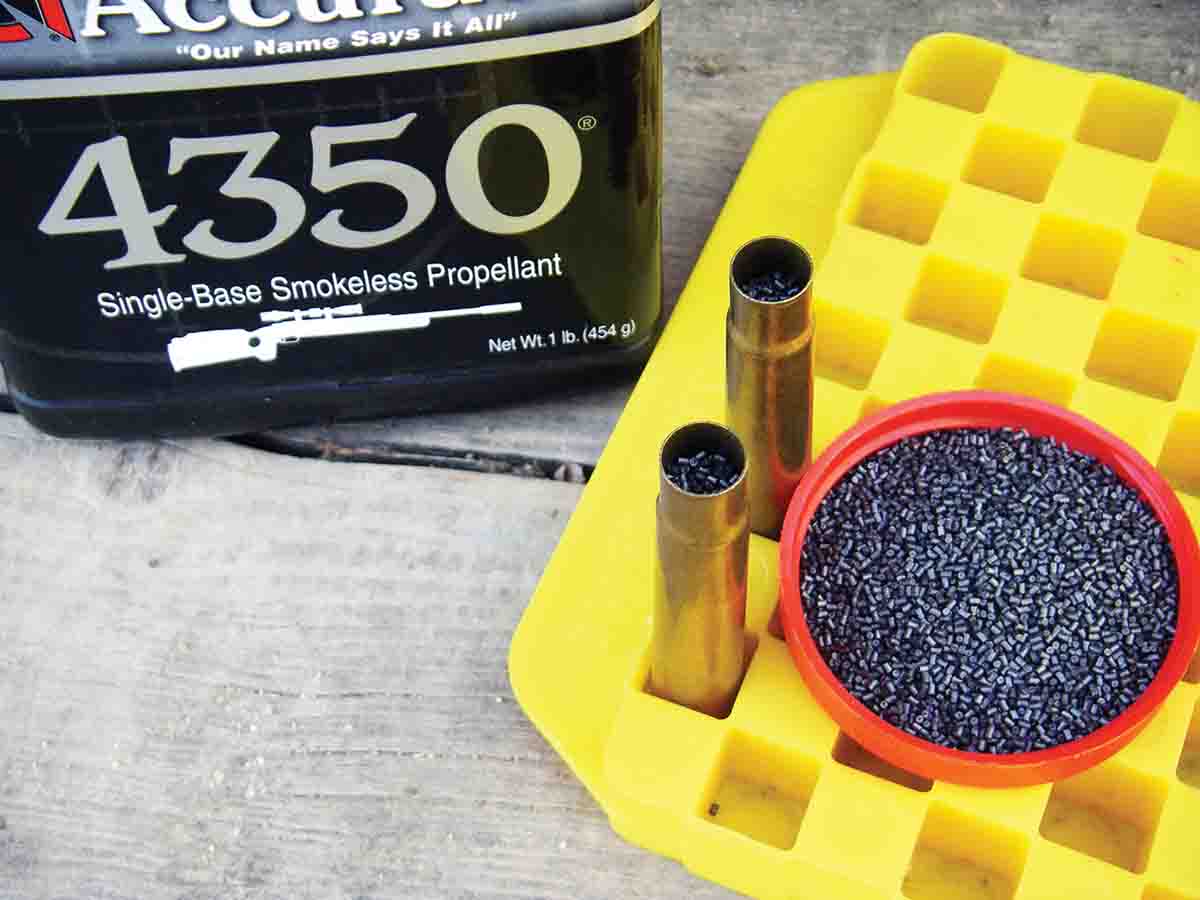 Winchester was the first U.S. manufacturer to offer .375 H&H ammunition and regular production rifles, beginning with the Model 70 around 1935/1936. Period ballistics listed a 270-grain softpoint bullet at 2,740 fps and 300-grain SilverTip and Full Patch bullets at 2,550 fps. Generally speaking, velocity figures today from major U.S. manufactures have been reduced to 2,690 fps and 2,530 fps, respectively, for traditional cup-and-core bullets. That said, there are many new bullet designs and bullet weights that change those ballistics, with a few examples included in the accompanying table containing factory load performance. With so many excellent canister grade powders available, handloaders can easily duplicate factory load performance.
For many decades, The Sporting Arms and Ammunition Manufacturers' Institute (SAAMI) maximum average pressure (MAP) was listed at 53,000 CUP, but in recent years it has (finally) been updated to 62,000 psi. None of the loads in the accompanying table exceed this figure. It should be noted that factory loads typically run seven to 10 percent below industry MAP pressures, and some handloads will slightly exceed their pressures and velocities.
In checking the water capacity of cases from Nosler, Barnes, Remington, Winchester (Super-X), Federal Cartridge, Norma and Hornady, the variance was nearly seven grains. Cases that have lower capacity, such as those from Remington and Barnes, may not provide enough capacity to hold listed powder charges. At the very least, they will usually result in greater pressures when compared with the same charge used in a case with greater capacity. NoslerCustom cases were used to develop all of the accompanying data.
Regardless of the case brand selected, the .375 is not known for long case life. Since it headspaces on the belt and is generally full-length sized to assure reliable chambering, which I strongly recommend, cases tend to get "worked" just forward of the belt. This usually results in case head separation if the cases are reloaded too many times and can pose a huge problem in the field if one separates at an untimely moment, leaving the forward half of the case in the chamber and the rifle inoperable until it can be removed. Case head separation can usually be detected before it occurs, which manifests itself as a shiny spot just forward of the belt. It can also be felt by inserting a small L-shaped tool (such as a bent paper clip) into the case and using the tip of the tool to feel for a fault line just forward of the head. I choose new cases when assembling handloads for hunting and generally only reload cases three to four times, maximum.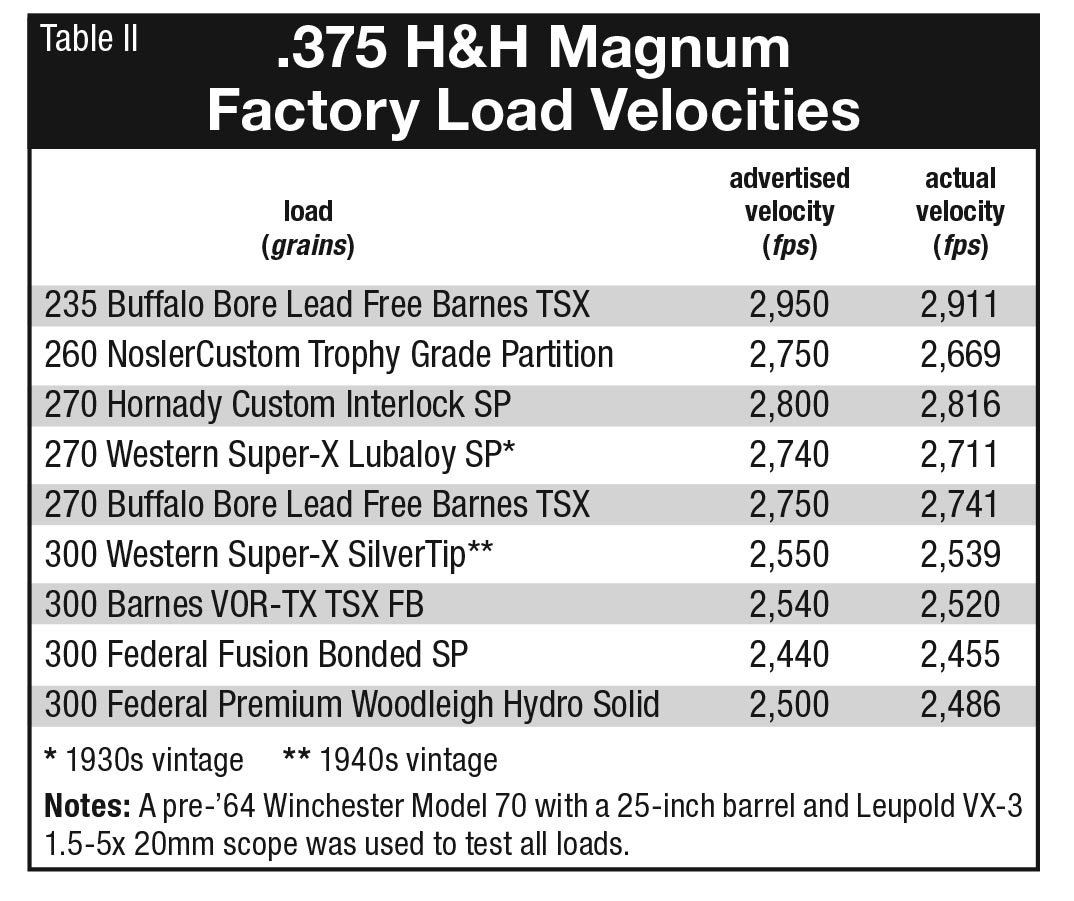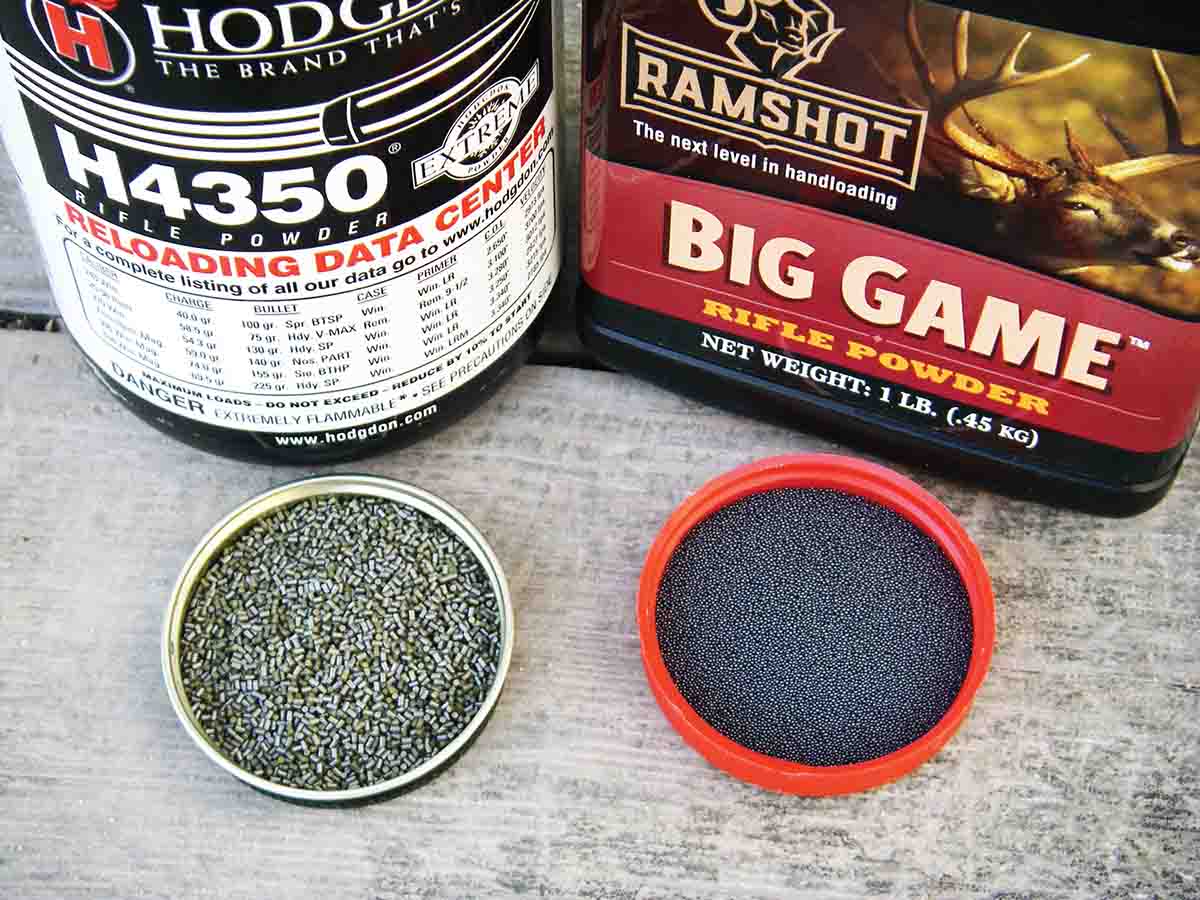 Since most loads contain around 70 to 80 grains of powder, a magnum rifle primer is recommended to achieve reliable ignition. Examples include the Winchester Large Rifle Magnum, Remington 9½M, CCI 250 and Federal 215. Due to its outstanding consistency, the Federal 215GM Match primer was selected to develop the accompanying load data.
With the .375's rather long powder column, it is suggested to use spherical or "ball" powders exactly as shown. Further reducing the suggested "starting" charges can result in erratic ignition and pressures, and in extreme instances hang-fires, etc. With that said, select spherical powder loads performed very well and I have used them in the field many times. They have proven to produce good accuracy along with velocities that duplicate or exceed factory loads. Top performing examples include Accurate 2700, Winchester 760, Alliant Power Pro 2000MR, Ramshot Tac, Big Game, Hodgdon CFE 223 and Hybrid 100V, which is a blend of spherical chemistry with extruded powder geometry.
There are many extruded powders that offer ideal performance in the .375 H&H. A favorite for generations has been the 4350 series from Hodgdon, IMR and Accurate. While their burn rates and densities are slightly different, they will each fully duplicate factory load velocities and completely fill the case to offer a load density that is typically 100 to 103 percent (slightly compressed) with maximum loads. This serves to support the base of the bullet so that cartridges in the magazine will not suffer from bullets being deep seated when subjected to recoil. (Note: Many of the maximum loads with the 4350 powders noted above will require trickle charging to permit the bullet to seat properly.)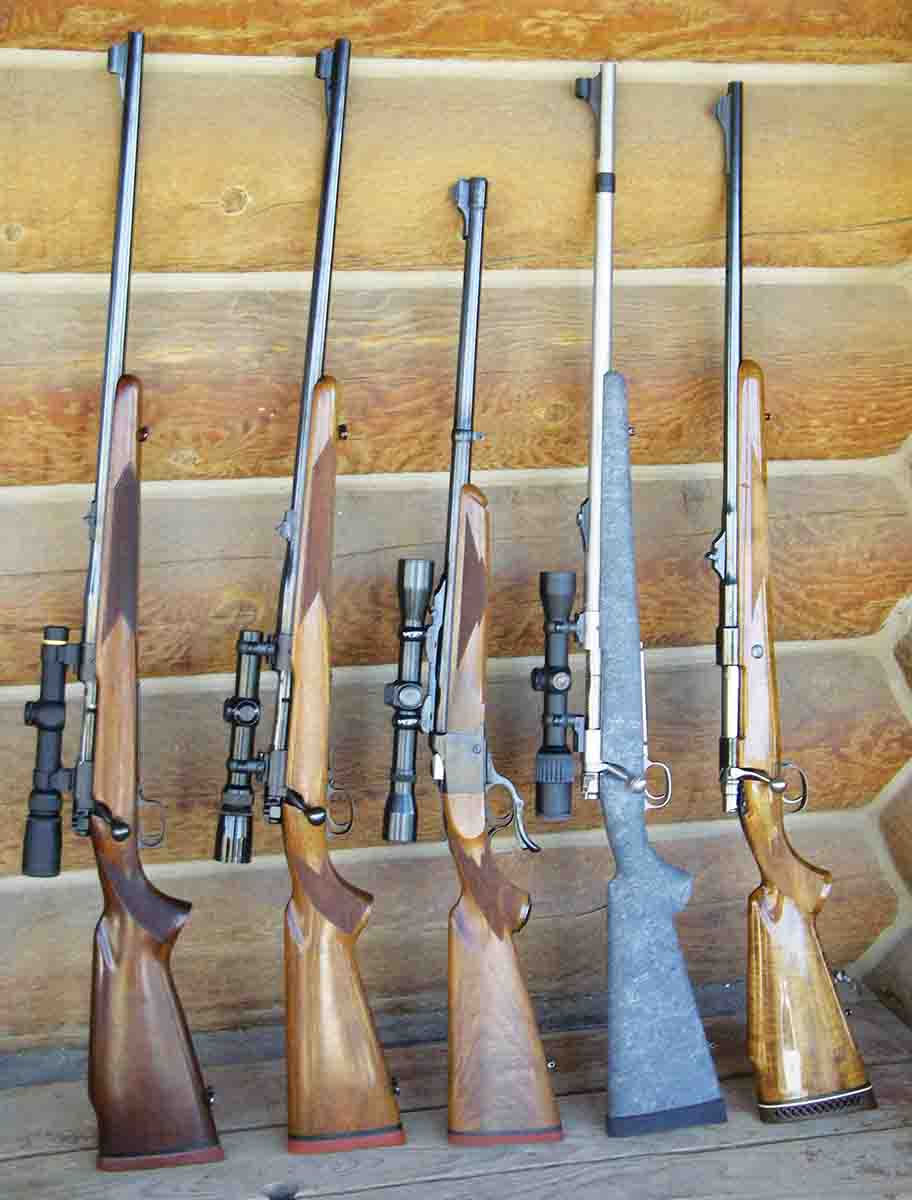 Other excellent extruded powders include Alliant Reloder 15, 17 and 19, Hodgdon Varget, H-4895, IMR-4895, IMR-4451, IMR-4320, IMR-4064 and Vihtavuori N140. Naturally, the faster burning powders gave the best results with lighter bullets (235 through 260 grains) while slower-burning propellants worked better with 270- through 300-grain bullets.
For those seeking a light load, Accurate 5744 pushed the 235-grain Speer semi-spitzer SP around 2,100 to 2,150 fps and produced reasonable accuracy. Another very light load was developed with the 260-grain Nosler AccuBond pushed to 1,262 fps using 26.0 grains of Hodgdon Trail Boss. While this load may sound like a pip-squeak and has very low recoil, it offers comparable power to a .44 Magnum revolver using current factory loads.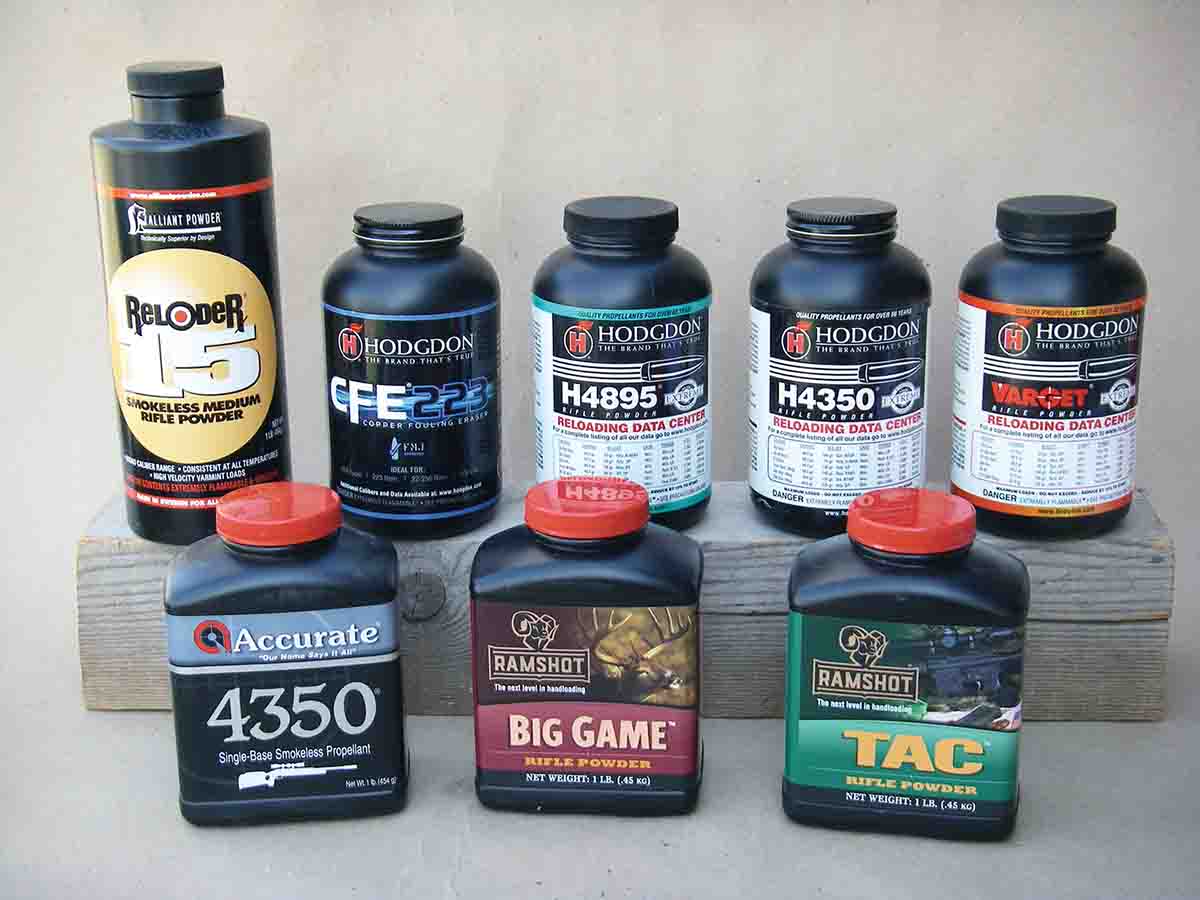 As indicated, the .375 gains considerable versatility based on bullet selection. Historically, 235- to 270-grain cup-and-core bullets were intended for non-dangerous thin-skinned game, as they produced inadequate performance for heavier game, or dangerous species such as lion or large brown bears. However, with the development of tough bullets that offer much better penetration, including the Barnes 235- and 270-grain Triple Shock X-Bullet, the Hornady 250-grain GMX, Nosler 260-grain AccuBond and Partition and others, the .375 is more versatile, flatter shooting and more effective than ever.
Widely popular 300-grain expanding bullets include the proven Nosler Partition, Swift A-Frame, Hornady DGX and Barnes Triple Shock X-Bullet. Each are true premium big-game hunting bullets that offer deep penetration while offering substantial wound channels. They are proven performers on Cape buffalo, lion, Alaskan brown bears and similar game. Various solid bullets seem to come and go; however, Hornady's relatively new 300-grain Dangerous Game Solid (DGS) is readily available, well designed and a proven performer when deep penetration is necessary.
There are specialized .375-inch bullets that weigh up to 350 grains, such as the discontinued Barnes Banded Solid and others. I have tested several of these bullets in years past, though due to the 1:12 twist found on almost all .375 H&H Magnum rifles (Browning being the exception with a 1:14 twist), these heavyweight bullets generally fail to stabilize to my satisfaction, and they have tumbled in penetration tests. For these reasons, 350-grain bullets were not included here.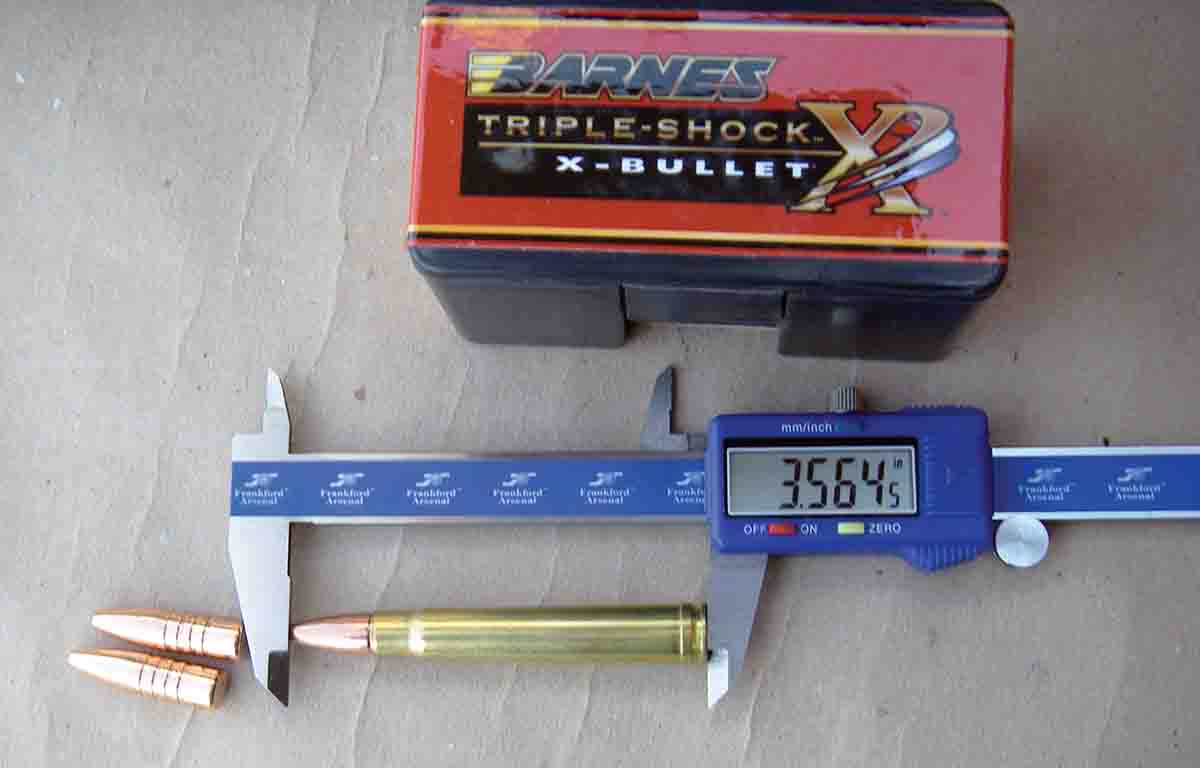 Practically every major bolt-action rifle manufacturer in the U.S., as well as countless foreign companies, has chambered guns in .375. Throat length varies considerably, even from the same manufacturer. As indicated, maximum COAL is 3.600 inches. However, many bullets feature ogive profiles that place the bullet too close to the leade or sometimes will contact the leade if seated to maximum COAL, which must be avoided for a field rifle. Many bullets also feature a flatpoint or semi-spitzer profile that further mandates their being seated to a shorter COAL to allow proper chambering in many rifles. This explains why Federal Premium loads containing the 300-grain Nosler Partition were loaded to 3.535 inches for decades. A few bullet examples include the Nosler Partition, Swift A-Frame, Speer Grand Slam, Hornady DGX and DGS and others. Incidentally, the Barnes Triple Shock X-Bullet and Hornady GMX generally shoot best when seated .040 to .090 inch off the leade. Regardless of the bullet selected, it is suggested to carefully measure the throat length of a given rifle and seat bullets to correspond accordingly.
When handloading for bolt-action rifles, it is suggested to crimp bullets in place. When applying a roll-crimp, cases should be uniform in length to assure that the crimp is consistent to prevent longer cases from buckling and shorter cases from failing to receive a heavy enough crimp. Lee Precision offers a Factory Crimp die that produces a uniform crimp with cases that are not exactly the same length. Incidentally, a crimp is not necessary if handloads are to be used in a single- shot rifle.
(While the .375 is no target cartridge, if handloads are carefully developed and fired in an accurate rifle, good loads will easily stay under MOA.)
The .375 H&H is often touted as the most versatile rifle cartridge for hunting all big game around the world and the best choice if limited to just one cartridge, which is hard to argue with. Its record speaks for itself, as it has accounted for all commonly hunted species from eland to elephants and goats to grizzlies.