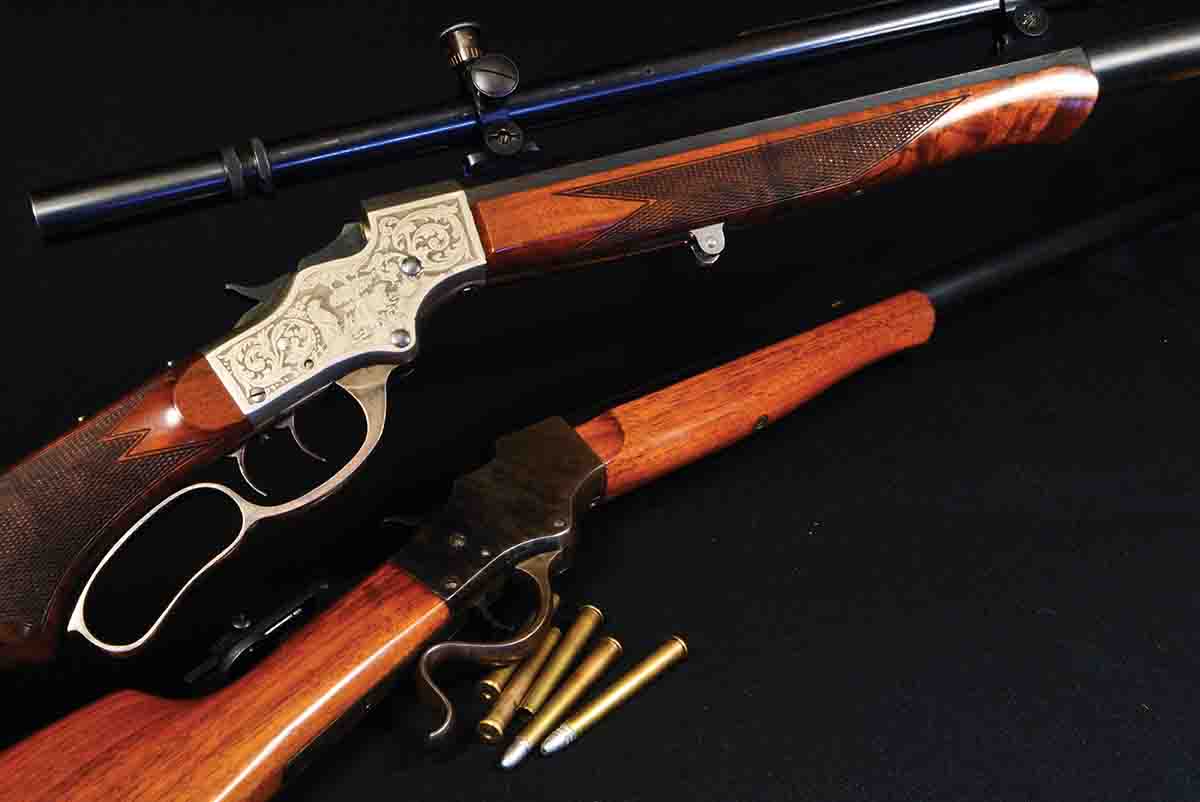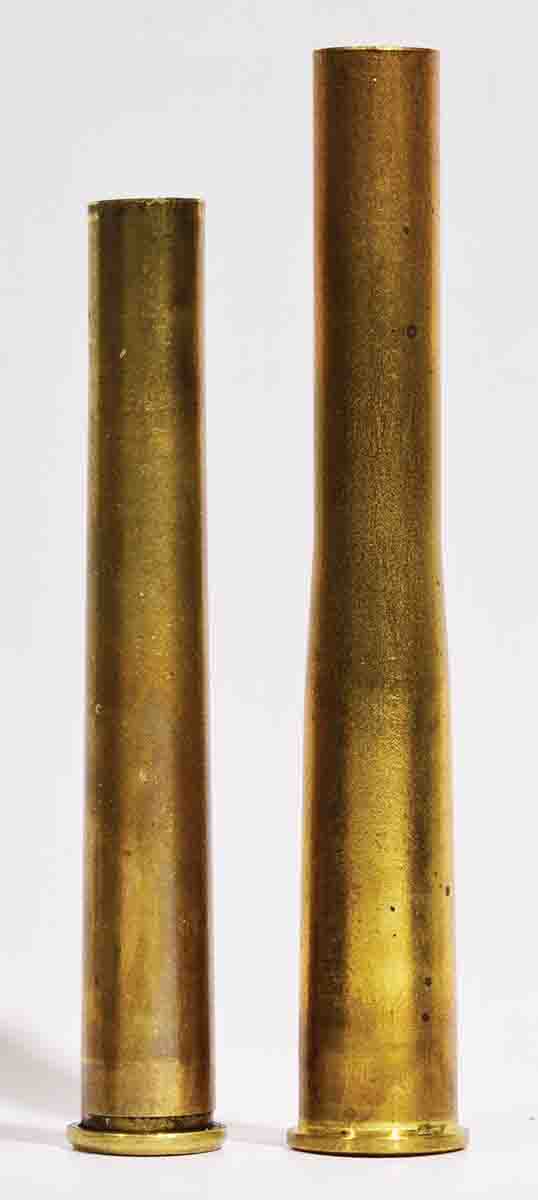 It's tempting to say that it's a cartridge that deserved much better – a fine round that was not appreciated in its day and allowed to fall into obscurity through no fault of its own. Tempting, but hardly true. The only good reasons I can come up with for attempting to load the .28-30-120 are (a) you are a masochist, (b) you love a challenge, and the trickier the better, or (c) you have acquired a fine old .28-30 rifle that is too nice to alter, but you still want to shoot it.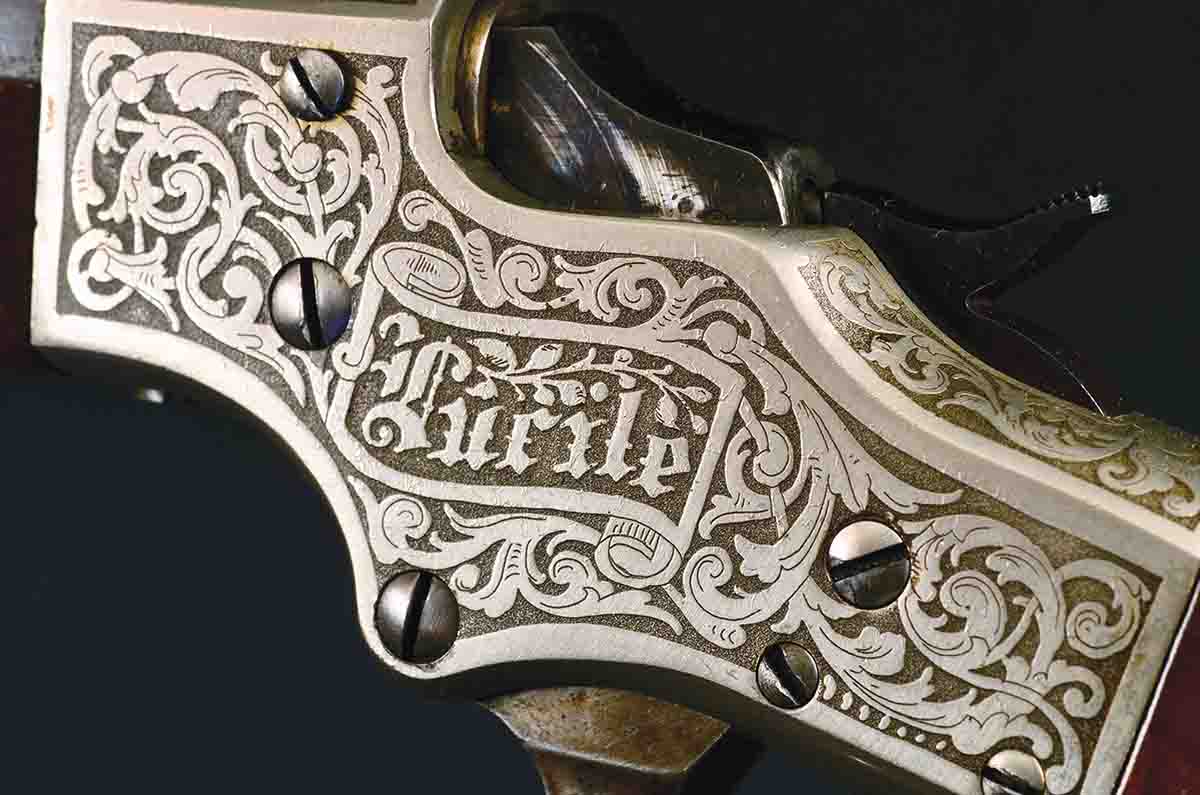 In my particular case, there's a bit of all three. Getting involved with the .28-30-120 was never on my list of ambitions, but I chanced upon a rifle named "Lucile," succumbed to its charms, picked up a second rifle in the same chambering almost by accident, and here we are: Embroiled in the most complicated reloading project I can remember.
First, a little history. The .28-30-120 (usually abbreviated to .28-30) was introduced by the J. Stevens Arms & Tool Company in the fall of 1900, intended (and expected) to become the latest hotshot Schützen cartridge in a target-shooting game that was then at the height of its popularity. It was a straight-taper, rimmed case similar to the king of them all, the .32-40, scaled down to .284 and was America's first commercial 7mm. Like the .32-40, it was intended for black powder, which then ruled the target ranges even though smokeless had been around for a decade and was making significant inroads at all levels of shooting.
As the name indicates, the .28-30 was charged with 30 grains of black powder and was loaded with a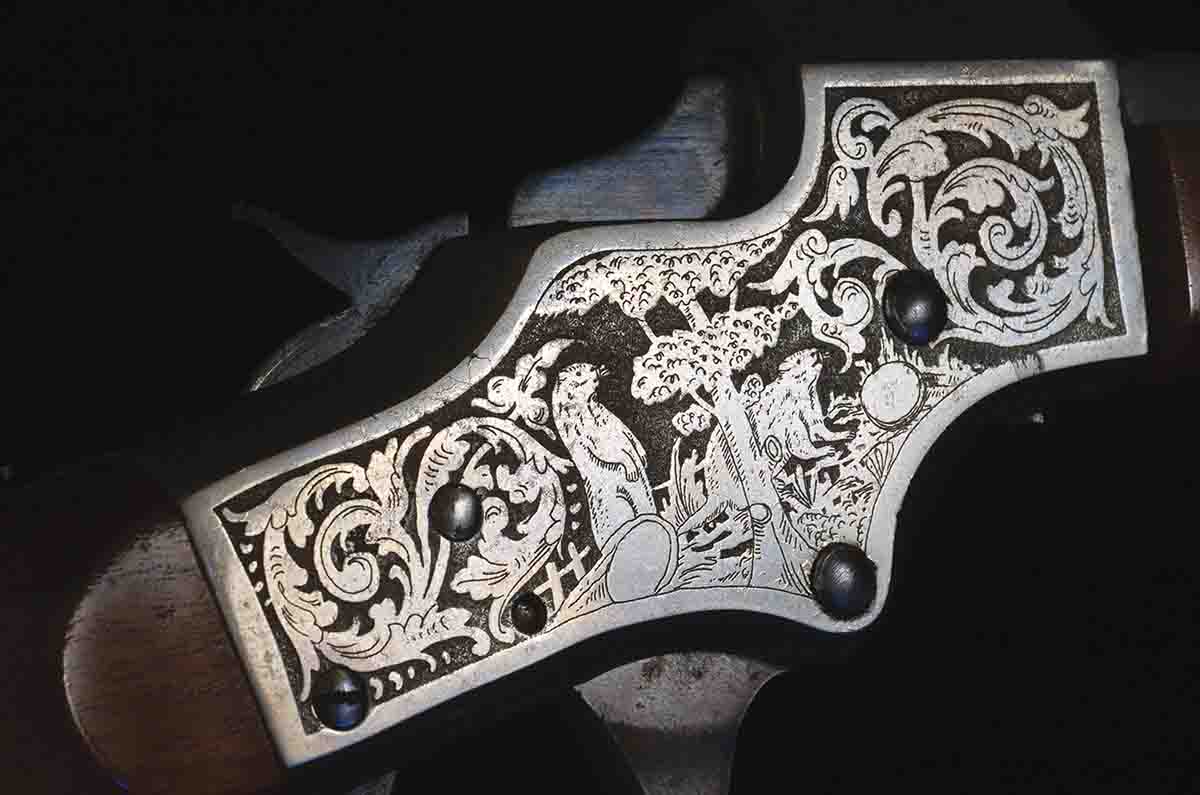 120-grain bullet. At the time of its introduction, the .32-40 was the king of
Schützen
shooting, favored by such masters as Harry Pope and Milton Farrow. Since the beginnings of the game in the 1870s, popular calibers had been shrinking steadily, from early .44s and .45s down through the .40s to the .38-55, and finally the .32-40. The .28-30 was the logical next step down, as shooters sought a cartridge with less recoil but still using a bullet that could deliver at the standard distance of 220 yards.
Harry Pope himself was very enthusiastic about the .28-30. Initially, Stevens chambered it in its Ideal rifles built on the No. 44 action. In 1901, Pope agreed to work for Stevens, and two years later the company introduced its improved No. 44½ action, which was considerably stronger. During his time with the company, Pope barreled a considerable number of .28-30 rifles. Some shooters seated their bullets down the bore using a false muzzle – Pope's favorite technique.
Unfortunately for all concerned, the days of both black powder and Schützen competition were numbered. The .28-30 won some matches and set some records, but failed to make a big enough impression to survive. When civilian ammunition production was resumed after the Great War, it was not in the catalogs. Henceforth, no one chambered it, loaded ammunition was not available and during the 1930s and '40s, many of the Stevens, Ballard and Winchester single-shots were torn apart and turned into varmint rifles. As a result, .28-30 rifles are rare today compared to the .32-40.

But was it accurate? It was. Author Gerald O. Kelver reported that a friend's .28-30 could hit a half-dollar at 100 yards, 10 shots out of 10. That's accurate by anyone's standard. Ned Roberts – Schützen shooter, author and rifle authority – owned several .28-30s, shot them for many years and considered it the most accurate of all the cartridges smaller than .32 out to 300 yards. In his books, he published several loads. This one is typical:
"A black powder primer, 5 grains of King's Semi-Smokeless Fg in the base, 16 grains weight of Du Pont Schuetzen Smokeless, a felt wad and the 132-grain Sage bullet cast 1 to 32, carefully lubricated and breech-seated about 1⁄16 inch ahead of the shell."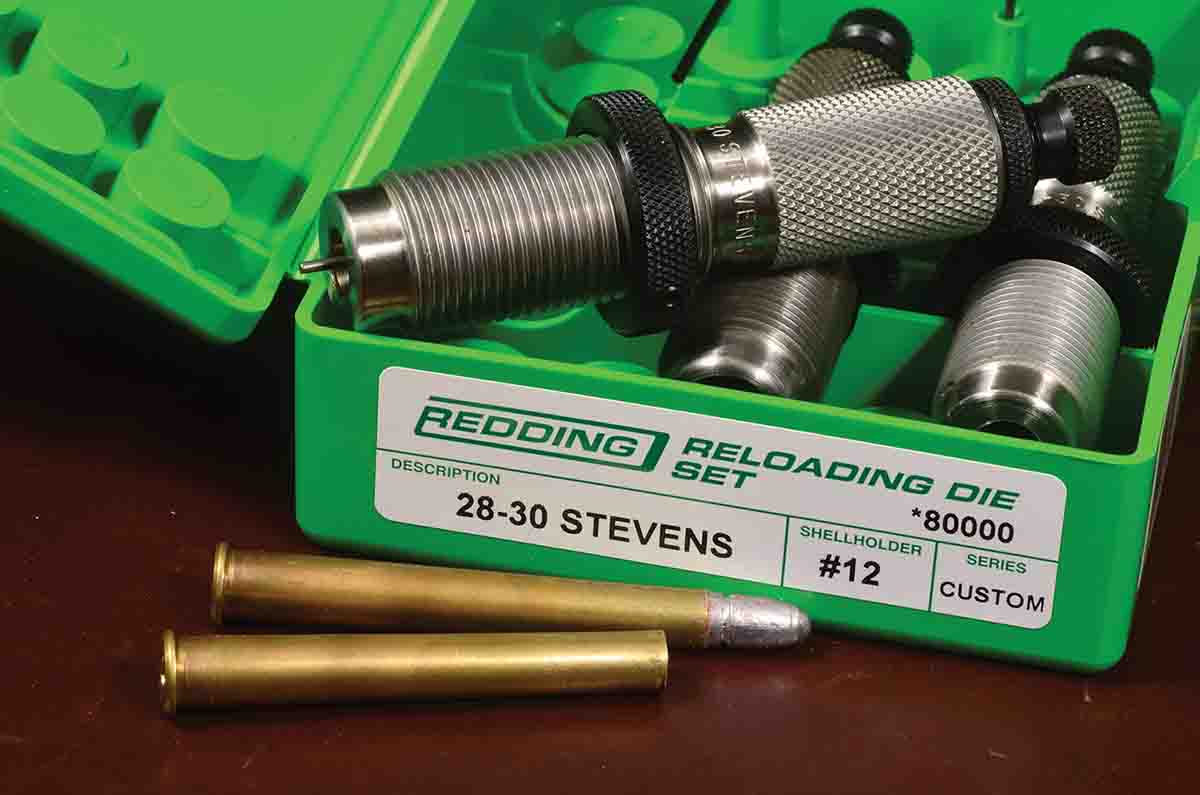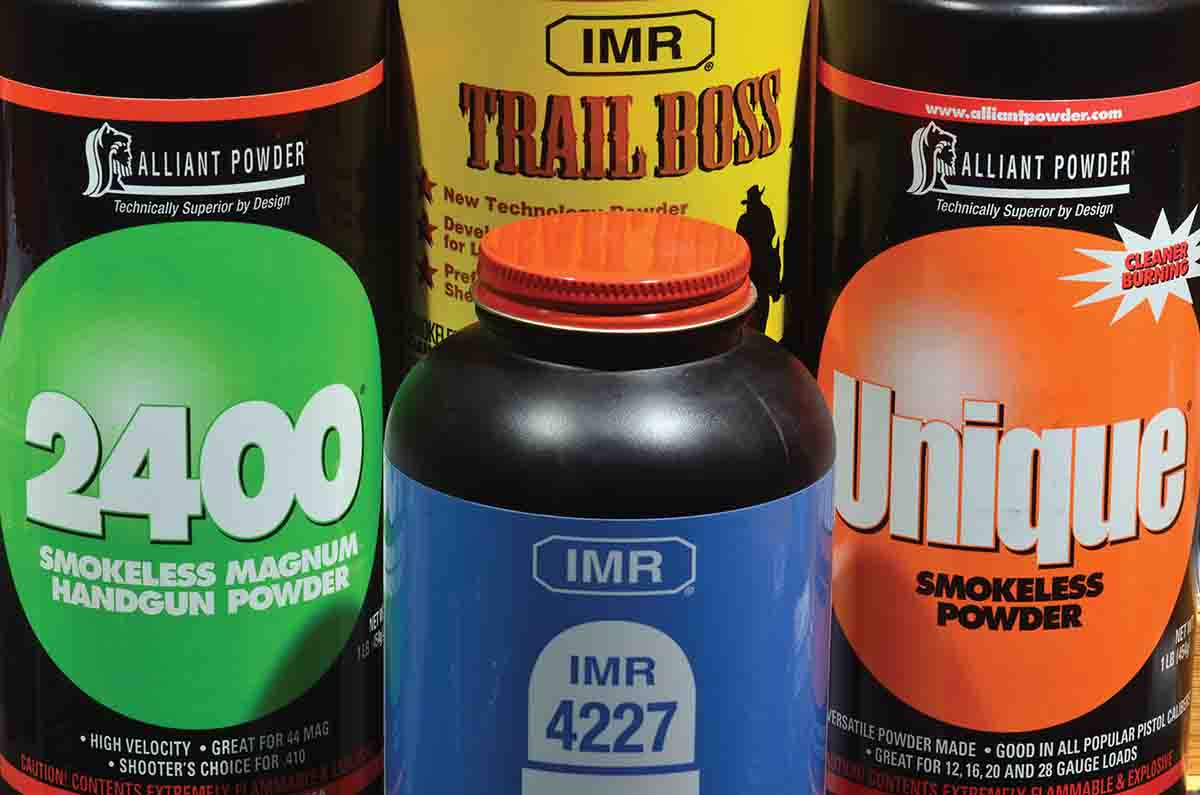 Most shooters today would have great difficulty following those instructions, even if they could find the necessary components. Simple combinations of primer, powder and bullet, like we are used to with today's cartridges, are comparatively few. Even for those few, however, a would-be .28-30 shooter is faced with a number of problems.
Let's start with brass. The .28-30 is not based on any other readily available case, and John J. Donnelly (Handloader's Manual of Cartridge Conversions, 1987) stated that it can only be made by turning down brass rod on a lathe. This is not quite true. Bob Hayley (Hayley's Custom Ammunition) makes it from 9.3x72R brass, which itself is not exactly common and requires a rotary swage and lathe to do it.
Fortunately, .28-30 brass made by Bertram in Australia is imported by Huntington Die Specialties. At $4.00 a round, it isn't cheap, and of the first lot I bought, two out of three split on first firing just above the web. A second, more recently manufactured lot did the same thing. I annealed the remaining ones and the problem disappeared.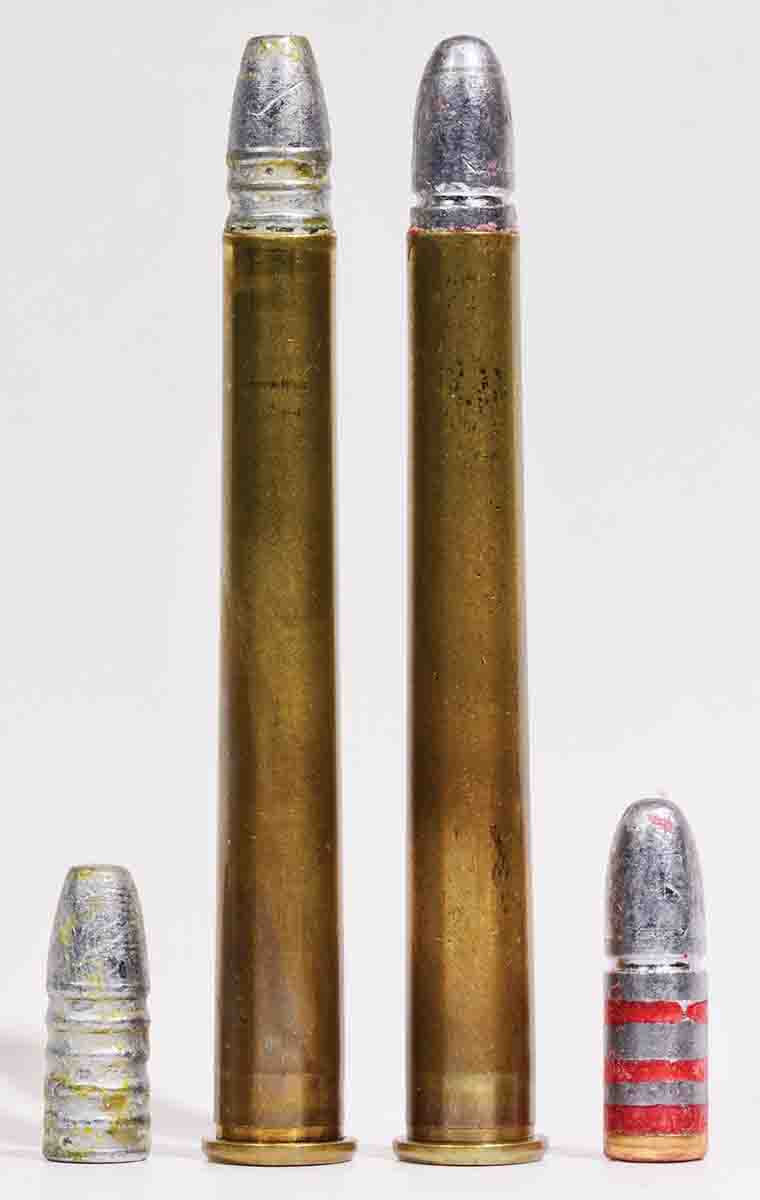 Bullets are fairly readily available. Lyman made three moulds specifically for the cartridge, and Harry Pope produced a mould that casts a 136-grain bullet, his favorite weight. Lyman mould 287221 casts a flatnosed bullet with multiple driving bands, and it could be had in a range of weights from 90 to 180 grains. Lyman mould 287222 is identical except for a pointed nose. Both of these were designed by Charles H. Herrick, who also designed the cartridge for Stevens.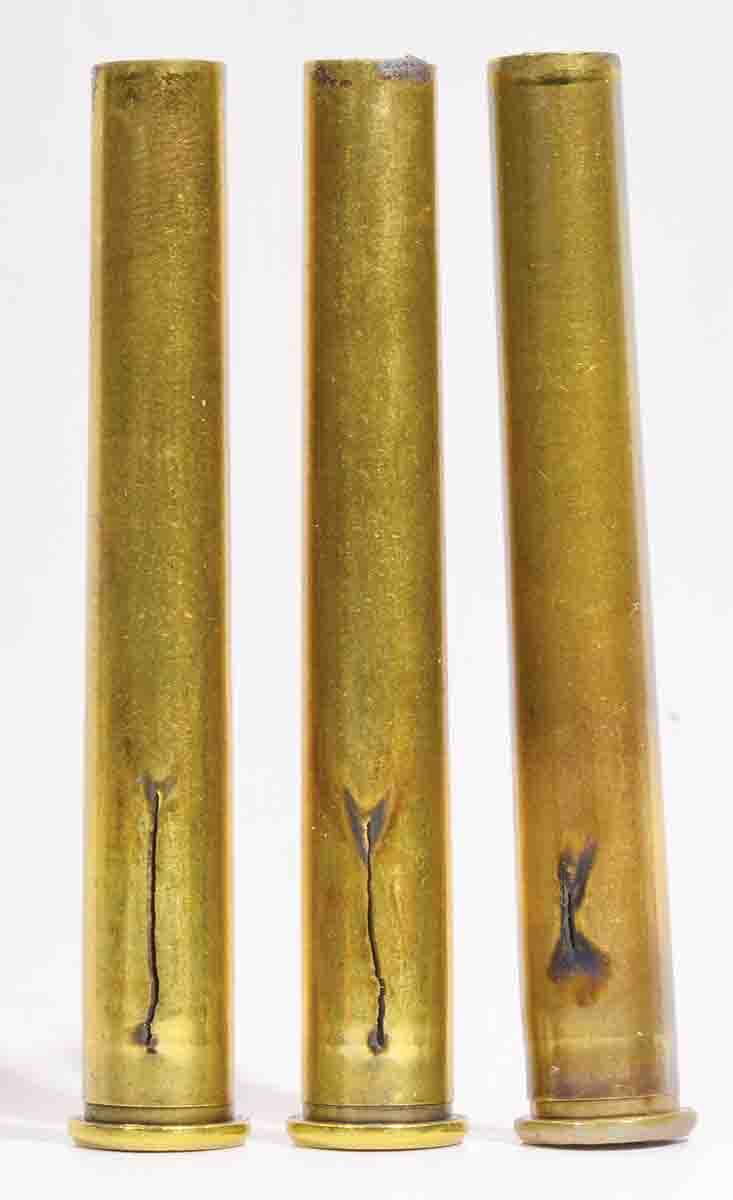 To give an idea of how quickly the .28-30 disappeared from sight, by 1940, the designations for these moulds had changed to the prefix '285' from '287' and they were available on special order only. The third Lyman mould, 287346, casts a roundnosed 140-grain bullet with a gas check. This bullet is commercially available from Western Bullet Co., lubed and gas-checked, for $18 per hundred.
The next major requirement is dies. An old set I unearthed did not work very well, seating the bullet slightly off-center. I contacted Redding, which had never made .28-30 dies in its history, but was willing to give it a shot if I could provide some new and fired brass. About six weeks later, the dies arrived, and they work beautifully, seating perfectly-aligned bullets.
During its short heyday, the .28-30 was loaded and shot with every imaginable variation, including black powder, smokeless and duplex loads; some bullets were seated down the bore using a false muzzle while others were breech-seated using a special tool to push the bullet into contact with the rifling. Cases for these were charged with powder that was held in place by a wad and chambered after the bullet was seated.
Original ammunition was manufactured by Union Metallic Cartridge Company (UMC). It had a 120-grain bullet seated deeply to cover the lube grooves and was charged with 30 grains of black powder. No other ammunition company seems to have produced it. When the chambering was abandoned, so was the ammunition, and brass with it. As a result, there is very little in the way of handloading data for the cartridge, even in the old Lyman manuals. What little data there is often calls for powders that are discontinued, or loading methods (like breech seating) that most modern shooters are not familiar with.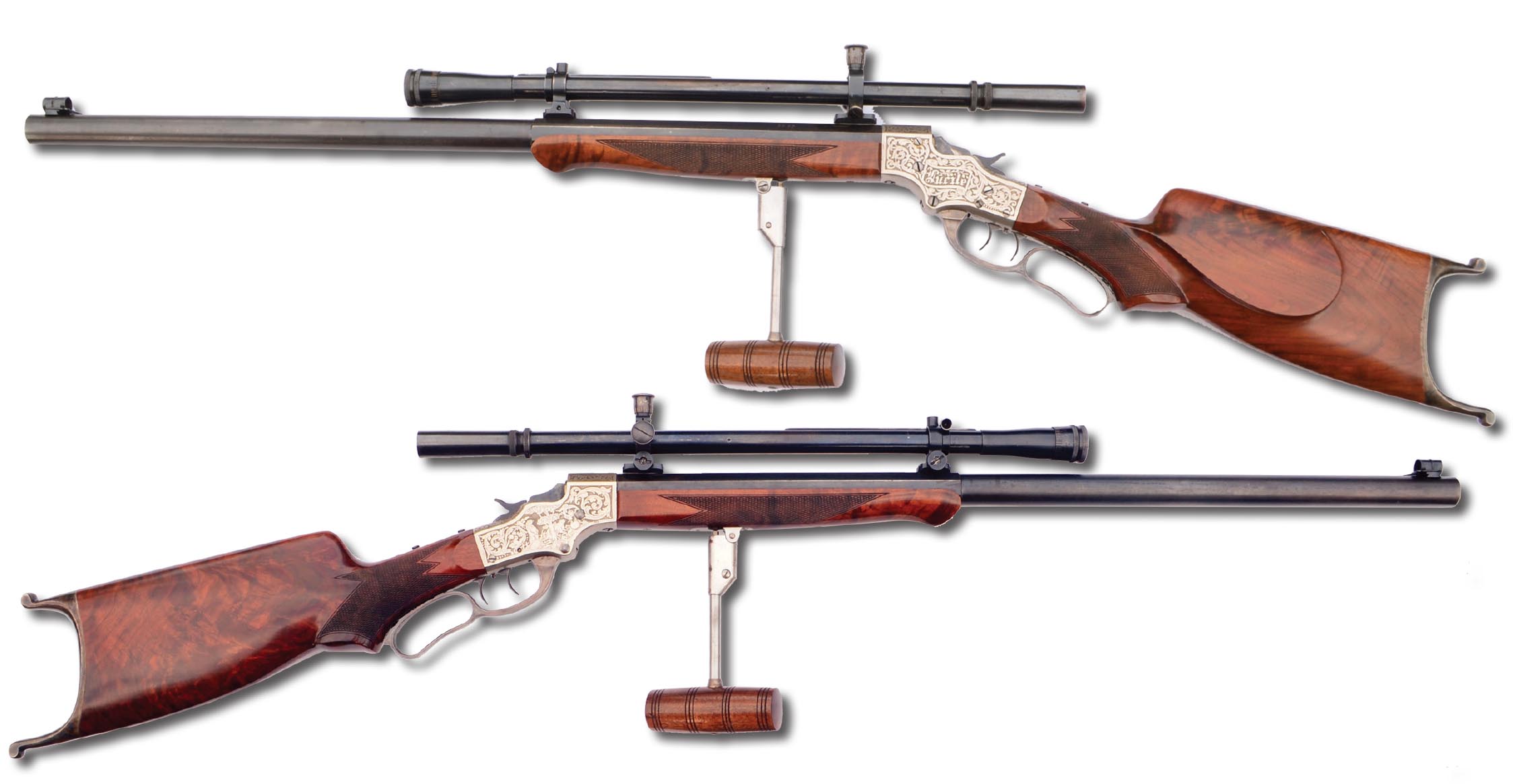 Writers like Roberts, Ken Waters and Gerald Kelver produced tables of load data for Schützen cartridges and usually included one or two for the .28-30. As well, Roberts wrote the cartridge's history found in Phil Sharpe's Complete Guide to Handloading (1937), including a few loads. Sifting through these references produced a few usable combinations using available powders and familiar loading techniques. The accompanying table includes the historical source for each.
The two powders most commonly recommended are IMR-4227 and IMR-4198. Alliant's Unique is also an obvious one and is recommended in early Lyman handbooks. SR-4759 was widely used in the past but is discontinued, and Hodgdon recommends Trail Boss to fill its former role. The final wild card is a load for Alliant 2400. Results ranged from gratifying to bizarre.
All of these cartridges were loaded to an overall length of 3.02 inches. With the 120-grain (287221) bullet, this leaves two lube grooves exposed; with the 140-grain bullets all the lube grooves were inside the neck. None of the bullets were crimped.
Load No. 1, 5.0 grains of Unique, is recommended in the 1958 Lyman Cast Bullet Handbook. It's an excellent starting load to work up to higher velocities and to fine-tune for accuracy. Unique is so easy to ignite that no wad is required. Mild, easy and economical.
Load No. 2 using IMR-4227 is widely recommended and works reasonably well. This is a safe starting point from which to develop an accurate load.
Load No. 3 with IMR-4198 was disappointing, but my conclusion is that the powder is too slow-burning for such a light bullet, which presents little resistance to allow pressure to build to a proper level. The highest recorded velocity was 1,215 fps, while the lowest was 697. This skewed all the readings. Using a heavier bullet, seating it deeper, or even crimping, would probably give better results. These were Ken Waters' loads and, as can be seen, load No. 9, with its heavier bullet, worked much better.
Load No. 4 was a pleasant surprise. It was found in Sharpe's Complete Guide, in the section written by Ned Roberts. In his table, he lists a charge of 12.4 grains of 2400 and attributes it to J. Bushnell Smith, the custom ammunition maker and experimenter from the 1930s. Smith was notorious for hot (!) loads. This one looked stiff to me, so I backed off to 10.0 grains to start. The result was excellent, with velocity just under my self-imposed maximum of 1,500 fps with a pure lead bullet, and gratifying consistency. What 12.4 grains would do, however, I shudder to think.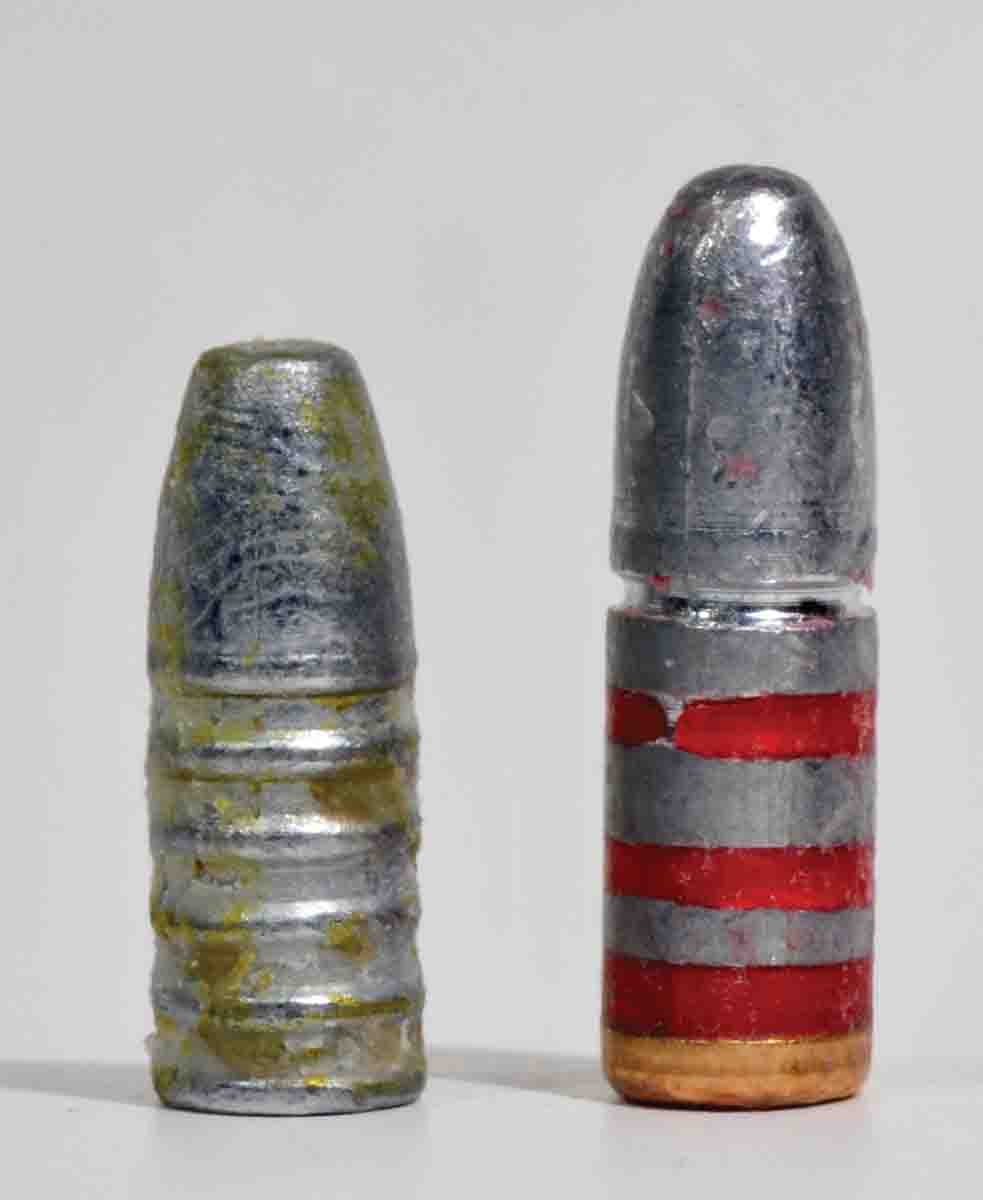 Load No. 5 was another pleasant surprise. I am not a huge fan of Trail Boss. Whenever I've tried it, the results have been okay, but some other powder always seemed to do better. In this case, 11.0 grains filled the case to the base of the bullet seated with two bands exposed. Velocity was perfect. Seating the bullet any deeper would compress the powder, however, which Hodgdon warns against strongly. This should be kept in mind if using a different bullet or seating depth. The formula for Trail Boss is to fill the case to the base of the bullet, weigh the charge and set your scale accordingly. The charge weight given here is only for use with this particular bullet and seating depth.
Load No. 6 was not test-fired, but is the only formula for .28-30 given in Donnelly's book, and he found it in the fourth edition of Cartridges of the World. It looks hefty to me and should be approached carefully. Based on my other results with IMR-4198, starting with 15 grains seems more reasonable.
Load No. 7 is shown purely for comparative purposes, having been a favorite for the .28-30 for more than half a century. But there are better uses for lingering stocks of SR-4759.
Load No. 8 delivered the expected results with no surprises. Overall, IMR-4227 is probably the best all-around powder now available for the .28-30.
Load No. 9 is a starting load based on the recommendation for load No. 6. With its heavier bullet seated more deeply, performance was a huge improvement over load No. 1.
Given the performance with four of these powders, there is no reason a fine old rifle in good condition should not be made to shoot as well today as it did 120 years ago – and that was very well indeed.