Q
: I am handloading for a Ruger New Model Super Blackhawk .44 Magnum with a 10.5-inch barrel. In selecting loading components and data, I would like to use Oregon Trail Laser-Cast, 240-grain SWC bullets with a target velocity of 1,000 to 1,200 fps.
My dilemma is that I have not found a load that appears to be compatible in any of the handloading reference materials that I have. In other words, their data is for much shorter barrels. What would the corresponding pressure be? Is there a general rule of thinking that guides in this case?
Now to my second question: I have a box of Hornady FTX 265-grain (part No. 4305) that I am hoping to use for hunting, but I may have obtained the cart before the horse because the overall length may be too long for this handgun no matter what. If that is the case, then the obvious choice to me would be to use the Speer 300-grain Plated SP or similar Hornady 300-grain XTP.
Can you suggest some points that I can use to get started correctly? I greatly appreciate your expertise and your articles. Thank you in advance for your assistance.
C. G., Klamath Falls OR
A: Fully answering your first question would require a feature length article to discuss it with any degree of accuracy or reasonable insight. Interestingly, there has been very little data or information published on this subject. Suffice to say that when dealing with cast bullets (not applicable to jacketed bullets), common magnum revolver cartridges loaded with Alliant 2400, Accurate No. 9, Hodgdon H-110 and other powders with a similar burn rate, velocities will increase around 35 fps per inch of barrel.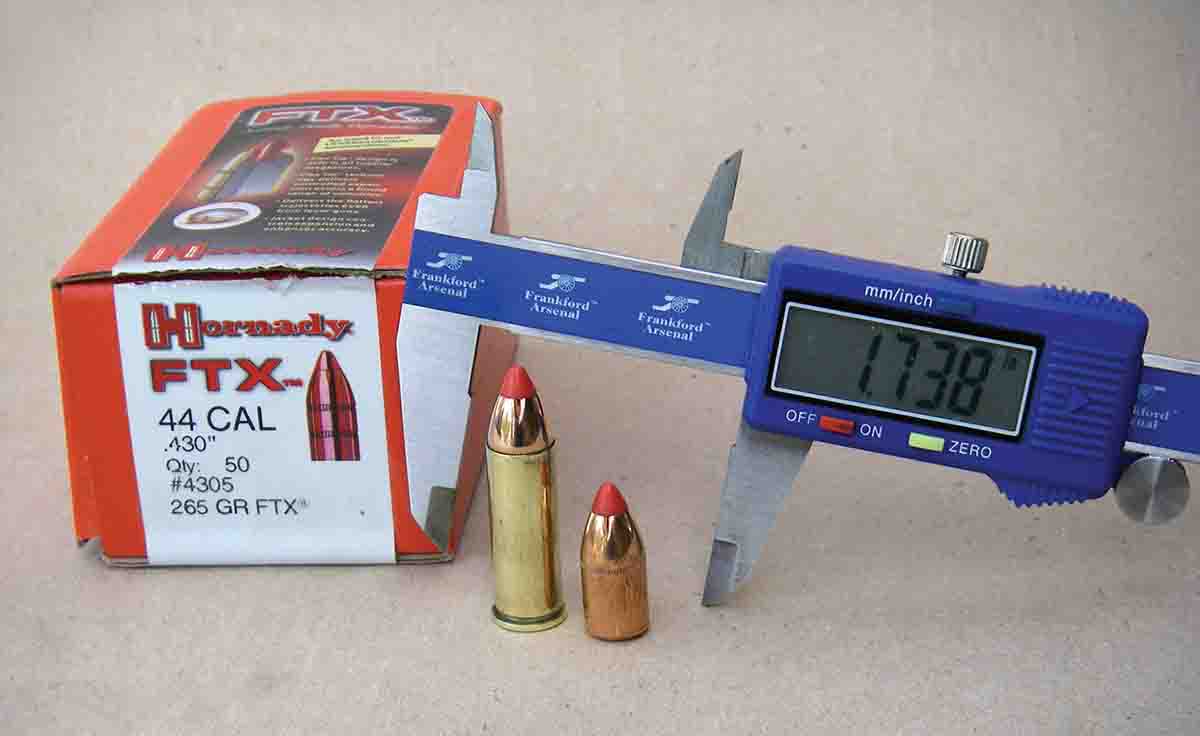 Handgun powders with a medium burn rate, such as Alliant Power Pistol, Accurate No. 5, Hodgdon Longshot, etc., will produce a much smaller velocity increase per inch of barrel length. Fast burning powders, such as Alliant Bullseye, Accurate No. 2, Hodgdon Titegroup, etc., will show only small velocity increases with longer barrels.
As to a load that will reach 1,000 to 1,200 fps from your Ruger with a 10.5-inch barrel with the Oregon Trail Laser Case SWC bullet, try 8.5 grains of Alliant Power Pistol for around 1,100 to 1,150 fps, 10.5 grains of Hodgdon Longshot for 1,200 fps or 11.0 grains of Accurate No. 5 for 1,100 fps. For best accuracy, use a standard primer such as the CCI 300 or Federal 150.
The Hornady 265-grain FTX bullet is designed for the .444 Marlin and features a nose length that is too long to work in most .44 Magnum revolvers. (It is noteworthy that .444 cases need to be trimmed to compensate for the longer nose of this bullet.) However, you can trim .44 Magnum cases to 1.210 inches, and crimp the FTX in its cannelure for an overall cartridge length of 1.738 inches, which is about maximum for the Ruger New Model Super Blackhawk – at least if allowing for some bullet creep during recoil and assuring reliability.
Should you opt for a 300-grain bullet, the Speer Plated SP has been discontinued. However, the Hornady XTP is an excellent choice for hunting.
I hope this information helps to get you "started," and good luck hunting.
Leading Issues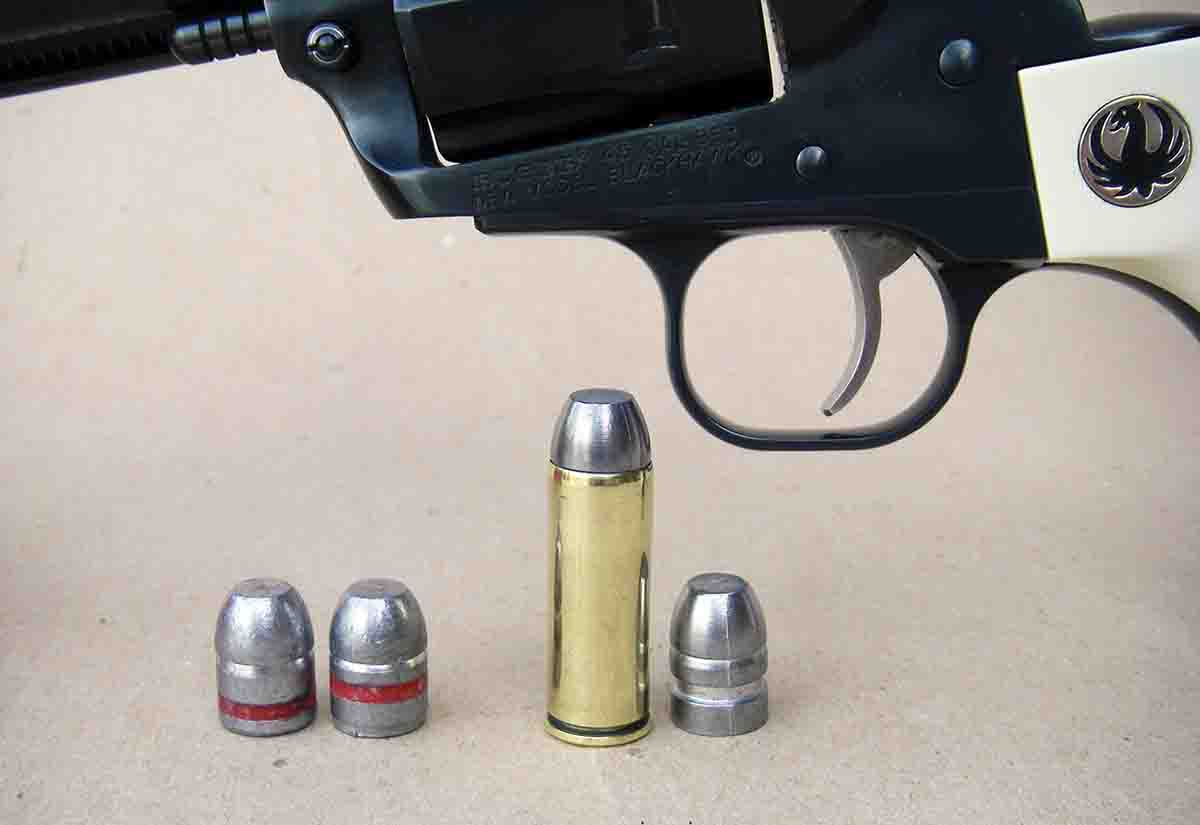 Q
: I have a Ruger New Model Blackhawk "flattop" built on the 50th Anniversary ".357" frame size, but chambered in .45 Colt. While I have tried a variety of loads with 200- to 300-grain bullets, I always come back to a 250-grain cast bullet at around 850 to 900 fps for my everyday general-purpose load.
I was using RNFP bullets from a local supplier that were cast from a Magma moulds and sized to .452 inch. That supplier has now retired, so I ordered 1,000 of the same from a commercial supplier. Upon their arrival, I loaded a quantity and began shooting. As I proceeded with my next shooting session, accuracy seemed to drop off. Since I was shooting offhand, I figured that I was just having a bad "accuracy" day.
When I came home, I began cleaning my gun and immediately noticed a fair amount of barrel leading. I examined the new bullets more closely and noticed that they have a large bevel base, whereas bullets from my former source were more or less a plain base and virtually never leaded the barrel. Is the bevel base causing barrel leading?
Although I have not cast bullets in almost 20 years, as a result of the above I am considering casting my own again. Can you suggest a RNFP style mould for the .45 Colt that is a plain base? This bullet must also work in my two lever actions that include a Marlin Model 1894CB and Cimarron Model 1873 Carbine.
Thanks in advance for your advice. I very much enjoy your articles, as your insight and practical approach at resolving problems is always amazing to me.
B.O., Sandpoint ID
A: I have noticed that some commercial casters use moulds with a greater bevel than others. This is often the result of their supplying ammunition companies that request the larger bevel as they load easier in their fast-paced machines.
Yes, a bevel base design can be the cause of leading, but not always. In your case, it sounds like you are possibly experiencing fusion or blowby. Without a good gas seal, regardless of lube or alloy, barrel leading can occur.
Some companies, such as Rim Rock Bullets, offer the .45 Colt (.452 inch) 250-grain RNFP bullet with either a slight bevel base or a large bevel base, but must be specified at the time of ordering.
A good mould that fits the description that you specify is available from Redding/SAECO and is designated No. 955. It is a 255-grain roundnose flatpoint, plain base design, with a single grease groove and beveled crimp groove. Furthermore, the ogive is full caliber forward of the crimp groove, which makes it suitable for rifles with tubular magazines. In other words, bullets will not deep seat from magazine spring pressure and recoil.
High Primer Problems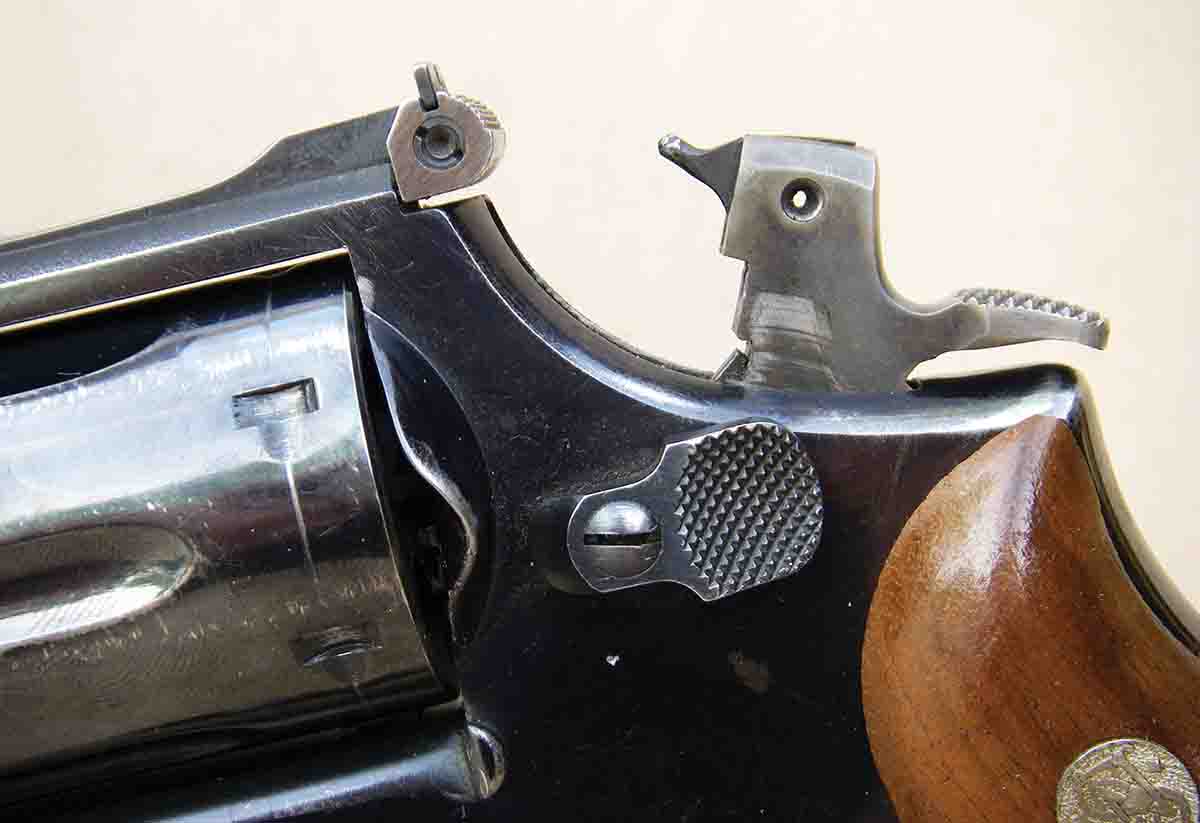 Q
: I recently purchased a Charter Arms Pitbull in .45 ACP and when shooting it double action, it would misfire about three out of 10 shots using Remington Large Pistol primers in my handloads. I sent it to Charter Arms explaining the problem, and upon its return included a repair order indicating the firing pin throw was too short and was replaced with an updated one. Shooting it again with the same reloads with the Remington Large Pistol primers seated to various depths from about .002 high to .008 low, it passed with flying colors.
One day I obtained a box of Speer Lawman factory ammunition and was surprised to see the casings were made to use small pistol primers. Shooting them double action, they would misfire about 10 percent of the time. Do you know any reasons why it misfired with the small pistol primers and not the large ones?
You and all the writers and Handloader magazine have taught me things that I never would have known from any other source. Thank you so much.
D.M., Elkton MD
A: First, I must mention that primers should generally be seated .003 to .005 inch below flush in order for the anvil to make proper contact with the bottom of the primer pocket and assure reliable ignition. Your primers that are seated .002 inch high are begging to cause misfires as the firing pin must hit the primer hard enough to help it finish "seating" and still ignite. Many handgun mainsprings just don't have enough energy to accomplish this and therefore misfire. Even primers that are seated too deep can be the cause of misfires, as they are too far away for the firing pin to reliably provide a deep enough impact to reliably ignite.
Determining why your gun is misfiring with factory loads is difficult to diagnose, but it is generally a gun problem rather than an ammunition problem, but not always. There is a chance that the mainspring is too weak, which can occur from spring "set" that becomes too light. The reason I mention the mainspring is that the factory just replaced the firing pin and it is probably within specifications. The fact that you are getting misfires 10 percent of the time when firing double action suggests that the mainspring might be the culprit. For example, when firing in double-action mode, the hammer does not travel fully to the rear to engage the trigger and hammer sear before falling as it does when fired in single-action mode. As a result, it has less distance to drop or travel, which results in a lighter primer strike. I suggest contacting the factory and perhaps it can send a new mainspring, which is easy to install and saves shipping your gun.
However, before changing the mainspring, I believe that the most likely scenario is that the case length of the Speer factory loads you are using are too short and are failing to provide positive headspace control, which is essential for revolvers in this caliber. I actually see this rather commonly in factory loads and new cases. Industry maximum case length for the .45 ACP is .898 inch, and suggested trim-to length is generally considered .893 inch. If they are shorter than that figure, that is probably the cause of your misfires.
Incidentally, ammunition with cases that are below the industry suggested trim-to length still usually fire reliably in autoloading pistols due to their extractor holding the cartridge back against the breech face, wherein the firing pin can strike it with enough force to fire reliably. However, with less than positive headspace control, there is usually some loss of accuracy.
Cimarron .45-75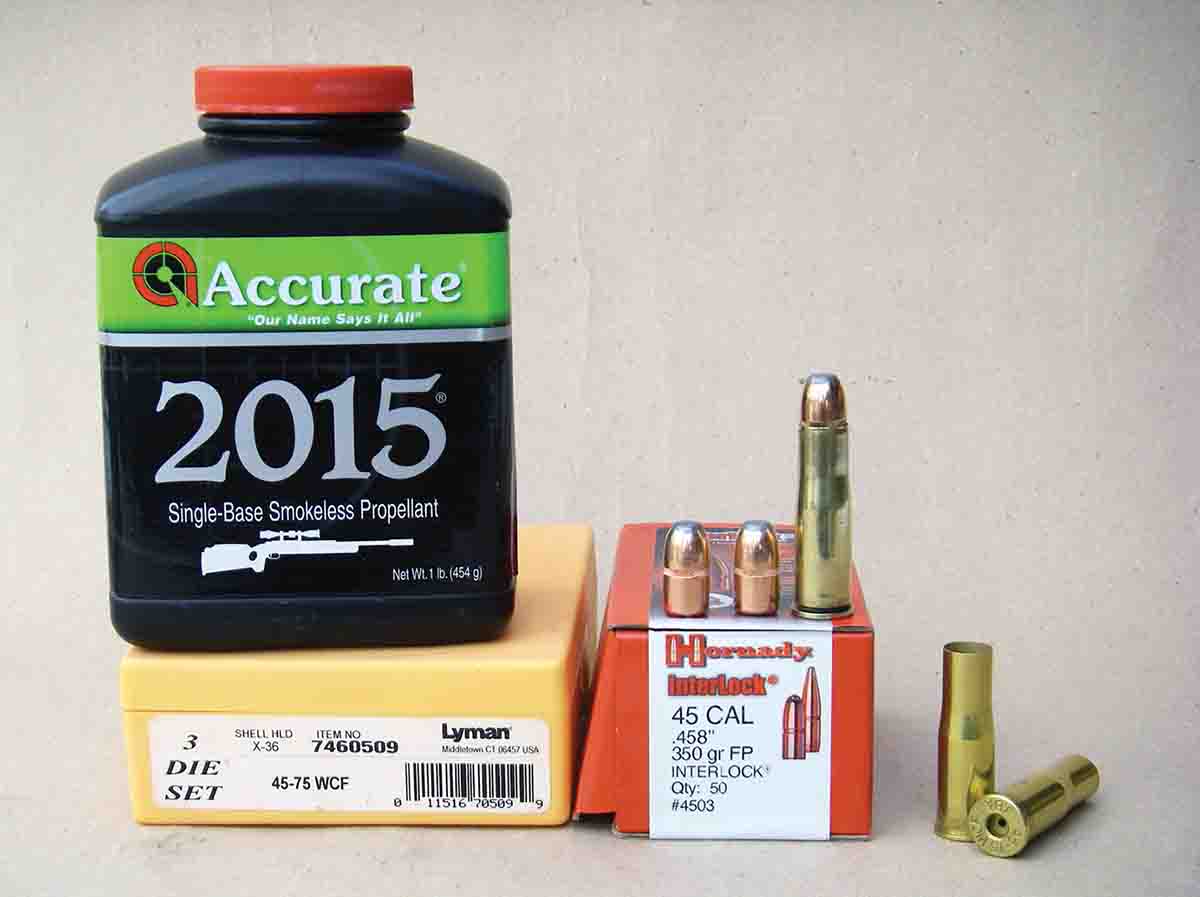 Q
: I recently purchased a Cimarron (Winchester pattern) Model 1876 rifle chambered in .45-75. I wanted to shoot smokeless loads at approximately the same velocity of the original black-powder loads. I am hoping you could suggest some loads using a jacketed softpoint bullet from 350 to 400 grains. Could I use the Speer 400-grain SP if the first crimping groove was used?
Any suggestions would be much appreciated. I have been reading Rifle and Handloader magazine for nearly 40 years and always look forward to receiving my issue every month. They are the best! Thanks for your time.
R. C., via e-mail
A: For reasons I won't discuss here, I have certain reservations in recommending 400-grain jacketed bullets in the .45-75 WCF. However, you can probably make the Hornady 350-grain InterLock FP bullet work okay.
Original black-powder era loads listed a 350-grain lead bullet at 1,383 fps. However, due to the much greater barrel resistance associated with a jacketed bullet (compared to a lead based bullet), you cannot reach the same velocities without increasing pressures. I suggest starting with 37.0 grains of Accurate 2015 powder and working up to 41.0 grains as a maximum charge, which should be close to your desired velocity. Use a large rifle primer, such as CCI 200 or Federal 210. Incidentally, these loads are for modern reproduction Winchester Model 1876 rifles and should never be used in original Winchester rifles that were designed for cast bullets and black-powder loads only.