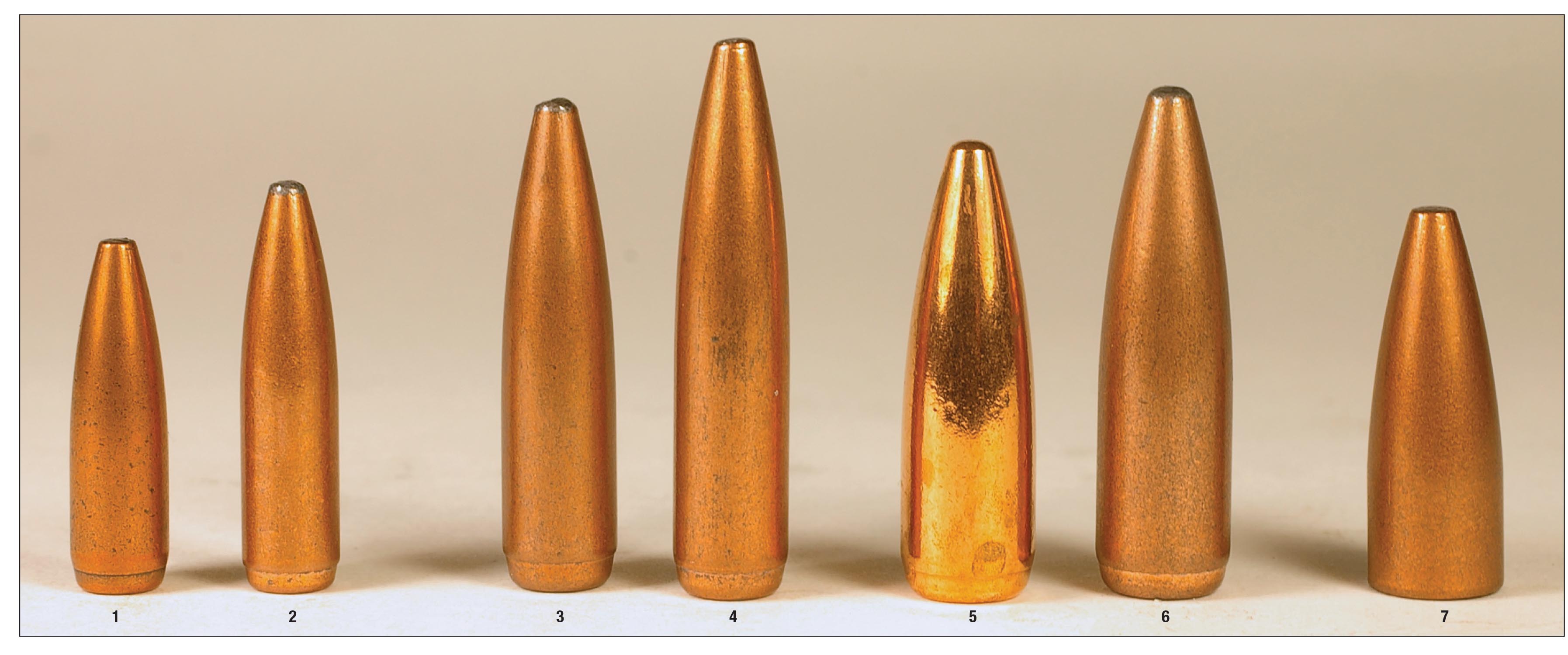 For years, Federal Cartridge offered its proprietary bullets only in its factory ammunition. Several years ago, Federal realized handloaders represented a sizeable market for its bullets. The company began offering bullets, such as its Fusion, Trophy Bonded Tip and more recently the Edge TLR and now its new Terminal Ascent, as components for handloading. Speer Bullets, Federal's sister company, also recently introduced a line of Gold Dot rifle bullets for handloading.
Gold Dot and Fusion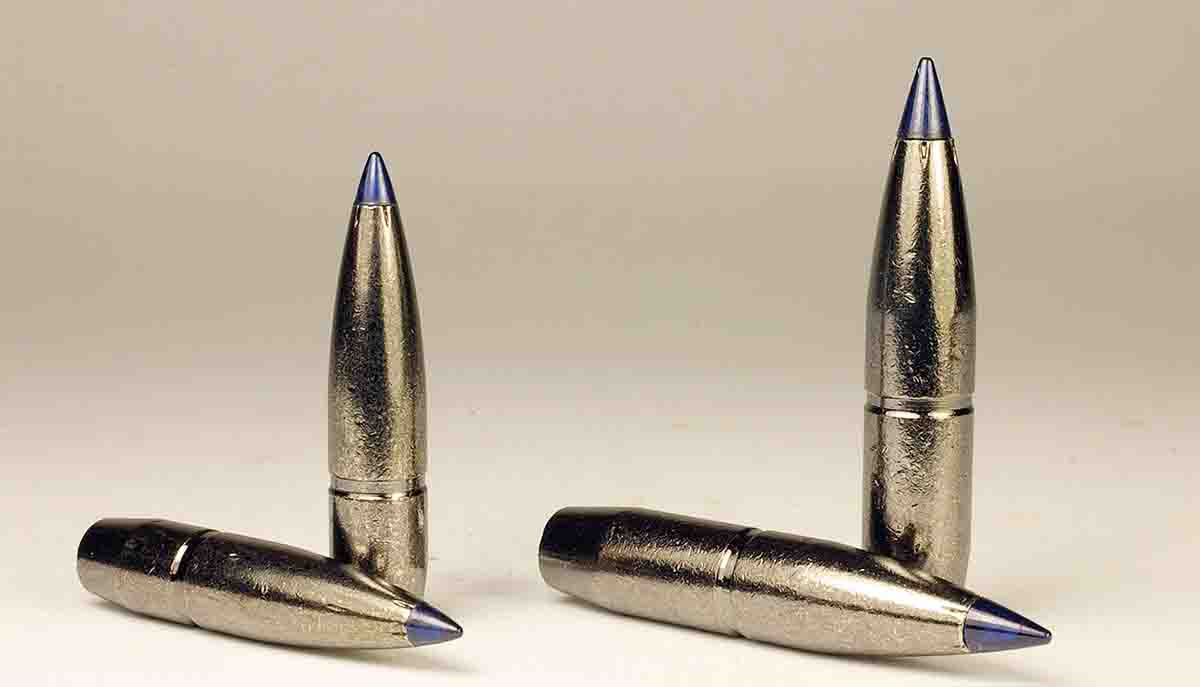 Speer Gold Dot and Federal Fusion bullets are made at Speer's plant in Lewiston, Idaho, where they undergo Speer's electroplating process of submerging lead alloy cores in hot tub-size vats to form a pure copper jacket. This process forms jackets that are very uniform in thickness and bonds the jackets to cores. "Only a very slight variation in jacket thickness may occur during final forming of the bullets," said Jeff Williams, a rifle bullet development engineer for Federal and Speer.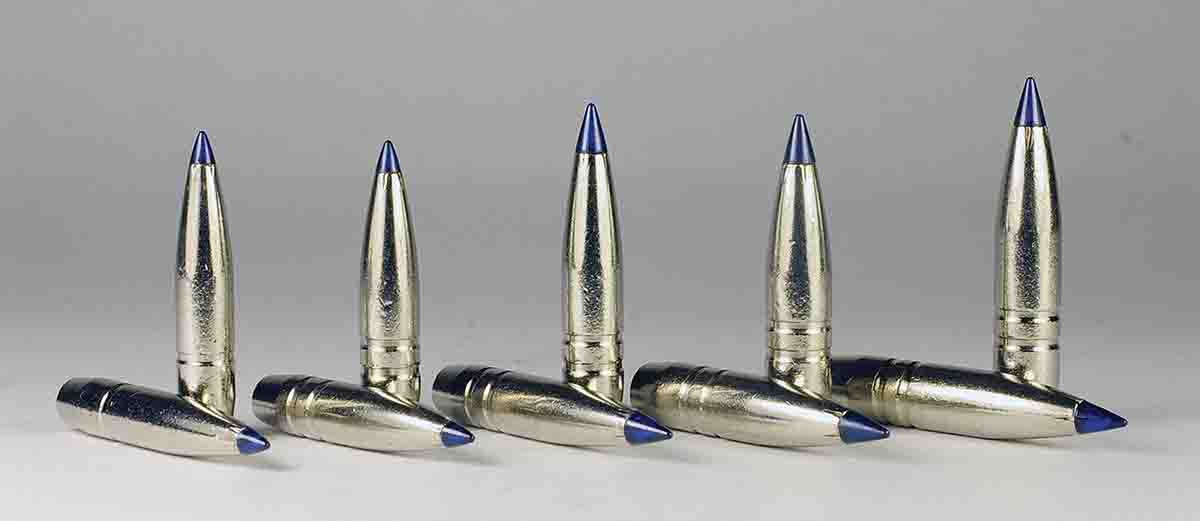 Pure copper is more ductile than regular jackets made of gilding metal and the diameter of Gold Dot bullets is on the large size, but still within specifications. To reduce friction from those two sources, Speer coats Gold Dot bullets with boron nitride. Other benefits of the coating include less copper fouling in a bore, a substantial reduction in pressure variation from shot to shot that helps improve accuracy and a reduction in a barrel's throat erosion. To determine that reduction in throat erosion, Speer engineers inserted a precise-diameter steel ball into the throats of rifles to measure throats. A hundred rounds were fired at a time at a slow pace to keep barrels from heating excessively, with intervals to measure erosion by how much farther the steel ball went into the throat.
The electroplating process produces jackets the same diameter completely around a bullet. "The jackets are engineered to a specific bullet and its expected velocity," Williams said. "We also somewhat overbuild jackets at the base." Larger caliber bullets are made with a heavier jacket in proportion to their mass compared to smaller caliber bullets. Regular jackets can be drawn to make them thinner at the nose to initiate expansion. To initiate and control expansion, Gold Dot and Fusion bullets have skives placed on their nose during final forming to govern the number of petals the nose will peel into and how far back the jacket and core will expand.
Much of the technology used to manufacture Gold Dot bullets came from the Fusion bullets Speer has produced for over a decade. The focus of Gold Dot bullets is law enforcement and personal protection, as some are designed for shooting through barriers. The Speer Handloading Manual Number 15 lists loads for Gold Dot bullets commonly fired in autoloading rifles. "That's not to say, though, a 168-grain Gold Dot fired from a .308 Winchester won't make a great hunting bullet," Williams said. Fusion bullets have always been intended as hunting bullets.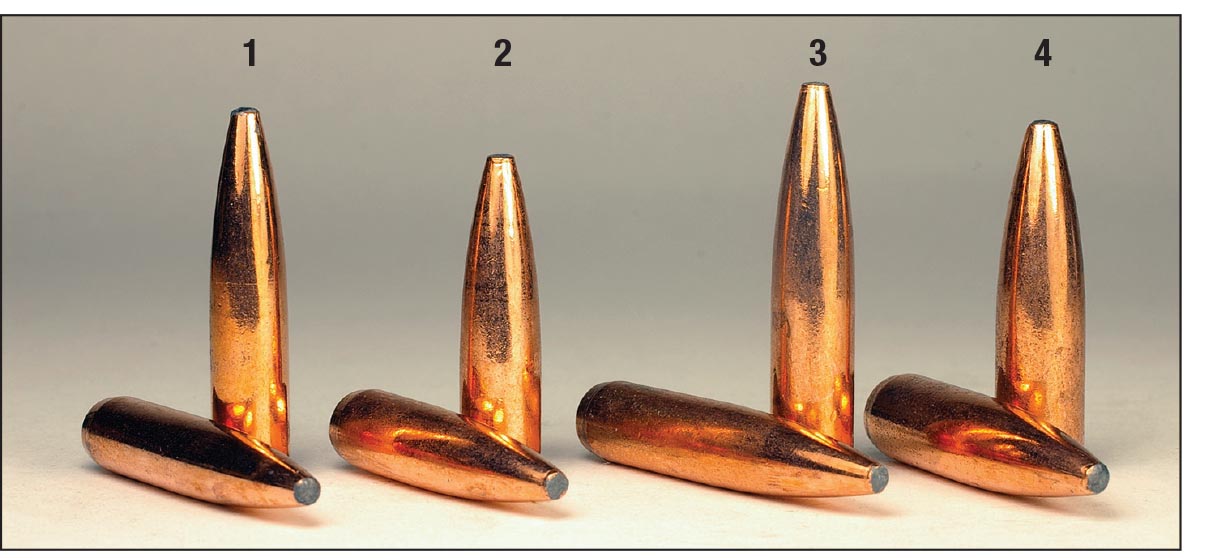 Most Gold Dot and Fusion bullets feature a tangent ogive, and a few have an ogive blend of tangent and secant that provides good accuracy seated at various distances from the start of a rifle's rifling. "We tried various bullet seating depths and they didn't much effect accuracy," Williams said.
I seated Gold Dot bullets at the overall cartridge lengths listed for them in the Speer manual and Fusion bullets at the cartridge length listed on the load data cards included with the bullets. As the load table shows, except for a few cartridges, at least one powder and Gold Dot or Fusion pair fired three- or five-shot groups under an inch at 100 yards. For instance, five 75-grain Gold Dots formed a .52-inch group when matched with Varget and shot from a .223 Remington rifle, and five 140-grain Fusions grouped in .68 inch paired with Reloder 22 and shot from a 6.5 Creedmoor rifle.
Most handloads also produced a low extreme spread of velocity. For example, Fusion 180-grain bullets shot from a .30-06 had a 14 fps average extreme velocity spread fired with three different powders. Speer 150-grain Gold Dot TMJ bullets had the same average velocity spread when shot with three different powders from a .308 Winchester.
Fusion and Gold Dot bullets received rough treatment when they were shot into bundles of dry paper. Recovered 75-grain Gold Dots showed they were sturdy bullets when they hit the paper at 2,500 fps. The bullets had expanded down about three-quarters of their length, with about half of the lead core sheared off but with the remaining lead bonded to the jacket. Fired from a .30-06, Fusion 180-grain bullets hit paper traveling 2,600 fps. Recovered bullets were fairly-well mashed flat. Still, the majority of the lead cores were adhered to jackets.
Trophy Bonded Tip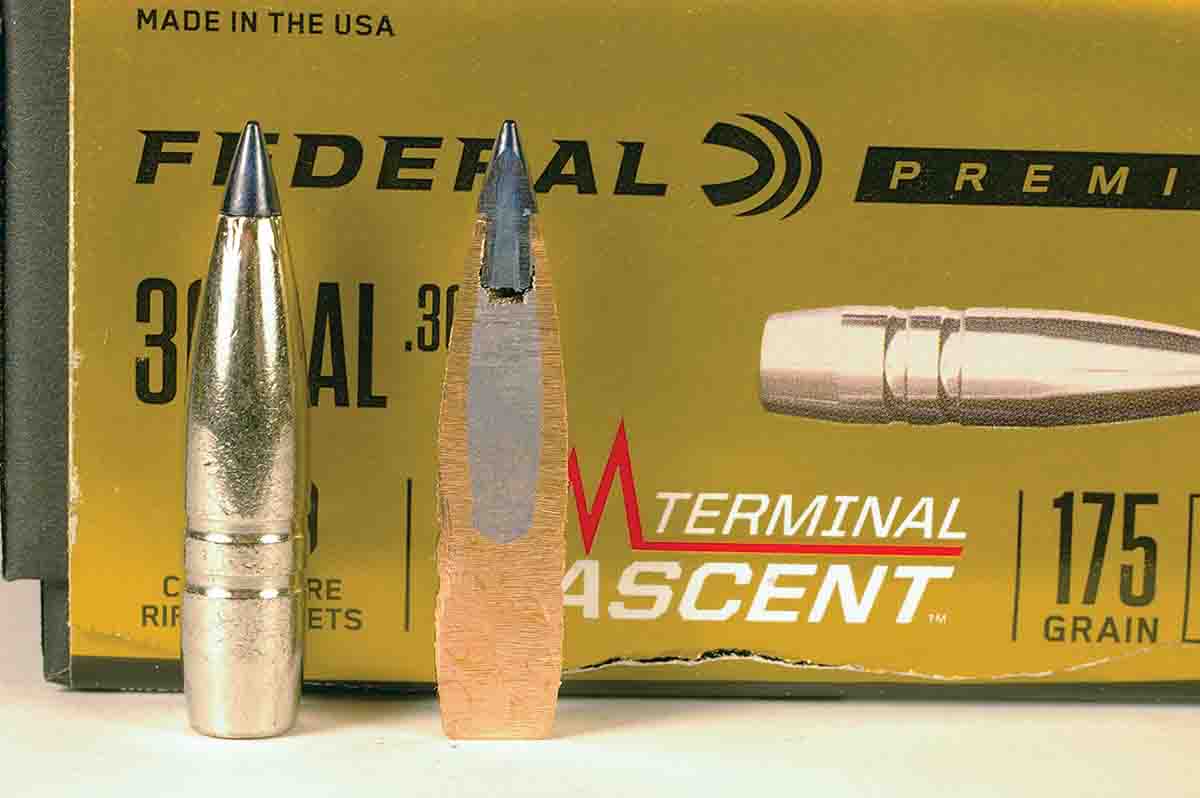 Jack Carter introduced his Trophy Bonded Bear Claw bullets decades ago with a front lead core bonded to a jacket and a solid shank of copper. Big-game hunters liked the unfailing ability of the Bear Claw's lead front to expand broadly, check expansion about halfway down its length at the solid copper rear section and retain most of its weight to penetrate deeply.
Years ago, Vista Outdoor bought the rights to Trophy Bonded bullets and, under the Speer and then Federal names, continued to make them in their original form. However, many hunters did not like the original bullet's high drag profile and because some rifles failed to shoot them accurately.
About 10 years ago Federal corrected those deficiencies and called the new bullet the Trophy Bonded Tip. The bullet has a sleek plastic tip and boat-tail that flattens trajectory at longer distances compared to the old Trophy Bonded with its blunt nose and flat base. Relief grooves on the shank of the bullet improved accuracy because they provided a place for the jacket material to go when displaced by the rifling lands and allowed the shank to obturate and provide a tighter fit. The relief grooves also make friction between the bore and bullet, and resulting pressure, more consistent from shot to shot.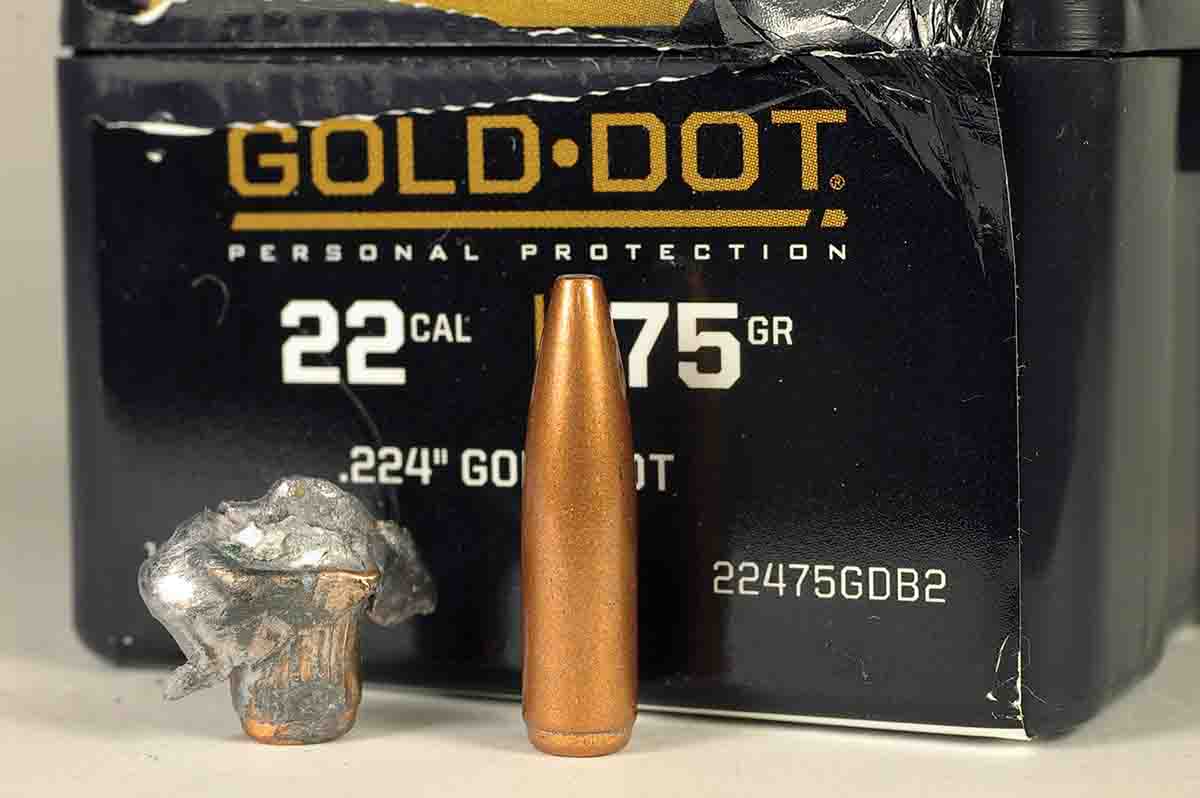 I seated 180-grain bullets in cases so they were .060 inch short of contacting the rifling in a .30-06 and .0220 inch from contacting the rifling in a Winchester Model 70 Featherweight .300 WSM. Three-shot groups averaged somewhat over an inch with the Trophy Bonded Tip bullets loaded with three powders and shot from the '06 rifle. Extreme velocity spread averaged 24 fps for the three powders. The Winchester shot groups a touch tighter with three powders and extreme spread of velocity averaged 22 fps.
That Winchester Featherweight has shot mostly 180-grain Trophy Bonded Tip bullets for the last 10 years. In the hands of various members of my family, those bullets have taken 10 or so elk, four moose, four caribou and several deer. I've yet to recover one from game.
With the newer Edge TLR and now Terminal Ascent bullets, Federal is deliberating over the Trophy Bonded Tip bullet's future. "I don't think we will discontinue Trophy Bonded Tip bullets," said Drew Goodlin, director of Federal Ammunition Technology. "However, we will be looking at several ways to improve the bullet." Improvements might include increasing their ballistic coefficient (BC) to flatten their long-range trajectory and make them reliably expand at longer distances.
Trophy Bonded Tip bullets are made in three calibers: .27 (130 and 140 grain), 7mm (140 and 160) and .30 (165 and 180).
Edge Terminal Long Range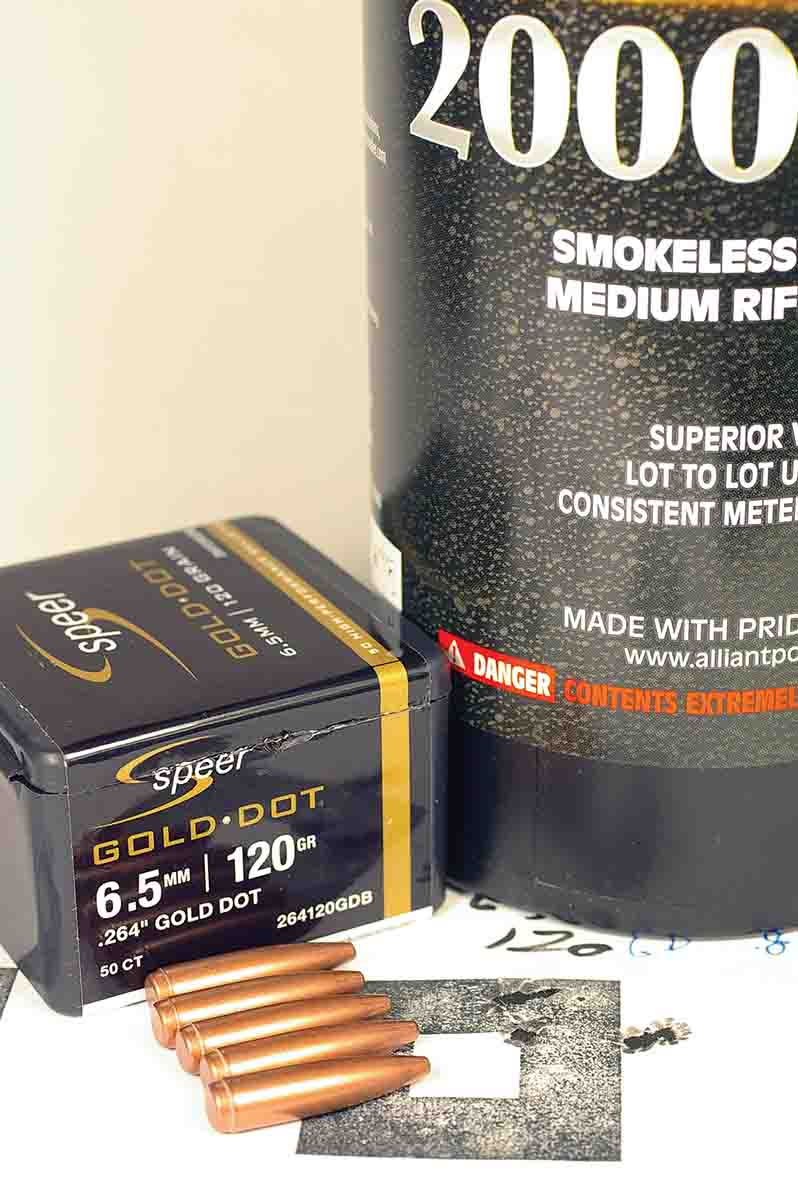 These days many hunters want to knock off game past the end of the rainbow. Whether or not that is ethical is debatable. However, demand is there for hunting bullets capable of carrying out those shots and that is the direction Federal took in 2017, when it restructured the Trophy Bonded Tip into the Edge TLR bullet. These bullets have the same internal construction as Trophy Bonded Tip bullets. However, to increase ballistic coefficient (BC), Edge bullets are built with a secant ogive capped with a Slipstream polymer tip and a long boat-tail. In addition, Edge bullets have one AccuChannel groove around their shank. In comparison, .30-caliber 180-grain Trophy Bonded Tip bullets incorporate three grooves around their shank and a crimping cannelure, which increases aerodynamic drag. The AccuChannel's sloped rear wall allows air to slip in and out of the channel to slightly improve BC. For example, the G1 BC is .536 for the .30-caliber 175-grain Edge bullet compared to a .500 BC for the same caliber 180-grain Trophy Bonded Tip bullet.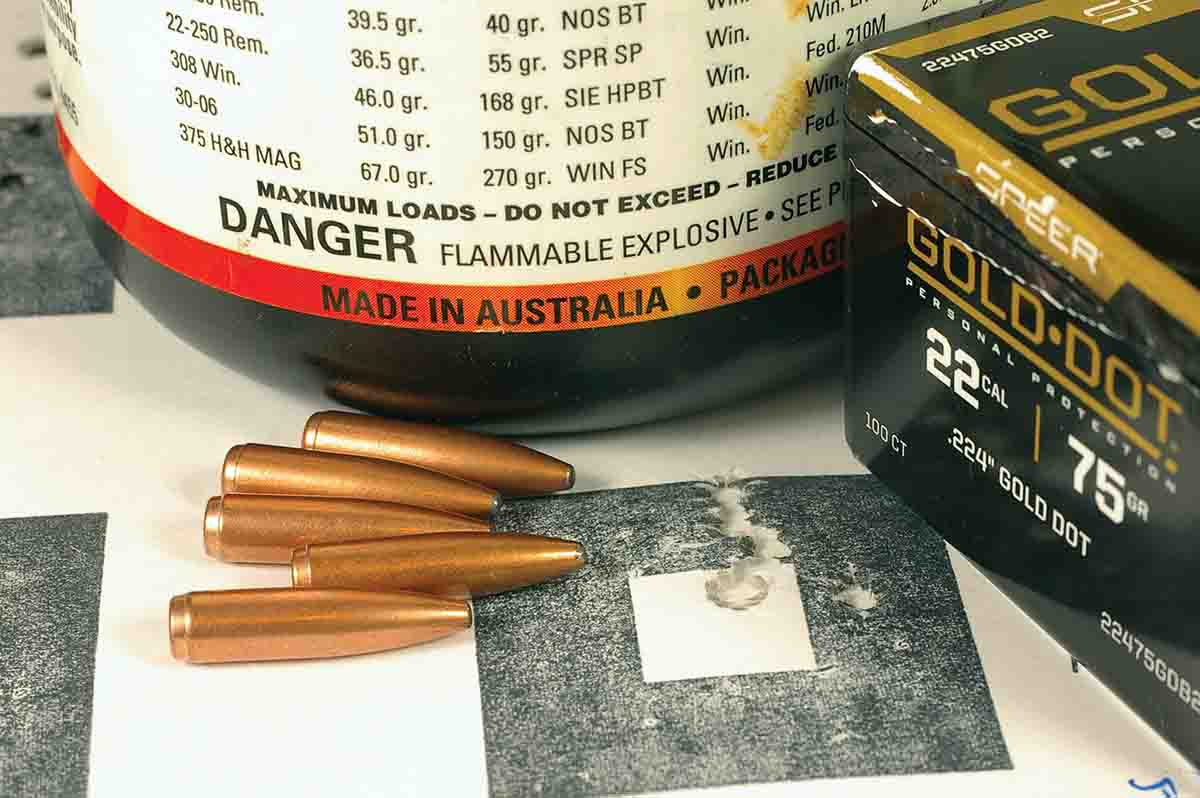 Federal indicated Edge bullets expand at impact velocities as slow as 1,400 fps. To do that, the nose is skived and the nose of the jacket forms a hollow point. The cavity inside of the Slipstream tip allows the point to break free upon impact for fluid to enter the hollow point and expand the bullet.
Preparing my Remington Model 700 Mountain Rifle chambered in .270 Winchester for deer season last fall, I loaded Edge 136-grain bullets with Reloder 26. Velocity was 2,876 fps with 58.5 grains of Reloder 26 and a three-shot group was so-so. Load development ended with 59.5 grains of the powder increasing velocity to 3,010 fps with a 1.15-inch group.
My Ruger American .30-06 somewhat missed the mark shooting 200-grain Edge bullets. Groups averaged about 2 inches paired with H-4350 and N-560 and extreme spreads of velocity averaging 50 fps. Edge bullets performed the best when shot with Reloder 17 printing a 1.45-inch group and a 16-fps extreme spread of velocity.
Terminal Ascent
A couple of differences distinguish Edge TLR bullets from the new Terminal Ascent bullets. The most obvious is the addition of a second AccuChannel groove around the shank of Ascent bullets, except on the 6.5mm 130-grain Ascent, which has one AccuChannel. The second is the black nickel plating on Edge bullets has been changed to bright nickel on Ascent bullets. Other than that, the two bullets are the same, sharing the same high BCs and construction from a solid shank to a Slipstream tip. Load data, supplied on cards with the bullets, is the same for Edge and Ascent bullets of the same caliber and weight.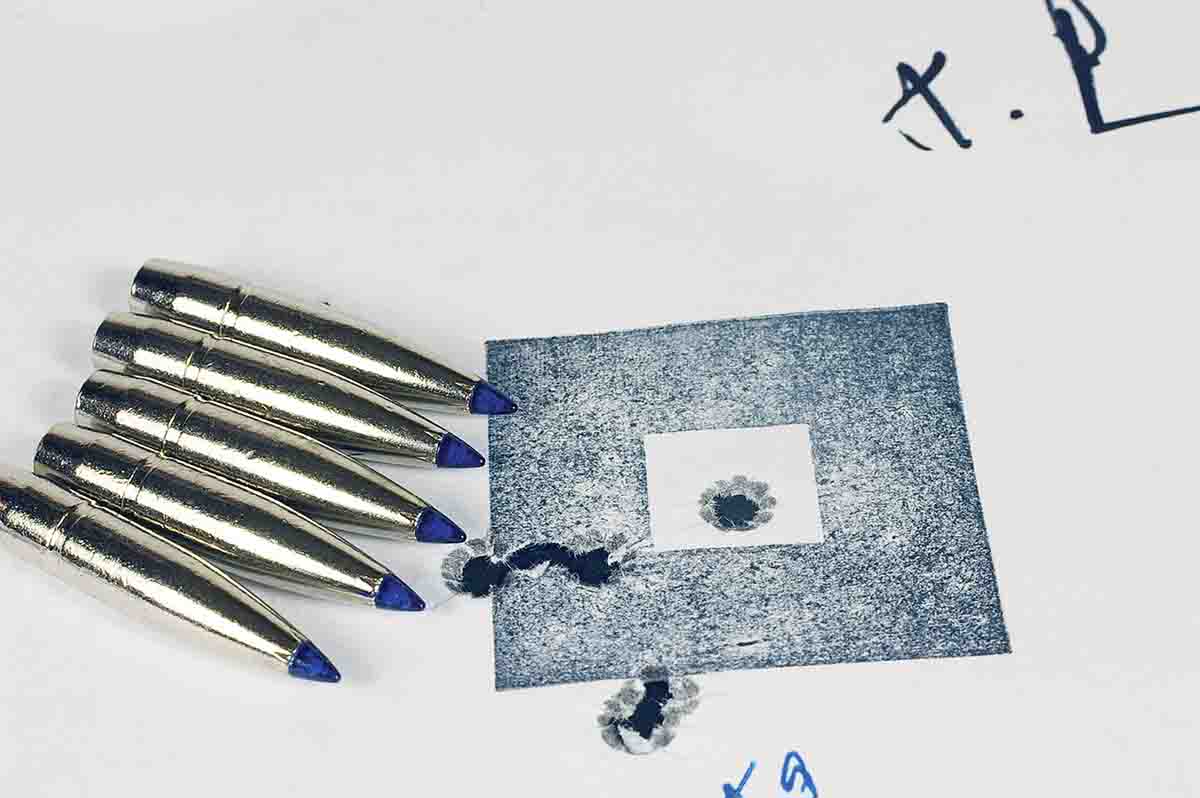 "The first thing shooters do with bullets is shoot them at targets," said Jared Kutney, Federal's director of rifle product engineering, "and they immediately see if the bullets are accurate or not. So, if we don't produce an accurate bullet, then we have a problem." The addition of a second AccuChannel on Ascent bullets help improve accuracy by leveling shot-to-shot pressure and reducing fouling. The two AccuChannels cause Ascent bullets to lose about two to three percent on their BC compared to the same bullets without grooves.
Although it's a limited comparison, Edge 200-grain bullets averaged 1.81-inch groups shot with three different powders from a Ruger American .30-06. Shot from the same rifle, Ascent 200-grain bullets averaged somewhat tighter 1.21-inch groups shot with three different powders.
Kutney said the weights of some of the Ascent bullets are somewhat lighter than standard weights for their caliber. That is to ensure the bullets will stabilize when fired from rifles with a standard rifling twist. For instance, 6.5mm 130-grain Ascent bullets measure 1.402 inches in length compared to Hornady 6.5mm 140-grain ELD-M bullets that are 1.377 inches long. "It's all about bullet length when it comes to stabilizing bullets," Kutney said.
Faster rifling twists are becoming more popular to stabilize long-for-caliber bullets to shoot long distances. "Perhaps as that market gains some momentum, we will look at introducing some longer and heavier Ascent bullets for handloaders who know what they're doing," Kutney said.
To check the expansion of Ascent bullets, I shot 6.5mm 130-grain bullets with an impact velocity of 2,700 fps and .30-caliber 175-grain bullets at 2,600 fps into bundles of dry paper. Retrieved bullets looked picture-perfect, expanded down half their length with a mushroom of lead core nearly twice their original diameter fused to the head of their solid shank.
With all these Federal and Speer bullets now available for a variety of shooting, handloaders should be busy at their benches for quite some time.