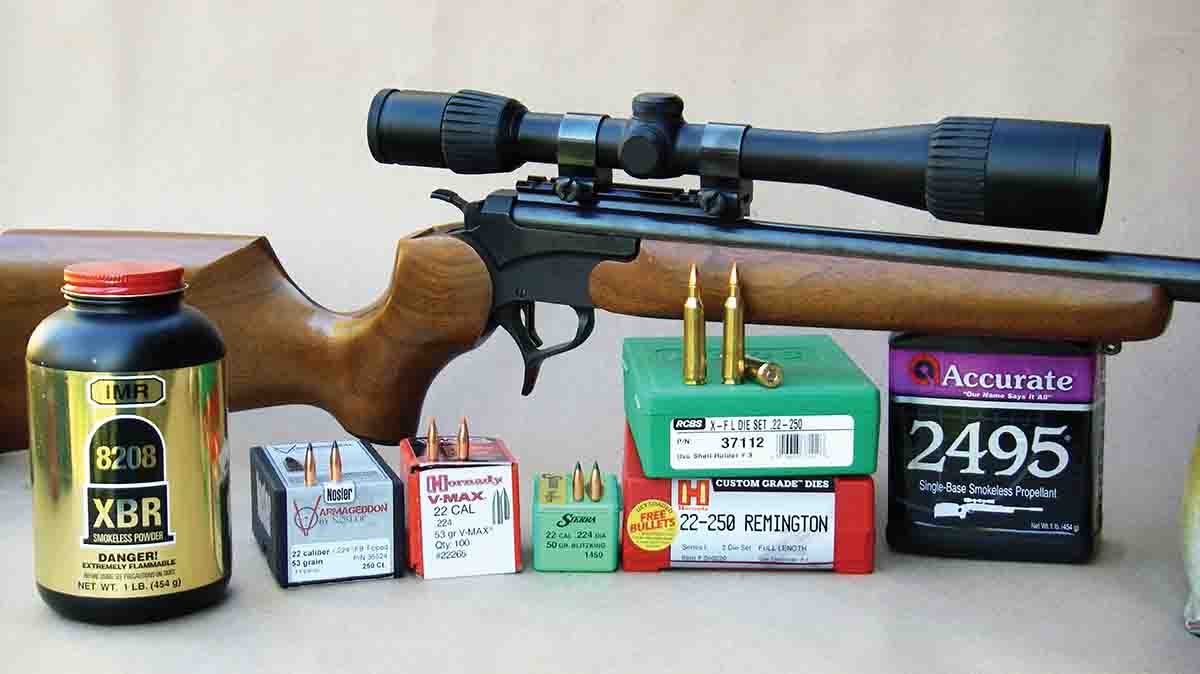 Remington officially adopted the .22-250 Remington in 1965 and began offering rifles and ammunition. This high-velocity, .22-caliber cartridge immediately gained widespread acceptance among varmint shooters and hunters as it offers outstanding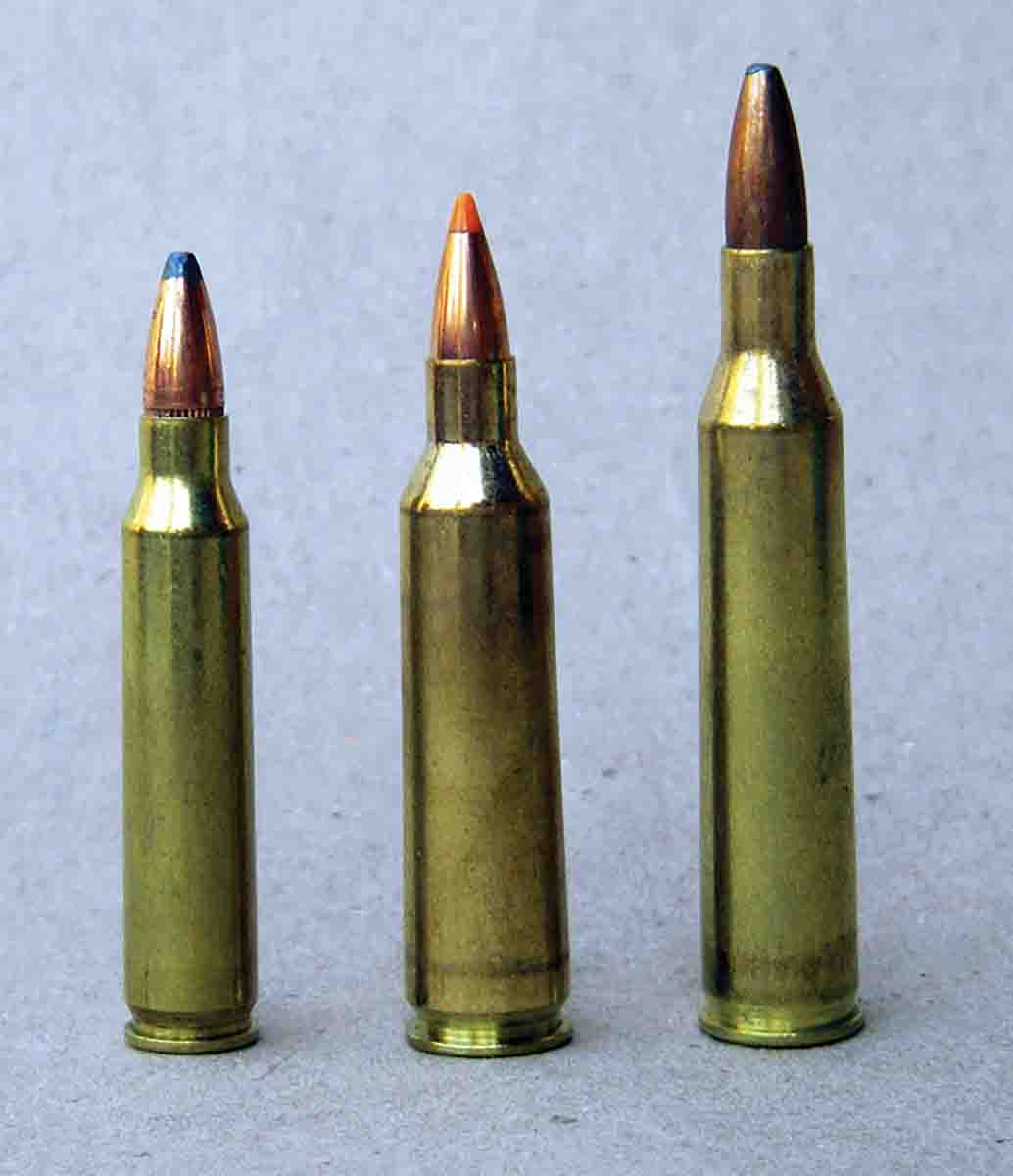 accuracy and terminal results. With modern bullets and powders, its accuracy and effective range have been increased to new levels. However, to optimize performance, handloading is required.
This story really begins around 1915 when Savage began offering the .250 Savage cartridge, with Charles Newton generally credited for its design. Newton wanted a 100-grain bullet pushed to about 2,800 fps; however, Savage dropped the bullet weight to 87
grains to obtain the magical 3,000 fps mark, making it the first U.S. cartridge to reach that velocity. It is noteworthy that during the .250's development, Savage necked the case to .22 caliber, but for several reasons that cartridge was never commercially offered.
With new powders available, by the 1930s several experimenters including Harvey Donaldson, Grosvenor Wotkyns, J.E. Gebby, J.B. Smith, John Sweany, Phil Sharpe and others began wildcatting the .250 Savage by necking it to .22 caliber, with each giving it a different name. Gebby trademarked the name ".22 Varminter," which is probably the most commonly encountered wildcat version. Regardless, this wildcat offered several notable design improvements over the .220 Swift (introduced in 1935), most notably a rimless case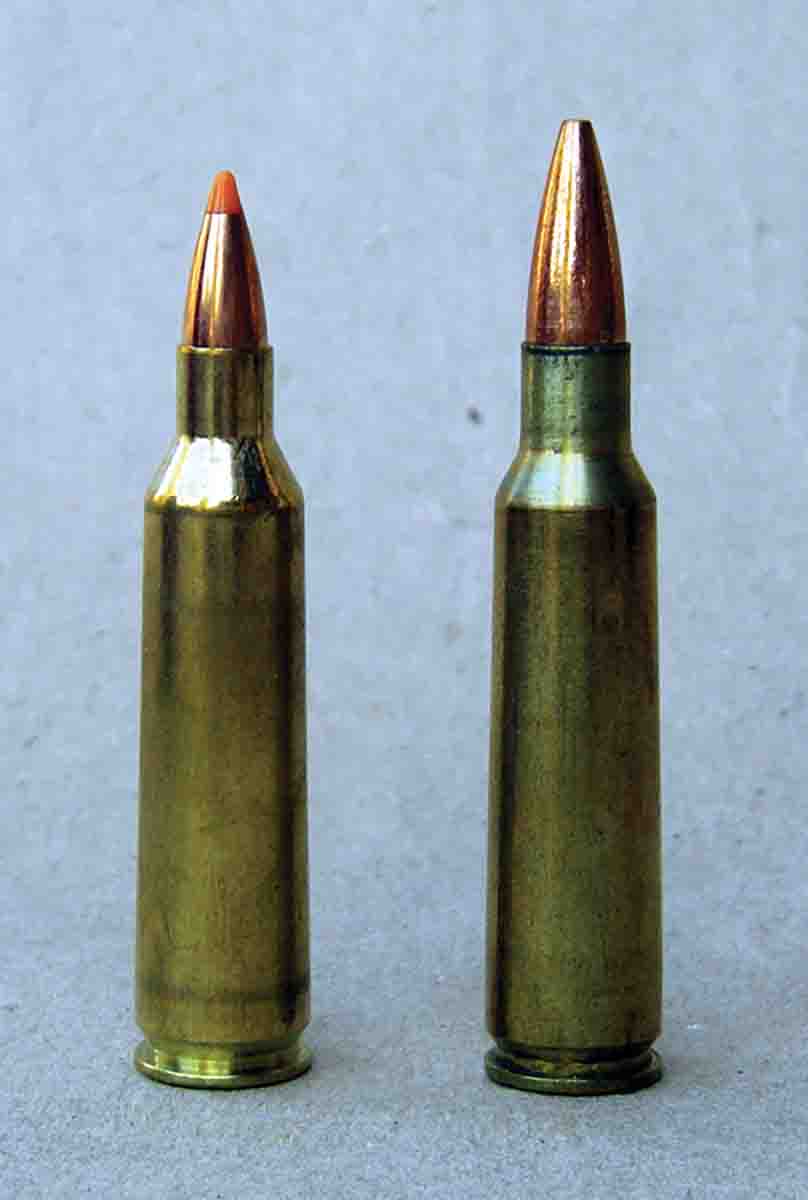 and 28-degree shoulder.
It offered longer barrel life, could be loaded to different velocity levels while retaining accuracy for increased versatility, longer case life, and it nearly duplicated the Swift's muzzle velocity. Its advantages were clear, and its popularity steadily grew. Period rifles built with various wildcat chambers should be handloaded with extreme caution and may not be suitable with the accompanying load data that is intended for use in commercial rifles with a SAAMI chamber.
The next major milestone occurred in 1963 when Browning Arms Company offered its bolt-action High Power rifle in .22-250. This was rather risky as it was still a wildcat without an industry standardized chamber, and commercial ammunition was not available. Browning was also toying with the idea of making it a commercial cartridge, reportedly to be known as the ".22-250 Browning," and offering ammunition in the Browning product line. However, Remington beat Browning to the punch by introducing the .22-250 Remington to SAAMI and began offering guns and ammunition in 1965. Most major rifle and ammunition companies followed suit.
Factory loads were initially advertised with a 55-grain bullet at something over 3,800 fps, but today the same weight bullets are generally listed at 3,650 to 3,680 fps. New bullet weights have been added, including 35-grain bullets at 4,450 fps, 40-grain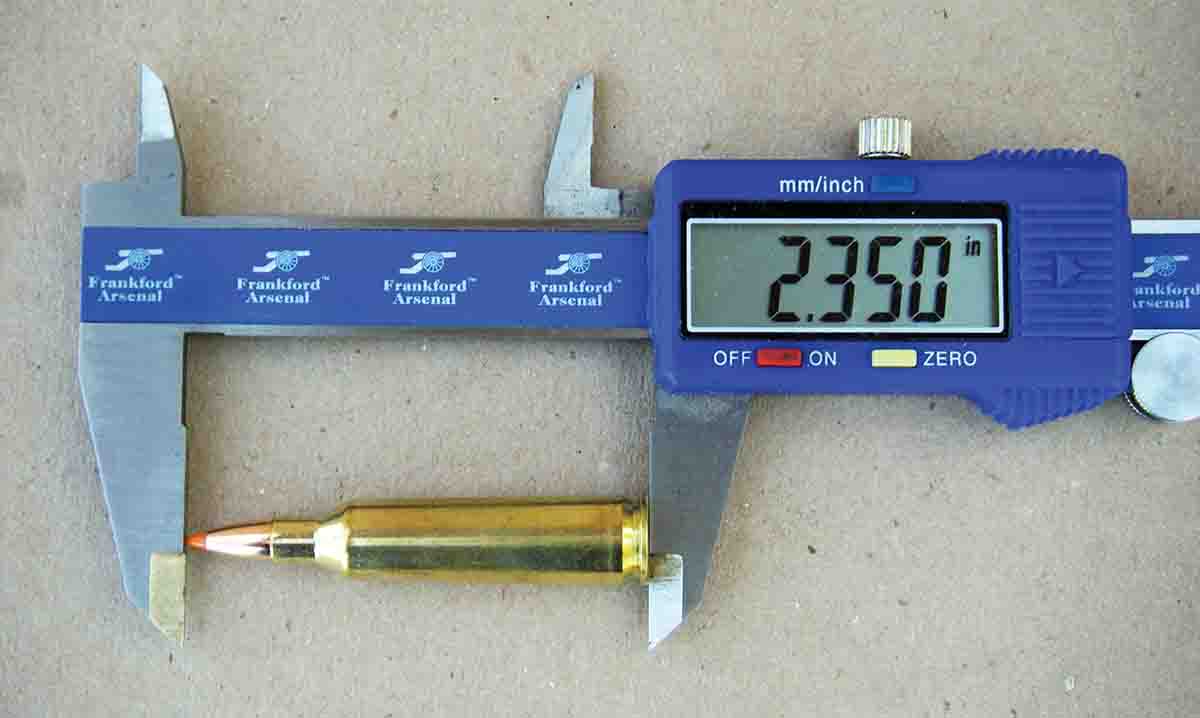 bullets at 4,150 fps and 50-grain bullets at 4,000 fps. With new bullets that offer higher ballistic coefficients (BC), less drag, enhanced terminal performance and a higher degree of accuracy, as well as new powders that produce higher velocities, less fouling and lower extreme spreads, the .22-250 is even more versatile than it was 54 years ago.
For thinning out a prairie dog town, frangible varmint bullets that typically weigh between 50 and 55 grains are widely popular, as they stabilize well in almost all rifles, are accurate, shoot flat, offer impressive terminal performance and buck the wind well. Examples include the Hornady V-MAX, Nosler Ballistic Tip and Varmageddon, Sierra BlitzKing and hollowpoint and Speer TNT hollowpoint bullets. It is noteworthy that the remarkably high BC and outstanding terminal performance of the Hornady 53-grain V-MAX and Nosler 53-grain Varmageddon bullets make them top choices for a variety of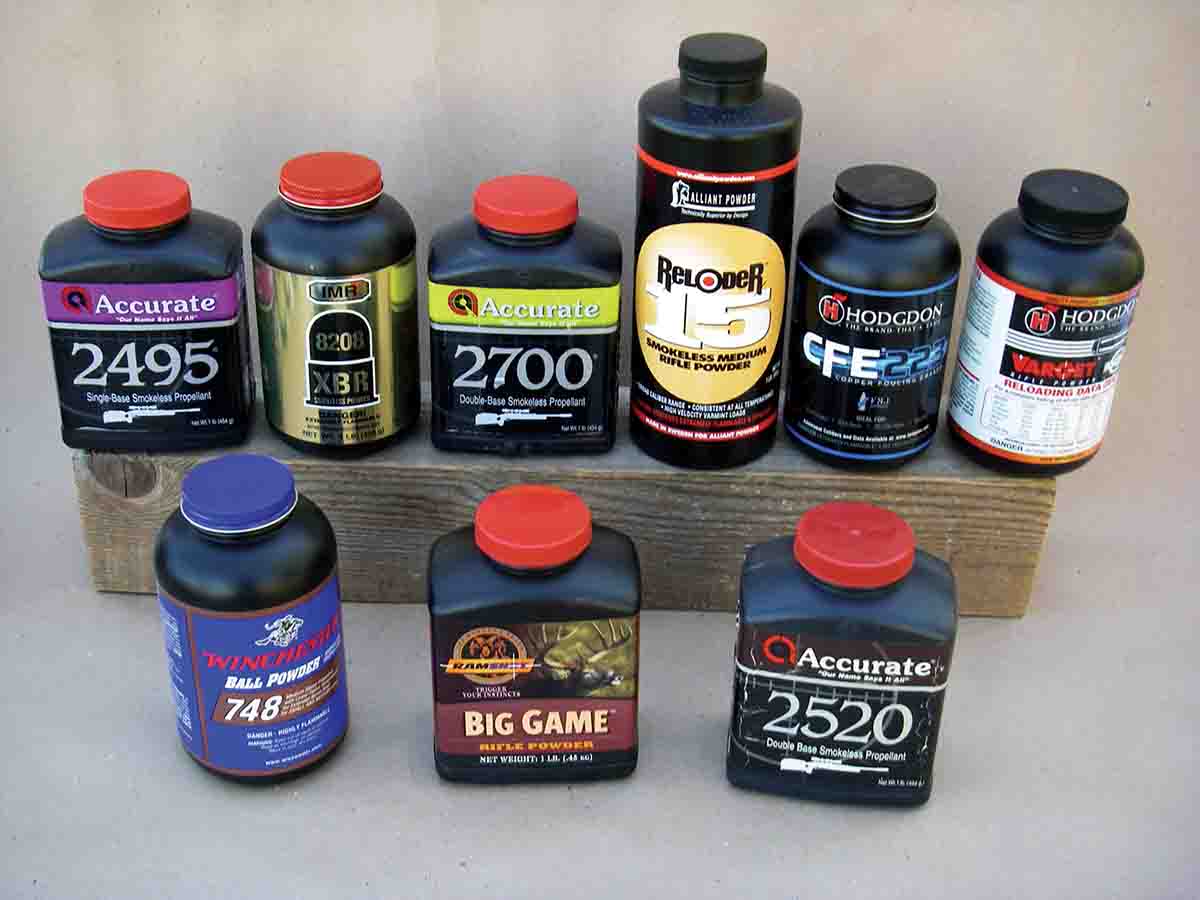 shooting applications.
Each of the above companies also offer excellent lightweight bullets, typically around 40 grains, that can be pushed to high velocities while offering explosive performance and an unusually flat trajectory at midrange. For handloaders who hunt in lead-free zones, Barnes, Hornady, Nosler and Speer offer nontoxic alternatives.
Most companies offer specialized highly frangible bullets designed for maximum effect on varmints. Space will not allow a detailed discussion of their particular designs, but it should be noted that many can and will come apart when pushed to maximum .22-250 velocities, which can be seen as a puff of smoke during flight, usually within 50 yards from the muzzle. Various causes can include an overly fast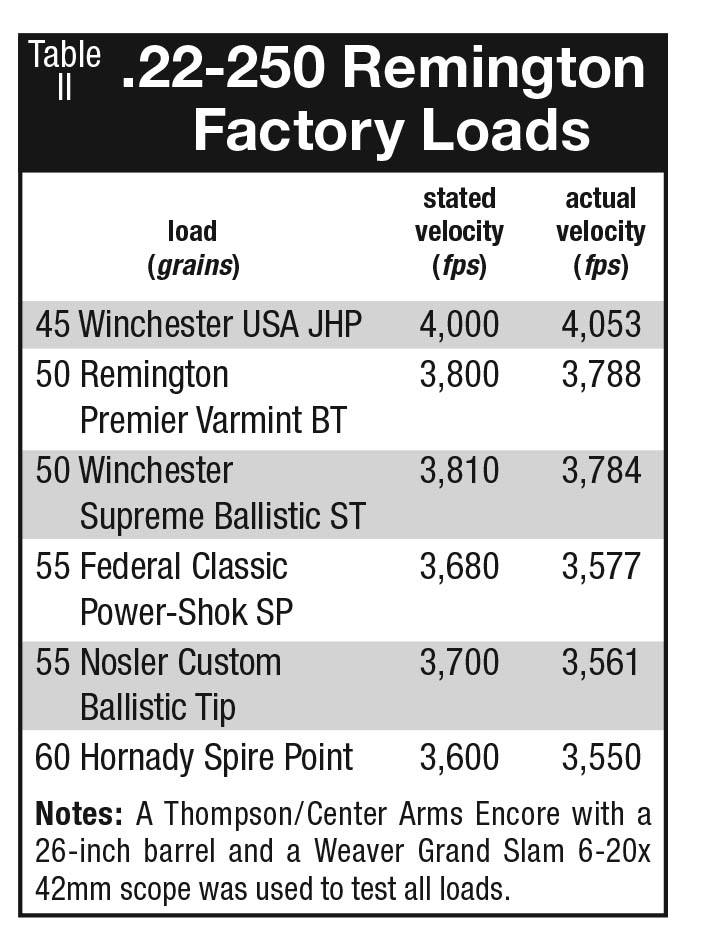 rifling twist and bullet rotation speed, a rough bore, too much pressure, improper chamber leade dimensions and other factors. It is suggested to check with the bullet manufacturer and follow the company's recommendations for velocity, twist rate and pressure. While I have seen bullets specifically designed for the .22 Hornet work adequately in the .22-250, they are more often problematic due to their light construction, which can cause bullet break-up as described.
While the .22-250 has always been foremost a flat-shooting, low-recoiling cartridge intended for varmints and pests and as the ideal coyote-hunter's round, it can be pressed into service for hunting larger game such as deer. More than 20 years ago Jack Carter invited me to try his .22-caliber 55-grain Trophy Bonded bullets on Texas whitetail deer, a bullet specifically designed for that purpose. Over the course of several days our party shot more than 20 head of deer, each with a single well-placed shot from the .22-250. No deer were lost. Of the few 55-grain Trophy Bonded bullets that were recovered – most exited – penetration was up to 27 inches.
While I always recommend larger cartridges for deer-size game, the .22-250 can work if the correct bullets are chosen, distance is limited and shots are very carefully placed. Additional "deer" bullets I have had positive experience with include the Barnes 50- and 53-grain Triple-Shock X-Bullets, Hornady's 60-grain SP (without a cannelure) and the Nosler 60-grain Partition.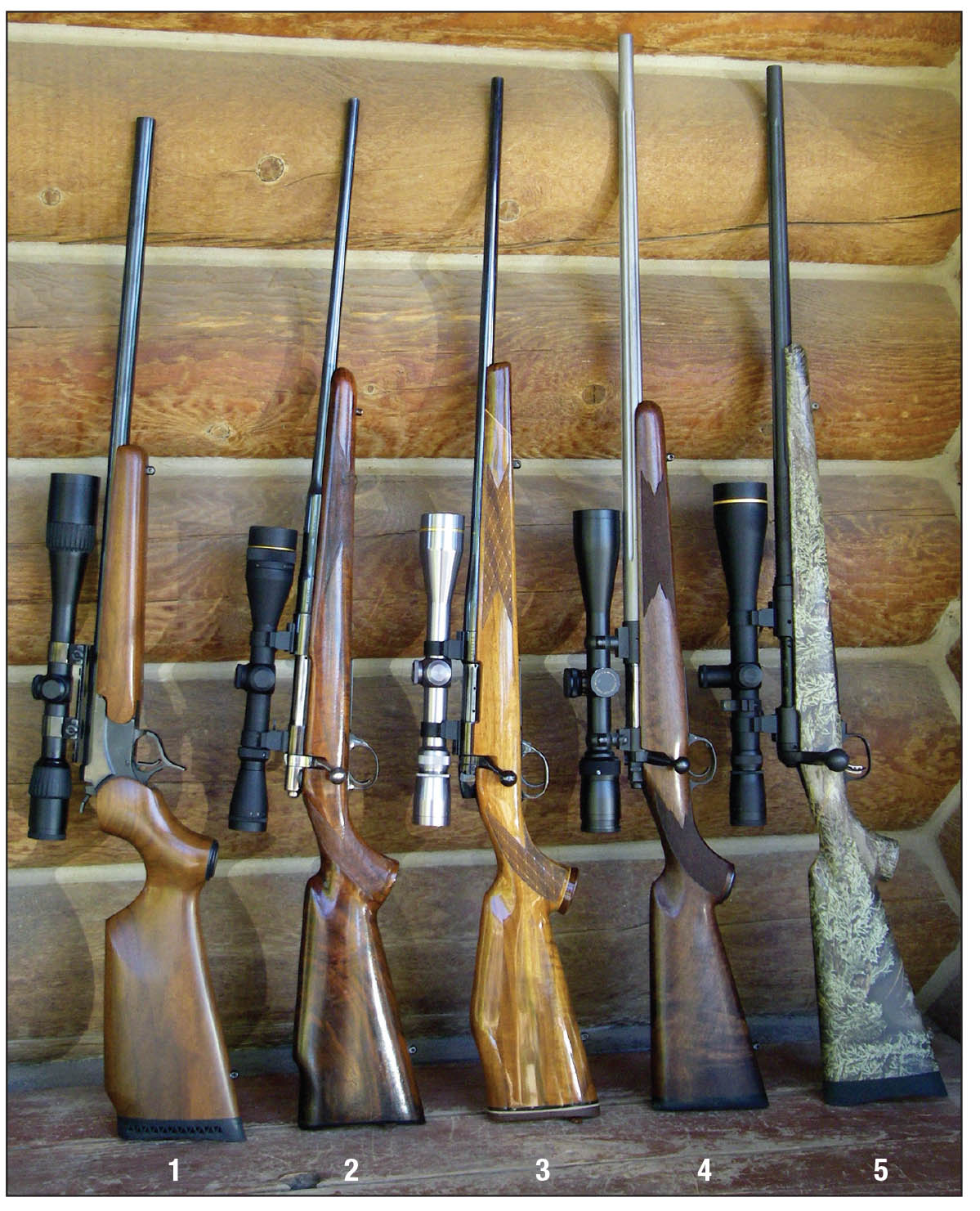 The most commonly encountered barrel twist rate for the .22-250 is 1:14, which has been offered as standard by Browning, Harrington & Richardson, Husqvarna, Mossberg, Remington, Ruger, Savage, Weatherby and Winchester. Sako, Thompson/Center and Howa offer a 1:12 twist as standard. During the middle 1990s Savage changed its standard twist rate to 1:12 but also offers an optional 1:9 twist on a custom order basis. Howa offers an optional 1:10 twist and Ruger lists the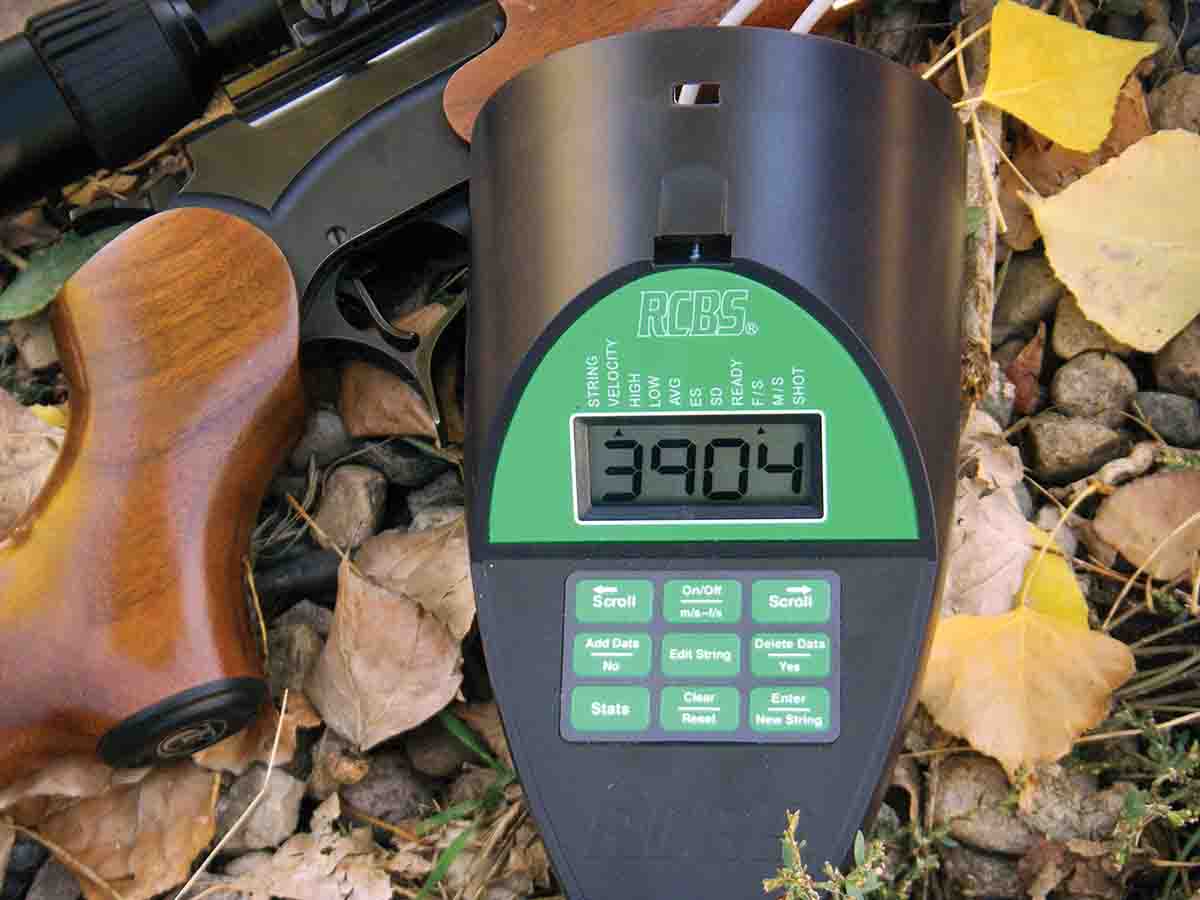 American rifle with a 1:10 twist but retains the 1:14 twist on all other rifles. The twist rate of a given rifle may influence what bullet is chosen and to what velocity it can be pushed to achieve proper stabilization.
For example, my son is a dedicated coyote hunter, and his favorite rifle for that purpose is a left-handed Savage Model 10 Predator Hunter Max 1 with a 24-inch barrel and 1:12 twist. We developed a load containing the Hornady 53-grain V-MAX bullet with 39.3 grains of Hodgdon CFE 223 powder, CCI's BR-2 primer and Winchester cases. Velocity was recorded at well over 3,900 fps while 100-yard groups hovered between .300 and .400 inch. Next a large quantity of ammunition was assembled for the upcoming winter months when we shoot or hunt coyotes daily. But upon firing subsequent groups, accuracy had fallen off severely with groups running 3 to 4 inches. Out of curiosity, using his ammunition I fired a couple of groups through a Kimber 84M with a 26-inch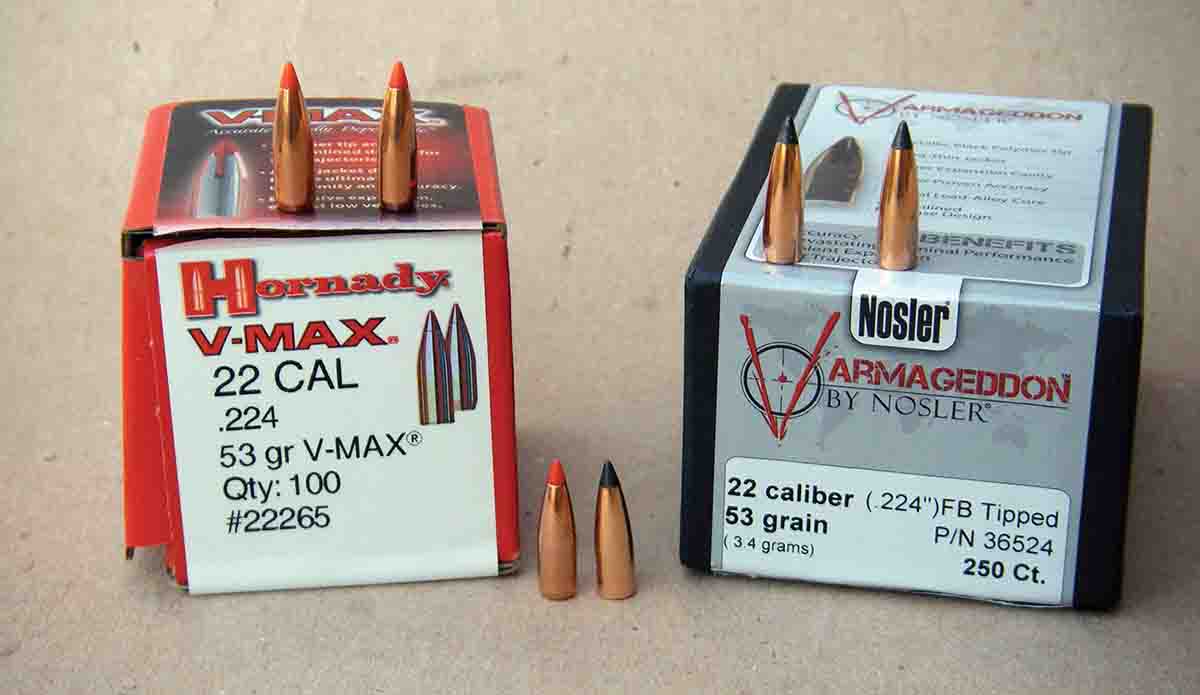 barrel and a 1:14 twist rate. In spite of its 2-inch longer barrel, velocity was identical to the Savage rifle, and groups easily stayed under .5 inch for five shots. Using the same 53-grain V-MAX bullet seated to the same overall length in the Savage rifle, but with velocity reduced to around 3,780 fps using 36.0 grains of Accurate 2495 powder, groups instantly shrank to between .225 to .275 inch. He has now used this load for several years on countless coyotes and at distances beyond 700 yards. This story illustrates that a load can appear to be working fine but is actually on the edge of poor stabilization. It also emphasizes how small technical changes mixed with basic experimentation can result in significant accuracy improvement.
The 1:14 twist is popular because it works well with 35- to 60-grain bullet weights at typical varmint-shooting distances. While I have seen it stabilize bullets weighing 60 to 70 grains and produce respectable accuracy at 100 yards, I have also seen those same loads produce extremely poor accuracy at extended ranges. A 1:12 twist is versatile and is an excellent choice, stabilizing 40- to 60-grain bullets at extended ranges. However, highly frangible bullets may have to be used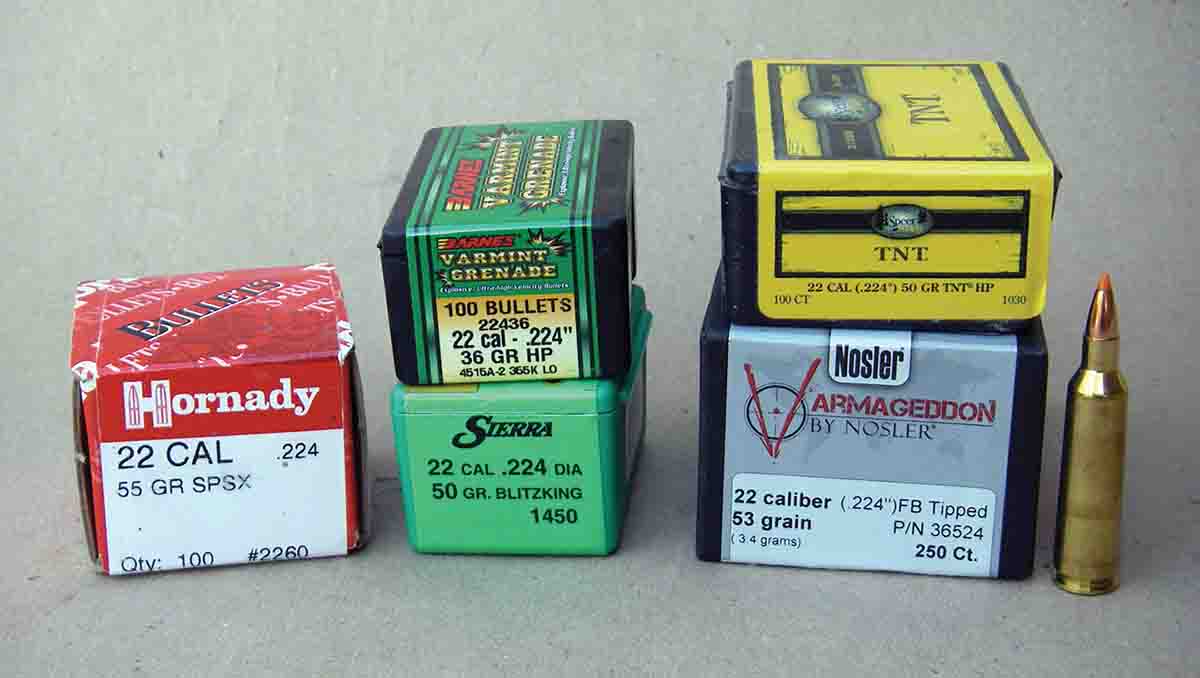 at reduced or more moderate velocities. A 1:12 twist can also potentially stabilize 63- to 70-grain bullets at longer distances, but the muzzle velocity should be kept as high as safely possible. The 1:9 and 1:10 twists are somewhat specialized as they are primarily designed to stabilize bullets that weigh 60 to 75 grains and even up to 80 grains at long distances. Regardless of the twist rate, it is beneficial to tailor loads and test them at all distances that they might be fired before assembling a large quantity of ammunition.
Industry maximum average pressure (MAP) was originally established at 53,000 CUP; however, using modern piezoelectric methodology, that figure has been updated to 65,000 psi. Most loads in the accompanying table have been pressure tested and are within industry pressure guidelines. Loads that were not tested illustrated normal pressures in the test rifle.
A Thompson/Center Arms Encore with a 26-inch barrel was used to check velocities and accuracy, and it features a 1:12 twist. It was topped with a Weaver 6-20x 42mm Grand Slam scope. Select loads have produced groups under .5 inch.
New Hornady cases were used to develop all loads and were weight sorted and carefully prepared to provide uniformity. It is noteworthy that in measuring the capacity of cases from Black Hills Ammunition, Federal, Hornady, Lapua, Norma, Nosler, Remington, Speer and Winchester, there was a 2.7-grain capacity variance. Considering typical powder charges for the .22-250
usually run between 32.0 and 40.0 grains, changing case manufacturers can alter pressures and velocities of a given load. This is a good reminder to never begin with maximum charges; rather, begin with loads that are below maximum, then work up to suggested maximum loads while watching for signs of excessive pressure.
If handloads are to be used in multiple rifles, it is suggested to full-length size cases to assure reliable chambering in each rifle. However, if loads will only be fired from a single rifle, using a neck sizing die, or adjusting a full-length sizing die to size the neck only, will extend case life and often increase accuracy.
I prefer benchrest primers because they serve to lower extreme spreads and help increase accuracy. I generally use Federal 210M Gold Medal or CCI BR-2 primers, with the latter being used to develop the accompanying data.
The .22-250 thrives on powders with a burn rate that is likewise ideal for the .308 Winchester. Within this burn-rate range are some of the most advanced powders that offer excellent metering and burn especially clean while offering benchrest-type accuracy. The list of potential propellants is long but includes spherical and extruded types.
High-volume shooters often favor spherical powders, as they usually cost less, but more importantly they meter precisely, which allows charges to be thrown accurately, and they work smoothly when cranking out ammunition using a progressive press. Notable performers include Winchester 748 and 760, Ramshot TAC and Big Game, Alliant 2000-MR, Accurate 2700, 2230 and 2520, Hodgdon H-380, BL-C(2), H-335, CFE 223, Hybrid 100V (which contains the combined technology of extruded and spherical powders) and SUPERFORMANCE. It should be noted that CFE 223 provided unusually high velocities while keeping pressures within limits. It also offers a decoppering agent to help control copper fouling. Keep in mind that data containing spherical powders should not be reduced below the suggested start charges, as erratic ignition and hang fires can occur.
For maximum accuracy, extruded powders are still difficult to beat. Outstanding results were obtained with IMR-8208 XBR, IMR-4895, Hodgdon Varget, H-4895, Alliant Reloder 15, VV-N140, VV-N150 and Accurate 2495. When choosing an extruded powder, regardless if throwing each charge or weighing each charge then pouring the powder through a funnel into the case, I prefer "short-cut" powders that will not bridge in the relatively small .22-caliber case. A good example is 8208 XBR, which also produced good accuracy.
The .22-250 Remington has been a personal favorite varmint cartridge for more than 40 years. With today's components it is without question, better than ever.