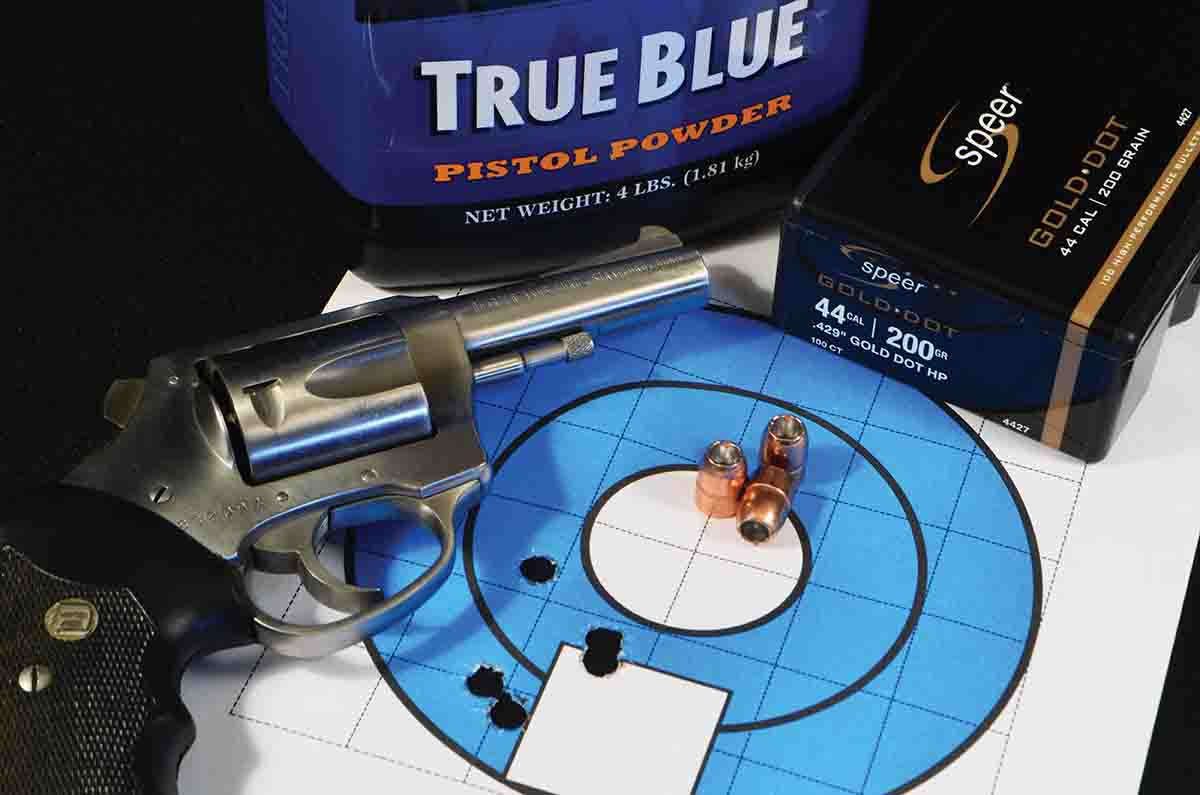 The .44 Special is one of our oldest handgun cartridges, and still one of the most popular and most useful. Introduced by Smith & Wesson around 1907, it has been in continuous production ever since.
The reasons for its popularity are simple; it's very accurate and comfortable to shoot, yet it can pack a significant punch. Typically, the .44 Special fires a 200- to 240-grain bullet at midrange velocities – 800 to 900 fps – that translates into energy at the muzzle of about 350 foot-pounds (ft-lbs). In other words, in its midrange, it has knock-down power comparable to the .45 ACP.
At the same time, it can be loaded down to provide an accurate round that can be shot all day without any discomfort. The .44 Special is to cartridges what the golden retriever is to dogs.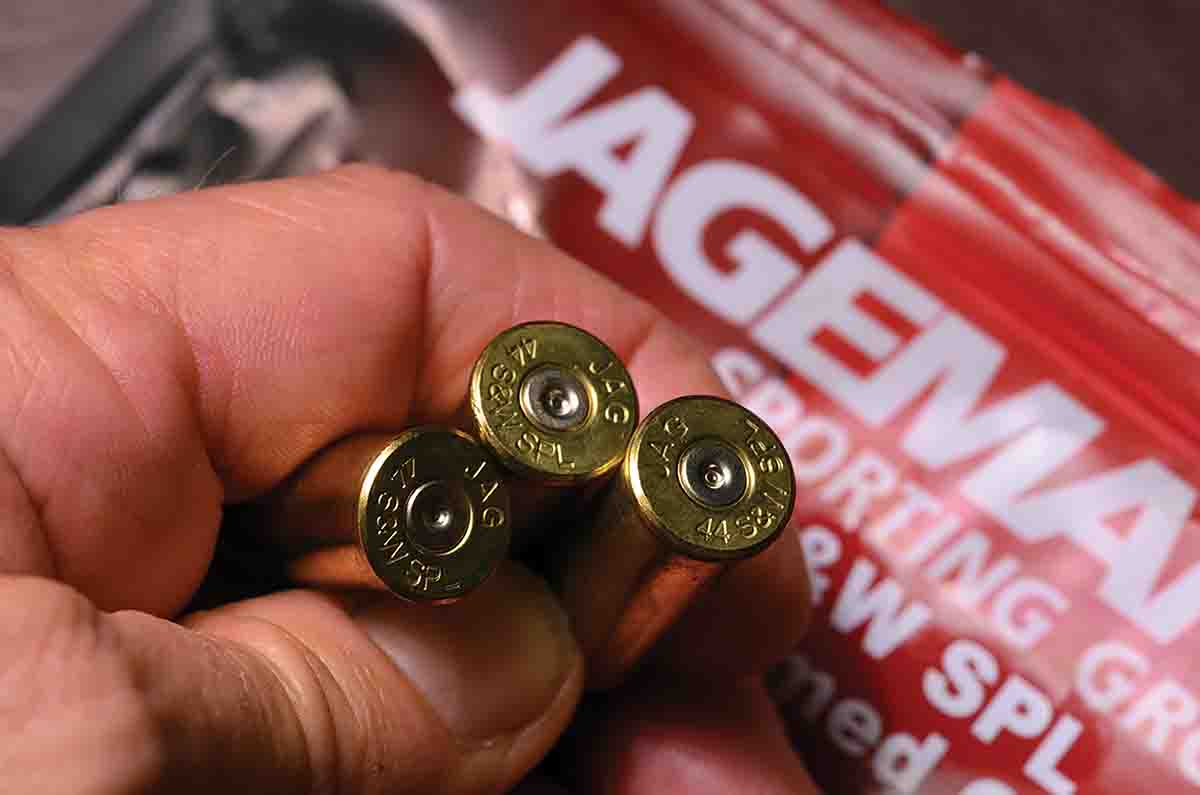 When the .44 Special was introduced, there were not many smokeless powders on the market. Oddly enough, one that was available was Hercules (now Alliant) Unique – our second-oldest powder and, by coincidence, one of the best for midrange .44 Special loads. I have been loading 240-grain bullets in my .44 Special with 6.3 grains of Unique for almost 30 years and, frankly, have had little reason to change.
Much as I like Unique, however, it has some drawbacks. One, it is not the easiest to throw with a powder measure because it's very flaky and light. Also, some handloaders complain that it is a little messy, leaving a residue reminiscent of the black-powder era in which it was introduced. Finally, if a handloader wants to go hot with the .44 Special, Unique is not the best choice.
One of the .44 Special's particular uses is in a compact, concealed-carry revolver, or for use in a .44 Magnum when less muscle is wanted. The .44 Magnum makes an admirable car gun, but full-power loads can be a bit much. For this reason, this test was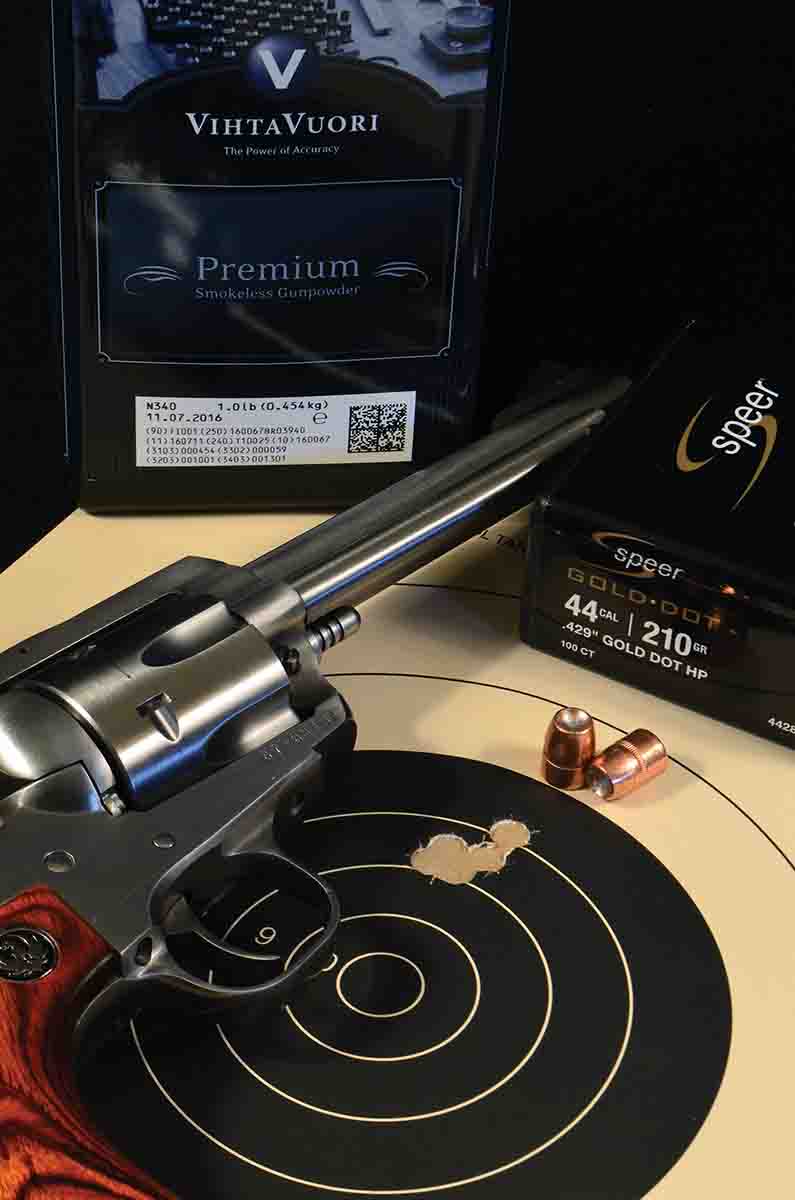 slanted toward self-defense, looking for a variety of good bullets that would perform well at .44 Special velocities.
Eight powders from four different manufacturers were used: Western (3), Vihtavuori (3) and Hodgdon and Alliant with one each. The bullets came from Hornady (2), Speer (2), Shooter's Choice and Bob Hayley. They ranged in weight from 180 grains (Hornady XTP hollowpoint) to 210 grains (Speer Gold Dot) while the others were all 200 grains – my favorite bullet weight in the .44 Special.
Test guns included a Charter Arms Bulldog with a 3-inch barrel, a Smith & Wesson Mountain Gun with a 4-inch barrel and a Ruger Super Blackhawk with a 5.5-inch barrel. The loads were chronographed in each revolver, and then a five-shot group was shot with each load from each gun, to get an idea of what might be expected. Obviously, every gun is different; what is accurate in mine might not be in yours, but the results are offered for what they are worth.
In every case, a midrange powder charge was chosen – neither the lightest nor the heaviest – drawn from recommended loads from the four powder manufacturers.
These powders are not choices that immediately spring to mind when you think .44 Special, and while some were ho-hum across the board, several provided very worthwhile results. A couple provided very high velocities, some surprising accuracy and, I'm happy to say, at least one load for each of the three guns that I would be happy to load in the gun and carry into a bad neighborhood.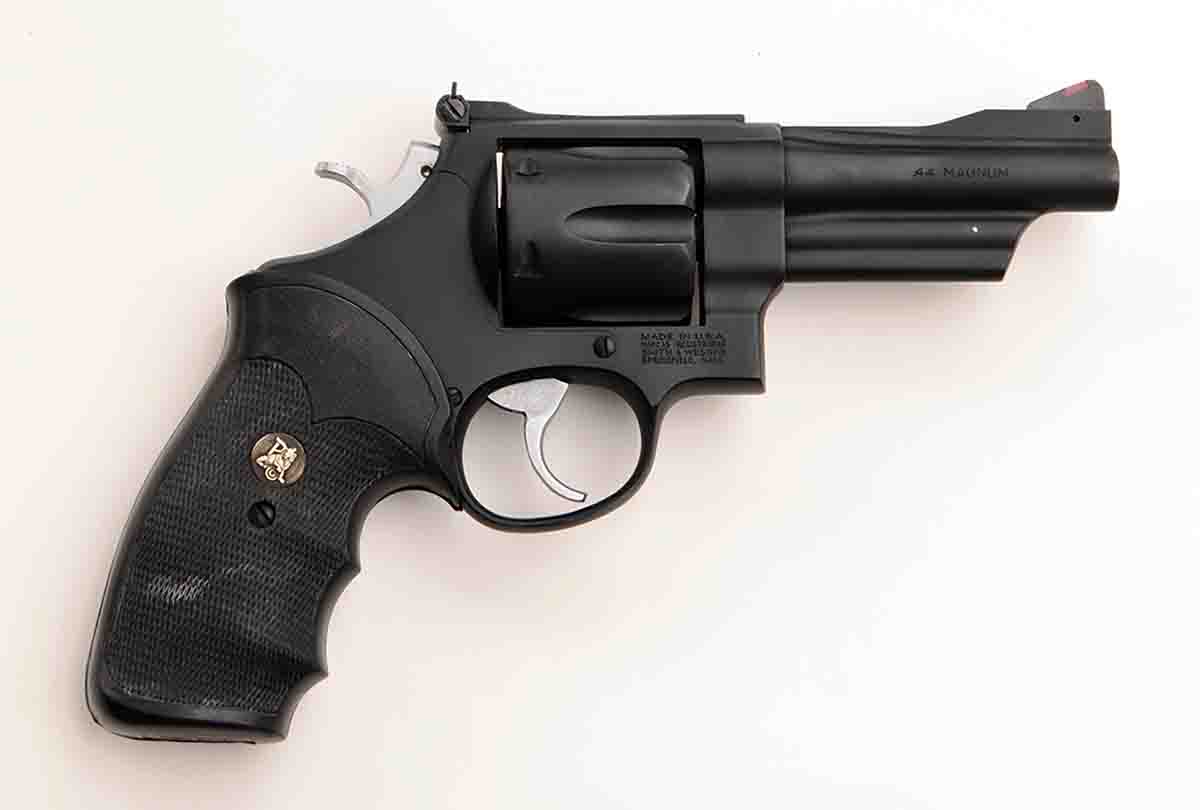 To help with the shooting, I enlisted Burt Reynolds, manager of the Top Gun Sportsman's Club in Lonedell, Missouri. We alternated the shooting to even-out the results, and Burt waited until the very last group to shoot the best one of the bunch – five shots at 10 yards for .70 inch off a sandbag. However, as can be seen, we got some good groups with each gun, as well as a couple that were eminently forgettable. But that, after all, is the point of a test; to find out what's good and what's bad.
The accompanying table contains all the data gathered and is largely self-explanatory. Generally, we worked from the fastest powder to the slowest, and from the lightest bullets to the heaviest. Logically, a light bullet ahead of fast powder should deliver the best results in the shortest barrel; conversely, the long barrel would be expected to do well with heavier bullets and slower powders. Broadly speaking, that's what occurred.
Notice that the extreme velocity spreads (ES) tend to be much wider than loads from a rifle or semiautomatic pistol. This is not unusual, I've found, when using a revolver with five or six different chambers. I also found that some of the cases were a little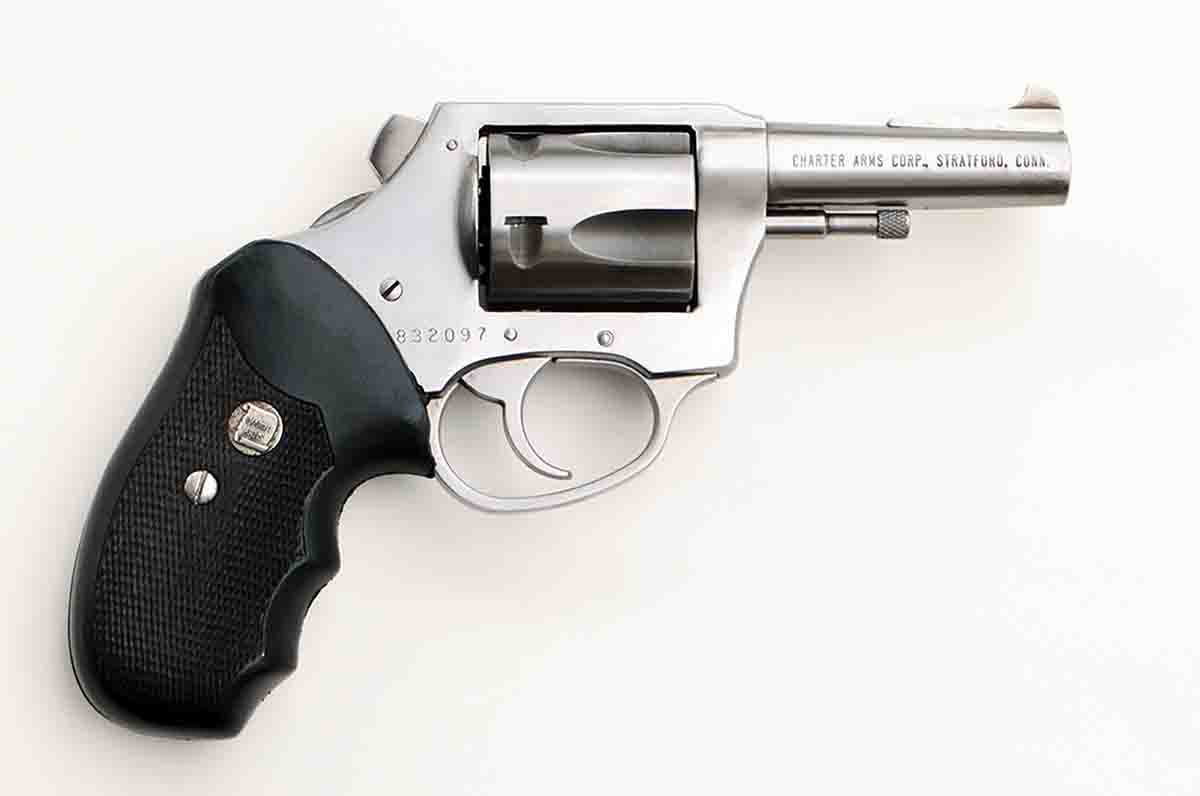 sticky in the same chamber, time after time. This is something to keep in mind when working up loads.
Incidentally, to try to make the test as fair as possible, only new brass was used and was limited to Jagemann and Hornady. Not one of the cases exhibited any pressure signs (flat or cratered primers, or over-expansion) although a few were a little stiff to eject. I put that down more to chamber variations and fouling than to high pressures.
Of the powders used, Accurate No. 2 and No. 5, Ramshot True Blue and Hodgdon's CFE Pistol proved the easiest to measure, flowing like water with very little charge-to-charge variation. Alliant's Red Dot, a new version of an old powder, was the most difficult, being a flake similar to its stablemate, Unique. The Vihtavuori powders are all tiny extruded grains and were generally trouble-free.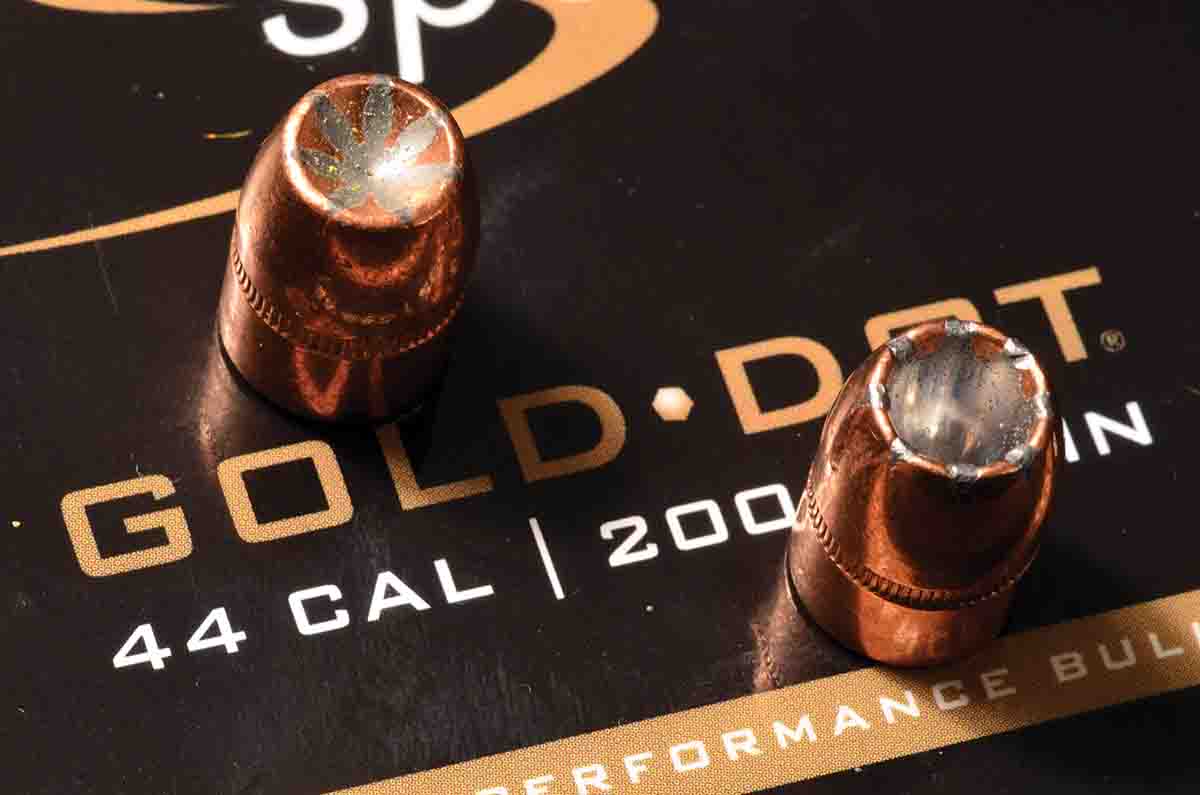 Hornady's XTP (180 and 200 grain) and Speer's Gold Dot (200 and 210 grain) have established fine reputations since their introduction. In terms of terminal performance, my inclination would be to choose whichever one gives the best accuracy in my gun and not agonize over it.
The Hayley Man-Stopper is a copy of the original Webley Man- Stopper bullet designed for the British Webley revolver in the late years of the nineteenth century. Bob Hayley has custom moulds for it in .45, .38 and .32 caliber as well as the .44 used here. The bullets are pure, soft lead with a cavernous hollowpoint, and they expand rapidly even at low velocities.
Because the bullet has no cannelure, the bullets can creep forward under heavy recoil. This has the potential to lock-up a cylinder, which is highly undesirable in a defense gun. The answer is to ensure the bullets are firmly crimped and not go for excessive velocity. With this bullet, high velocity is not needed to expand it anyway, and lower velocity makes it easier to shoot rapidly and accurately. Although I did
not try it here, it is possible to seat these bullets as low as a true wadcutter and crimp the mouth over the bullet. That not only solves the creep problem, it provides a beveled nose that loads effortlessly.
The Shooter's Choice cast bullet is a design that predates even the .44 Special itself, having been around since the 1870s. Shooter's Choice was a small midwestern company, and I happened to have some of its bullets on hand. I can't find any more, alas, because they are excellent bullets, but it is a common pattern and representative of the type.
Load Nos. 1 and 2
Accurate No. 2 powered the 180-grain XTP and Man-Stopper at moderate velocities and was comfortable to shoot in all three guns. This illustrates a pattern repeated throughout; as barrels got longer, velocities were higher, and extreme spreads for five shots generally shrank. Overall, the Blackhawk delivered the best accuracy.
Load Nos. 3 and 4
True Blue seemed to be the Bulldog's favorite. Both groups were gratifyingly small. The Bulldog's one drawback is its fixed sights, which means you not only need velocity and accuracy, but a group placed where the sights are aligned. For both of us, with most loads, the gun shot several inches to the left at 10 yards. Load No. 3 in the Bulldog not only gave good velocity and a small group (1.59 inches), but the group was just an inch low and an inch left of point of aim at 10 yards. This is excellent performance for a short-barreled revolver shot double-action.
Load Nos. 5 and 6
Accurate No. 5's performance was strictly middle of the road with both bullets in all three guns. My hunch is that it would provide a good starting point for load development, since velocities were relatively low.
Load Nos. 7 and 8
Red Dot, primarily a shotgun powder, has been around since the early 1930s. Alliant recently announced a "new, improved" Red Dot, purported to be 50 percent cleaner burning. With the Shooter's Choice cast 200-grain bullet, it not only delivered outstanding velocity in all three guns, it also provided consistent accuracy – five-shot groups a little over an inch in all three. This cast bullet would not expand on impact, but the power of a 200-grain .429-inch bullet at more than 900 fps is unquestionable.
Load Nos. 9 and 10
Midrange loads with Hodgdon's CFE Pistol were definitely on the low side, but with Hornady's 200-grain XTP, accuracy was good in all three revolvers. These are good starting points to work up a load that fits a particular gun.
Load Nos. 11 and 12
Vihtavuori N320 was the fastest of the three Finnish powders tried. Results with the Hornady 180 XTP were okay, but with the Shooter's Choice cast bullet they were excellent. The Blackhawk loved the combination, providing a .76-inch group with five bullets at 966 fps. This is getting into Elmer Keith territory with the .44 Special. The S&W wasn't far behind at 894 fps and 1.15 inches.
Load Nos. 13 and 14
With VV-N330, two 200-grain hollowpoints were used, the XTP and the Gold Dot. The XTP grouped under an inch with the Smith & Wesson, and .77 inches with the Blackhawk. Both were pleasant to shoot.
Load Nos. 15 and 16
Vihtavuori N340 was the slowest powder and used the heaviest bullets – the 200-grain XTP and 210-grain Gold Dot. Velocity was right up there, with the XTP reaching 937 fps in the short-barreled Bulldog and 1,066 fps in the Blackhawk. With the Gold Dot, velocities were more sedate, but the load provided one of the widest ranges of group size – from a satisfying .70-inch group in the Blackhawk to 3.41 inches in the Bulldog, with the Smith & Wesson in the middle at 2.65 inches.
When it comes to personal-defense guns with short barrels and fixed sights, shooters are often faced with unwelcome trade-offs. Since the sights cannot be adjusted, a load that will naturally put shots where the sights are pointing is necessary, but to get that you may have to settle for either lower velocities or poor groups. In this test, load numbers 3, 4 and 9 delivered good groups in the Bulldog, and close to where the sights were pointing.
Realistically, 10 yards is about the outside distance anyone would use such a gun in self-defense, so being an inch off point of aim is not a huge problem. However, I would start with loads 3 and 4 and work from there. And, of course, every gun is different.
The Smith & Wesson offers more choices, simply because it delivered a half-dozen good groups, and its sights are adjustable. Load 15 is the obvious choice with that revolver, delivering both velocity and accuracy.
As for the Blackhawk, there is an embarrassment of riches. Eight out of 16 loads grouped under 1.5 inches, and three were under an inch. If you like to emulate Elmer Keith and load the .44 Special to the max, some of these powders certainly offer that potential without exceeding the manufacturer's recommended maximum. Notice, however, that high velocity and best accuracy went hand in hand only twice – load numbers 8 and 12 – both using the Shooter's Choice cast bullet.