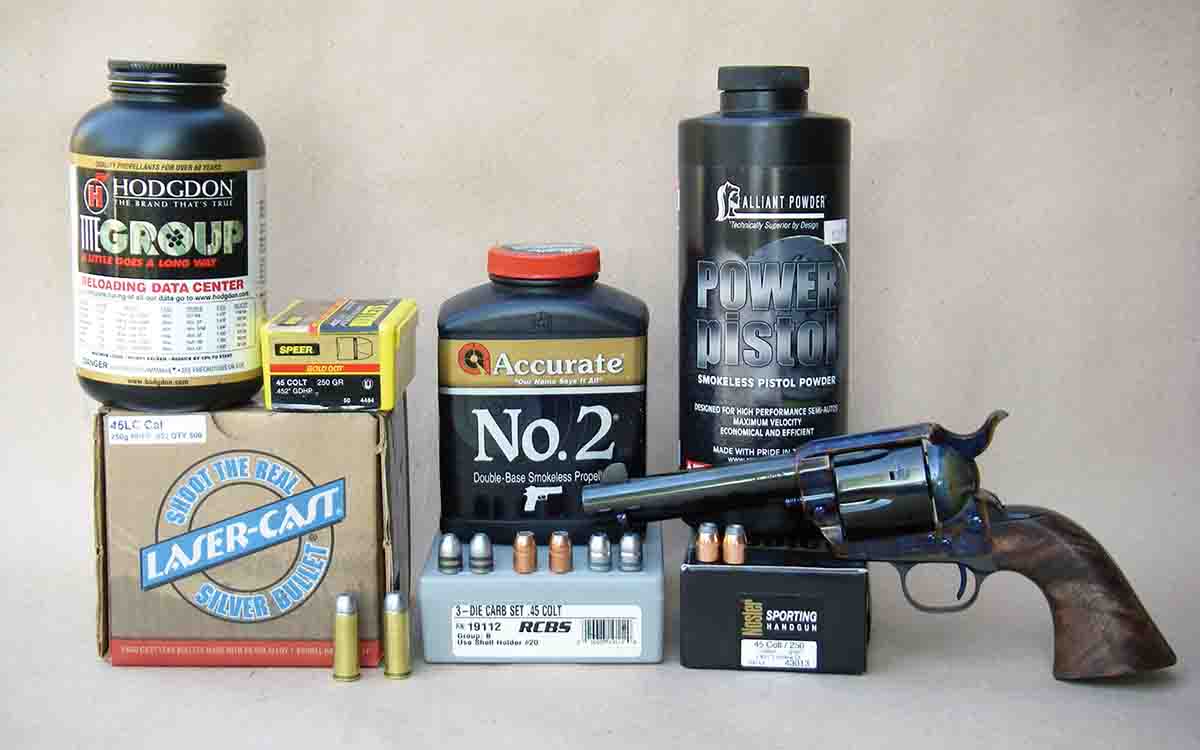 No sixgun can match the colorful and historical role of the Colt Single Action Army revolver. In the annals of U.S. history it was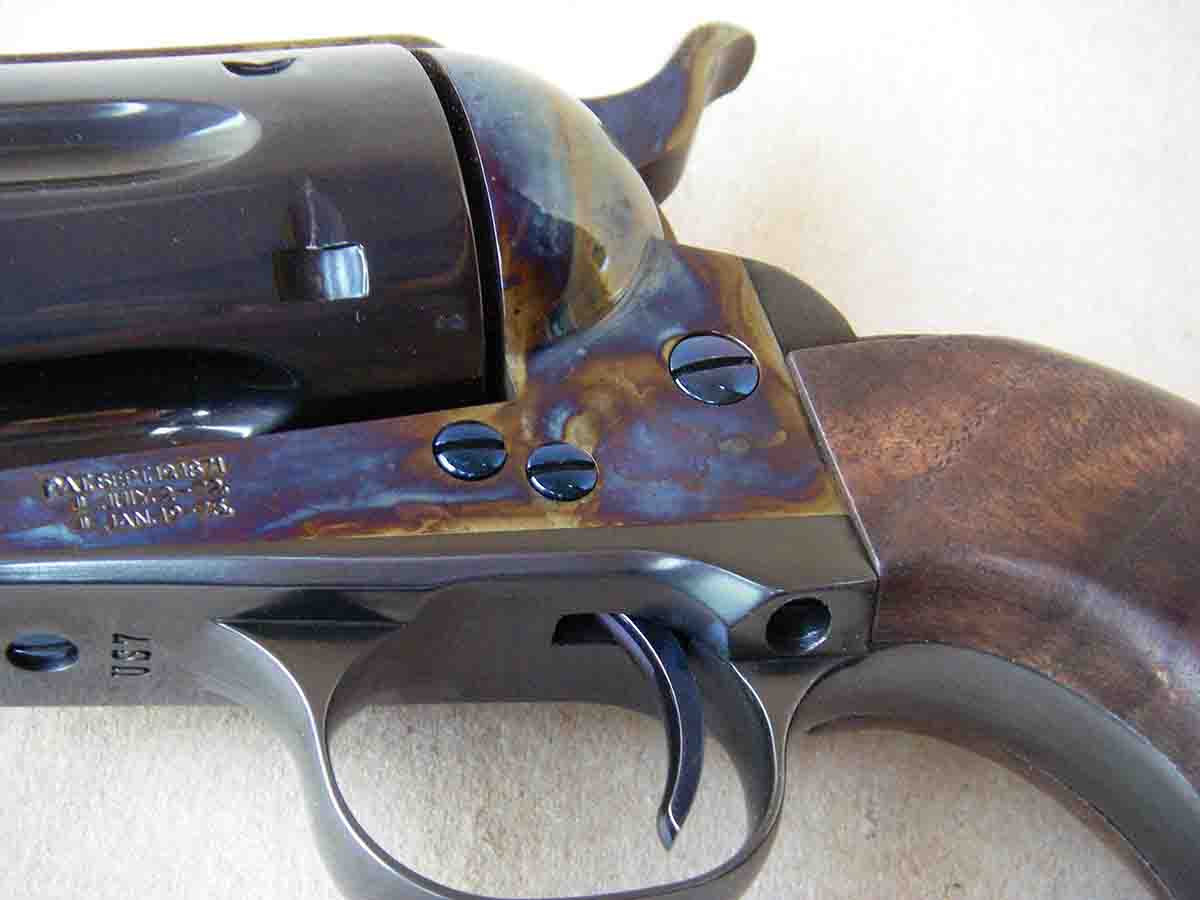 carried extensively by courageous and famous characters including soldiers and generals, pioneers, lawmen, outlaws, farmers and cowboys, with many of them literally staking their lives on its reliability and power. The design is timeless and is still a viable choice for outdoorsman, hunters and horsemen, but it is also the most handsome of all sixguns.
As such, it is easy to understand why it is the world's most-collected handgun. I am therefore happy to announce that Standard Manufacturing is offering a new Single Action Army pattern sixgun that is of particularly high quality, handsome, accurate and manufactured in the U.S.
Standard Manufacturing is a division of Connecticut Shotgun Manufacturing Company located in New Britain, Connecticut, and both companies are under the same roof. The company was established in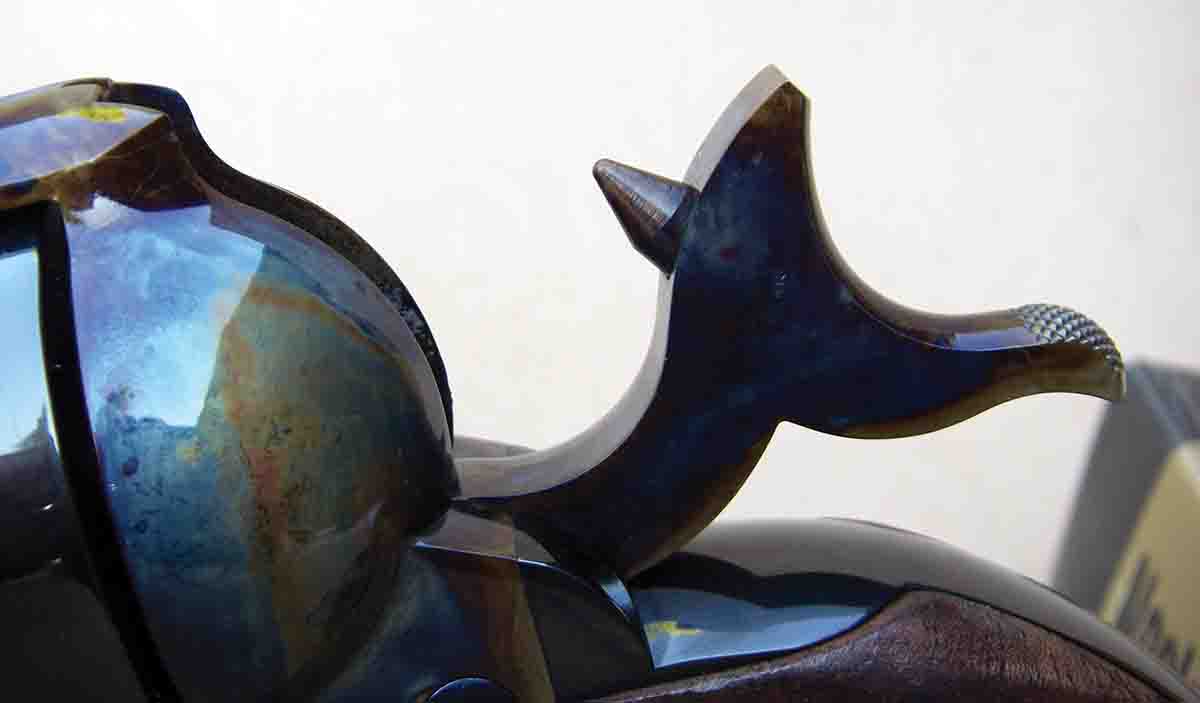 1995, and under the direction of CEO Antony Galazan has become a premiere gunmaker that offers "Best Quality" double rifles, shotguns and traditional big-game, bolt-action rifles crafted using state-of-the-art CNC tooling blended with handcraftsmanship that exceeds that of vintage guns.
In July 2018 I had the opportunity to tour this facility. I was extremely impressed with the tooling, skilled craftsman and production capacity, as well as the wide variety of firearms produced. I was also able to put in my two cents' worth regarding specific features required to make this new sixgun appeal to SAA connoisseurs.
Upon returning home, Standard MFG sent me a "Single Action" (as they call it) with serial No. US7, the third gun produced. As requested, it arrived chambered in .45 Colt with a 4.75-inch barrel and standard blue and case colored finish. Rather than the company's standard two-piece walnut stocks, the more traditional one-piece walnut was requested.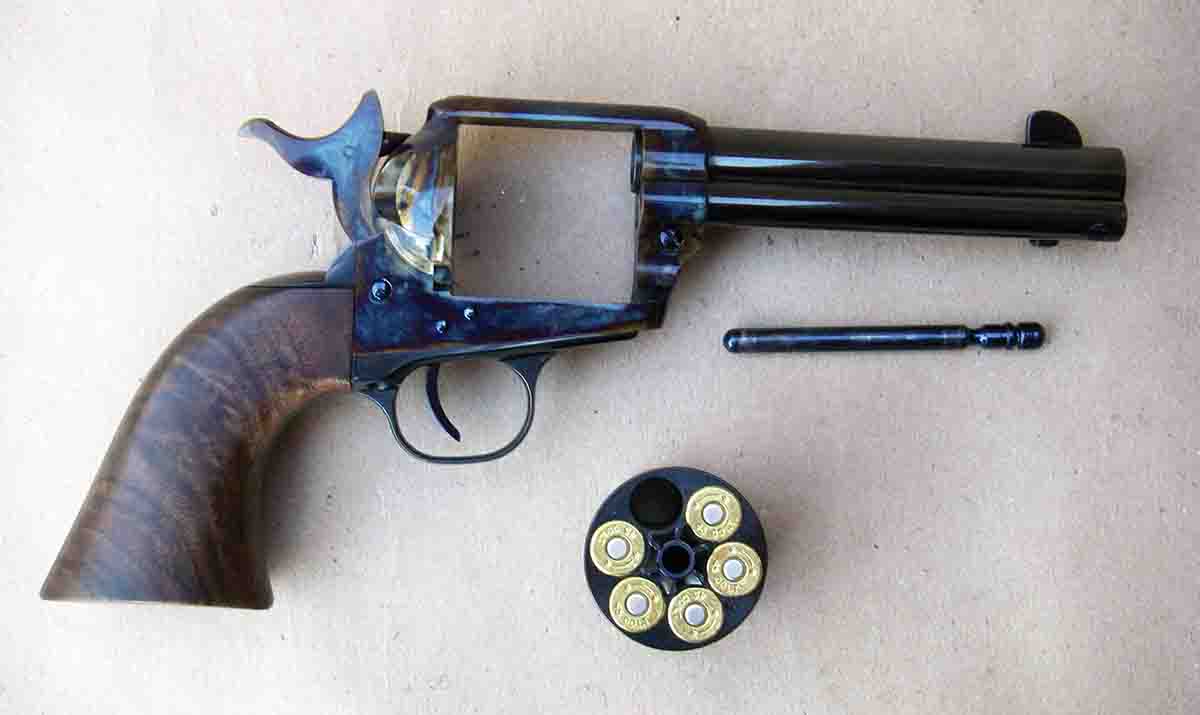 The frame, barrel, trigger, screws and cylinder are constructed of 4140 chrome-moly steel, all of which are CNC machined with tight tolerances. The cylinder (with removable bushing) is prehardened to a Rockwell hardness of 35.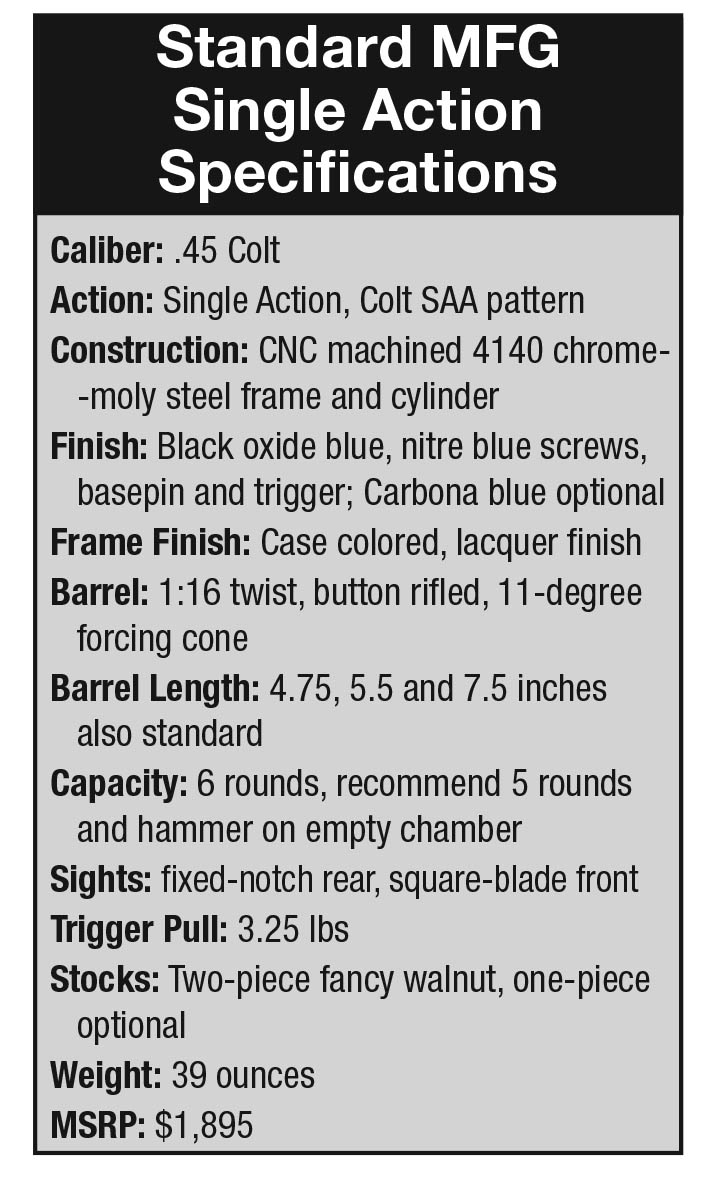 The lock work is exactly the same as the Colt SAA; however, leaf springs (including handspring, trigger/bolt spring and mainspring) are produced by Wolff Gunsprings and are constructed of modern spring steel, are lighter in pull and virtually never break. I am pleased that the hammer is full width and fits precisely into the frame's hammer slot in a fashion similar to the high-quality, pre-World War II Colt sixguns. Furthermore, it is correctly contoured to match the "ears" of the backstrap. The hammer likewise features the desirable fixed, cone-shaped firing pin, resulting in a full-energy primer strike, unlike SAAs fitted with the poorly fitting, floating firing pin. The frame features a removable recoil plate.
The barrel is button rifled, straight and beautifully finished and was shiny after firing loads containing cast bullets. It should be noted that some guns will be fitted with high-quality, FN-produced, hammer-forged barrels, but eventually all will be manufactured in-house and button rifled. Chamber throats measured ideally at .452 inch, and each ranges perfectly (using a Brownell's Range Rod). The barrel is cut with an 11-degree forcing cone.
Timing is good, with the locking bolt dropping perfectly into the bolt notch approaches. Cylinder lockup is tight, with minimal side-play and end-shake, while the barrel/cylinder gap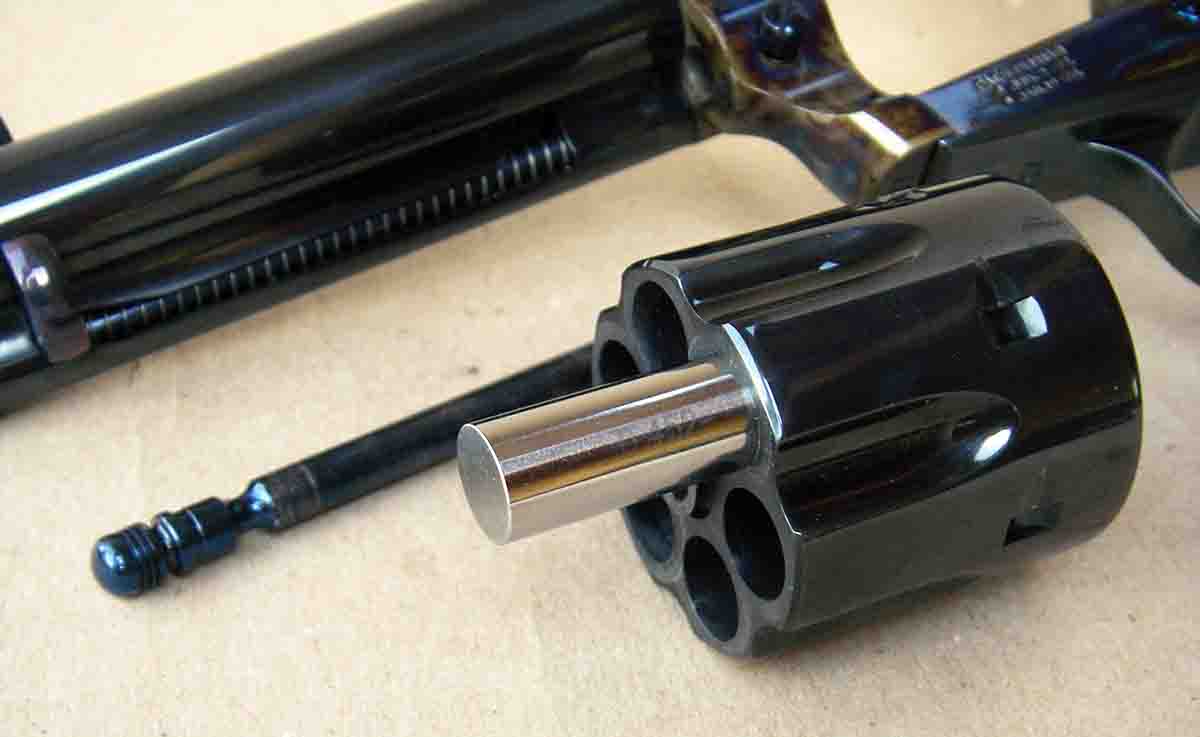 measures a snug .004 inch.
Early guns are fitted with qualified screws, with the screwhead slots all facing the same direction lengthwise with the gun. This includes the three frame screws, six backstrap and trigger guard screws and the ejector rod housing screw. This is a fairly time-consuming feature to build into all guns, which will be dropped on future production; however, it can be requested by the customer if desired.
Overall fit and finish is outstanding. Each part of the Y assembly that includes the backstrap, trigger guard and frame, are assembled and polished as a single unit, resulting in precise fitting and workmanship reminiscent of prewar Colt quality. The trigger guard features beveled edges and is gracefully rounded. The metal is highly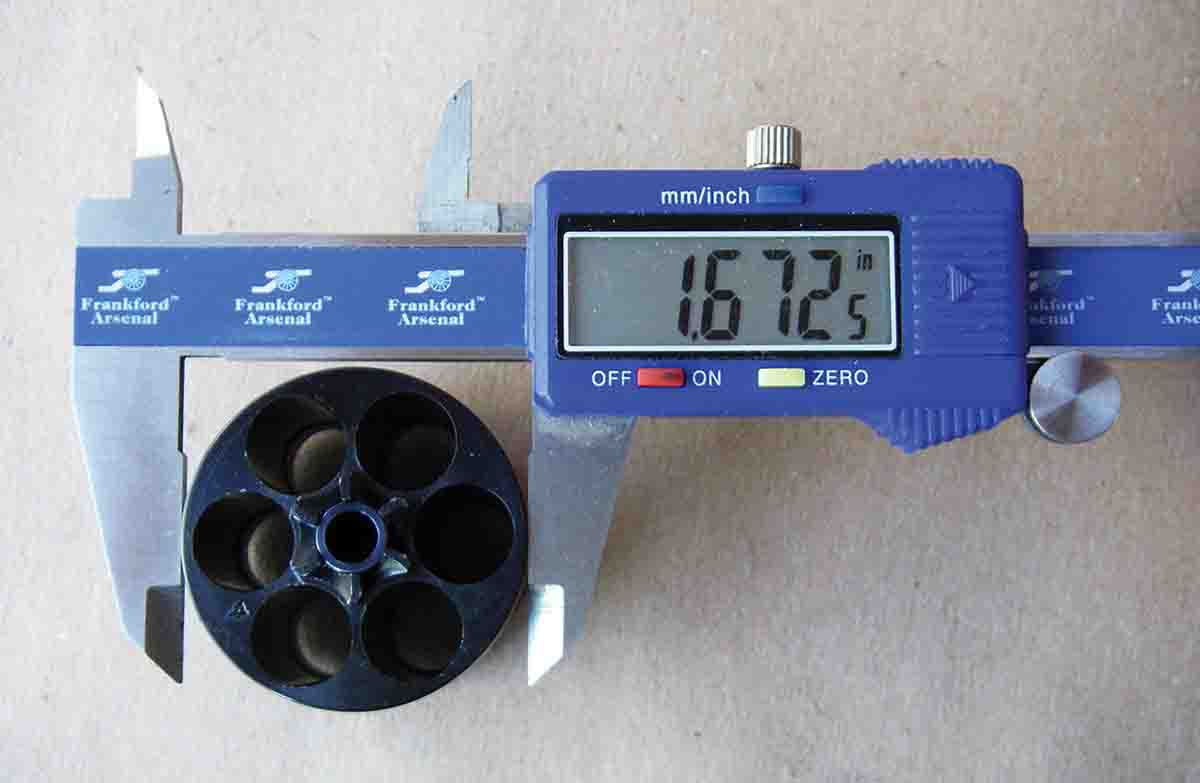 polished using a sisal wheel with grease paste for final finish, then blued using hot-tank black oxide (with carbona blue optional), and the screws are nitre blued. The frame and hammer are case colored with strong blue and brown colors and finished with a lacquer coating. I have encouraged Standard MFG to lighten case colors to more closely duplicate vintage Colt revolvers.
Many of the fine double guns produced by Connecticut Shotgun bring prices of $25,000 to $100,000 or more. Guns of this quality feature high-grade exhibition walnut. This same wood is finding its way onto the stocks of the Single Action revolver, which further dresses up the gun.
As indicated, the test gun is the third one produced, and it features a rather short trigger and a Colt-style, 1960s-era hammer spur. However, shortly after this revolver was completed, a longer trigger and late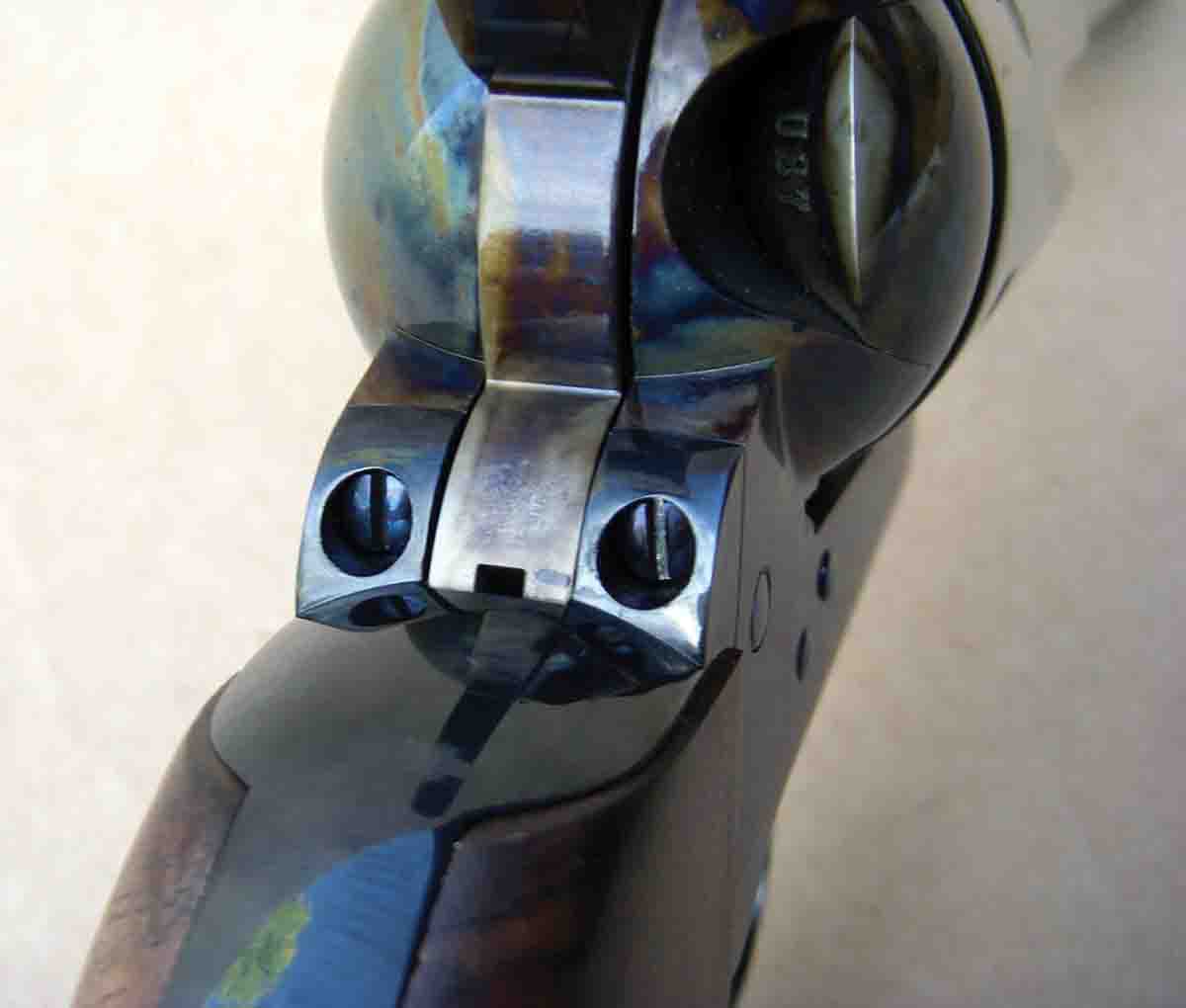 prewar-style hammer spur were being used. The trigger pull breaks cleanly at 3.25 pounds.
The Standard MFG revolver is an old-style, single action with the hammer placed in the half-cock position for loading and unloading. While it has a so-called safety (or first cock) hammer notch, it should never be relied on as a safety, as a bump to the hammer can cause the revolver to fire. Rather than loading six cartridges, it is advisable to load five, with the empty chamber resting directly under the hammer. The best way to accomplish this is to load one round, skip the next chamber by leaving it empty, then load four cartridges. Next, bring the hammer to full cock and then lower it all the way down. If done correctly, the hammer will rest on the empty chamber. This method has been used since the early days of the Colt SAA and can be accomplished without looking at the gun during loading, nor will it cause the bolt to leave a drag line on the cylinder.
One departure from all Colt SAA revolvers includes the frame and cylinder size. The Standard MFG SA features a cylinder with an outside diameter of 1.670 inches, more or less, while the Colt SAA is about 1.650 inches. The frame shares the same measurement as the Colt SAA from the center of the basepin hole to the axis of the bore. This is significant as it adds .010 inch more steel over the cylinder's bolt notch, which is the weak link, and effectively doubles the gun's strength when compared to the Colt. Readers who have seen my articles regarding the now-defunct USFA SAA revolver will recognize that the Standard MFG sixgun shares identical frame and cylinder dimensions. As a result, I recommend .45 Colt loads that duplicate the pressure levels of the .45 ACP +P that is listed with a maximum average pressure of 23,000 psi. (Incidentally, by the time this article is published, Standard MFG will be offering a second single-action revolver with a frame and cylinder [1.650 inches] that is identical in size to the Colt SAA.)
The test revolver was accurate, with select 25-yard groups measuring around one inch. For example, using Hornady's 225-grain FTX load, the first five shots clustered into .86 inch center to center. Switching to Black Hills' 250-grain RNFP, groups averaged about 1.5 inches. Buffalo Bore's 255-grain Standard Pressure Keith load reached 982 fps and was the most potent factory load tried.
Several handloads were also tried. For example, 5.2 grains of Hodgdon Titegroup powder were loaded with Oregon Trail 250-grain RNFP bullets in Starline cases with CCI 300 primers for 731 fps. This load consistently grouped into 1.25 to 1.5 inches. For a bit more power, 7.1 grains of Accurate No. 2 powder were tried with the same bullet, which produced 884 fps and groups under 1.5 inches.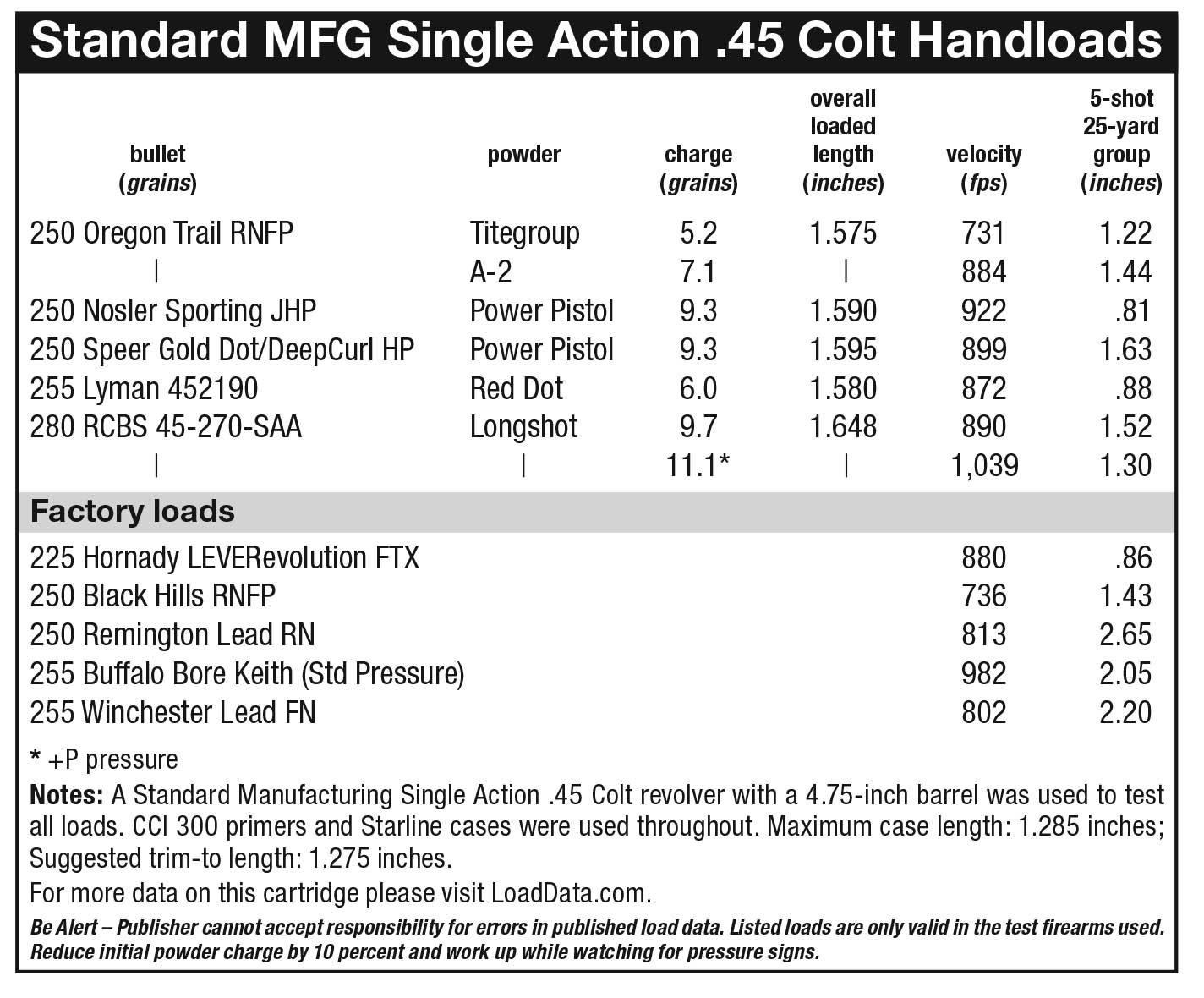 An especially accurate load included 255-grain cast bullets from Lyman mould No. 452190 (the same design as No. 454190 but with a slightly smaller diameter) pushed to 872 fps using 6.0 grains of Alliant Red Dot powder. Groups measured close to one inch with the best measuring an impressive .88 inch. With a 280-grain Keith-style cast bullet from RCBS mould 45-270-SAA, 9.7 grains of Hodgdon Longshot powder reached 890 fps. Increasing the charge to 11.1 grains provided 1,039 fps (a great hunting load for deer, elk or black bear, and the only +P load used in the table). Both loads regularly grouped from 1.25 to 1.5 inches.
Switching to jacketed bullets, the Speer 250-grain Gold Dot HP (now DeepCurl) was tried with 9.3 grains of Alliant Power Pistol for 899 fps, with the best groups measuring 1.63 inches. The Nosler 250-grain JHP was loaded with the same powder charge, which yielded 922 fps with an impressive .81-inch group, the single-smallest group fired.
The Standard MFG Single Action reviewed here is the base model; however, it is available with factory engraving, various plating options, etc. Soon it will be offered in .44-40 Winchester, .44 Special, .45 ACP and possibly other calibers as demand warrants. I am pleased with the accuracy and overall precision of this U.S.-made sixgun.