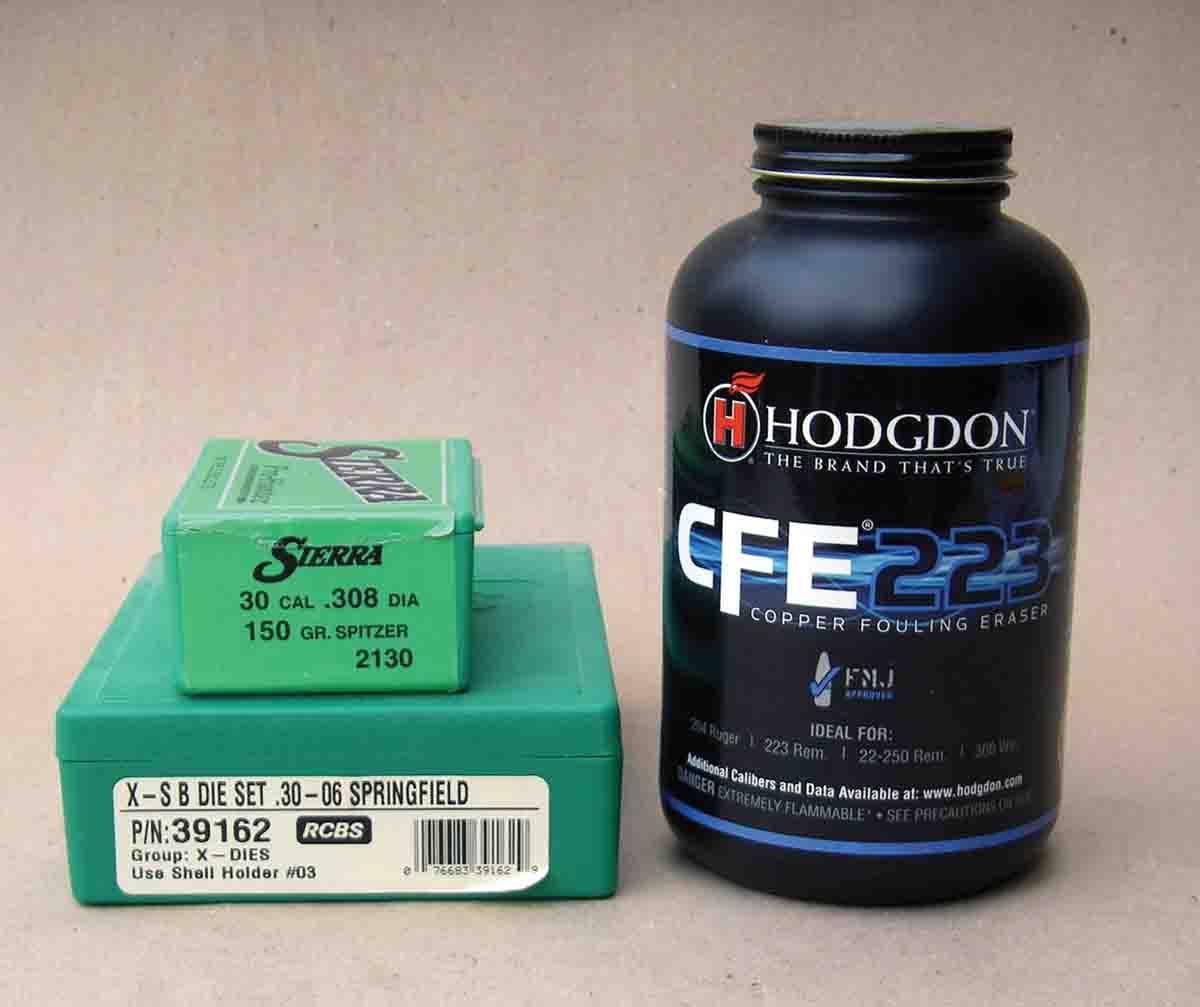 Q: I have been using Hodgdon CFE 223 powder in various .223 Remington and .308 Winchester bolt action rifles that I shoot. I have been reasonably pleased with the velocity and accuracy, not outstanding, but certainly good. What pleases me most is the minimal copper barrel fouling. I would like to use this same powder in my Ruger and Remington rifles chambered for .30-06. Both are fitted with 22-inch barrels.
I cannot find any load data for the 150-grain Sierra spitzer bullets with CFE 223 powder. Can you provide a starting and maximum charge weight? I am trying to more or less duplicate factory loads that list a 150-grain bullet at 2,910 fps. Thanks in advance for your help. I very much look forward to each issue of Handloader magazine. – T.T., Redding CA
A: I suggest starting with 50.0 grains and work up to a maximum charge of 54.0 grains that will yield around 2,870 fps in most rifles with a 22-inch barrel. It should be noted that most .30-06 factory load velocities are taken from a 24-inch test barrel, but will only reach around 2,850 to 2,870 fps in production rifles with a 22-inch barrel. I suggest using a large rifle standard primer such as the CCI 200 or Federal 210.
.45 ACP Flash Hole Dimensions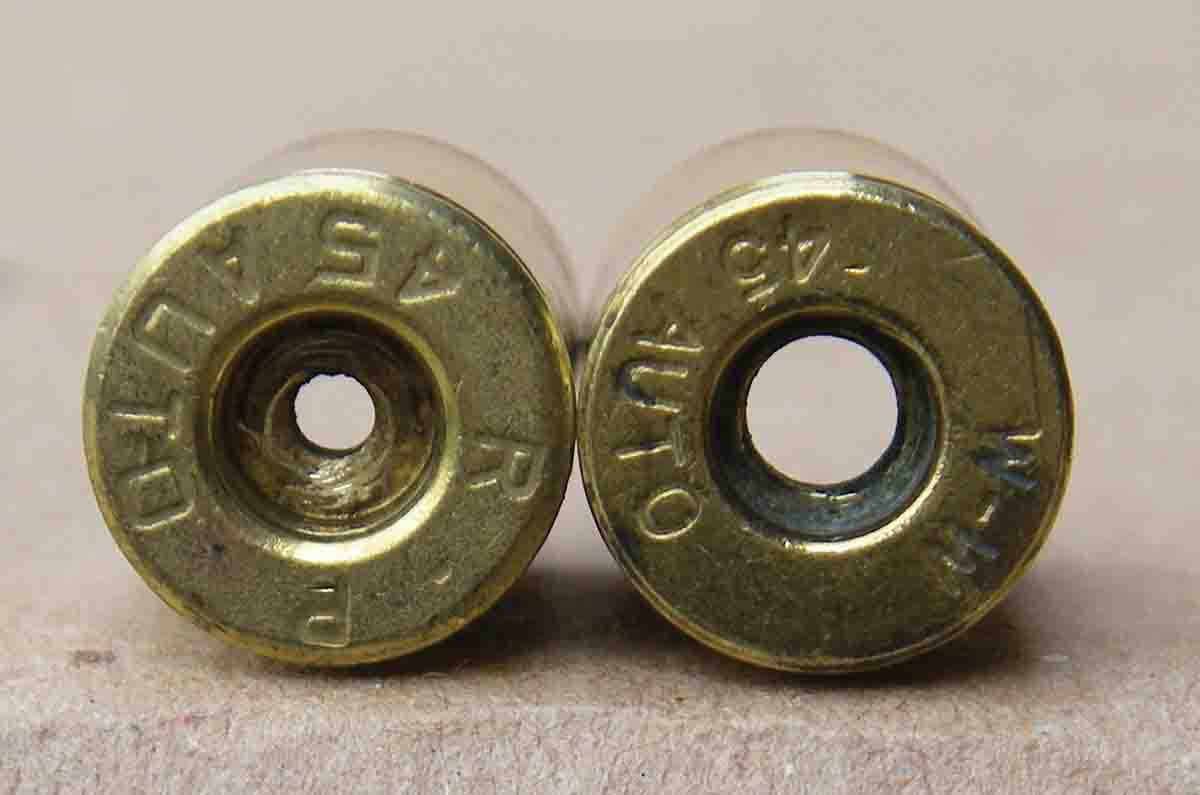 Q:
Recently I spent time at the range with my old Model 1911 Colt Gold Cup .45 ACP. After firing several hundred rounds of my favorite handload that consists of the 200-grain cast SWC bullets from H&G mould #68 and 5.0 grains of Alliant Bullseye powder. I gathered up my brass and headed home. After tumbling cases and sizing them, I noticed that some were headstamped with "W-W" while all of mine are Remington and Starline. I can only guess that they were already on the ground at the range and that I had not noticed, but picked them up along with my cases.
After tumbling cases, sizing them and preparing to prime them, it was noticed that these cases have a notably larger flash hole. I have no idea why a case manufacturer would make such a large flash hole. My concern is are these cases safe to be used with my handload recipe, or should they be discarded? I have included samples for your examination.
Thanks for publishing such a great magazine for shooters and handloaders. I have searched and there is no other magazine that can even come close to supplying the useful information provided by you and your staff! – F.F., Las Vegas NV
A: The flash holes of the cases you forwarded are about .148 to .155 inch, which is huge when compared to industry standards that generally measure between .075 to .085 inch. I do not know if these cases were produced for some special application, such as blanks, or if someone drilled them out for a similar purpose. I conducted some preliminary velocity tests, and velocities dropped by around 30 fps when compared to cases with standard flash holes. My suspicion is that the impulse time has been shortened, which may have increased pressures. I suggest not using them until further pressure testing can be done. Thanks for taking the time to read our magazines and for your kind remarks.
6.5-300 Weatherby OAL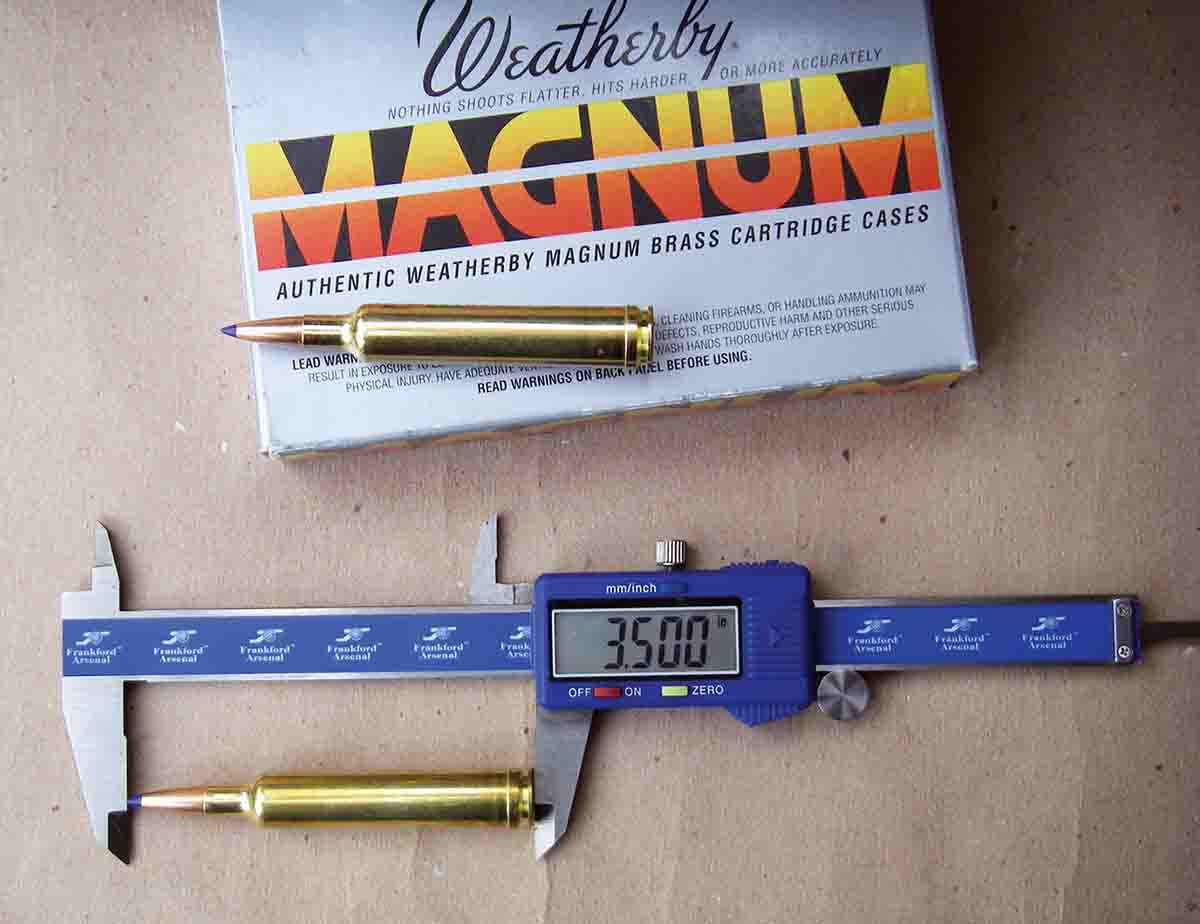 Q:
I am working up a series of loads for my 6.5-300 Weatherby Magnum. One of my bullet choices is the Barnes LRX 127 grain, which should be a good choice. I was reading your Pet Loads article in Handloader on this caliber, and you show an overall length of 3.50 inches with this bullet, while Hodgdon lists 3.59 inches and Barnes lists 3.58 inches. None of the other loads in your article are seated to this length, the closest being 3.53 inches, but that was a much shorter bullet.
I wonder if this was listed by mistake? Was it supposed to be listed at .358 inch? Would you please verify? Thanks so much for your publications – I subscribe to them all. – B.O., Newcastle WA
A: My listed overall cartridge length is not a mistake; rather it is the length that gave the best accuracy in both of my 6.5-300 Weatherby Magnum test rifles. The Barnes LRX bullet generally delivers the best accuracy when seated generously off of the leade. I do not know what overall length Weatherby is currently using for its factory loads (which are loaded in the U.S.); however, early ammunition had bullets seated to the same 3.500-inch overall length as my handloads.
Usually, but not always, seating a bullet deeper in large-capacity bottleneck rifle cartridges will reduce pressures slightly, so my deep-seated loads should not be of concern in this application.
Rather than being concerned with a published cartridge overall length with a given bullet, I suggest trying different seating depths in your rifle to determine what yields the best accuracy.
Winchester Model 66 .44-40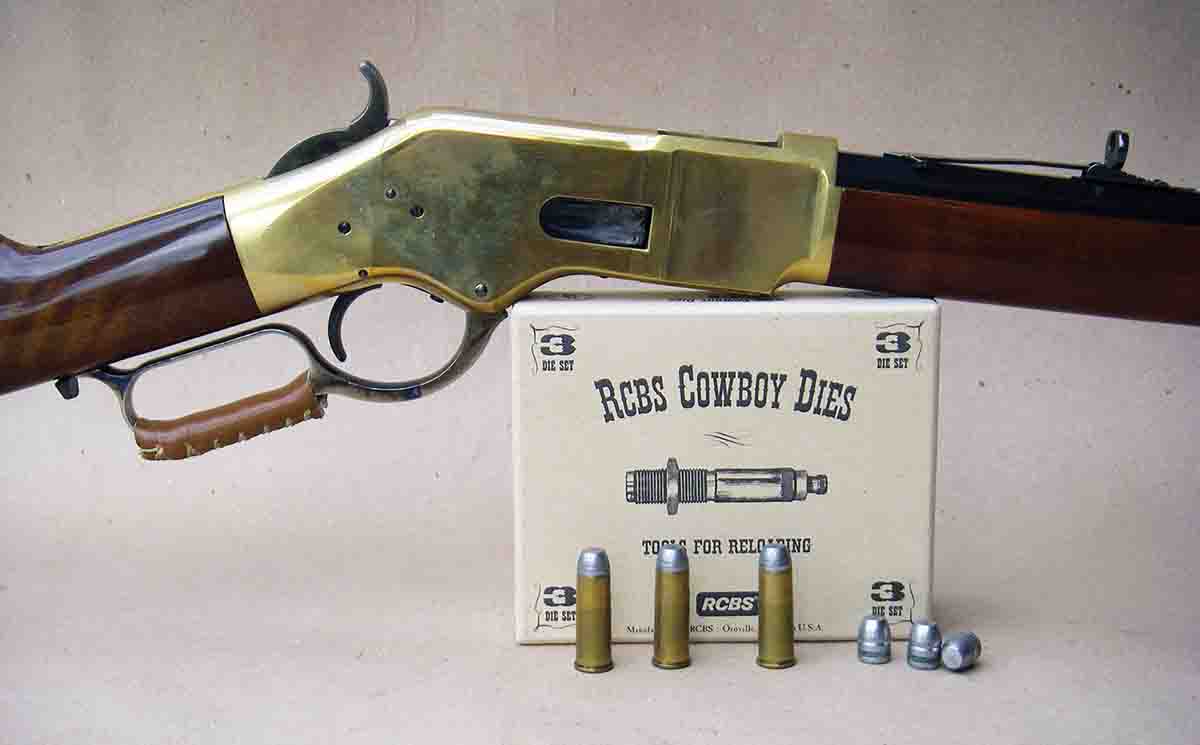 Q:
I just purchased a new Winchester Model 66 in my favorite caliber, the .44-40 Winchester. I am guessing that it will take the same loads as my new Winchester 73. Am I okay loading the same load in each? – T.S., via e-mail
A: Yes, as long as your loads are within overall length limits and industry pressure limits established at 13,000 CUP. This latter is mentioned as there is published +P pressure data intended primarily for stronger rifles such as the Winchester Model 1892 and reproductions. However, some data exists that lists higher pressure loads for use in Model 73 replicas with steel frames, which are stronger than the brass frame of your Model 66.
.44 Magnum Reduced Loads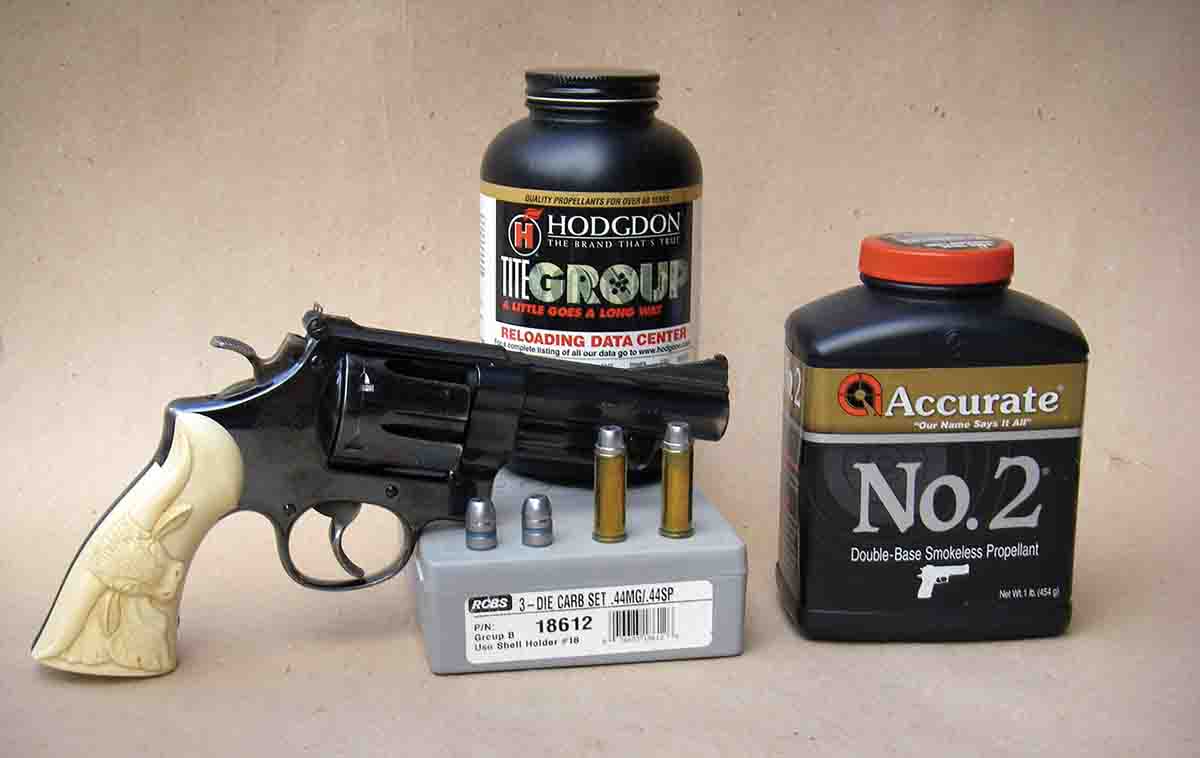 Q:
I have several vintage Smith & Wesson .44 Magnums (pre-Model 29) revolvers that I haven't fired in years. My 85-year-old body has limits as to how much recoil that I can handle comfortably, but I still refuse to sell the S&Ws as I am part collector and part shooter. Their actions are buttery smooth, and their finishes are outstanding.
I had them out of the safe the other day and realized how much I miss shooting them. I am hoping that you can suggest a reduced velocity or mid-range load for 240-grain cast bullets from Oregon Trail, or cast bullets from Lyman mould No. 429667. I would be happy with 800 to 900 fps from a revolver with either a 4- or 6.5-inch barrel. Perhaps I can enjoy shooting these beauties again. Thanks a bunch. I very much enjoy your well researched and clearly written articles. – R.S., via e-mail
A: Try 6.0 grains of Accurate No. 2 powder for around 800 fps (from a 4-inch barrel), or you can bump the charge to 7.0 grains for almost 900 fps. Another excellent powder option includes 5.5 grains of Hodgdon Titegroup for roughly 800 fps, while 6.0 grains gives just over 850 fps. In spite of their moderate recoil, the above loads are comparable to, or exceed, .45 ACP ballistics. I hope that you really enjoy your next .44 Magnum shooting session.