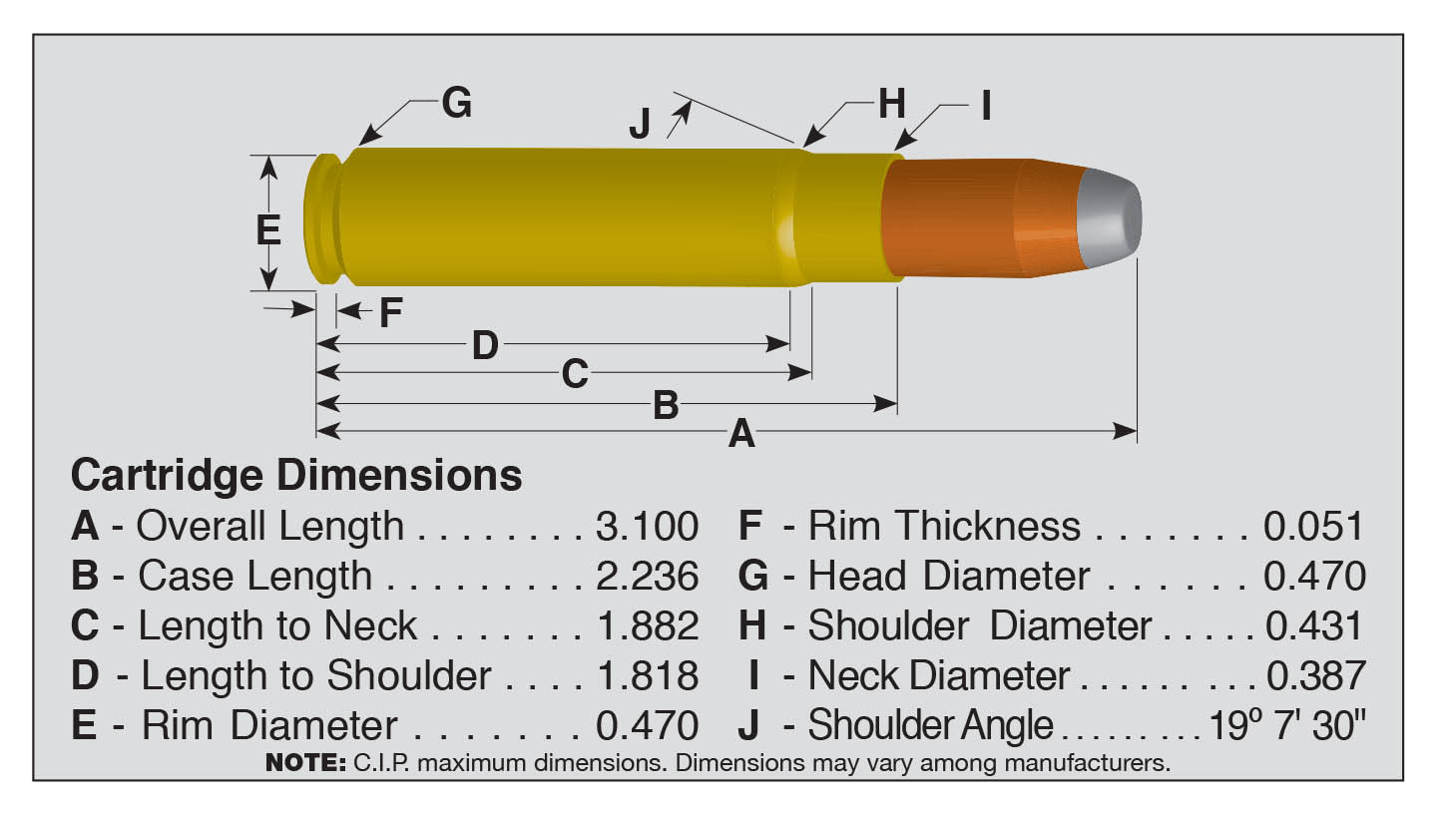 Had the U.S. followed a path toward the metric system instead of the U.S. Customary System, many American cartridges would not exist because metric rounds duplicated their performance. Our cartridge this time is one such metric round that, with a little load development, could replace several American cartridges – and it predates all of them. The story begins with the second smokeless powder military round.
The French mass-produced the first compound that could be called smokeless powder in 1885. The rimmed 8mm Lebel cartridge using the new powder was available by 1887. Germany was close behind with its 7.9mm Patrone M88 (later known as the 7.9x57mm or 8mm Mauser). Differing greatly from the Lebel, the German round had little body taper and no protruding rim on its base. This design is generally credited to a Colonel Rubin, director of the Swiss Laboratory at Thun, Switzerland. Of course, the case had a rim. It was formed by machining an extractor groove in the case base, leaving the "rim" the same diameter as the base. Virtually all cartridges intended for bolt-action rifles use this case design.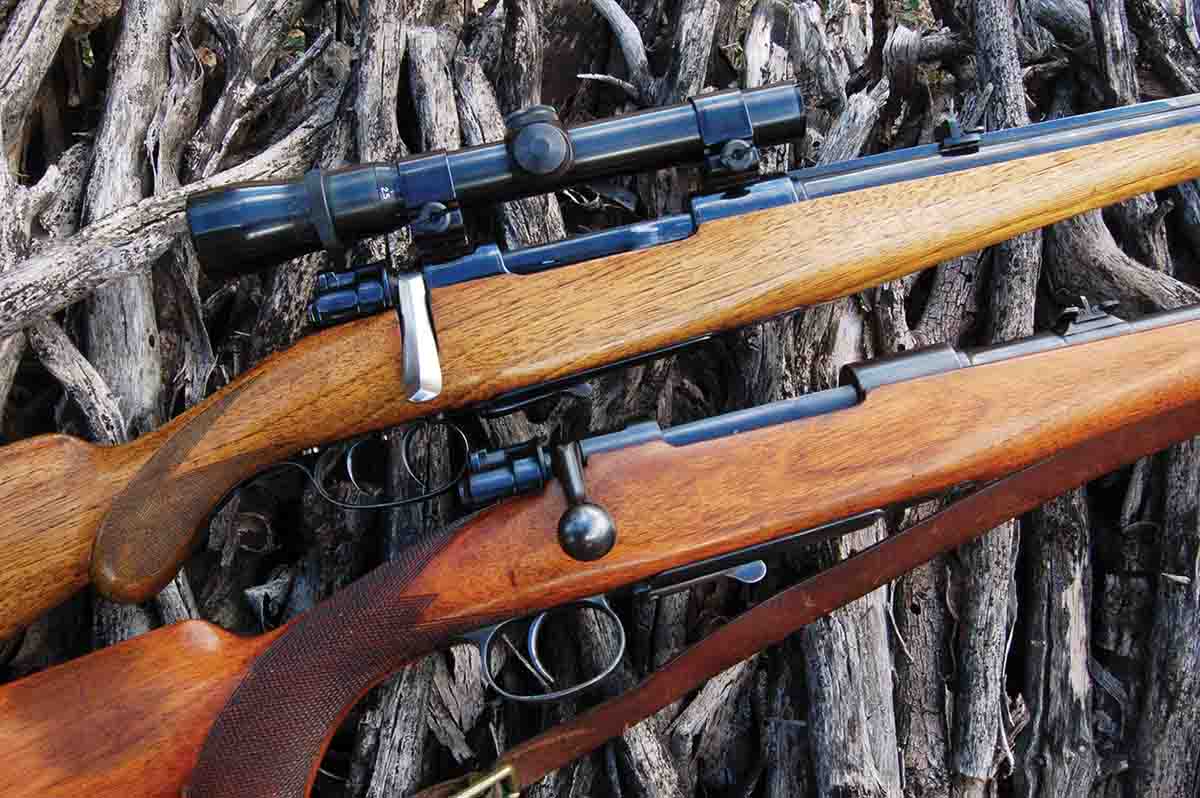 The new German cartridge introduced another "first" in the diameter of its base. At 11.95mm (.471 inch), it has become a world standard for countless factory and wildcat rounds under .40 caliber. In America its called "ought-six head size" even though the .30-06 (or more properly, the .30-03) came into being 15 years after the 7.9mm M88 cartridge.
Another trend was also started by the M88 round: The necking up and down across the whole spectrum of calibers to create new military and sporting cartridges. It seems that the firm Deutsche Metallpatronenfabrik, Karlsruhe (DM-K), which later became Deutsche Waffen-Munitionfabriken (DWM), introduced such cartridges starting in the early 1890s. Calibers eventually ranged from 6mm up to 10.75mm (.424 inch) with a straight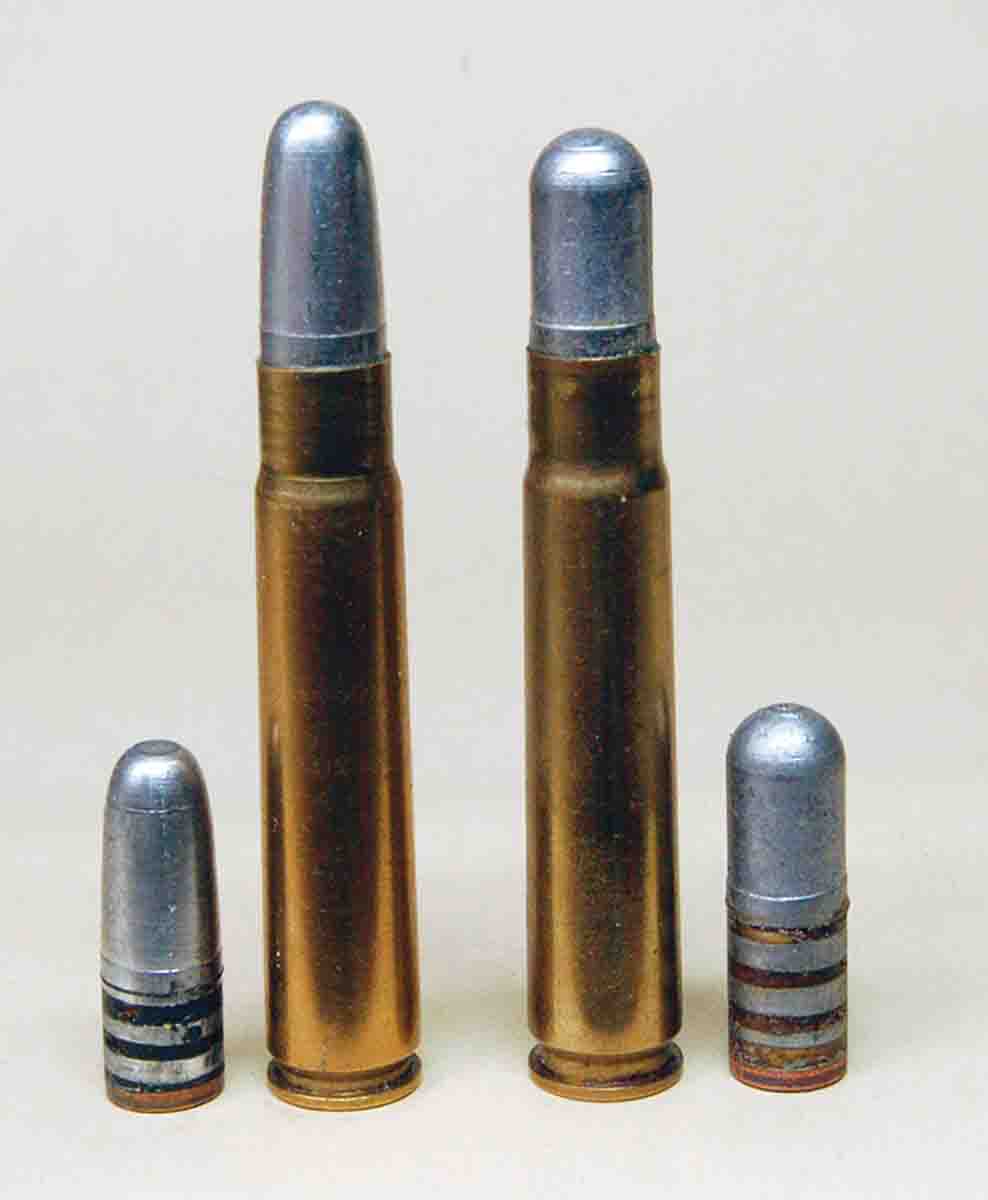 case that apparently headspaced on the case mouth! Of interest here is the M88 case necked to 9mm and known as the 9x57mm Mauser.
Date of introduction of the 9x57 is not known for certain, but it is included in the 1904 DWM catalog as case number 491A. A rimmed case (DWM 491B) became available the following year. Both were simply the 8x57 and 8x57R necked up to take 9mm (.354-.355 inch) bullets. The first rifles for the new round were Mauser commercial sporting rifles built on the M98 action. Of course, the rimmed case was for break-open guns.
The 9x57 became rather popular. Ammunition was available from at least DWM, RWS, GECADO (G.C. Dornheim), GECO (Gustav Genschow & Co.), Kynoch, Remington-Union Metallic Cartridge (REM-UMC) and Winchester. A 1938 DWM catalog shows (metric converted to U.S. Customary) a 247-grain bullet at 2,188 fps/2,625 ft-lbs; a 230 at 2,200 fps/2,575 ft-lbs; a 205 at 2,240 fps/2,380 ft-lbs and 280-grain slugs at 2,010 fps/2,523 ft-lbs. A 1925 Mauser catalog lists a 247-grain bullet at 2,296 fps/2,885 ft-lbs. Then REM-UMC in its 1920 catalog shows only a 280-grain SP at 1,850 fps/2,128 ft-lbs while Winchester shows the same. Other DWM catalogs list the 205-grain bullet at 2,425 fps. RWS lists the 280 grain at 1,920 fps. Another source has a 230-grain SP at 2,370 fps/2,860 ft-lbs and 29,865 psi. Also included is a 205-grain bullet at 2,423 fps! Kynoch listed its 245-grain SP at 2,150 fps/2,515 ft-lbs. All these were discontinued prior to World War II. Some loads returned afterward but were not imported to the U.S. Kynoch ammunition came back and was listed until the 1970s.
Despite the varying muzzle velocities and bullet weights, one fact stands out clearly: The 9x57 is simply a powerful 200-yard game cartridge that does not generate unbearable recoil in a 7-pound sporting rifle. One Mauser catalog shows European game such as reh deer, red deer and wild hogs as ideal for the 9x57. I am told red deer can reach the size of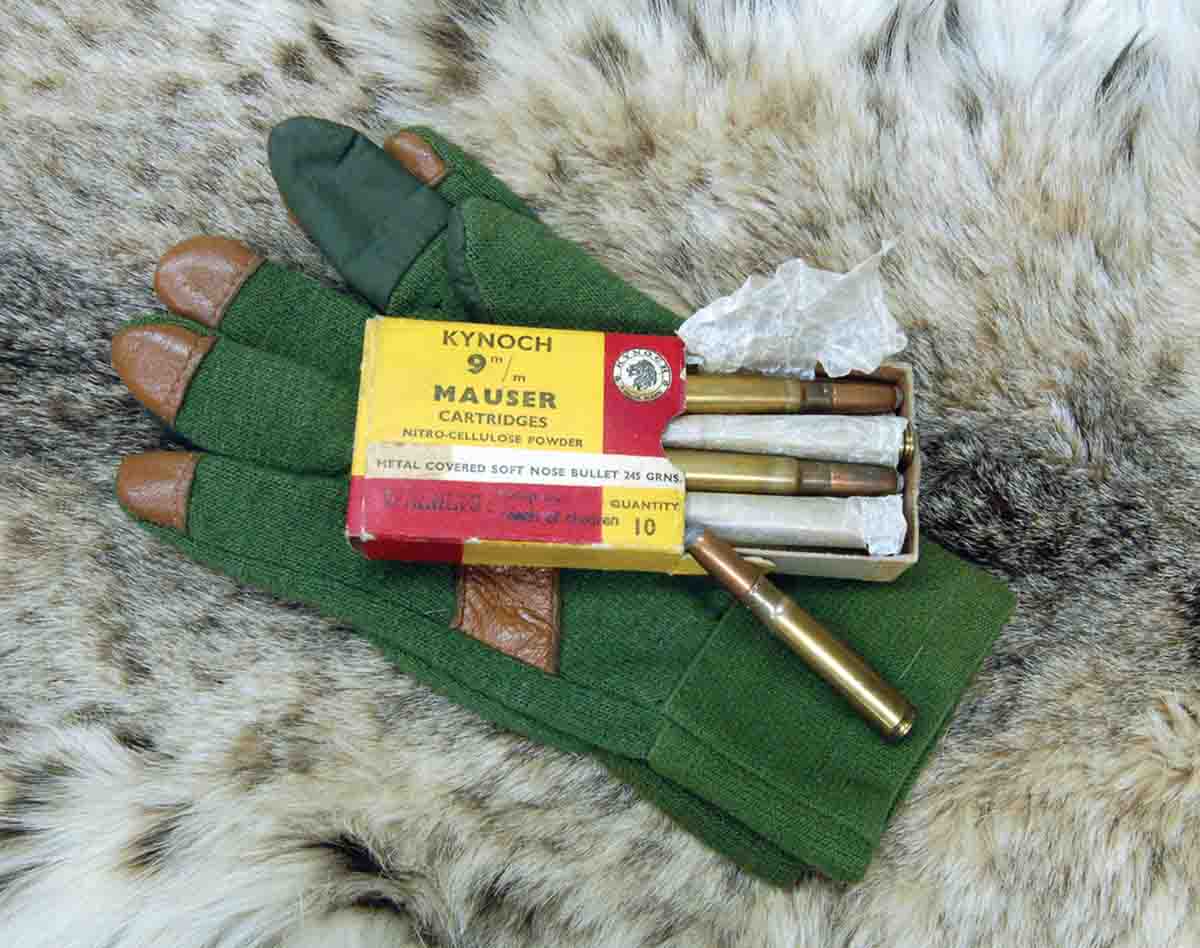 American elk. Europe had large expanses of dense forest at the time the 9x57 was introduced. Apparently there were many hunters who favored its big, heavy bullet over the smaller rounds for hunting such areas.
Many Mauser rifles also went to Germany's African colonies. John "Pondoro" Taylor commented on the 9x57 in his book African Rifles and Cartridges.
Some of this is worth repeating: "Quite a useful general purpose cartridge provided it is backed up by something more powerful . . . The 9mm was never very widely used, tho some men were fond of it. An American friend of mine once had one which he used for years and swears there was never another rifle to compare with it, but I can't help feeling that time has lent enchantment to his memories of it" (emphasis mine). Finally, ". . . had a very nice little 9mm Mauser one time. I seldom used it other than for the pot, which it had no difficulty keeping filled." That statement pretty much sums up the 9x57 Mauser.
There is still a place in the field for 9x57 rifles. Factory ammunition can sometimes be found on the Internet, even though the "factory" is as small as a one-person operation. That's okay because the round is also easy to handload. Properly headstamped cases have been available. Necking up 8x57 brass is easily done, or necking down Norma 9.3x57 is as simple as full-length resizing. Dies are readily available, but there are two concerns.
First, the bullet diameter is supposed to be 9mm (.3543 inch), yet of the six rifle bores I have measured, all have been far larger. For example, the commercial Mauser shown in the photos has .359-inch grooves and a .348-inch bore; the custom rifle is .362 inch in the grooves with a .345-inch bore! That translates into .0055 inch and .0085-inch-deep rifling. Standard today is about .004 inch. What bullet diameter should be used? Any .35 caliber seems to work just fine, although there won't be any .5-inch groups at 100 yards.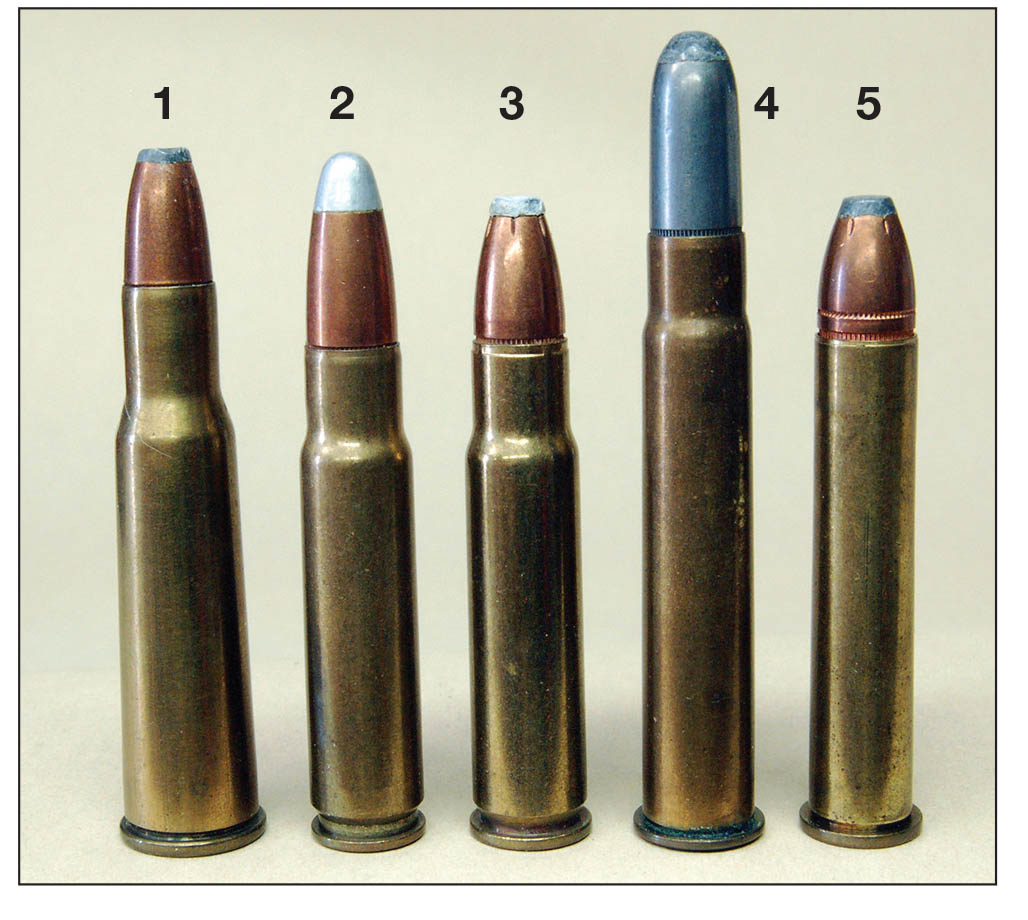 The foregoing runs right into the second concern which is loading data. What does exist varies a great deal in charge weight and velocity. Maybe this is because when European sources give the pressure of their factory loads it is equal to that of the .30-30 Winchester. Why so low? Perhaps it is because European cartridge makers sometimes had different loads for developing higher velocities, much like our +P and +P+ pistol ammunition. This could explain the variations in muzzle velocities of their factory loads listed previously, and handloaders trying to duplicate them.
I turned to the Woodleigh Bullets Loading Manual (woodleigh bullets.com.au), as I often do. Anyone who loads for European and British hunting cartridges should have a copy. It lists a few loads for the company's 225-grain roundnose softpoint. Of the animals taken with my 9x57, all have fallen to either the Woodleigh bullet or Kynoch factory load.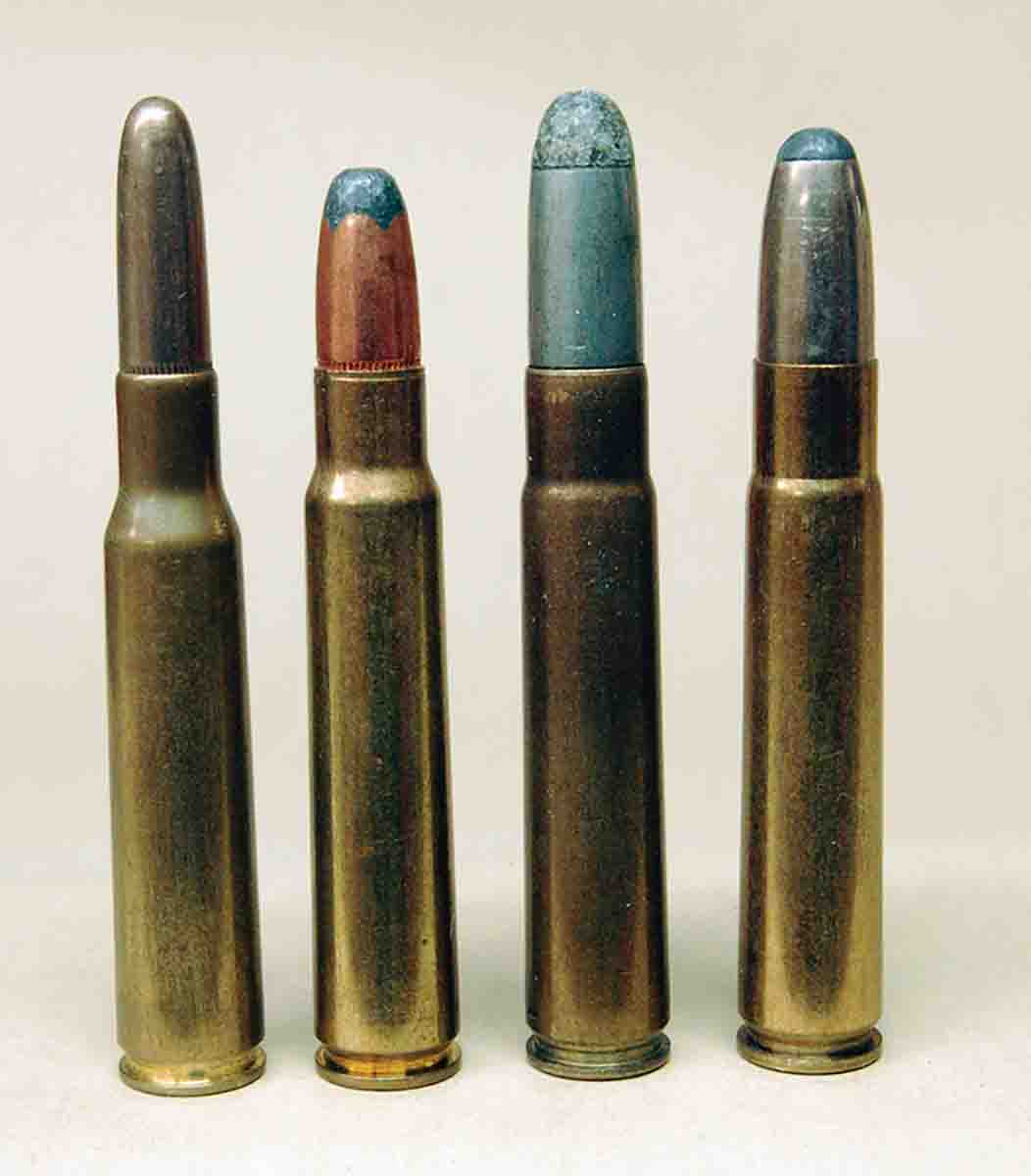 Thus the 9x57 Mauser is somewhat of an enigma because of its bore dimensions, which are probably due to its further development being ignored as powders and bullets improved in the mad rush to smaller calibers and higher velocities. Nevertheless, a challenge makes it more fun for anyone fortunate enough to find such a rifle. It is an example of simple elegance and craftsmanship far above any factory rifle seen today. Quality European-style sporters on M98 actions are among those rifles that just seem to quietly say, "Take me hunting."