Why would anyone load black powder in cartridge revolvers? It is dirty, cleanup is messy and it smells funny, so I really do not have a good rationale. Perhaps the following was my reason. These lyrics are from an old Marty Robbins song titled "Mr. Shorty" on his album
Gunfighter Ballads & Trail Songs
. They went like this, "The forty-four spoke and it sent lead and smoke,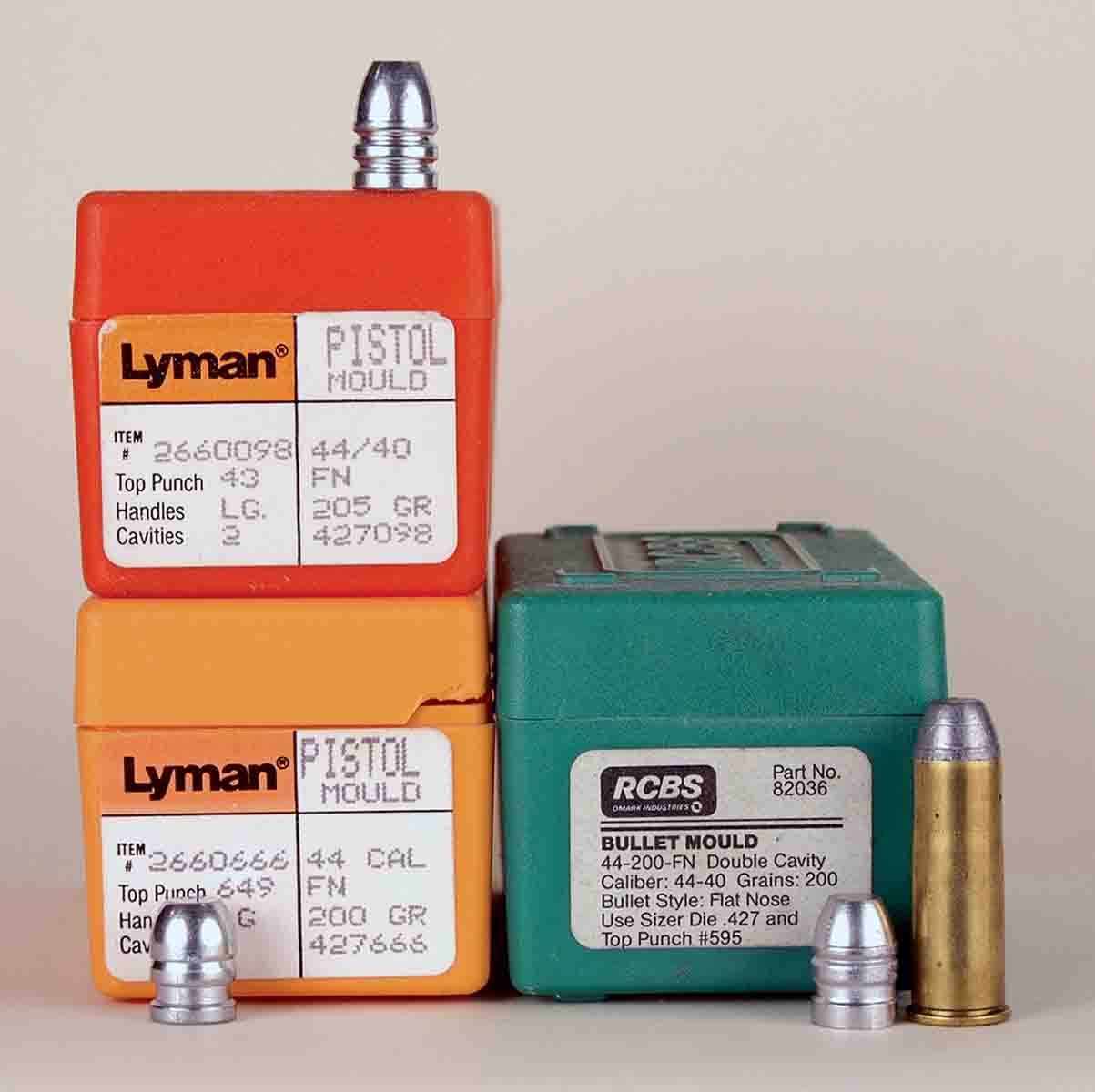 and 17 inches of flame."
Really? Fifty years ago that sounded Hollywoodish to a young handloader, but it was intriguing. What was reality? How did a Colt .44 sound in the Wild West? How did it recoil? Was it capable of decent accuracy? How powerful were black-powder-loaded Colt .44s? How long would the Colt function before binding from notorious black-powder fouling? Wouldn't shooting black powder cause rust and corrosion on valuable Colts?
Many years have passed since first hearing that song, as have a passel of big-bore single actions in many calibers. Gradually, I learned all the answers to those questions above. I know what .44-40s loaded with black powder will do from a good single-action revolver. The following are some of my experiences gained over the years.
Back in 1996 I was invited to Thunder Ranch in Texas for a class focused on single-action revolvers. One test we performed was firing a black-powder-loaded Colt SAA .44-40 in a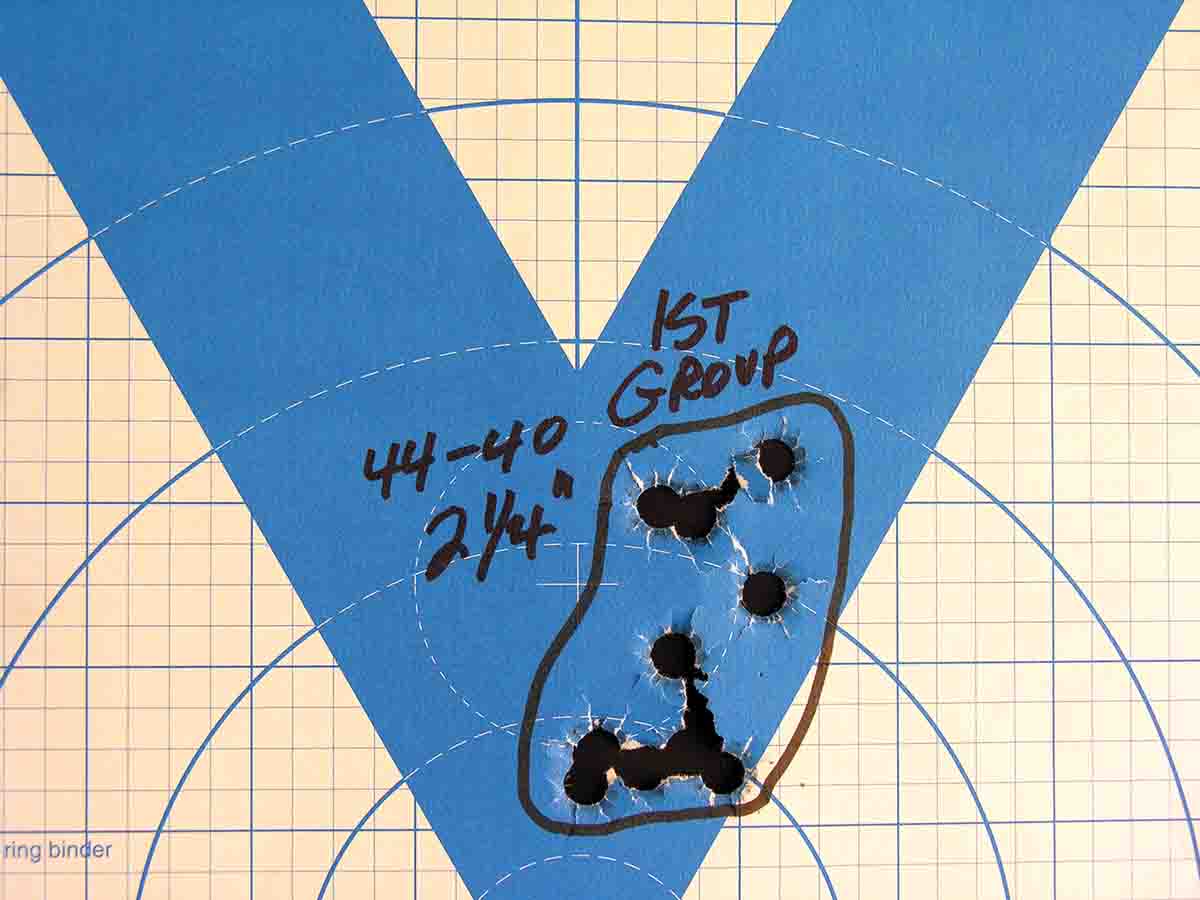 16-square-foot room with bullet traps lit only by a kerosene lantern. The concussion of the black-powder loads put out the lantern
every single time, even when the revolver and lantern were as far apart as possible
.
Another little test was whether the muzzle blast from black powder would actually set clothing on fire. At a cardboard target with a cotton shirt draped over it, a round was fired from a few feet away. Sure enough, the shirt began burning. And seen in dim light, that "17 inches of flame" was no exaggeration.
What about power? These days black powder is not taken too seriously, but the stuff can deliver awesome results in big-bore cartridges that were originally designed for its use. Take, for instance, my baffle box experience. That box consists of a frame into which a dozen pine planks can be inserted. Back in the black-powder era, Winchester
Repeating Arms used penetration in seven 1⁄8-inch-thick pine planks to quantify ammunition penetration comparisons. Today's one-inch pine boards are actually about 7⁄8 inch in thickness, so they sufficed for my comparison.
Using a favorite Colt SAA .44-40, a nickel-plated Peacemaker Centennial with a 7.5-inch barrel made in the mid-1970s, I fired into the box from about 20 feet. The 214-grain RCBS 44-200-FN bullet, cast of 1:20 (tin-to-lead) alloy of and powered by 35 grains of Swiss FFFg black powder, penetrated nine boards and severely dented the tenth. In comparison, a 230-grain FMJ .45 bullet from a Colt 1911 and a 180-grain FMJ from a Kimber 1911 both lodged in the eighth board.
The only cartridge that beat the Colt .44-40 was a Colt .45. Its 250-grain bullet went into the twelfth board. What were Winchester's results back in 1899? The company doesn't list handgun penetration in its catalog for that year, but it does indicate nine boards were penetrated using a Model 1892 .44-40 with 24-inch barrel.
Questions about accuracy and black-powder fouling were both answered in one day. Loading 33 grains of GOEX FFg with the RCBS 214-grain bullet, I fired four 12-shot groups from that same Peacemaker Centennial mounted in a Ransom Pistol Machine Rest. Targets were at 25 yards. No cleaning of the Colt was done between the groups. The first group was 2.25 inches. The fourth was 3.5 inches with 11 of the 12 rounds clustered in 2.25 inches. Functioning of the Colt after 48 rounds of black powder had been fired was a little stiffer than when it was clean, but it did not hamper shooting.
Another time, I attended a three-day Cowboy Action event near Phoenix, Arizona. My revolvers included a matched pair of Colt .44-40s with 4.75-inch barrels. At the event I decided to not clean those revolvers for the entire weekend. By Sunday they were becoming stiff, but there was nary a speck of rust forming in that arid climate. (I wouldn't advise anyone to try this in Georgia in the summer-time!)
How does a handloader get such results with black powder? Details of handloading techniques and components for good black-powder cartridge revolver ammunition are too detailed to cover in a column. They are not secrets, however. I wrote an entire book on the subject titled Shooting Sixguns of the Old West. It's available from Wolfe Publishing (wolfeoutdoor sports.com); (800) 899-7810.