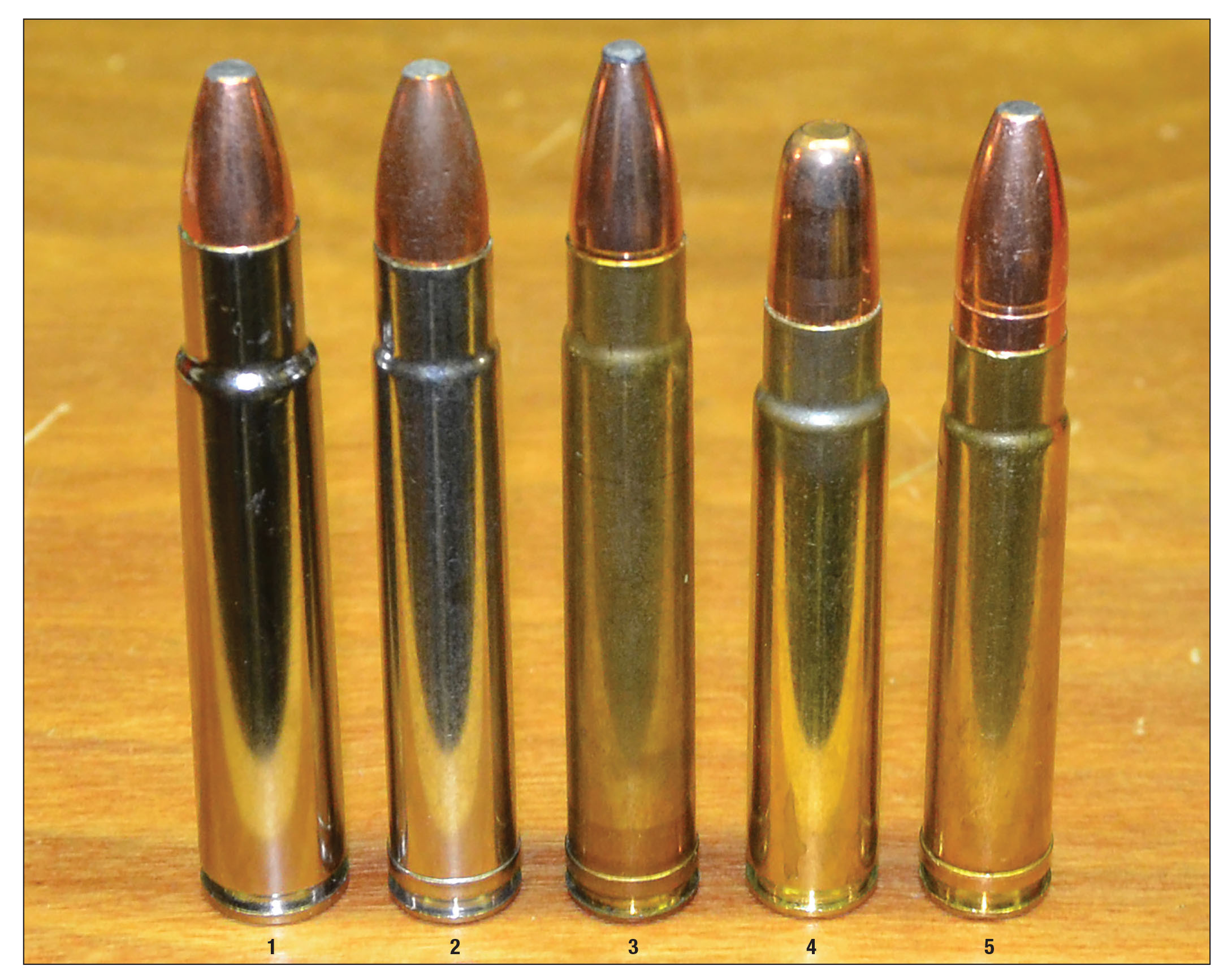 London-based John Rigby & Company introduced the .416 Rigby on a lengthened version of the Mauser Model 98 action in 1911. The No. 5 Magnum action, as it would be called, was a perfect fit for the new cartridge. As stated in Rigby's introductory advertisement, "Unlike other large bore magazine rifles which are made from military actions originally designed for smaller cartridges and converted in various ways, the magazine and action of this rifle have been specially designed and manufactured for our new cartridge."

Officially described as "Model No. 5 416 Bore Big Game Rifle," it had a 26-inch barrel and weighed 10 pounds, which to this day is the proper weight for a magazine rifle in .416 Rigby. Its magazine held four rounds and the three-leaf rear sight was said to be regulated for 100, 200 and 300 yards.
Along with the rifle, Rigby introduced ammunition with 410-grain softnose, hollow nose and steel-covered, solid bullets. The cartridge was loaded with cordite, a smokeless propellant introduced by the British in 1889. Muzzle velocity was said to be 2,371 feet per second (fps) for 5,119 foot-pounds of energy. Due to its high nitroglycerine content, cordite was quite erosive on barrels and is why the barrels of some well-used British rifles found today have seen much better days. It was also extremely temperature sensitive, and since the .416 Rigby would surely be subjected to the tropical climates of Africa and India, it was loaded to a chamber pressure of 17 tons, roughly 38,100 psi. Modest chamber pressure combined with very little taper in the body of the case avoided sticky case extraction during extremely high ambient temperatures.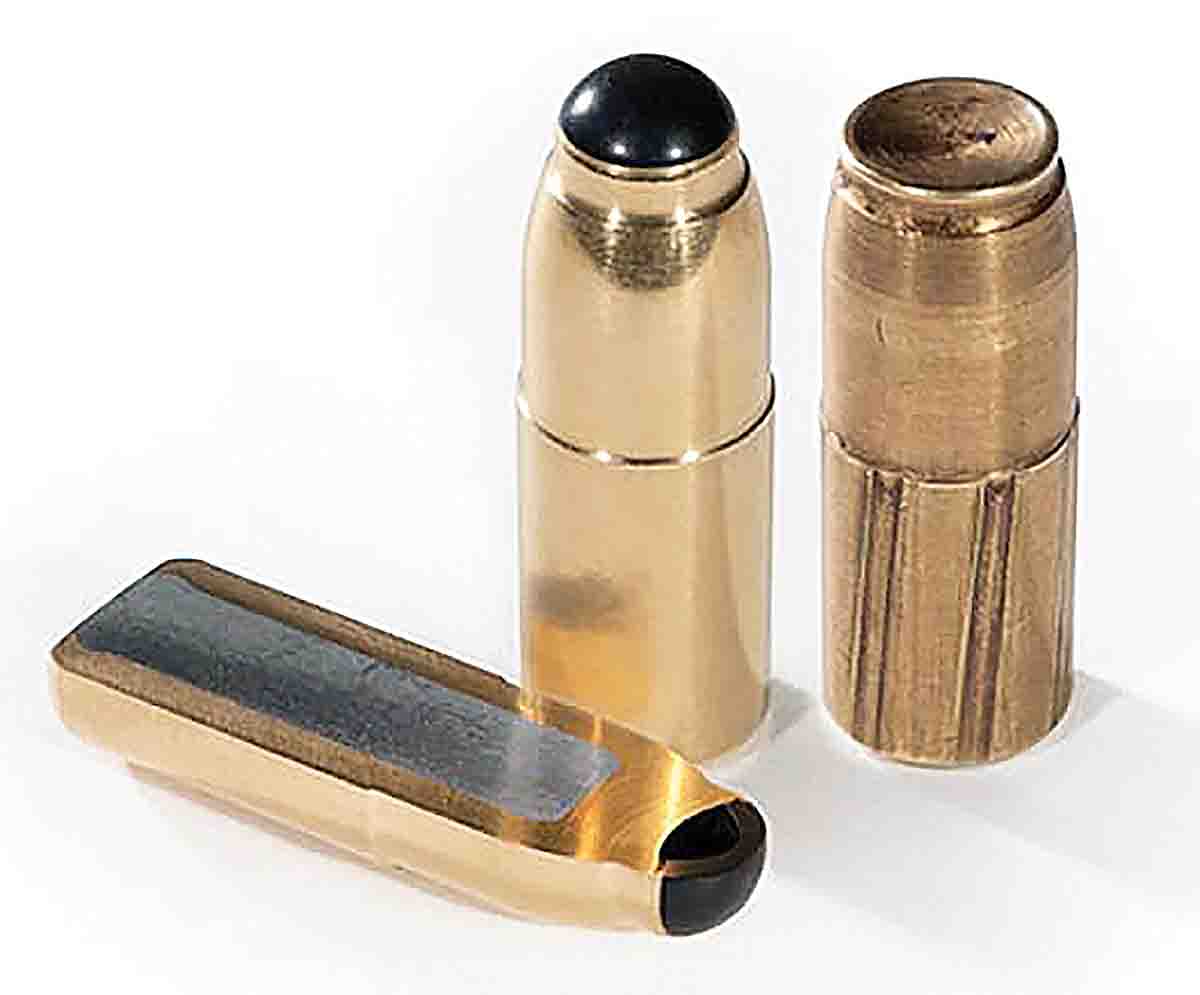 Because the .416 Rigby was proprietary, other English riflemakers did not offer it. For this reason, its fame greatly exceeded the number of rifles actually built. But it was well known and received in famous circles. Scotsman J.A. (John) Hunter, who was a professional hunter from the 1900s until the 1940s, wrote several books on his experiences in Africa, including one of my favorites, simply titled Hunter. In addition to guiding, he was with the Kenya Game Department for many years, and during much of that time played a major role in game-culling operations. A letter sent to John Rigby & Company read in part, "You will be pleased to know that the rifle which accounted for all the rogue lions on my last hunting expedition was the .416 Bore Magazine Rifle you supplied me with. I cannot speak too highly of it. Its stopping power was extraordinary and the fact that all lions, rhino and buffalo were shot at comparatively short range, and no other rifle to back me up, speaks volumes for the accuracy and efficiency of your rifle." Hunter was referring to a 90-day outing during which he shot 88 lions, 10 leopards and undisclosed numbers of rhino and buffalo.
John Kingsley-Heath, who was a director of Ker & Downey Safaris Ltd., considered his Mauser in .416 Rigby to be wonderful for lion and buffalo hunting and quite adequate for general hunting of elephant. In addition to holding a professional hunter's license for 40 years, Kingsley-Heath was in charge of wildlife operations during filming of the 1962 movie, Hatari, starring John Wayne. His classic, Hunting The Dangerous Game of Africa (1998), holds a special place in my library.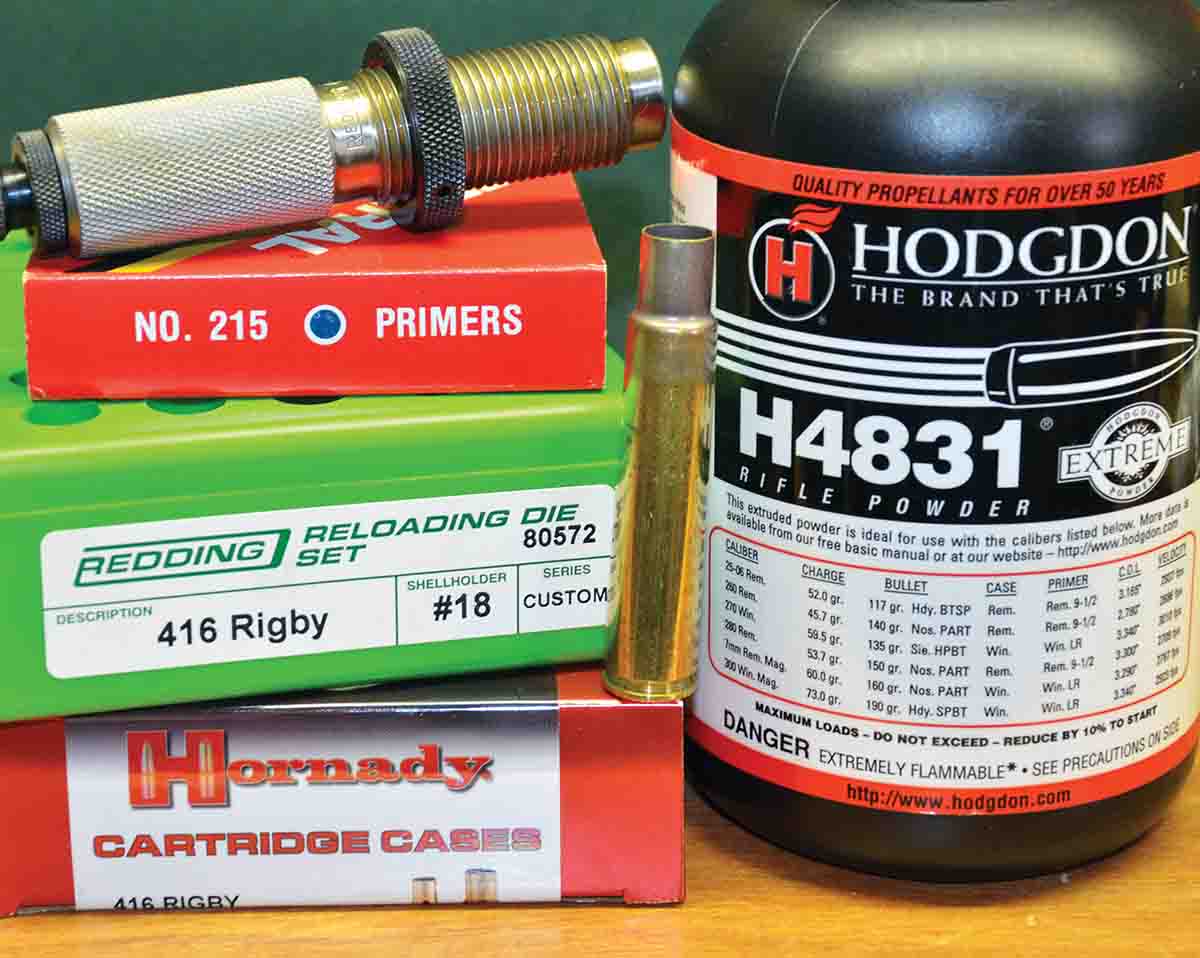 Professional hunter Harry Selby, who became known for guiding Robert Ruark, used a Rigby rifle for about 40 years. When the Mauser magnum action eventually became scarce, Rigby built .416s on standard Model 98 actions. Selby's rifle has that action with modifications such as lengthened bolt throw and magazine and a clearance notch machined into the rear of the receiver ring to allow the ejection of loaded rounds. When I shot the rifle, it was on its second barrel.
The .416 Rigby eventually became mildly popular among American hunters, one being Jack O'Connor. His first rifle was on a modified 1917 Enfield action and it weighed 10.5 pounds with a Weaver K2.5 scope. In the absence of load data, O'Connor kept adding H-4831 until 105 grains behind 400-grain bullets made by Kynoch and Fred Barnes clocked 2,450 fps on Vernon Speer's chronograph. He first used the rifle while hunting in Mozambique with Harry Manners in 1962. In "Buffalo Make Me Nervous," he placed a bullet in the "sticking place" (a frontal shot into the upper chest). The bull dropped but was suddenly back on its feet. After taking a second bullet it traveled about 100 yards, keeled over and stayed put.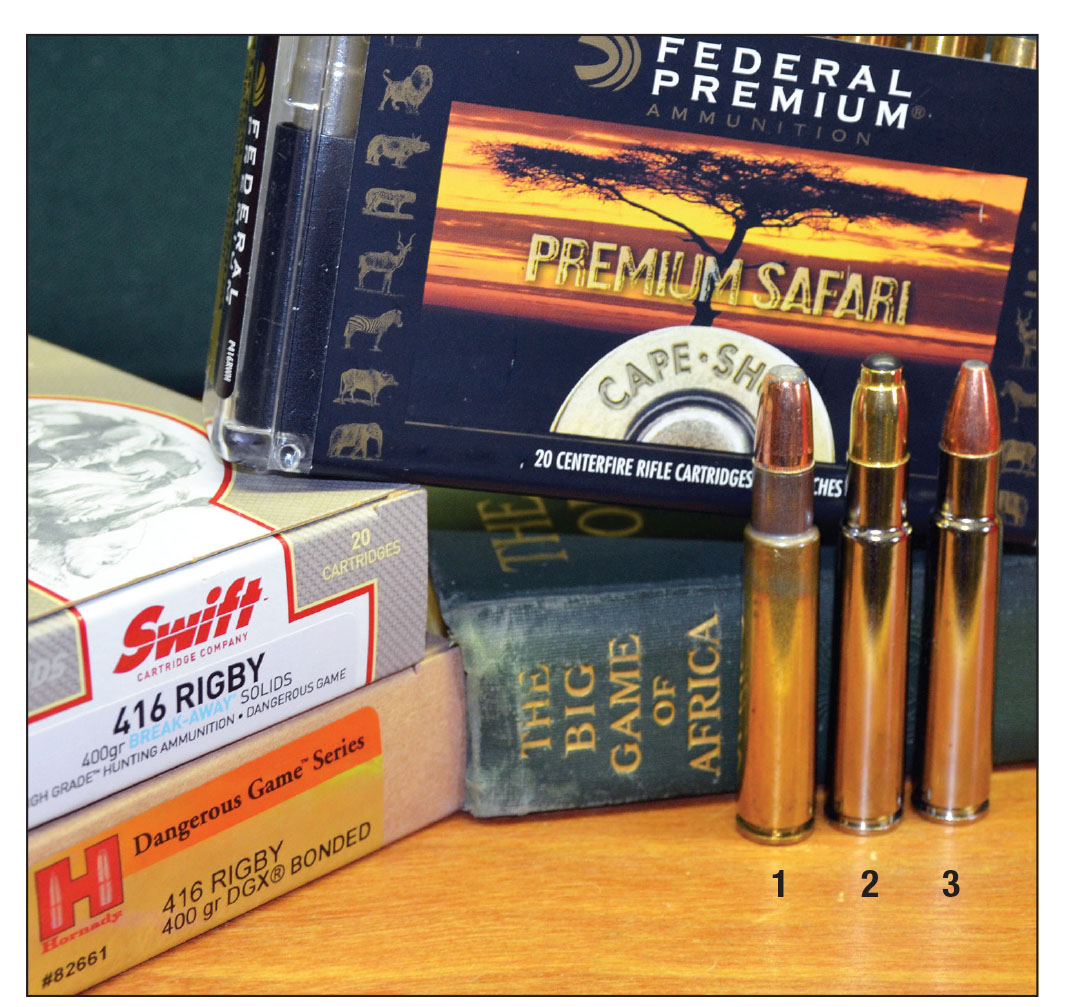 I first used the .416 Rigby in the Luangwa Valley of Zambia in 1988. My hunting partner was Greg Warne who, in addition to being a close friend, had along with his father Jack, founded Kimber of Oregon in 1979. The Kimber rifles we took along were a pair of Model 87 Custom Classics in .270 Winchester, and two Model 89 African rifles in .416 Rigby and .505 Gibbs. Greg used the .505 and I used the .416. The African action is very much like the double square bridge Mauser, except its receiver is grooved for Kimber quick-detachable scope rings. It also has a Model 70-style, three-position safety. Its magazine holds four .416 Rigby cartridges. A two-leaf express sight is attached to a quarter rib on the barrel, and in addition to a large gold bead, the front sight has a flip-up white bead for use in poor light. While carrying the rifle for most of 14 days, I found it to be quite effective on buffalo. My handloads consisted of Federal 215 primers, A-Square cases and 106.0 grains of H-4831 pushing the 400-grain Swift A-Frame and A-Square monolithic solid to 2,375 fps.
Handloading the .416 Rigby calls for a bulky powder capable of filling the big case for light compression as the bullet is seated. Hodgdon H-4831 has long been my favorite, with the newer Extreme version of it and H-4831SC delivering low velocity spreads during wide swings in ambient temperature. A charge weighing 106 grains fills the case to its shoulder/neck junction and seating a 400-grain bullet for crimping in its cannelure compresses the powder just enough for uniform ignition. Other temperature-insensitive propellants of the correct burn rate are Vihtavuori N560, Reloder 23 and IMR-7977. Regardless of the chosen propellant, magnum primers such as the Federal 215 and CCI 250 are recommended.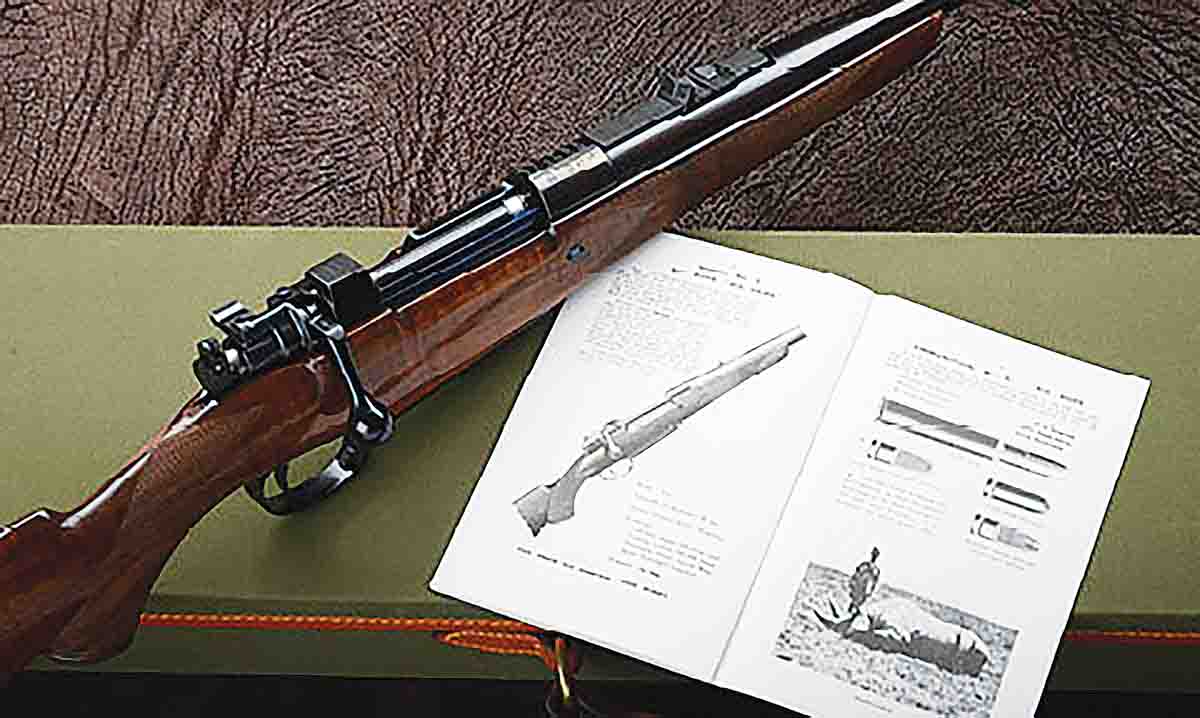 As should be, most .416 Rigby ammunition manufactured today seldom exceeds 45,000 psi. Load data published by various sources are held to about the same level. Doing so makes sense. Bullets weighing from 400 to 410 grains exiting the barrels of rifles at 2,300 to 2,400 fps have handled extremely challenging tasks quite well for more than a century, and there is no point in messing with a good thing.
While I have used the .416 Rigby on several hunts through the years, I have used the .416 Remington Magnum more. My handloads for the two cartridges push 400-grain bullets to about the same velocity, and while their performance on game is the same, the Remington cartridge has to be loaded to higher chamber pressures due to its smaller case and that makes the Rigby a better choice for use in tropical climates. As expanding bullets go, I have mostly used the Swift 400-grain A-Frame, but also find the Trophy Bonded Bear Claw and Barnes XFB of the same weight to be quite good. All cases are trimmed to 2.890 inches, and bullets are seated with their crimp groove or cannelure aligned with the mouth of the case. A roll crimp is applied, but it has to be fairly light, as the 45-degree shoulder is easy to collapse.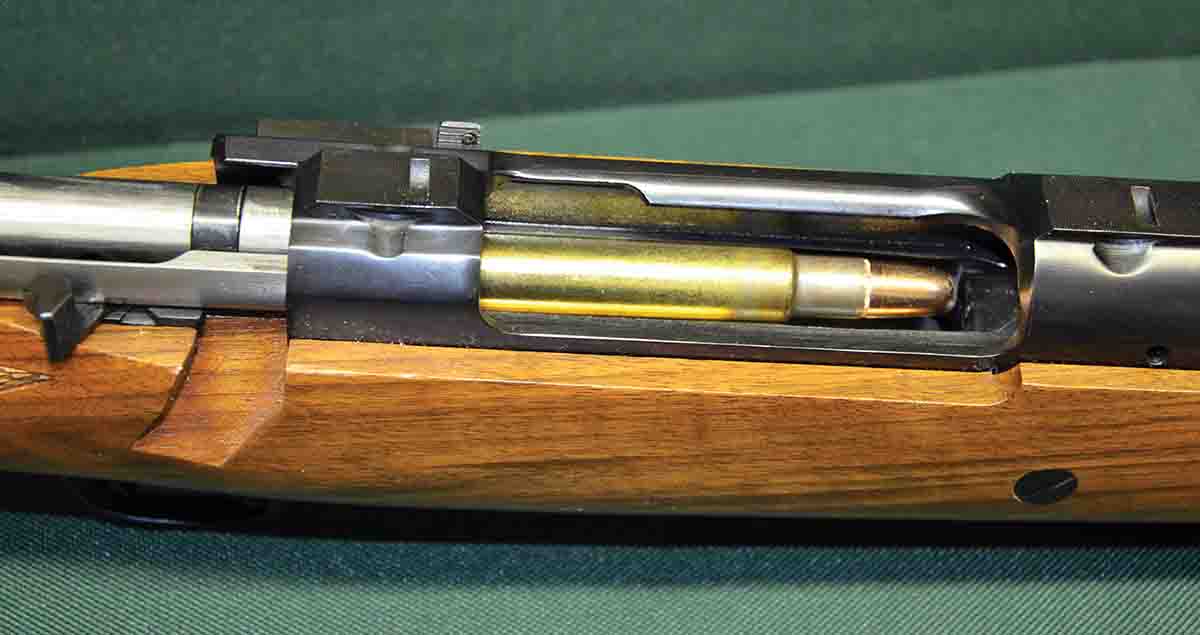 For what it might be worth, a rifle in .416 Rigby can be built on the Remington 700 or Winchester 70 action. Their magazines are long enough but have room for only two rounds. I have a custom Model 700 in .338 Lapua Magnum, which is on the Rigby case, and feeding is flawless. A few rifles in .416 Rigby have been built on the Ruger No. 1 action. My single shot on a Thompson/Center TCR 87 action was built by SSK Industries. It has a heavy, 24-inch Shilen barrel and it weighs 9.75 pounds with scope. The rifle has been with me since the 1980s, and while quite accurate, I have hunted with it only a couple of times.
I acquired a Ruger Model 77 Magnum in .416 Rigby shortly after it was introduced in 1989. I still enjoy occasionally hunting with open sights and a Zeiss Diavari-C, 1.5-4x20 scope is in Alaska Arms LLC quick-detachable rings. A Circassian walnut stock, fairly heavy 24-inch barrel, Bond Street-style quarter rib holding a three-leaf express sight, along with a banded, ramped bead up front, may make it the most handsome standard-production, bolt-action rifle ever built by Ruger. Unlike the Rigby and Kimber rifles, its magazine holds only three rounds, although that has yet to be not enough. The rifle has not been to Africa, but it has taken several Asiatic buffalo in the Northern Territory of Australia, where a mature bull can be a bit larger than its cousin in southern Africa. The Speer 400-grain African Grand Slam softnose I used while hunting with the late Bob Penfold worked quite well.
Never in my life had the thought of shooting a game animal without having the proper license crossed my mind, but an elephant came very close to causing me to do so during that first hunt in Zambia. To begin, the Land Rover driven by my professional hunter Johan Potgieter was a bit unusual. In addition to having a six-cylinder Blue Flame engine built by Chevrolet in 1954 (which Johan had installed), the vehicle departed the factory with no top. Visualize a short pickup truck with nothing covering its cab and you get the picture. The sun can be brutal in Zambia, so Johan had fashioned a "roof" over the driver and passenger seats by lashing together sections of bamboo about two inches in diameter and attaching them to a steel support frame. Just behind that was a heavy steel roll bar with rifle rack, and behind it was a padded bench seat elevated enough to allow those sitting there to see over the top.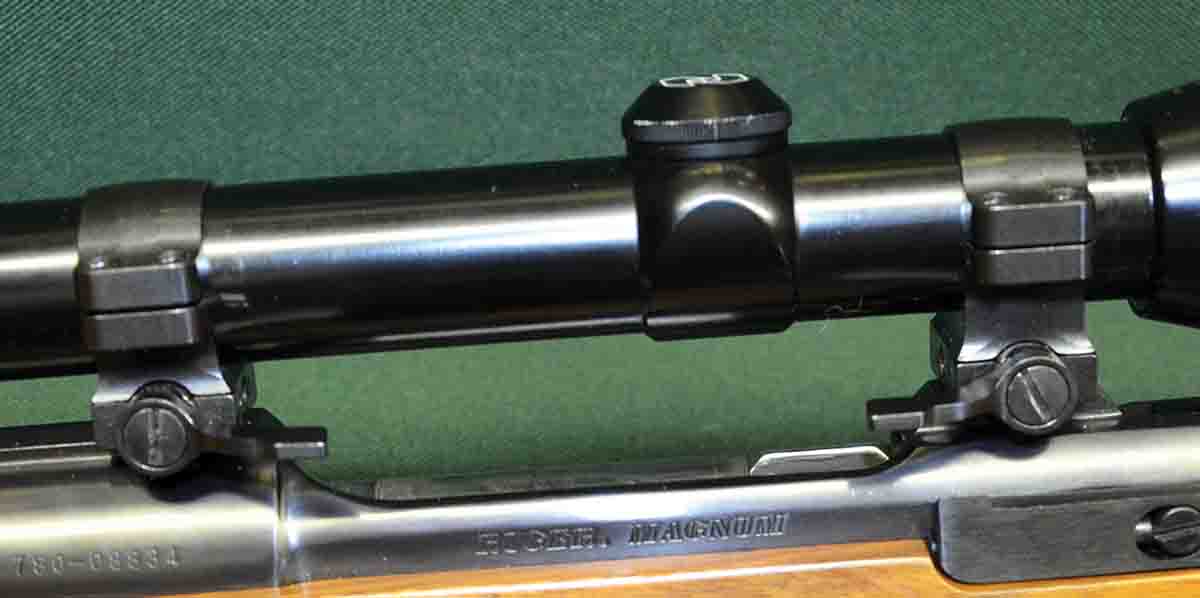 Soon after our arrival, we were told about the recent heavy culling of elephants in areas we would be hunting. We were also cautioned to stay alert because some of the animals were still quite agitated. A week or so before we got there, Johan was driving through tall grass when a cow with a calf suddenly appeared out of nowhere, plucked one of the guys from the back of his truck and killed him instantly.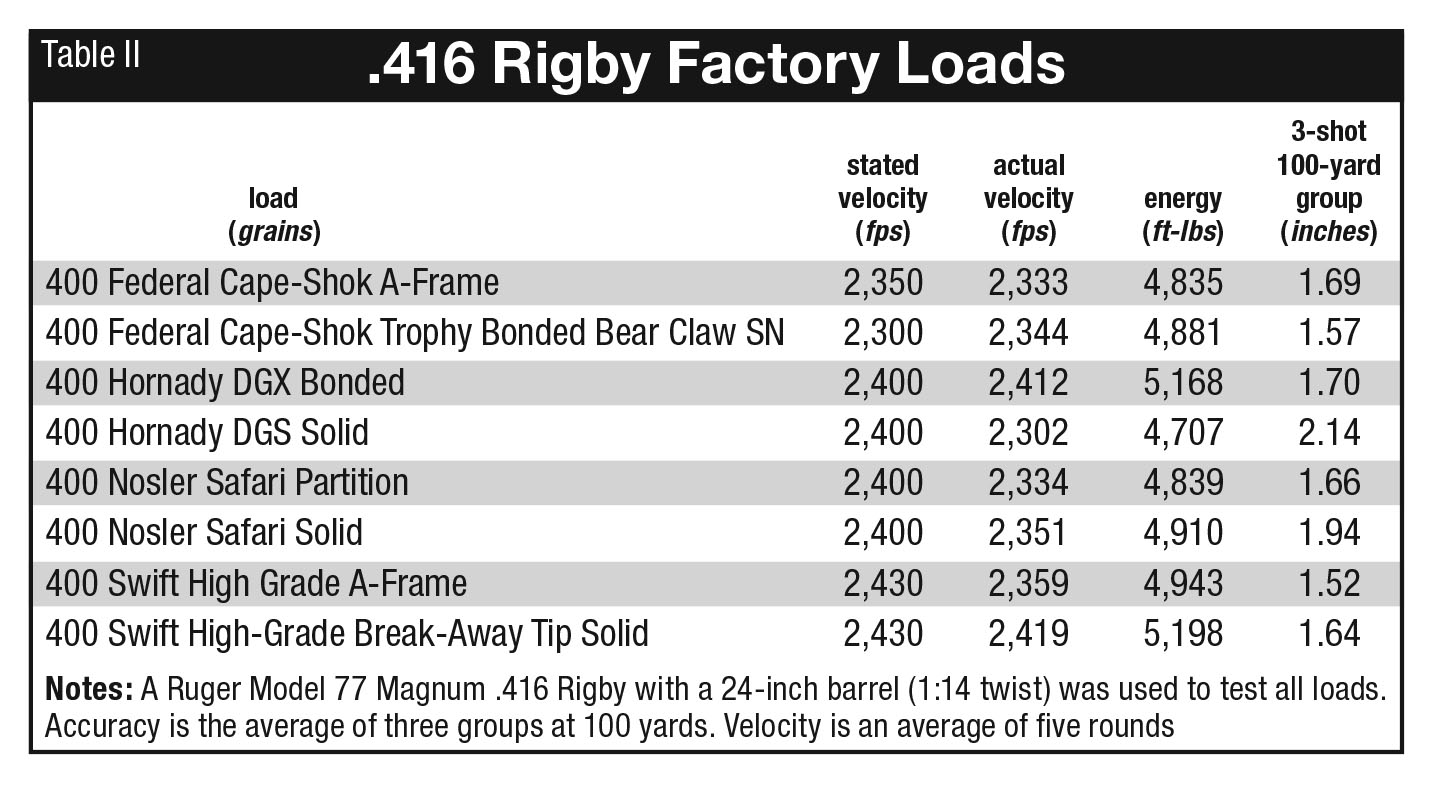 Greg Warne was hunting with Johan's father, but on days when we chose to hunt together, he joined Johan and me. Greg was riding up front and I was in the rumble seat with a couple of trackers. The rack in front of me held the Kimber .416 Rigby with four rounds in its magazine. We were searching for fresh buffalo spoor, and due to a long section of narrow track with extremely deep ruts and potholes winding through tall grass, Johan could drive no faster than snail's pace. Suddenly, an ear-piercing scream behind us prompted the trackers to quickly leap from the seat beside me and crawl out onto the bamboo cover, leaving no room for a third body. A look behind revealed a huge cow elephant bearing down at warp speed. Johan sped up a bit, but the going was so rough we were still traveling too slowly, and the elephant was gradually catching up. Bouncing up and down violently with my feet often high in the air, I had to hold onto the roll bar with one hand while using the other to chamber a round in my rifle. Lifting the rifle from the rack, I managed to twist around toward the rear, while still hanging onto the roll bar with my left hand. An elephant's trunk is seven to eight feet long, and since the tailgate of the truck was about six feet from me, my instantly-formulated, final-ditch plan was to wait until the animal was a half body length or so shy of reaching the truck, release my hold on the roll bar and, hopefully, snap-shoot accurately enough to stop the charge. One shot was all I would likely get.
Fortunately for all of us, with the elephant much too close for comfort and still closing, the track suddenly became smooth enough for Johan to pour on the coal and we quickly pulled away in a boil of dust. As we came to a stop from a safe distance, I looked into my binocular and could have sworn that silly elephant had big smile on her face. A mutual friend who was with Greg Warne shortly before he died in 2006, quoted him as saying, "One of the most exciting things I have experienced during my entire life was being chased by an elephant with Layne Simpson." Greg was a good friend and our long discussions of rifles, cartridges, hunting and other important things in life are deeply missed.